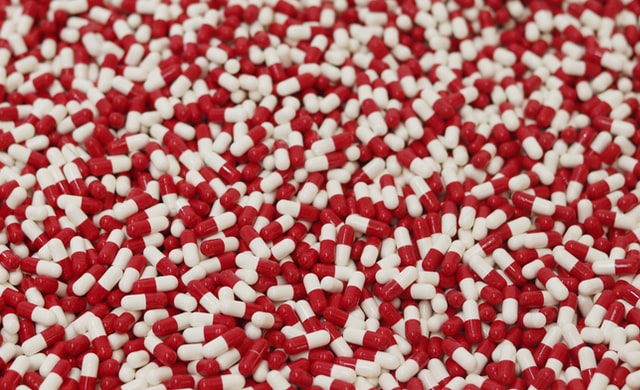 Overview
Products: Pharmacogenomics, Oncology, and Cardiovascular tests and reports.
Cost: Heavily dependent on type of service requested, prices will be quoted after a consultation with Admera.
Reports: Detailed health reports including a comprehensive drug list and how they interact with the user's DNA. The cancer reports indicate favorable treatments and cancer positivity. The cardiovascular reports indicate whether patients are carriers of genetic variants that could result in cardiovascular disease.
Raw data access: No.
Privacy: Admera claims they will not sell or rent any genetic data
Alternatives: SelfDecode – offers personalized health recommendations based on genetic results.
Pros
Offers multiple sample types such as blood, saliva, buccal swab, and mouth rinsing to perform the pharmacogenomics testing
For practitioners, Admera offers a program that replenishes supplies to collect samples automatically
For all services except for the cardiovascular testing, Admera boasts a 7-10 business day wait for reports to be generated
Cons
Patients cannot obtain a test without authorization from a healthcare provider
No health, supplement, or lifestyle recommendations are given in the reports
No personalized genetics blog is offered
About Admera Health
Admera Health was founded in 2012 by Dr. Guanghui Hu, a medical doctor and specialist in pharmaceutical science. The company is headquartered in South Plainfield, New Jersey.
Admera focuses on pharmacogenomics, a field of personalized medicine that involves analyzing a patient's genes and finding the best outcomes for pharmaceutical use. The company also focuses on genetic disease screening and cancer testing.
Review of Admera Health Products & Features
Admera offers three main services: Pharmacogenomics, Oncology Testing, and Cardiovascular Testing.
The Pharmacogenomics testing seeks to ensure that all medications that a patient is taking are fully optimized for their genetics. This would include testing for understanding why certain medications are not effective, adverse effects of drugs, and better understanding of drug interactions for individuals who are taking multiple medications.
The testing for pharmacogenomics is offered to patients to use at home, and can be administered as a buccal swab, mouth rinse, saliva, or blood test. Next, the sample will be mailed back to Admera, and then they will send a report to the patient and their healthcare provider.
The Oncology Testing product and services that Admera offers are non-invasive alternatives offered for tumor testing and blood analysis.
The Cardiovascular Testing product and services that are offered by Admera test for genetic variants that are linked to inherited heart diseases, and familial hypercholesterolemia.
Review of Admera Health Reports
For the Pharmacogenomics testing, the reports are created with intuitive color-coding that apply to gene-drug pairings. They are sorted into 4 categories: consider alternatives, drug management, normal response, and use with caution.
The results are then organized into a report that organizes the medications that a patient is currently taking, or medications to consider, as seen on the sample report cover page below.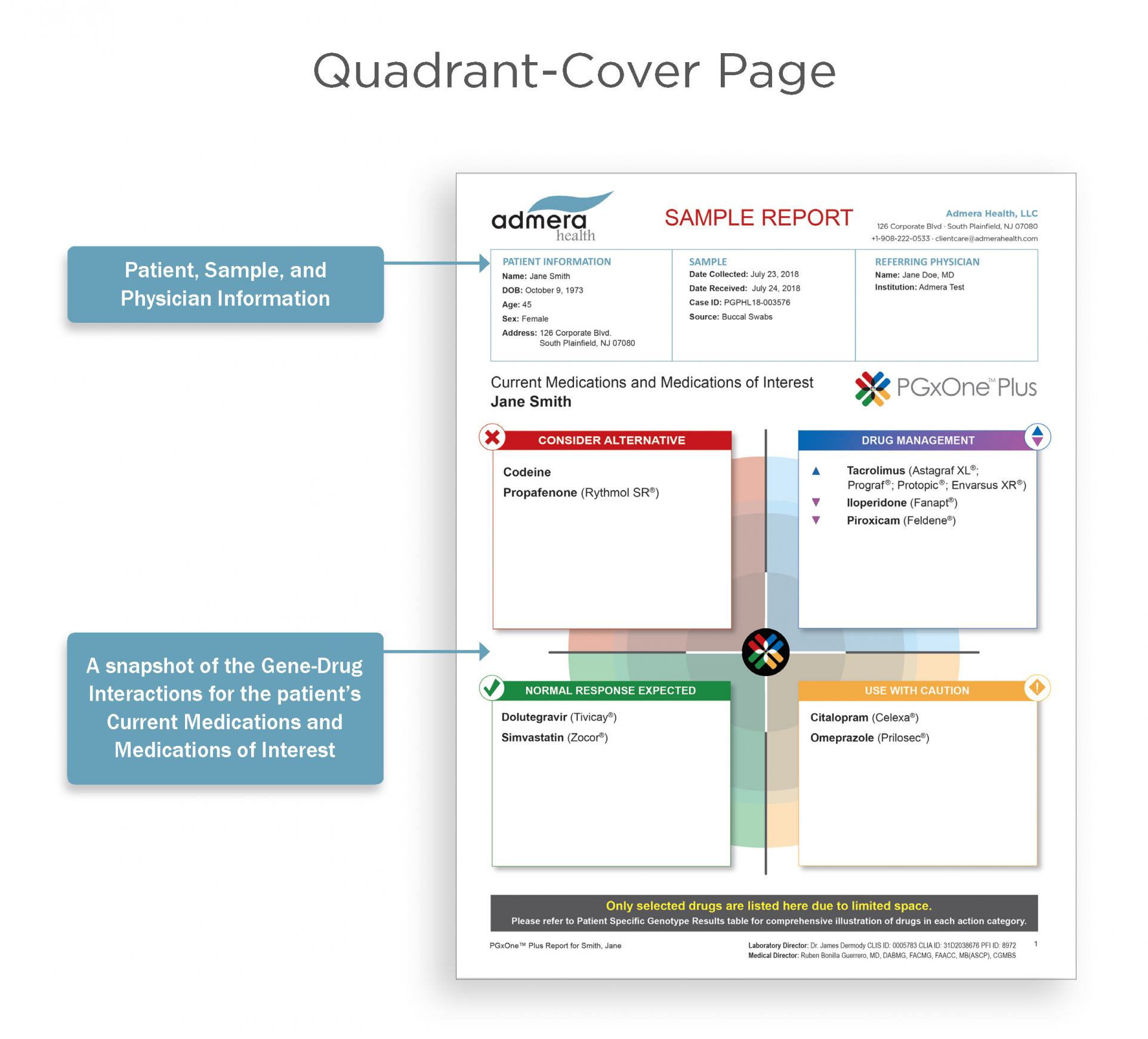 Each report will cover the medications and medications of interest, a comprehensive drug list, and complete genotype and phenotype results.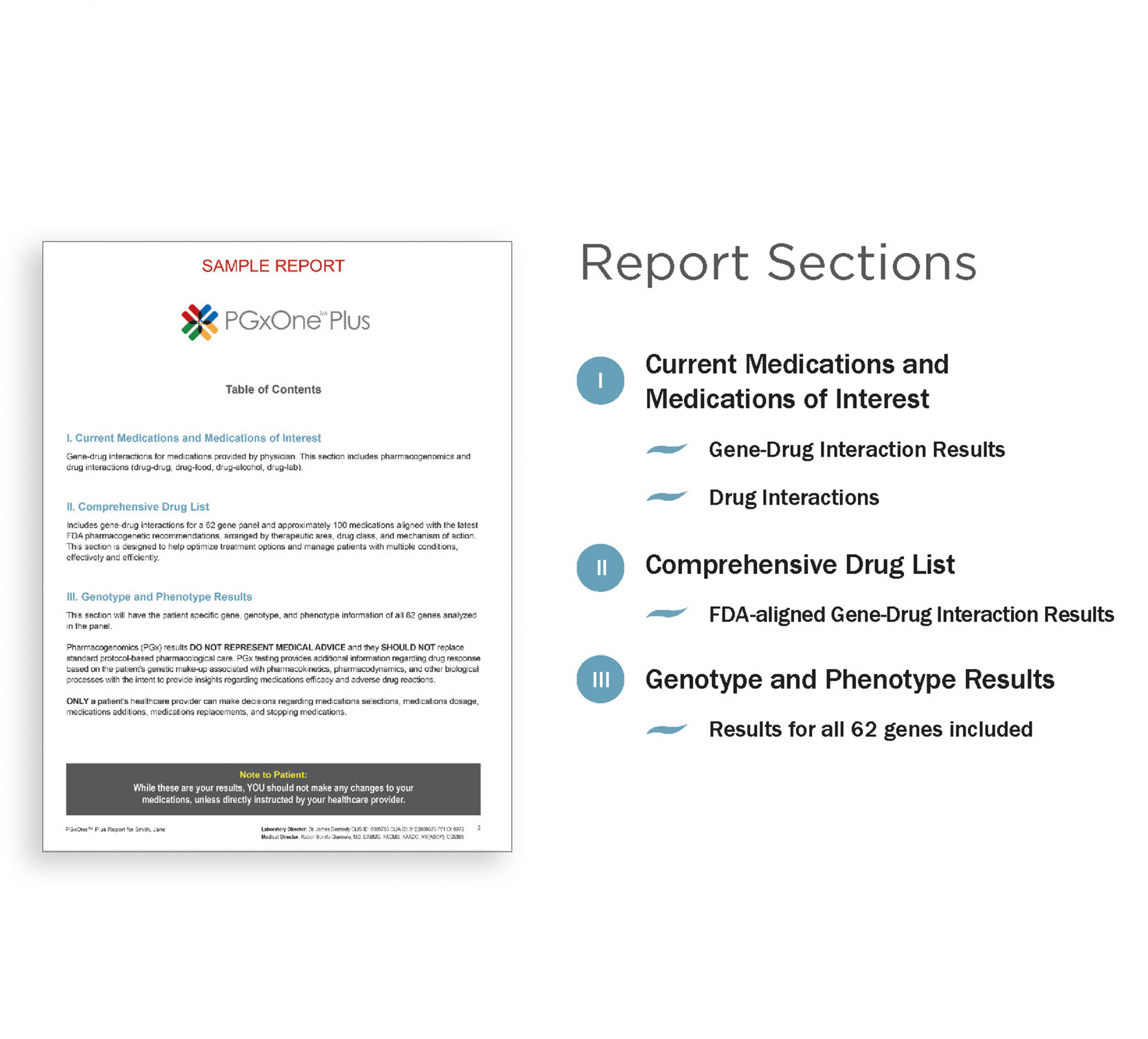 As mentioned above, section one of the reports will provide analysis of current medications and medications of interest in an organized and accessible manner. Included in this section are drug interactions that can include categories such as drug-drug, drug-food, drug-alcohol, and drug-lab.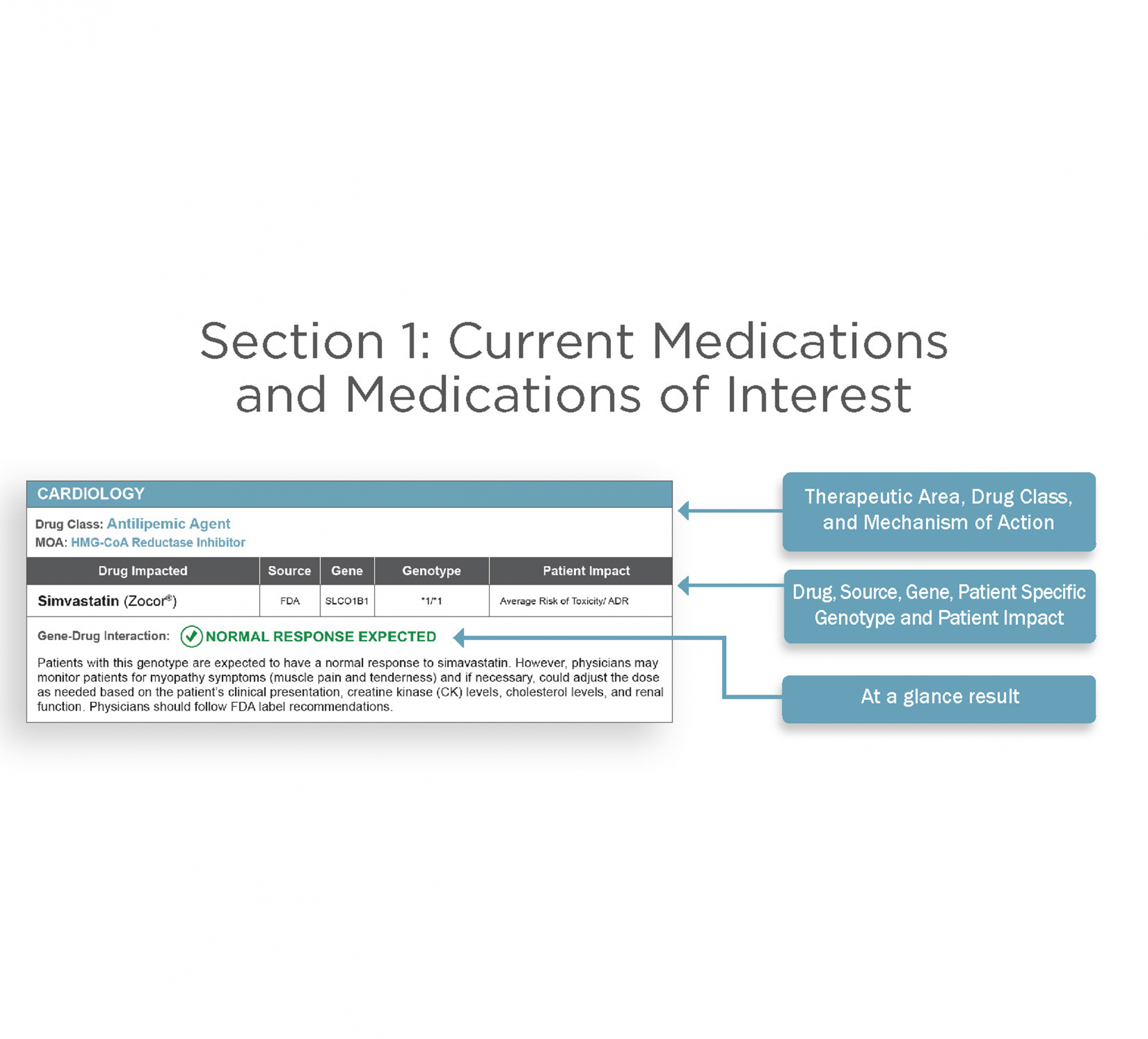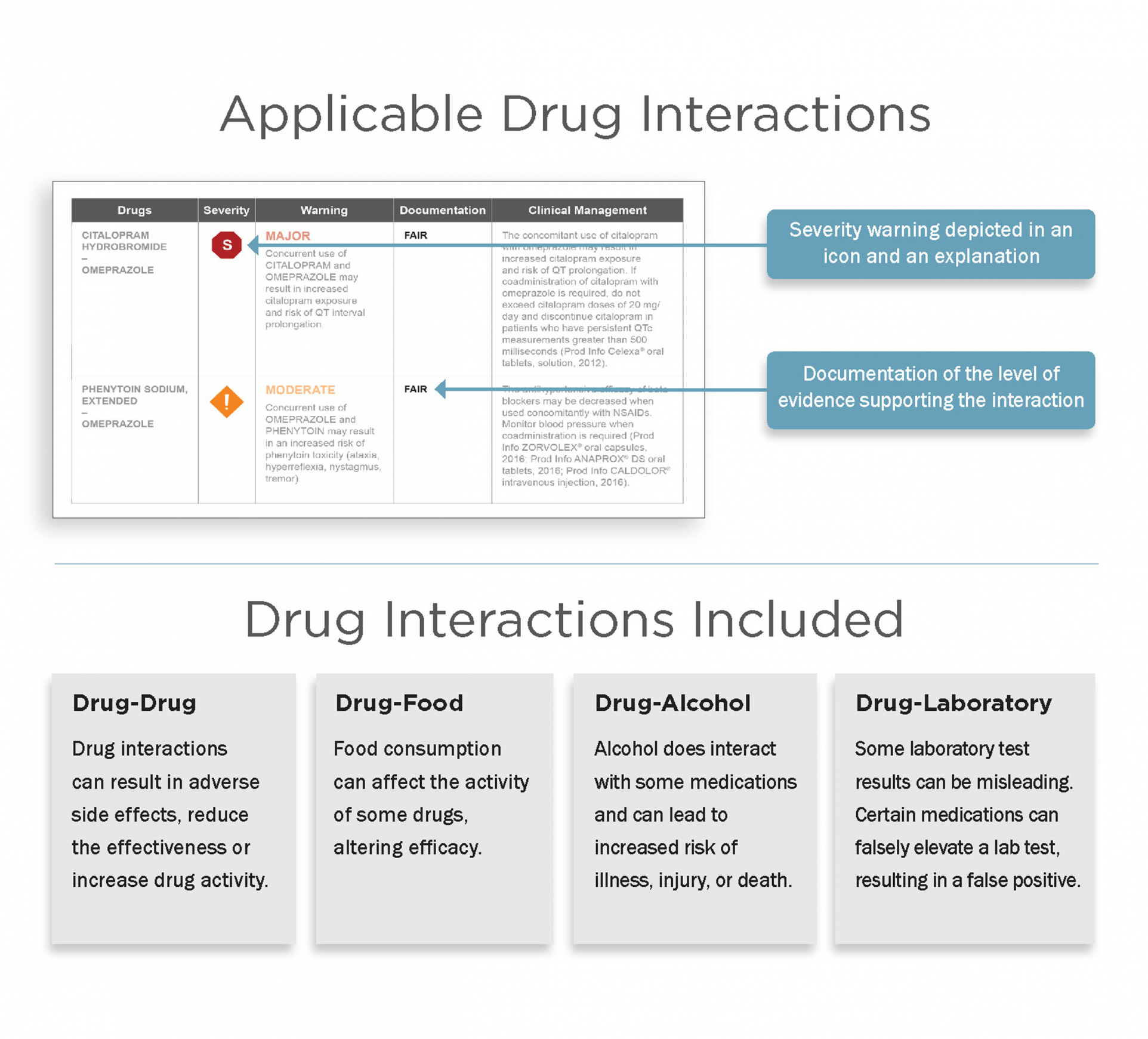 Next, a comprehensive drug list is included, along with the color coding described earlier.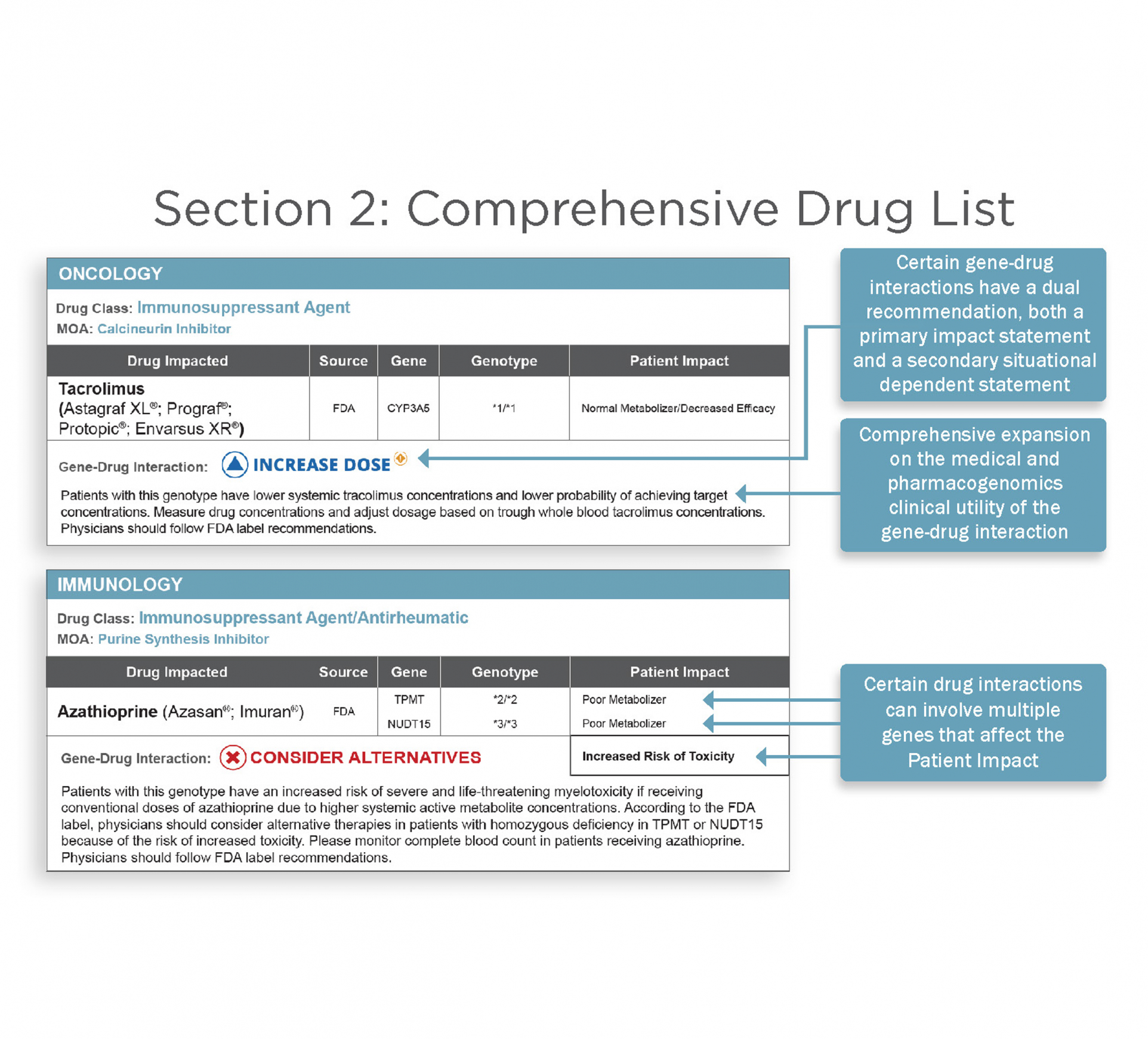 To conclude the report, the genotype and phenotype results are provided for all 62 genes analyzed by the pharmacogenomics test.
Scientific references are included in the reports, and the language is scientific, but the color coding makes the basic results intuitive for all audiences.
Reports are also available for the cardiovascular and oncology tests. The tests are extremely detailed and provide dozens of scientific references each. The oncology tests incorporate the color coding that is used by the pharmacogenomics reports, and the cardiovascular reports do not.
Cost of Admera Health
Since Admera health's products and services are available only through healthcare providers, their prices are not readily available on their website. The company claims that patients can consult their insurance provider to understand and confirm their coverage.
Health Recommendations from Admera Health
Admera does not offer any direct health recommendations. Since the tests must be procured and approved by a healthcare professional, recommendations would be made according to the data provided by Admera, but not directly by the company itself.
Review of Admera Health Privacy & Data Security
The company claims that they will not sell or rent any genetic data they conduct analysis on, or personal information. The only time data will be shared is with a healthcare provider. Any patient with Admera Health has the right to access, withdraw, or edit their personal information that is collected.
SelfDecode vs Admera Health
SelfDecode delivers natural supplement, diet, and lifestyle suggestions based on your genes that you can implement right away. Admera Health does not offer health recommendations directly.
SelfDecode tells you why they make each recommendation so that you can understand the science behind the suggestion. Admera Health offers scientific references within their reports, but not accompanied with recommendations.
SelfDecode prioritizes recommendations based on their analysis of all the relevant genes instead of one gene at a time (through reports). Admera Health prioritizes and color codes areas that are important for each report.
SelfDecode takes a holistic approach to give recommendations that are best for your genes AND the health topic. Admera Health focuses on specific topics.
SelfDecode has the world's first and only personalized genetics blog that allows you to get new gene-based recommendations daily. Admera Health does not have a genetics blog.
SelfDecode is the most comprehensive and looks at more genes & SNPs (over 150,000) to deliver the best analysis of genetic risks. Admera Health looks at hundreds of genes for their reports.
SelfDecode supports everything with peer-reviewed scientific studies in their research and checks for contradicting information. Admera Health offers a large sum of scientific research in all of their reports.
SelfDecode never sells your data or gives it away. Admera claims they will never sell or give away patient data.
Comparisons
| | SelfDecode | Admera Health | Ambry Genetics | Color Genomics |
| --- | --- | --- | --- | --- |
| Personalized & holistic health recommendations | Yes | No | No | No |
| One-click regimen builder | Yes | No | No | No |
| Products | DNA testing, wellness reports, research-based personalized blog posts, health recommendations | DNA testing, cardiovascular testing, oncology testing, pharmacogenomic testing | Genetic tests for health-care professionals, whole exome sequencing for health-care professionals | DNA testing with a focus on cancer screening, genetic tool for health-care professionals, limited health recommendations |
| Raw data access | Yes | No | No | No |
| Cost (USD) | $97 – $389 | Not Specified | $100-$3000 variable depending on insurance coverage | $249 per test variable depending on insurance coverage |
Admera Health Reviews
Google Reviews – Average rating of 4.6 of 5 stars from 18 reviewers.
Most reviewers of the company are very satisfied with their experience. Positive reviews usually include that Admera Health is highly professional and accurate with their results. The few negative comments claim that the company was unprofessional, but these were a minority of the ratings, as reflected in the overall rating of 4.6 stars.
Alternatives to Admera Health
SelfDecode: The best option for health-focused DNA analysis with personalized reports and recommendations to improve your quality of life.
Admera Health Review Summary
Admera Health is an excellent tool for very specific health needs. The company claims to operate efficiently and generate accurate results in accessible reports for both healthcare professionals and patients alike.
They focus on the fields of personalized medicine for pharmaceuticals, cancer, and cardiovascular health. If you wish to get a test and reports from Admera, you must seek the consent of a healthcare professional.
For people who are curious about personalized health and how their genes impact their life on a daily basis, better and more simple alternatives exist. A better option could be SelfDecode, a service that offers personalized recommendations for a variety of health topics, a symptoms analyzer, and access to an individualized health blog for less than $100 per year.