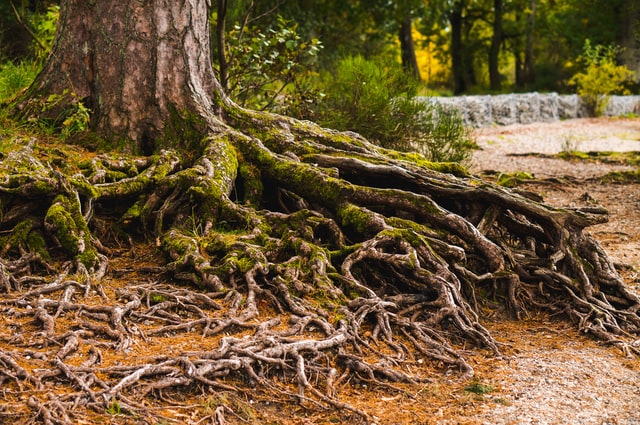 About Family Tree DNA and AncestryDNA
Family Tree DNA and AncestryDNA have both been operating for many decades, and have been successful in their direct to consumer genetic testing, and ancestry services. This no-nonsense comparison will break down the cost, products, features, reports, and privacy information to best inform potential customers.
AncestryDNA was founded in 1983, very early for a DNA testing company. The company was founded by Dan Taggart and Paul Allen. It is headquartered in Utah and was acquired by the Blackstone Group, a large American investment firm in 2020.
The President and CEO of Family Tree DNA, Bennett Greenspan, founded the company in 2000. Family Tree DNA became the first DNA testing company to sell products directly to consumers. The company is headquartered in Houston, Texas.
Review of Products and Features
AncestryDNA includes detailed information about ancestral origins and ethnic breakdowns when customers take an at-home DNA test. An example of a report breaking down ancestry can be seen below.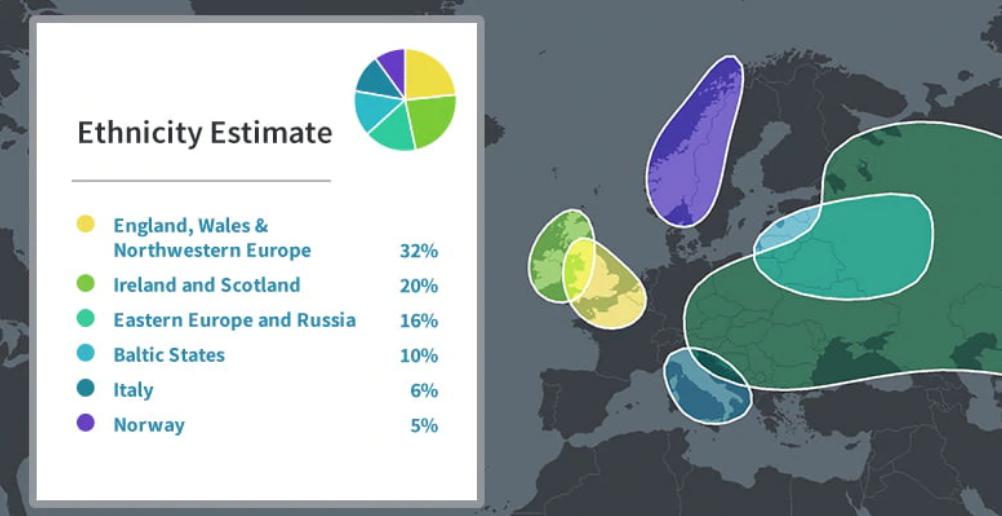 Another one of its features is the user's ability to compare their genetic information to a database of historical records for an additional monthly fee. This can include finding potential relationships between people users may not know or know little about.
In 2021, AncestryDNA discontinued their healthDNA services, which offered some basic health information based on genetic data. They still offer a basic "traits" add-on that will include superficial information such as propensities of having thick facial hair and potential for a vitamin deficiency.
Family Tree DNA offers four DNA testing options: Family Finder, Y-DNA, mtDNA, and a Health Report.
The Family Finder test features access to lineage and geographic origins. The test provides customers with information about where their ancestors came from, and whether they could be linked to ancient archeological sites in Europe.
Additionally, the Family Finder test offers a family matching tool for confirmed matches into maternal and paternal ancestry. Also included in the test is a chromosome browsing component for users to compare their chromosomes to their genetic matches.
The Y-DNA test focuses on paternal DNA. This is the DNA from male ancestors based on the DNA specimen collected by the user. The Y-DNA test focuses on the Y-chromosome, exclusive to male ancestors. Therefore, paternal lineage can be understood by using the tools offered with the Y-DNA test.
The test includes features for migration tracking and Family Tree DNA claims that they can trace customers' ancient migration paths from the continent of Africa.
Conversely, the mtDNA test tracks maternal DNA. This is the DNA from mitochondrial DNA (mtDNA) that is passed nearly unchanged from the mother to their offspring. The test offers very similar features to the Y-DNA test. Family Tree DNA offers a maternal lineage video with this package to better understand and visualize the maternal ancestral links.
Lastly, Family Tree DNA offers their Tovana Health Report ($899). The report features insights on cancer disposition, carrier screening, and other disease screening along with some genetic variant analysis for specific health conditions. They also include some limited information about exercise and nutrition based on genes. To prepare this report, Family Tree DNA works with Tovana Health, a bioinformatics company.
The reports include a lot of information about the topic and genes analyzed, but many users could get bogged down in all the information. Another drawback is that there are no scientific studies embedded in the reports, just a description of studies or reference numbers to relevant articles. Below is a page from the sample health report, prepared in conjunction with Tovana Health.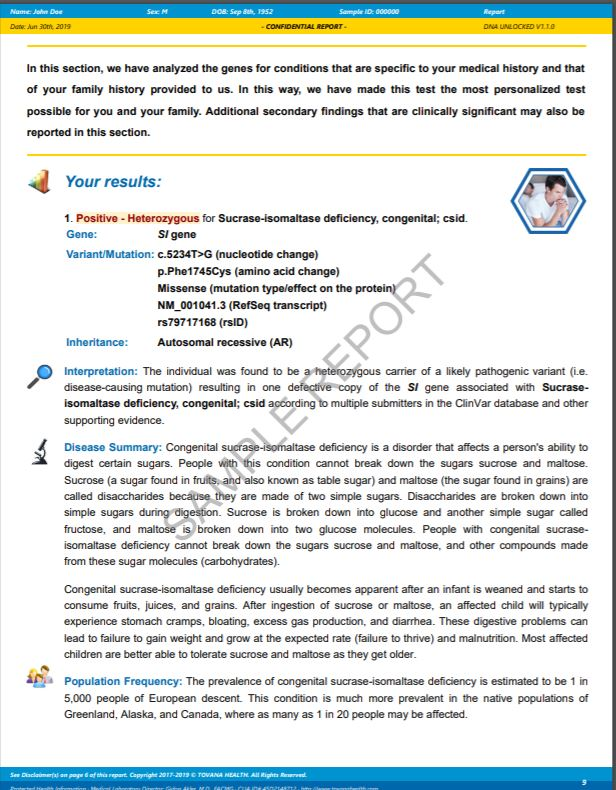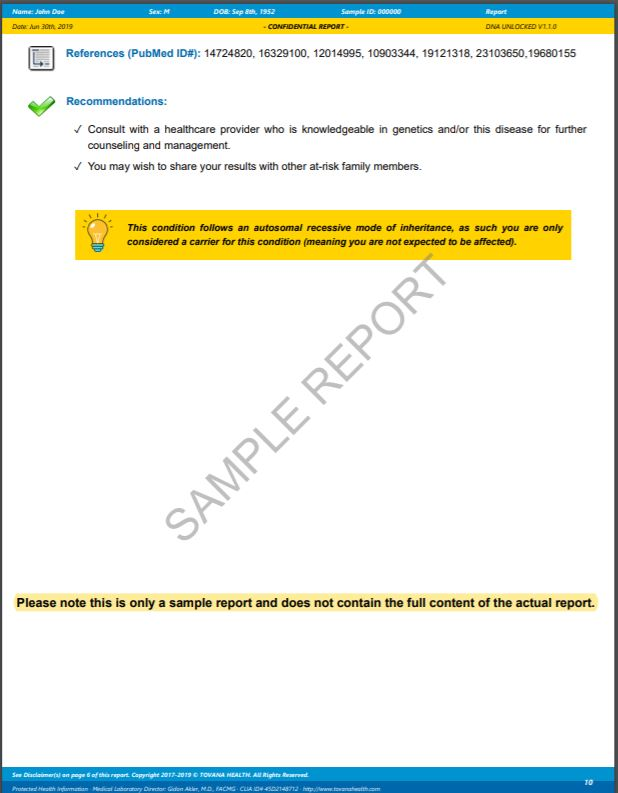 Included in the $899 health report is a 30-minute consultation with a physician to discuss results.
Review of Family Tree DNA vs AncestryDNA Reports
AncestryDNA's ethnic breakdown service generates reports designed to show subscribers where they are from historically. Detailed timelines are given to show users the history of the regions they are reportedly from.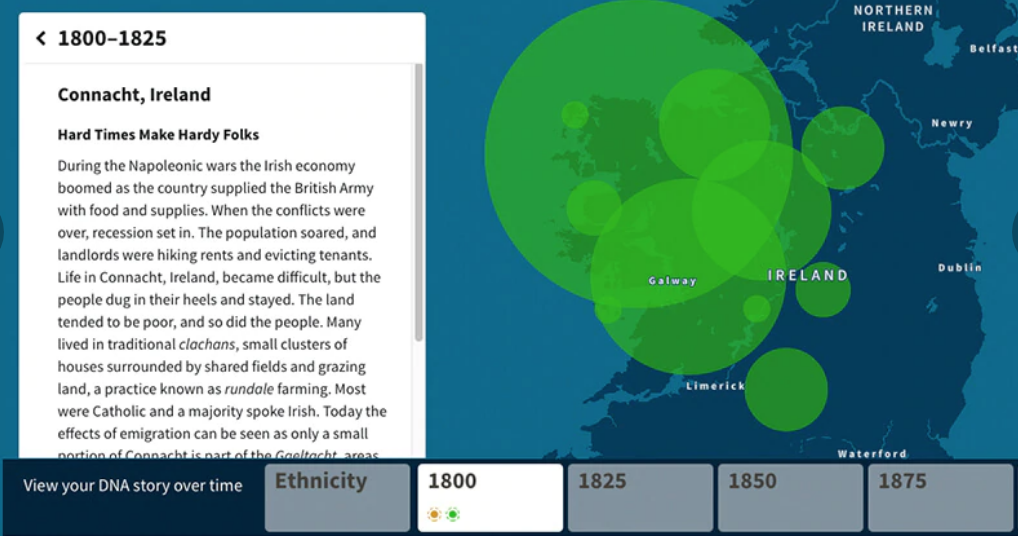 AncestryDNA also shows a breakdown of people who may be related to the user, including a measurement of the scientific confidence of the relationship, as seen below.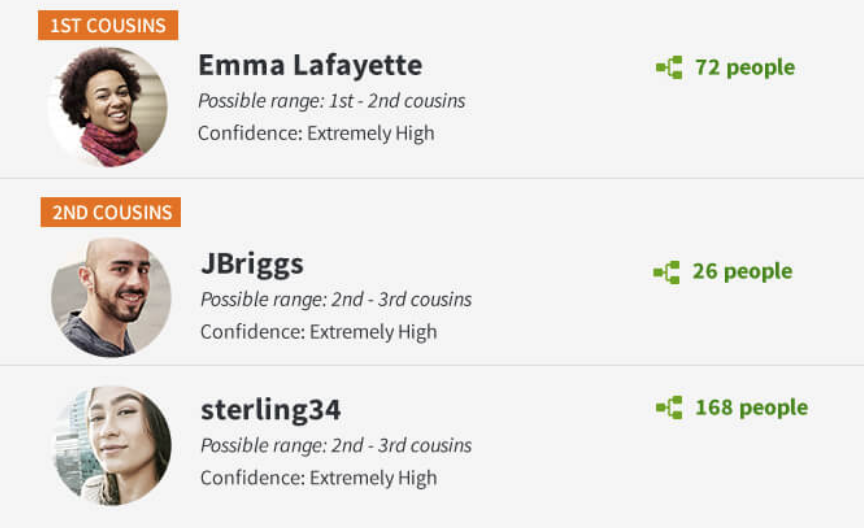 Family Tree DNA's reports are quite similar to AncestryDNA's, especially their ancestry tracing services. Seen below are some screenshots from the family finder test reports.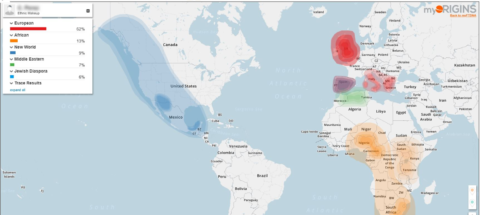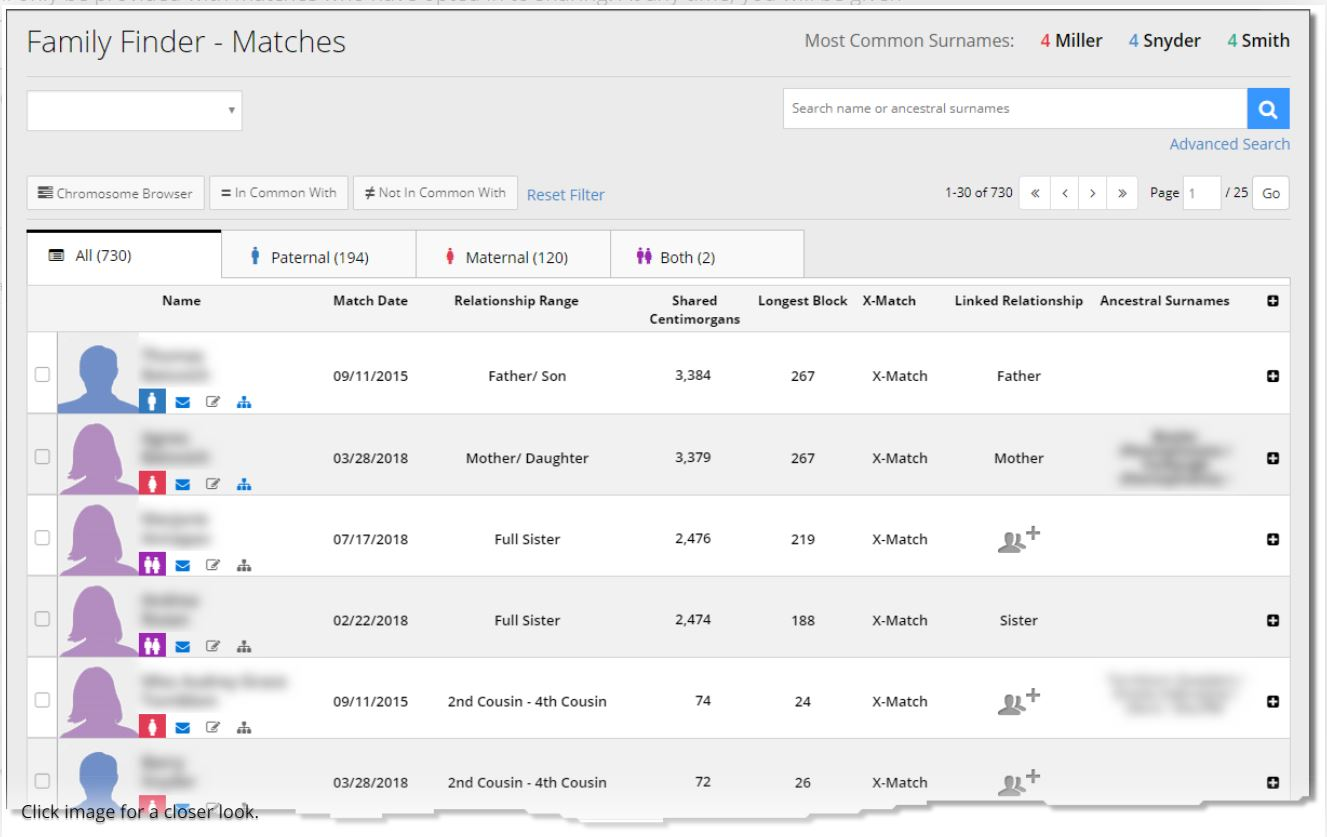 Some differences between the two companies' reports lie in the additional migration pattern tracing offered by Family Tree DNA. The migration patterns are visualized in an intuitive manner, as seen below.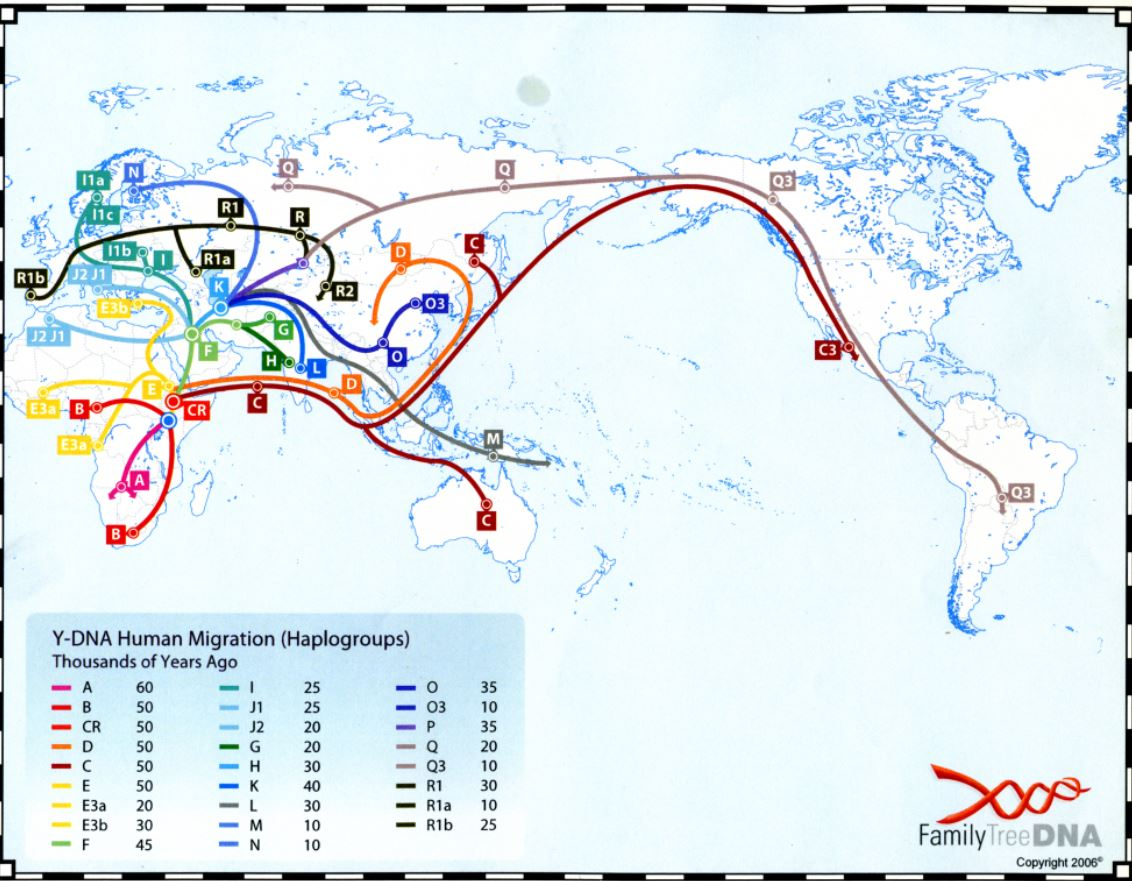 Both platforms offer much in terms of ancestry insights based on DNA samples provided to them by their customers, but only barely scratch the surface of what can be gleaned from a DNA sample in terms of understanding how they influence health.
Cost of Family Tree DNA vs Ancestry DNA
AncestryDNA offers its at-home DNA testing kit for $99. They offer their ancestry records service in a monthly, or 6-month payment plan.
USdiscovery ($25/month, $99 for 6 months): offers access to all US ancestry records
World Explorer ($40/month, $150 for 6 months): offers access to all US and international records
All Access ($50/month, $200 for 6 months): Includes access to all of the above plus newspaper and military records
Family Tree DNA has different pricing options depending on the test.
Family Finder $79 ($59 on sale): Includes ethnic mapping, migration route information, maternal and paternal sorting, chromosome browsing.
Y-DNA Testing $119, $249 ,$449: As the price increases, the reports will feature deeper analysis of the Y-chromosome DNA, but all packages will include migration pattern data from Africa.
mt-DNA Testing $159: Just like the Y-DNA testing, one can trace their ancestral lineage from Africa, and get access to a personalized "mfull sequence video" showing the migration patterns.
Tovana Health Report and Family Finder ($899): All features of family finder included, along with the Tovana health report and a 30-minute physician consultation.
Health Recommendations for Family Tree DNA vs AncestryDNA
One could conclude that neither company offers the most comprehensive health recommendations compared to other DNA testing and analysis platforms.
As mentioned earlier in this review, Family Tree DNA does not offer any health recommendations unless customers order the Tovana Health Report for $899. The suggestions are made based on genetic analysis and feature diet, exercise, and supplement recommendations based on the results, and some guidance from a physician with the short consultation included in the package. The recommendations are written in plain language, but can be quite extensive.
AncestryDNA does not offer any health information or recommendations, with the complete discontinuation of their health reporting service in 2021.
While both companies offer extensive ancestry services, their health recommendations, or lack thereof, can leave much to be desired. Alternatives such as SelfDecode can deliver DNA wellness reports and lab analysis, all for under $100 annually.
SelfDecode uses AI and machine learning to analyze up to 83 million genetic variants related to health from your typical DNA file. With SelfDecode, you'll receive personalized diet, lifestyle, and supplement recommendations based on your DNA and lab results.
Review of Privacy & Data Security
AncestryDNA claims that all customer personal health information will be stored securely, and anonymized. Customers will also have the option to delete their data that is stored. AncestryDNA claims that there will be no sharing of data or personal health information to third parties without the direct consent of customers.
Family Tree DNA states in their privacy statement that they will not share any personal information or health data to third parties, including pharmaceutical companies or insurance companies. They also mention that users must give consent to be used in research projects.
In 2018, Family Tree DNA shared their database with the FBI, and received significant criticism from customers and other critics for lack of transparency with their users.
Comparison Chart
SelfDecode
Family Tree DNA
AncestryDNA
Personalized & holistic health recommendations
Yes
Yes
No
Products
DNA testing, wellness reports, research-based personalized blog posts, health recommendations
Health reporting, traits, DNA testing, ancestry and migration routes
DNA testing and ancestry reporting.
Raw data upload
Yes
Yes
No
Raw data access
Yes
Yes
Yes
Cost (USD)
$97 – $389
$79-$899
$99 for testing kit

$129-$309 per year for annual subscriptions to the service
Reviews of Family Tree DNA vs AncestryDNA
AncestryDNA Reviews
Trustpilot – 3.7 of 5 stars with 6700+ customer ratings.
AncestryDNA sports a fairly good rating on TrustPilot, with a huge amount of reviews to read and filter through.
Better Business Bureau – 1.25 stars out of 5 with 120 customer ratings.
AncestryDNA's rating on the Better Business Bureau is quite low, and marked with many customers complaining about the payment service and customer service.
Read more about AncestryDNA on their Twitter page.
Family Tree DNA Reviews
Trustpilot- 2.1 stars out of 5 with 55 customer reviews
Family Tree DNA's rating on TrustPilot is not good; most customers are not satisfied with the accuracy of their reports, or issues with customer service and not getting their results in a timely manner.
Better Business Bureau- 2 out 5 stars with 9 customer reviews
Customers who rated the company on the Better Business Bureau were generally not happy with their experience. Most negative reviews center around poor experiences with customer service, or issues with their reports.
Read more about Family Tree DNA on their Twitter page.
Alternatives
Both Family Tree DNA and AncestryDNA are lacking when it comes to health reports. Since the beginning of 2021, Ancestry does not offer any health insights, while Family Tree DNA falls short when it comes to providing guidance to help users address their genetic predispositions.
If you're interested in optimizing your health, you might want to look elsewhere other than Family Tree DNA and AncestryDNA. An alternative such as SelfDecode can give you truly personalized diet, lifestyle, and supplement recommendations based on an analysis of up to 83 million genetic variants.
Family Tree DNA vs AncestryDNA Summary
Family Tree DNA and AncestryDNA are both long standing companies in the at-home DNA testing space and offer similar services based on ancestry insights. Family Tree DNA and AncestryDNA both deliver features such as ancestral maps and family matching tools.
There are some minor differences between the two, with Family Tree DNA offering a Health Report in conjunction with Tovana Health. Both platforms are focused primarily on ancestral services though.
In terms of pricing, they are quite similar. Additional features such as historical database access from AncestryDNA and the Tovana Health Report from Family Tree DNA, cost much more than the initial cost of starting with the service.
Altogether, there is not a distinctive choice to make between Family Tree DNA and AncestryDNA. A key consideration is whether customers want health recommendations and information.
If you are interested in getting health recommendations based on your genes, there are many better options available. Alternatives such as SelfDecode offer science-backed wellness reports and analysis of up to 83 million genetic variants. What's more, a subscription to SelfDecode grants you access to SelfDecode Labs, a specialized lab marker analysis tool for a complete picture of your health.
Related Articles