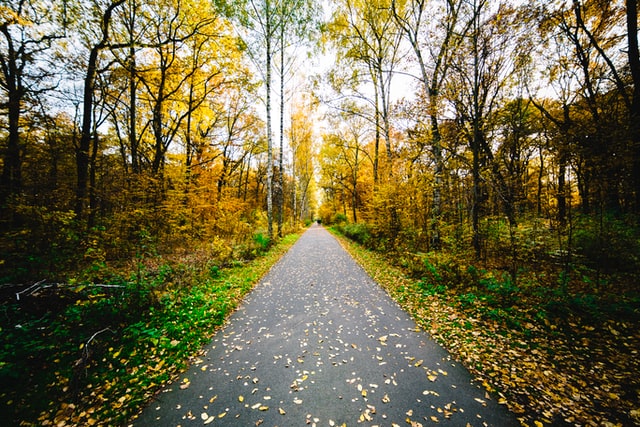 Overview
Products: At-home personalized DNA tests, resources and DNA tests tailored for physicians
Cost: Several tests are available to customers, ranging from $149 to $199. Physician-ordered test prices are not displayed on the website.
Reports: Health, wellness & drug response reports.
Raw data access: Unavailable
Privacy: Pathway Genomics may share personal health information as described in their privacy policy
Alternatives: SelfDecode – The best option for health-focused DNA analysis with personalized reports, symptom analysis, and health recommendations.
Pros
Provides an app where patients can view their genetic results
Operates their own accredited lab in California
Offers tests and resources for physicians to provide genetic testing to their patients
Cons
Does not offer the option to upload your own DNA files
Each test only examines one health aspect – you need to purchase multiple DNA tests if you wish to get all the reports
No raw data file seems to be available for use with other services, although you do get a listing of genotype results for each gene tested
About Pathway Genomics
Pathway Genomics Corporation was founded in 2009. The private medical diagnostics company provides physicians and their patients genetic testing and reports to improve their wellness and health. They operate out of San Diego, California, also the location of their laboratory.
The company was launched by the current President and CEO, Jim Plante, after his father died from an inherited polycystic kidney disease. His vision was to make personalized medicine and genetic testing accessible and affordable to everyone.
Pathway Genomics has received funding from IBM Ventures and IBM Watson, and is currently known as OmeCare after a change in name.
Review of Pathway Genomics Products & Features
The DNA tests that are offered analyze conditions or traits related to fitness, skincare, nutrition, mental health, and pain medication. Each test produces one report and must be purchased separately.
Previous to the name change, the company offered the following products:
DNA Tests

PathwayFit, Fit iQ & Sport iQ
Nutrition iQ & GlutenFit
SkinFit & Skin iQ
Drug Response

DNA Insights

Cardiac Health
Mental Health
Pain Medication
Currently, the company offers the following DNA tests:
OmeHealth
OmeNutrition
OmeSkin
OmePainMeds
OmePsychiatricMeds
Physicians have their own portal within the site where they can sign up to become a genetic testing provider and offer this service to their patients.
There is no information available on Pathway Genomics' site that states whether or not users are given access to their raw data. The scope of the genes analyzed is narrow for each test.
Review of Pathway Genomics Reports
OmeHealth
OmeHealth is Pathway Genomics's fitness and nutrition DNA test. The report presents an analysis of over 70 genes and gives recommendations focused on weight loss, metabolism, and diabetes, among other health topics.
First, the report presents a highlight of the results.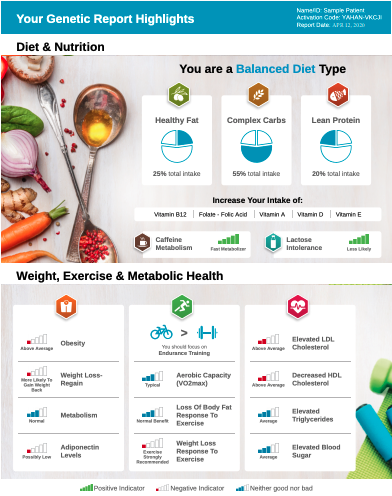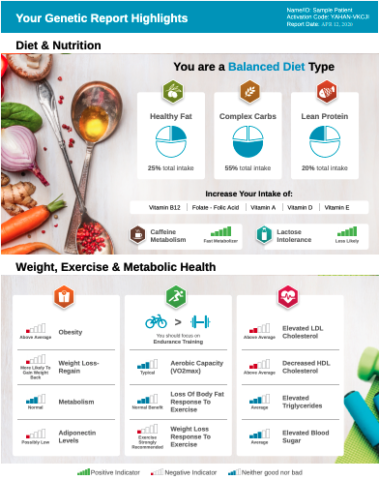 Next, OmeHealth displays the recommendations divided into categories (diet, nutritional needs, exercise, and metabolic health) and the summary of your results.
Following these sections, Pathway Genomics offers a more in-depth analysis of each category. For example, the Pathway Genomics Fitness section starts by listing all subcategories and the results.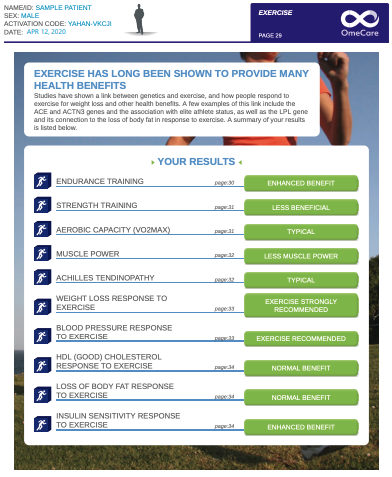 Each trait is then further explained, and your recommendations are presented. The report also displays the genes related to the trait analyzed.
OmeNutrition
OmeNutrition offers information on weight management, food allergies and sensitivities, foods to eat based on genetics, customized recipes, and more.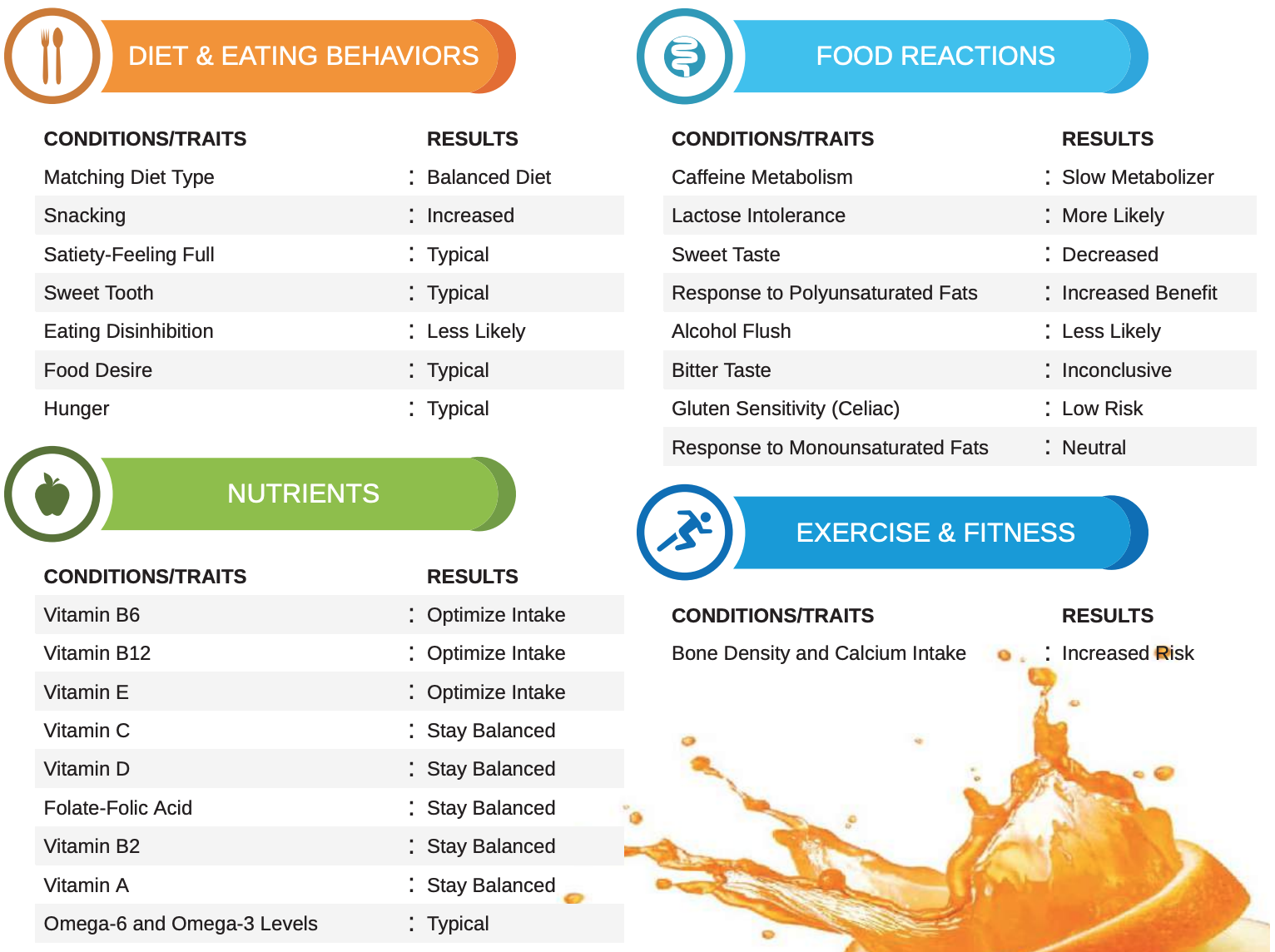 With this Pathway Genomics DNA test, you will also get access to a mobile app with personalized diet recommendations and recipes.
OmeSkin
OmeSkin analyzes over 70 genetic markers related to skin health that include risk factors, sensitivities, and best treatment options.
The report is divided into 3 sections. The first section (seen below) is designed for physicians to view all results in one place.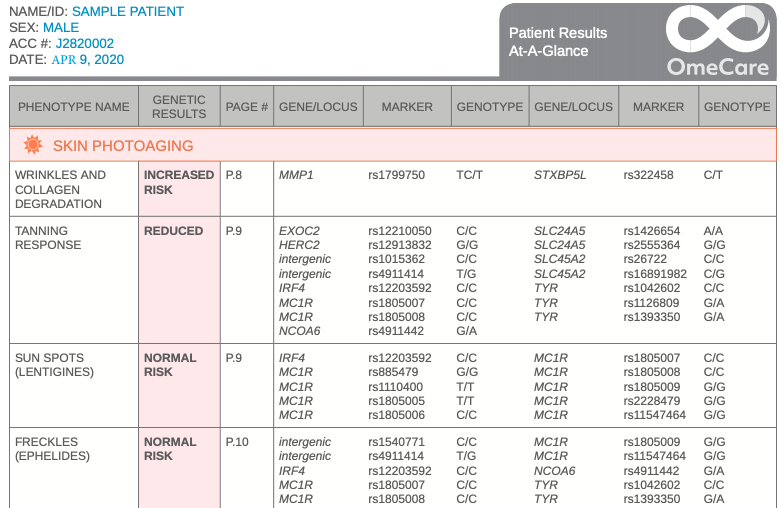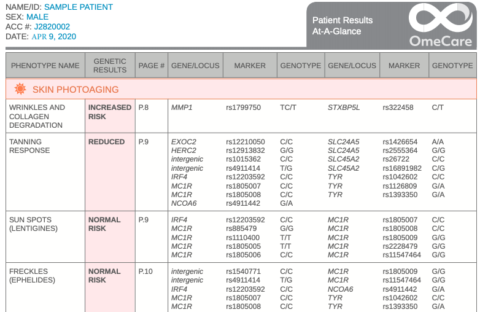 The second section presents information about genes tested and the specific results.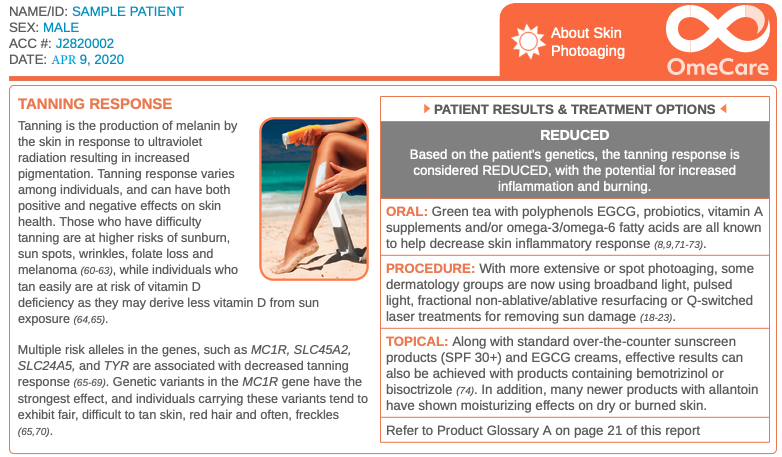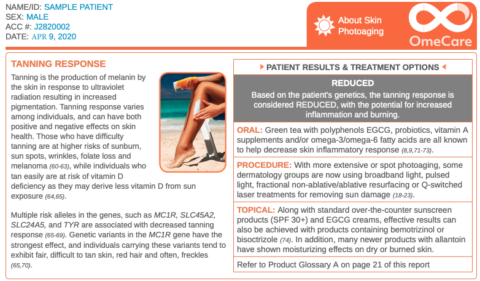 The third section offers a list of ingredients and brand names associated with possible treatment options.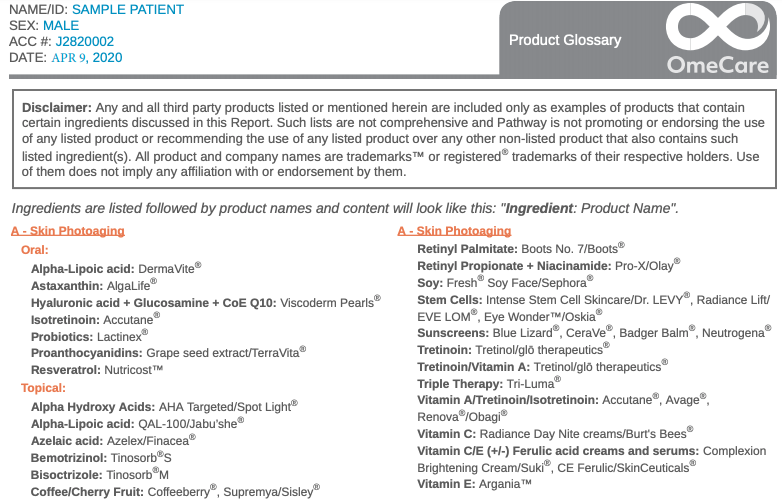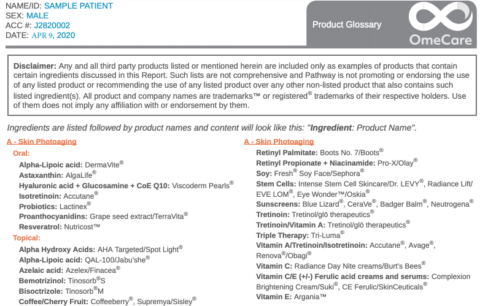 OmePainMeds
This Pathway Genomics report offers information about the body's response to 13 pain relief medications. It explains how the body metabolizes a pain drug, the relative risks of taking the drug, and appropriate dosages.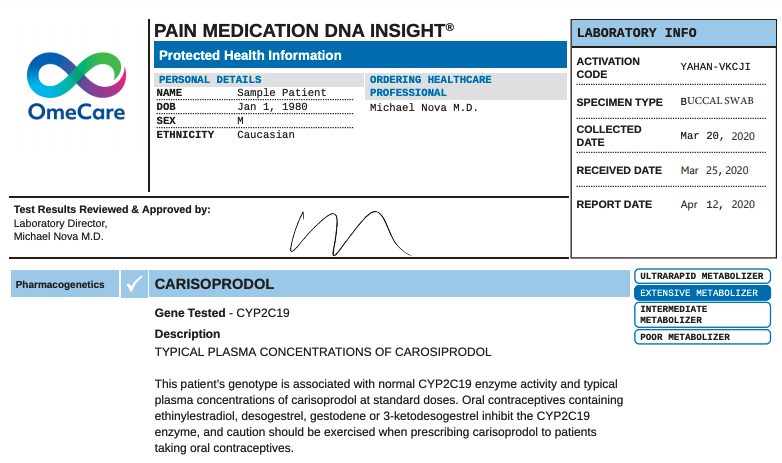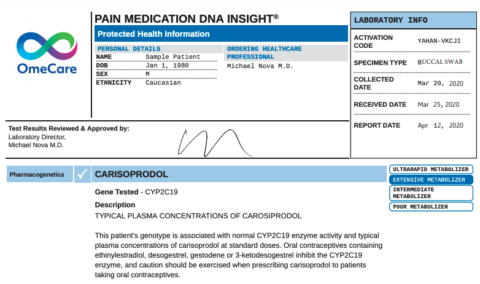 OmePsychiatricMeds
Pathway Genomics offers this genetic test for antidepressants and other psychiatric medications and gives recommendations regarding dosage. The report analyzes the body's response to 51 commonly prescribed medications.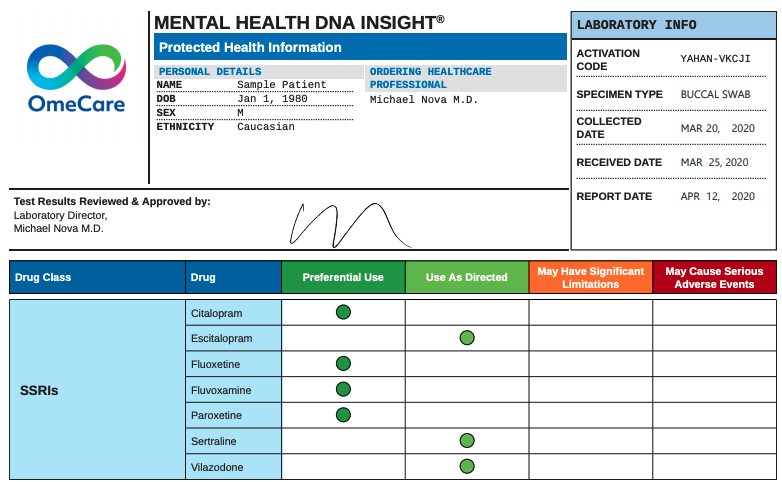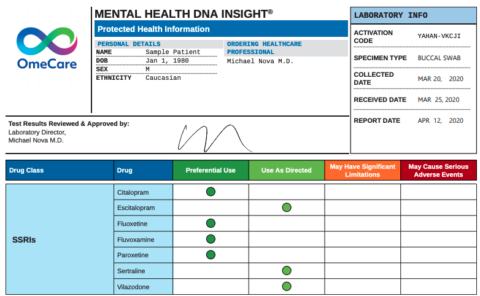 Cost of Pathway Genomics
Pathway Genomics prices are as follows:
OmeHealth ($149)
OmeNutrition ($149)
OmeSkin ($149)
OmePainMeds ($199)
OmePsychiatricMeds ($199)
The shipping and handling cost is a flat fee of $5.99 whether you purchase one, or multiple tests. Online ordering and the listed prices are only available for US physicians and customers.
Pathway Genomics also offers tests that are only available to their physician partners. The costs for these tests to patients are not available, and may be partially or fully covered by health insurance. Physicians also have the option to offer their patients any of the above tests and have it covered by insurance.
Health Recommendations from Pathway Genomics
Each report starts with a summary and results of the conditions or traits analyzed. This is followed by a more detailed description of each trait, your risk profile, and the actions you should take for better health.
These recommendations cover topics such as diet, nutrition, exercise, and skincare. Pathway Genomics recommends consulting with your physician before taking any actions recommended in their reports.
Review of Pathway Genomics Privacy & Data Security
Pathway Genomics states that they have established reasonable and appropriate physical, technical, and administrative measures to protect users' Personal Health Information (PHI) against unauthorized use and disclosure.
The company may use or disclose PHI for activities as permitted or required by law, with or without users' authorization, such as disclosure to healthcare providers, insurers, payors, third-party service providers, and government authorities.
SelfDecode vs Pathway Genomics
SelfDecode prioritizes recommendations based on their analysis of all the relevant genes instead of one gene at a time (through reports). Pathway Genomics' recommendations are more narrowly focused on one gene at a time.
SelfDecode tells you why they make each recommendation so that you can understand the science behind the suggestion. Pathway Genomics does not throughly explain their recommendations.
SelfDecode prioritizes recommendations based on their analysis of all the relevant genes instead of one gene at a time (through reports). Pathway Genomics does not prioritize their recommendations.
SelfDecode takes a holistic approach to give recommendations that are best for your genes AND the health topic. The reports of Pathway Genomics focus on one health topic at a time.
SelfDecode is the most comprehensive and looks at more genes & SNPs (up to 83 million) to deliver the best analysis of genetic risks. Pathway Genomics tests cover a comparatively smaller set of genes per topic.
SelfDecode supports everything with peer-reviewed scientific studies in their research and checks for contradicting information. Pathway Genomics lists the scientific studies referenced in the reports.
SelfDecode never sells your data or gives it away. Pathway Genomics may share personal health information as described in their privacy policy.
Comparisons
| | | | | |
| --- | --- | --- | --- | --- |
| | SelfDecode | Pathway Genomics | FitnessGenes | DNAFit |
| Personalized & holistic health recommendations | Yes | Yes – but limited | Yes – but limited | No |
| Number of genetic variants analyzed | 83 million genetic variants | ~90 for fit report | 600,000 analyzed – 400 used to provide trait results | 45 |
| Products | DNA testing, wellness reports, research-based personalized blog posts, health recommendations | DNA testing, health and fitness reports, specialized physician-ordered reports | DNA Analysis, DNA Upload, Genetic Workout System | WGS, nutrition and fitness reports |
| Raw data access | Yes | Unavailable | Yes | Yes |
| Cost (USD) | $97 – $389 | $149 – $199 | $51 – $165 | $49-$629 |
Pathway Genomics Reviews
Amazon Reviews – 29 Customer Average Rating of 4.1 of 5 stars
The reviews on Amazon for the Fit iQ test do not indicate that the customers benefitted from the reports. Instead they mostly stated that they were excited to see the information they get and how it might improve their health.
DNAtestingchoice.com – 3.9 of 5 stars
The editor's review was much more favorable than customers' reviews here. However, the customer service complaints from users were from several years ago and may have improved since then.
Alternatives to Pathway Genomics
SelfDecode: The best option for health-focused DNA analysis with personalized reports and recommendations to improve your quality of life.
Pathway Genomics Review Summary
Pathway Genomics offers a range of tests that cater to both consumers and physicians. These tests are well-organized for the everyday consumer and detailed enough for physicians to advise their patients.
Considering the number of traits and genes that they analyze per test, their pricing is higher than other tests from companies that analyze more genes. Pathway Genomics can likely justify this cost by operating their own accredited lab and charging a minimal fee for shipping. There is also a possibility of having some of these test costs covered by health insurance if they are conducted through your physician.
Still, the company requires customers to purchase multiple tests if they wish to analyze various aspects of their health, which costs both more time and money.
With just one DNA test, an alternative such as SelfDecode offers you over 30 science-backed and comprehensive holistic health reports in addition to lab analysis to help you take control of your health, all for less than $100 annually. SelfDecode analyzes up to 83 million genetic variants and gives personalized recommendations based on your unique DNA.
For healthcare providers, SelfDecode also offers professional plans that include unlimited DNA file uploads and wellness reports downloads so you can work with as many clients as possible.
Related