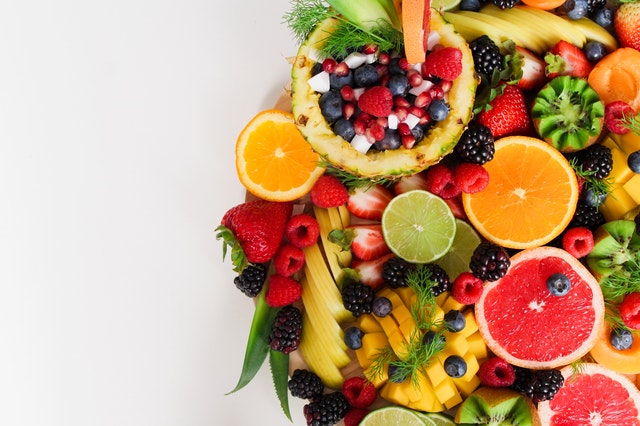 Overview
Product: Health and nutrition software.
Cost: $30 – $249 per month, depending on the number of practitioners and added features.
Features: Nutritional plans, telehealth, health tracking.
Who is it for: Health practitioners, coaches, and nutritionists.
Alternatives: SelfDecode Pro helps health professionals manage their clients and build custom health plans by providing personalized recommendations based on DNA and labs.
Pros
Integrates with fitness apps and trackers
White label option
Client app
Cons
Custom plans are only available with the more expensive plans
Cannot upload lab or other tests
Health plans are not customized to clients' DNA or labs
What is MBODY360?
MBODY360 is a subscription-based integrative health software targeted at health practitioners, coaches, and nutritionists. They also have a supplement store, which ships only within the US. They are headquartered in New York, USA.
The company was co-founded by Kari Thorstensen and Ed Keenan in 2015. According to their website, they have 5 professionals working on their team.
They offer practitioners three basic plan options:
Solo Lite: one practitioner, up to five clients
Solo: one practitioner, unlimited clients
Pro: three practitioners, unlimited clients
Practice: ten practitioners, unlimited clients, custom branded app, app store listing, custom wellness plans, Shopify integration
MBODY360 Products & Features
MBODY360 offers a platform for health practitioners to assign meal plans and supplements for clients. When you sign up, you'll gain access to the MBODY360 platform, where you can start adding your clients.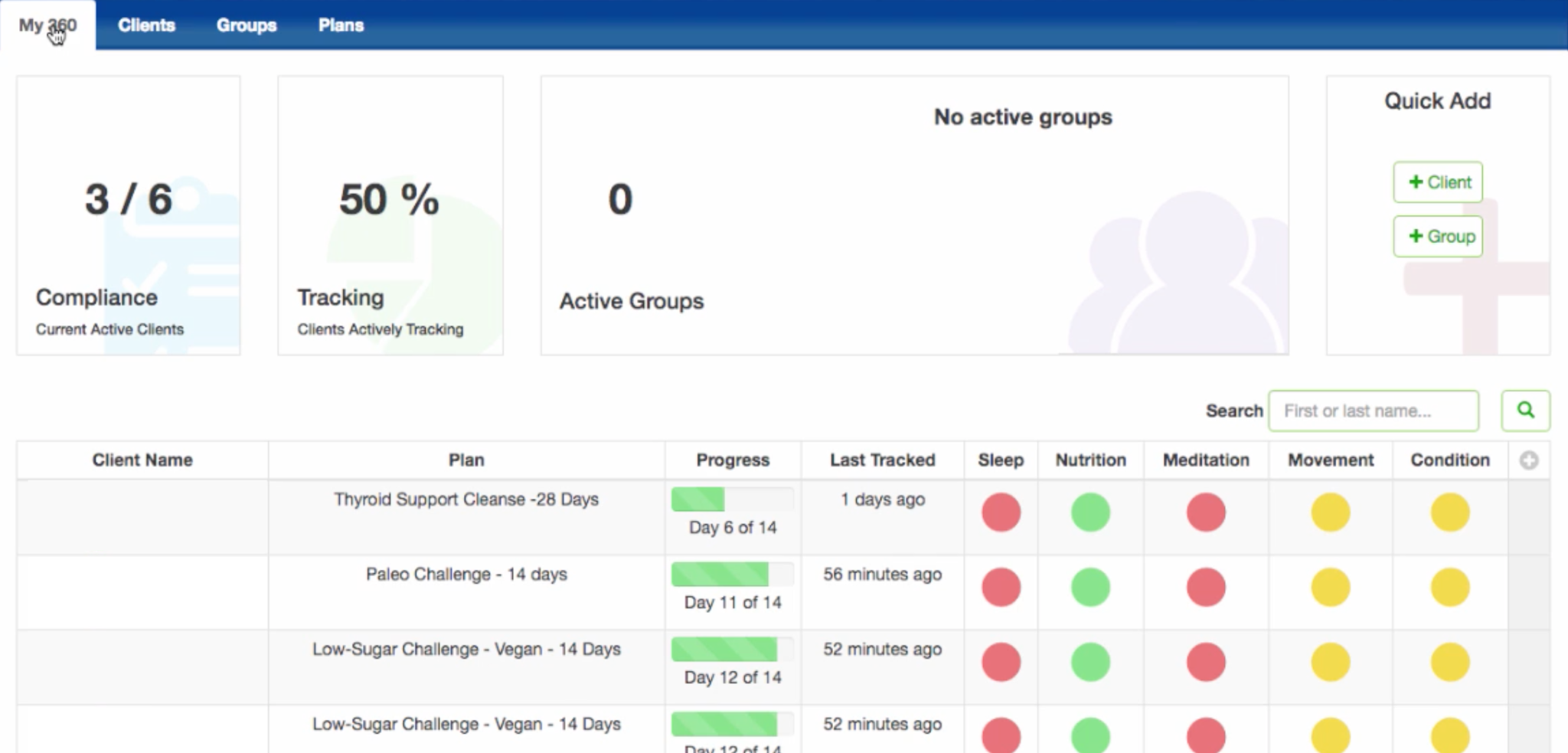 On the main dashboard shown above, you can view your clients, which meal plan was assigned to them, their progress, and a few key metrics you have the option of tracking.
When adding a new client, you can assign them a new plan and the start date. MBODY360 also gives users the option of choosing which of the 11 body metrics available they want their clients to track.
Meals plans are not personalized based on each client's body metrics. Practitioners will need to analyze this data manually to identify trends and choose the best course of action accordingly.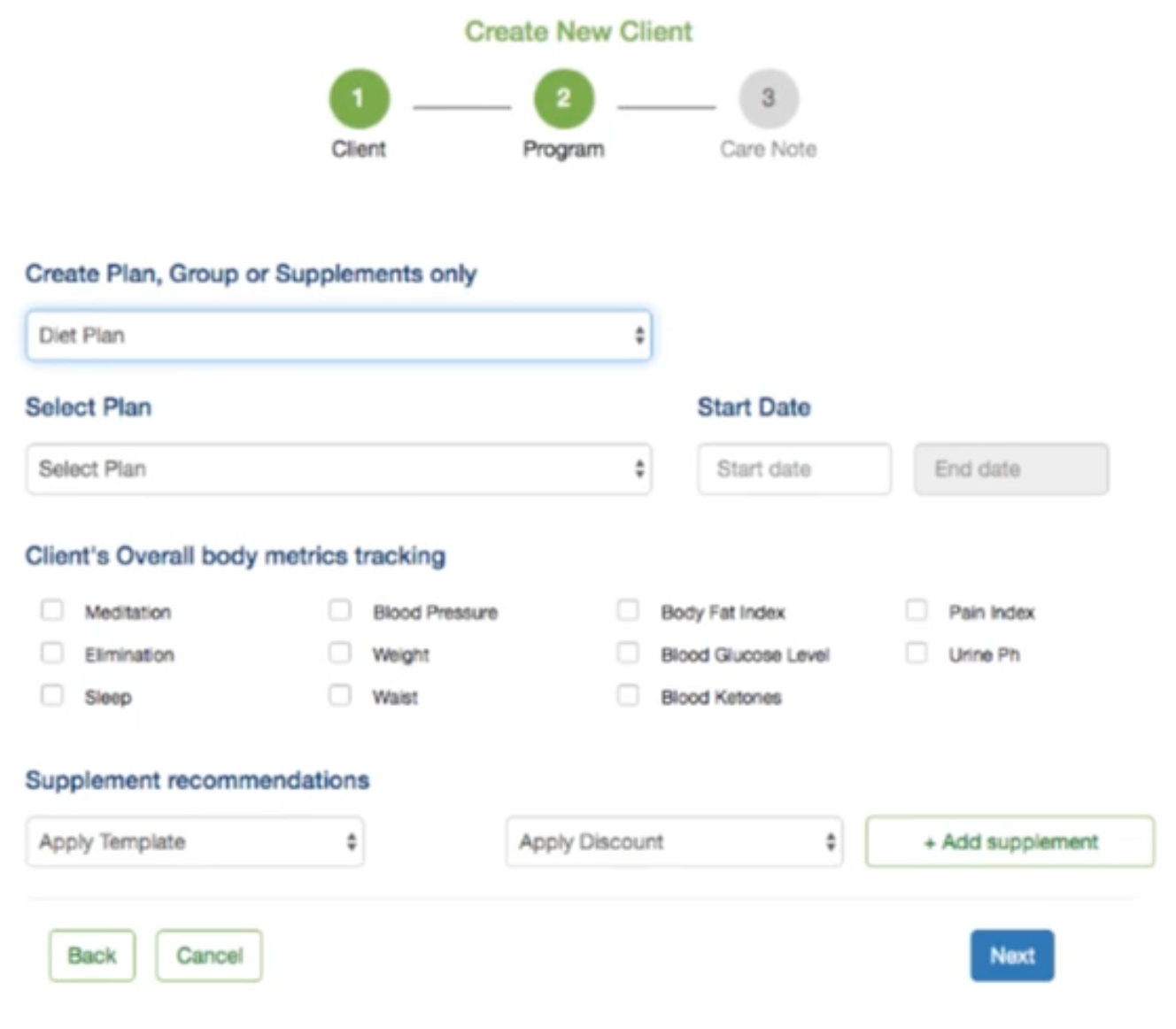 With MBODY360, practitioners can recommend supplements to their clients along with diet plans. However, the platform does not provide support to help you decide which is the best treatment for your client.
When adding a supplement to a client's plan, you will need to manually select the supplement and add any notes you want to pass along to your client. MBODY360 does not provide additional resources you can give to your client to help them learn more about their health.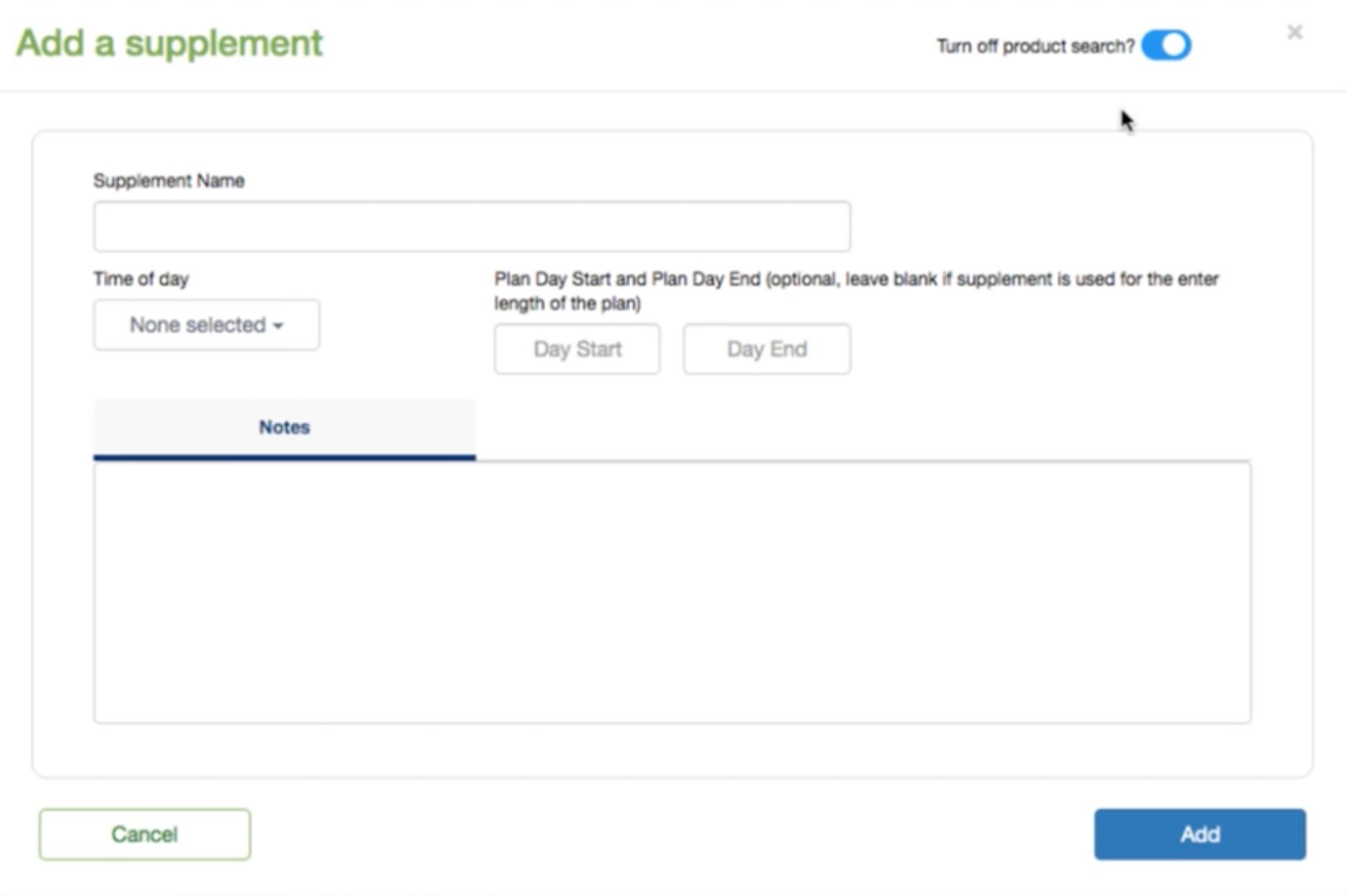 You can choose from a list of supplements from their store, in which case your clients can purchase directly from the platform, or add new ones. You can also select when you want your clients to take each supplement, for example at breakfast or lunch.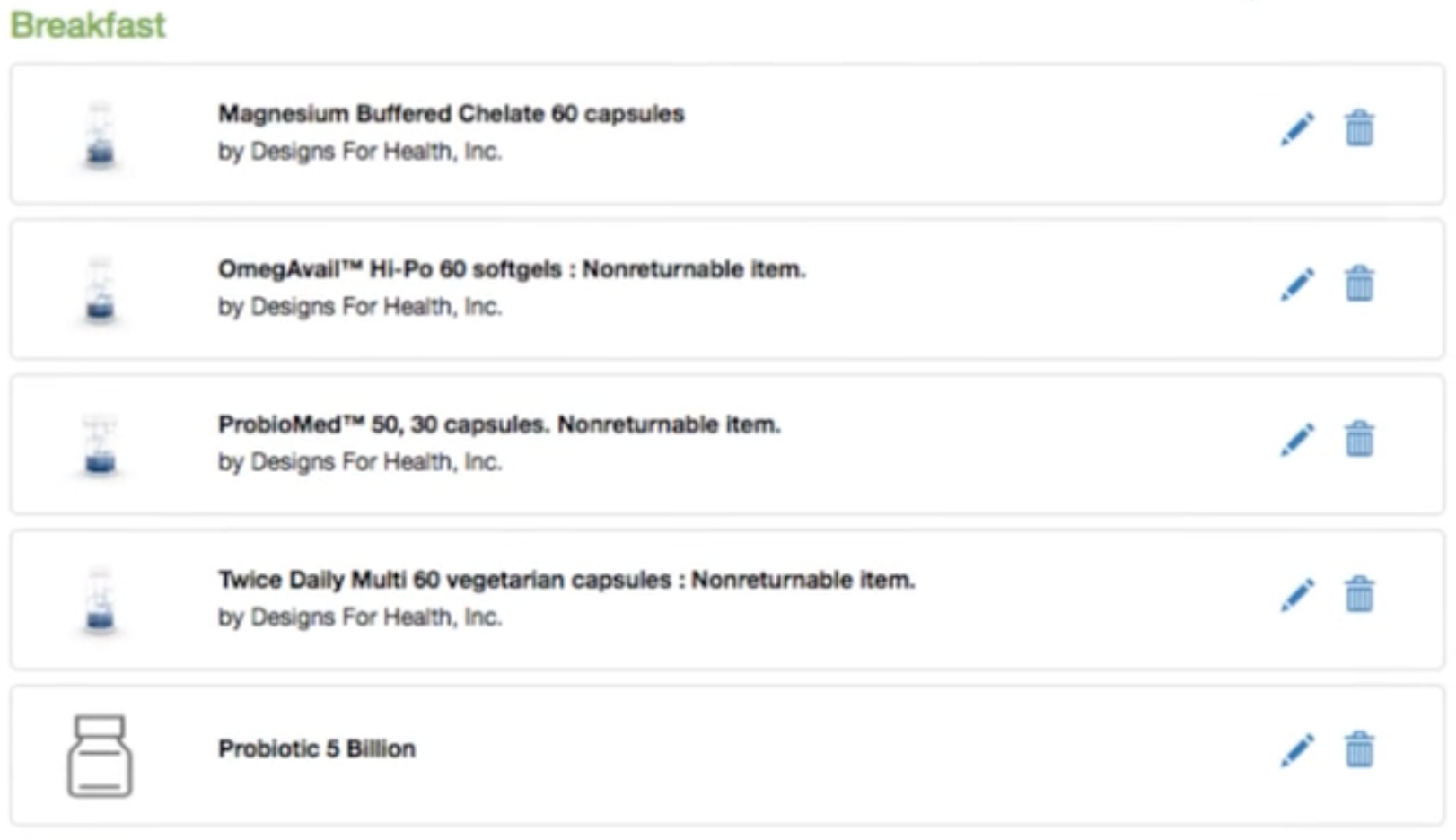 When it comes to meal plans, MBODY360 offers 18 options, including a variety of popular diets such as Paleo, Ketogenic, and Mediterranean. You can also choose meal plans based on their benefits, such as Thyroid Support or Healthy Heart.
All meal plans have a duration of 14 days, which cannot be changed. Once you set a date for your client's meal plan to start, the end date is automatically calculated. You can view some of the meal plan options available below.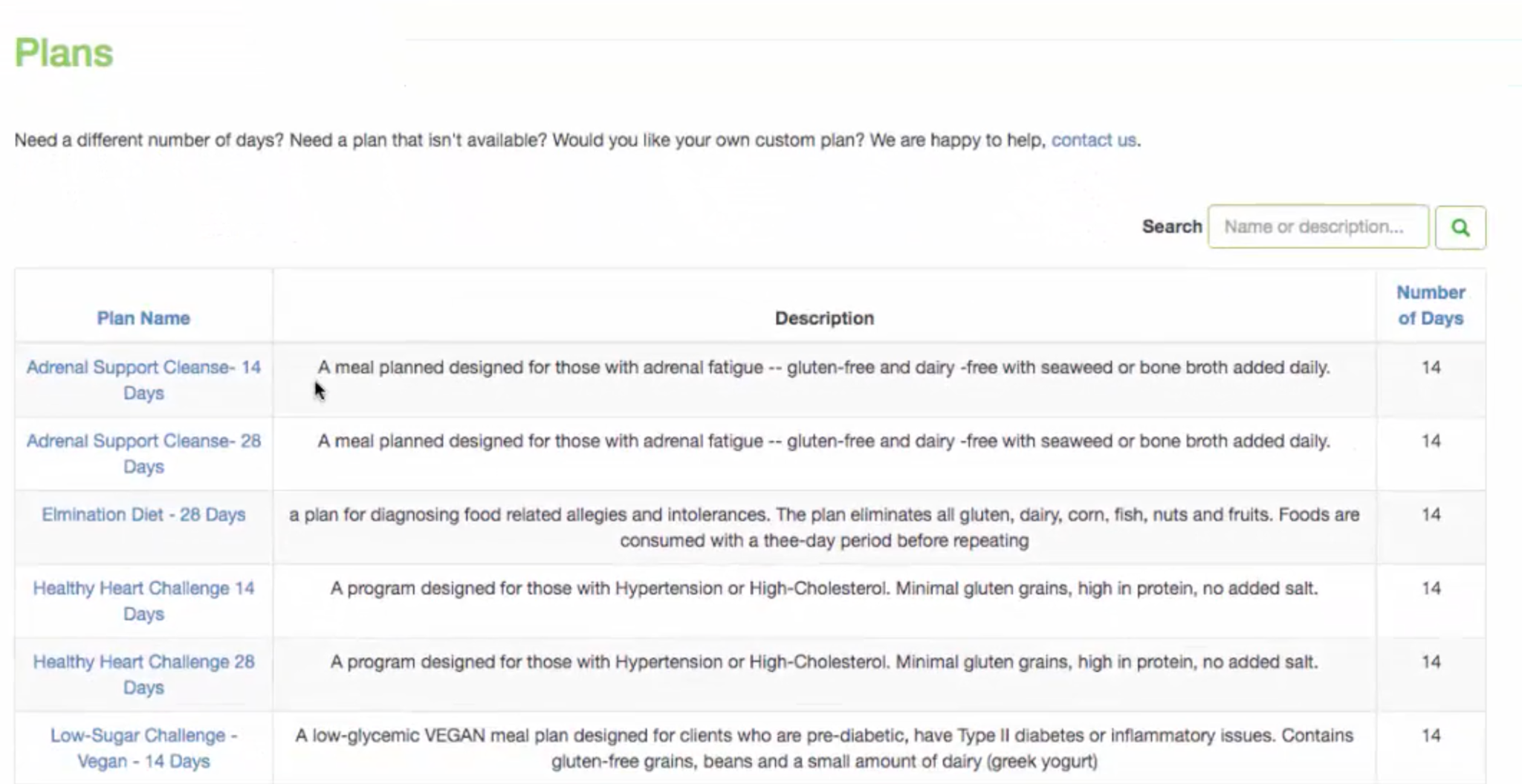 After selecting a plan, practitioners are allowed only minimal customization. You can select which health indicators you want clients to track. However, you cannot modify this per client, only per plan. This means all clients assigned this meal plan will receive the same recommendations.
On the plan page, you can view more details such as a breakdown of the meal plan per day, shopping lists, and recipes, as seen below.
MBODY360 provides a list of foods clients should avoid based on the meal plan choice. Again, this cannot be edited based on each client's unique case. The platform also does not offer resources or explanations regarding why items should not be included in the diet.
While these meal plans were created by a registered dietitian, MBODY360 does not support their recommendations with peer-reviewed scientific studies in these reports.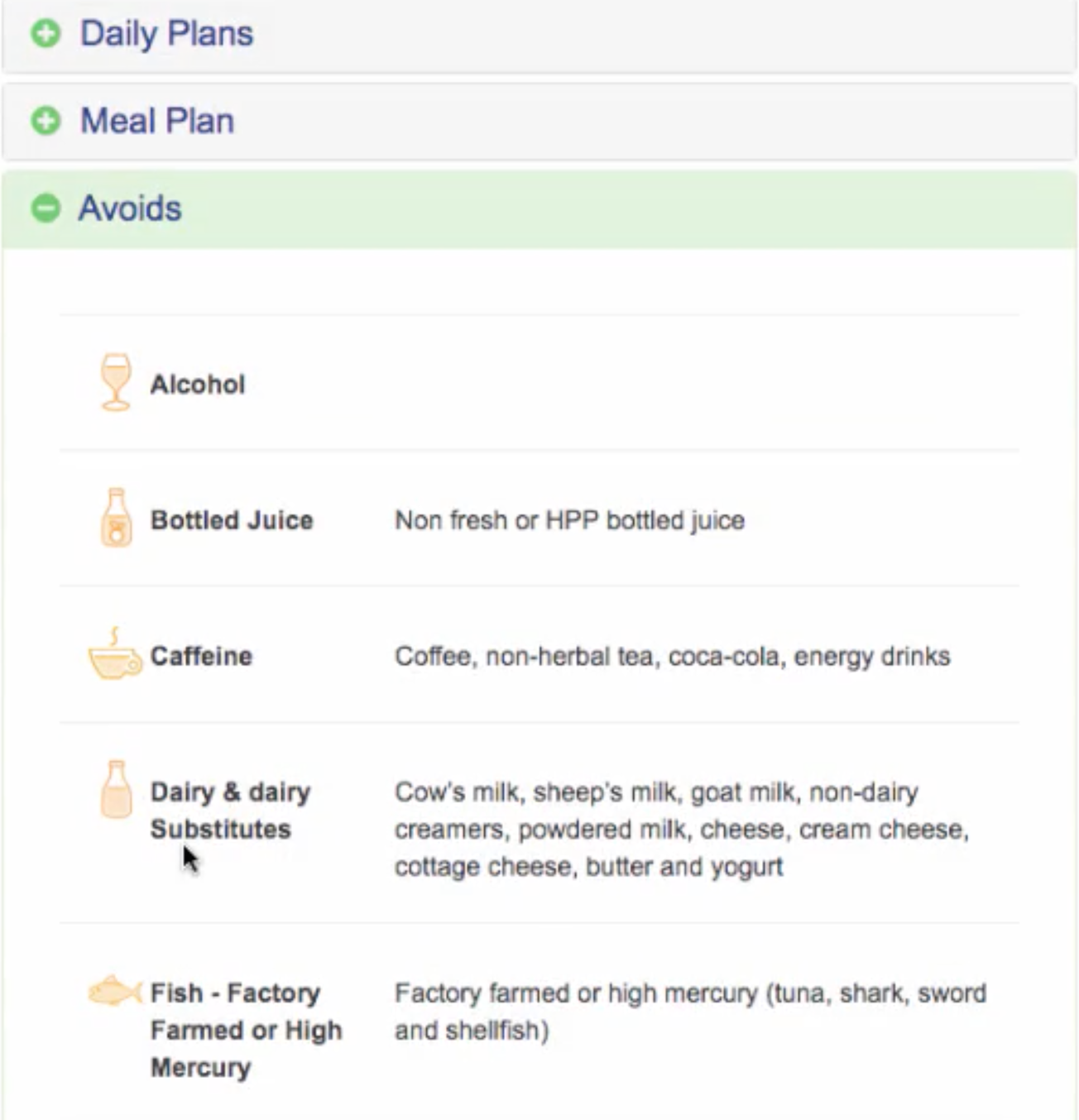 MBODY360 Cost
MBODY360 prices vary depending on the number of practitioners included and features available:
Solo Lite: $29.99 per month
Solo: $79 per month or $768 per year
Pro: $149 per month or $1,428 per year
Practice: $249 per month or $2,388 per year
Health Recommendations From MBODY360
MBODY360 offers done-for-you nutrition plans you can assign to clients. However, these allow for little to no customization unless you subscribe to their more expensive plan. You can change recommended supplements and health indicators tracked, but meal plans do not allow for any changes.
They do not take into account your client's specific DNA or lab results. MBODY360 does not allow you to track labs to see how a client's health is improving along with the plans. They claim all meal plans are designed by a registered dietitian, but they do not provide a macro or micronutrient breakdown of meals.
MBODY360 Privacy & Data Security
MBODY360 claims to take steps to protect personal information against theft, loss, misuse, unauthorized access, disclosure, alteration, or destruction.
MBODY360 health practitioners can communicate with clients through messaging and video conferencing on the platform. The company may capture audio and video recordings in connection with these communications.
MBODY360 Reviews
There aren't many MBODY360 reviews available online. In a blog post containing a list of online health coach software, Everything Health Coach points out some pros and cons of using this platform. As a positive, they list the ability to order supplements through the app and communication between coach and client. On the other hand, they say the program can be difficult to set up and has some glitches.
Alternatives to MBODY360
MBODY360 offers done-for-you meal plans that you can assign to your clients. While they do have a decent number of plans available that include different dietary choices, they only allow for minimal to no customization for each individual client. According to the website, only their most expensive subscription option includes custom wellness plans.
The platform can help you manage your clients and quickly assign them plans, but this is far from the personalized health your clients are looking for. With MBODY360, you won't be able to store or track your clients' labs or DNA data, which can be crucial when it comes to finding the root cause of a client's health problem and providing insights on how to solve their issues.
SelfDecode Pro offers you a precision health platform that provides personalized diet, lifestyle, and supplement recommendations based on your client's DNA, labs, and environmental data. SelfDecode analyzes up to 83 million genetic variants and over 1,000 lab markers to provide you with data-driven recommendations so you can decide on the best treatment plan for your clients.
MBODY360 vs SelfDecode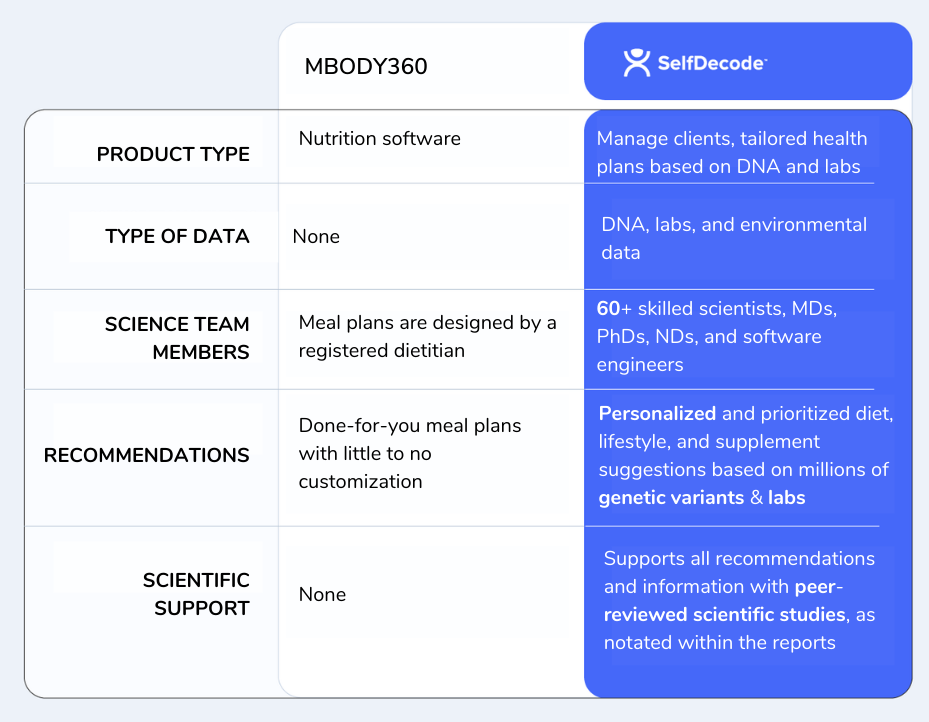 Personalized Health Recommendations
SelfDecode uses cutting-edge AI and machine learning to analyze up to 83 million genetic variants and gives personalized health recommendations based on each client's unique DNA. You can upload your client's preexisting DNA file or order DNA tests from SelfDecode to get access to the reports.
By analyzing up to 1 million+ variants per report, SelfDecode is able to provide the most accurate genetic risk results and recommendations for your clients. You'll have access to over 40 dedicated DNA wellness reports, with more being added constantly, including topics such as weight, cholesterol, gut health, and many others.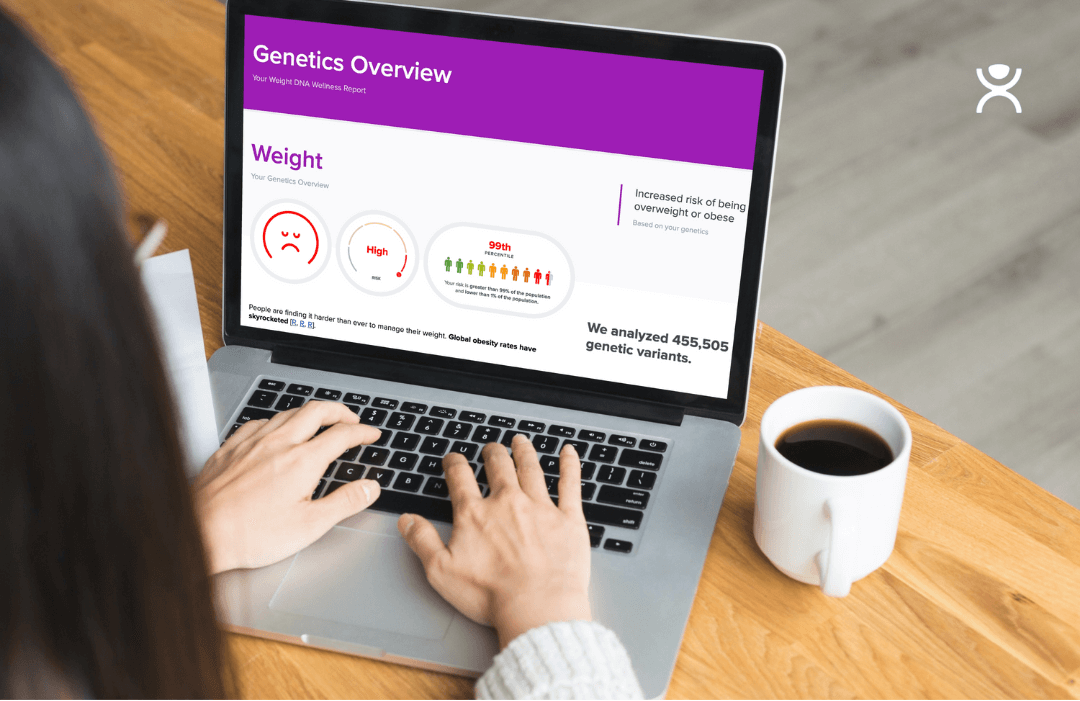 Analyze and Track Labs
With SelfDecode Pro, you can upload lab results or order lab tests to receive tailored insights on how to optimize over 1,000 lab markers. By understanding the current health status of your clients, it can help you choose the best individualized treatment plan to help them achieve their goals.
This way, you can easily track results and identify trends and adjust each client's health plan based on what is currently working (or not) for them.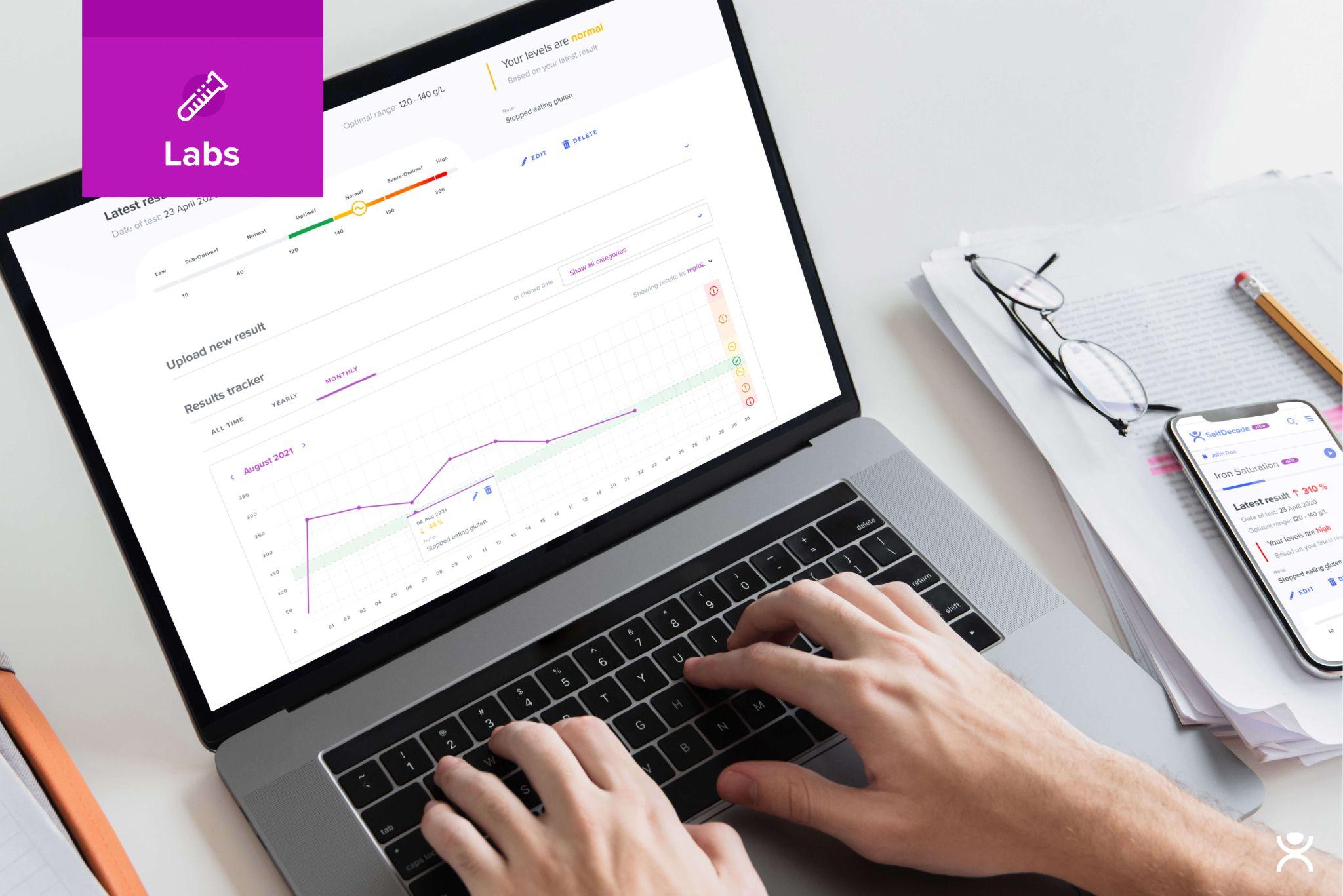 Data-driven Health Regimen Builder
SelfDecode helps you save time by allowing you to easily create custom health plans for each client with a click of a button, directly from the DNA and lab reports. SelfDecode provides detailed explanations on the health topic and recommendations, citing all peer-reviewed studies used to support the reports.
SelfDecode has a team of over 60 highly skilled scientists, MDs, PhDs, NDs, and software engineers to make sure you receive the most accurate results and recommendations for your clients.
After deciding on the best treatment plan for your client, you can set the frequency and duration of each recommendation for them to follow. All recommendations are tailored to your client's specific DNA and lab results.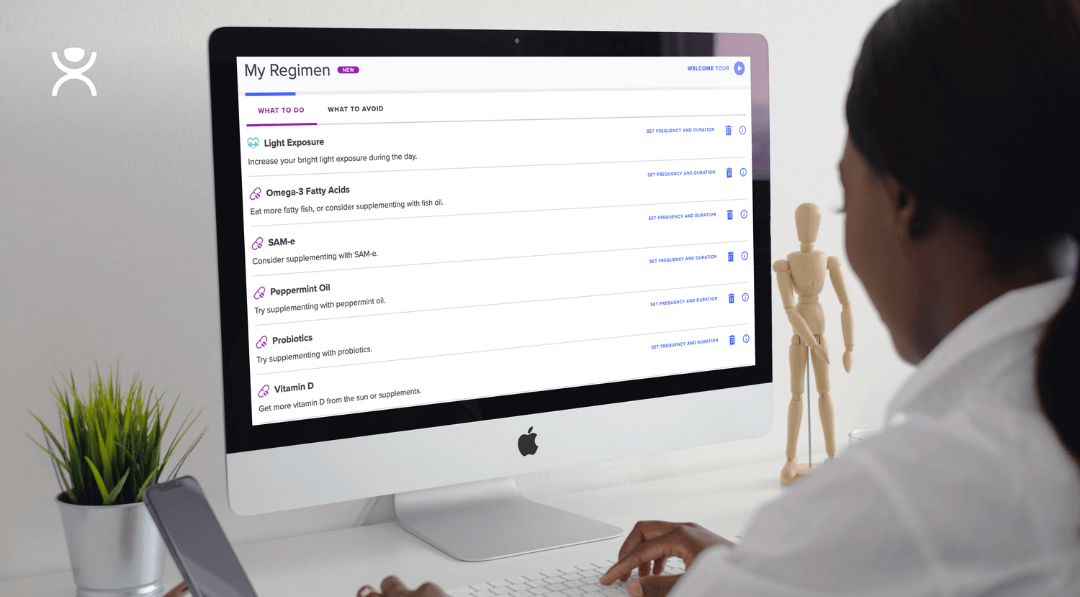 White Label Option
SelfDecode offers you the option of adding your logo and information in the reports, helping you solidify your presence as a health practitioner.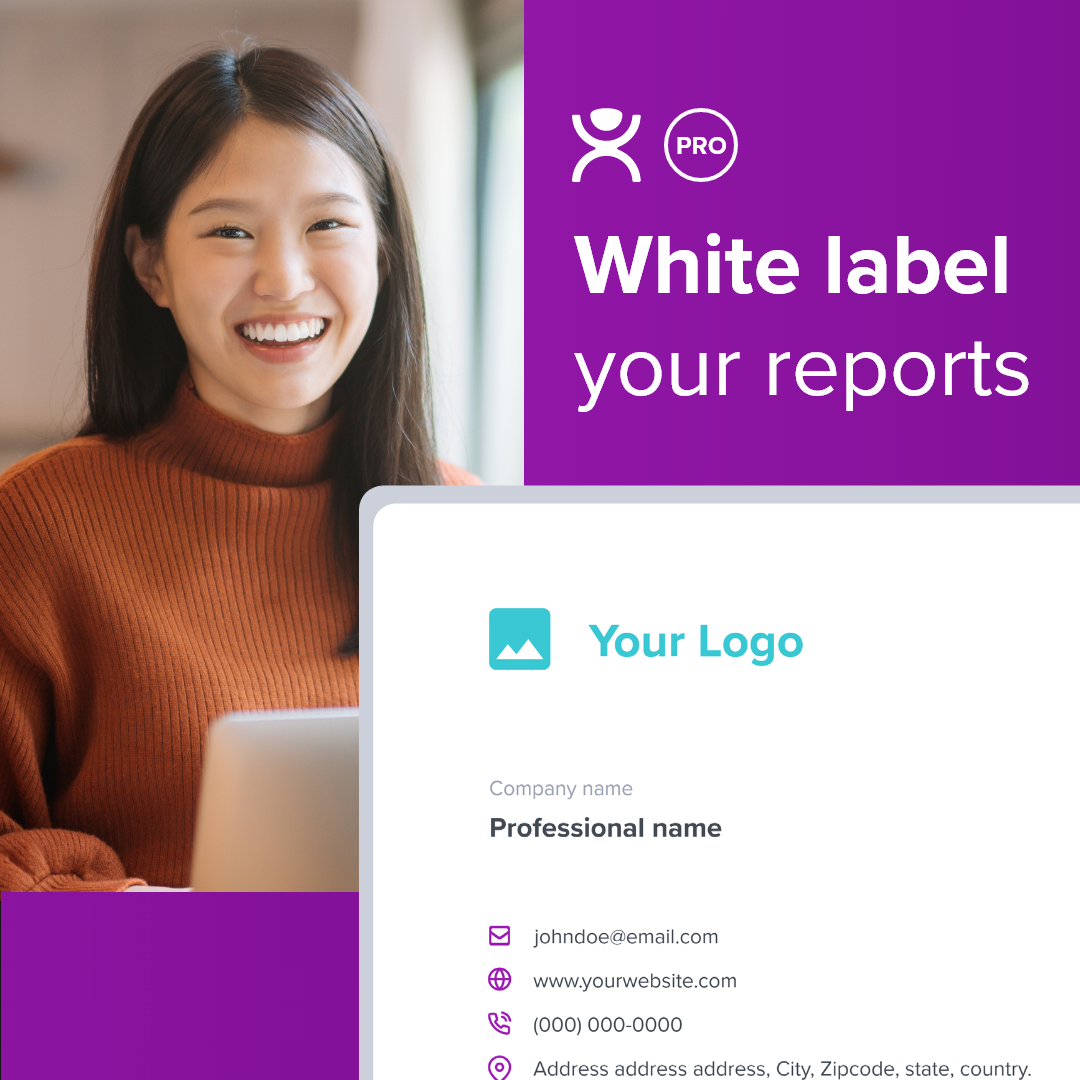 MBODY360 Review Summary
MBODY360 offers a good option to those who are looking for done-for-you meal plans with the option of including supplement recommendations for clients. However, health practitioners will have limited options when it comes to the customization of these plans.
The platform allows you to change some basic things such as health indicators to track, but this can only be modified per plan and will apply to all clients assigned to that meal plan. While they do allow practitioners to include supplements in their clients' plans, MBODY360 does not offer support when it comes to choosing the right supplements or meal plan for each client.
Other alternatives may be able to better support you in deciding what is the best course of action for your clients. SelfDecode Pro analyzes DNA, labs, and environmental data to provide personalized diet, lifestyle, and supplement recommendations tailored to your client's unique needs, allowing you to give your clients the best care possible.
Are you a health practitioner? Book a free strategy call today to see if SelfDecode Pro is the right fit for you and your practice.