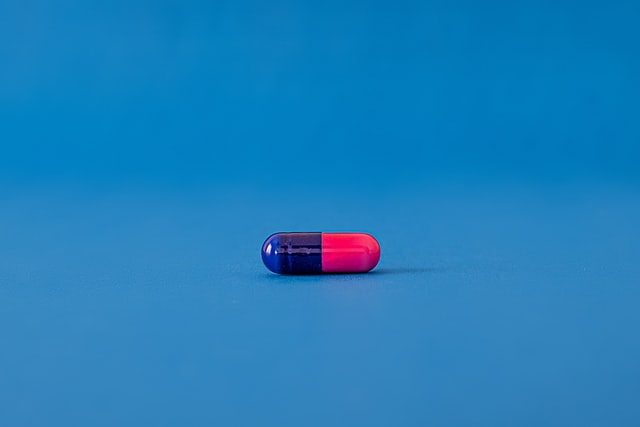 Overview
Products: Microbiome testing, custom probiotics, gut health reports.
Cost: Supplement prices start at $99 for a one-month supply, while the test kit + supplement subscription cost $179 per month.
Reports: Gut health reports.
Raw data access: No.
Privacy: Sun Genomics may share personal information with trusted third parties who perform services on their behalf.
Alternatives: SelfDecode offers personalized health recommendations based on your genes.
Pros
Sun Genomics offers personalized supplements based on gut microbiome testing.
They offer specific tests for different age groups.
Cons
They only analyze gut health to make dietary and supplement recommendations.
The subscription program can be expensive.
The website presents inconsistent information about the subscription's prices and periods, so users might be left confused about what they will receive.
About Sun Genomics
Sun Genomics is a gut microbiome testing company founded in 2016 by CEO Sunny Jain, who decided to take action after his son began suffering from gastric distress. Jain has 21 years of molecular and microbiology experience.
The company is based in San Diego, California, and they state that all their probiotics are manufactured in-house. They believe that microbiome tests can help people improve their quality of life.
They have partnered with the Arizona State University Autism and Asperger's Research program to help uncover the potential link between the gut microbiome and Autism Spectrum Disorder.
Review of Sun Genomics Products & Features
Sun Genomics offers custom probiotics formulated specifically for users' microflora. The company boasts an inventory of over 70 probiotic strains that they use to create personalized supplements.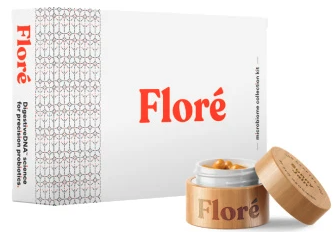 To get started, customers need to order a gut microbiome testing kit. After they collect a stool sample and send it to the laboratory, DNA is extracted and sequenced. The company uses Whole Genome Sequencing (WGS) to determine gut microflora.
The results are available on their online portal or through their mobile app. The company uses the test results to create personalized probiotics, which are sent out within 2 to 3 weeks.
Sun Genomics offers subscription programs for the majority of their supplements. The Floré Adults Custom Probiotics provides personalized probiotics to adults that are presented as a once-a-day pill solution.
Floré Baby delivers probiotics for newborns and infants aged 0 to 1 year old. Floré Tots and Floré Kids are designed for children aged 1 to 3 and 4 to 12, respectively. All three come as an easy to digest powder to mix with the infant or child's formula or favorite drink.
The probiotics are delivered monthly, and users also get a new testing kit every four months. If they wish to, customers can opt out of retesting and can receive a refill of the same probiotics. Subscribers get access to the online platform and app and health calls with a wellness consultant.
The company also offers a stand-alone test. The Floré Gut Health Test Kit can detect over 23,000 microbes present in the gut, including bacteria, fungi, parasites, and viruses. Users do not receive supplements with this option, but they can upgrade to the subscription program.
Sun Genomics has a standard supplement line, which includes the Floré Defense and Floré Balance. The first combines a variety of probiotics, vitamins, and other ingredients to support the immune system. The latter is formulated with beneficial probiotic strains, prebiotic fibers, and immune-supporting ingredients.
The Floré Research Edition is the result of their partnership with Arizona State University and is meant for those on the autism spectrum. For this option, users are required to commit to a minimum of 2 rounds of probiotics and participate in weekly surveys.
Review of Sun Genomics Reports
Sun Genomics presents the microbiome test results on their online platform and mobile app. The portal allows users to keep track of their results trend, seen below. Additionally, they get recommendations for food and probiotics based on their microflora results.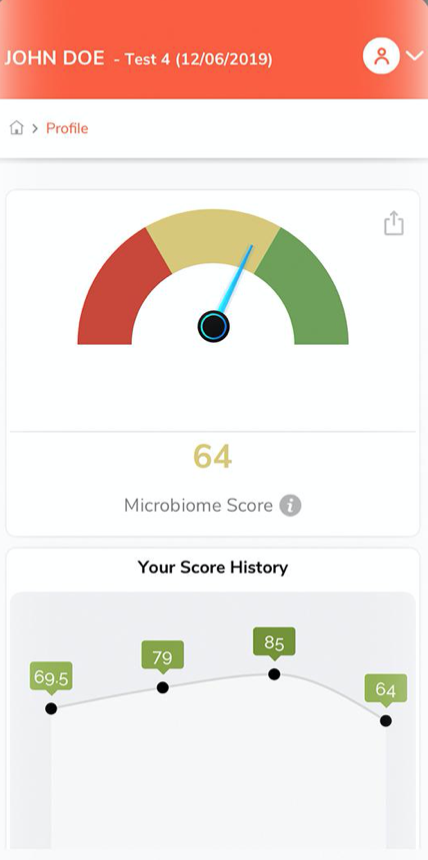 The company also provides health scores to help their customers manage their gut health. They include overall health, longevity, joint health, and immunity, as shown below.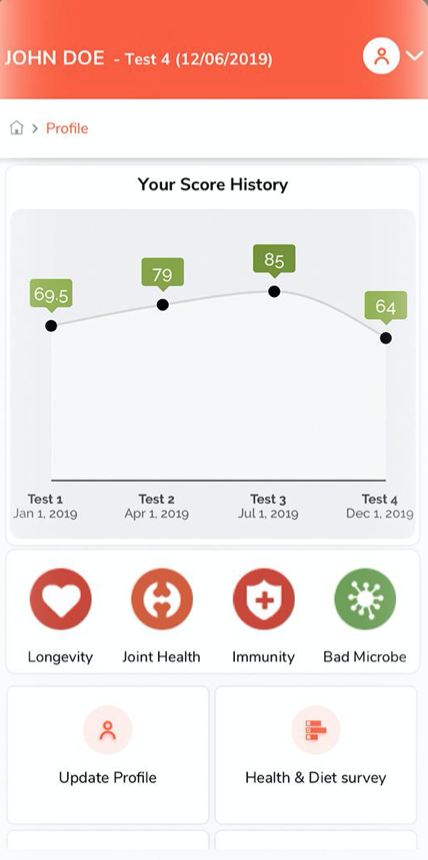 Sun Genomics gives information about the top 10 microbes present in the sample and includes data on beneficial and potentially harmful bacteria, fungi, parasites, and viruses present in the gut. They notify users of changes in the microbiome from past tests, as shown below.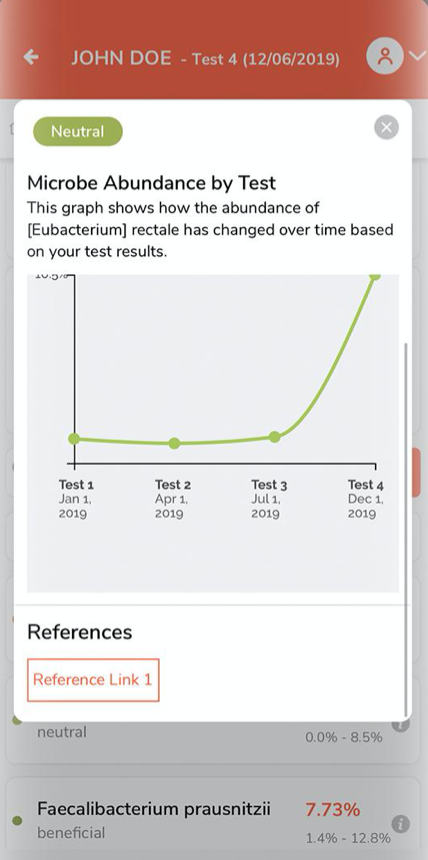 Keep in mind that customers have stated that the food recommendations from Sun Genomics were lacking. The reports do not offer any other health information or recommendations other than probiotics and dietary based on the gut microbiome.
Cost of Sun Genomics
Sun Genomics charges $249 for the Floré Gut Health Test Kit.
The Floré Adult, Baby, Tots, and Kids are monthly subscription programs that cost $179 each.
Floré Defense is priced at $99 for a one-month supply, and the Floré Research Edition costs $350 for a three-month supply of probiotics and a test kit.
For those who already had their gut microbiome tested and do not wish to get retested, they can subscribe to the refill plan for $150, delivered every three months. Alternatively, users can get a one-time three-month refill for $225. All subscriptions include automatic renewal.
Health Recommendations from Sun Genomics
Sun Genomics offers custom probiotics that are formulated specifically for each microbiome result. Although the company provides a few dietary recommendations, they focus on delivering tailored supplements to help users improve their gut health.
The company scores gut health to help their customers manage their results. The platform also enables users to keep track of their health goals and check out recipe suggestions. No other health recommendations are provided.
Review of Sun Genomics Privacy & Data Security
Sun Genomics claims to take reasonable precautions to protect personal information from being lost, misused, wrongly accessed, disclosed, altered, or destroyed. They state they may share data with their business partners or other entities that perform services on their behalf.
The company also maintains that they may disclose information when they believe it is necessary to comply with the law, or if the user violates their Terms of Services.
SelfDecode vs Sun Genomics
SelfDecode delivers natural supplements, diet, and lifestyle suggestions based on your genes that you can implement right away. Sun Genomics offers diet and supplement recommendations based on the gut microbiome.
SelfDecode tells you why they make each recommendation so that you can understand the science behind the suggestion. Sun Genomics makes their recommendations based on gut test results.
SelfDecode prioritizes recommendations based on their analysis of all the relevant genes instead of one gene at a time (through reports). Sun Genomics does not prioritize their recommendations, but they provide health scores to help users keep track of their gut health.
SelfDecode takes a holistic approach to give recommendations that are best for your genes AND the health topic. Sun Genomics only analyzes the gut microbiome to make their recommendations.
SelfDecode has a team of over 60 highly skilled scientists, MDs, PhDs, NDs, and software engineers to make sure they deliver the most accurate and science-based health information. Sun Genomics claims to have a team with experience in microbiology, neurobiology, bioinformatics, and law.
SelfDecode is the most comprehensive and looks at more genes & SNPs (up to 83 million) to deliver the best analysis of genetic risks. Sun Genomics sequences DNA to explore the gut flora, but does not offer any other kind of health testing.
SelfDecode supports everything with peer-reviewed scientific studies in their research and checks for contradicting information. Sun Genomics displays a few scientific papers on their website, but it is unclear if they provide scientific references in the reports.
SelfDecode never sells your data or gives it away. Sun Genomics may share personal information with third parties if required to perform their services.
Comparisons
| | | | | |
| --- | --- | --- | --- | --- |
| | SelfDecode | Sun Genomics | BIOHM | Viome |
| Personalized & holistic health recommendations | Yes | No | No | Yes |
| Genes & gene variants analyzed | Up to 83 million genetic variants | 23,000 microbes in the gut | Fungal and bacterial sequencing | Microbiome sequencing |
| Products | DNA testing, wellness reports, health recommendations, patient and provider options | Microbiome testing, gut health reports, custom probiotics subscription program | DNA tests and reports for gut health, supplements | Gut and health reports, nutrition and supplement recommendations |
| Raw data access | Yes | No | No | No |
| Cost (USD) | $97 – $387 | $99 – $350 | $5 – $219 | $0 (limited) – $700 |
Sun Genomics Reviews
On Google Play, customers rated the app 4.2 of 5 stars. One user comments on how they expected more details on which foods were good and bad for them specifically.
84 customers on Trustpilot rated the company an average of 4.2 of 5 stars. Most custom probiotics reviews say the product helped them improve their gut health, and commend the company for their easy-to-use test kit. Several customers complain about slow responses from customer service.
Alternatives to Sun Genomics
SelfDecode: Get personalized health recommendations based on your DNA and labs through a wide variety of detailed reports.
Sun Genomics Review Summary
Sun Genomics tests the gut flora to formulate custom probiotic blends tailored to each result. They offer products specifically designed for different age groups, including infants, children, and adults. They present information on the microbiome profile, gut health scores, and diet and supplement recommendations to help users manage their gut health.
Their reports are focused on selling probiotics and tracking gut health through the app. Their food recommendations are limited, and they offer no other health insights. While the microbiome present in the gut can offer valuable insights into one's current health state, overall well-being encompasses much more than that.
For a more holistic approach to health, SelfDecode analyzes up to 83 million genetic variants to deliver personalized diet, lifestyle, and supplement recommendations based on DNA and labs. SelfDecode offers DNA Wellness Reports on over 30 health topics, including multiple reports on gut health. With a SelfDecode membership, you'll also get access to a lab analysis tool for a complete picture of your health.
Related