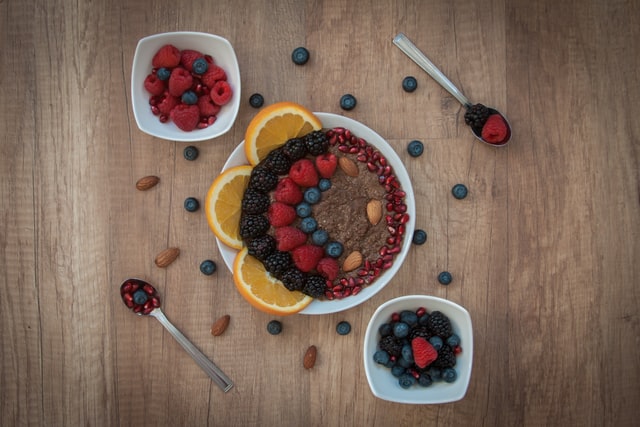 Overview
Products: Personalized micronutrient formulas, nutrigenetic DNA and blood testing, and DNA and blood uploading services.
Cost: $70 per month for the micronutrient supply, $199 for the blood nutrient test, $199 for the DNA test, and $89 for the blood vitamin test.
Reports: Rootine reports cover 4 main topics backed by science: micronutrients, amino acids, metabolism, and detoxification.
Raw data access: Yes.
Privacy: Rootine claims that they will not sell or use personal or genetic information without the consent of customers. They state that personally identifiable information is stored separately from genetic information to ensure better protection.
Alternatives: SelfDecode – For under $100, SelfDecode offers personalized health recommendations based on the analysis of 700,000 SNPs.
Pros
Blood and DNA testing for a more data-driven micronutrient formula
Science-backed reports
Cons
If customers decide to take all of the tests and subscribe to the monthly nutrient formula, the price can be up to $1000 for one year
Testing and generating a nutrient formula can take many weeks
The nutrient formula can only be purchased in a minimum of 3 month intervals
About Rootine
Rootine was founded in 2018 by Biana Gfrei, Dr. Daniel Wallerstorfer, and Rachel Saunders.
Rootine aims to analyze biometric and lifestyle data to make personalized micronutrient formulas for their customers. The company is based out of Nashville, Tennessee.
Review of Rootine Products & Features
Rootine offers a variety of tests and data collection methods to create a personalized nutrition formula for their users. The company uses 3 main biometric categories to determine the profile of their customers: DNA, Blood, and Lifestyle.
Rootine offers DNA data collection through their at-home collection kits that use a cheek swab method that customers can mail back to the company labs. Additionally, Rootine users can upload existing raw genetic data from 23andMe or Ancestry.com if they already have it. Rootine claims that they analyze over 50 genetic variants.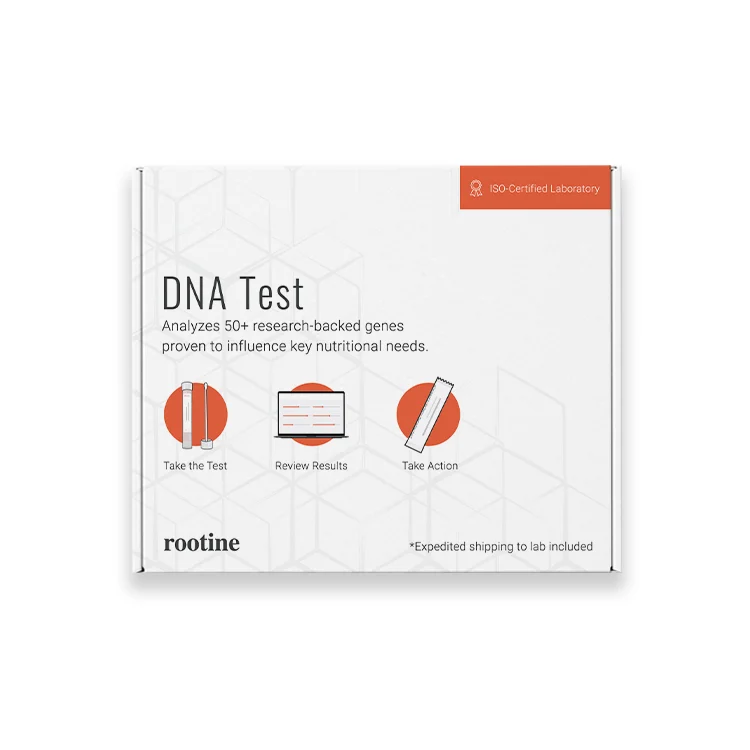 There are two blood tests that are offered: the blood vitamin test and the blood nutrient test. The blood vitamin test measures vitamin D, vitamin B6, vitamin B9 and B12. The blood nutrient test measures 18 nutrients and 10 amino acid metabolites. The tests are only available separately, and are available as at-home finger prick tests. Blood test results can also be uploaded to Rootine, but the company warns that not all nutrients may be covered.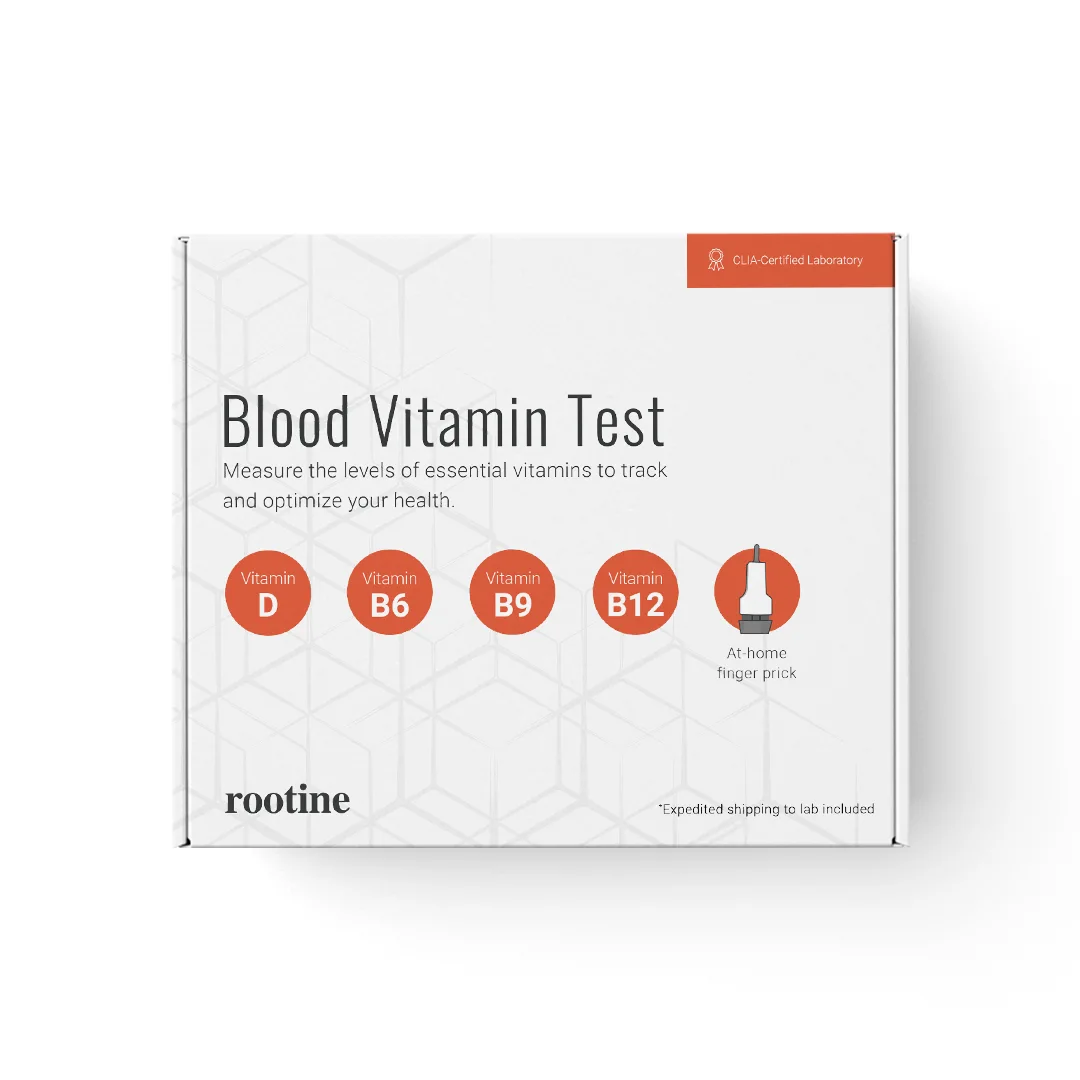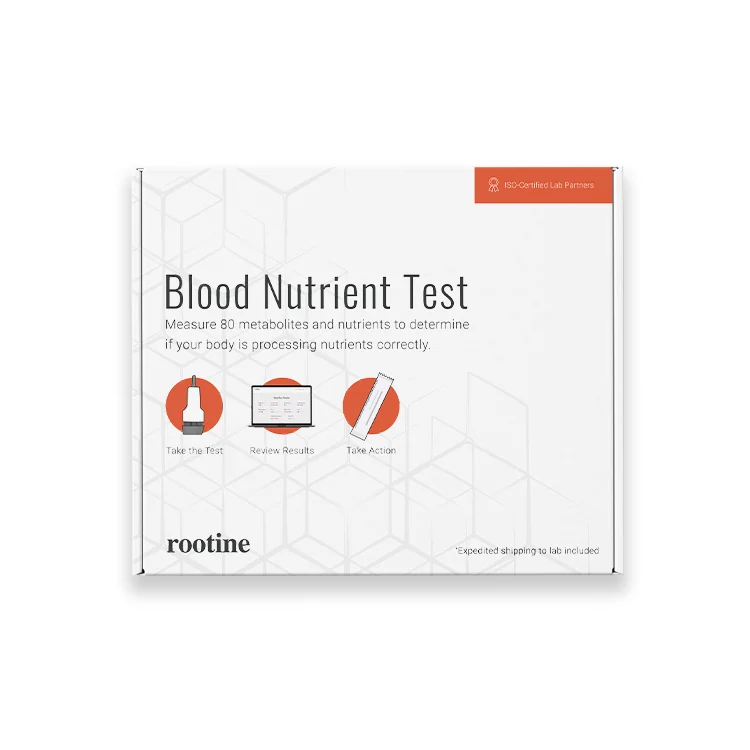 The lifestyle data is collected via a lifestyle quiz available on the rootine website, and collects information such as age, height, diet, and exercise habits.
With this information, reports will be generated for users to view based on their test results and questionnaire answers. A personalized formula to address needs for action in the report will then be generated for users to order and be delivered on a monthly basis.
Review of Rootine Reports
Rootine provides customers with detailed reports covering four main topics: micronutrients, amino acids, metabolism and detoxification. The reports end with a science section that shows the references used within the report.
Each section shows an overview of the topic that was tested using the kits provided by Rootine with a color-coded continuum. Below is an example of an overview of micronutrient levels.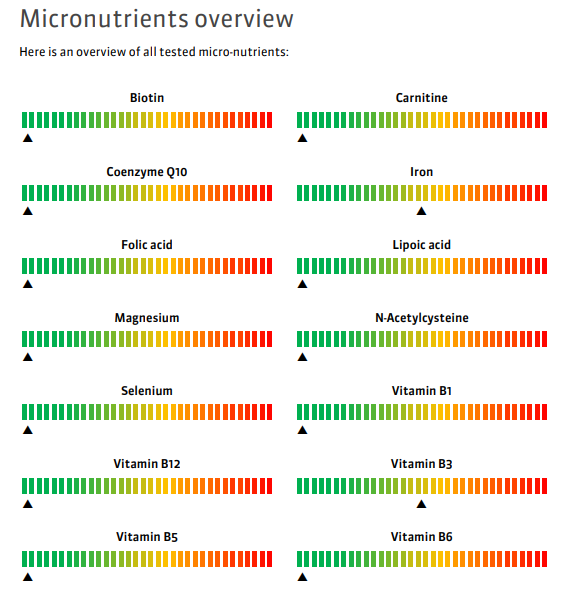 Additionally, a description of the topic and a need for action is provided if there is a deficiency or a low level of a marker. Below is an example of the amino acid description section.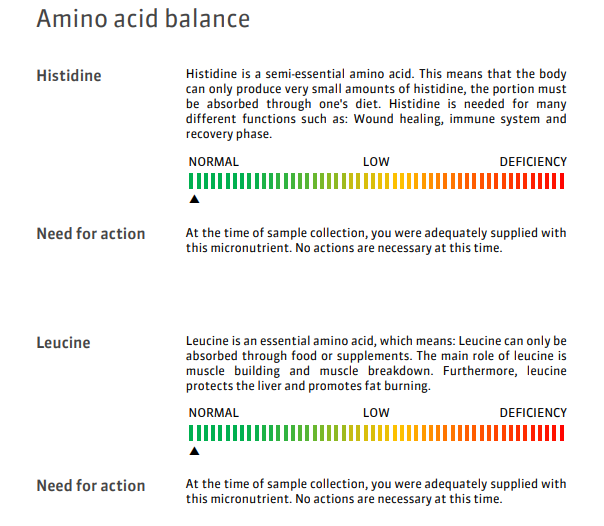 A need for action will be shown if there is a low level or a deficiency found in the tests. An example of a need for action can be found below for the amino acid arginine.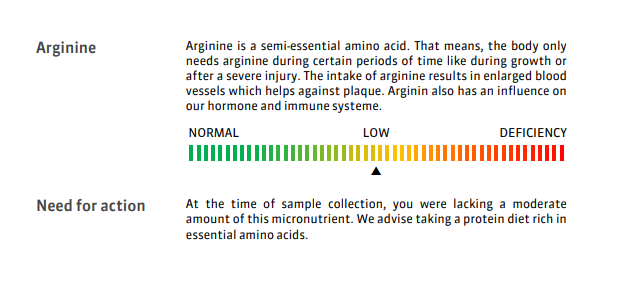 The language used in the reports is can be understood by a wide audience. The color-coding is effective in communicating possible areas for improvement or need for action.
The recommendations given in the need for action sections are very short and generic. Scientific citations are not given within the body of the report, only at the end.
The Science Section presents users with a list of references of current scientific information that the report relies on. One could consider this section to be lacking in labels corresponding to sections of the report, and many users could be overwhelmed by the information and its presentation.
Unfortunately, Rootine's reports do not embed references directly into the reports, so they are more accessible and easy to see their relevance.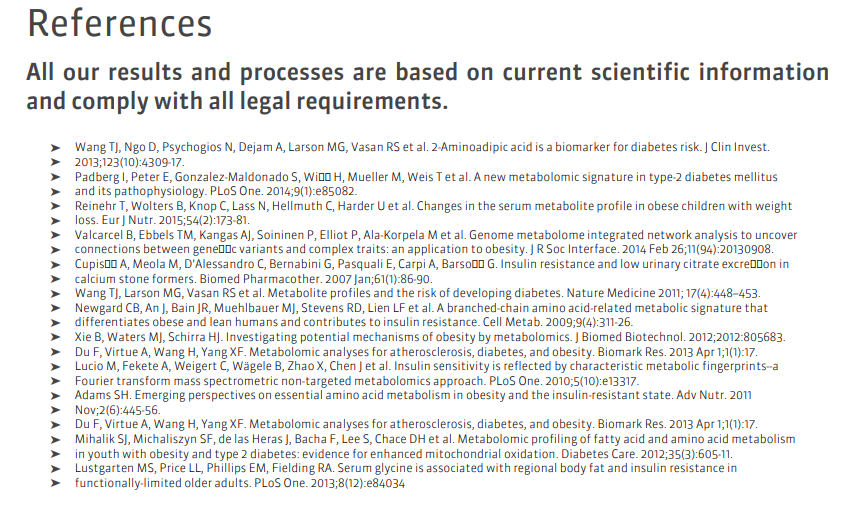 Cost of Rootine
Rootine charges $70 per month for the micronutrient supply, and it can only be procured in a 3 month package at a minimum.
The blood nutrient test costs $199, the DNA test for $199, and $89 for the blood vitamin test. Quarterly re-tests are recommended for the blood testing.
Therefore, if customers want the comprehensive package from Rootine that includes monthly micronutrient supplies and quarterly re-testing for blood vitamins and nutrients, they will be spending over $2000 per year.
Without quarterly re-testing, the service will still cost over $1000 per year if customers purchase the DNA tests, the two blood tests, and the monthly micronutrient supply.
Cancellations for the personalized vitamins must be requested at least 30 days before the next 3-month iteration. Once customers send their DNA or blood tests back to Rootine, they cannot get a refund.
Health Recommendations from Rootine
Rootine offers a personalized monthly micronutrient supply to their customers based on their DNA, blood, and lifestyle data. The micronutrient supply can be altered as customers re-test or change their lifestyle data.
The reports also offer health recommendations addressing the different subtopics of micronutrients, amino acids, metabolism, and detoxification if the blood testing reports a low, limited, or deficient level. A "need for action" diet and/or supplement recommendation to improve the outcome is provided in the reports.
Review of Rootine Privacy & Data Security
Rootine claims that all customer data will never be sold or shared, and will only be used to make customer vitamins and personalized products.
The company claims that their lab employees are trained in data protection and they use standardized medical confidentiality practices, including two factor authentication. They will also destroy DNA samples after analysis is completed. The samples will also be encrypted when they are labeled, instead of with identifiable information.
Their labs are credentialed with ISO certifications, and follow FDA current good manufacturing practices.
SelfDecode vs Rootine
SelfDecode delivers natural supplement, diet, and lifestyle suggestions based on your genes that you can implement right away. Rootine delivers supplement and diet recommendations, but not always based on genes.
SelfDecode tells you why they make each recommendation so that you can understand the science behind the suggestion. Rootine offers scientific citations for their reports, but does not give embedded scientific explanations within their reports.
SelfDecode prioritizes recommendations based on their analysis of all the relevant genes instead of one gene at a time (through reports). Rootine does not appear to prioritize recommendations within their reports.
SelfDecode takes a holistic approach to give recommendations that are best for your genes AND the health topic. Rootine does not focus on particular health topics.
SelfDecode is the most comprehensive and looks at more genes & SNPs (over 700,000) to deliver the best analysis of genetic risks. Rootine combines blood, DNA, and lifestyle data to generate personalized vitamins.
SelfDecode supports everything with peer-reviewed scientific studies in their research and checks for contradicting information. Rootine provides scientific references for all their reports, but they are only presented as a list at the end of their reports.
SelfDecode never sells your data or gives it away. Rootine also claims they will never sell or give away customer data.
Comparisons
SelfDecode
Rootine
Vitl
Thriva
Personalized & holistic health recommendations
Yes
Yes
Yes
Yes
Number of genetic variants analyzed
Over 700,000
Over 50
Not Disclosed
No DNA Test
Products
DNA testing, wellness reports, research-based personalized blog posts, health recommendations
DNA testing, blood testing, data uploading service, personalized vitamins service
DNA and blood testing, personalized vitamins
At-home blood tests, health and wellness reports
Raw data access
Yes
Yes
Yes, upon request
N/A
Cost (USD)
$97 – $389
$70 a month for micronutrients

DNA and blood testing from $89-$199

$10 – $142
$0 – $94+
Rootine Reviews
Realreviews.org- 9.3 out of 10
The review website realreviews.org gives Rootine a high rating, citing the quality and effectiveness of the service as the highlights. Their downside in the company review is the price.
Read more about what people are saying about Rootine on Twitter.
Alternatives to Rootine
SelfDecode: For the best option of health-focused DNA analysis with personalized reports and recommendations, including specific lifestyle recommendations, and access to LabTestAnalyzer, all for under $100.
Rootine Review Summary
Rootine offers a comprehensive, personalized, supplement service based on customer's blood, genetic, and lifestyle data. They create a unique formula for each customer.
The company will also generate reports that analyze key deficiencies or sub-optimal blood testing results. This service is similar to SelfDecode Labs, which is offered with a subscription to SelfDecode that allows you to upload your lab results and get insights based on over 500 lab markers and how to optimize them.
An important factor for anyone looking to purchase Rootine products and services is their pricing. To get analysis of lab markers, a genetic test and receive supplements, one will be likely spending over $1000 per year and up to $2000 if recommended retests are completed.
There are other more affordable options to genetic testing and lab test analysis, without sacrificing quality and accuracy of results. That being said, if you are set on receiving personalized vitamins on a monthly basis with a very large budget, Rootine could be a good choice for you.
Related Articles
Vitl Review: Are Personalized Vitamins Worth It?