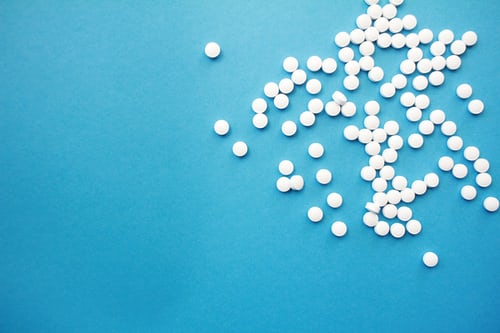 Overview
Products: DNA Test Kits.
Cost: $225 – $420.
Reports: Pharma and Nutrition profiles.
Raw data access: No.
Privacy: BiogeniQ claims they will never sell your information or use it for commercial purposes.
Alternatives: SelfDecode – The best option for health-focused DNA analysis with personalized reports, symptom analysis, and health recommendations.
Pros
Offers drug profiles based on DNA results
Provides different reports for physicians and customers
Cons
Li

mited and superficial health recommendations included in the report
Covers only a small scope of health topics
Does not allow raw data upload or download
About BiogeniQ
BiogeniQ is a privately held company founded in 2013 by Étienne Pageau-Crevier, based in Montreal, Quebec. The company received $980k in funding over 2 rounds, with the last one being in 2015. The company claims to be the first company focused on genetics in Quebec.
Review of BiogeniQ Products & Features
After you return your kit with your sample, you will be given access to the secure portal on BiogeniQ's site. Here, either you or your physician may access the reports. The company offers pharmacogenomics and nutrition reports.
The Pharma Profile reports predict your response to over 90 drugs. You can choose from 4 different tests: Mental Health, ADHD, Pain, and Cardio profiles.
The Nutrition Profile report informs on your response to 10 nutrients, such as omega-3, vitamins C and D, fats, lactose, and others.
The version of the reports viewed by your physician will be slightly different from the one you receive, with more technical details with respect to dosage and medication choice.
Review of BiogeniQ Reports
The DNA analysis done by BiogeniQ creates 5 reports called "profiles". They are offered in a group of pharma (or medicine) profiles and a nutrition profile.
Pharma Profiles
The medicines evaluated for the Pharma Profile reports depend on the test you choose from BiogeniQ and can include drugs related to mental health, ADHD, pain, and cardiovascular health.
Each Pharma report starts with a summary of the medicines studied and is grouped into categories. It also indicates any of your increased risks next to each drug.
Below is a sample Pain Pharma Profile report showing the recommendations for each drug. A triangle icon next to the drug indicates an increased risk of an adverse drug reaction, and the circle icon indicates that the drug will have an increased risk of therapeutic failure.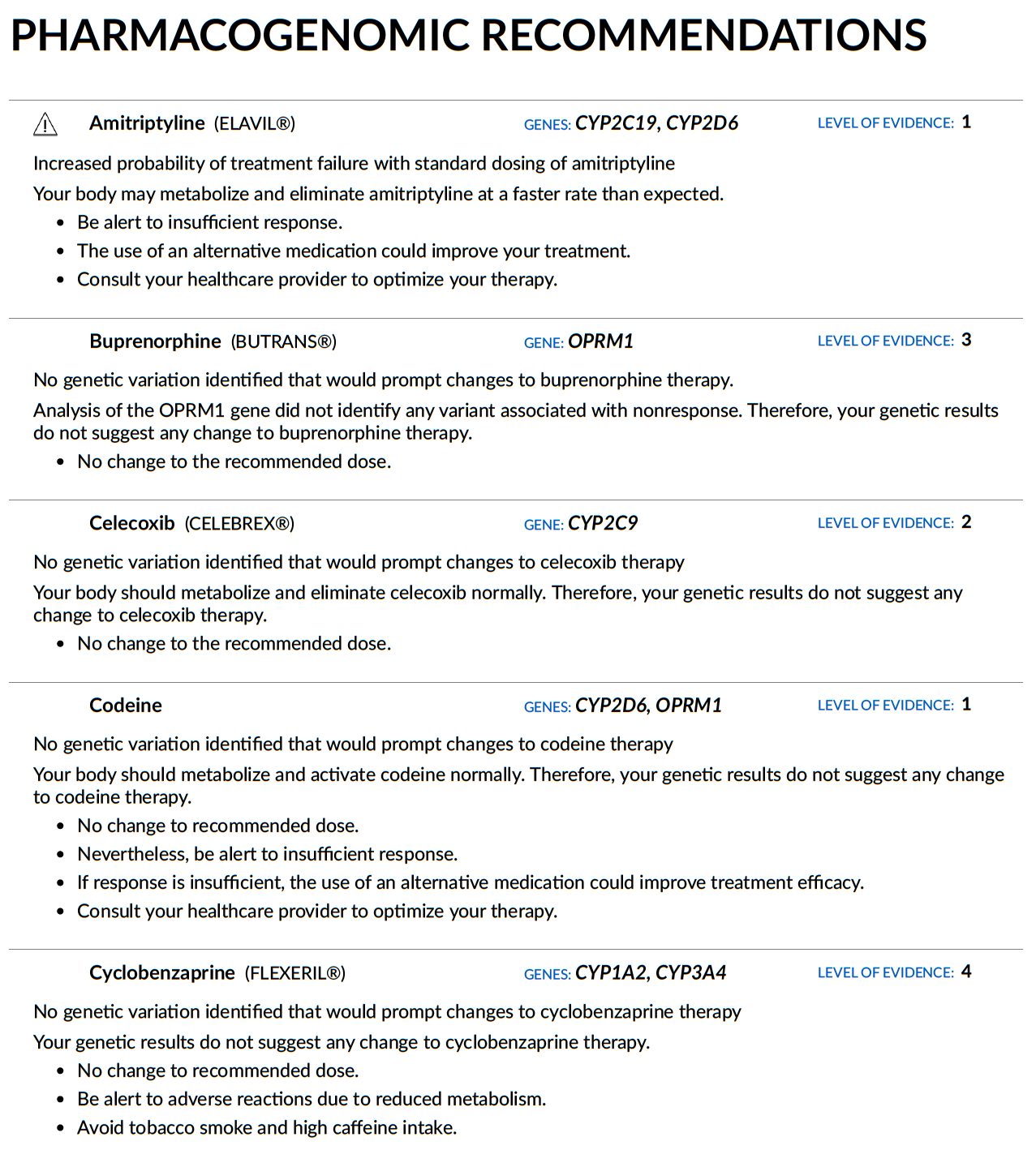 The other Pharma Profile reports are presented similarly. BiogeniQ states that results can be added to your medical record if you give consent.
Nutrition profile
Based on your genetic makeup, you will receive information about how your body reacts to different nutrients. This report also comes with a one-hour consultation with a dietitian.
The Nutrition Profile from BiogeniQ only analyzes 10 nutrients:
Omega-3
Sodium
Caffeine
Vitamin C
Folate
Glycemic Load
Vitamin D
Saturated Fat
Celiac Disease
Lactose
The report includes a summary of the results, which shows your risk for each nutrient and short recommendations to help you address it. As it can be seen from the sample report below, the recommendation can be very superficial, such as "consume a maximum of 1,500 mg/day of sodium".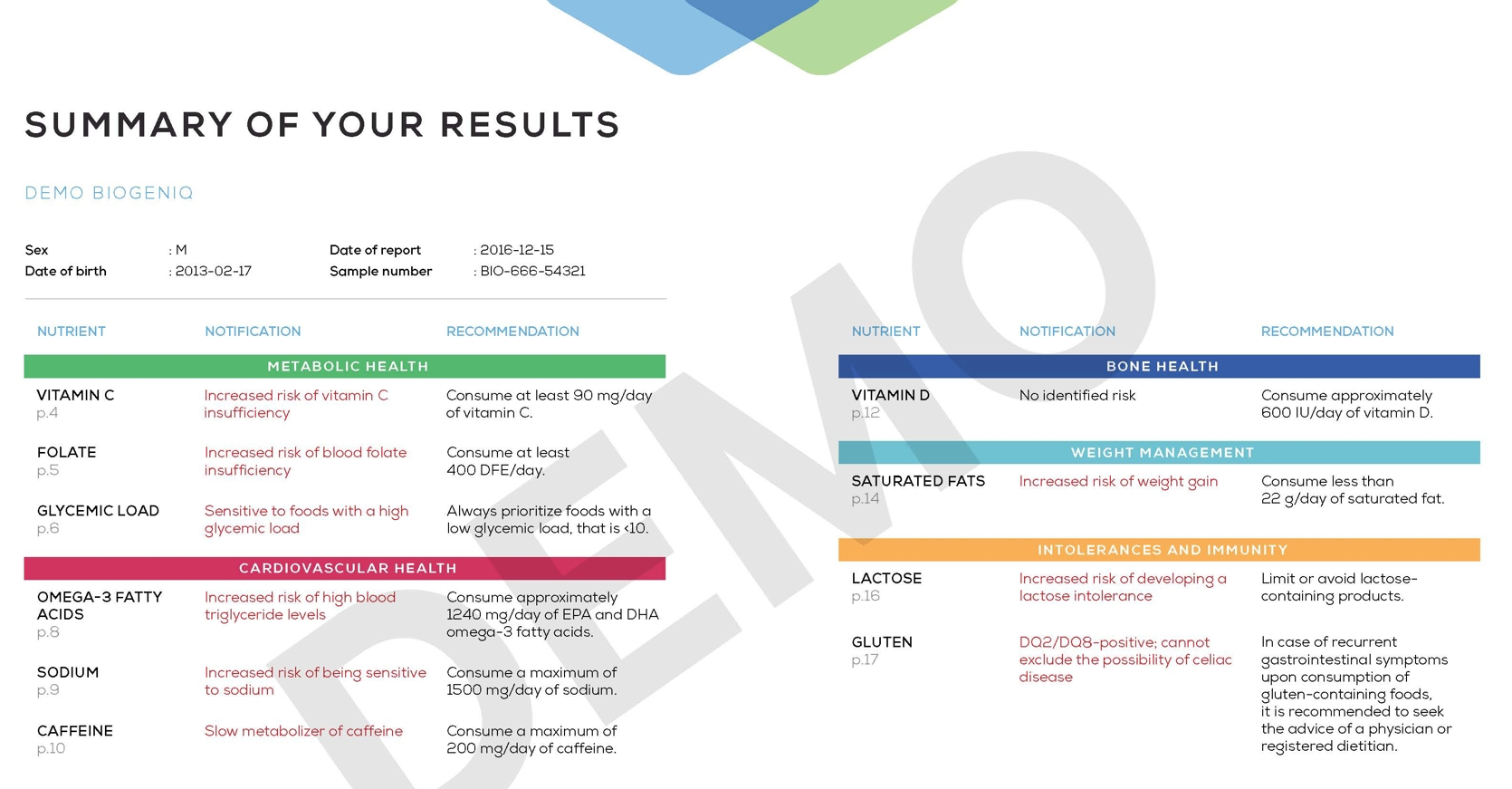 You can find more information about each nutrient in a dedicated section of the report. BiogeniQ informs you of your results and includes the same recommendation from the summary section, but it's not very detailed. From the example below, you can see list of dietary sources of the nutrient and a brief explanation on how genetics influence each trait.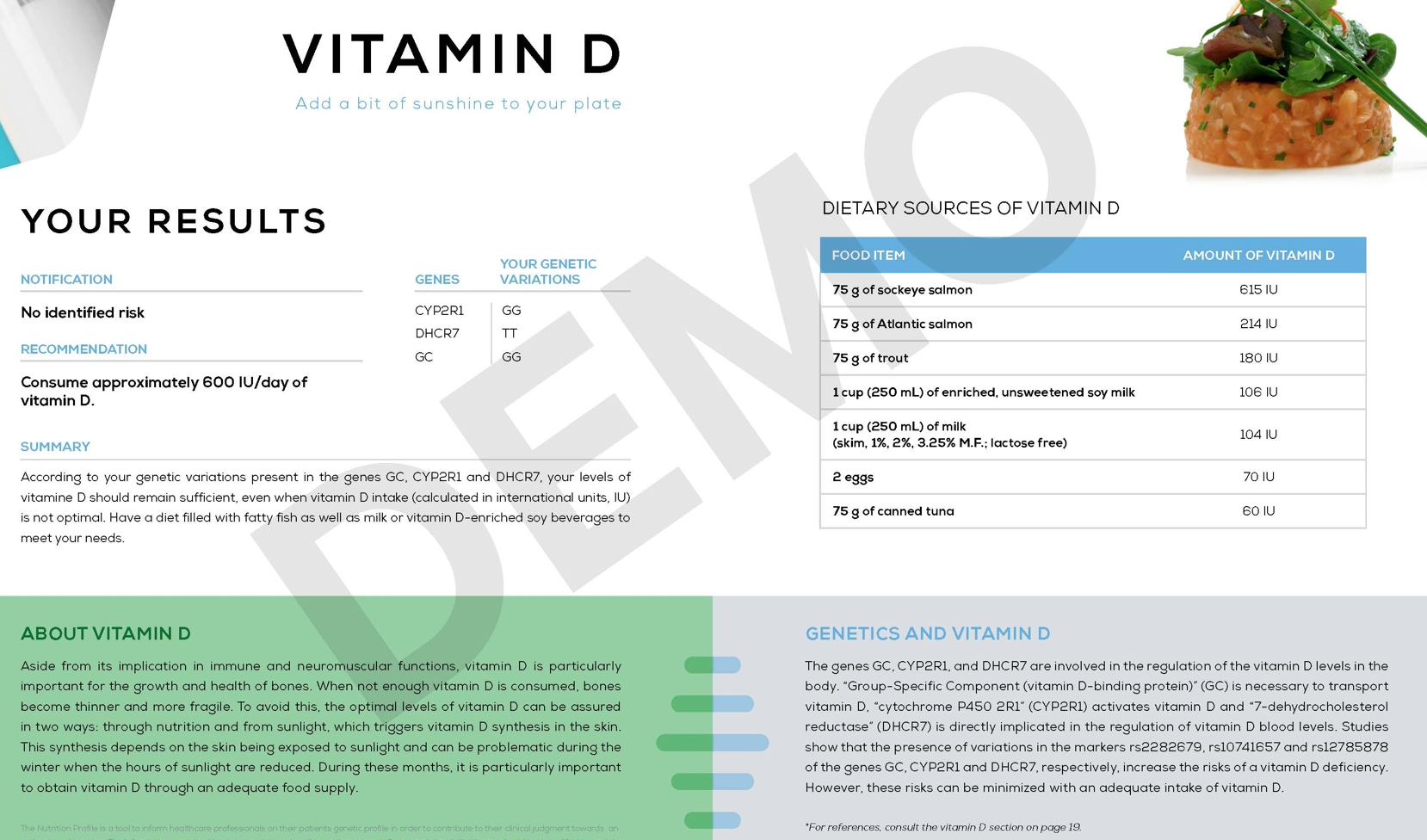 Cost of BiogeniQ
You may purchase each Pharma profile separately for $225. The Nutritional profile by itself is $260.
You may also purchase the profiles in bundles:
All Pharma profiles ($380)
All Pharma profiles + Nutrition profile ($420)
A fixed international shipping fee of $80 will be charged on any order sent outside of Canada to cover delivery and customs clearance for both the shipping and return of the sample.
You can choose to add other reports to your order after you initially purchase a test. However, BiogeniQ warns that the cost of a new analysis done at a later time will be the same as when purchased separately.
Canadian customers have the option of securing a prescription from their doctor to have an analysis done. Their health insurance may cover some or all of the costs depending on their coverage.
Health Recommendations from BiogeniQ
A consultation with a healthcare professional is included with purchase of a Pharma profile to help you interpret the results. Purchase of the Nutritional profile includes a 1-hour consultation with a nutritionist.
The scope of what's analyzed in the Nutritional profile report is very limited and only covers 10 nutrients. You'll receive an analysis of your risk for a certain nutrient, but the recommendations provided within the report are very basic and superficial.
Customers are not obliged to share their reports with anyone. The customer's version of the report will not contain specific recommendations concerning medication dosage changes or choice of medication.
Review of BiogeniQ Privacy & Data Security
The company claims that results of a customer's analysis will never be shared with a third party without consent. Genetic samples are stored for possible future analysis and can be destroyed upon request.
Participation in BiogeniQ's research project is completely voluntary. By taking part in the research project, customers give permission for BiogeniQ to use their data for research. Customer data is anonymized so that it is difficult to identify them.
SelfDecode vs BiogeniQ
SelfDecode delivers natural supplement, diet, and lifestyle suggestions based on your genes that you can implement right away. BiogeniQ provides superficial recommendations in the Nutrition Profile report.
SelfDecode tells you why they make each recommendation so that you can understand the science behind the suggestion. BiogeniQ includes consultations with a healthcare professional to explain recommendations.
SelfDecode prioritizes recommendations based on their analysis of all the relevant genes instead of one gene at a time (through reports). BiogeniQ does not look at your genetic profile holistically, only one medicinal interaction at a time.
SelfDecode takes a holistic approach to give recommendations that are best for your genes AND the health topic. BiogeniQ analyzes the likely reactions you will have to certain medications based on the genes and enzymes related to that medication.
SelfDecode has the world's first and only personalized genetics blog that allows you to get new gene-based recommendations daily. BiogeniQ does not offer a personalized blog.
SelfDecode is the most comprehensive and looks at more genes & SNPs (up to 83 million) to deliver the best analysis of genetic risks. BiogeniQ focuses their analysis on the specific gene or genes that are related to a drug or nutrient to gauge its effectiveness for your body.
SelfDecode supports everything with peer-reviewed scientific studies in their research and checks for contradicting information. BiogeniQ interprets third-party studies performed regarding drug interactions and effects.
SelfDecode never sells your data or gives it away. BiogeniQ claims they will never sell your information or use it for commercial purposes.
Comparisons
| | | | | |
| --- | --- | --- | --- | --- |
| | SelfDecode | Biogeniq | 23andMe | Ancestry |
| Personalized & holistic health recommendations | Yes | No | No | No |
| Personalized blog posts | Yes | No | No | No |
| Products | DNA testing, wellness reports, research-based personalized blog posts, health recommendations | DNA testing, pharmacogenomics, and nutrition profile | DNA testing, traits, wellness reports, more accurate ancestry | DNA testing & ancestry reports |
| Raw data access | Yes | No | Yes | Yes |
| Cost (USD) | $97 – $389 | $225 – $420 | $99 – $199+ | $99 – $119 |
BiogeniQ in the News
Biron Health Group acquired BiogeniQ in 2018.
BiogeniQ was acquired by Biron Health Group in 2018, after making an initial investment in 2015. This enables Biron to improve their existing pharmacogenetic services and add genetic counseling to the medical testing and support services they already offer. The BiogeniQ team continues to operate under the BiogeniQ name.
This Business Insider article announces their partnership with SSQ Insurance.
In 2018, BiogeniQ partnered with SSQ Insurance in order to offer their group insurance customers an innovative solution to treat depression. With the consent of the insured, BiogeniQ will send each test result directly to the attending physician, who will be able to use this additional information to help identify the appropriate treatment approach and forego the less effective ones. The purpose of the test is to reduce the risk of side effects and improve overall treatment effectiveness.
Alternatives to BiogeniQ
SelfDecode: The best option for health-focused DNA analysis with personalized reports and recommendations to improve your quality of life.
BiogeniQ Review Summary
BiogeniQ's Pharma profiles can help guide you towards a more effective medicinal treatment plan but does little to help you prevent your health from deteriorating in the first place. The more actionable Nutrition Profile report offers you a limited analysis of 10 nutrients and very little advice on how to improve your overall health.
If you're looking to be more proactive about your health, you should check out SelfDecode. SelfDecode will give you an analysis of up to 83 million genetic variants and personalized recommendations through detailed reports to help you optimize your health.