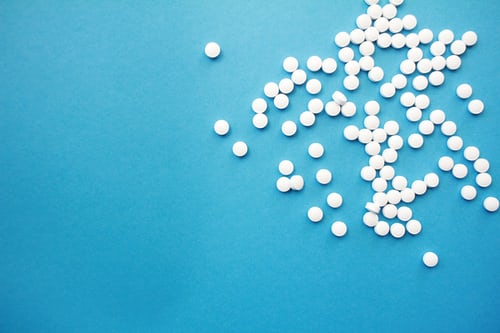 Overview
Products: DNA Sample Kit
Cost: $223 – $419
Reports: Pharma and Nutrition profiles
Raw data access: No
Privacy: BiogeniQ claims they will never sell your information or use it for commercial purposes.
Alternatives: SelfDecode: The best option for health-focused DNA analysis with personalized reports, symptom analysis, and health recommendations.
Pros and Cons
Pros
Offers a comprehensive tool for your physician and/or nutritionist to help you make the best decisions for medicinal therapies and/or diet
Has a secure portal on their site where you or your physician may access your reports, which are updated as new research comes out
Cons
BiogeniQ's Pharma profile analysis only covers the possible effectivity of medicines, and does not provide any lifestyle or supplement recommendations
The reports are meant to be interpreted by a physician or nutritionist, so customers must rely on them for any recommendations
About BiogeniQ
BiogeniQ is a privately held company founded in 2013 by Étienne Pageau-Crevier, based in Montreal, Quebec. Étienne dreamed of being a researcher, but when his father passed away from a heart attack in 2012, after taking a medication that is usually 60% effective, he took the news personally. "Why hadn't we done DNA tests?" is a question he asked himself while he was in the midst of studying for his PHD in genetics. A year later, he decided to take matters into his own hands and founded BiogeniQ, the first company focused on genetics in Quebec.
Review of BiogeniQ Products & Features
After you return your kit with your sample and activate it, you will be given access to the secure portal on BiogeniQ's site. Here, either you or your physician may access the reports, which are updated free of charge as research continues to uncover new information about genetics.
The version of the reports viewed by your physician will be slightly different from the one you receive, with more technical details with respect to dosage and medication choice.
Review of BiogeniQ Reports
DNA is the blueprint for all proteins in the body. Proteins include the enzymes involved in transforming and eliminating medication. The activity level of enzymes varies from one person to another and this is part of the reason a specific drug may work well on one person while having significant side effects on another.
The DNA analysis done by BiogeniQ creates 5 reports called "profiles". They are offered in a group of pharma (or medicine) profiles and the nutrition profile. The reports list potentially incompatible drugs to reduce the risk of unwanted side effects, and compatible drugs that increase the likelihood the drugs will be effective.
Pharma Profiles
The medicines evaluated for the Pain Pharma profile include: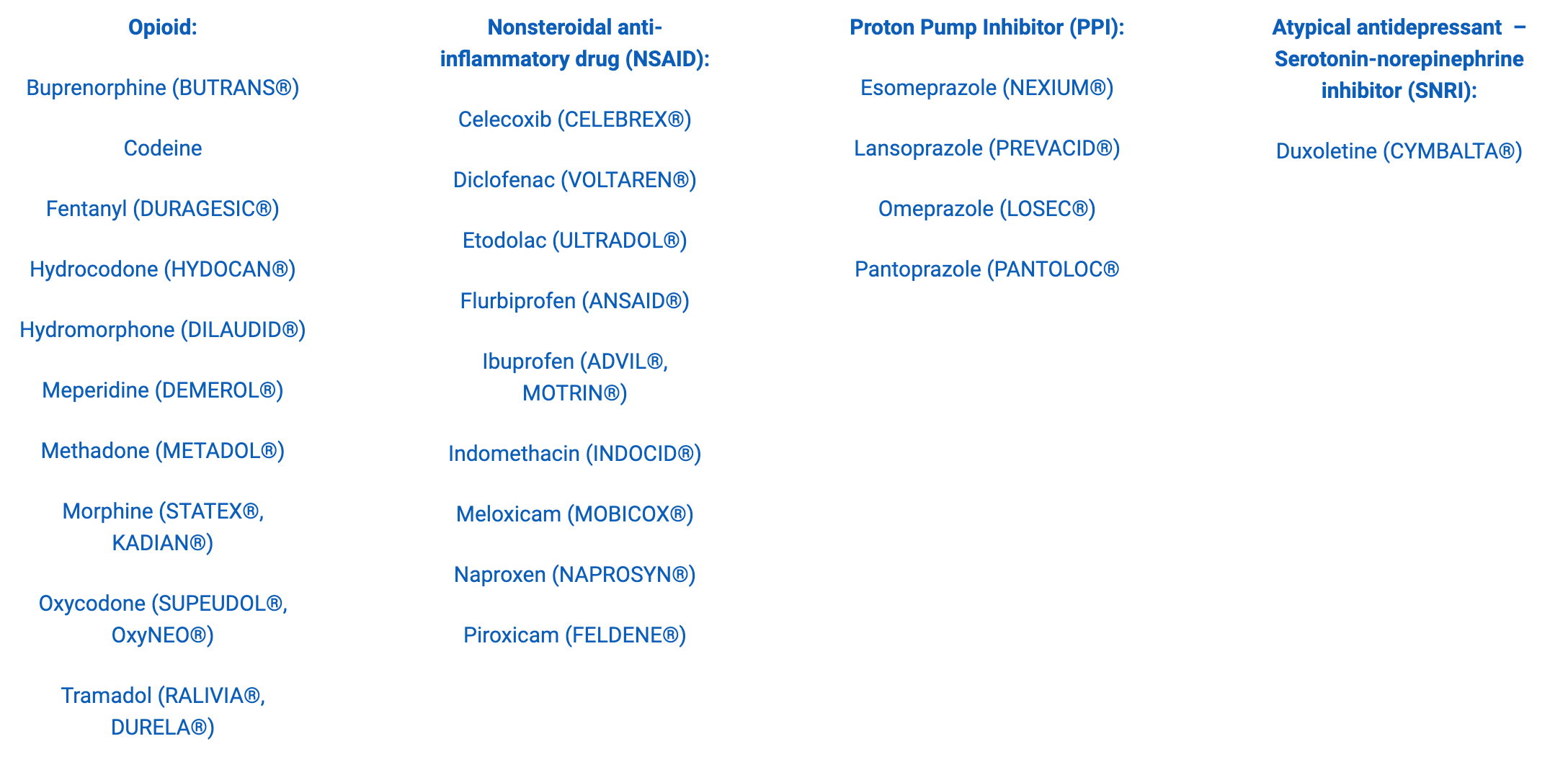 Each Pharma report starts with a summary of the medicines studied and grouped into categories. It also indicates any of your increased risks next to each drug.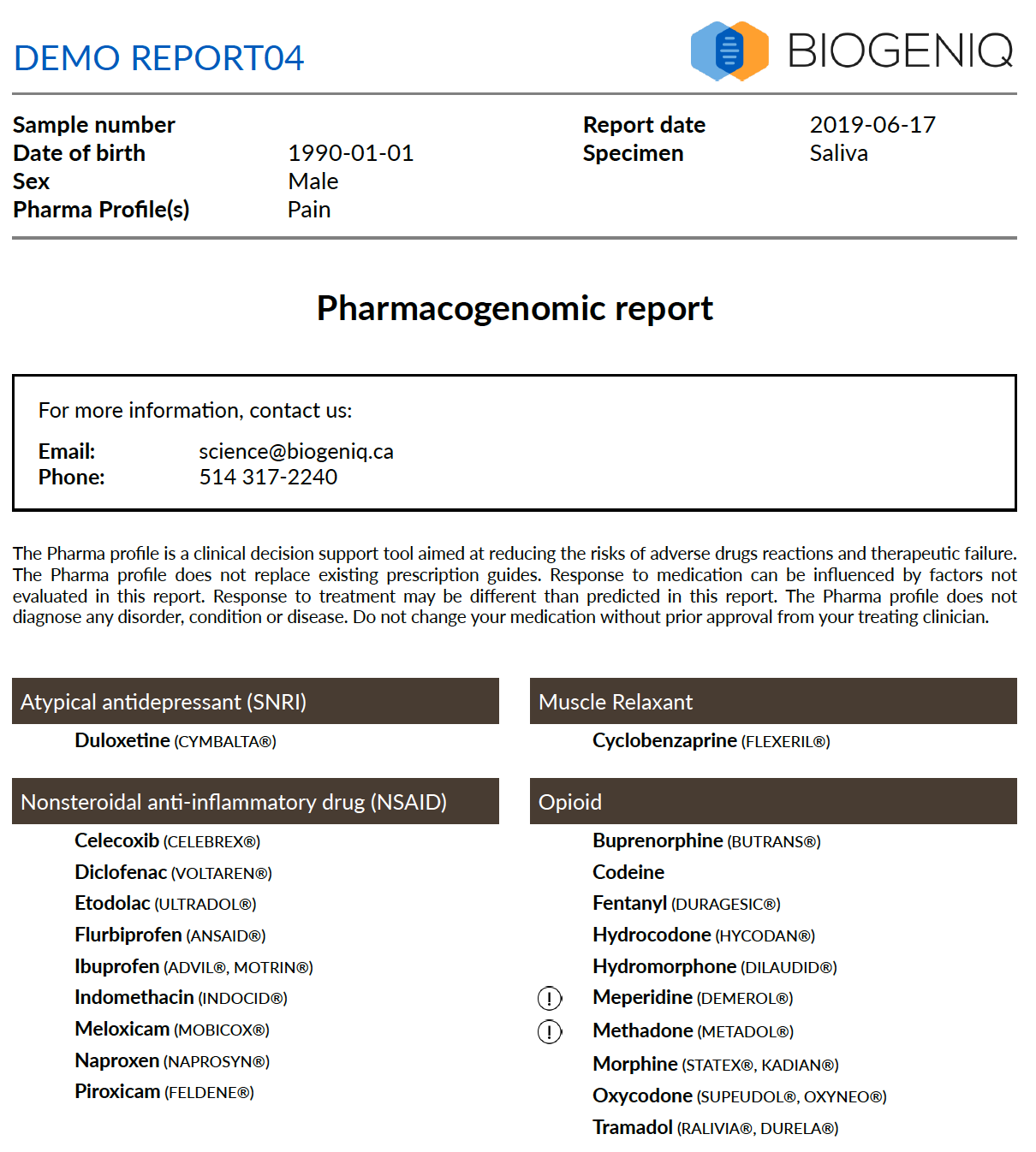 Below is a sample Pain Pharma report showing the recommendations for each drug. A triangle icon next to the drug indicates an increased risk of an adverse drug reaction, and the circle icon indicates that the drug will have an increased risk of therapeutic failure.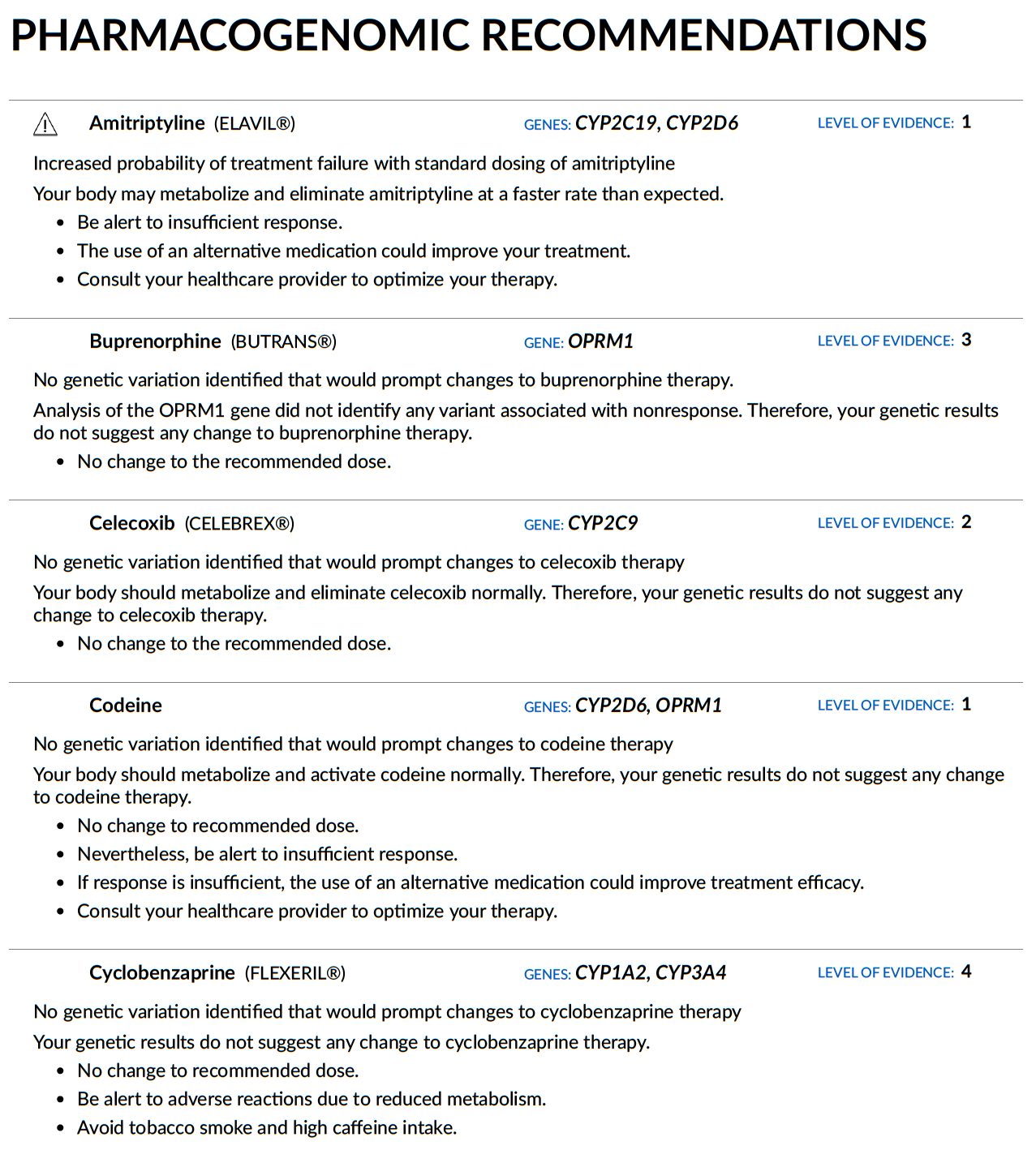 A legend at the bottom of the results section that explains what each "Level of Evidence" means: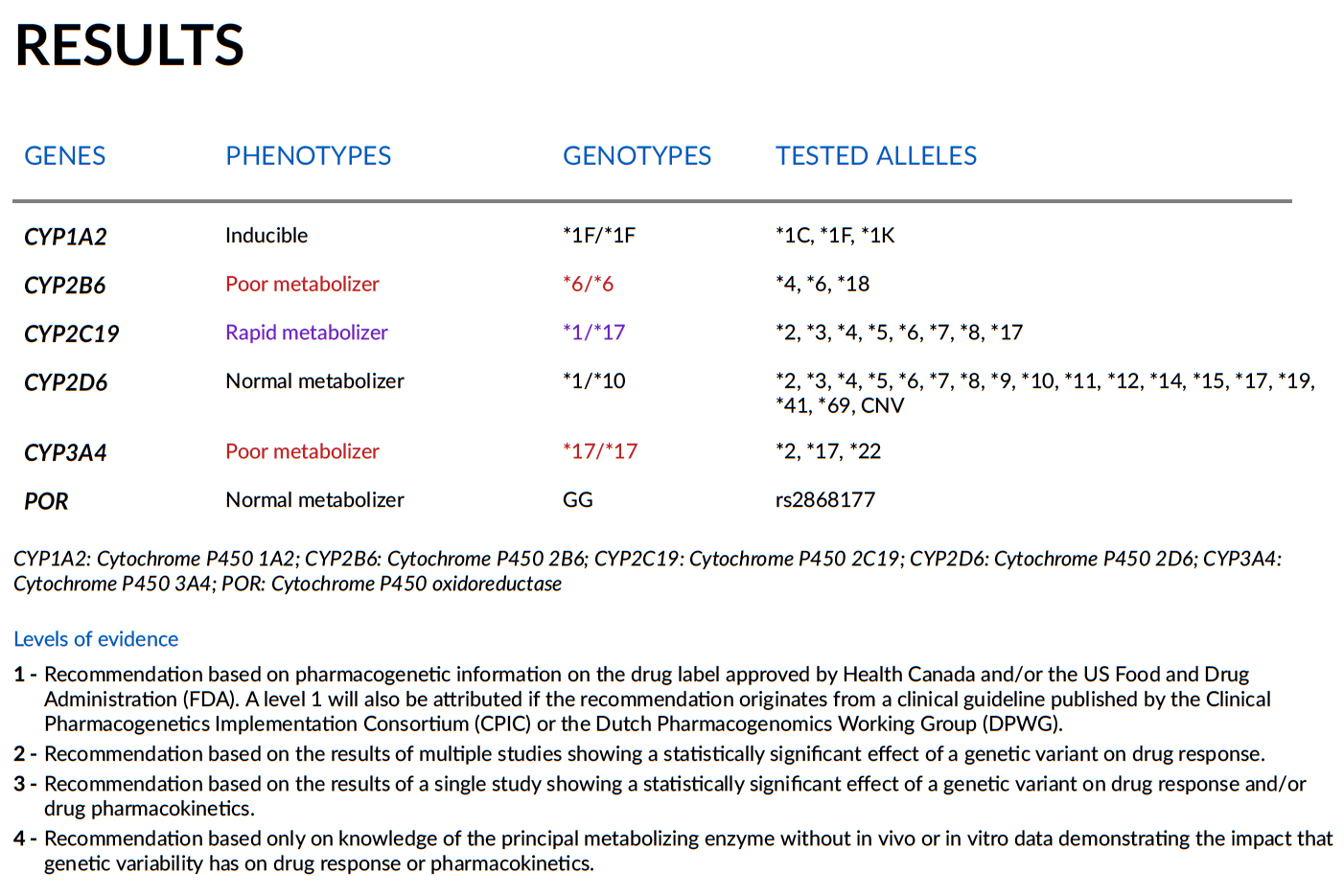 The medicines evaluated for the Cardio Pharma profile include:


Below is a sample of the Cardio Pharma report's recommendations: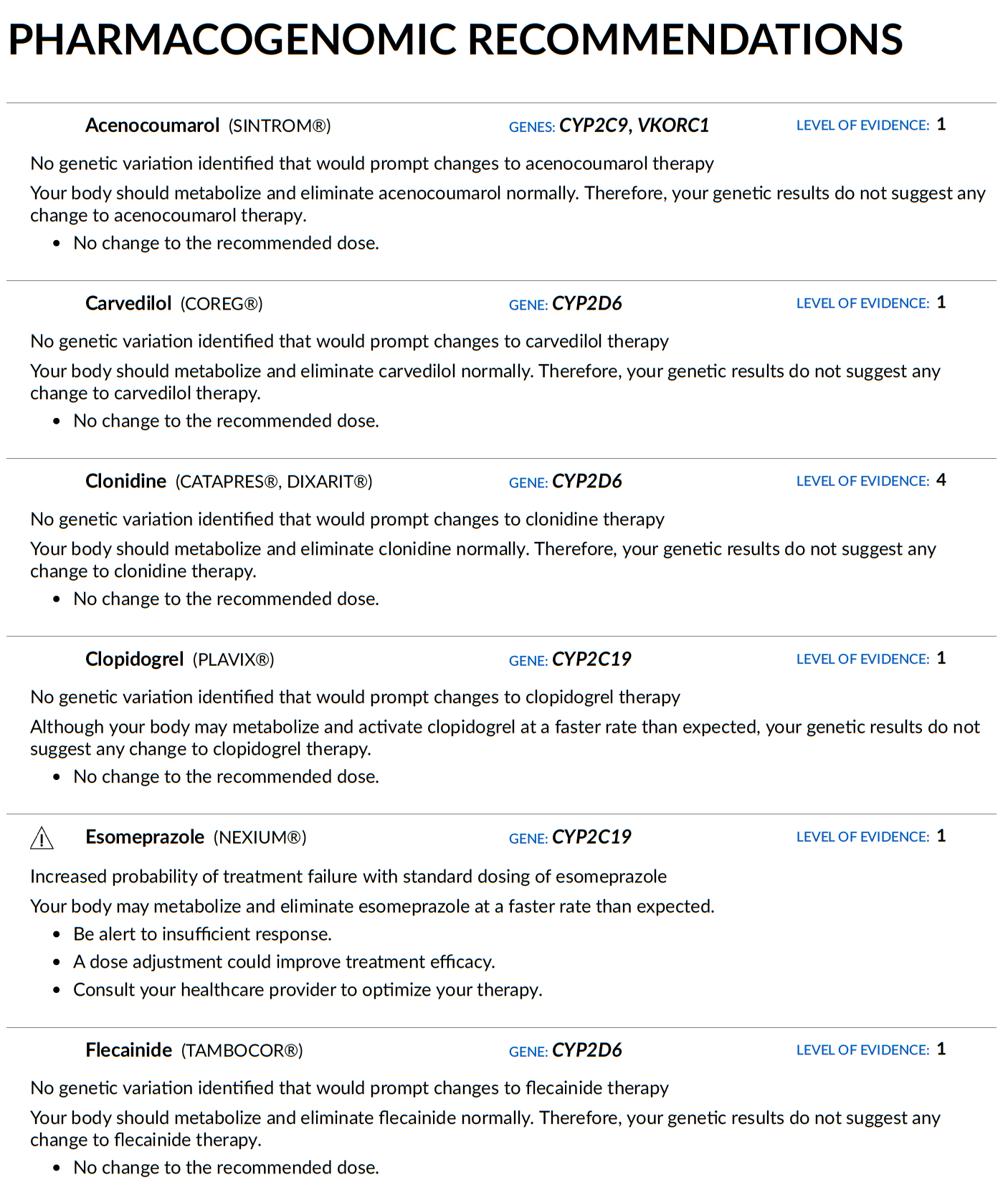 Here is a sample of the Cardio Pharma report's results section: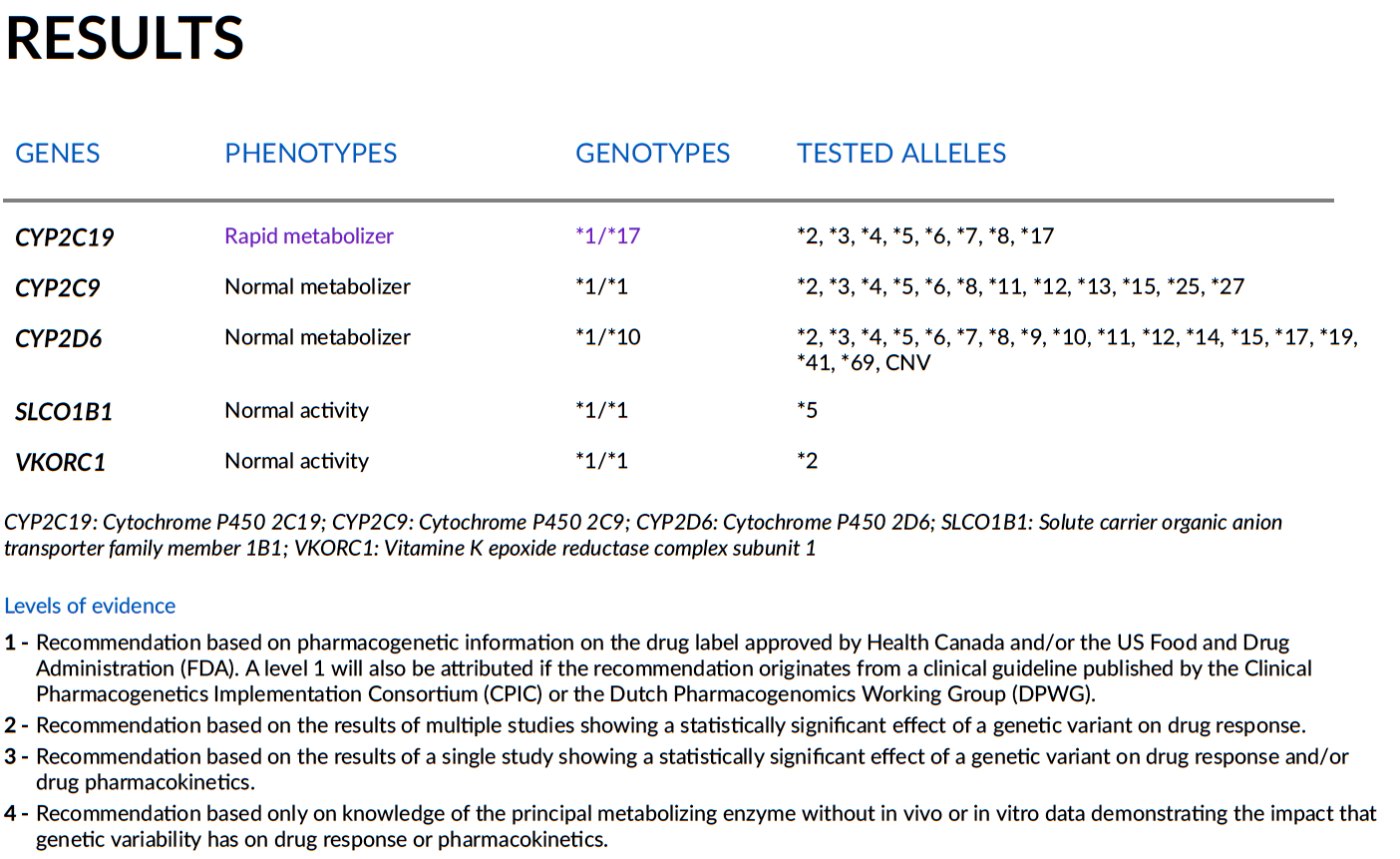 The medicines evaluated for the Mental Health Pharma profile include:


Here is a sample of the Mental Health Pharma reports, recommendations first: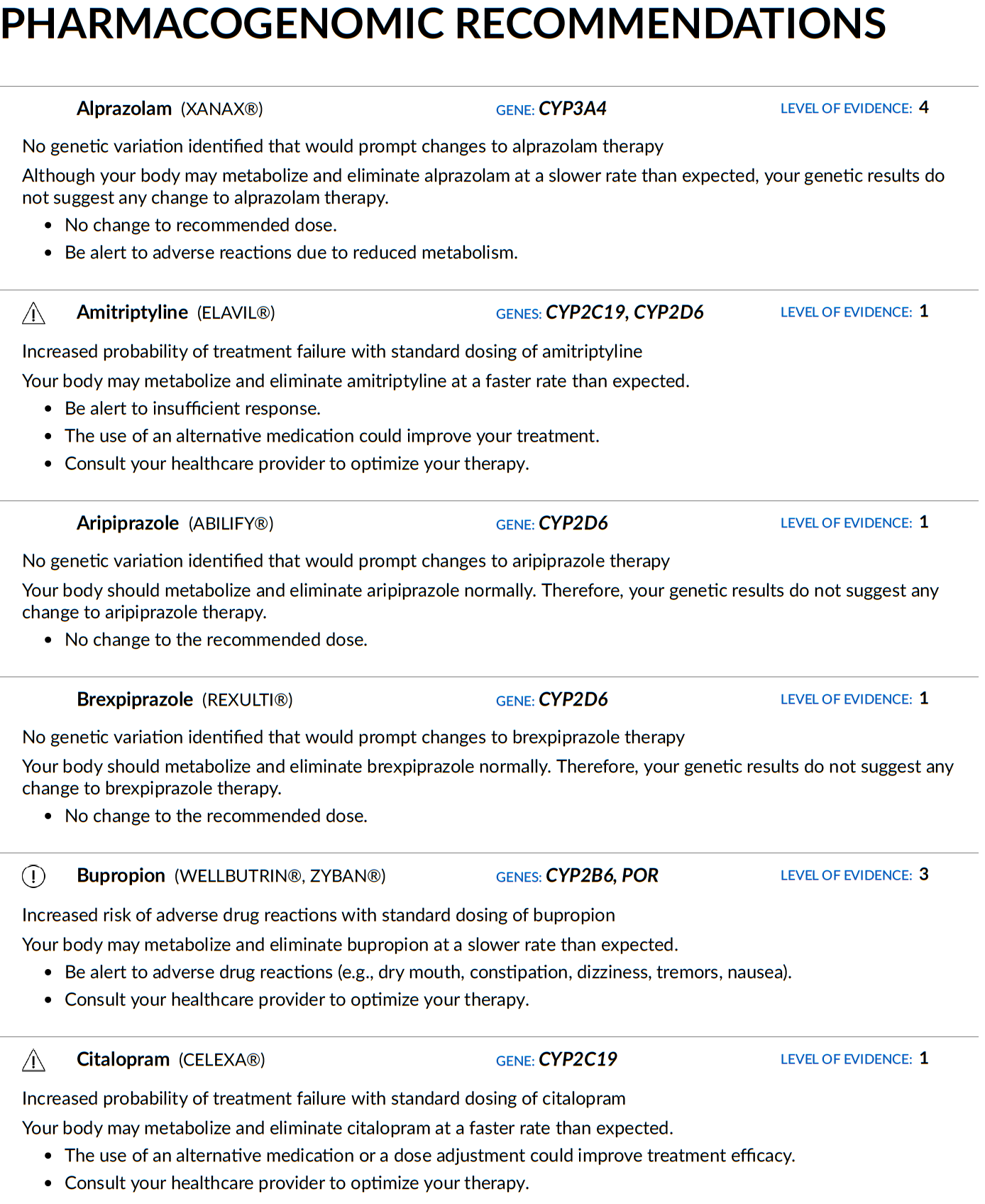 This is the results section of the Mental Health Pharma profile: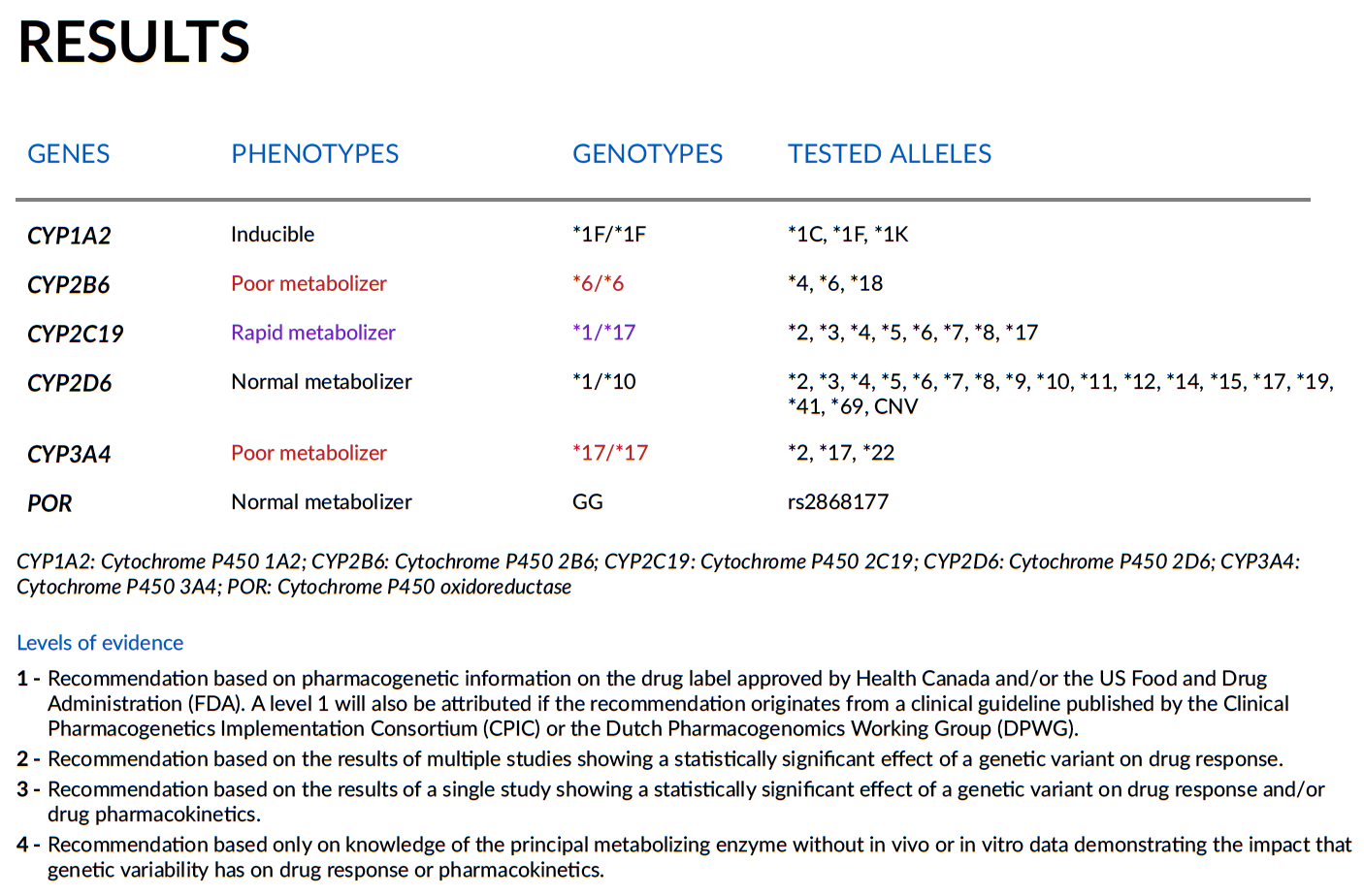 The medicines evaluated for the ADHD Pharma profile include:

The ADHD Pharma Profile is for people already diagnosed with ADHD or ADD who want to know which drugs risk being ineffective or having negative side effects. It is the analysis of 7 genes associated with response to 15 commonly prescribed ADHD medications.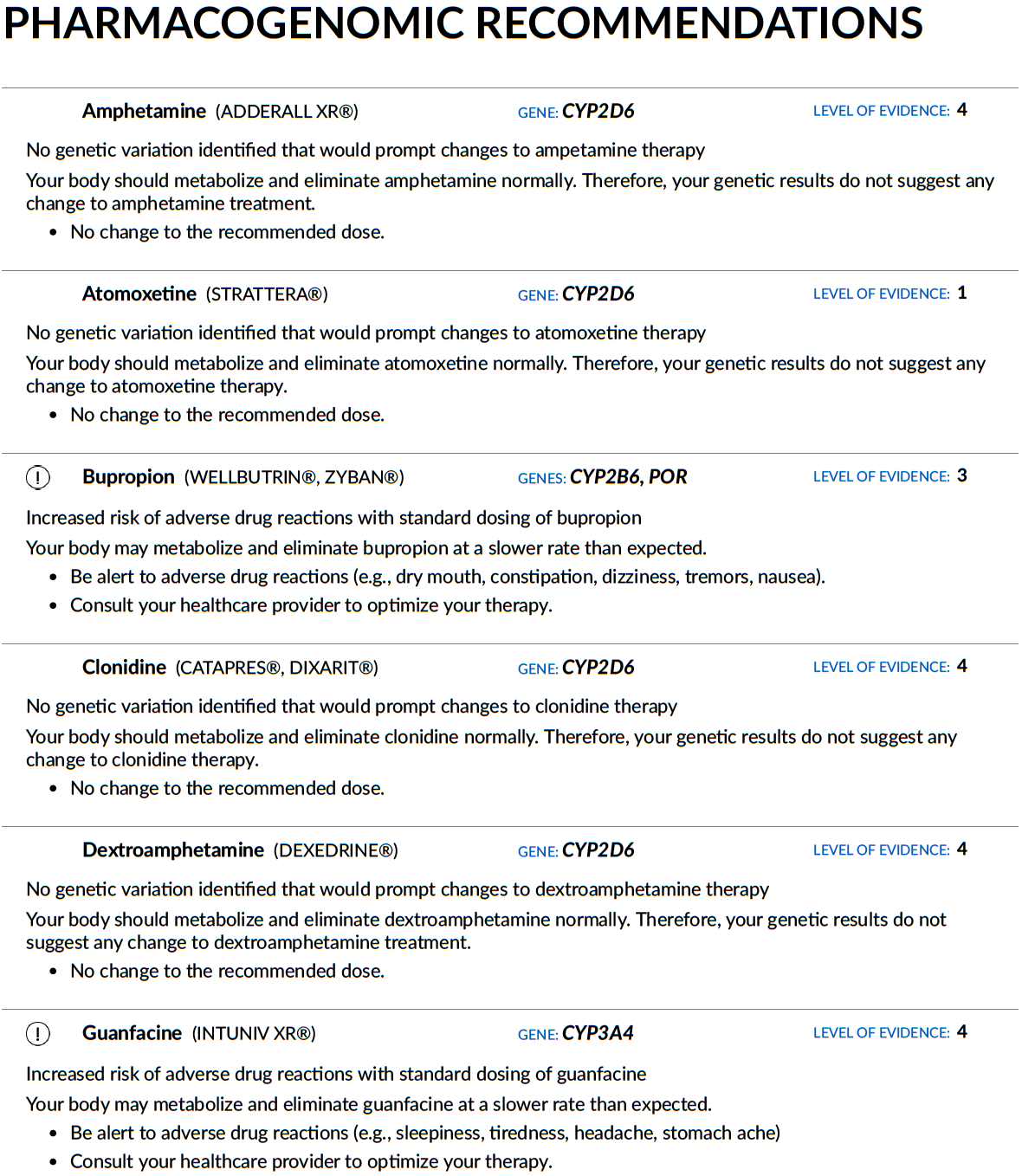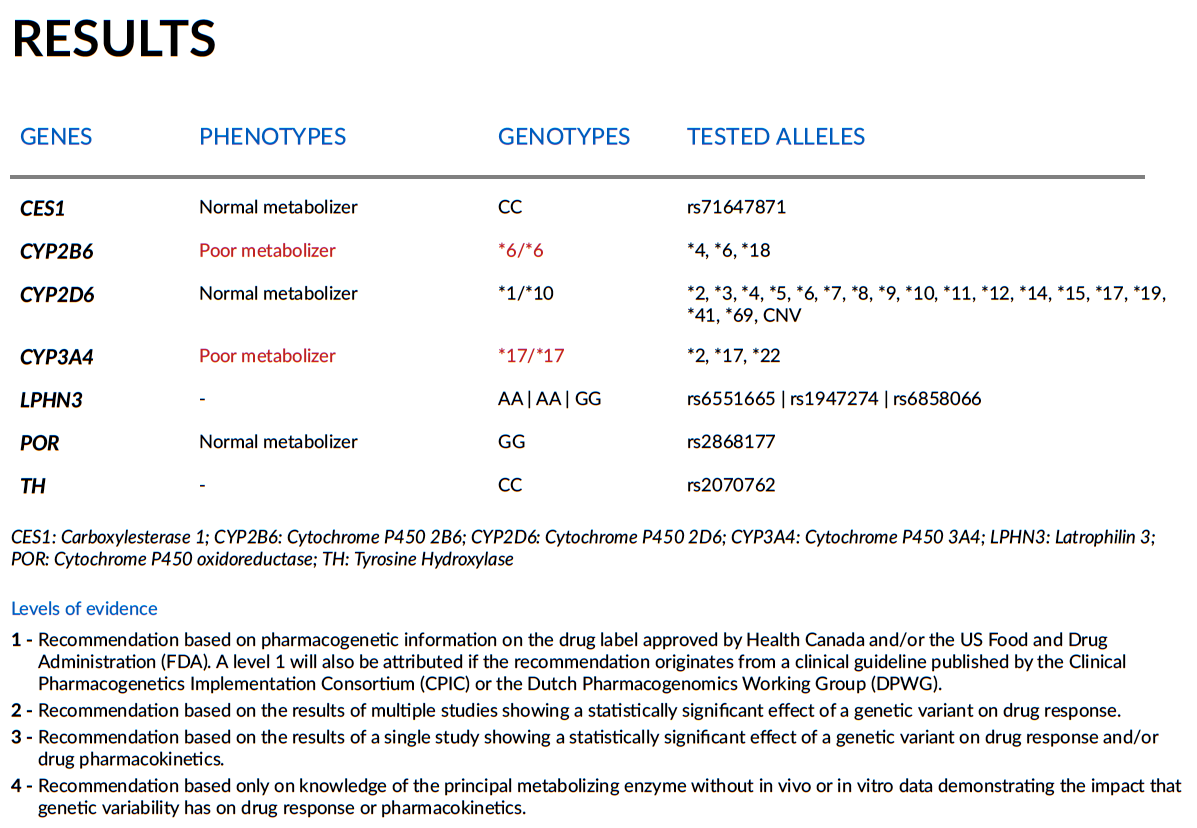 Nutrition profile
Based on your genetic makeup, you will receive information about how your body reacts to different nutrients along with dietary advice tailored to your specific needs. This report also comes with a one-hour consultation with a dietitian. This healthcare professional will contextualize your results to your own lifestyle and help build strategies to remain healthy and reduce your risk of developing conditions related to suboptimal eating habits.
The Nutrition Profile tests for lactose intolerance, as it has a well-documented genetic predisposition. Other intolerances are not reported in this test.
The Nutrition Profile also tests for vitamin C, vitamin D, folic acid and omega-3, as these are commonly used supplements. It does not test for other types of supplements.
Here are some samples of the Nutrition profile report: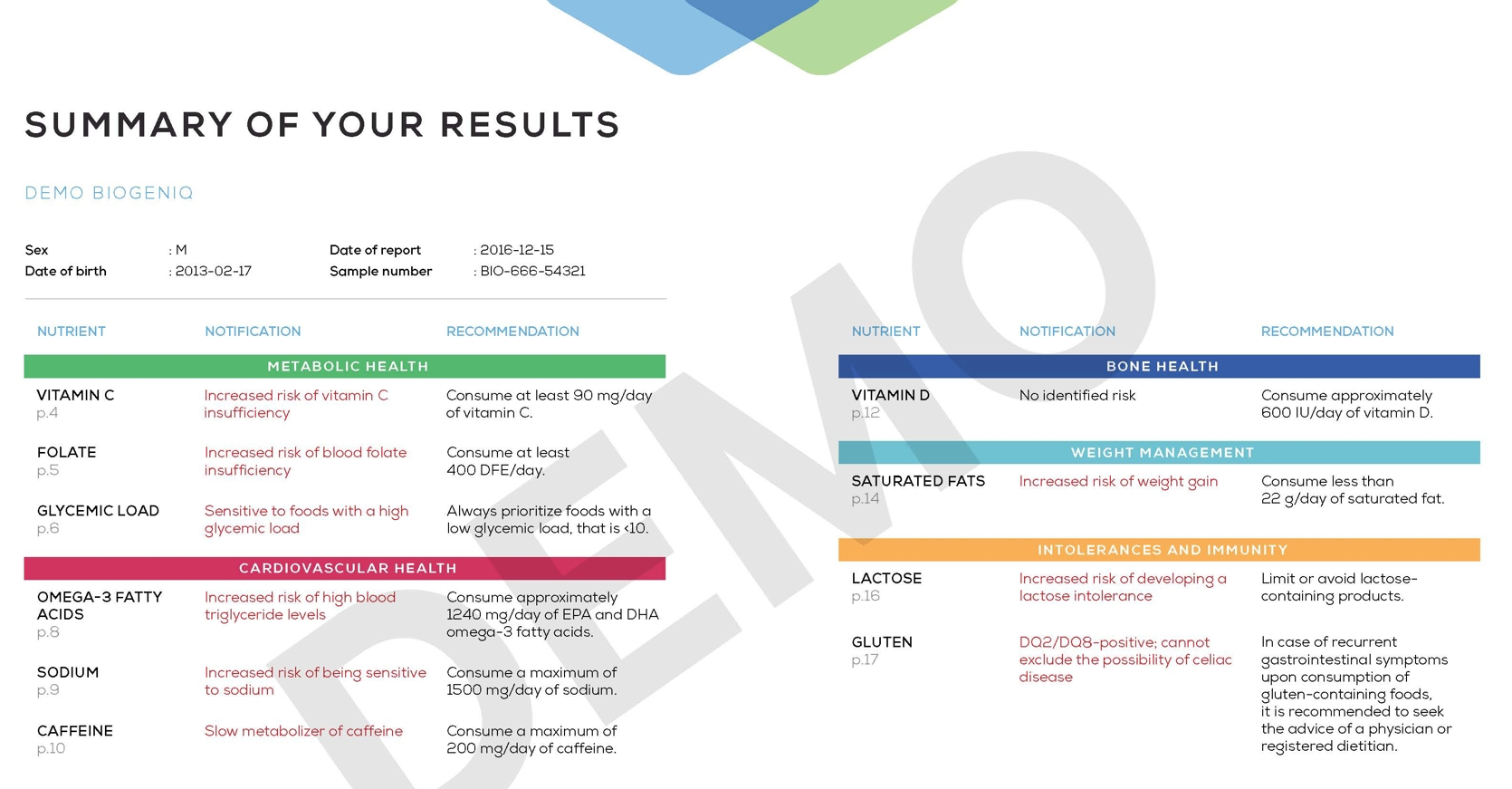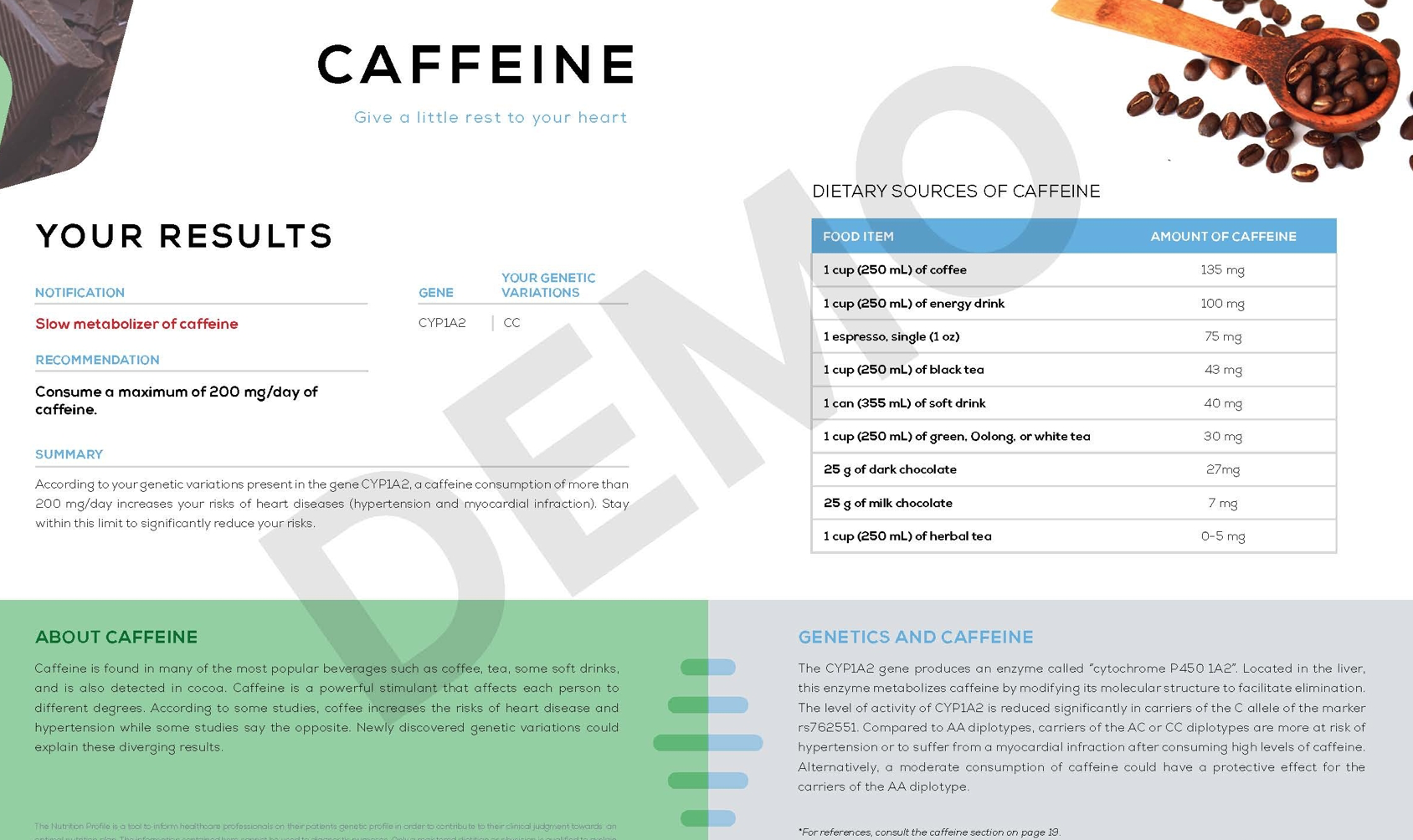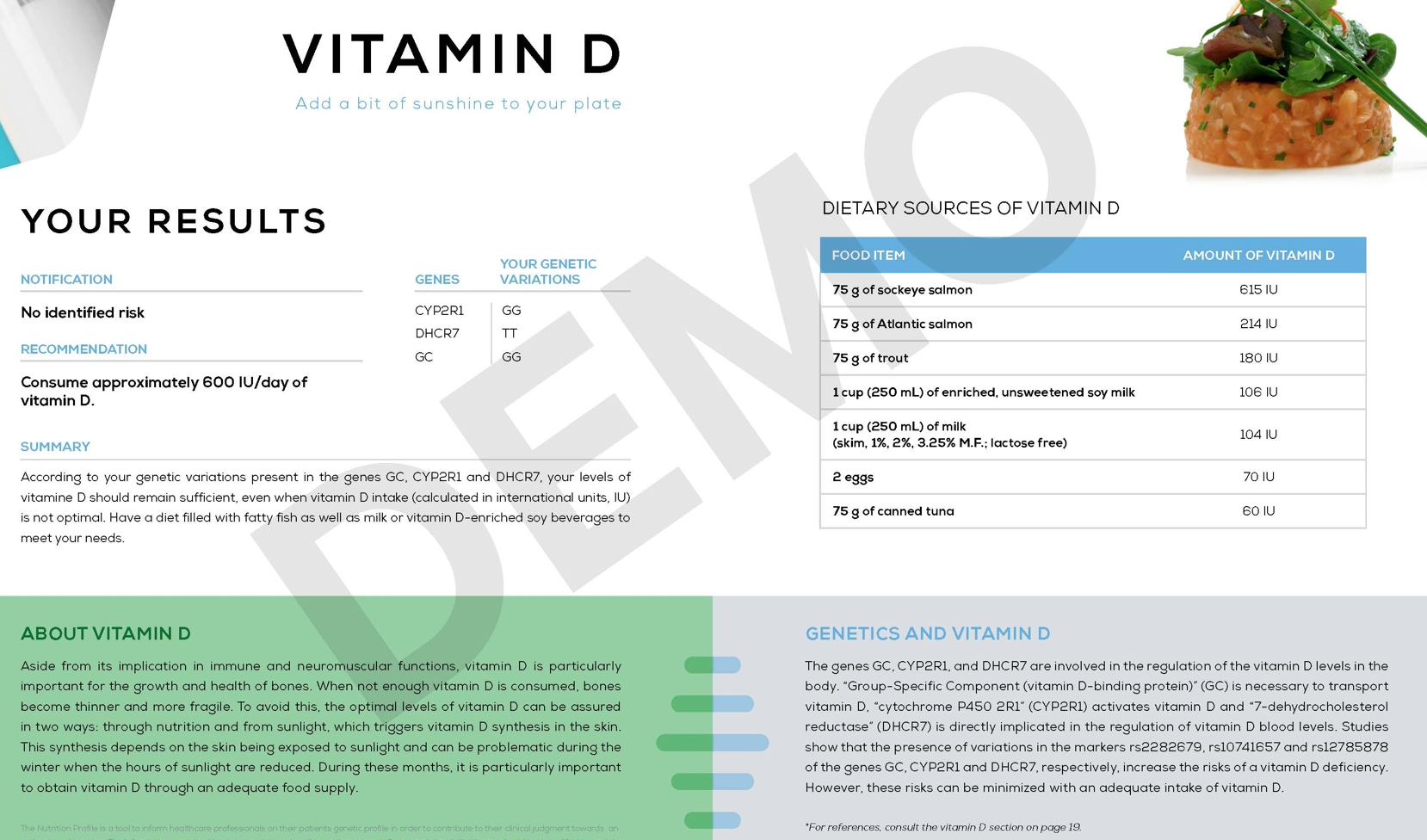 Cost of BiogeniQ
You may purchase each Pharma profile separately for $223. The Nutritional profile by itself is $262.
You may also purchase the profiles in bundles. For example:
$419 – If you buy the Nutritional profile and also any or all of the Pharma profiles
$380 – If you purchase 3 or 4 of the Pharma profiles
$301 – If you purchase only 2 of the Pharma profiles
A fixed international shipping fee of $150 CAD will be charged on any order sent outside of Canada to cover delivery and custom clearance for both the shipping and return of the sample.
BiogeniQ recommends having the analysis performed on all of the profiles you wish to have done at once to take advantage of the bundle pricing. The cost of a new analysis done at a later time will be the same as when purchased separately, but it will make use of the stored sample given previously.
Canadian customers have the option of securing a prescription from their doctor to have an analysis done. Their health insurance may cover some or all of the costs depending on their coverage.
Health Recommendations from BiogeniQ
A consultation with a physician is included with purchase of a Pharma profile to accurately interpret the results and receive medicinal recommendations according to your DNA. Purchase of the Nutritional profile includes a 1 hour consultation with a nutritionist.
Although the genetic analysis helps predict your response to different nutrients or drugs, many other factors come into play. A healthcare professional can put your genetic results into context for better decision making.
Customers are not obliged to share their reports with anyone. The customer's version of the report will not contain specific recommendations concerning dosage changes or choice of medication as this type of decision should be made by a doctor or pharmacist.
Review of BiogeniQ Privacy & Data Security
The company claims that results of a customer's analysis will never be shared with a third party without consent. Genetic samples are stored for possible future analysis, and can be destroyed upon request.
Participation in BiogeniQ's research project is completely voluntary and in no way affects the quality of the services rendered. By taking part in the research project, customers give permission for BiogeniQ to use their data for research and thereby contributing to health science advancements. Customer data is anonymized so that it is impossible to identify them.
SelfDecode vs BiogeniQ
SelfDecode delivers natural supplement, diet, and lifestyle suggestions based on your genes that you can implement right away. BiogeniQ includes consultations with a physician and/or a nutritionist for their recommendations.
SelfDecode tells you why they make each recommendation so that you can understand the science behind the suggestion. BiogeniQ includes consultations with a physician and/or a nutritionist to explain recommendations.
SelfDecode prioritizes recommendations based on their analysis of all the relevant genes instead of one gene at a time (through reports). BiogeniQ does not look at your genetic profile holistically, only one medicinal interaction at a time.
SelfDecode takes a holistic approach to give recommendations that are best for your genes AND the health topic. BiogeniQ analyzes the likely reactions you will have to certain medications based on the genes and enzymes related to that medication.
SelfDecode has the world's first and only personalized genetics blog that allows you to get new gene-based recommendations daily. BiogeniQ does not offer a personalized blog.
SelfDecode is the most comprehensive and looks at more genes & SNPs (over 150,000) to deliver the best analysis of genetic risks. BiogeniQ focuses their analysis on the specific gene or genes that are related to a drug to gauge its effectiveness for your body.
SelfDecode supports everything with peer-reviewed scientific studies in their research and checks for contradicting information. BiogeniQ interprets third-party studies performed regarding drug interactions and effects.
SelfDecode never sells your data or gives it away. BiogeniQ also promises they will never sell your information or use it for commercial purposes.
Comparisons
| | | | | |
| --- | --- | --- | --- | --- |
| | SelfDecode | Biogeniq | 23andMe | Ancestry |
| Personalized & holistic health recommendations | Yes | No | No | No |
| Personalized blog posts | Yes | No | No | No |
| Products | DNA testing, wellness reports, research-based personalized blog posts, health recommendations | DNA testing, Pharma profile, Nutrition profile, physician and nutritionist consultations | DNA testing, traits, wellness reports, more accurate ancestry | DNA testing & ancestry reports |
| Raw data access | Yes | No | Yes | Yes |
| Cost (USD) | $97 – $389 | $223 – $419 | $99 – $199 | $99 – $119 |
BiogeniQ in the News
Biron Health Group acquired BiogeniQ in 2018.
BiogeniQ was acquired by Biron Health Group in 2018, after making an initial investment in 2015. This enables Biron to improve their existing pharmacogenetic services and add genetic counseling to the medical testing and support services they already offer. The BiogeniQ team continues to operate under the BiogeniQ name.
This Business Insider article announces their partnership with SSQ Insurance.
In 2018, BiogeniQ partnered with SSQ Insurance in order to offer their group insurance customers an innovative solution to treat depression. With the consent of the insured, BiogeniQ will send each test result directly to the attending physician, who will be able to use this additional information to help identify the appropriate treatment approach and forego the less effective ones. The purpose of the test is to reduce the risk of side effects and improve overall treatment effectiveness.
Alternatives to BiogeniQ
SelfDecode: The best option for health-focused DNA analysis with personalized reports and recommendations to improve your quality of life.
BiogeniQ Review Summary
BiogeniQ's pharma profiles will help guide you towards a more effective medicinal treatment plan, and avoid taking medicines that will be ineffective. However, this narrow focus on medicinal effectiveness is difficult to rationalize for the price. A comprehensive health and fitness reporting service with supplement and lifestyle recommendations would be more reasonable at their price point.
An alternative such as SelfDecode provides you a more affordable option with science-backed and comprehensive holistic health reports in addition to a personalized health blog to help you take control of your health.