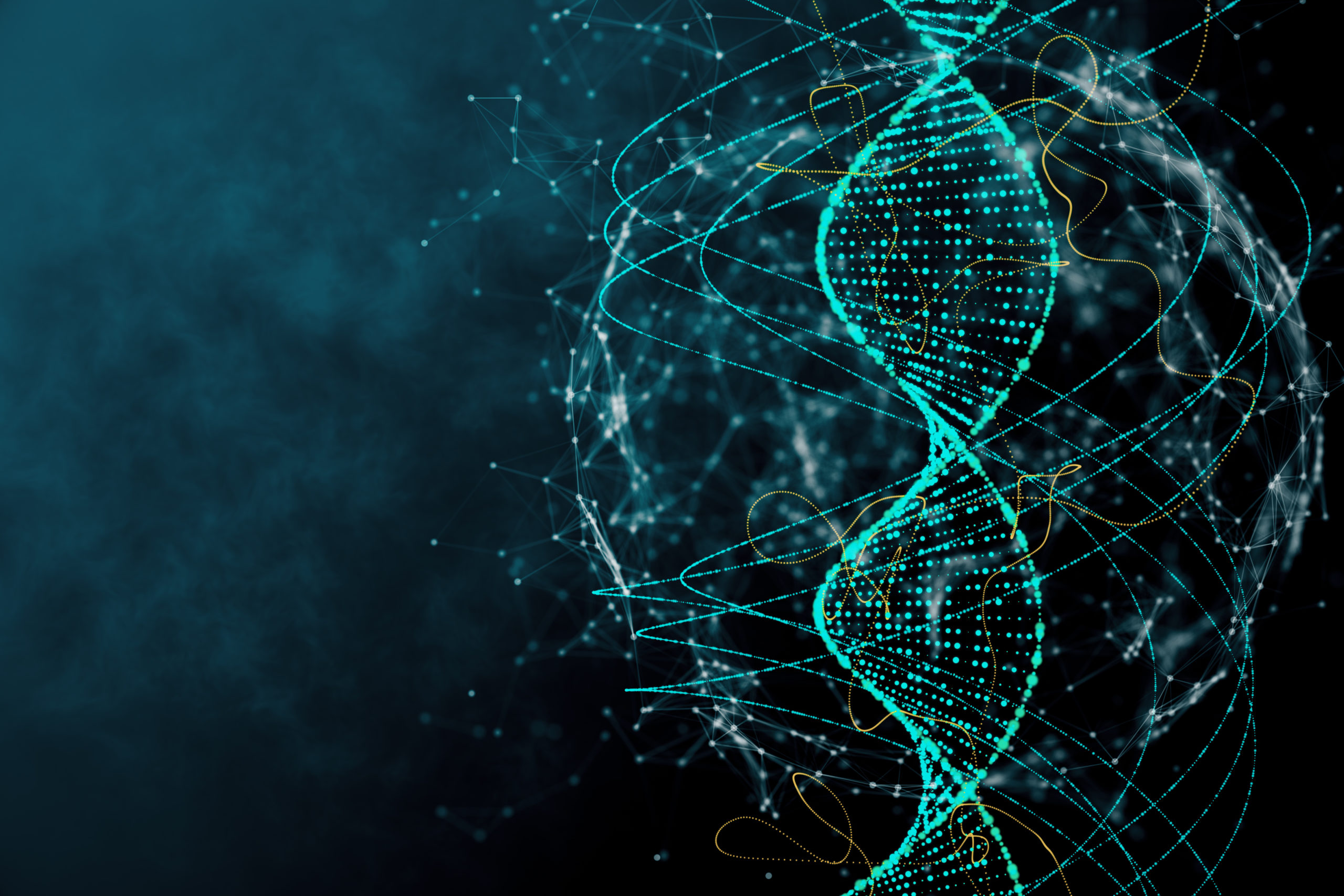 Overview
Products: Diet Fit, Health Fit, Circle Premium, and whole genome sequencing
Cost: $49-$629
Reports: Diet, fitness, and general health
Raw data access: No
Privacy: Data anonymously stored, GDPR-regulated, never sold or shared without permission
Alternatives: SelfDecode, Nebula Genomics, CircleDNA
Pros
Reports include a lot of detail and are easy to read
Free consultation about results with every test
Cons
Cannot download raw DNA data from the test, so it cannot be used with other services
Only way to gain information about aspects of health other than nutrition & fitness is through expensive whole exome sequencing
Recommendations can be quite general & simplified
Research citations not always easily accessible
About DNAFit
DNAFit was founded in 2013 by Avi Lasarow. The company's original goal was to help athletes optimize their performance through genetic testing but then they decided to open the application to the general population as a preventative health tool.
DNAFit says their goal is to empower consumers to prevent illness and improve their health with knowledge about their DNA.
Review of DNAFit Products & Features
DNAFit offers three main products: Diet Fit, Health Fit, and Circle Premium, their whole genome sequencing test.
Diet Fit is a DNA test and set of reports that aims to optimize your diet and nutrition based on your genetics. These reports discuss various vitamins and nutrients as well as the optimal diet type for you.
The Diet Fit plan also includes DNAFit's MealPlanner app that helps you develop meals that target your specific nutritional needs based on your genetics.
Health Fit includes the same diet information as Diet Fit but also discusses physical fitness, stress, and sleep. The stress and sleep reports can also be added onto the Diet Fit kit for an extra fee.
Circle Premium is DNAFit's whole genome sequencing test, in collaboration with CircleDNA. This kit includes over 500 genetic reports and a consultation with a genetic counsellor. This is their most comprehensive test and they claim by doing it, you will never need to have your DNA sequenced again.
DNAFit also offers a file upload option for a lower price. These plans are called Diet Link or Health Link and are essentially analogous to Diet Fit and Health Fit, but may have a lower degree of accuracy, depending on the detail included in the DNA file you upload.
It is worth noting that many other companies cover all of these topics (i.e. nutrition, fitness, sleep, and stress) within one test. Individual tests for each topic are unnecessary and make the cost of getting all of this information from DNAFit notably higher. Coupled with the lack of access to your raw data, their kit options do not offer good value for money.
Review of DNAFit Reports
DNAFit offers an extensive selection of reports but reports focused on areas other than nutrition, fitness, sleep, and stress are only included in the Circle Premium whole genome sequencing test.
Nutrition Report
The nutrition report begins with an overview of your diet-related genetic information, including food sensitivities and nutrient needs.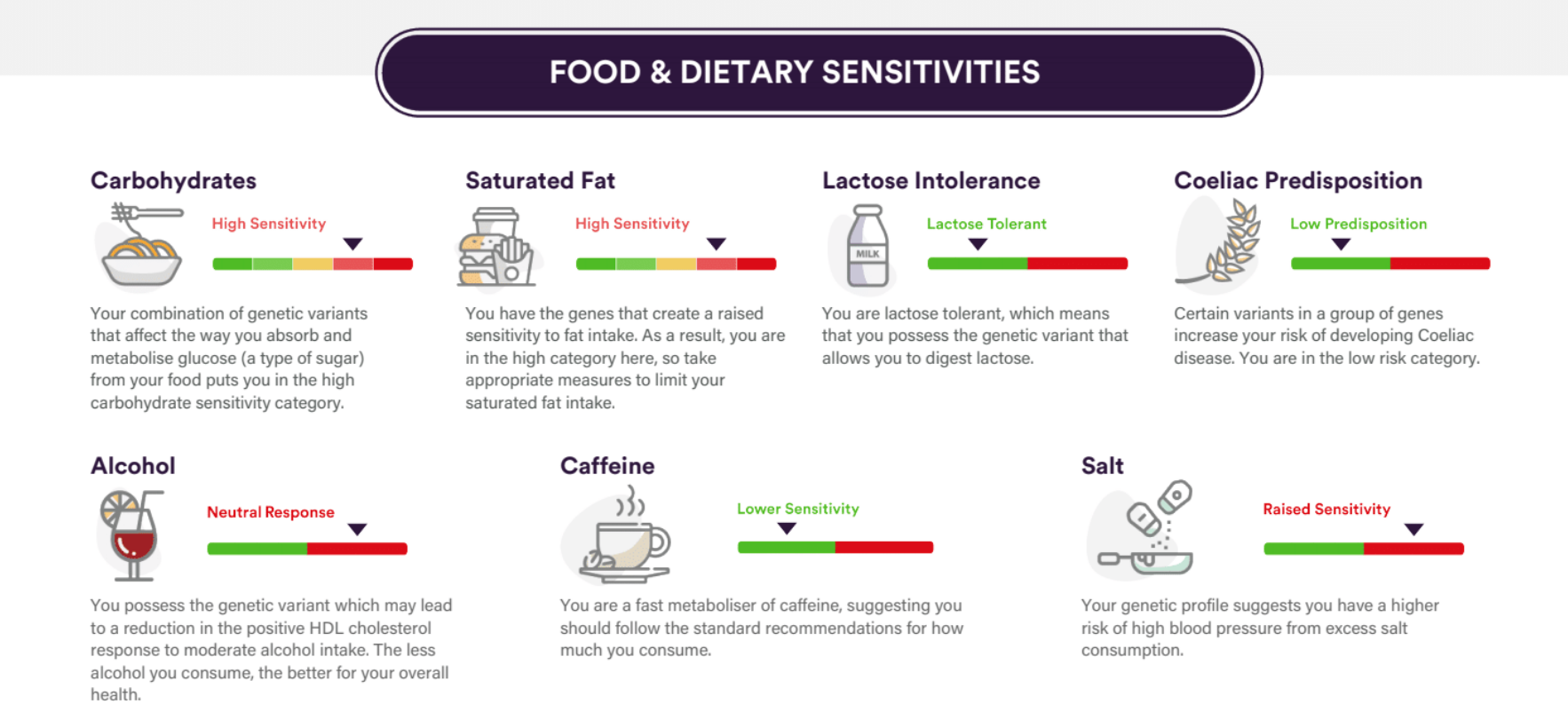 There are also dedicated sections for carb sensitivity, saturated fat sensitivity, detoxification ability, antioxidant needs, omega-3 needs, vitamin needs, salt sensitivity, alcohol response, caffeine sensitivity, celiac predisposition, and lactose intolerance.
Each section includes an overview of your genetic information and a short list of recommendations, or "action items".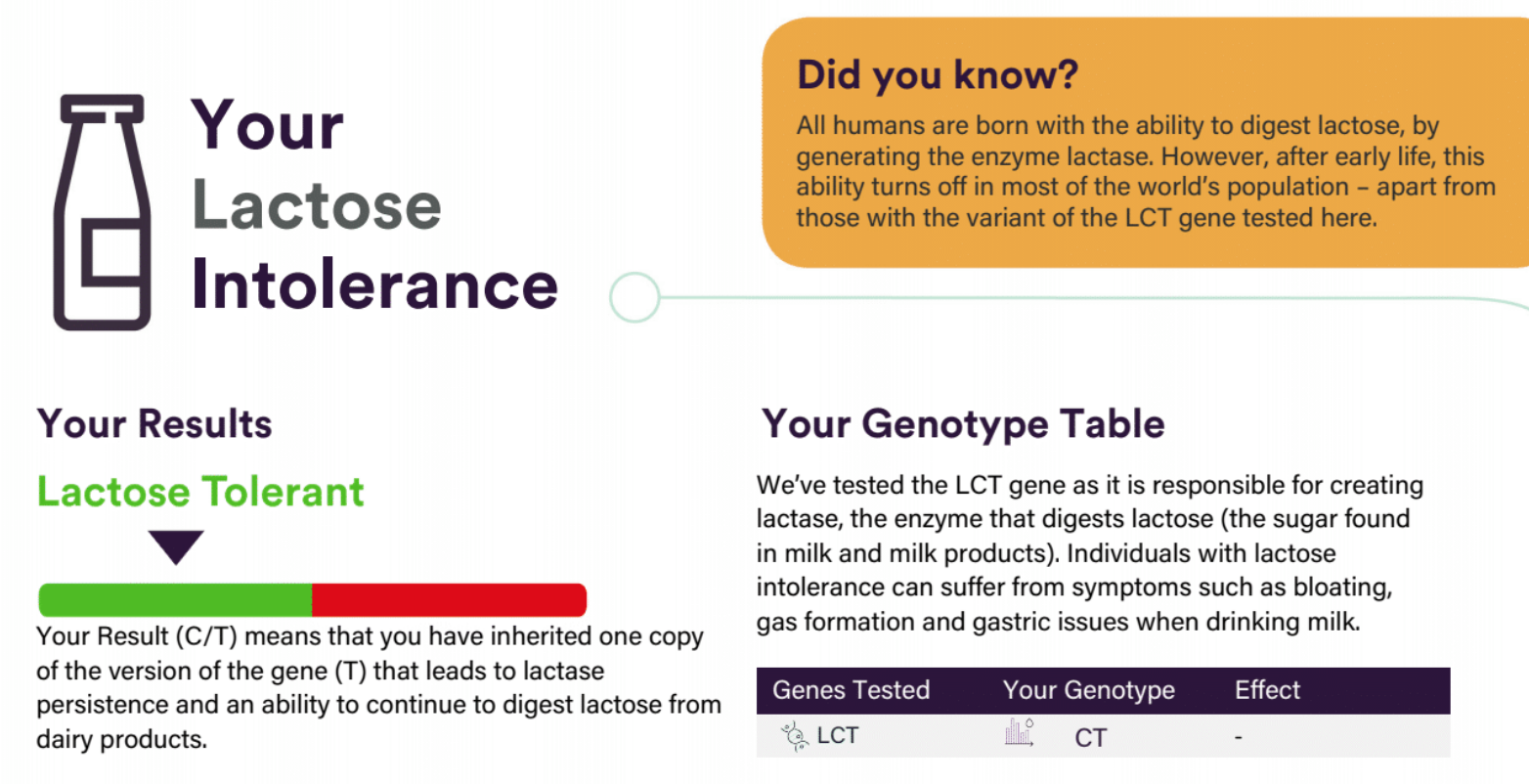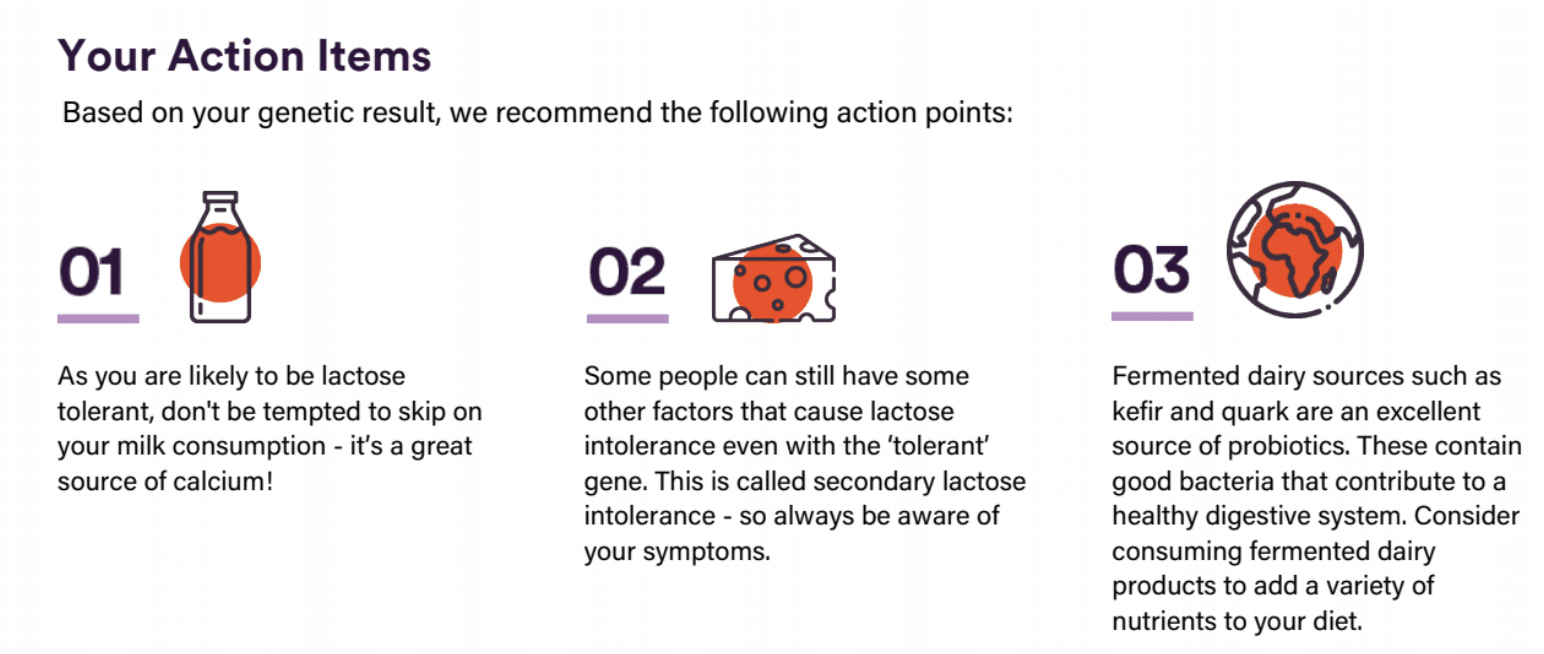 Fitness Report
The fitness report begins with an overview of your general fitness predispositions.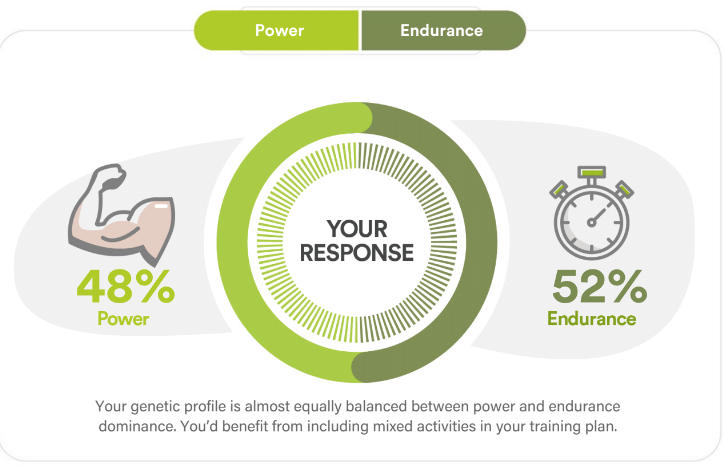 The report then goes into detail for several topics: intensity training, aerobic training, recovery, and injury. For each section, DNAFit tells you about the relevant genes you have, your risk, and three 'action items', which are personalized health recommendations.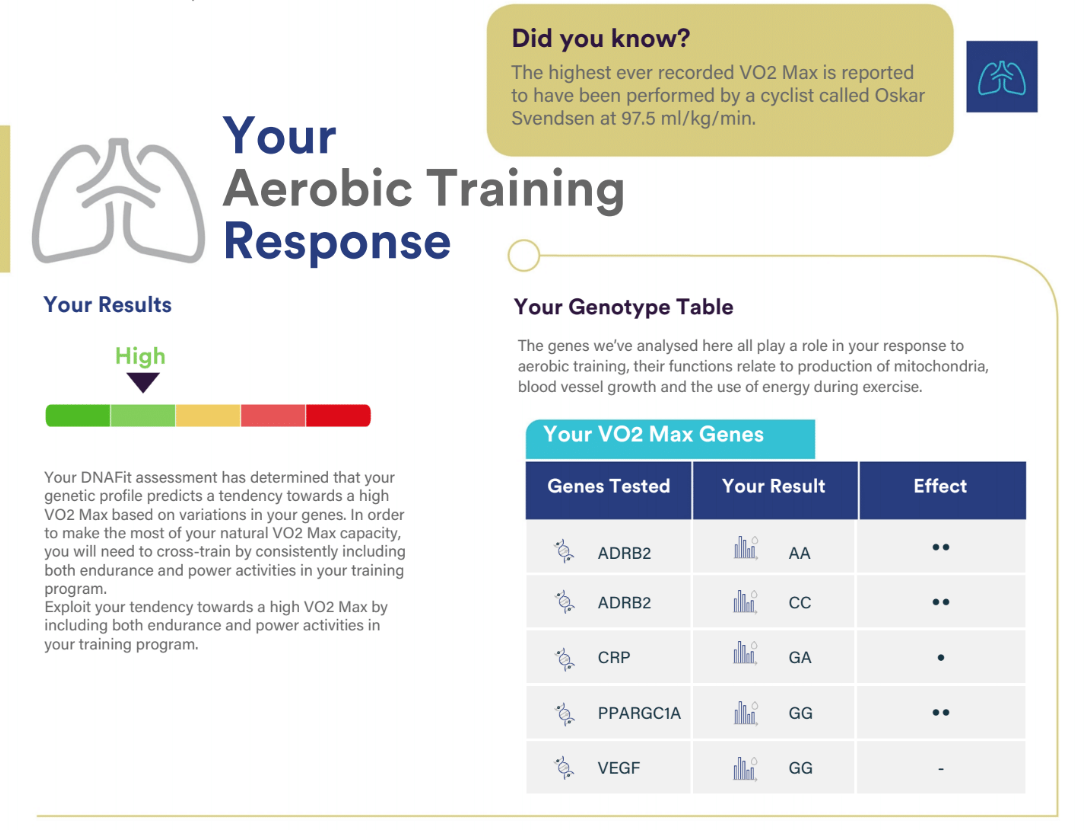 The reports offered by DNAFit go in-depth on each topic and include plenty of detail. They are easy to understand and include actionable recommendations, although they can sometimes feel a bit general. However, these reports do not clearly indicate the scientific research that backs up the information included in the reports, so there is no way of verifying the credibility of the information given.
Cost of DNAFit
DNAFit has many different options at multiple price points. The most inexpensive option is to upload your own DNA file from another service – this costs $49 for the diet reports and $89 for all health reports.
Diet Fit, which includes DNAFit's kit and their diet reports, costs $189. Health Fit, including the test and all health-related reports, is $249. Circle Premium is $629 for a whole genome sequencing test and a wider variety of reports. If you want all the information DNAFit has to offer, it can get quite costly.
Is Whole Genome Sequencing Worth It?
Not yet.
Whole genome sequencing is far more expensive than other popular DNA test kits on the market that test up to a million SNPs. A test from SelfDecode, for example, will cost you $90 – this is far more affordable than the $600+ cost of WES with DNAFit.
Currently, only so many SNPs have been studied by scientists, so only a small portion of the results from a whole genome sequencing test can provide you with any meaningful information. At the moment, the difference in information between a standard SNP chip test (like one from 23andMe or SelfDecode) and a whole genome sequencing test is negligible.
Plus, with a process called genetic imputation, it's possible predict SNPs that are not included in a standard DNA test so that you can essentially get the same data that whole genome sequencing provides at a fraction of the cost. For example, SelfDecode uses AI and machine learning to analyze up to 83 million genetic variants.
Health Recommendations from DNAFit
DNAFit provides multiple health recommendations within its reports. Each section of the nutrition and fitness reports include three 'action items' which are easy recommendations to implement.
DNAFit's recommendations are personalized based on your genetic data. Some of them are less specific and impactful than others, but they are overall doable suggestions based on scientific research.
DNAFit also offers personalized workout plans and meal plans as well. These can be accessed through their app.
Review of DNAFit Privacy & Data Security
DNAFit states that they never share your data with third-parties and always store it anonymously. They will not even permit you or anyone else to download your DNA file.
They assure their users that DNA samples are destroyed as soon as the test is complete as well. They claim they are the only genetic testing company with ISO 27001 certification, the highest level of information security worldwide.
DNAfit is part of the Prenetics Group, a company based in Hong Kong, China.
Partnerships
DNAFit has a partnership with CircleDNA in order to offer whole genome sequencing. For this reason, your data gets shared securely between the two companies throughout the testing process.
SelfDecode vs DNAFit
SelfDecode delivers natural supplement, diet and lifestyle suggestions based on your genes that you can implement right away. DNAFit offers suggestions regarding diet and fitness.
SelfDecode tells you why they make each recommendation so that you can understand the science behind the suggestion. DNAFit sometimes includes their scientific reasoning but not always.
SelfDecode prioritizes recommendations based on their analysis of all the relevant genes instead of one gene at a time (through reports). DNAFit lists three "action items" for each topic but it is not clear whether they are prioritized.
SelfDecode takes a holistic approach to give recommendations that are best for your genes AND the health topic. DNAFit seems to take a similar approach but they are not always as clear about how they reach their recommendations.
SelfDecode has a team of over 60 highly skilled scientists, MDs, PhDs, NDs, and software engineers to make sure they deliver the most accurate and science-based health information. According to their website, DNAfit's scientific team is composed of 4 PhDs, wellness, and bioethics professionals.
SelfDecode is the most comprehensive and looks at more genes & gene variants (up to 83 million) to deliver the best analysis of genetic risks. DNAFit only looks at the SNPs relevant to their reports, they do not provide you with access to a database with information for all of the SNPs included in your test like SelfDecode does.
SelfDecode supports everything with peer-reviewed scientific studies in their research and checks for contradicting information. DNAFit supports their conclusions with research but does not cite it as clearly.
SelfDecode never sells your data or gives it away. DNAFit makes the same claim.
Comparisons
| | | | | |
| --- | --- | --- | --- | --- |
| | SelfDecode | Nebula Genomics | CircleDNA | DNAFit |
| Personalized health recommendations | Yes | No | No | Yes |
| Genes & gene variants analyzed | Up to 83 million genetic variants | Limited number per report | Limited number per report | Limited number per report |
| Products | DNA testing, wellness reports, research-based health recommendations, lab test analyzer | WGS, health reporting, traits, ancestry | WES, health, diet, and family planning reports | WES, nutrition and fitness reports |
| Raw data access | Yes | Yes | Yes | No |
| Cost (USD) | $97 – $387 | $0 (limited) – $999+ | $189 – $629 | $49-$629 |
DNAFit Reviews
Trustpilot – 4.5 of 5 stars
Reviews for DNAFit on Trustpilot are generally positive. Many reviewers comment on how they appreciate the personal consultation included with their purchase.
Amazon – 2.9 of 5 stars
Reviews for DNAFit on Amazon are mixed. Some customers are frustrated with the recommendations they received as they feel they were not as personalized as they could have been.
Read what people are saying about DNAFit on Reddit
Reddit users find DNAFit to be interesting but the information they received was not as useful as they hoped it would be.
Alternatives to DNAFit
SelfDecode: The best option for health-focused DNA analysis with personalized reports and recommendations to improve your quality of life.
DNAFit Review Summary
DNAFit provides detailed reports on nutrition and fitness and even more variety through their whole genome sequencing option. They also boast high-level privacy standards.
However, DNAFit is limited in the information it provides you with, unless you go for the expensive ($600+) whole genome sequencing option. It does not allow you to search through results for every SNP, it only gives you your genetic information through reports.
It is also expensive to have to purchase a different test for each kind of report – many other companies, like SelfDecode, offer all of the information (on health, fitness, nutrition, stress, and sleep) within the cost of a single test.
You also cannot download your DNA file from DNAFit if you use their test, which prohibits you from using your data with other services. This puts a significant limitation on the value you can get out of your DNAFit test results. This is a serious drawback, especially when it comes to whole genome sequencing.
The health recommendations provided by DNAFit can be quite general as well. They lack detailed explanations about how they come to these conclusions, or citations for research, and they only look at a limited number of SNPs.
A service like SelfDecode can provide more details about what the personalized health recommendations are based on. SelfDecode uses AI and machine learning to predict and analyze up to 83 million genetic variants from a typical DNA file to give you the most accurate results.
Related Articles