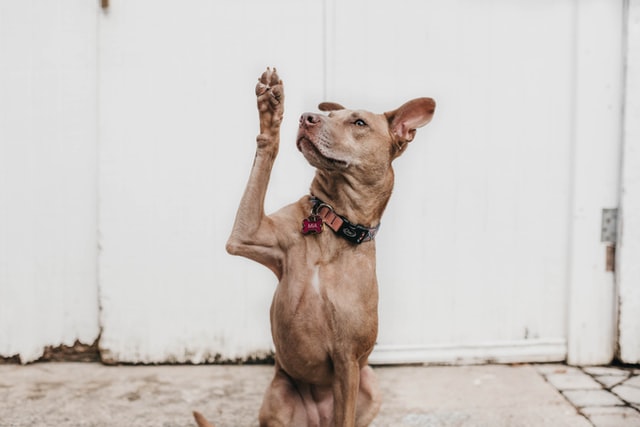 Overview
Products: DNA tests for dogs.
Cost: $129 – $199.
Reports: Breed, ancestry, and health.
Raw data access: Yes.
Privacy: Embark does not share identifiable information without explicit consent.
Pros
Health and breed reports for dogs
Tests for over 200 genetic health risks and over 350 breeds
Includes the option to find and connect with other dogs who share the same DNA
Easy cheek-swab sample collection
Cons
Health report is written in technical terms and can be difficult to understand
About Embark Dog DNA
Embark Dog DNA was founded in 2015 by two brothers, Ryan and Adam Boyko. The company is headquartered in Boston, Massachusetts, and claims to offer the most comprehensive and accurate dog DNA test on the market.
Embark is an official research partner of the Cornell University College of Veterinary Medicine and aims to end preventable diseases in dogs.
Review of Embark Dog DNA Products & Features
Embark Dog offers DNA tests for dogs. The company provides a simple cheek swab collection kit, and customers can choose between two products: Breed ID Kit and Breed + Health Kit. Embark tests over 200,000 genetic markers. They make it clear that the sample collection is painless and it does not require a blood sample or a visit to a veterinarian.
The Breed ID Kit helps dog owners learn more about their pet's breed, ancestry, and more. Customers also have the opportunity to find and connect with other dogs that share the same DNA, with the option to start messaging other dogs' owners and see where they are located, if they have shared this information.
The Breed + Health Kit includes health insights in addition to the breed information. The company tests for over 200 genetic health risks, including glaucoma, degenerative myelopathy, and dilated cardiomyopathy. Embark also includes information about over 20 physical traits such as how big a dog will be, how much they shed, among others.
After customers receive their kit, they need to activate it, swab the inside of the dog's cheek, and send the sample for analysis. Results are delivered in 2 to 4 weeks from when the sample is received.
Review of Embark Dog DNA Reports
Embark's reports are available online and delivered in an easy-to-understand format. Customers can also get access to a Print Report, a PDF file that makes it easy to share with others.
As seen below, the report is divided into six sections: Summary, Family Tree, Health, Traits, Maternal Haplotype, and Paternal Haplotype.

In the Summary section, the dog's genetic breed results are shown. Customers can see the percentage of each breed, and a brief description of each breed is available under these results. Predicted adult weight and genetic age are some of the additional information represented in this section.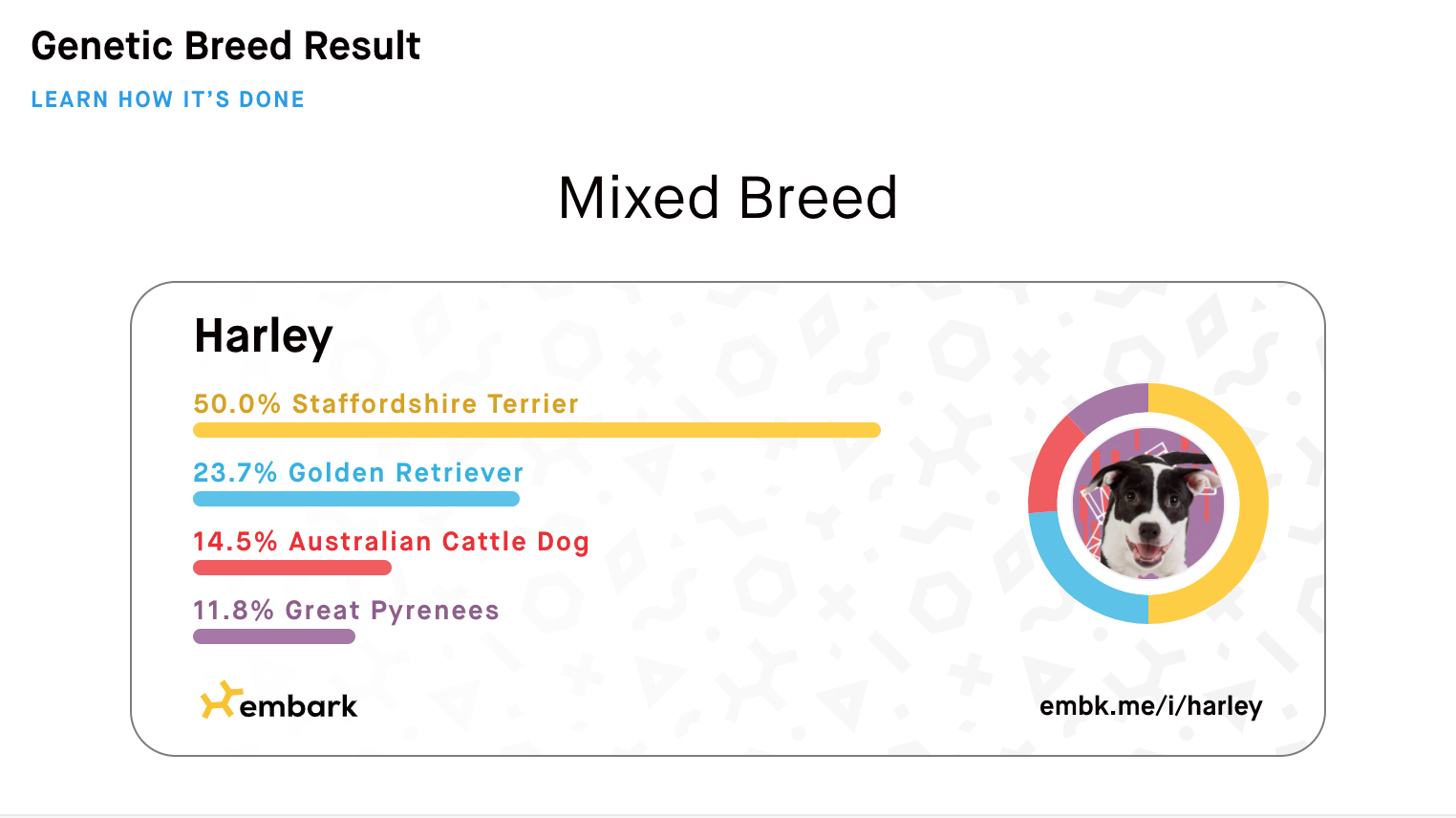 The Family Tree section graphically shows an estimate of what your dog's family tree looks like and includes the breed of the parents, grandparents, and great-grandparents, as seen below. Customers can click on any icon to learn more about each breed.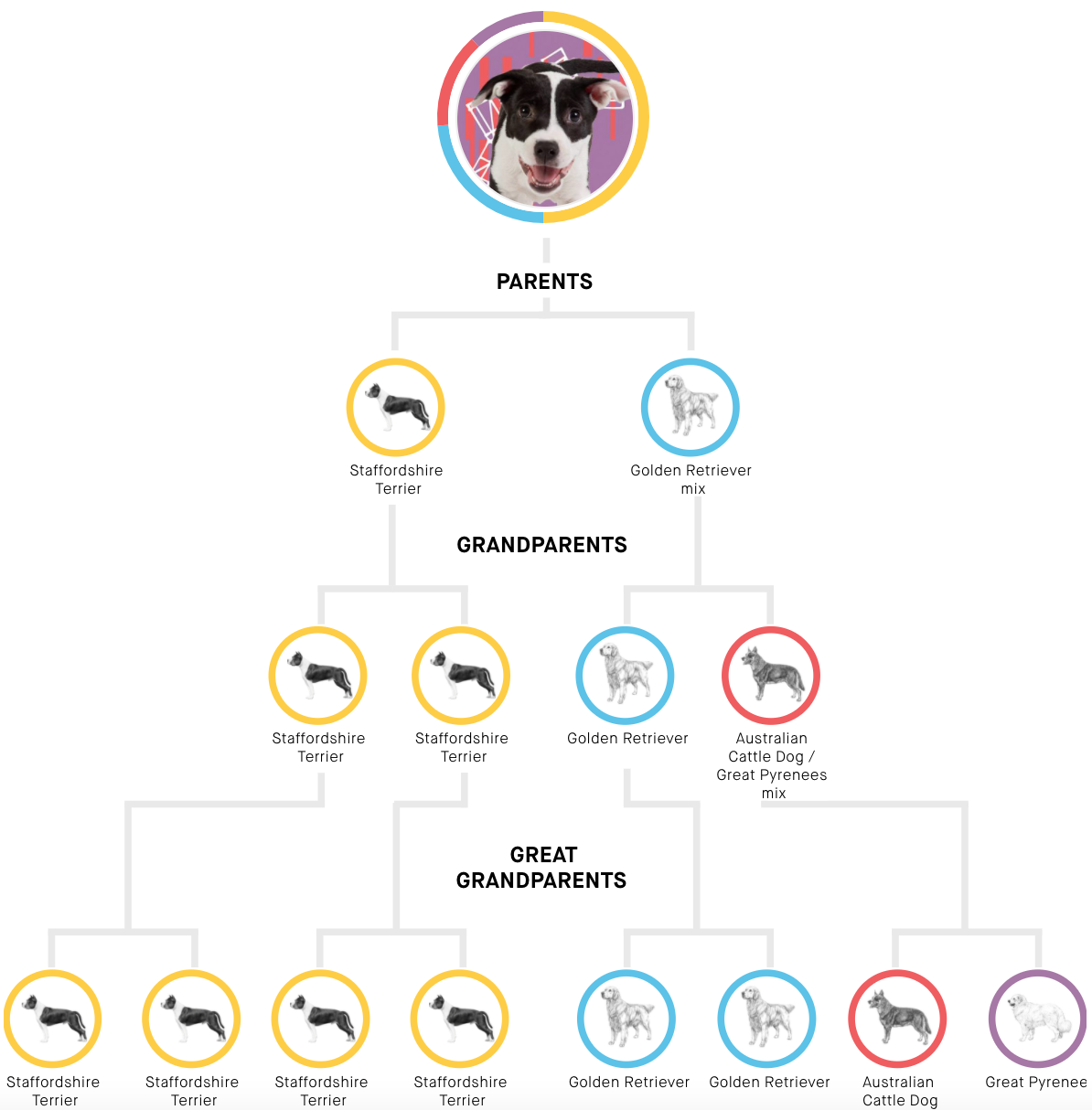 The Health section includes insights into over 200 genetic health risks and includes a description of what the results mean for the dog. The report also provides a brief explanation of the conditions associated with the variants detected by the test.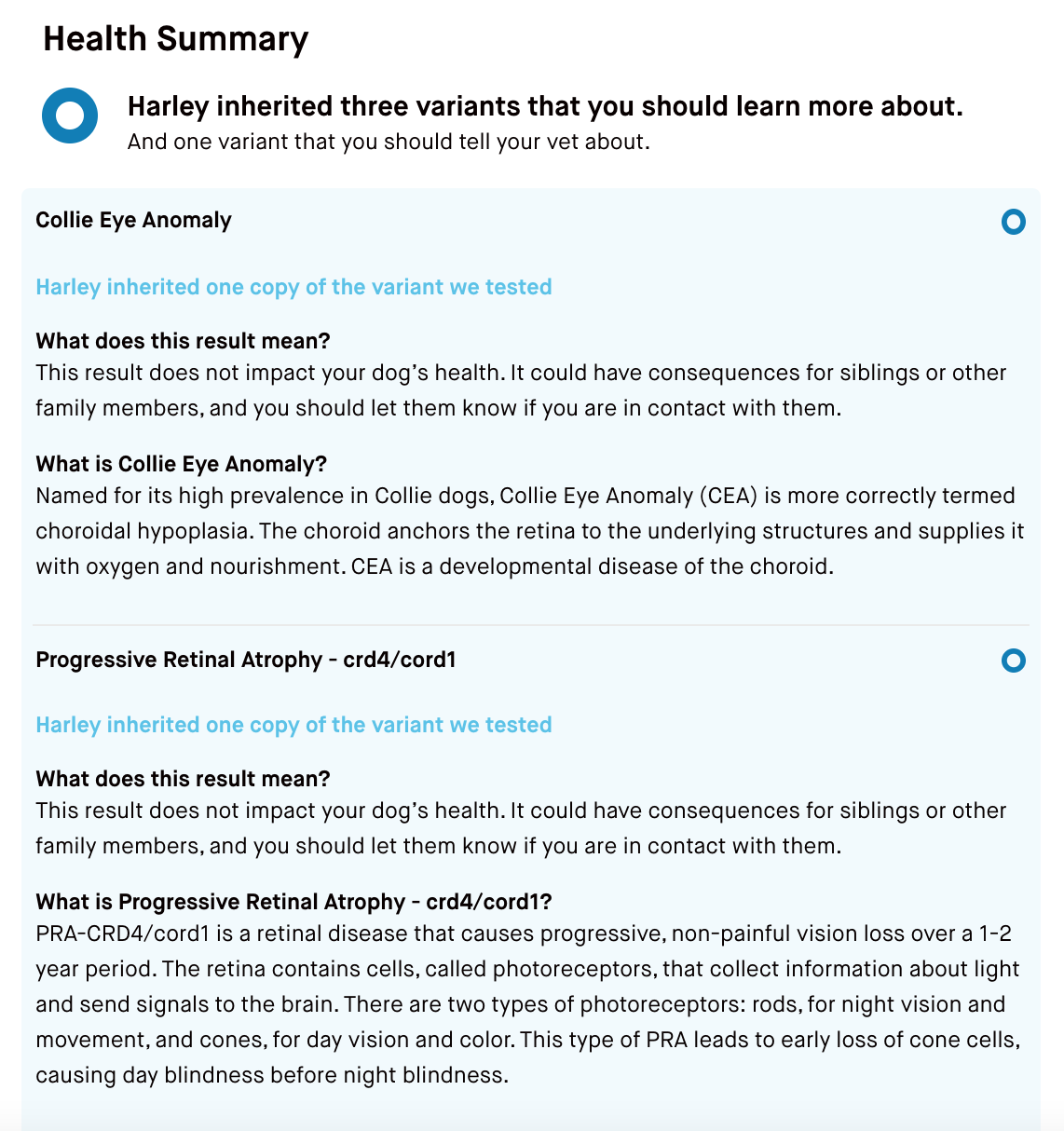 According to their website, the health information provided in the reports can help veterinarians in their interpretation of a dog's clinical data, and how they diagnose, monitor, and treat.
Customers can consult with Embark's scientists and veterinarians for help interpreting the results.
The company also recommends that customers print their Embark Veterinary Report to facilitate conversations with their veterinarian, which they encourage.
The Traits section provides information about the dog's appearance based on the DNA results, as seen below. Customers can click on any trait for more details.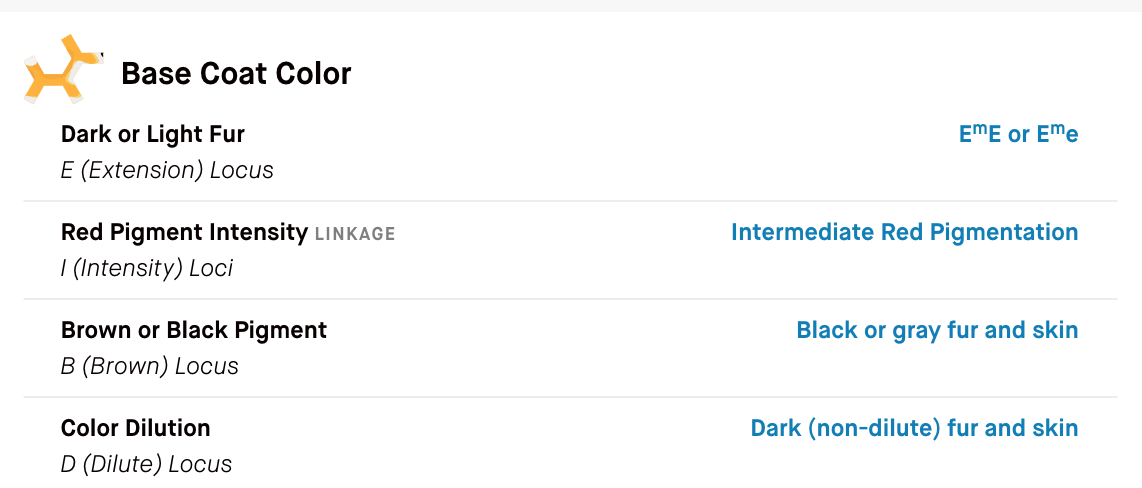 Cost of Embark Dog DNA
An Embark Dog DNA test costs $129 for the Breed ID Kit and $199 for the Health + Traits Kit. The company offers interest-free installment payments with Affirm. They also offer progressive discounts if customers purchase 2 or more dog DNA tests.
Health Recommendations from Embark Dog DNA
The Embark DNA test provides insights into your dog's genetic predisposition to over 200 health conditions, including glaucoma, degenerative myelopathy, and dilated cardiomyopathy, three of the most common adult-onset diseases in dogs.
The company also offers veterinarian and expert consultations to help customers interpret their dog's DNA test results. The health report can be difficult to understand and could be of more value to a veterinarian in interpreting the dog's clinical data. Embark encourages customers to share the results with their dog's veterinarian.
Review of Embark Dog DNA Privacy & Data Security
Embark states they value both privacy and scientific openness. They do not share the customers' and their dogs' identifying information with anyone without explicit permission. The company does disclose they work with scientists to use non-identifying information for research purposes.
Customers can access and download their dog's raw genetic data from over 200,000 genetic markers after the analysis is completed.
Embark Dog DNA Reviews
Embark DNA reviews are overwhelmingly positive. On Amazon, the Breed + Health Kit earned a 4.8 of 5 stars rating from nearly 8,000 reviews.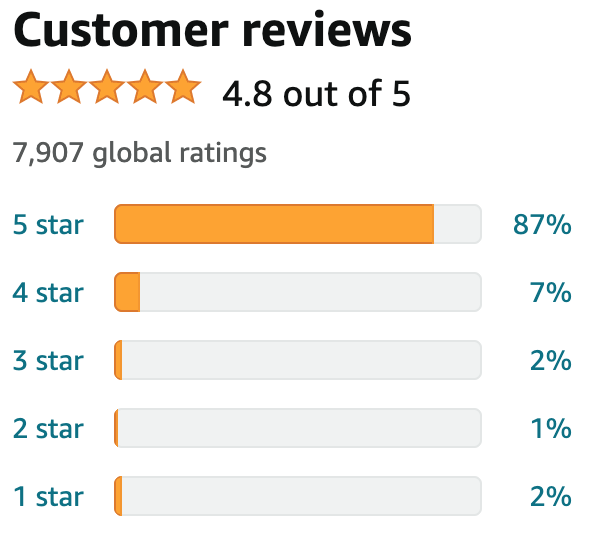 Most Embark DNA reviews state that the results were comprehensive and informative. Some people expressed that they were unsatisfied with how long Embark takes to deliver the results, even though they found the reports helpful. A few customers question the accuracy of the results saying they aren't consistent with their dog's known breed and physical characteristics.
On Trustpilot, Embark reviews are scarcer, and the company has 2.8 of 5 stars based on 9 customer reviews. One customer likes that they can find their dog's relatives on the website, while another reviewer praises the company for their detailed reports.
Alternatives to Embark Dog DNA
If you want to find out more about your dog's health, there are some alternatives to Embark DNA you can consider.
Wisdom Panel offers two DNA tests for dogs that give breed and health insights, with prices ranging from $99 to $159.
HomeDNA offers two different DNA tests for dogs, a mixed-breed dog identification DNA test ($89) and a DNA health screen and life plans ($125).
Complementary Services
SelfDecode offers a DNA test (for humans) that gives personalized health recommendations so that you can keep up with your healthy dog. Compared to Embark DNA's 200,000 variants analyzed, SelfDecode uses artificial intelligence and machine learning to analyze over 35 million SNPs so that you can get the most accurate information about your health.
Embark Dog DNA Review Summary
Embark offers a painless way to help you find out more about your dog. Their at-home test kit does not require a blood sample or a visit to the veterinarian, and they analyze genetic markers specific to canines to give insights into your dog's breed and health risks. Customers can also contribute to research by sharing their dog's genetic information.
If you are interested in getting a DNA test for your dog to learn more about its health predispositions so that you can provide it with the best care possible, you might also want to find out what your DNA has to say about your health.
A service such SelfDecode uses a scientifically-backed algorithm to predict and analyze up to 35 million SNPs from a typical DNA file so that you don't have to spend hundreds of dollars on whole genome tests. This way, you can find out how genetics play a role in your and your dog's health.