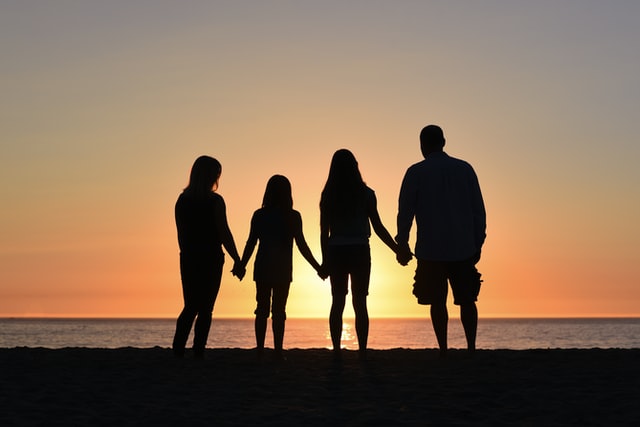 Overview
Products: At-home DNA tests for paternity, ancestry, health, beauty, and pets.
Cost: Prices range from $39 for a raw data upload to $199 for the GPS Origins Ancestry Test.
Reports: Reports for Ancestry, Food and Pet Sensitivity, Healthy Weight, Skin Care, Paternity, and Pets.
Raw data access: HomeDNA allows raw data access for their GPS Origins Ancestry Test, but it is not included in the prices for the more affordable tests.
Privacy: HomeDNA claims not to sell or distribute any personal information, but reserve the right to use any anonymous data they create for any purpose.
Alternatives: SelfDecode provides personalized health recommendations based on scientific research.
Pros
Available throughout the United States at retail locations, or worldwide online.
Equipped with a state-of-the-art laboratory from their parent company DDC.
Reports provide some actionable information users can implement right away.
Cons
Offers multiple DNA testing kits that have to be purchased separately for the different reports they offer.
Reports can be generic and lacking detail.
Although there is an option of uploading raw genetic data, it is only available for one test, and for a cost.
There may be hidden laboratory fees for purchases made outside their website.
About HomeDNA
HomeDNA launched in 2017 under the parent company DNA Diagnostics Center (DDC). HomeDNA aims to make at-home genetic testing accessible to the general public.
DDC is an established DNA testing company founded in 1995 with a world-class, certified, and fully accredited laboratory located in Ohio.
Review of HomeDNA Products & Features
HomeDNA offers a variety of DNA test kits and reports under multiple brands on their website.
HomeDNA's test kits may be available online or in selected stores. The tests are divided into three categories: Ancestry Tests, Health and Beauty, and Pets. For their Health and Beauty tests, the company encourages users to seek a medical professional for further help.
HomeDNA Paternity Test
The Home DNA Paternity Test kit offers fast, accurate, and confidential paternity results.
GPS Origins Ancestry Test
This test kit analyzes over 80,000 unique genetic markers and cross-checks with 41 gene pools and more than 1,000 reference populations to discover where the familial DNA originated from and how it migrated over time.
Also available for purchase are an African and an Asian Edition. The African Edition analyzes eleven African-specific gene pools and informative ancestry markers from over 100 African populations. The Asian Edition analyzes seventeen Asia-specific gene pools and hundreds of other reference populations.
Users can also upload their genetic files from Ancestry.com, FamilyTreeDNA, and 23andMe to get the reports at a lower cost.
HomeDNA Starter Ancestry Test
This test kit shows users where their ancestors originated from and which current population they have the most in common with. It analyzes 100 DNA markers to determine the origins of the ancestors and compares them to four different ancient populations.
DNA Origins Maternal & Paternal Lineages
HomeDNA allows users to learn more about the origins of their maternal and paternal ancestral lines.
HomeDNA Advanced Ancestry Test
This test kit provides a comprehensive DNA analysis including personal gene pool percentages and familial DNA migration routes. It uses similar technology to the GPS Origins Ancestry Test and can pinpoint precise geographic locations where the last three major DNA changes happened.
HomeDNA Food and Pet Sensitivity
HomeDNA offers a science-based DNA test to help identify how sensitive users are to eight common irritants (gluten, lactose, cow milk protein, egg, peanut, other foods, histamine, pet dander).
HomeDNA Healthy Weight
This test kit helps users achieve a healthy weight with a science-based DNA test that identifies their genetic makeup and provides them with specific diet and exercise strategies based on their genotype. It checks DNA samples for genetic markers that are connected to weight, metabolism, and body type.
HomeDNA Skin Care
HomeDNA helps users identify their skin's genetic potential in seven key areas and analyzes 28 SNPs related to skin performance.
Review of HomeDNA Reports
HomeDNA's reports vary depending on the test kit purchased. Results are available in 6 to 8 weeks for most tests, or in 24 hours if the user chooses to upload their genetic files.
HomeDNA provides sample reports on their website, shown below.
GPS Origins Ancestry Test
HomeDNA offers a dynamic online experience through an interactive map showing geographic locations and migration routes. A downloadable PDF report is also available.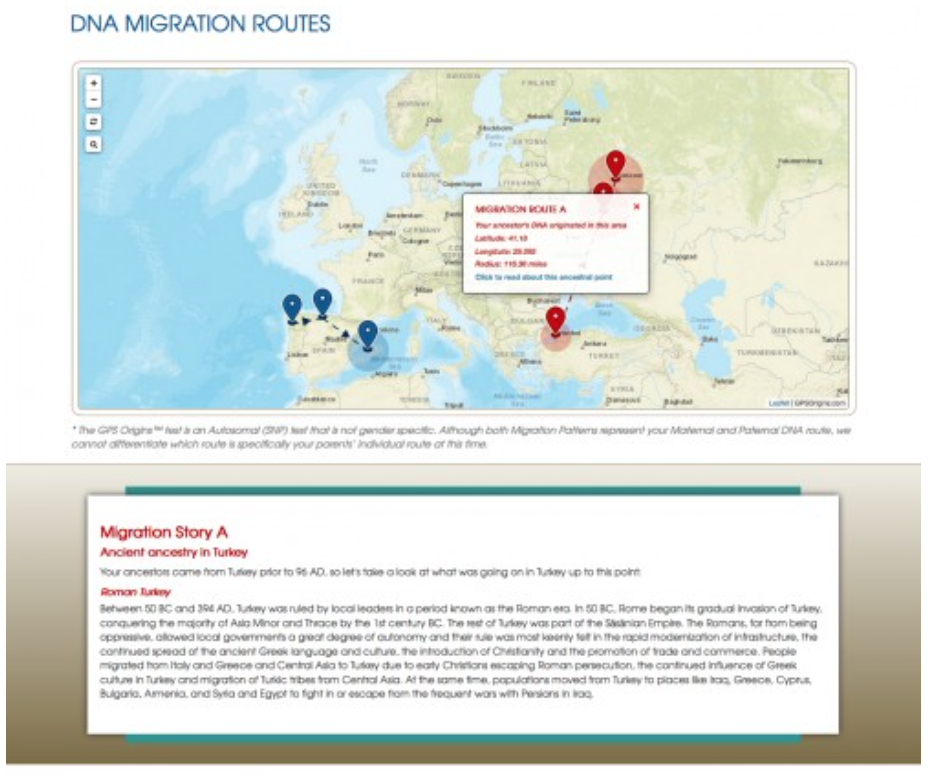 The results also show the top 3 gene pools and the percentage of DNA inherited, along with historical descriptions.
Similarly, the African and Asian Editions follow the same model.
Starter Ancestry Test
The Starter Ancestry Test determines users' ancestry and identifies their genetic similarities to today's populations. HomeDNA also provides migration route information for both maternal and paternal lineage.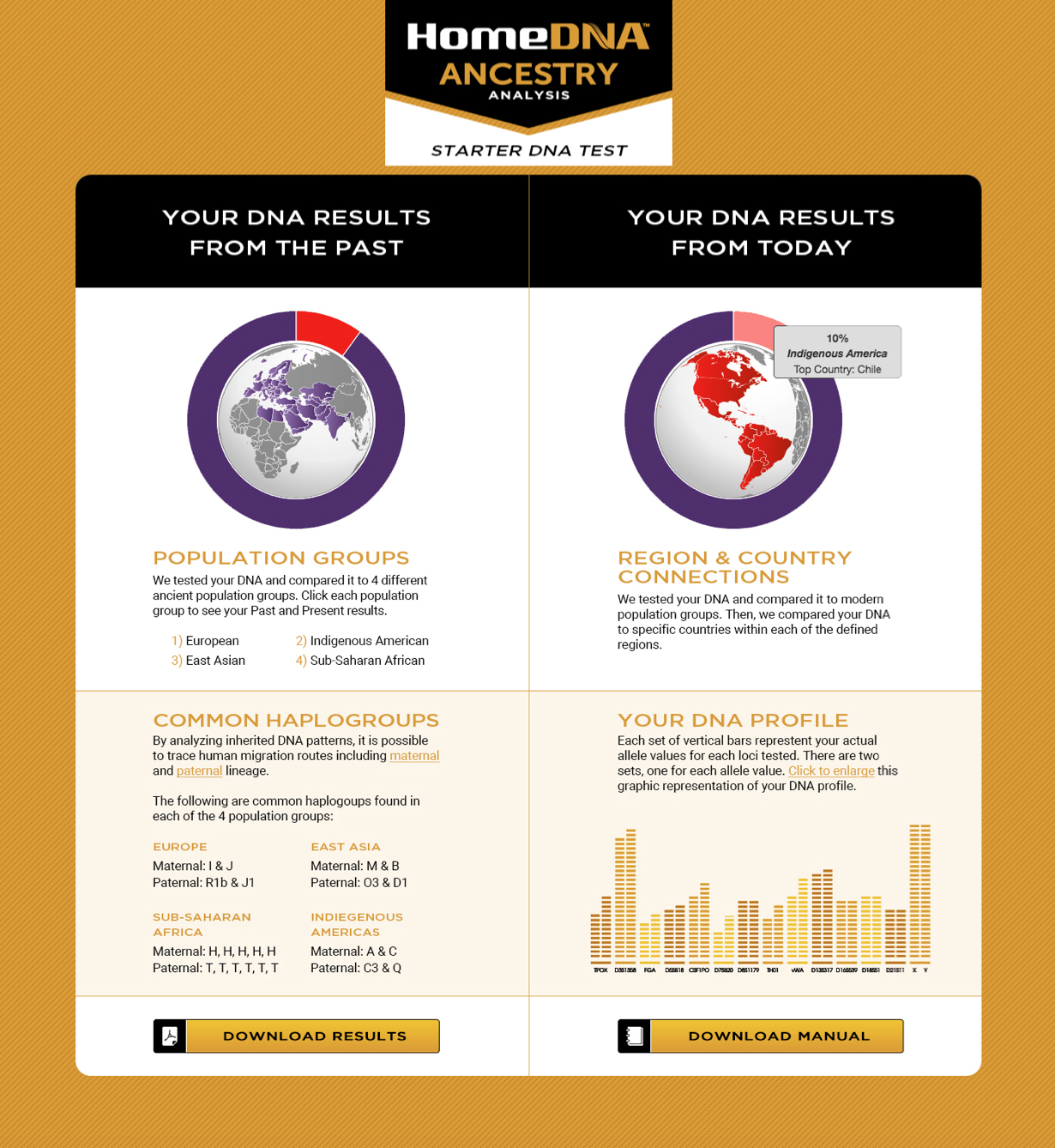 DNA Origins Maternal and Paternal Lineage
Both the Maternal and Paternal reports include haplogroup designation and maps showing ancestors' journey. A sample of the DNA Origins Maternal Lineage report is shown below. The Paternal report follows the same model.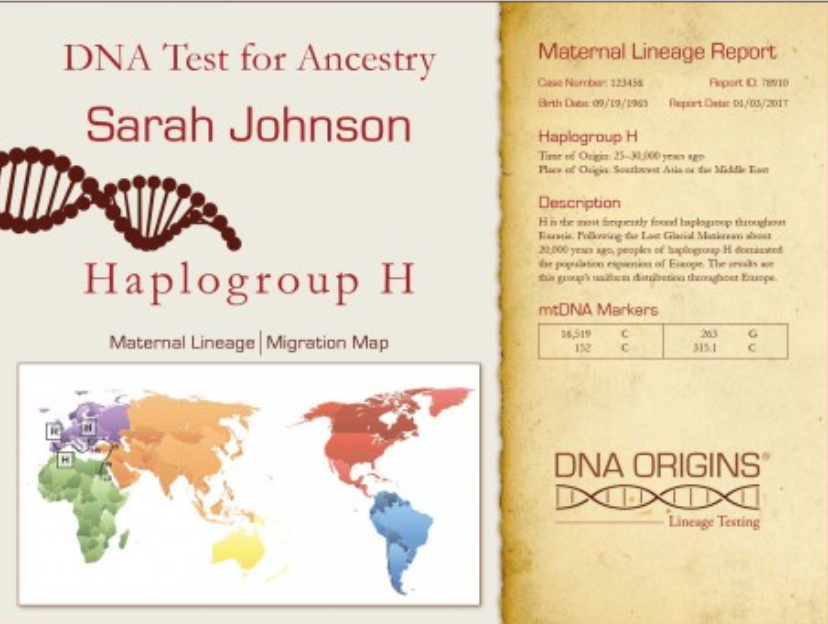 Advanced Ancestry Test
The Advanced version of the Ancestry Test identifies ancestral origins and shows the percentage of DNA inherited. Similar to the GPS Origins Ancestry Test, an interactive online map is available that showcases migration routes with geographic locations and time stamps.
Along with the genetic results, HomeDNA also provides users with historical information about their ancestry.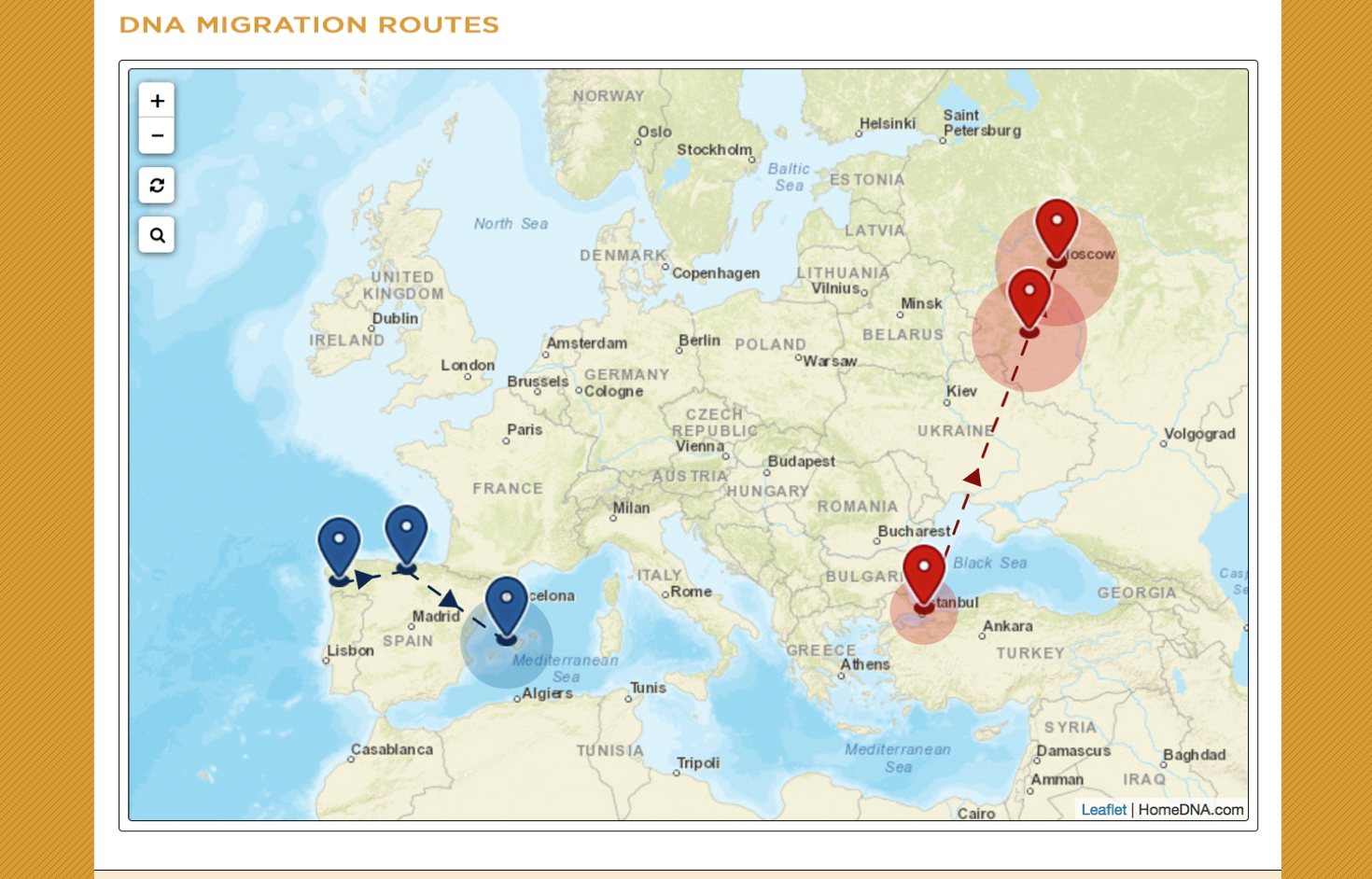 Food and Pet Sensitivity
The HomeDNA Food and Pet Sensitivity report includes genetic predisposition for sensitivity to eight areas. It divides the results into two categories: more and less sensitive.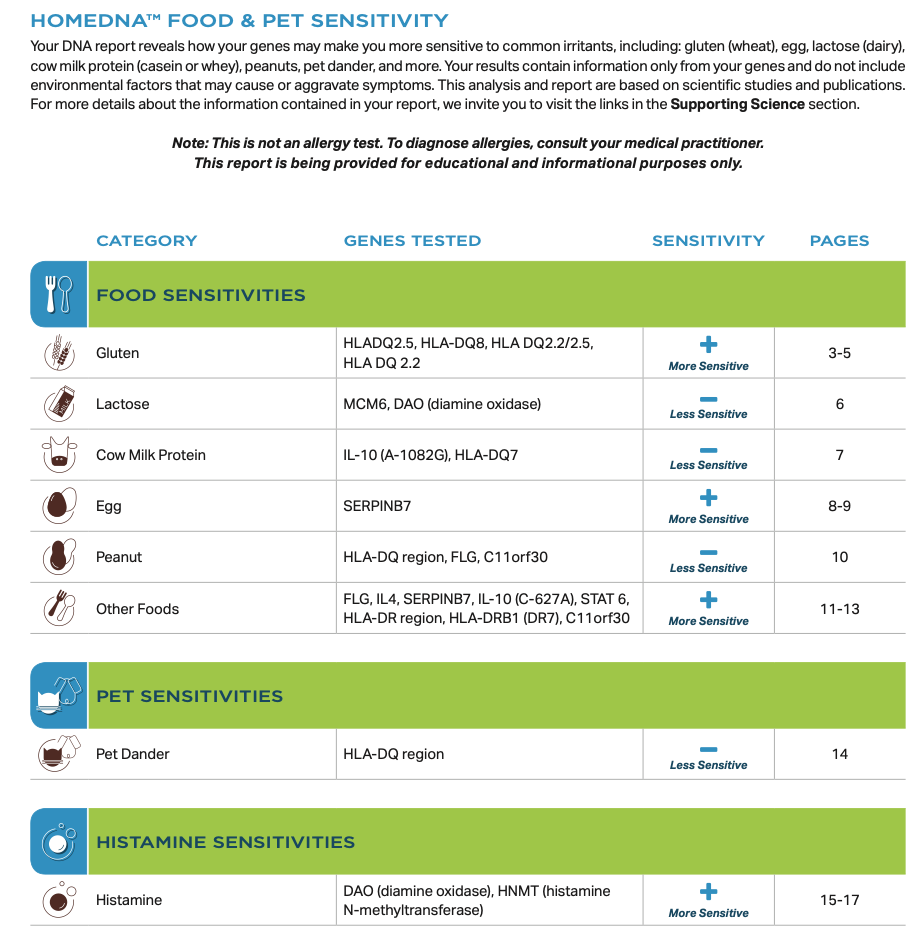 After presenting an overview of the results showcasing the category, genes tested, and sensitivity, the report expands on each category. For example, the gluten category shows the gene profile for the genes tested and a brief explanation about gluten sensitivity, in addition to presenting some common symptoms.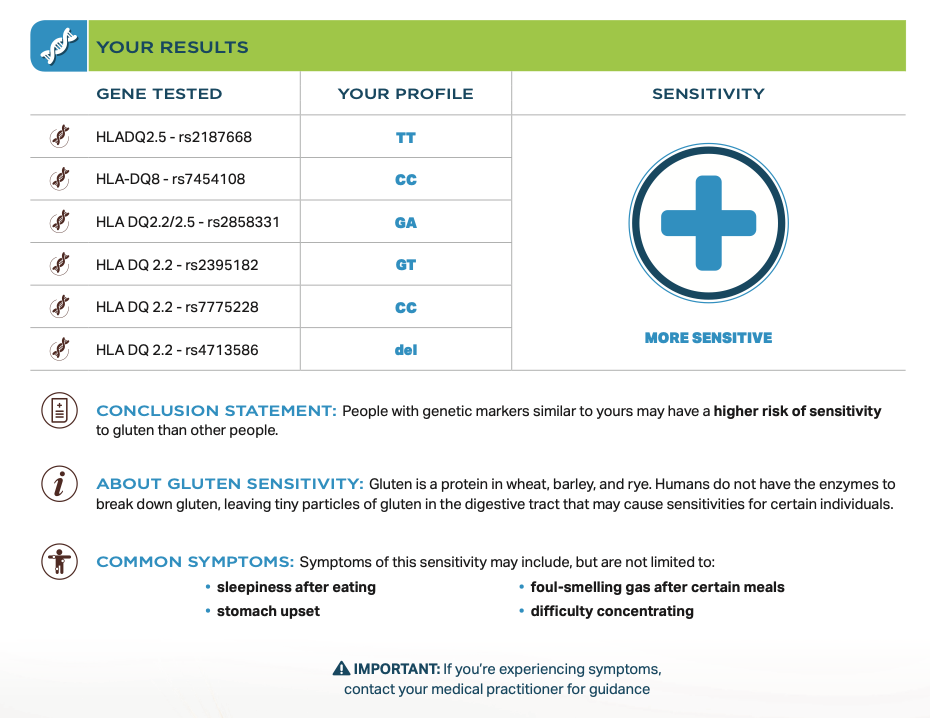 Moreover, HomeDNA offers users diet, lifestyle, and supplement tips that are in line with their genetic results. However, they do not provide scientific references, giving only general information that can be attributed to many people.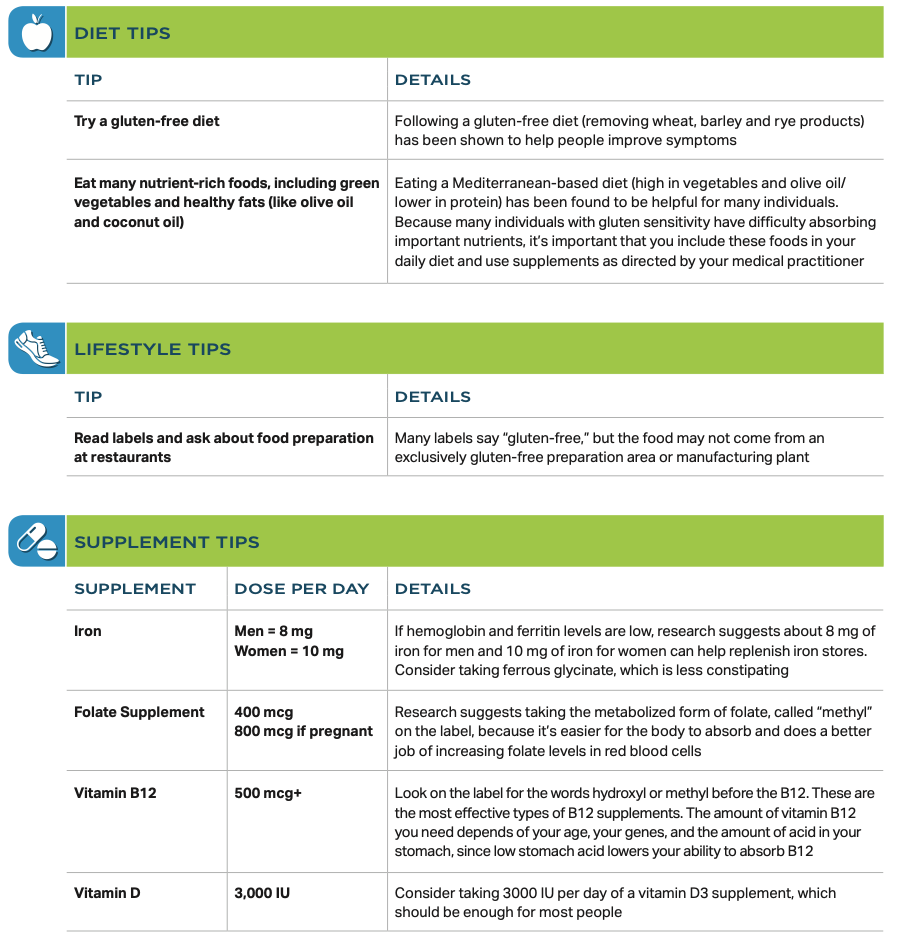 Healthy Weight
HomeDNA Healthy Weight report analyzes weight loss ability, nutrient needs, and response to exercise. It provides an overview including the category, rating and genes examined.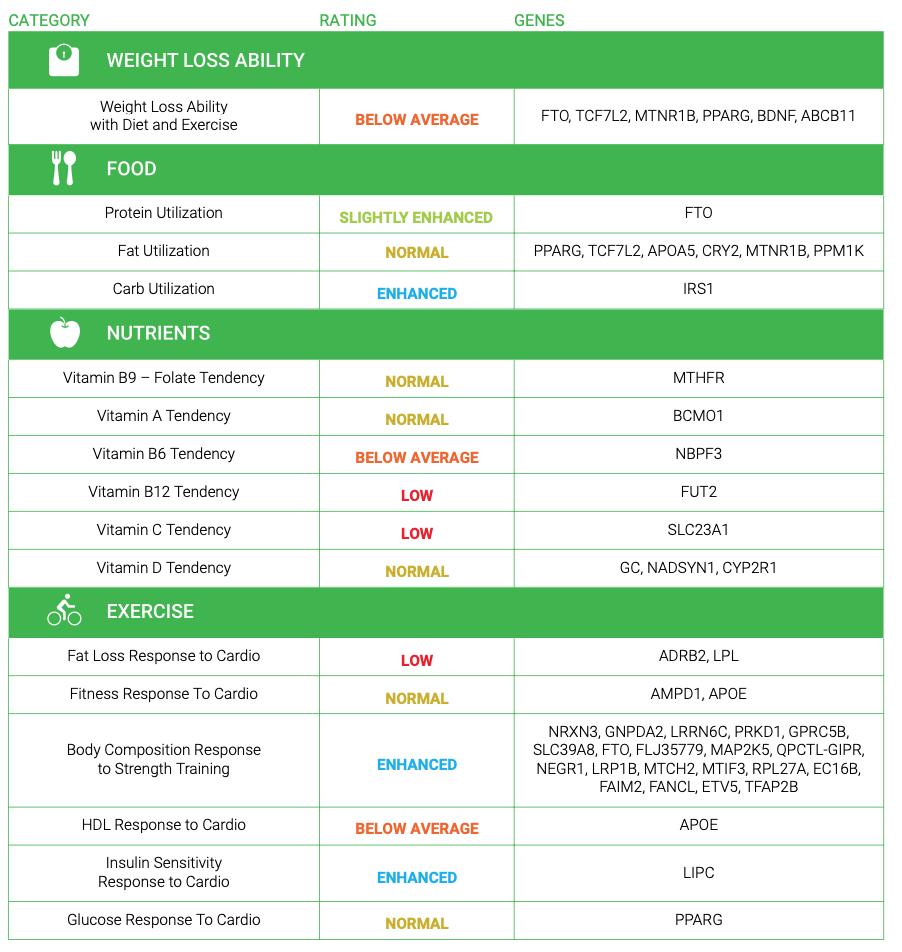 An expanded view of the categories is provided in the report. For example, the Weight Loss Ability category shows the rating and an explanation of what the results mean. In addition, the report offers some generic tips for effective dieting.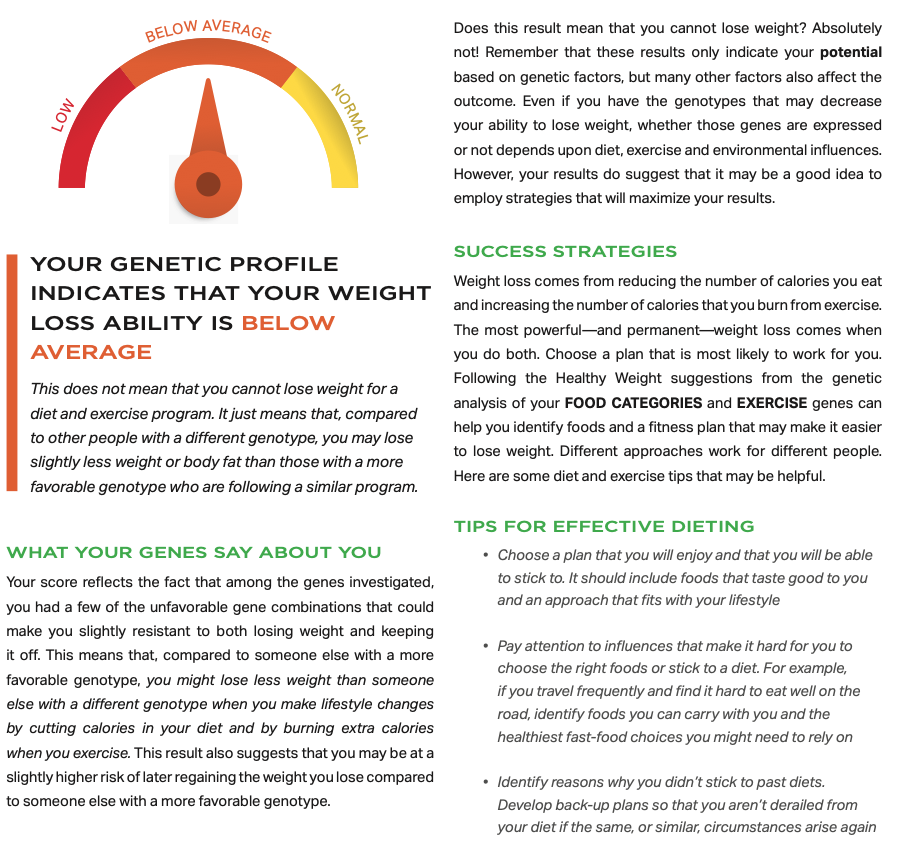 For a more in-depth recommendation, HomeDNA shows macronutrient breakdown and the number of calories users should consume.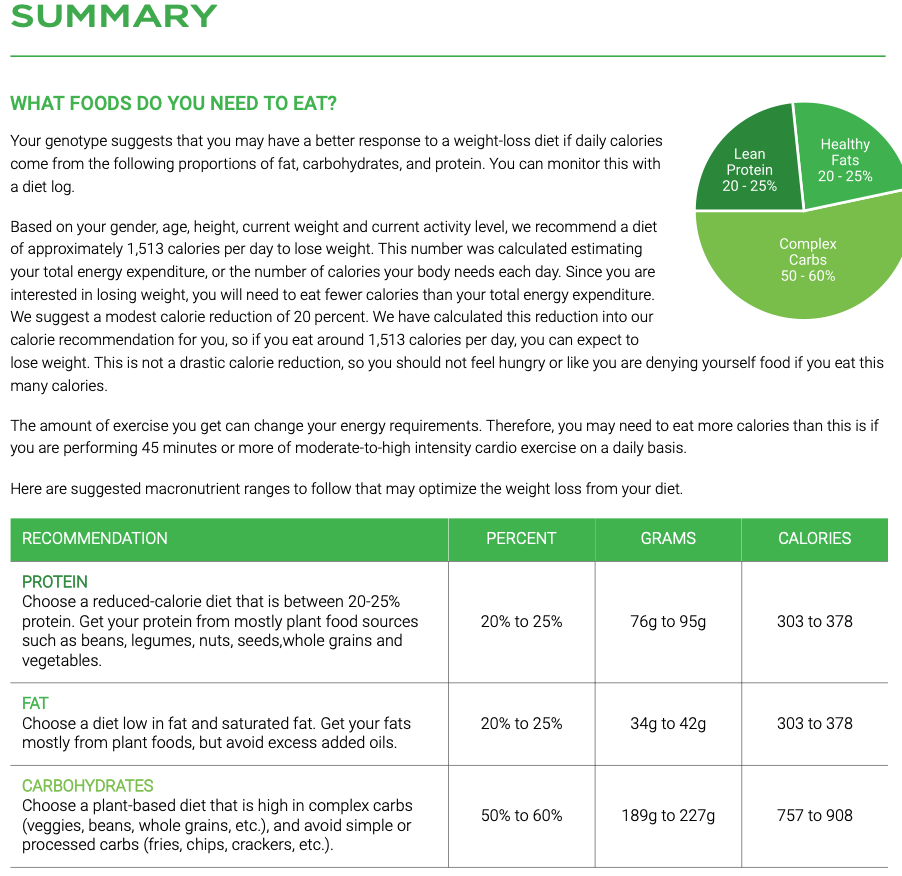 Moreover, HomeDNA customizes a complete 7-day meal plan with measurements and macronutrient breakdown. They also provide a custom exercise plan that includes frequency, intensity, and duration for both cardio and strength training, but they do not take into consideration susceptibility to injuries.
Skin Care
The Skin Care report includes findings on 7 key areas. It offers a brief explanation of the tested categories followed by the specific results.
HomeDNA rates scores from non-ideal to optimal and shows the global average for the category. There are explanations about the results, and the gene profile is shown.
Furthermore, there are recommendations on topical and supplement ingredients, and professional treatment based on the genetic results. However, their recommendations seem generic and they do not list any scientific references.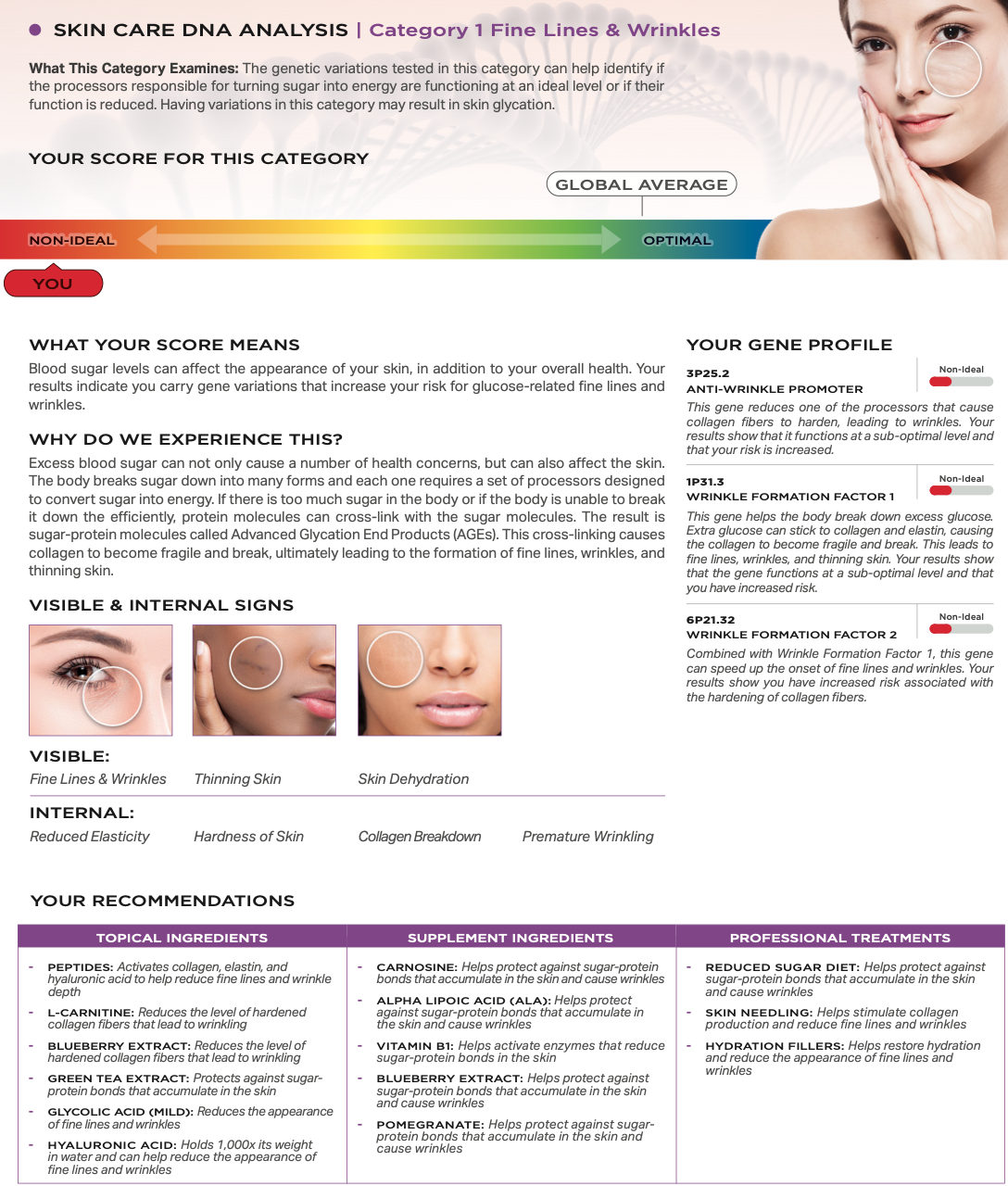 HomeDNA Paternity Test
The HomeDNA paternity test report includes detailing on whether the possible father is included or excluded as the biological father of the tested child, along with the probability of paternity.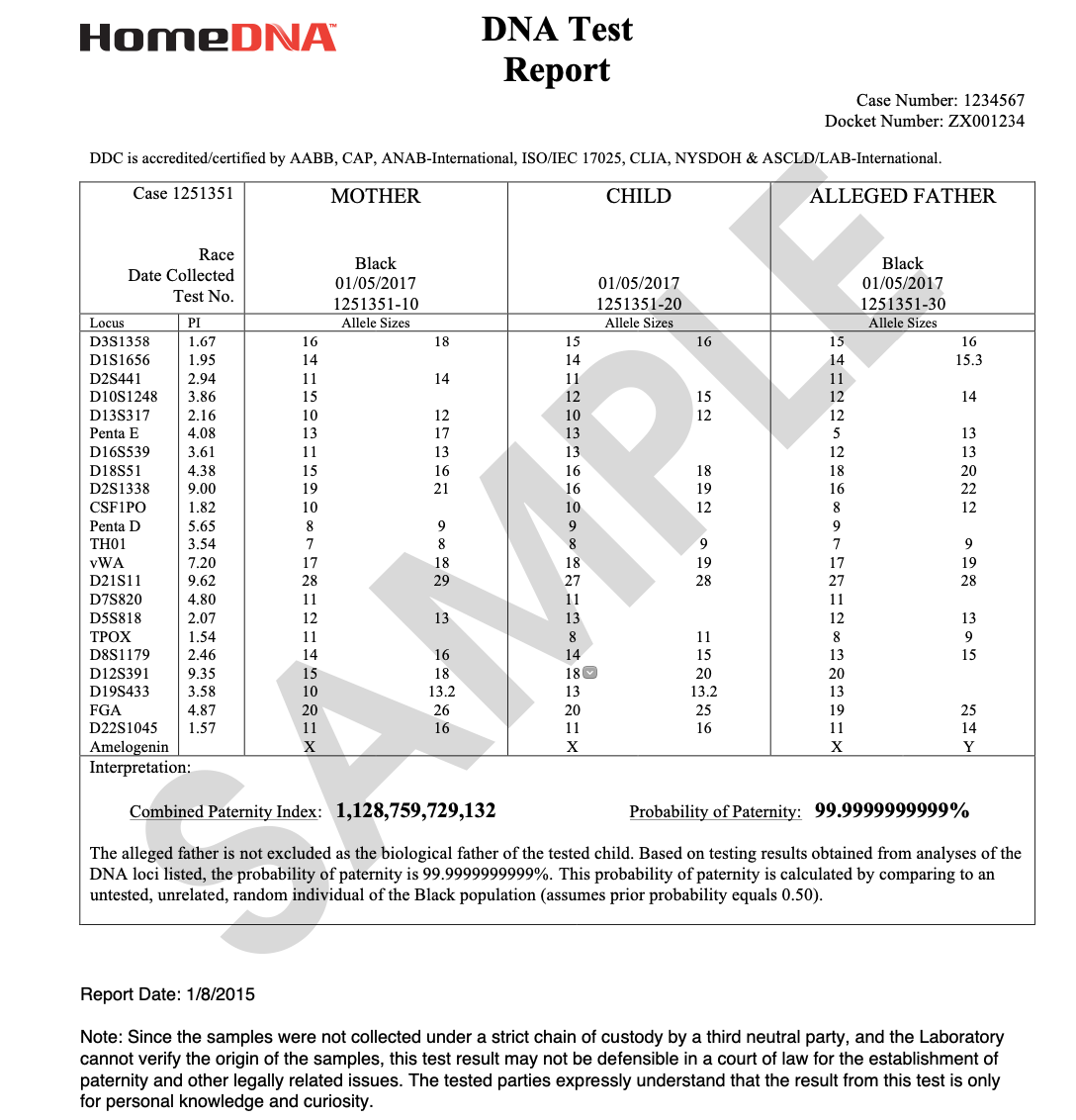 Cost of HomeDNA
The cost for HomeDNA test kits varies depending on the test acquired. They are:
GPS Origins Ancestry Test, African and Asian Editions: $199 each
GPS Origins Algorithm – Upload your raw data: $39
Starter Ancestry Test: $69
DNA Origins Maternal and Paternal Lineage: $69 each
Advanced Ancestry Test: $124
Food and Pet Sensitivity: $139
Healthy Weight: $159
Skin Care: $139
HomeDNA Paternity: starting at $14.99 + $139 lab fee (in-store purchase only)
Mixed-Breed Dog Identification DNA Test and Life Plan: $89
Cat and Dog Health Screen and Life Plan: $125 each
International purchases may be subjected to international shipping expenses.
Health Recommendations from HomeDNA
HomeDNA offers a comprehensive analysis of the genetic results and presents some health recommendations in their reports. Some suggestions are detailed, such as their custom 7-day meal plan in their Healthy Weight report. However, since HomeDNA requires separate test kits for different reports, they do not take into consideration all the important factors. For example, when customizing the meal plan, food sensitivities are not accounted for.
Some recommendations can be very generic, for example, 'choose a plan that you will enjoy' as a tip for effective dieting. HomeDNA also does not provide scientific references for any of their suggestions and doesn't explain in detail why they are making the recommendations.
Review of HomeDNA Privacy & Data Security
HomeDNA claims not to sell or distribute private information to third parties. However, they state that they may create anonymous data records from users' information by excluding personally identifiable data and they reserve the right to use this data for any purpose. Information can also be shared with DDC, any subsidiary, or any other company under common control.
Once the testing is complete, the raw DNA data is saved to users' accounts, and they can request for it to be destroyed at any time. Moreover, users can request which personal information they have on file, as well as ask for access, rectification, and erasure, and request the restriction of processing of personal information.
SelfDecode vs HomeDNA
SelfDecode delivers natural supplement, diet, and lifestyle suggestions based on your genes that you can implement right away. HomeDNA can also provide some insight on lifestyle changes, although they can be generic.
SelfDecode tells you why they make each recommendation so that you can understand the science behind the suggestion. HomeDNA does not explain their suggestions or list their references.
SelfDecode prioritizes recommendations based on their analysis of all the relevant genes instead of one gene at a time (through reports). HomeDNA analyzes specific genes to make recommendations through separate testing kits.
SelfDecode takes a holistic approach to give recommendations that are best for your genes AND the health topic. HomeDNA offers DNA tests for each of their reports, which have to be purchased separately.
SelfDecode has the world's first and only personalized genetics blog that allows you to get new gene-based recommendations daily. Although HomeDNA has a blog, it is not personalized or up to date.
SelfDecode is the most comprehensive and looks at more genes & SNPs (over 83 million) to deliver the best analysis of genetic risks. For their health-related DNA tests, HomeDNA only analyzes a few genes through separate reports.
SelfDecode supports everything with peer-reviewed scientific studies in their research and checks for contradicting information. HomeDNA does not list their references in their reports.
SelfDecode never sells your data or gives it away. HomeDNA makes the same claim but reserves the right to use any anonymous data they may create.
Comparisons
| | | | | |
| --- | --- | --- | --- | --- |
| | SelfDecode | HomeDNA | 23andMe | AncestryDNA |
| Personalized & holistic health recommendations | Yes | No | No | No |
| One-click regimen builder | Yes | No | No | No |
| Products | DNA testing, wellness reports, research-based personalized blog posts, health recommendations | At-home paternity tests, ancestry, health, and beauty reports | DNA testing, traits, wellness reports, more accurate ancestry | DNA testing and ancestry reporting |
| Raw data access | Yes | Yes (limited) | Yes | Yes |
| Cost (USD) | $97 – $389 | $38 – $199 | $99 – $199 | $99 – $119+ |
HomeDNA Reviews
Amazon – 64 Customer Average Rating of 3.6 of 5 stars
HomeDNA reviews about the Ancestry Test kit are mixed on Amazon. Some users comment on how easy the process is, while others complain about the amount of time it takes for the results to be ready.
DNAtestingchoice – 38 Customer Average Rating of 4.5 of 5 stars
The at-home paternity test reviews on DNAtestingchoice are mostly positive. Users say the paternity test kit is easy to use, and results arrive quickly.
Read what people are saying about HomeDNA on Twitter
The HomeDNA hashtag on Twitter is a good place to find more information.
Alternatives
SelfDecode: The best option for health-focused DNA analysis with personalized reports and recommendations to improve your quality of life.
HomeDNA Review Summary
HomeDNA offers a variety of services including Ancestry, Health and Beauty, and Pet DNA tests. Their products can be found both in stores (US only) or online, and are available for shipping worldwide.
The HomeDNA paternity test kit is highly rated by users, who seem to be mostly satisfied with this product.
HomeDNA uses a new algorithm for their ancestry tests, which they state is the first and best DNA test with bio-geographical targeting capability to narrow down the results to the town or village level. However, their Health and Beauty tests are sold separately and their reports provide general information with no scientific references.
SelfDecode offers you personalized health information and actionable recommendations through their health reports and personalized health blog. Rather than requiring multiple DNA tests, SelfDecode analyzes all the pertinent genes to provide you with a holistic approach to your health.
Related