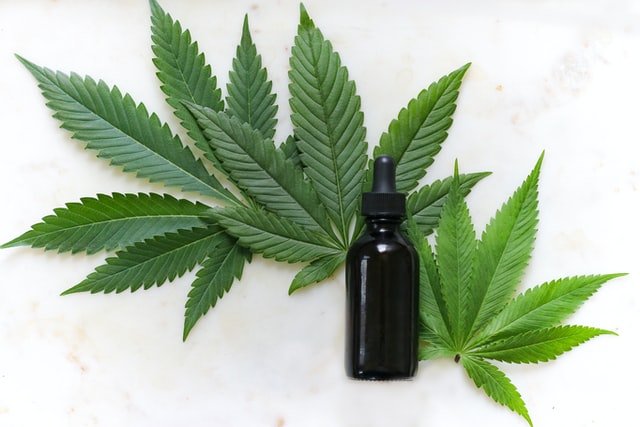 Overview
Products: Endo·dna Collection Kit and Endo·Decoded Report, Free Immune Function Genetics Report
Cost:

Endo·dna Collection Kit and Endo·Decoded Report: $199
Endo·Decoded Report Upload License: $49.95

Reports: Endo·Decoded Report, Immune Function Genetics Report
Raw data access: Yes, upon request
Privacy: Does not share or sell your personal information
Alternatives: SelfDecode: The best option for health-focused DNA analysis with personalized reports, symptom analysis, and health recommendations.
Pros
Trait reports for endocannabinoid system-related health topics
Allows you to upload your raw DNA data
Cons
Endo·dna does not sell most of the cannabis formulations themselves, but rather links you to a 3rd party cannabis product manufacturer
The Endo·dna test only analyzes SNPs related to your endocannabinoid system. It does not offer information or health recommendations other than those specific to traits associated with your endocannabinoid system
About Endo·dna
Endo·dna is the latest version of the DNA testing product of EndoCanna Health, which was founded in 2017 by Len May and Eric Kaufman.
Like many people in their early teens, Len May was diagnosed with Attention Deficit Disorder. As a result, he was put on a number of drugs only to discover that cannabis was the best treatment for his condition. His mission became to educate as many people as possible on the benefits of cannabis, and he became the president of the Cannabis Action Network – an organization to fight for the legalization of cannabis.
On July 29, 2019, EndoCanna Health received $1.52M in seed funding from Heritage Cannabis Holdings based in Vancouver, Canada. EndoCanna Health has also partnered with New Coastal Group, Inc. (a CBD product manufacturer) to power their DNA test kit.
Review of Endo·dna Products & Features
The Endo·dna test looks at SNPs related to your endocannabinoid system. An Endo·dna test may be able to tell you:
THC tolerance
The genetic expression, or effect, individual terpenes may have on your endocannabinoid system.
Your metabolic function level which can help determine how you should use cannabis or CBD products, and the amount you should take.
Any drug-to-drug interactions you could experience.
The Endo·Decoded Report Upload License supports files from the following 3rd party providers:
23andMe© V3, V4, V5
AncestryDNA™ V1, V2
Diagnomics
MyHeritage™
SoWello
Terrain10
The newest product is the free Immune Function Genetics Report, which is comprised of:
8 immune function trait reports.
3 vitamin deficiency predisposition reports.
Next steps to address risk factors and cautions.
Mydna.live account.
Resources and tools to help support your immune health.
Review of Endo·dna Reports
The Endo·Decoded Report can help you in choosing the right cannabis product. This report can be accessed via the MyDNA.live online portal.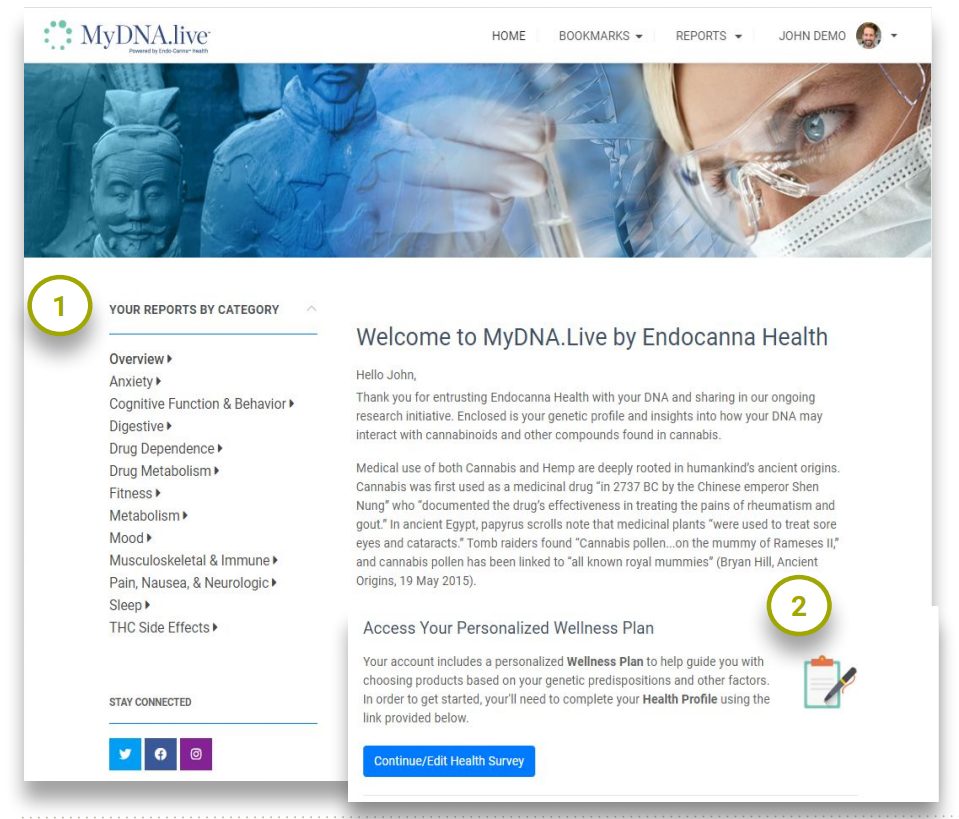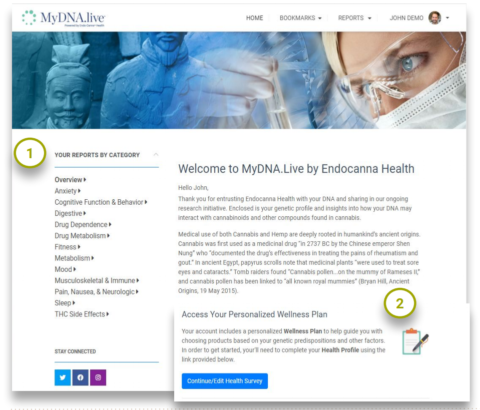 Once you have uploaded your compatible DNA file, or registered your kit and have it analyzed, the MyDNA.live site will display your dashboard with twelve report categories to choose from. You can also access your Wellness Plan to help you choose the products.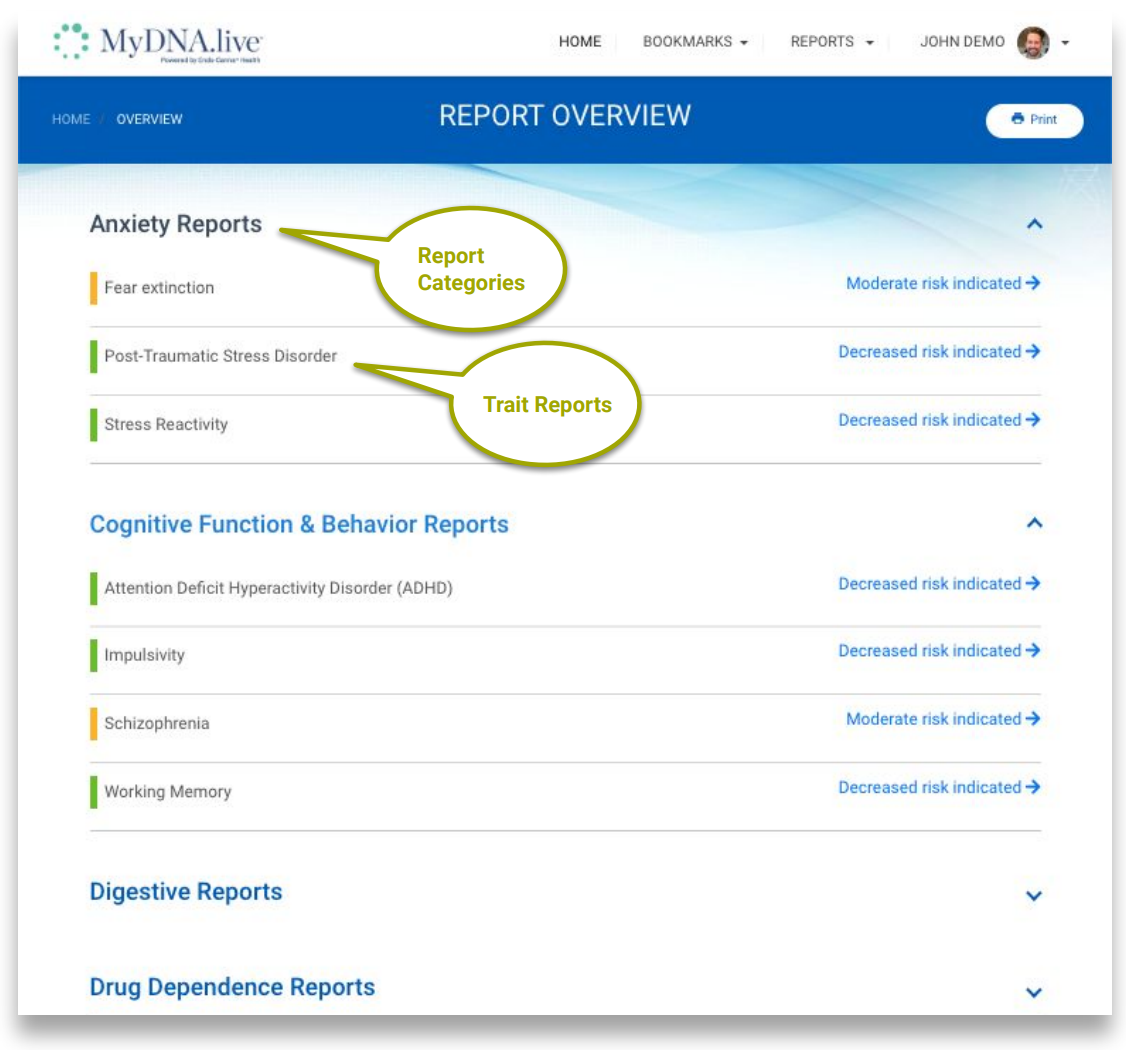 Each Report category lists several Trait Reports, and each of them indicate your level of risk. Clicking the Risk Indicated hyperlink takes you directly to the specific Trait Report.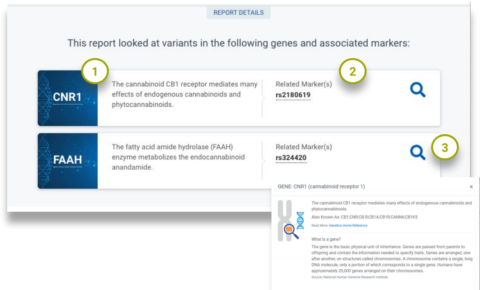 The Trait Report section tells you the genes that were assessed, and the markers used to determine your risk factors. More information on each gene analyzed also can be viewed in this section.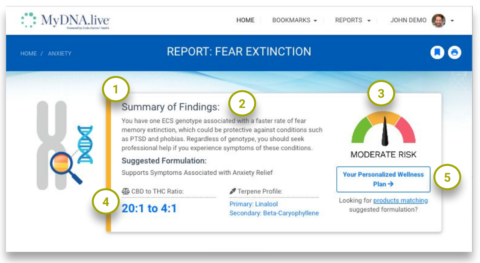 Inside the summary of findings, you will see any relevant genotype that you have in the category. Following that is a quick summary of the research as it relates to your genetic predisposition in this specific category.
Next, there is an assessment of your risk based on that research and your genotype. Your recommended CBD to THC ratios and your terpene profile can also be seen in this section.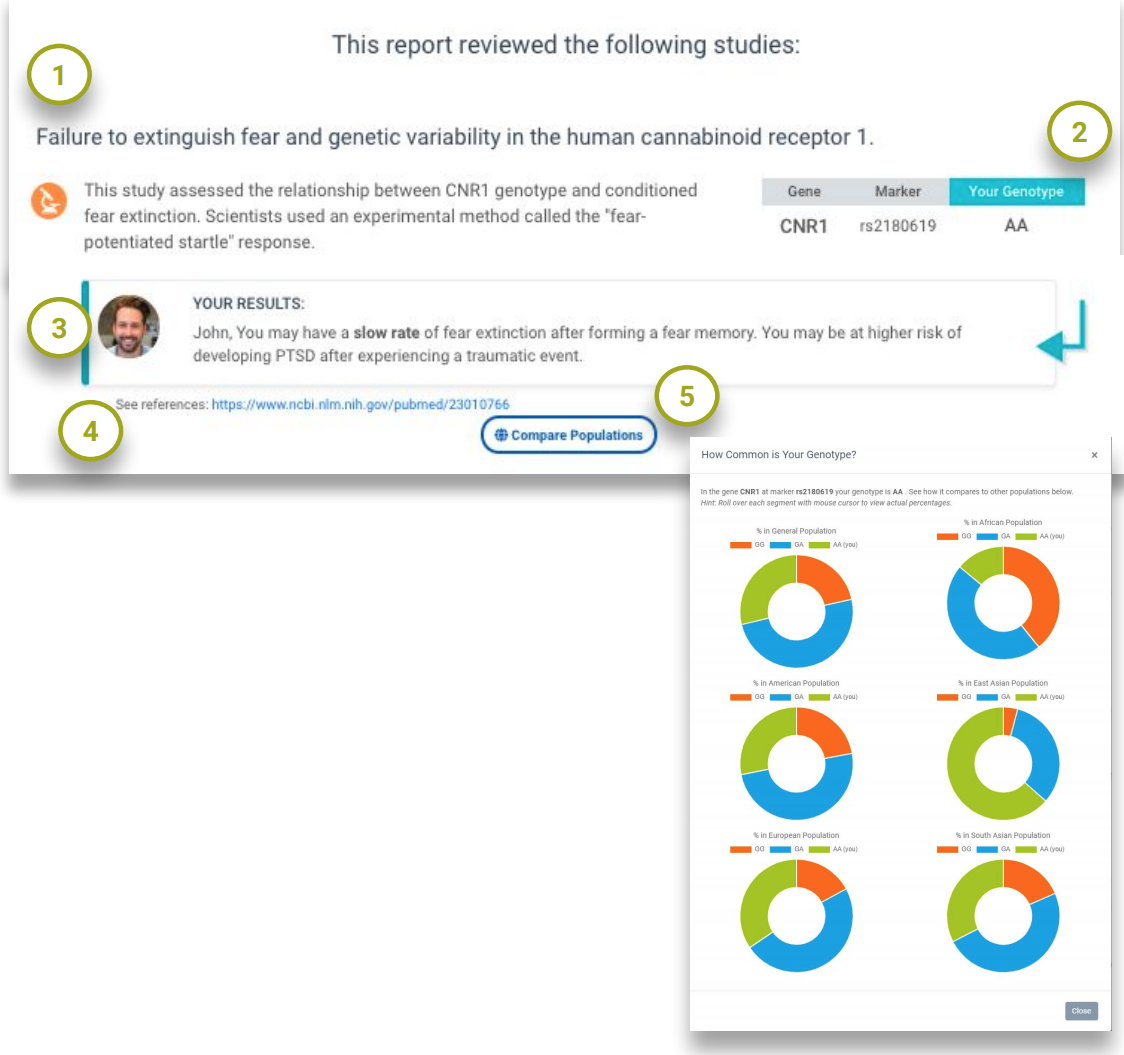 In the Scientific Findings & Your Results section, a summary of all the relevant studies used in the assessment of your genetic markers is provided. The specific genes, markers and your genotype are also displayed. The "Your Results" section details the specifics of your risk factors and an interpretation of the findings. Finally, there is a popup window that provides information to compare your specific gene, marker and genotype with other populations.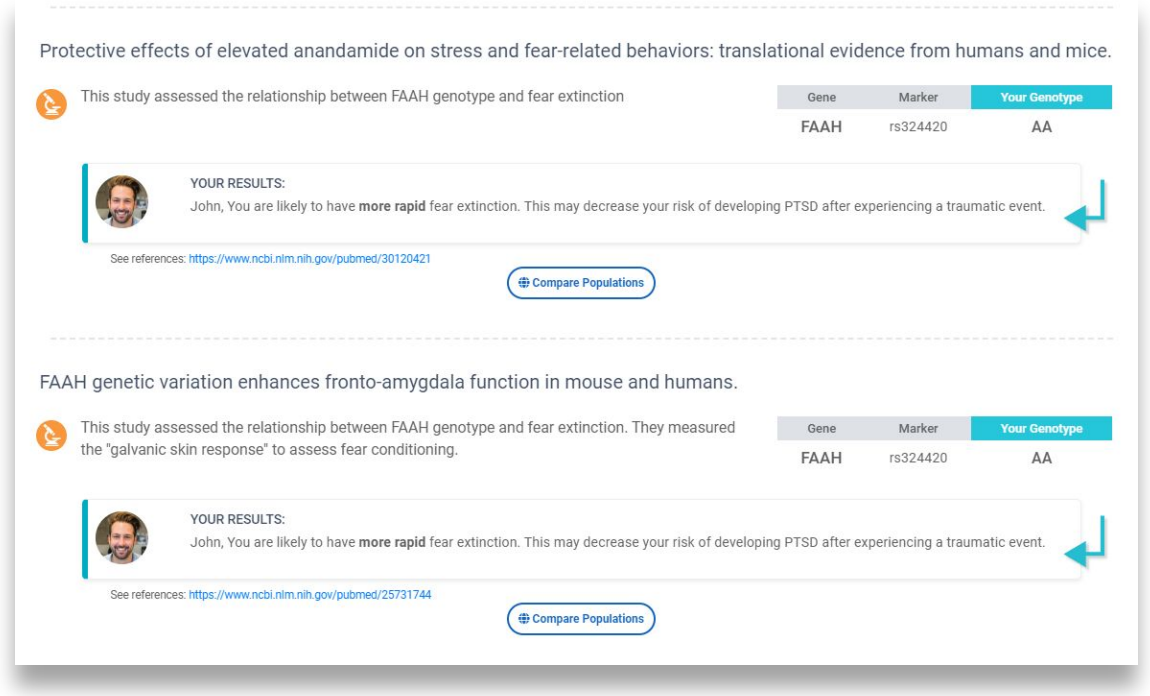 Each Trait Report provides a Frequently Asked Questions section related specifically to the topic. At the bottom of each Trait Report, you'll find a link to your Wellness Plan, where you can access the specifics about the Endo·Aligned formulation suggestions.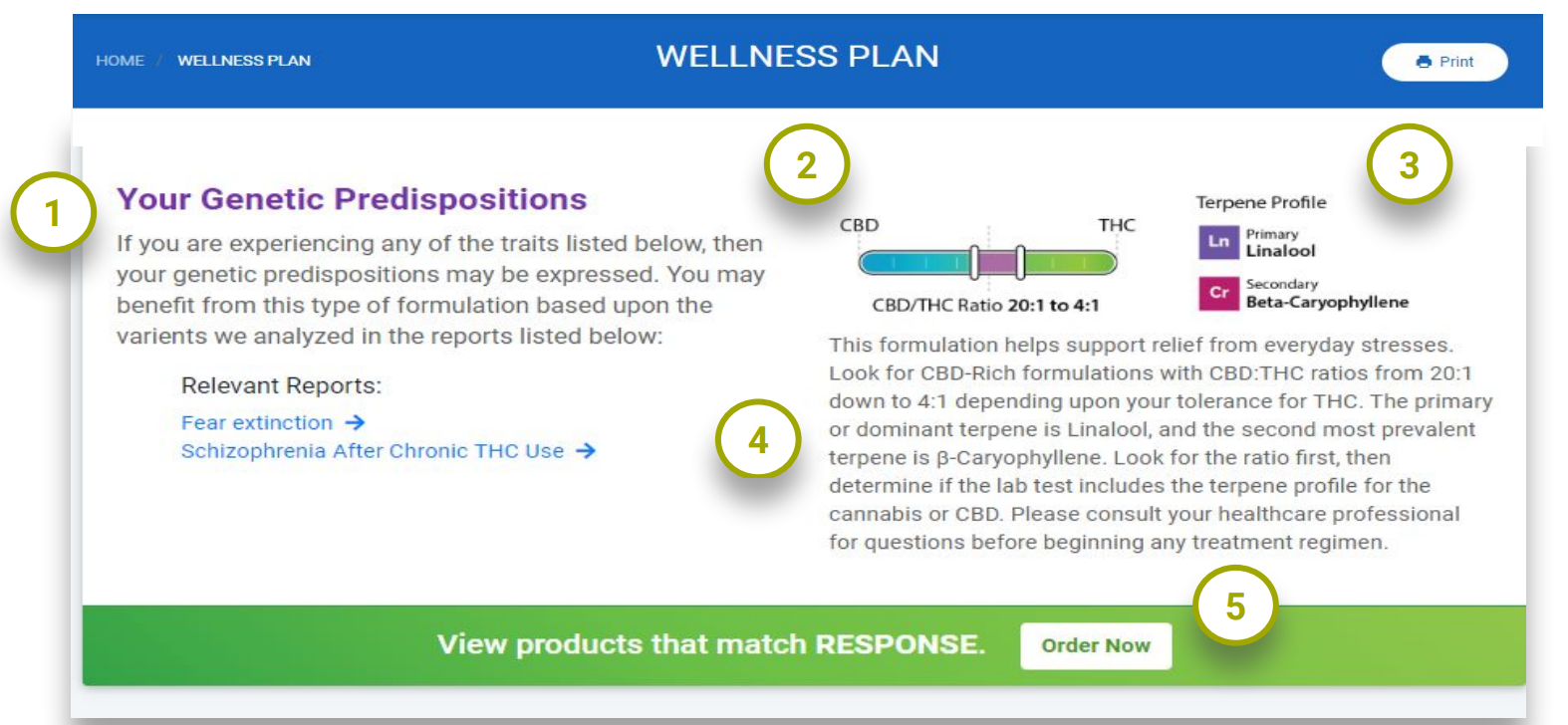 Specific Endo·Aligned Formulations may be suggested for several conditions. The Wellness Plan provides recommendations for Endo·Aligned Formulations, but does not suggest other lifestyle changes you can easily implement to address your genetic predisposition to the traits analyzed.
Immune Functions Genetic Test
While there is currently no test to determine someone's actual susceptibility to COVID-19, Endocanna Health offers a free report on genetic factors that impact immune health. This test claims to be able to tell you:
Your genetic predisposition to more severe symptoms of acute respiratory tract infections.
Potential risk of developing severe influenza symptoms.
Your genetic predisposition to stress.
Your predisposition to specific autoimmune irregularities which could impact your body's response to viruses.
Your genetic predisposition to experiencing intense emotional reactions in response to stress.
Information, resources and tools to support a proactive immune health and wellness plan for you and your family.
Cost of Endo·dna
The Endo·dna Collection Kit and Endo·Decoded Report costs $199. An upload license for raw genetic data files from other popular DNA testing sites costs $49.95. The products that are recommended cost anywhere from $25 to $135. The Immune Functions Genetic Test is free, but you need to already have a raw DNA file from Endo·dna or another compatible provider.
Health Recommendations from Endo·dna
The Endo·dna reports only tell you what your risks are for certain traits, and then direct you towards commercial CBD products that may address those risks. They do not offer lifestyle, diet, exercise, or other health recommendations to help you address your genetic predisposition to the traits analyzed.
Review of Endo·dna Privacy & Data Security
Endo·dna de-identifies your DNA data, and the only identifier to you or your information is an anonymous and randomly generated barcode which does not contain any personal information about you. Endo·dna abides by HIPAA regulations and guidelines for data privacy and security to safeguard medical information.
When you register your barcode on mydna.live, your DNA results are anonymously matched with your registration information. Endo·dna does not share or sell your personal information, and you may request the deletion of your account and information at any time. They do not store or archive your DNA sample for any longer than necessary to provide your results.
SelfDecode vs Endo·dna
SelfDecode delivers natural supplement, diet, and lifestyle suggestions based on your genes that you can implement right away. Endo·dna offers suggestions of CBD products that purport to match your endocannabinoid profile but no other lifestyle recommendations.
SelfDecode tells you why they make each recommendation so that you can understand the science behind the suggestion. Endo·dna references their own research when making product suggestions based on CBD ratios and terpene profiles.
SelfDecode prioritizes recommendations based on their analysis of all the relevant genes instead of one gene at a time (through reports). Endo·dna concentrates its analysis on topics related to the endocannabinoid system.
SelfDecode takes a holistic approach to give recommendations that are best for your genes AND the health topic. Endo·dna claims to give product recommendations that align with the profile of your endocannabinoid system.
SelfDecode has the world's first and only personalized genetics blog that allows you to get new gene-based recommendations daily. Endo·dna does offer a blog, but it is not personalized to the genetic results.
SelfDecode supports everything with peer-reviewed scientific studies in their research and checks for contradicting information. Endo·dna backs their product matching service with scientific research.
SelfDecode never sells your data or gives it away. Endo·dna claims not share or sell your personal information and anonymizes your data.
Comparisons
SelfDecode

Endo·dna
23andMe

DNAfit

Personalized & holistic health recommendations

Yes
No
No

Yes

Personalized blog posts

Yes
No
No

No

Products

DNA testing, wellness reports, research-based personalized blog posts, health recommendations
Endo·dna Collection Kit and Endo·Decoded Report
DNA testing, traits, wellness reports, more accurate ancestry

DNA testing, WGS, health and fitness reporting, genetic health risks, health blog posts and recommendations

Raw data access

Yes
Yes
Yes

Yes

Cost (USD)

$97 – $389
Kit – $199
Upload license – $49
$99 – $199

$141 – $171
Endo·dna in the News
Endo·dna has several appearances in articles and podcasts across the web. Len May has appeared in podcasts on headsuphealth.com and cannabistech.com, where he talks about the benefits of matching commercial CBD formulations to your personal genetic profile.
They were reviewed by Meg Hartley on leafy.com, and she gave the service a positive recommendation.
Alternatives to Endo·dna
SelfDecode: The best option for health-focused DNA analysis with personalized reports and holistic recommendations to improve your quality of life.
Endo·dna Review Summary
If you are looking for an effective commercial CBD product to help you deal with specific health issues, then getting your DNA analyzed by Endo·dna might point you in the right direction.
However, you won't get any other health insights or recommendations outside those related to your endocannabinoid system. The results can help you choose the right CBD products but won't offer recommendations to help you address your genetic predispositions to the traits included in the reports.
If you're looking to optimize your overall health, you'll need much more than an analysis of SNPs related to your endocannabinoid system. An alternative such as SelfDecode provides you a more comprehensive option with science-backed and holistic health reports and recommendations in addition to their personalized health blog to help you take control of your health. SelfDecode is the only DNA company that uses AI and machine learning to analyze up to 83 million genetic variants to give you the most accurate results.
Related Articles