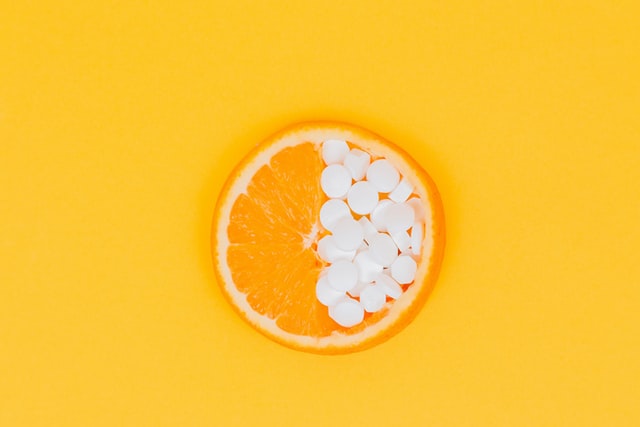 Overview
Products: At-home blood testing for nutrient levels, personalized supplement services, and food recommendations.
Cost: $199 for the blood test kit, and an additional $20-$40 for the monthly supplement service. Quarterly re-tests are recommended, and will cost $149 each.
Reports: Nutrient reports are generated when the test results are processed.
Privacy: Baze claims that they adhere to the highest standards of data protection. They will anonymize identifiable information, and encrypt data.
Alternatives: SelfDecode provides personalized health and dietary recommendations supported by peer-reviewed genetic studies based on your DNA and labs. SelfDecode promises to never sell or give away your data to any third parties.
Pros
Less invasive method of blood testing
At-home testing kits
Very positive customer service reviews
Intuitive and user friendly reports
Cons
If you re-test quarterly and purchase monthly supplements as Baze recommends, the annual price can reach up to $1000 annually
No genetic analysis available
Limited number of markers analyzed
About Baze
Baze was founded in 2014, by co-founders Isam Haddid and Philipp Schulte, both biotechnology and health industry veterans. The company's headquarters is located in Berlin, Germany.
The company aims to "bring affordable, high-quality, and effective nutrients to people; not just to prevent harm, but to make people feel good." Additionally, the company aims to help their customers reach their health goals and make adjustments to their health outcomes using measurable results.
The company has received $6 million dollars in funding, and was acquired by Nature's Way, a supplement manufacturing company.
Review of Baze Products & Features
Baze offers an at-home blood test, which uses a device that you can clip to your arm, wait about 5 minutes, and receive a blood sample that is ready to be sent to their lab.
After sending the blood sample back to Baze and answering a questionnaire, you will receive a report, which can also be viewed on their mobile app. Next, a personalized supplement plan will be offered to the customer based on their health data. Customers can choose to opt out of this option, but if they accept, they will have to purchase the supplement service in addition to the at-home testing kit.
The company recommends re-testing four times per year. The supplements are delivered monthly, and sorted into packs for daily use. Baze will offer the first month of supplements free of charge.
Review of Baze Reports
Baze offers reports based on the blood sample that customers provide to them. They analyze 11 different nutrient levels, including choline, zinc, omega-3, vitamin D, and more. Below is an example for the nutrient selenium.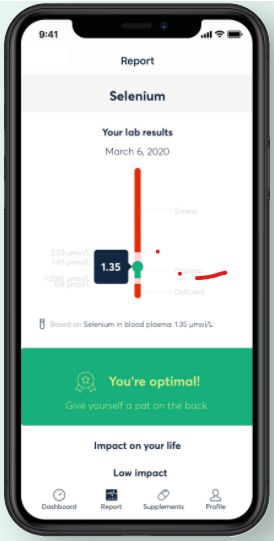 Users can also view their history, and the more they re-test their blood, the more historical data they can compare their health progress to. The reports will also show what supplements are recommended for the customer, and the highest and lowest impact areas.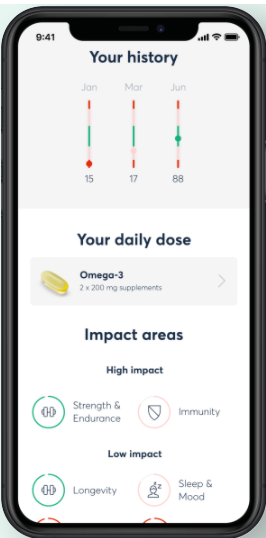 The reports will also contextualize the information into larger health topics, such as immunity, seen below.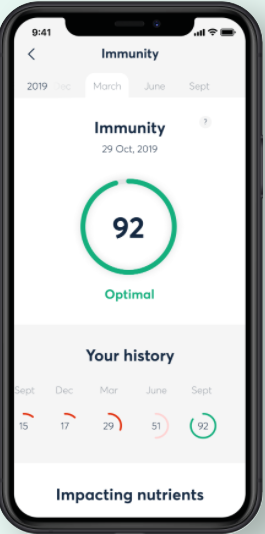 Overall, the reports are well organized and do not bog the user down in very much information. The visualizations are also clean and intuitive. For blood levels and core impact topics, the results are color-coded with green (optimal), pink (normal), and red (off-track) colors. The app does not provide any other health recommendations other than supplement needs.
Cost of Baze
Baze costs $199 for the blood test kit, and an additional $20-$40 for the monthly supplement service. Quarterly re-tests are recommended, and will cost $149. The first month of supplements is offered for free.
Baze is not covered by health insurance, and does not generally qualify for HSA or FSA accounts.
With the initial blood test kit, quarterly recommended re-tests, and monthly supplements, customers should expect to pay $1000+ per year.
Health Recommendations from Baze
Baze's main health recommendations come from their "daily dose" supplement advice. The reports are written and designed to be understood by someone who is not a health professional. The reports also list "core impact" areas, such as cognition, energy, longevity, sleep, and many others.
They also offer a food guide curated by their team of registered dietitians, but these are not personalized to the user's results. This food guide can be accessed directly through their website and consist of a list of foods categorized by which nutrient it would help users with.
Meal plans are offered through Performance Kitchen or Modify Health, two companies that are partnered with Baze, but customers need to pay extra. These meals are also not tailored to match individual needs based on test results and consist mostly of prepackaged foods.
Baze also includes affiliate links on Amazon for recommended foods, in which they will earn a commission from customer purchases.
Baze's scope of recommendatios is limited to dietary and supplements and are based on an analysis of 11 nutrients.
Review of Baze Privacy & Data Security
Baze promises not to share or store blood samples that are sent to the company. Baze claims that they use encryption to protect customer data, and they will not sell it to anyone.
Data generated from samples and the questionnaire will be detached from any personally identifiable information from the customer. Practitioners that are partnered with the company will also have access to a privacy protected portal.
SelfDecode vs Baze
SelfDecode delivers natural supplement, diet, and lifestyle suggestions based on your genes that you can implement right away. Baze will deliver supplement and diet suggestions, but only based on your blood nutrient levels.
SelfDecode tells you why they make each recommendation so that you can understand the science behind the suggestion. Baze shows users what nutrients they are deficient in, and therefore why the supplement and diet recommendation is given.
SelfDecode prioritizes recommendations based on their analysis of all the relevant genes instead of one gene at a time (through reports). Baze does not prioritize recommendations or analyze genes.
SelfDecode takes a holistic approach to give recommendations that are best for your genes AND the health topic. Baze also takes a holistic approach; combining the customers health goals, the health topics they are interested in, and blood nutrient levels.
SelfDecode is the most comprehensive and looks at more genes & SNPs (up to 83 million) to deliver the best analysis of genetic risks. Baze only looks at 11 blood nutrient levels.
SelfDecode supports everything with peer-reviewed scientific studies in their research and checks for contradicting information. Baze has a team of registered dieticians that review and verify each order of recommended supplements for customers.
SelfDecode never sells your data or gives it away. Baze also claims that they will never sell or give away customer data.
Comparisons
| | | | | |
| --- | --- | --- | --- | --- |
| | SelfDecode | Baze | Viome | Orig3n |
| Personalized & holistic health recommendations | Yes | Yes | Yes | No |
| Personalized blog posts | Yes | Yes, but not personalized | No | No |
| Products | DNA testing, wellness reports, research-based personalized blog posts, health recommendations | At-home blood testing for nutrient levels, personalized supplement service. | Gut intelligence report, health intelligence report, nutrition and supplement recommendations, supplement offerings | DNA testing, traits, wellness reports, more accurate ancestry tracing |
| Raw data access | Yes | N/A | No | Yes |
| Cost (USD) | $97 – $387 | $199/test, $149/re-tests. $20-$40/month for supplements | $0 (limited) – $700 | $99-$499 |
Baze Reviews
There are a great deal of customer reviews available for Baze, and they are generally favorable.
Trustpilot – 4.5 of 5 Stars based on 89 reviews
Customer reviews on Trustpilot are quite positive. Most reviews give the company a perfect score of 5 stars, citing the customer service, and response time as exceptional. The negative reviews refer to the price, and slow delivery times.
Knoji.com- 4.5 of 5 stars based on 47 reviews
Knoji customer reviews are also high on average, and lists their strengths as good quality products, excellent customer service, and its return and cancellation policies. Negative aspects include pricing and lack of sales.
For more discussion and reviews, read what people are saying about Baze on Facebook, and Twitter.
Alternatives to Baze
SelfDecode: The best option for health-focused DNA analysis with personalized reports and recommendations to improve your quality of life.
LabTestAnalyzer: offers insights based on over 500 lab markers.
Baze Review Summary
Baze offers customers a new way of getting blood samples at home using a unique and less invasive collection device. They provide customers with a personalized supplement plan based on their nutritional needs derived from their blood samples. The company also offers meal plans through affiliate partnerships, although these are not personalized.
Customers generally enjoy Baze based on online reviews, especially the customer service. Baze does have some major shortcomings though, including their prices. If a customer takes quarterly blood tests and orders supplements through the service, they could very easily be spending over $1000 per year. Not to mention, the test only analyzes 11 nutrients, leaving out many that can have a great impact in your health.
There are many alternatives to Baze that look into so much more than just blood markers. Companies such as SelfDecode offer genetic analysis and wellness reports built just for you. LabTestAnalyzer can offer personalized insights based on over 500 markers, and how to optimize them, for less than $100 per year.
Related Articles