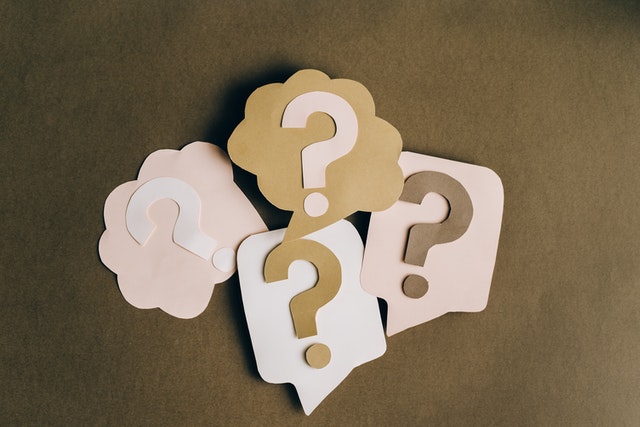 What are the differences and similarities between CRI Genetics vs Ancestry DNA? Read on to learn more about each company, what they have to offer for health and ancestry, and what other alternatives you should consider.
CRI Genetics vs Ancestry DNA Overview
CRI Genetics and Ancestry DNA do not accept raw DNA data from other companies.
CRI Genetics offers a limited scope of health reports.
Ancestry does not offer health reports, only traits.
Ancestry is available worldwide.
CRI Genetics only ships DNA kits to five countries.
About CRI Genetics and Ancestry DNA
CRI Genetics was founded in 2017 by Ph.D. Alexei Fedorov, a molecular geneticist with 35 years of experience in the field. The company is based in Santa Monica, California. You can learn more about this company in this CRI Genetics review.
Ancestry.com was founded in the 90s by John Sittner, Paul Brant Allen, and Dan Taggart. Their initial product was an online library of records for family tree building, and it was only in 2002 that they began offering DNA testing. Read this Ancestry review to learn more about the company.
CRI Genetics vs Ancestry DNA: How do they compare?
Here, we'll discuss what CRI Genetics and Ancestry DNA have in common, and what is different about their services.
DNA test & Raw DNA data
CRI Genetics analyzes a little over 520,000 SNPs to generate their reports. This company only ships to the United States, United Kingdom, Puerto Rico, Mexico, and Canada. Seeing as they do not allow you to upload your raw DNA data to their platform, access to their services is limited to those countries.
On the other hand, Ancestry DNA tests around 640,000 SNPs, and their test kits are available worldwide. However, similar to CRI Genetics, Ancestry also does not allow you to upload a DNA file.
Both CRI Genetics and Ancestry DNA results can take up to 8 weeks to be ready.
Ancestry reports
CRI Genetics claims to provide you with an ancestry timeline going back up to 50 generations. Ancestry DNA tells you your geographic origins across 1,500 regions and identifies potential relatives through DNA matching.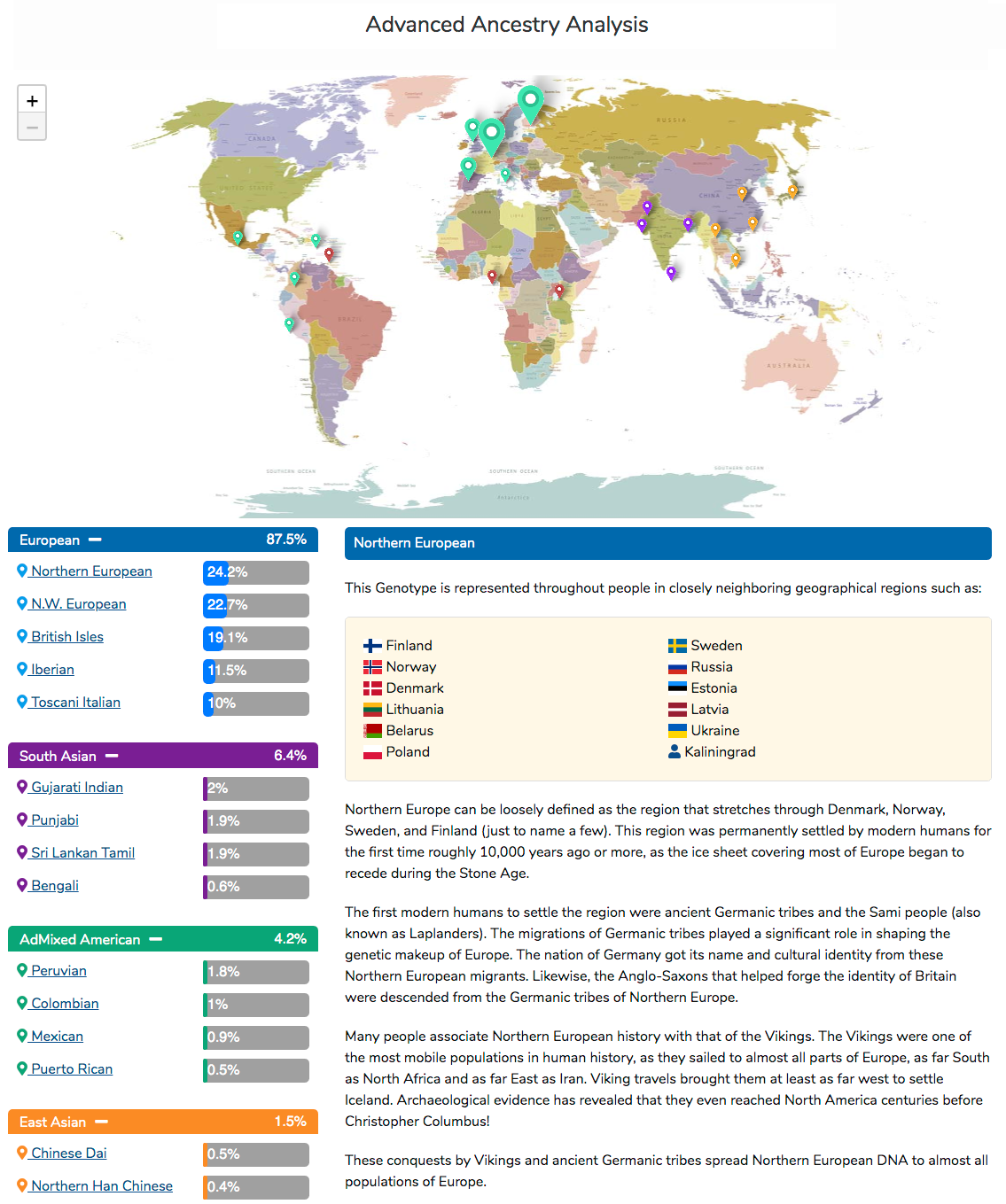 Health reports
CRI Genetics' health reports are divided into five categories:
Allergies
Nutrition
Vitamin
Traits
Weight loss
Each category includes six to eleven reports that will tell you how likely you are to have a certain health trait or condition. Each trait comes with a brief explanation and general advice. For example, to address insulin resistance, CRI Genetics only recommends that you drink water, limit your sugar intake, and exercise 20 minutes per day.
It's also worth noting that the reports do not include the scientific research that was used to establish the correlation between the marker and the health condition. The number of traits and insights is very limited, and the recommendations do not take into account all the individual attributes. You can see a snippet of a sample report below.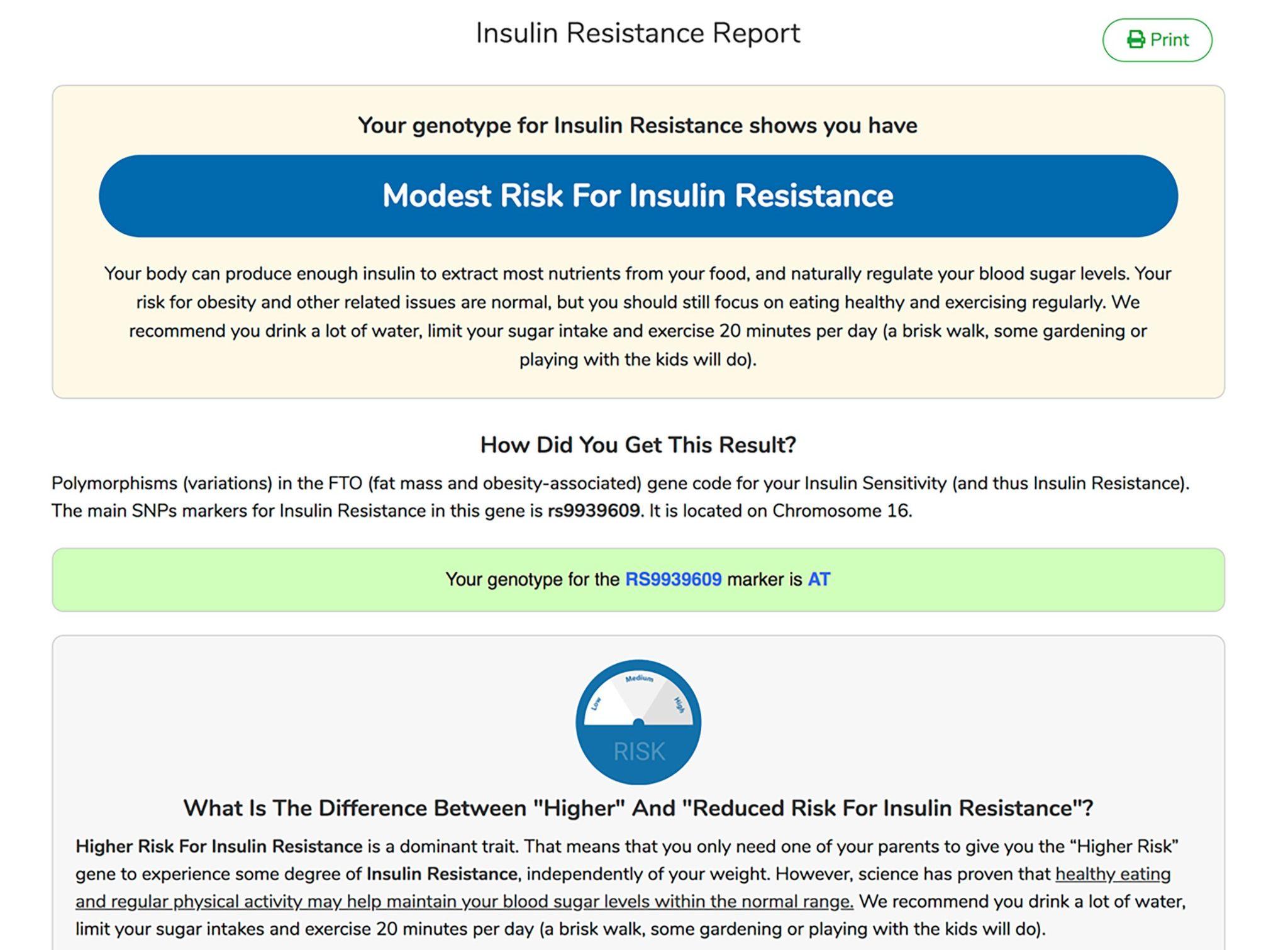 Keep in mind that if you want to get multiple reports from CRI Genetics, you're required to take separate DNA tests for each report.
As of January 2021, Ancestry announced the discontinuation of their health report, AncestryHealth. The company does offer you the option to add information about common genetic traits to your ancestry test for an extra fee.
Prices
CRI Genetics prices are:
Ancestry ($99)
Ancestry + Health ($199)
Allergy + Health ($199)
Weight Loss ($99)
Weight Loss + Health ($199)
AncestryDNA tests offer the following prices:
AncestryDNA ($99): Origins + Ethnicity, DNA Matches
AncestryDNA + World Explorer Membership ($100): Origins + Ethnicity, DNA matches, 3-month membership (renews at $99.95 every three months)
AncestryDNA Traits + All Access Membership ($199): Origins + Ethnicity, DNA matches, traits, 3-month membership (renews at $99.95 every three months)
Privacy
CRI Genetics claims not to share any personally identifiable information with third parties. However, they do implement anonymous genetic data in their research project. By agreeing to the terms, customers consent to having their data added to the company's database and be used for results that may be published in journals.
Ancestry claims not to share personal information with third parties without consent, except as described in their privacy statement. They may share genetic information with research partners, which can include commercial or non-profit organizations that conduct or support scientific research, the development of therapeutics, medical devices, or related materials to treat, diagnose, or predict health conditions.
Ancestry had a partnership with Google's health subsidiary Calico, which has since ended. By getting access to Ancestry's genetic database, Calico aimed to study the genetics of longevity.
Alternatives to CRI Genetics and Ancestry DNA
Both CRI Genetics and Ancestry can be a good option if you're looking to learn more about your past. Ancestry DNA has a large database of users, with over 18 million profiles and millions of historical documents to help you build your family tree.
However, when it comes to health, both services are lacking. CRI Genetics only offers insights into a limited number of health topics, and, since January 2021, Ancestry DNA does not have health reports.
If you're looking to optimize your health based on DNA, SelfDecode could be a good alternative. By using AI and machine learning, SelfDecode is able to analyze up to 83 million genetic variants from your typical DNA file. You can get a SelfDecode test, or choose to upload your DNA data.
For users who need a DNA kit, SelfDecode offers two options:
When it comes to ancestry, SelfDecode in-depth ethnicity percentage breakdown, as well as a color-coded map that can help you easily discover where you're from. You'll be able to trace your maternal lineage back through the ages, learning where they started in the world, and the journey that they took to get to where you are today. Ancestry Insights is only available with a SelfDecode DNA kit.
SelfDecode gives your genetic risk scores for over hundreds of health conditions and personalized diet, lifestyle, and supplement recommendations to help you counteract the negative effects of your genes.
CRI Genetics vs Ancestry DNA comparison
| | SelfDecode | CRI Genetics | Ancestry |
| --- | --- | --- | --- |
| Personalized & holistic health recommendations | Yes | No | No |
| Genes & gene variants analyzed | Up to 83 million genetic variants | ~520,000 SNPs | ~600,000 SNPs |
| Products | DNA testing, wellness reports, lab test analyzer, personalized health recommendations based on DNA and labs, ancestry | DNA testing, ancestry, traits, and wellness reports | DNA testing, ancestry, and traits |
| Raw data upload | Yes | No | No |
| Raw data download | Yes | Yes | Yes |
| Cost (USD) | $99 – $249 | $99 – $199 | $99 – $199 |
Conclusion
Understanding what CRI Genetics and Ancestry DNA have to offer is the first step to making an informed decision. Both companies offer ancestry services, with Ancestry DNA having the largest database of profiles and historical records.
When it comes to health, both companies are lacking. CRI does provide insights into your health, albeit limited. As of 2021, Ancestry has discontinued their health reports to focus only on ancestry and traits.
For those interested in digging more into their health, a wellness-focused service such as SelfDecode could be a better option. SelfDecode analyzes millions of genetic variants to provide the most accurate genetic risk scores and personalized recommendations based on DNA.
SelfDecode also offers cutting edge ancestry insights to help you discover your ancestry composition, mitochondrial ancestry, and other detailed reports (only available with the SelfDecode DNA kit).
Related