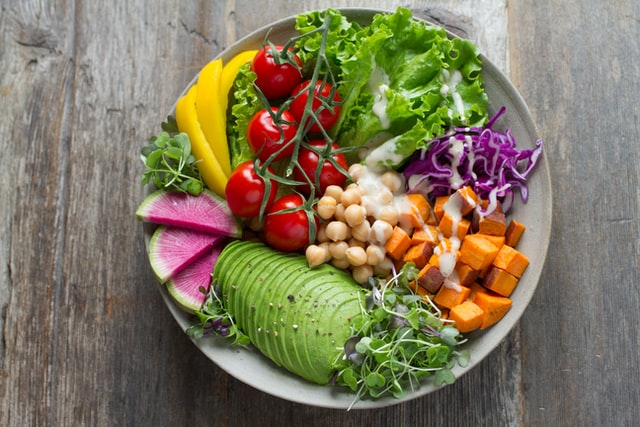 Overview
Products: DNA testing, nutrition reports, and health coaching services.
Cost: Reports generated from a raw genetic data upload cost $95, but Gene Food also offers a DNA test + Report option for $185.
Reports: A nutrition report.
Raw data access: Yes.
Privacy: Gene Food states they do not share personal information with third parties.
Alternatives: SelfDecode – Health-focused DNA testing that offers personalized recommendations.
Pros
Users can upload raw genetic files from other DNA testing companies.
The report provides a nutritional analysis and offers many diet suggestions.
The website is informative and provides links to scientific studies.
Cons
While Gene Food allows access to raw data files, they only keep this information for a short period.
DNA files uploaded are deleted after the report is generated, meaning they do not offer updates.
The report does not discuss any subject other than nutrition.
Does not test for food allergies.
About Gene Food
Gene Food was founded in 2016 by John O'Connor, an integrative health coach, and Dr. Steven Brody, a Stanford-trained endocrinologist and anti-aging doctor. The company specializes in DNA analyses for nutrition. Gene Food's DNA samples are processed in their laboratory in San Francisco, California.
Review of Gene Food Products & Features
Gene Food offers a report that is generated by using a nutrition algorithm to investigate 20 different diet types. They analyze DNA to suggest the best diet for each genetic profile. They look at 150 SNPs to generate their report.
The company assesses scientific studies involving SNPs that may influence genetic dietary preferences and grades them according to their system, shown below. They claim this allows them to scientifically validate the resources they use for the products.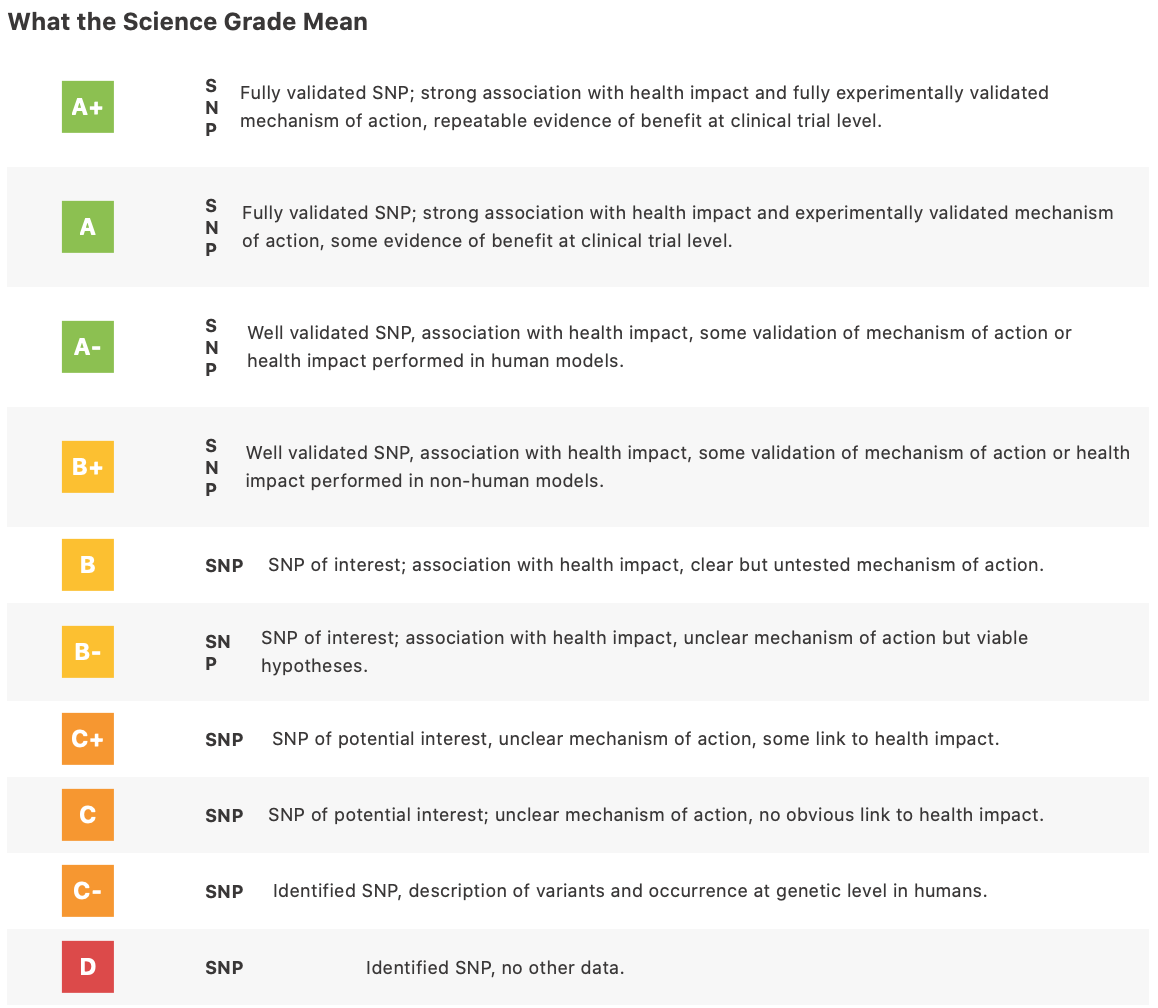 Users can purchase the Gene Food DNA test kit or upload preexisting genetic files from other companies like 23andMe and Ancestry. In both instances, the company provides a Custom Nutrition Plan with the same information. They assign each user the best diet from 20 different diet types analyzed, seen below. Each Custom Nutrition Plan comes with a 2-week meal plan and shopping list.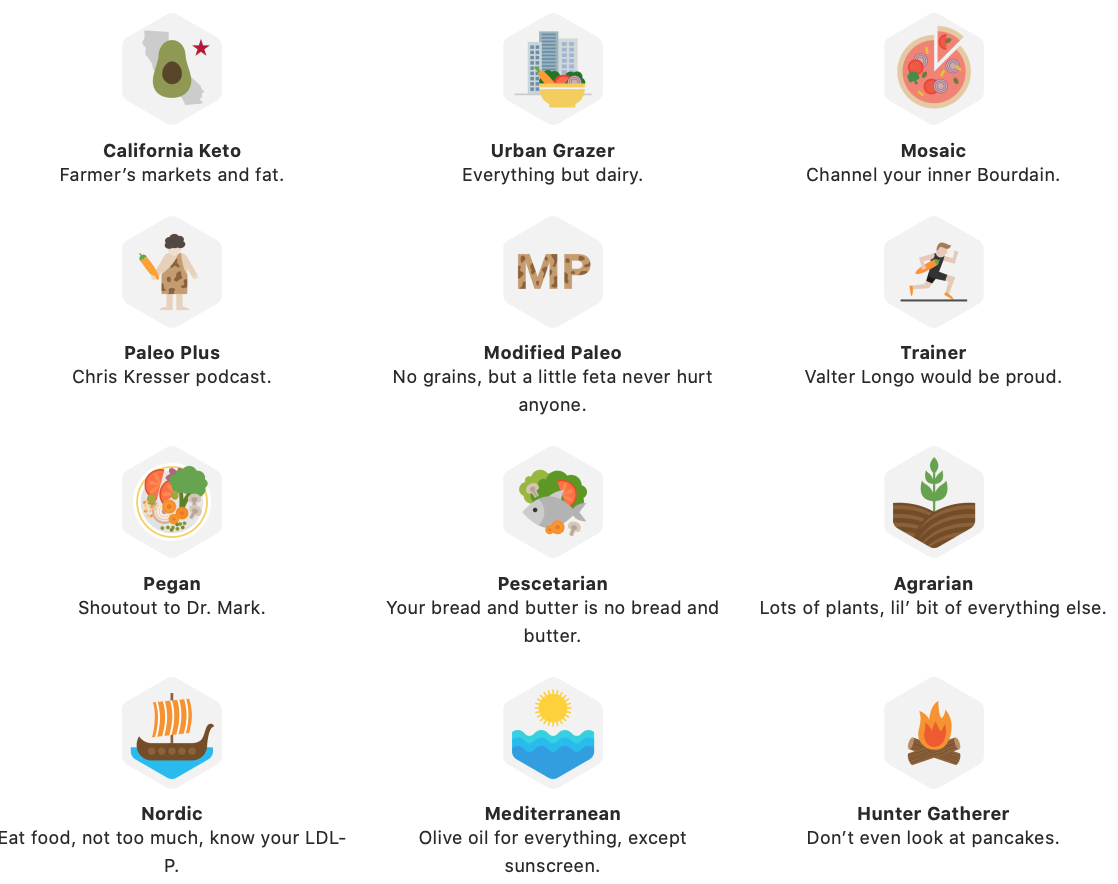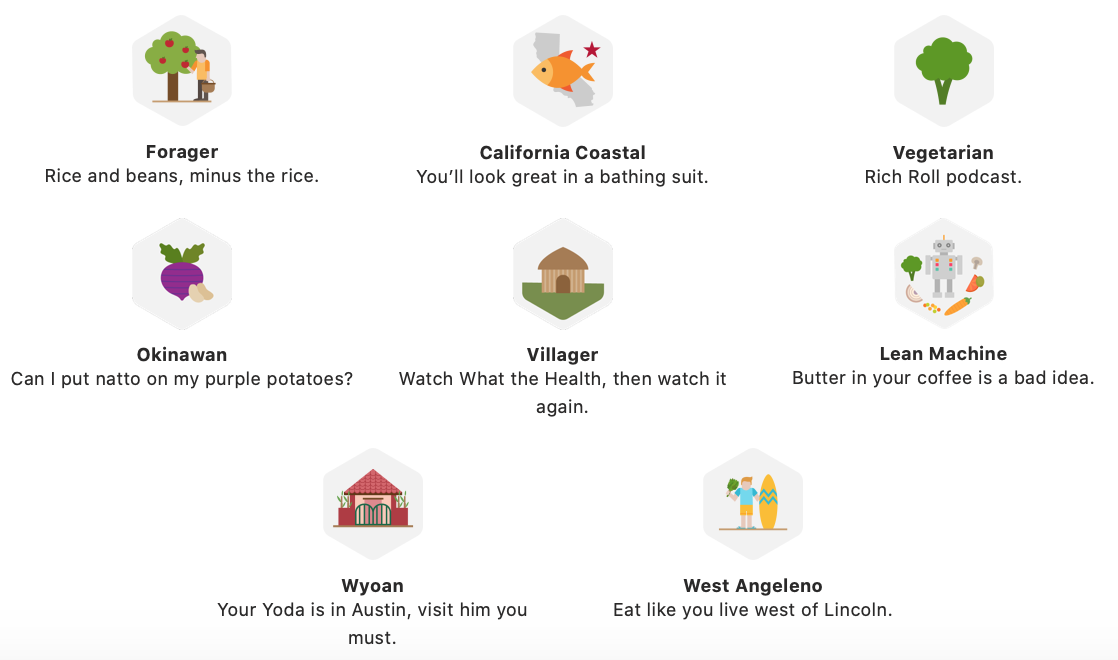 The company does not offer any medical advice and the genetic data analyzed does not address any medical condition. Gene Food examines some food sensitivities that can contribute to digestive problems.
Review of Gene Food Report
Gene Food's report covers a variety of categories, including:
Macronutrient Recommendation: Informs on the best fat to carbs ratio based on DNA results.
Blood Sugar Analysis: Explains what types of carbohydrates the body can handle.
Plant Protein: Tells what percentage of protein should originate from plants.
Protein Metabolism: Explores how the body reacts to dairy, histamine, and plant proteins.
All About Fat: Offers information about fat metabolism, HDL to LDL ratio, and more.
Supplements: Tells which micronutrient might need supplementation.
Detox: Estimates how well the body can process environmental toxins.
The report shows an overview of the results explaining the type of diet selected for each genetic profile and proposes a few rules to optimize it. This section of the sample report is shown below.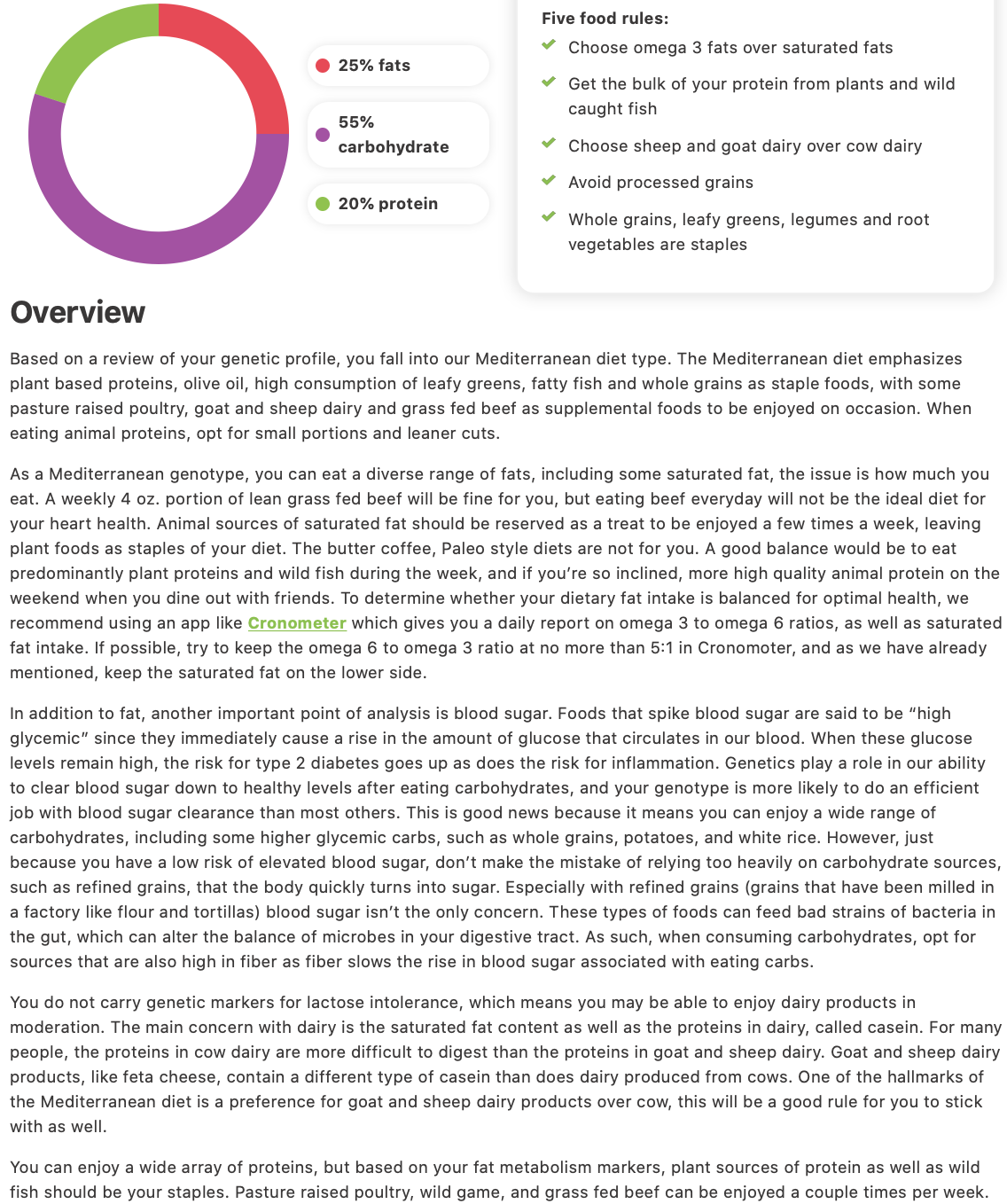 Each section of the report offers an explanation of the subject, specific genetic results, and recommendations about diet and nutrition. Additionally, Gene Food also suggests a few topics to discuss with a doctor, such as lab results.
The micronutrients section seen below offers information on your vitamin and mineral needs and gives supplement suggestions. It also offers dietary recommendations including information on the availability of nutrients per food serving.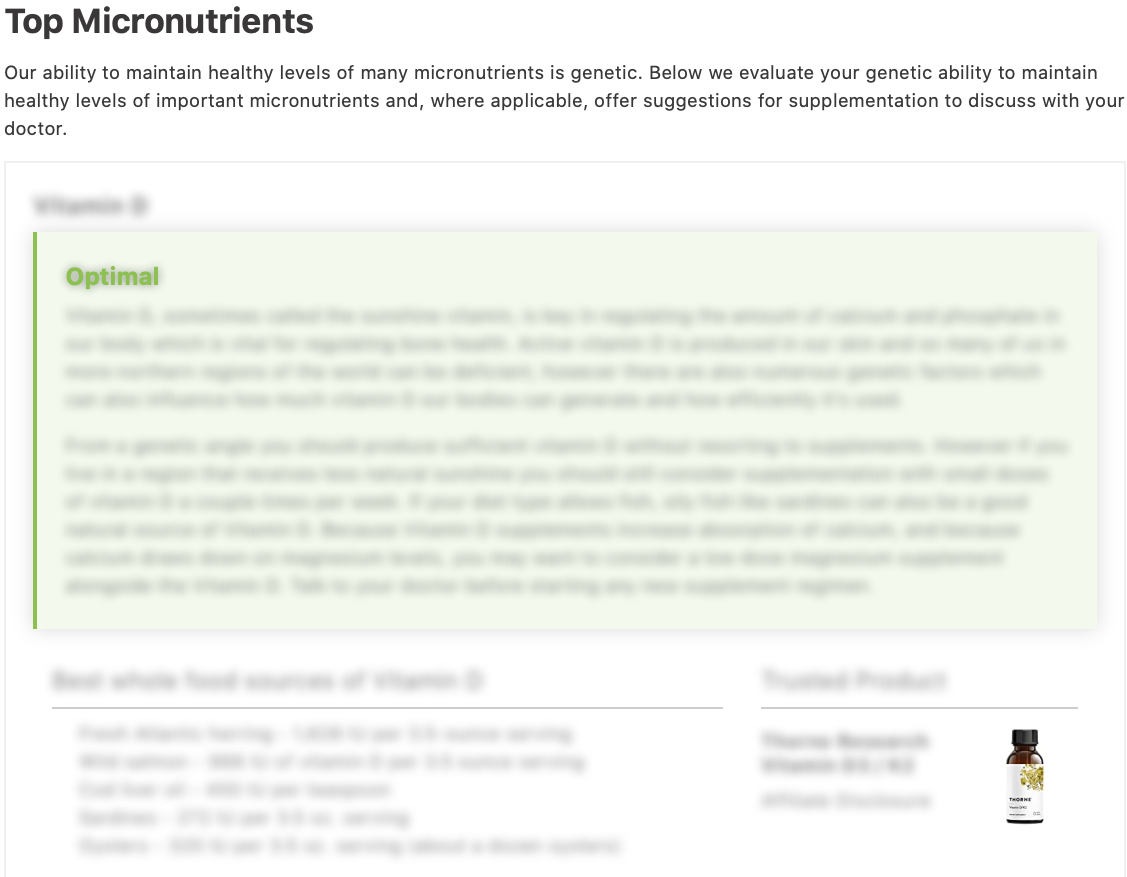 Gene Food also considers other factors such as sleep, tolerance to common anti-inflammatory products, and how users may react to cannabis. At the end of the report, they share the genetic variations that have the largest impact on the diet type, as seen below.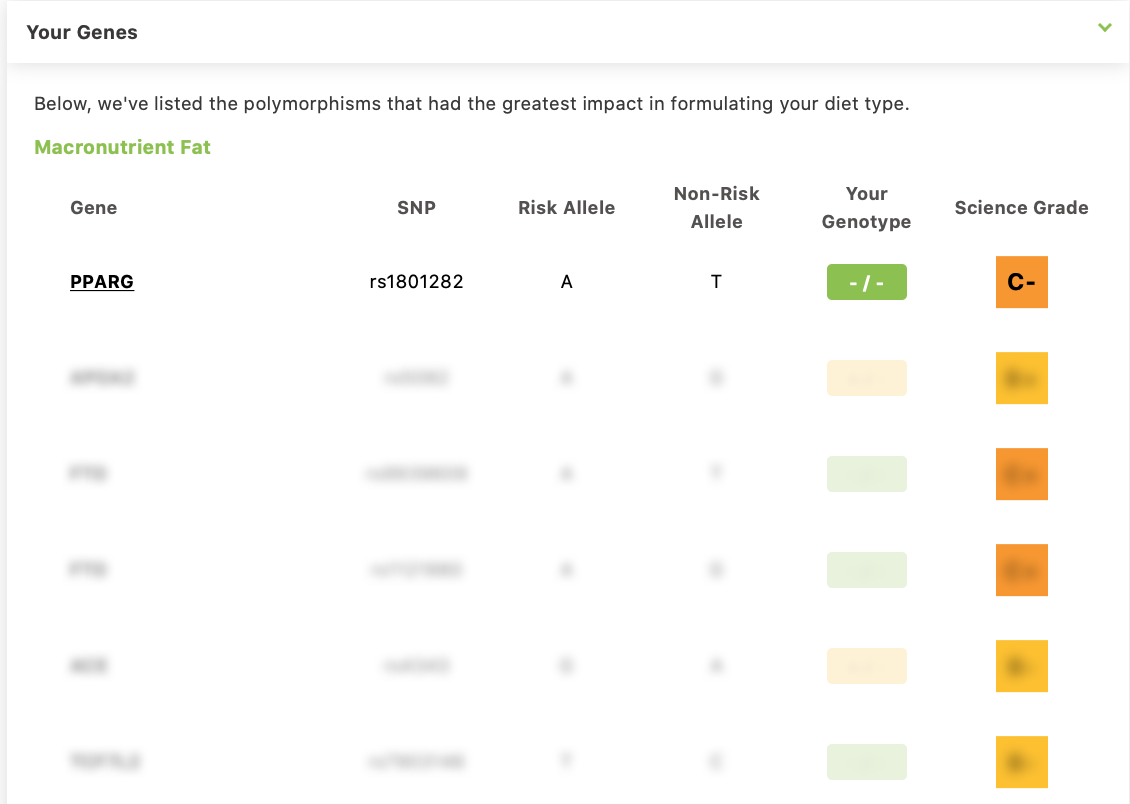 Cost of Gene Food
Gene Food's Custom Nutrition Plan that includes a DNA test is priced at $185, but users can upload their preexisting genetic files and get the report for $95.
They offer bulk discounts primarily for physicians and nutrition professionals but can also accommodate gyms or other large groups of people.
Health Recommendations from Gene Food
Gene Food is a company that focuses on diet and nutrition. They claim to evaluate 20 different diet types to assign the best one for each individual. They take into account many factors to provide their customers with a nutritional plan based on their DNA test results.
The report also gives supplement recommendations and explains the science behind each result. It also suggests a few lab tests to be discussed with a doctor to make sure the Custom Nutrition Plan is working, but does not offer the option for users to purchase lab tests from them.
The company makes it clear that they do not address any chronic medical conditions and they do not offer any report other than their Custom Nutrition Plan. They do not offer any other reports beyond this limited scope.
Review of Gene Food Privacy & Data Security
Gene Food's website is HIPAA compliant, and they also adhere to the California Online Privacy Protection Act. They do not collect information on anyone under 13 years of age, in agreement with the Children's Online Privacy Protection Act.
They state that any uploaded raw genetic data is deleted automatically after being analyzed by their system. The genetic files generated by their lab are stored short-term to allow users to access their raw genetic information. The company only stores a record of the SNPs analyzed for evaluating and recommending customers their ideal diet type.
Once the file is deleted, they claim to no longer have access to the genetic data. The company maintains that they do not share or sell information with third parties.
SelfDecode vs Gene Food
SelfDecode delivers natural supplements, diet, and lifestyle suggestions based on your genes that you can implement right away. Gene Food focuses on diet and supplement recommendations.
SelfDecode tells you why they make each recommendation so that you can understand the science behind the suggestion. Gene Food gives a thorough explanation of their recommendations.
SelfDecode prioritizes recommendations based on their analysis of all the relevant genes instead of one gene at a time (through reports). Gene Food does not prioritize their recommendations.
SelfDecode takes a holistic approach to give recommendations that are best for your genes AND the health topic. Gene Food focuses on diet and nutrition for their recommendations.
SelfDecode has a team of over 60 highly skilled scientists, MDs, PhDs, NDs, and software engineers to make sure they deliver the most accurate and science-based health information. According to their website, Gene Food has a team of 4 PhDs and RDs.
SelfDecode is the most comprehensive and looks at more genes & SNPs (up to 83 million) to deliver the best analysis of genetic risks. Gene Food analyzes 150 SNPs related to fat, carbohydrate, and protein metabolism and a few other genetic variations that may impact wellness.
SelfDecode supports everything with peer-reviewed scientific studies in their research and checks for contradicting information. Gene Food does not provide scientific references directly in their report.
SelfDecode never sells your data or gives it away. Gene Food claims to take privacy very seriously and says they never share personal information.
Comparisons
| | | | | |
| --- | --- | --- | --- | --- |
| | SelfDecode | Gene Food | Vitagene | GenoPalate |
| Personalized & holistic health recommendations | Yes | Yes | No | No |
| One-click regimen builder | Yes | No | No | No |
| Products | DNA testing, wellness reports, health recommendations, patient and provider options | DNA testing and nutrition reports | DNA testing, diet, exercise, skin, and ancestry reports, supplements | DNA testing, diet reports |
| Raw data access | Yes | Yes | Yes | No |
| Cost (USD) | $97 – $389 | $95 – $185 | $29 – $269 | $69 – $189 |
Gene Food Reviews
Since Gene Food is a new company, there are not many online reviews of their services.
DNAWeekly rates them 8 of 10. They say the report offers accessible information that can be easily implemented but comments on how it is not the most affordable DNA testing option.
22 reviewers on Trustpilot rated the company an average of 4.6 of 5 stars. Overall, customers are very satisfied with the service provided and say it is a good option for those who want to focus on their diet.
Alternatives to Gene Food
SelfDecode: The best health-focused DNA analysis that offers reports and recommendations based on your genes and labs.
Gene Food Review Summary
Gene Food offers DNA-based dietary and nutritional recommendations. Instead of suggesting specific foods, the company chooses to recommend an optimal diet for each genetic profile by analyzing 20 different diet types.
The company provides macronutrient recommendations and recipes to match the assigned diet type. Additionally, they provide a list of all the genetic markers that could influence the results.
Gene Food offers good information for those who want to focus on their diet and nutrition, but they won't provide you any other information beyond this limited scope. Overall health encompasses more than just those aspects. A service like SelfDecode analyzes up to 83 million genetic variants to provide personalized recommendations throughout their detailed wellness reports on over 30 health topics, including weight, cholesterol, and gut health, to name a few.
Related