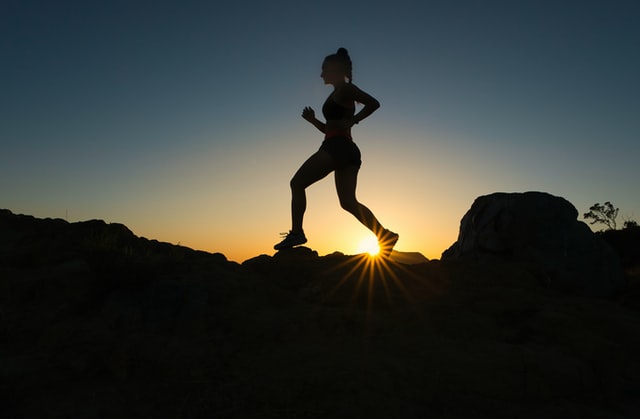 Overview
Products:

DNA Analysis: workout plans, nutrition guide, insights and actions.
DNA Upload: use your existing DNA file for analysis.
Genetic Workout Systems: A system tailored to your genetics and current fitness level.

Cost: $165 for DNA Analysis, and $51 for the DNA Upload. Access to the member's area is free. Additional fees for access to personal trainers, nutritionists, and other workout systems.
Reports: Reports reside in the traits information page called the truefeed®.
Raw data access: Yes, however, it is not clear if the data from FitnessGenes is fully compatible with many DNA data analysis companies.
Privacy: FitnessGenes claims that they will not give away or sell collected data to any third party. Although, they may use user data for R&D purposes with user consent.
Alternatives: SelfDecode – The best option for health-focused DNA analysis with personalized reports, symptom analysis, and health recommendations.
Pros
Competitive pricing
Offers extra support (with an additional cost) to help you meet your fitness goals
Provides in-depth information about nutrition and fitness
Using their truefeed® feature, FitnessGenes offers information about several traits such as Gut Inflammation and Oxidation Stress Risk, and then offers insights and actions based on your genetic profile
Cons
There is an extra cost to ship a test kit back to the lab if you are not in the US, Canada, or the UK
Longer-term workout plans are costly
FitnessGenes does not provide any genetic analysis that is health or wellness-oriented, unlike some other services which do offer more actionable genetic assessments
Some users have complained of 'generic' recommendations, workout plans, and contradictory information
Does not provide specific information about genetic diseases
About FitnessGenes
FitnessGenes is a fitness genetic testing company that operates out of the United Kingdom. The company was previously known as MuscleGenes, and was started by a geneticist from Oxford, Dr. Samantha Decombel.
Dr. Decombel launched FitnessGenes with co-founder Dr. Dan Reardon to meet the large demand she was seeing from athletes trying to understand their genetic profile. FitnessGenes now offers several genetically-tailored services for building muscle, weight loss, and nutrition plans based on your genetic information.
Review of FitnessGenes Products & Features
The free account option doesn't provide free genetic analysis, but it allows you to see the members area and the information available there, such as how genetics plays a role in gut inflammation, and vitamin absorption.
From the dashboard, you will be presented with 3 sections: DNA Results, Workout Plan, and Nutrition Guide.
DNA Results provides insights and actions from 48 genes that directly influence your response to exercise and diet. More details can be found in the Reports section below.
FitnessGenes provides both a 7-day workout and a nutrition plan based on survey data and genetics. It is designed to be easy to use, even for a beginner. You can pick your skill level (Beginner or Intermediate) and whether you will use bodyweight or free weights to further personalize your workout.
The workout plan is divided into seven days, with one 'Combi Day', one Home Workout, one Cardio and rest days (as shown below).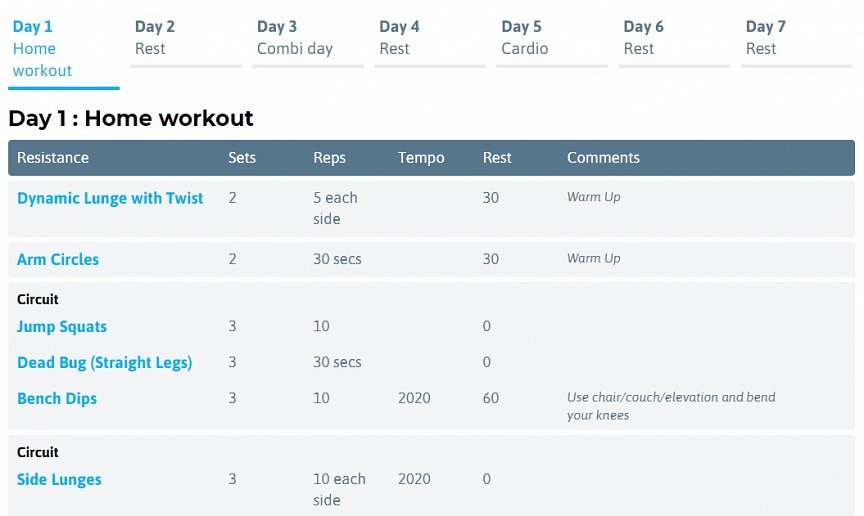 Finally, the Nutrition Guide starts with a summary of the relative amounts of fats, proteins, and carbohydrates you should be eating, and the number of daily calories to aim for (shown below).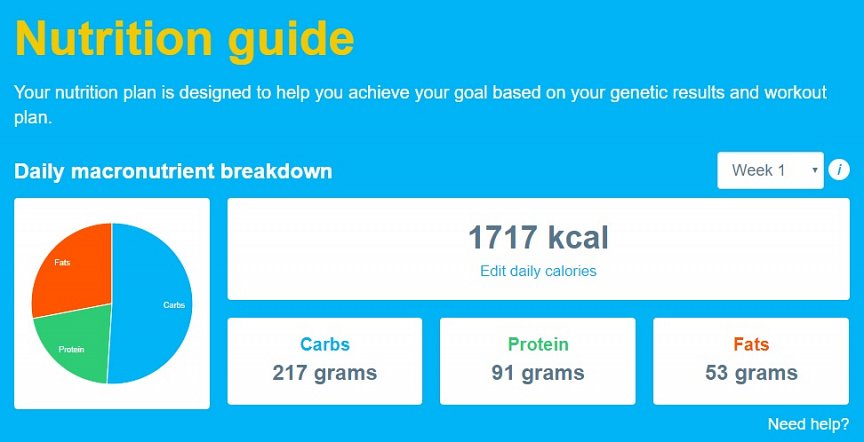 Review of Fitness Genes Reports
The DNA Results analyzed by the FitnessGenes test can be found on their website. You can learn more about each of these genes, how common your genotypes are, and their functions.
For each gene, you will receive a description of its function, your individual genotype, and recommendations tailored to these results.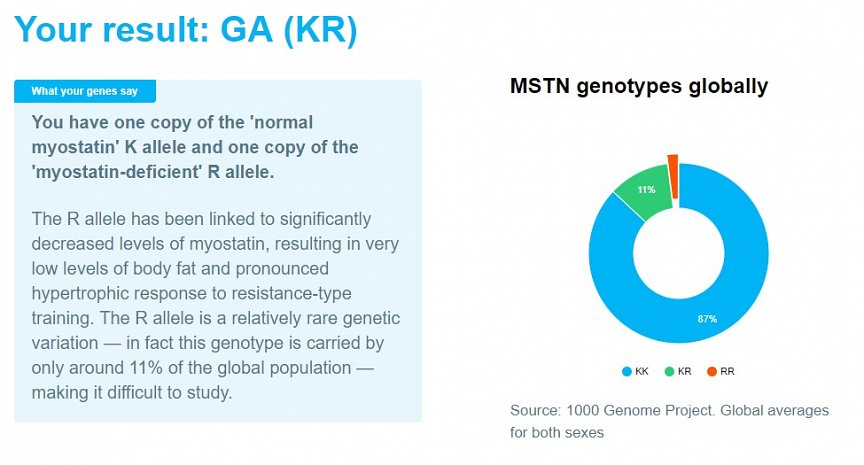 The explanation and global distribution of the KR genotype for the MSTN gene
Cost of FitnessGenes
The FitnessGenes DNA test will cost $165. If you already have a DNA file from a service such as 23andMe or AncestryDNA, the additional fitness analysis is $51. Longer-term workout plans last from 4 to 12 weeks and range from $191 – $255 each.
If you are only interested in finding out what kind of information the platform can provide, you can sign up for free to access the members area. FitnessGenes also has personal trainers, nutritionists, and other help available for additional fees. All of this information is tailored to your genetic data.
Health Recommendations from FitnessGenes
The recommendations provided by FitnessGenes mainly focus on suggestions to help you meet your fitness goals through workout and nutrition plans tailored to your genetic profile. The truefeed® page has insights and actions for specific traits to improve your health.
While they are easy to understand, there are a limited number of traits and genes that are analyzed compared to other DNA testing sites.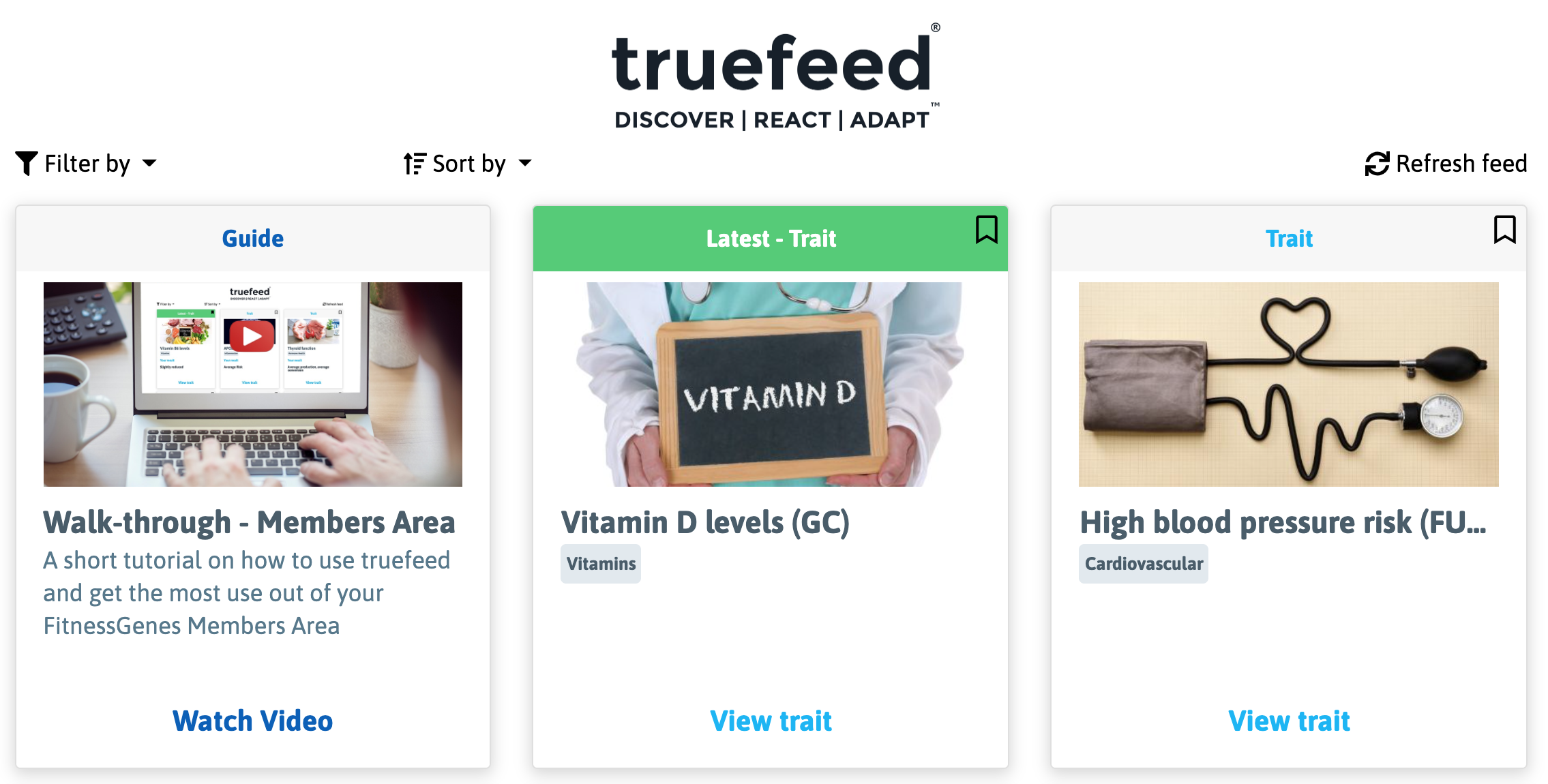 FitnessGenes truefeed® view from a free-to-access account
Review of FitnessGenes Privacy & Data Security
FitnessGenes claims they do not sell your information to third parties, nor do they share your information with third parties for marketing purposes. They are compliant with EU data protection laws.
With your consent, FitnessGenes will retain a portion of your anonymized DNA sample for up to 12 years for potential research and development. You can withdraw your consent from participation in future studies. However, if your DNA is already part of a study it cannot be withdrawn.
SelfDecode vs FitnessGenes
SelfDecode delivers natural supplement, diet, and lifestyle suggestions based on your genes that you can implement right away. FitnessGenes' main products focus on tailoring a workout and meal plan to help you reach your fitness goals.
SelfDecode tells you why they make each recommendation so that you can understand the science behind the suggestion. FitnessGenes does offer some citations for their recommendations, although some are not accessible.
SelfDecode prioritizes recommendations based on their analysis of all the relevant genes instead of one gene at a time (through reports). FitnessGenes highlights one gene at a time and details the insights and actions for that gene.
SelfDecode takes a holistic approach to give recommendations that are best for your genes AND the health topic. FitnessGenes' approach is more narrowly focused on what will affect your diet and exercise.
SelfDecode has a team of over 60 highly skilled scientists, MDs, PhDs, NDs, and software engineers to make sure they deliver the most accurate and science-based health information. Fitness Genes claims to have a team of PhD scientists.
SelfDecode is the most comprehensive and looks at more genes & gene variants (up to 83 million) to deliver the best analysis of genetic risks. FitnessGenes has a narrower focus on specific traits and genes and how they relate to your diet and workouts.
SelfDecode never sells your data or gives it away. FitnessGenes can use your data for research purposes and possible commercial benefit with your permission.
Comparisons
| | | | | |
| --- | --- | --- | --- | --- |
| | SelfDecode | FitnessGenes | Athletigen | DNAFit |
| Personalized & holistic health recommendations | Yes | Yes – but not holistic | Yes | No |
| Number of genetic variants analyzed | Up to 83 million genetic variants | 43 | Unknown | 38 genes |
| Products | DNA testing, wellness reports, research-based personalized blog posts, health recommendations | DNA Analysis, DNA Upload, Genetic Workout System | DNA testing, health and nutrition recommendations, athletic performance reports | WGS, nutrition and fitness reports |
| Raw data access | Yes | Yes | Yes | Yes |
| Cost (USD) | $97 – $389 | $51 – $165* | $0 (limited) – $600+ | $49-$629 |
*Additional cost for shipping your kit back to the lab may be applied, additional 4, 8, and 12-week workout plans range from $191 – $255 each.
FitnessGenes Reviews
Trustpilot – 701 Customer Average Rating of 4.2 of 5 stars
Trustpilot reviews are generally positive, with a minority of complaints about the workout plans being too generic.
Google Reviews – 8 Customer Average Rating of 4.1 of 5 stars
Customers on Google left mostly positive reviews. One user wrote a review detailing aspects of the service that were not working properly. He was not impressed that he paid $259 only to be told that "they are working on it". This user also pointed out that some of the reviews were left by employees of the company instead of customers.
Read what people are saying about FitnessGenes on Facebook (5 of 5 stars by 78 individuals)
These reviews vary widely; most are positive, while some individuals have commented negatively due to a lack of customer support. A FitnessGenes rep usually responds with an offer to get in touch with them for more assistance.
Alternatives to FitnessGenes
SelfDecode: The best option for a health-focused DNA analysis that offers personalized health reports with recommendations to help you become the best version of yourself.
FitnessGenes Review Summary
FitnessGenes offers a wide variety of workout and diet plans tailored to your genetic profile. The DNA Analysis test provides information on 48 genes, and the insights and actions you can take to improve your overall fitness.
The workout planner has demonstrations that make it easy to implement these steps. Although the link between these exercise recommendations and your DNA results may not be perfectly clear, sections in the Nutrition guide will highlight these connections.
The scientific evidence behind each result is explained well, although some citations are not accessible. Plus, FitnessGenes looks at a limited amount of genes, which means you might not receive the full picture of your health. An alternative such as SelfDecode offers consistent and comprehensive holistic health reports to help you take control of your health, all backed by science.
SelfDecode is the only DNA company that uses AI and machine learning to analyze up to 83 million variants to give genetic risk scores and personalized recommendations based on your DNA, labs, and environmental data.
Related