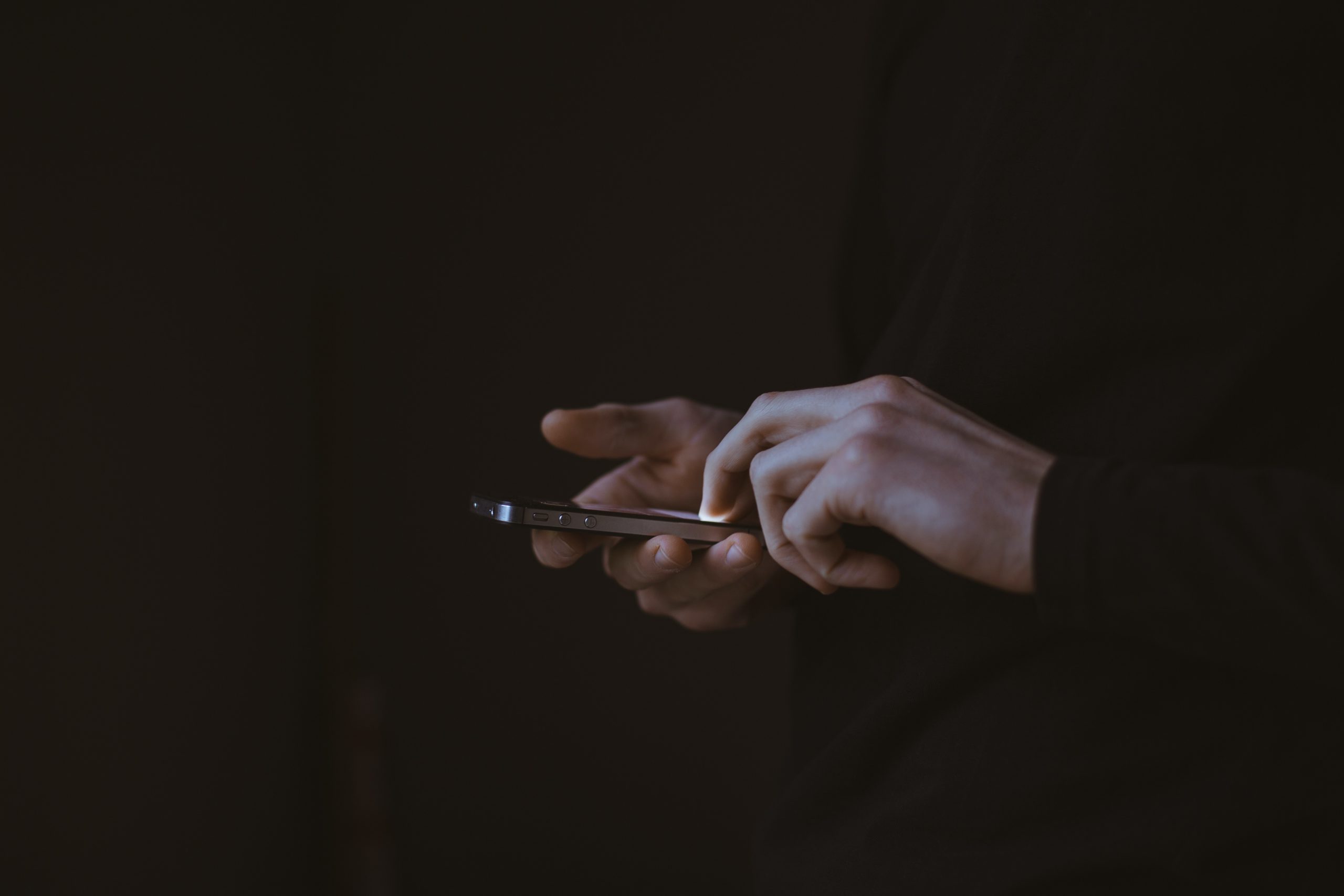 Overview
Products: GenePlaza offers a variety of Genetic Apps that can be acquired separately. They also offer DNA testing.
Cost: GenePlaza's apps are affordable and can range from approximately $2 to $70. Their DNA test costs $74.
Reports: GenePlaza's reports vary depending on the app and include ancestry or traits analysis.
Raw data access: Yes.
Privacy: GenePlaza does not sell data and does not share it with third parties without consent.
Alternatives: SelfDecode offers personalized health recommendations based on DNA.
Pros
GenePlaza provides a considerable variety of tests that can be selected by the user depending on their individual needs and most are available for an accessible price.
GenePlaza offers the option to upload genetic data files users may have already acquired from other companies.
GenePlaza's website is very accessible and user-friendly. They make use of graphs, charts, and animations in their reports to improve user experience.
Cons
While GenePlaza offers a variety of tests, it is required that users purchase different apps for each genetic trait they wish to have analyzed.
GenePlaza does not offer any personalized recommendations and their reports are specific to the trait analyzed. The results are based on models compiled from published scientific studies.
GenePlaza does not offer comprehensive health reports, only analyzes individual traits like intelligence and sleep preferences.
The company has historically had the legitimacy of their services criticized.
About GenePlaza
GenePlaza was co-founded in 2017 by Robin Duqué and CEO Alain Coletta. Currently located in Brussels, Belgium, GenePlaza offers a variety of apps each developed to analyze different traits. It is the first platform managed by a European company that offers these services online to private citizens.
According to the founders, GenePlaza provides users with the opportunity to access information about their genes for an accessible price so they can make informed decisions about their lifestyle. Users can also authorize information sharing to further improve scientific research.
Review of GenePlaza Products & Features
GenePlaza offers several DNA analysis apps, each focusing on a specific trait. The apps are essentially individualized test reports within which users can view the results of their genetic analysis displayed in a number of different ways.
Each app focuses on a specific health area, for example, weight loss, addiction, or depression. With respect to testing, users can upload their DNA data files from 23andMe, AncestryDNA, FTDNA, MyHeritage, and Gencove or choose to purchase a DNA test from GenePlaza. While GenePlaza only delivers their testing kit to selected countries in Europe, the apps are available worldwide.
When accessing GenePlaza's website, the user will find their selection of 21 different applications as follows: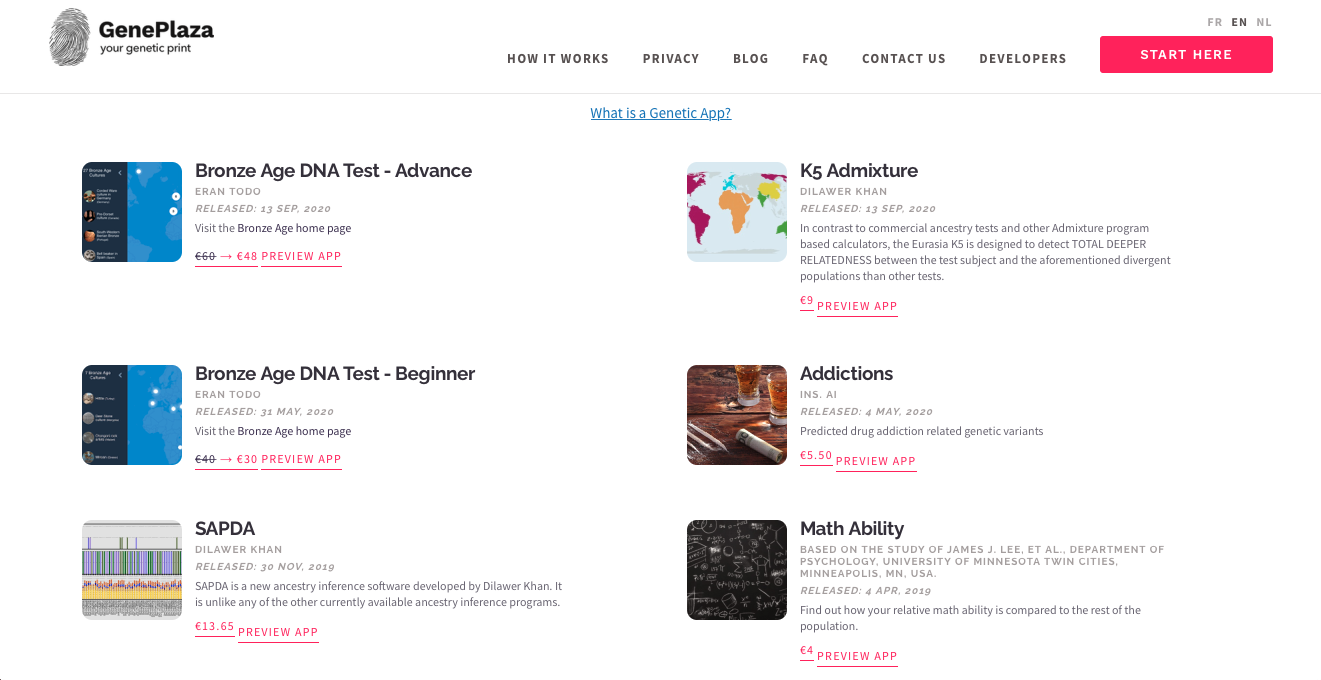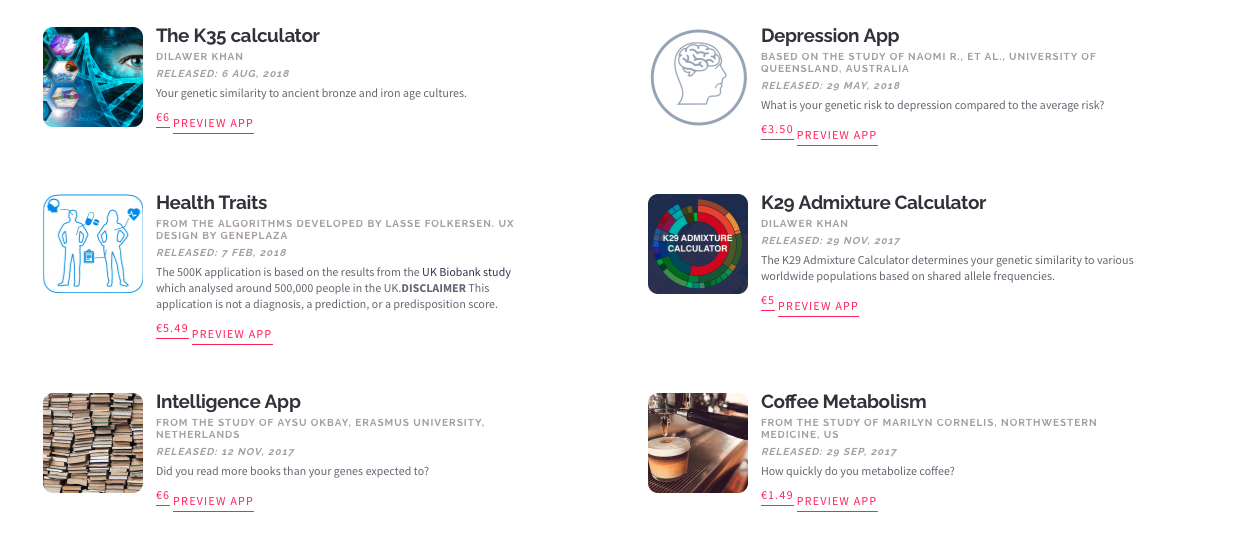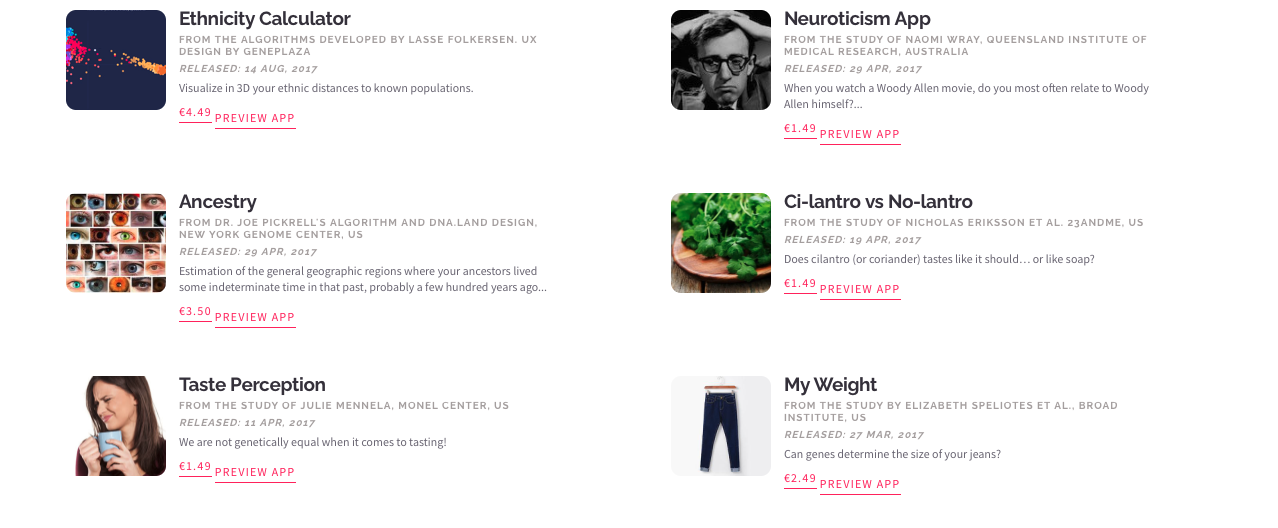 Note that their 122 Shades of Gray app has been discontinued. GenePlaza apps are scientifically grounded by individual research studies. Each study forms the basis by which the user is offered an analysis of their own genetic predispositions.
Review of GenePlaza Reports
GenePlaza provides separate reports for each of the apps purchased by the user. As such, there are various types of reports available. All are user-friendly and easy to understand, which is achieved by the use of graphs, charts, and animations to help with comprehension.
The majority of reports are accompanied by a disclaimer, as can be seen below. They are also followed by a list of references.

Sample reports are provided by GenePlaza for each of the applications. These samples are viewable below.
Bronze Age DNA Test Report – Beginner and Advanced
These reports tell which ancient culture from the Bronze Age the user is most similar to. The Advanced version is a high-resolution DNA test and calculates the proportion of 10 ancient gene pools, while the beginner version is a low-resolution DNA test and calculates the proportion of 6 ancient gene pools. Both reports are presented similarly, as can be seen below.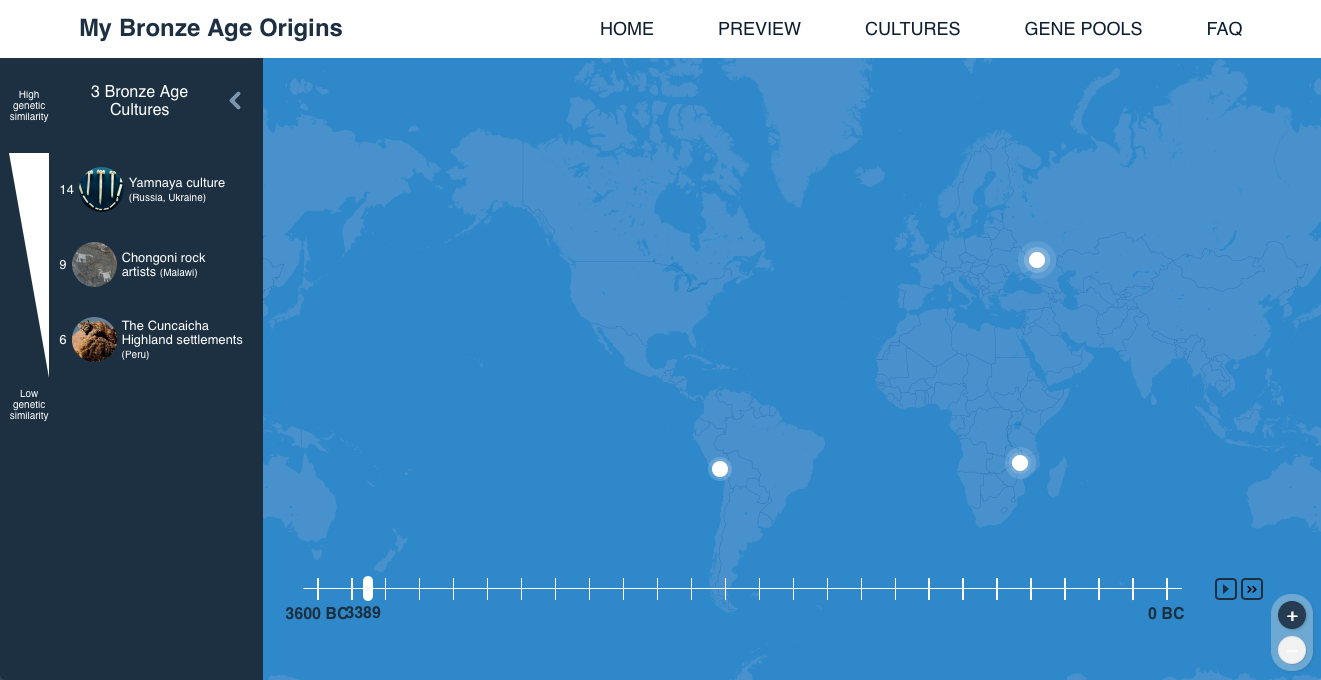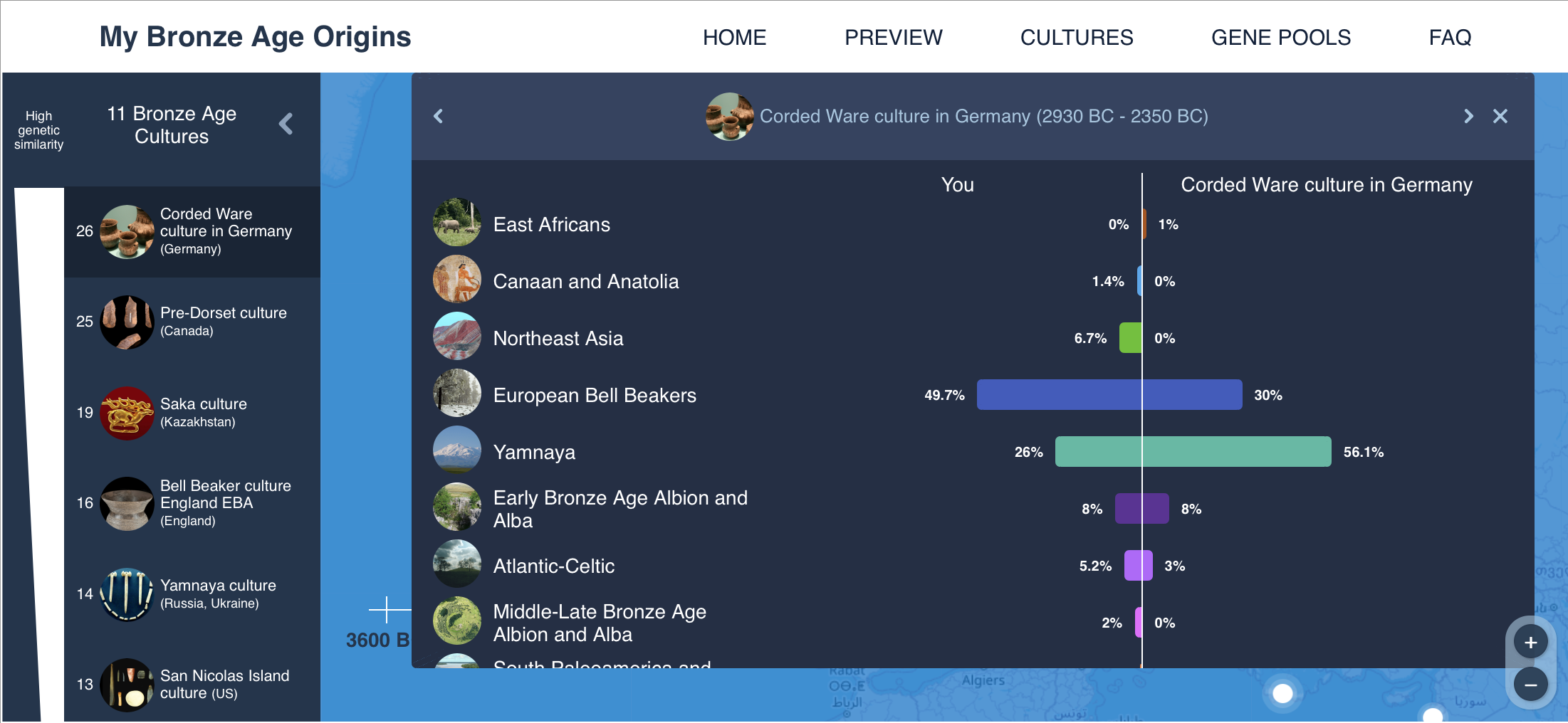 K5 Admixture
The K5 Admixture report predicts the user's connection to highly diverged populations of Eurasia (West Eurasians, South Eurasians, East Eurasians, Eastern Siberians and Native Americans, and Basal Eurasians and Africans).
The report is accompanied by an explanation of the difference between the Eurasia K5 Admixture Calculator, commercial ancestry tests, and other Admixture program based calculators. The sample report can be seen below.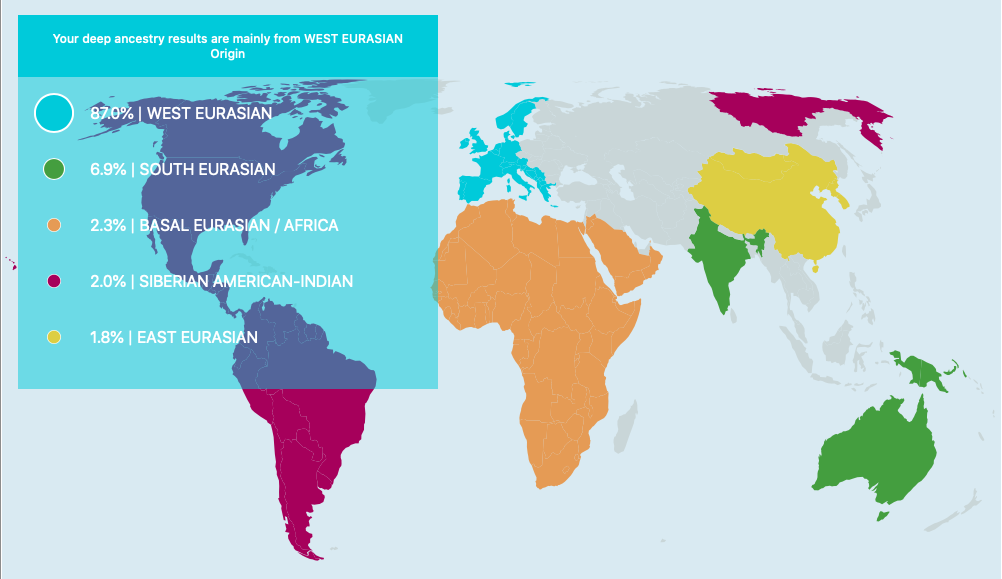 SAPDA
SAPDA is an ancestry inference software. It dismisses less relevant mutations that can interfere with results and increases the accuracy of analysis with respect to population-specific mutations. The report provides graphical evidence of genes shared with other populations, as shown below. Along with the results, it also provides explanations about methodology.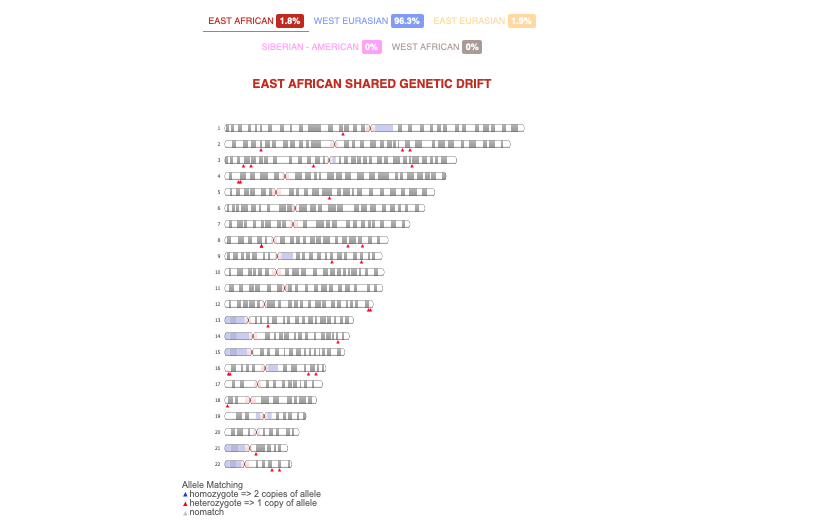 The K35 Calculator
The K35 Calculator reports users' genetic similarity to ancient Bronze and Iron cultures. It provides a detailed table containing the component analyzed, region, age, and similarity to the user.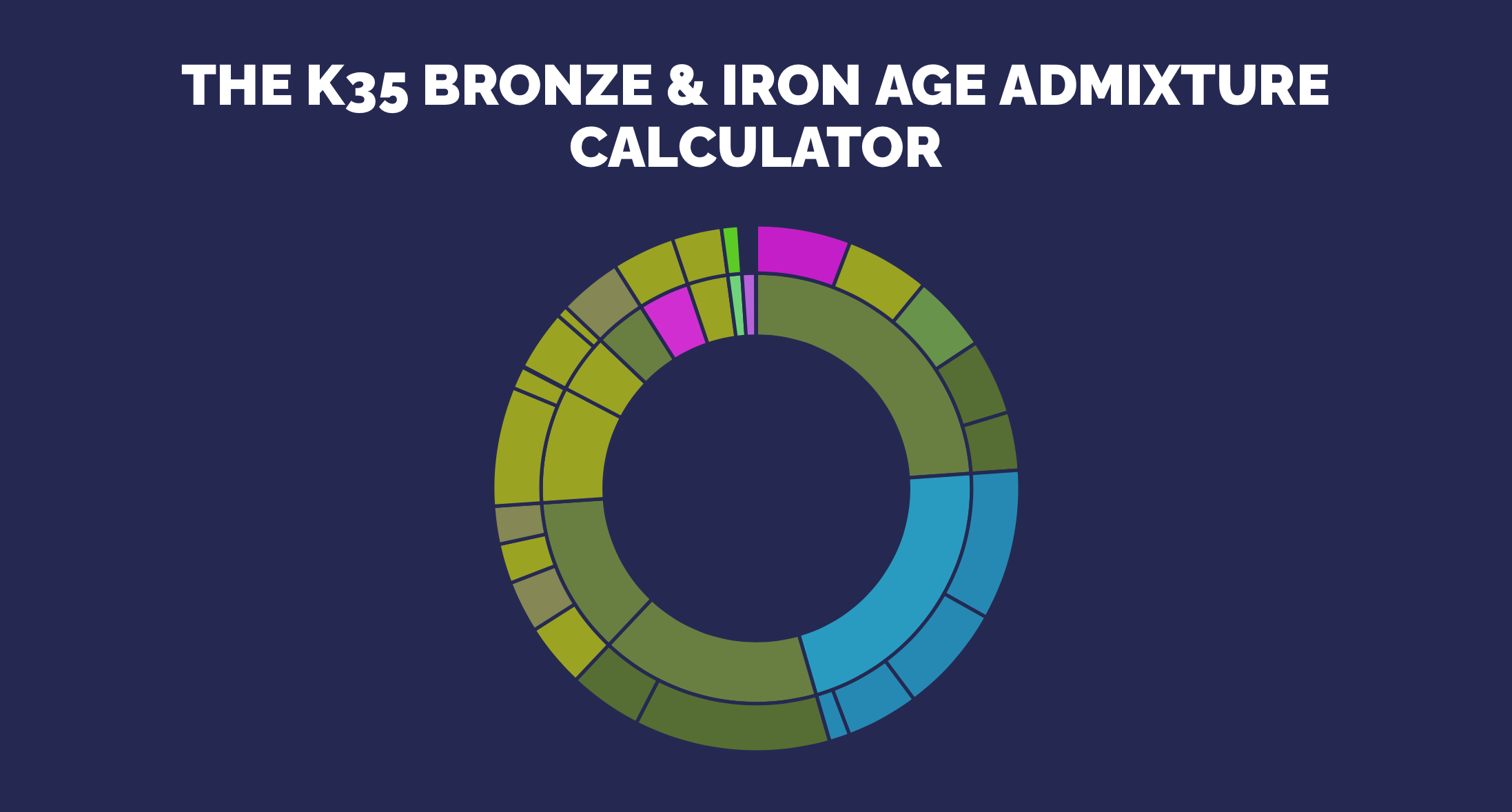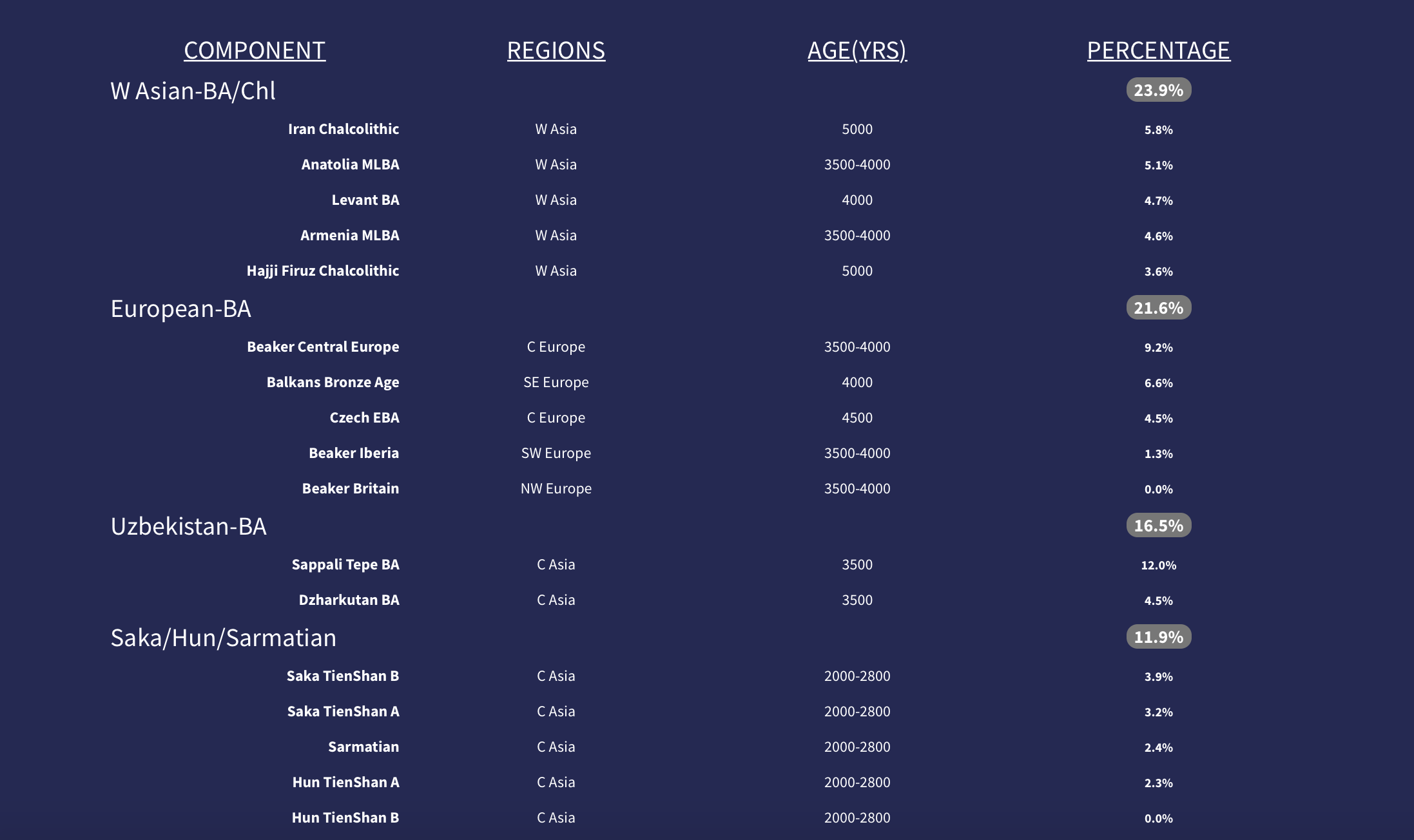 The K29 Admixture Calculator generates a similar report, only less extensive.
Health Traits
This app was designed based on the results from the UK Biobank study which analyzed 500,000 people and reported predispositions to certain traits. It provides an extensive report that includes medical diagnosis, early life factors, family history, health and medical history, and more. It shows users' predisposition to genetic ailments, mood disorders, possible reactions to certain medications, and a litany of other health complications. It does not, however, make any personalized health recommendation users can implement themselves. Further, though GenePlaza clearly cites the study upon which the application is based, their procedure for analyzing all of the listed traits is unclear. Grounding all of their analysis in a single UK Biobank study seems somewhat precarious.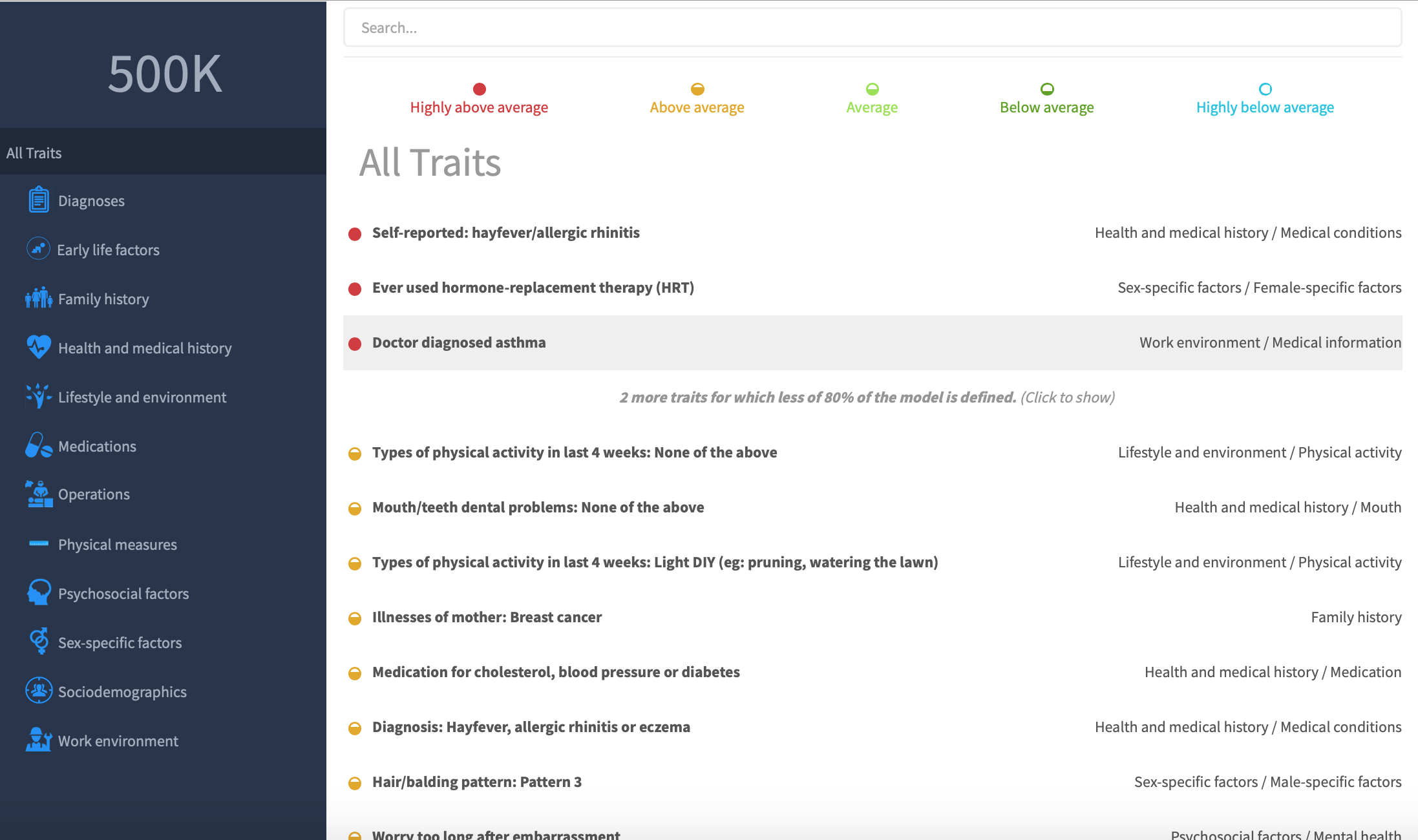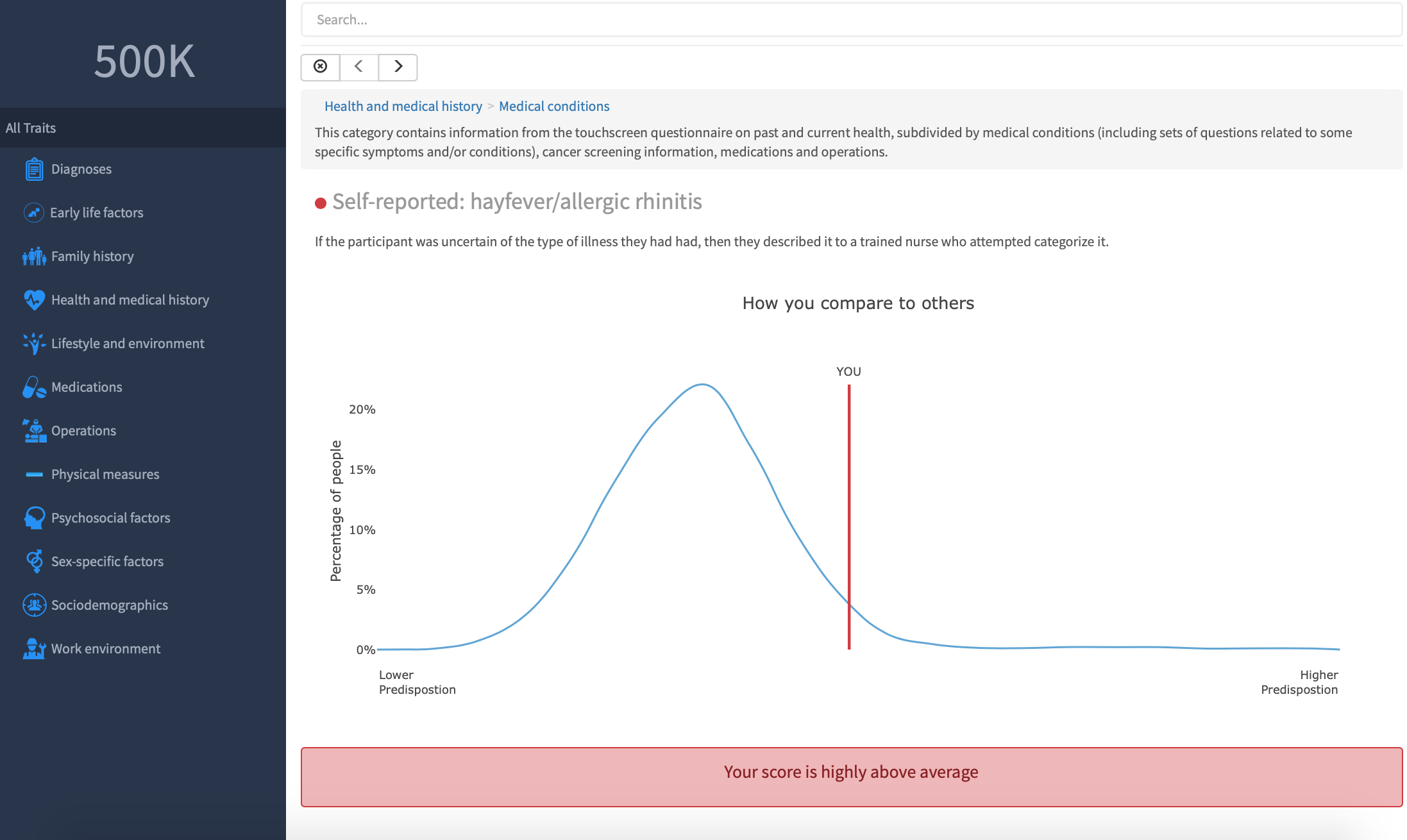 Users can also search for a specific trait and have the option to inspect the specific genes and SNPs used to analyze the data.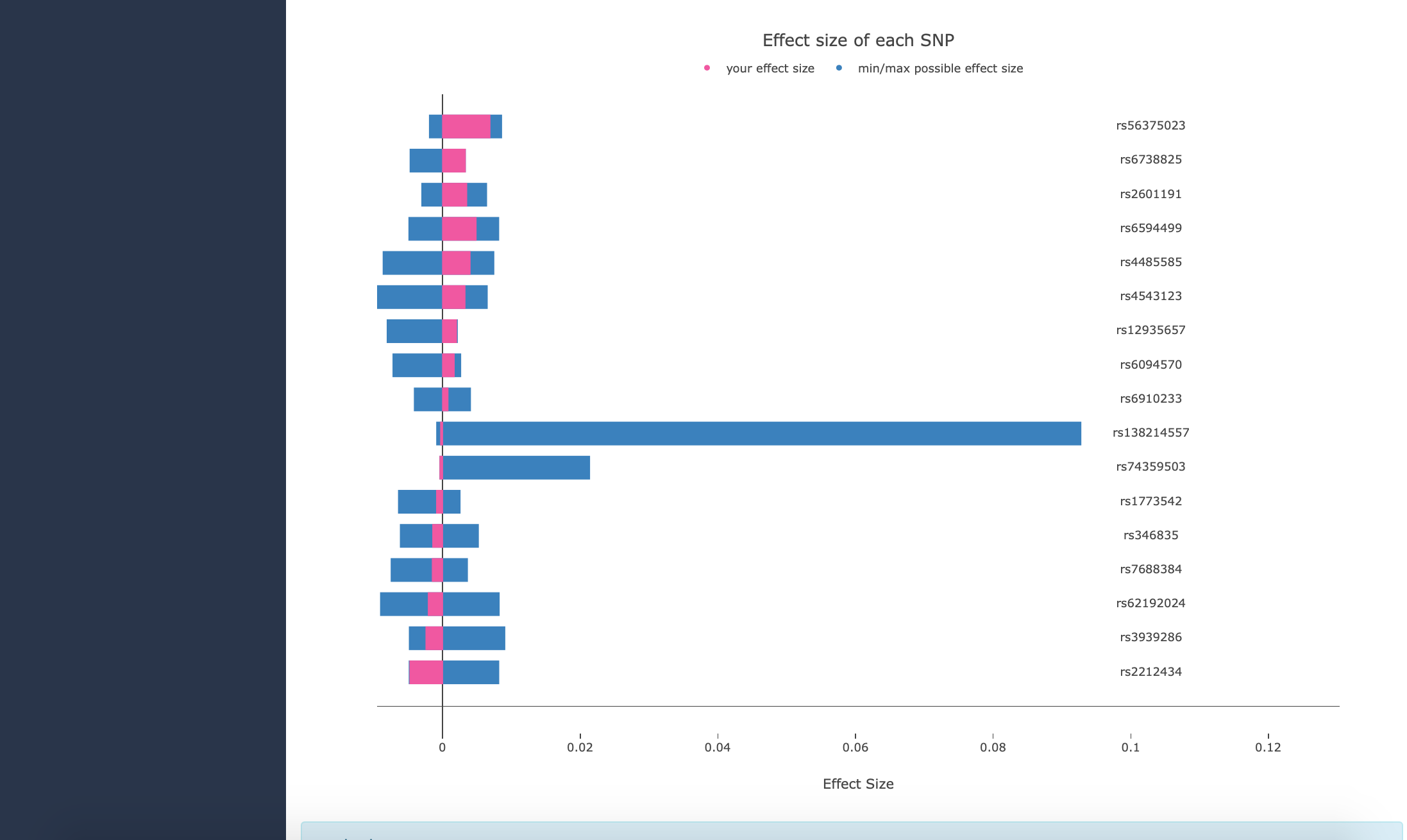 Ethnicity Calculator
This report provides a visualization of ethnic distances to known populations.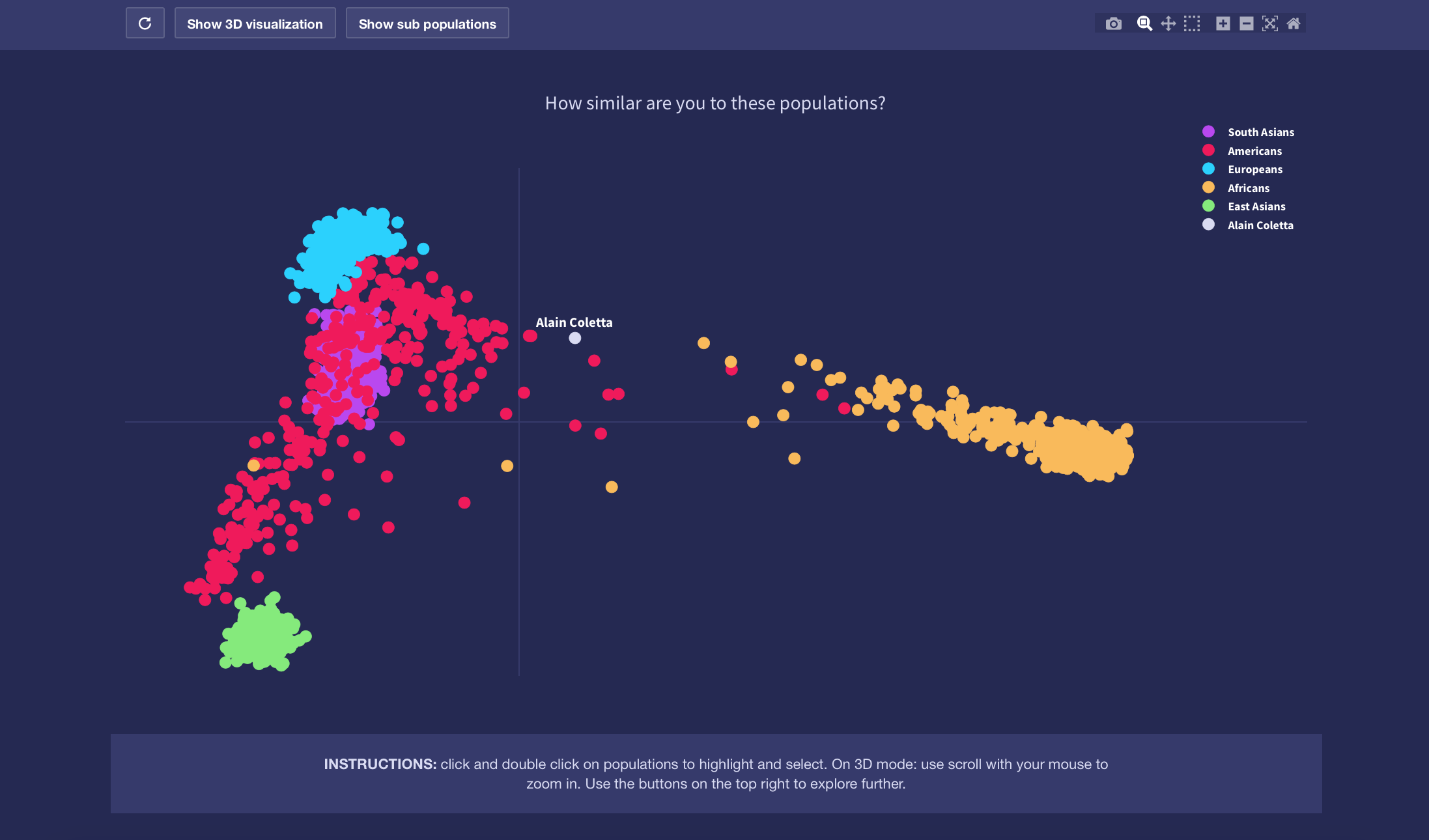 Ancestry
This report estimates general geographic regions where a user's ancestors might have lived.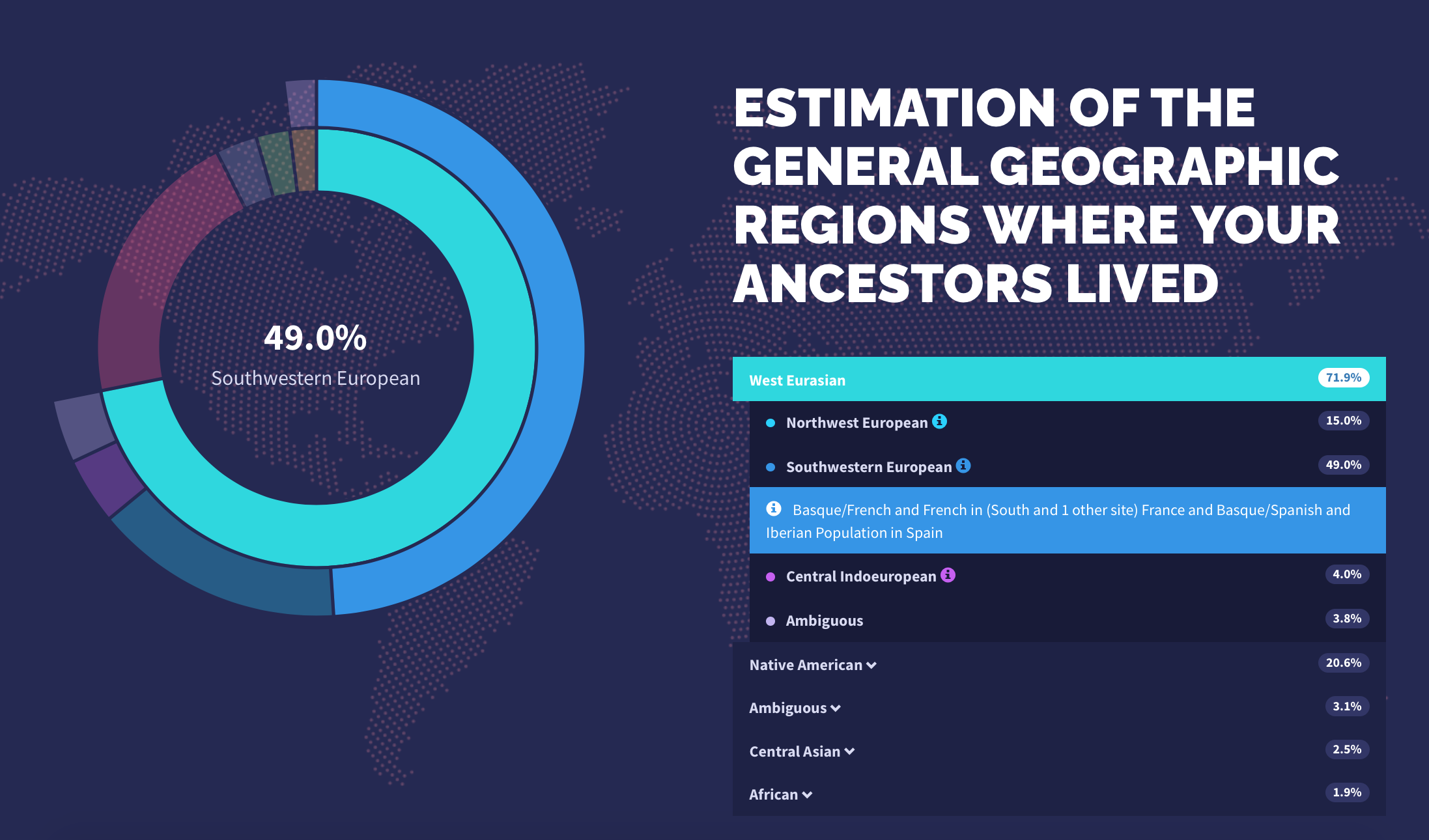 My Weight
This report shows a user's predisposition to being overweight or obese. It is presented as a simple graph that compares the user's results to other GenePlaza's users.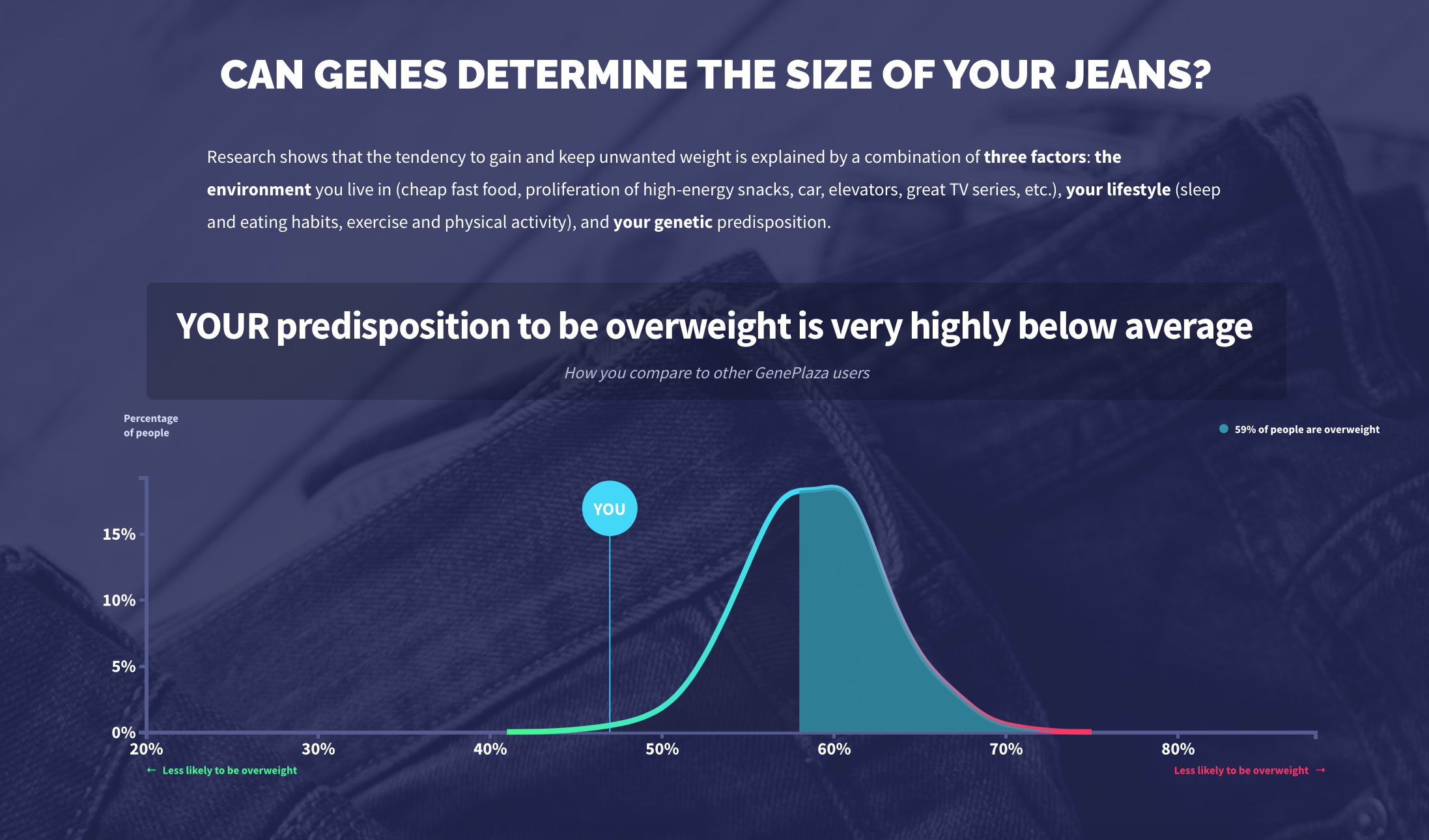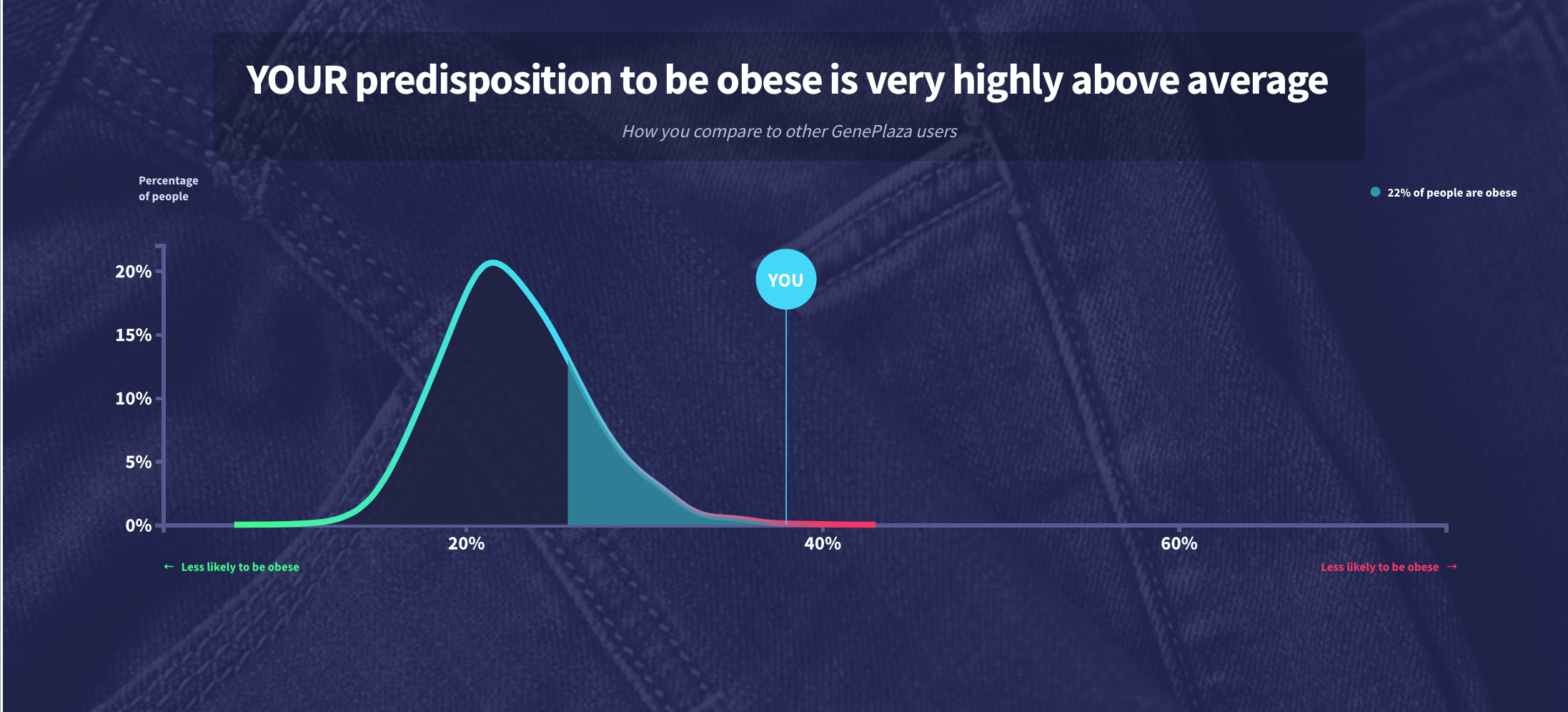 Reports for Addictions, Math Ability, Depression, Intelligence, Coffee Metabolism, Neuroticism App, Ci-lantro vs No-lantro, Taste Perception, and Sleep are presented in a similar manner.
Along with the results, GenePlaza also offers a brief overview of the subject but makes no personalized comments about the results.
Cost of GenePlaza
GenePlaza offers affordable apps ranging from $5 for their Coffee Metabolism, Neuroticism, Ci-lantro vs No-lantro, and Taste Perception Apps to $70 for their Bronze Age DNA Test – Advanced. They also offer the option to order a DNA test for $74, which earns users a $7 credit on their App Store.
Health Recommendations from GenePlaza
GenePlaza does not offer any personalized health or lifestyle recommendations based on individual test results. The apps available on their Genetic App Store are limited to a superficial investigation of specific traits and their reports do not deliver a comprehensive health analysis. Instead, GenePlaza provides the user with a short and general discussion about the selected trait.
While GenePlaza's ancestry apps focus on showing relatedness to specific ancient populations, their traits apps are limited to showing how the user would have scored had they participated in the study the app was based on. In addition, instead of a deeper analysis and possible lifestyle recommendations, their reports are constrained to showing how users compare to the rest of the population.
Review of GenePlaza Privacy & Data Security
GenePlaza has a comprehensive privacy policy that explains which personal data they process and their reason for doing so. They claim not to sell client data and that all sharing must be consented to by the user. The company does make use of subcontractors that are selected to perform GenePlaza's services. These subcontractors are under GenePlaza's supervision and take the necessary security and confidentiality measures.
In a recent article for The Lancet, GenePlaza's co-founder Coletta said that they do not share their data, even with the app developers themselves. Moreover, he explained that GenePlaza does not monetize their data.
Additionally, GenePlaza is transparent about their security methods and encryption. All their data is protected by the SSL128/256 certificate. Their website uses cookies to optimize navigation.
SelfDecode vs GenePlaza
SelfDecode delivers natural supplement, diet, and lifestyle suggestions based on your genes that you can implement right away. GenePlaza does not offer any personalized lifestyle recommendations and their reports are generic.
SelfDecode tells you why they make each recommendation so that you can understand the science behind the suggestion. While citing studies at the end of each report, GenePlaza does not make any recommendations to the user.
SelfDecode prioritizes recommendations based on their analysis of all the relevant genes instead of one gene at a time (through reports). GenePlaza limits their analysis to specific traits and only shows how the user might have scored had they participated in the study which the Genetic App was based on.
SelfDecode takes a holistic approach to give recommendations that are best for your genes AND the health topic. Instead of making recommendations, GenePlaza limits their analysis to how users compare to the rest of the population regarding the analyzed trait.
SelfDecode has a team of over 60 highly skilled scientists, MDs, PhDs, NDs, and software engineers to make sure they deliver the most accurate and science-based health information. GenePlaza does not discloses how their team is comprised.
SelfDecode is the most comprehensive service and looks at more genes & SNPs (up to 83 million) to deliver the best analysis of genetic risks. GenePlaza's analysis is limited to specific health traits and Genetic Apps must be purchased separately.
SelfDecode supports everything with peer-reviewed scientific studies in their research and checks for contradicting information. All GenePlaza's Genetic Apps are based on published scientific studies, which they cite in their reports.
SelfDecode never sells your data or gives it away. GenePlaza also takes privacy seriously and makes the same promise.
Comparisons
| | | | | |
| --- | --- | --- | --- | --- |
| | SelfDecode | GenePlaza | AncestryDNA | 23andMe |
| Personalized & holistic health recommendations | Yes | No | No | No |
| One-click regimen builder | Yes | No | No | No |
| Products | DNA testing, wellness reports, research-based personalized blog posts, health recommendations | Genetic Apps and DNA testing | DNA testing, health and ancestry reporting | DNA testing, traits, wellness reports, more accurate ancestry tracing |
| Raw data access | Yes | Yes | Yes | Yes |
| Cost (USD) | $97 – $397 | $5 – $74+ | $99 – $119+ | $99 – $499 |
GenePlaza Reviews
DNAtestingchoice – 4.5 of 5 stars
The editor at DNA testing choice stated that they thought GenePlaza's range of apps was decent and commented on how prices range from inexpensive to relatively expensive. They also noted that users can get credit at GenePlaza's App Store by uploading their DNA file.
Read what people are saying about GenePlaza on Twitter
The GenePlaza hashtag on Twitter is a good place to find more information about the company.
Read what people are saying about GenePlaza on Facebook
Facebook is a great place to keep up to date with GenePlaza's latest news.
Alternatives to GenePlaza
SelfDecode: The best option for health-focused DNA analysis with personalized reports and recommendations to improve your quality of life.
GenePlaza Review Summary
GenePlaza offers affordable Genetic Apps that are developed to analyze specific health traits or determine ancestry. Users can upload DNA data files from other companies or order a DNA testing kit from GenePlaza (Europe only).
Their apps are designed to allow for a topic-specific approach to learning about genetic health and ancestry. This way, users can choose which traits they want to have analyzed. However, results from GenePlaza's tests are very simplistic. They do not make any individualized recommendations or provide a comprehensive health report.
For a more thorough and holistic approach to DNA testing, SelfDecode provides you with an unparalleled amount of data that is accompanied by a personalized blog and health recommendations. SelfDecode offers and analysis of up to 83 million genetic variants and over 30 DNA Wellness Reports aimed at helping you improve your quality of life.