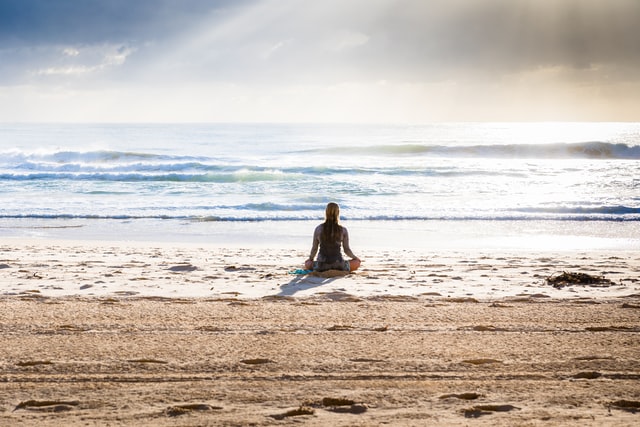 Overview
Products: At-home blood tests, health and wellness reports.
Cost: Thriva offers free services, but some tests can cost up to £119 ($167).
Reports: Health and wellness reports.
Raw data access: Thriva does not offer DNA testing, so users cannot access their raw genetic data with this company.
Privacy: Thriva may share aggregate information with third parties for academic purposes.
Alternatives: SelfDecode offers personalized health recommendations based on your DNA and labs.
Pros
Thriva offers at-home blood tests.
The company offers some free services.
Users can upload past blood test results outside of Thriva to the platform.
Cons
Thriva does not offer DNA tests.
Recommendations are not personalized to the user's results.
Their at-home blood tests are only available in the United Kingdom.
Most tests can only be purchased as a subscription.
Incorrect at-home sample collection may prevent some tests from being carried out.
About Thriva
Thriva is a direct-to-consumer health testing company that was founded in 2016 by Eliot Brooks, Hamish Grierson, and Tom Livesey. The company is headquartered in London, England.
Their services are only available in the United Kingdom. Thriva declares their partner laboratories are compliant with ISO standards and the Care Quality Commission.
The company maintains they are not a diagnostics service and they do not aim to replace doctors.
Review of Thriva Products & Features
Thriva offers at-home blood tests. They will then generate reports that cover common health issues and give information and advice to help people improve their quality of life. To get started, users need to create an account on their website and answer a few questions regarding diet, lifestyle, mental wellbeing, and medical history.
The company offers a subscription program, in which they will send out new test kits every three months, but the frequency can be changed according to the customer's preferences. Users can choose to subscribe to the testing package suggested by the company based on survey answers and past test results, but they can add or remove any product from their plan.
Thriva also offers one-off tests that are not a part of the subscription service and need to be purchased separately. Users can access the platform for free, but the services are limited. Those who subscribe to Thriva have access to a health plan and supplement recommendations, which are not available for non-paying customers.
The results are ready 48 hours after the sample arrives at their lab, and a general practitioner (GP) reviews the results. Finally, reports are created with lifestyle and general healthcare recommendations.
The subscription-only tests cover common blood biomarkers that can help determine the user's current health condition. They offer 15 tests that analyze over 35 biomarkers, including cholesterol, vitamins, and blood sugar.
The one-off packages include Women's Hormones, Advanced Thyroid Package, Uric Acid, Post-birth, Fertility Insights, and PCOS.
Most of Thriva's tests require a blood sample from a finger-prick test, but they can also provide a venous kit if the user prefers this method of collection.
The platform also includes the Health Hub, a blog that offers over 100 health-related posts to help users clarify any further questions they may have. Thriva does not offer a medical follow-up, and their support team is not able to provide medical advice. If the user subscribes to their services, the company recommends blog posts based on their results.
Recently, Thriva started offering two COVID-19 tests: Coronavirus Antibody Test and Coronavirus PCR Test.
Review of Thriva Reports
Thriva has an online platform where users can view their test results and upload past blood tests. The report presents health scores that are calculated based on survey answers and results. The scores are categorized as long-term health, energy, and mental wellbeing, seen below.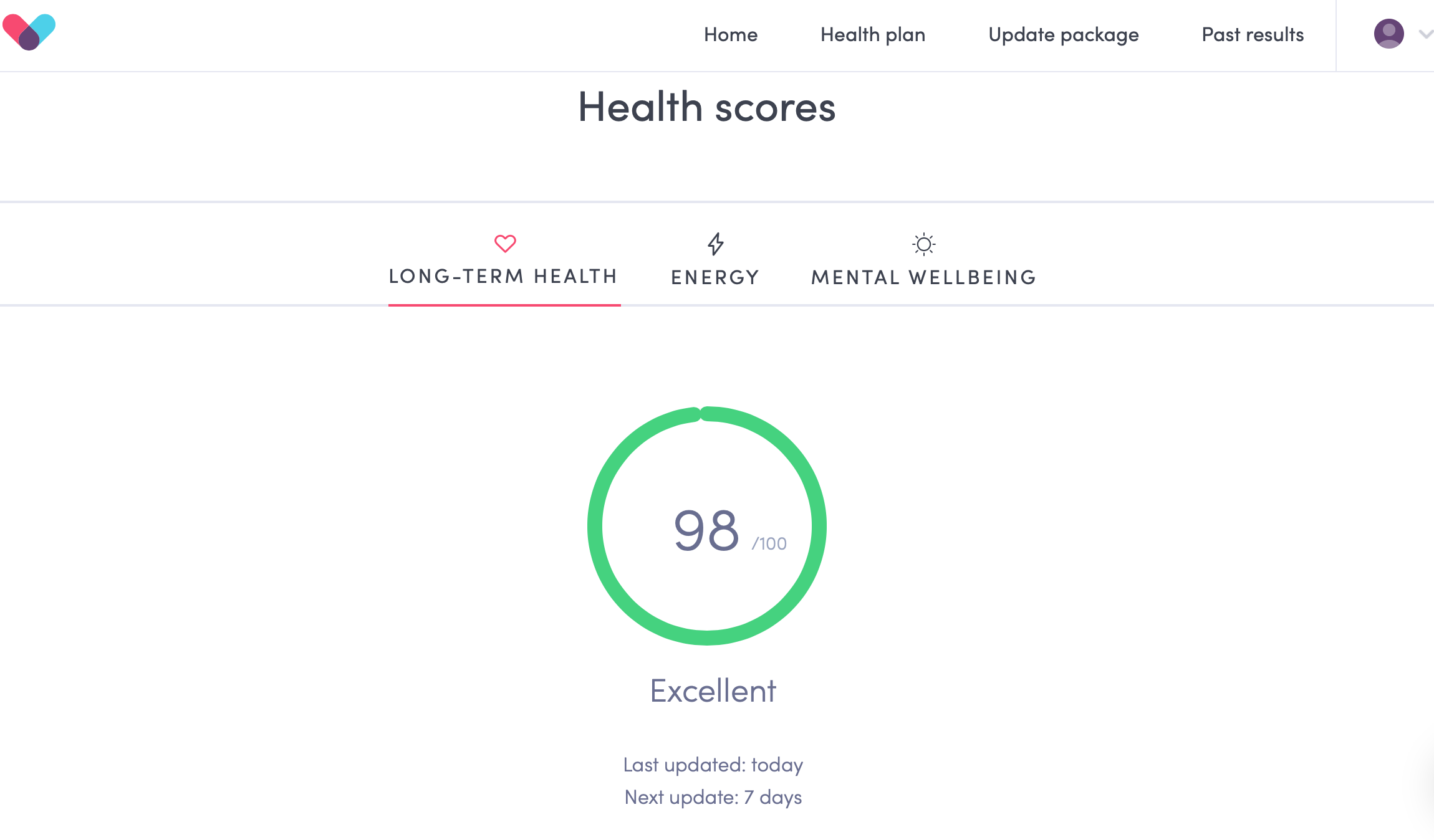 Users can find the tests recommended to them based on their lifestyle and current health status. They can add or remove any test to build their package. Thriva explains why they recommend each one, as shown below. The company provides scientific references to support some of their suggestions, but not all of them.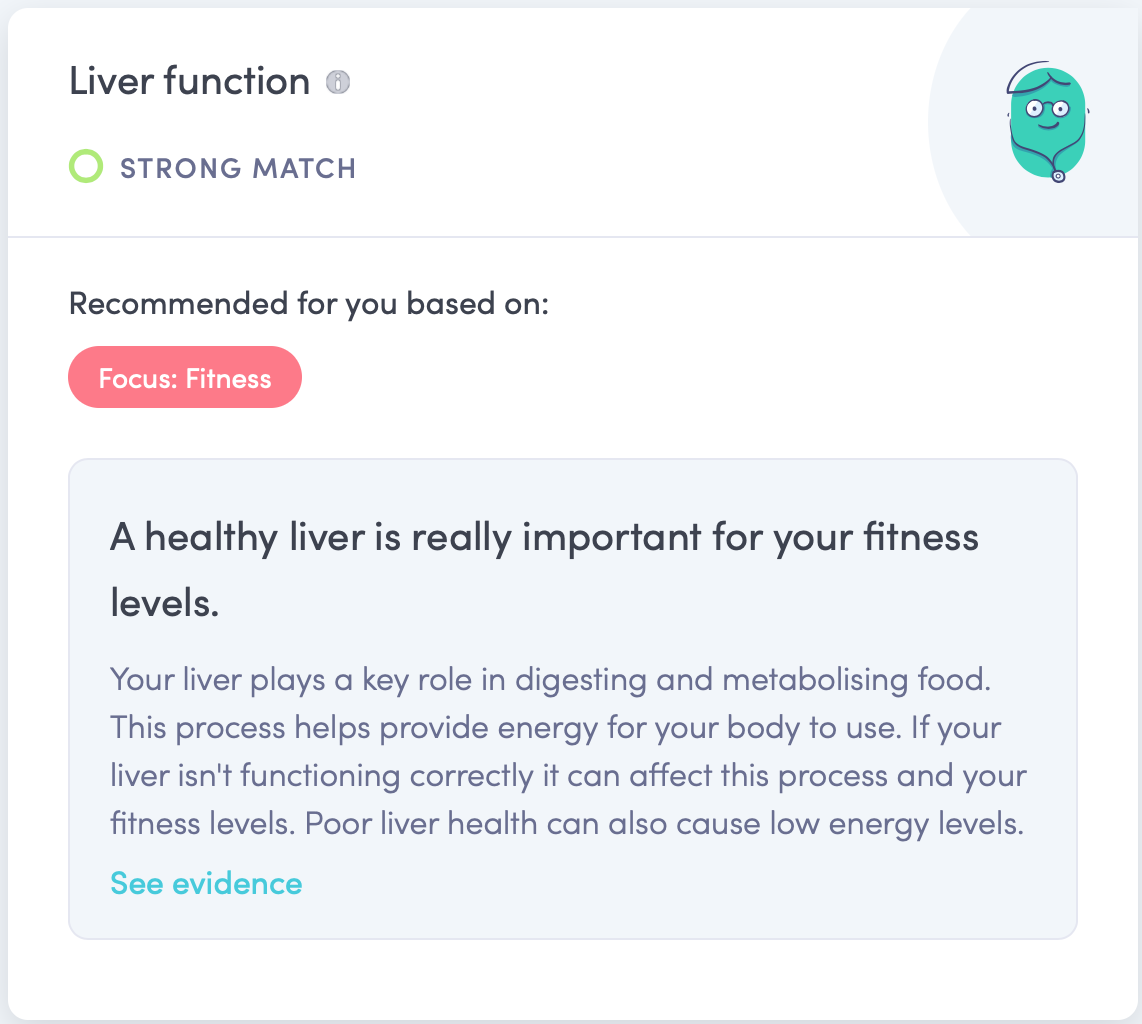 Thriva offers lifestyle, diet, and supplement recommendations. However, they are not personalized to your specific results. The Health Hub articles are informative and they provide references from recognized institutions such as the National Institutes of Health (NIH) and the National Health Service (NHS).
They claim their health recommendations are based on over 500 peer-reviewed scientific publications, but they are not included directly within the reports.
The company offers a health plan, and users can use the platform to check their weekly goals and keep track of achievements. Users can follow the results trend for each biomarker, as seen below.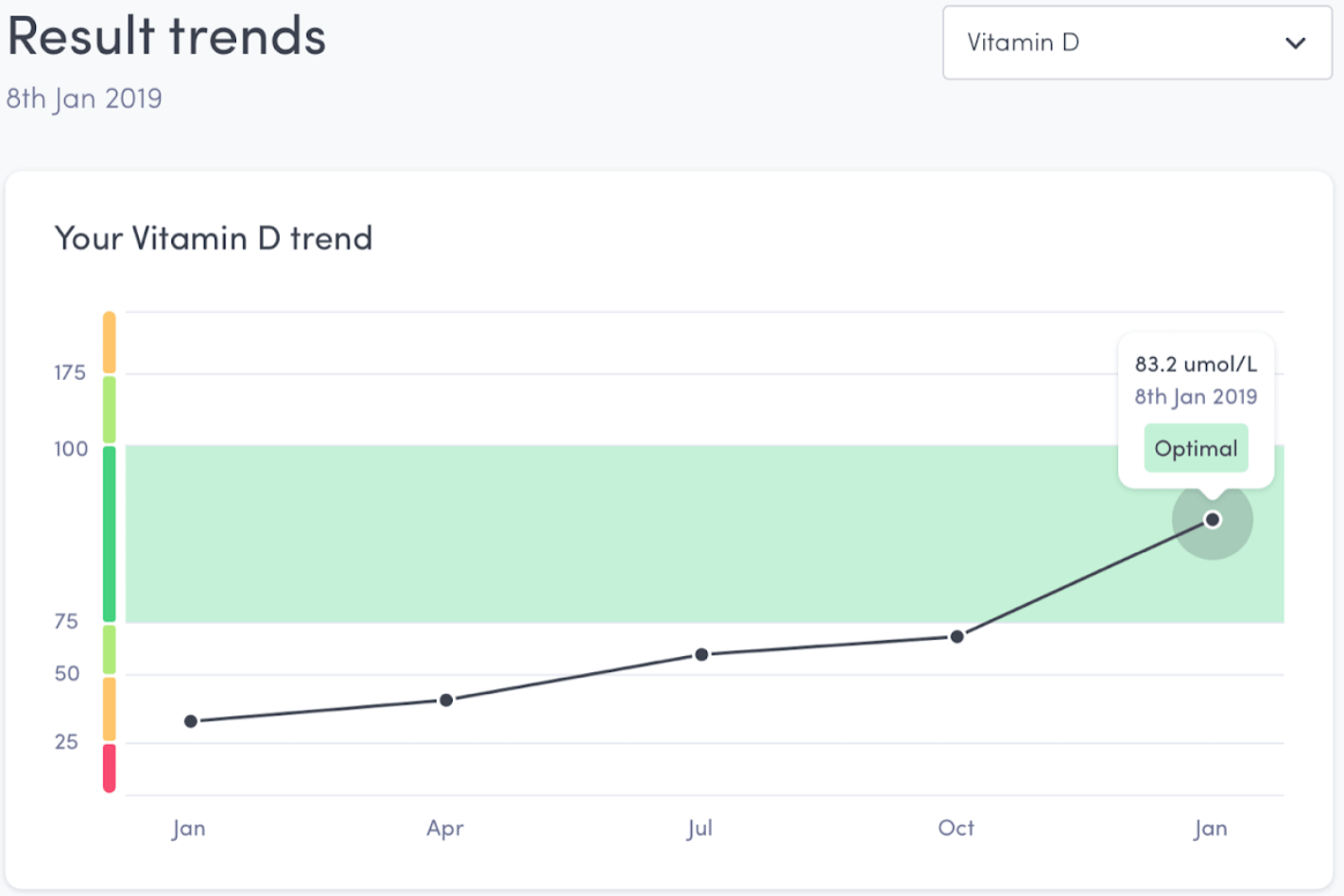 Cost of Thriva
Thriva offers free services that include a health assessment with health scores, predicted blood scores, and test recommendations. Users can also upload their blood results and follow their trends, and the company advertises that a free health plan is coming soon.
The subscriptions start at $30, but the price can increase depending on the tests chosen. The company offers more insights that include the features in the free version, plus Health Hub articles curated specifically for each user, at-home blood tests, GP reports, a health plan, supplement recommendations, and recipes.
The subscription price includes the test kit postage, the GP report, and the lab testing. One-off tests can cost up to £95 ($140). The company offers free shipping with all their orders.
Health Recommendations from Thriva
Thriva offers health advice regarding blood tests. They provide explanations for each biomarker result. At the end of the report, they offer suggestions that are divided into categories such as diet and exercise. Users can keep track of their health and wellness progress on the online platform.
The recommendations are explained and the company offers information about foods and supplements users should implement or remove from their diet. However, these recommendations are not tailored to the results. You will receive a standardized report regardless of where your levels fall. They also recommend other tests based on the most recent results. Thriva does not include scientific references to support their suggestions in the report.
Keep in mind that the company only offers testing for a limited number of lab markers, which might not provide you with a complete picture of your health. For comparison, SelfDecode looks at over 500 lab markers and gives tailored insights to help you improve them.
Review of Thriva Privacy & Data Security
Thriva claims to use the latest encryption technologies and that they never share health information with anyone other than the doctor who reviews the test results. They store data on secure servers based in the European Union and comply with the UK Data Protection Act.
The company asserts they do not share clinical data or test results with third parties, but they may anonymize and aggregate data to create health reports for marketing purposes. They may also share aggregate information with third parties for academic research.
Their partner laboratories are compliant with the United Kingdom Accreditation Service and the samples they receive are disposed of within 7 days. However, as required by law, they store medical records for 10 years.
SelfDecode vs Thriva
SelfDecode delivers natural supplements, diet, and lifestyle suggestions based on your genes and labs that you can implement right away. Thriva offers diet, lifestyle, and supplement recommendations, but they are not personalized.
SelfDecode tells you why they make each recommendation so that you can understand the science behind the suggestion. Thriva bases the recommendations on survey answers and past results, which they explain to the user.
SelfDecode prioritizes recommendations based on their analysis of all the relevant genes instead of one gene at a time (through reports). Thriva does not prioritize their recommendations, but they offer health scores that explain which factors can affect overall well-being.
SelfDecode takes a holistic approach to give recommendations that are best for your genes AND the health topic. Thriva analyzes over 35 biomarkers to make their suggestions.
SelfDecode has a team of over 60 highly skilled scientists, MDs, PhDs, NDs, and software engineers to make sure they deliver the most accurate and science-based health information. According to their website, Thriva's clinical team is comprised of 5 doctors.
SelfDecode is the most comprehensive and looks at more genes & SNPs (up to 83 million) and lab markers (over 500 markers) to deliver the best analysis. Thriva does not offer a DNA test and only analyzes 35 markers to make recommendations.
SelfDecode supports everything with peer-reviewed scientific studies in their research and checks for contradicting information. Thriva claims to base their recommendations on over 500 scientific studies, but they do not provide them in the reports.
SelfDecode never sells your data or gives it away. Thriva does not share clinical data but may share aggregated information with third parties.
Comparisons
| | | | | |
| --- | --- | --- | --- | --- |
| | SelfDecode | Thriva | LetsGetChecked | InsideTracker |
| Personalized & holistic health recommendations | Yes | Yes | No | No |
| Genes & lab markers analyzed | Up to 83 million genetic variants and over 500 lab markers | 35 lab markers in total | A few markers per test | 261 genetic markers and 49 lab markers |
| Products | DNA testing, wellness reports, health recommendations, lab test analyzer | At-home blood tests, health and wellness reports | At-home testing for health and wellness | Blood and DNA testing, health and fitness reports |
| Raw data access | Yes | N/A | N/A | Yes, for $499 |
| Cost (USD) | $97 – $389 | $0 – $167 | $49 – $349 | $49 – $589 |
Thriva Reviews
While Thriva does not have many expert reviews, they have numerous customer reviews.
Trustpilot – 1,033 Customer Average Rating of 4.1 of 5 stars
Some Thriva reviews share problems collecting the blood sample, which prevented some biomarkers from being tested. The company offers a refund or store credit for most cases, but not all.
Facebook – 160 Customer Average Rating of 4.1 of 5 stars
Users say the receive their test results within the timeframe. Some people were concerned about taking a finger-prick test but comment that it was a very easy process.
Google Reviews – 302 Customer Average Rating of 4.2 of 5 stars
A few reviewers could not have their results processed due to a faulty blood sample, which the company says is a recurring problem.
Alternatives to Thriva
SelfDecode: The best health-focused DNA analysis that offers detailed health recommendations through personalized reports and a genetics blog. Additionally, with SelfDecode Labs, you get insights based on over 500 lab markers.
Thriva Review Summary
Thriva's at-home health testing provides information and general guidance on how to proactively control and improve overall health. The company does offer recommendations, but they are not related to your specific results. They disclose that their tests are not a replacement for a doctor, and they do not require a referral from a healthcare professional.
The company offers a subscription service for their test kits and requires users to take multiple blood tests for more accurate and up-to-date recommendations.
Regular blood tests are useful for determining current health conditions, but Thriva only examines a few biomarkers to give lifestyle advice. With a single DNA test, SelfDecode analyzes up to 83 million genetic variants to provide personalized health recommendations based on DNA through detailed wellness reports. SelfDecode also examines over 500 lab markers with SelfDecode Labs and gives insights into how to get them to their optimal levels. Just upload your lab results or purchase lab tests from SelfDecode for a complete picture of your health.
Related