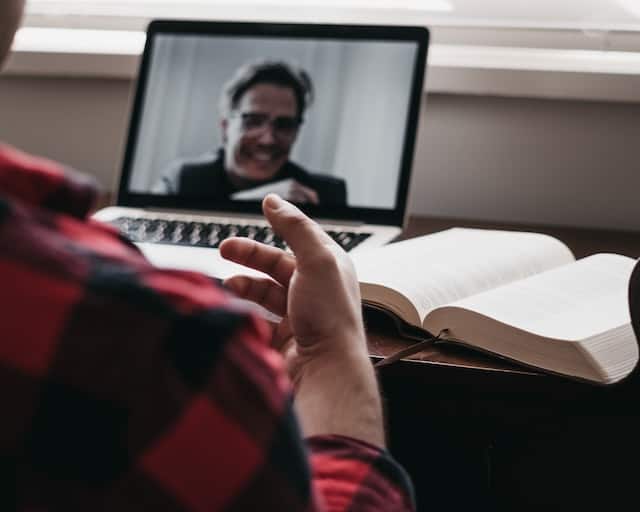 Overview
Product: Client management and telehealth platform.
Cost: Free to up to $135+/month (14-day free trial period).
Features: Client management, scheduling, billing, wellness programs, telehealth.
Who is it for: Health coaches, functional medicine practitioners, mental health providers, nutritionists.
Alternatives: SelfDecode Pro helps healthcare professionals manage their clients and build custom health plans by providing personalized recommendations based on DNA and labs.
What Is Healthie?
Healthie was founded in 2016 by Cavan Klinsky and Erica Jain with the goal of providing a platform for dieticians and nutritionists to interact with their clients. They did this by developing a client management and telehealth product designed to reduce administrative tasks and promote ongoing interaction with clients.
It has grown since then to include health and wellness practitioners. A recent funding round of $16 million has helped them expand their product to a wider practitioner audience.
Review of Healthie's Features
Healthie offers a variety of tools for practitioners, which can be accessed through a web browser and the Healthie app. Features available to the practitioner depend on the plan level.
Client Management Portal
Available on web & mobile, for scheduling, payments, data sharing, and messaging/email. Clients can input data like weight and BMI/BMR, as well as syncing with wearable devices. Practitioners can provide feedback on clients' logs, journals, goals, and activities for real-time support.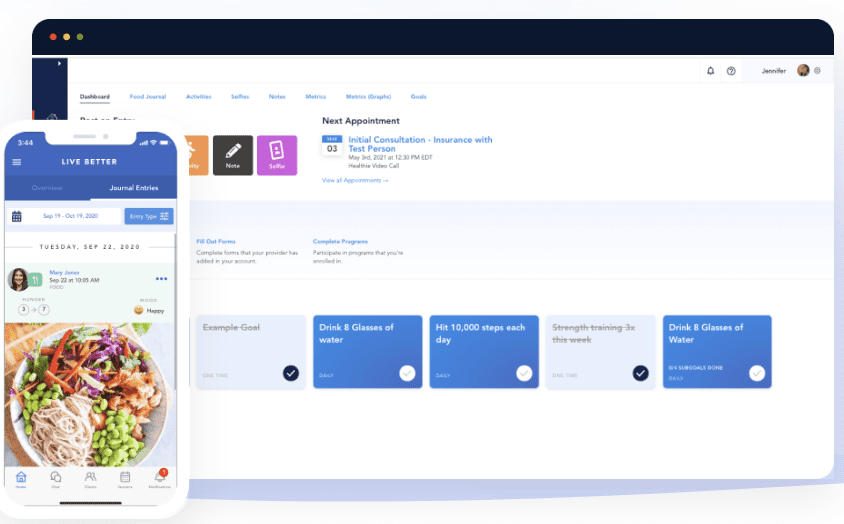 Electronic Paperwork and Forms
Practitioners can send intake, insurance, and other paperwork and receive notifications of completion. Healthie also allows practitioners to share documents like recipes, meal plans, gene and lab reports, and provides reports on clients, trends, and payments.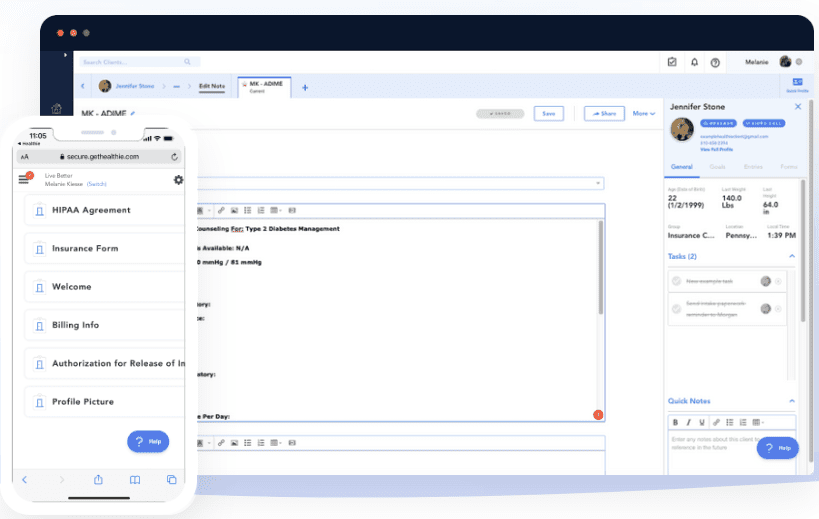 Health/Wellness Programs
Healthie allows practitioners to create wellness programs, but does not offer insights based on the client's health data. Practitioners will need to do extensive research regarding health interventions to discover which ones will have the most impact on their clients' health according to their genetics and current lifestyle and lab results.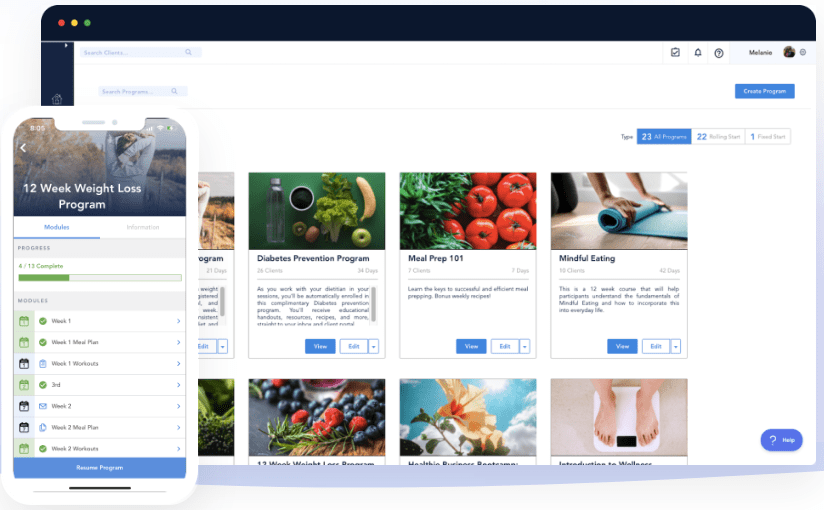 Healthie App
The Healthie app is available for iOS and Android devices and allows providers to manage and engage with clients for on-the-go care. Clients can log journals, book appointments, and sync their wearable fitness devices. Providers can upload/review documents and share them with clients. It also has HIPAA-compliant chat and telehealth features.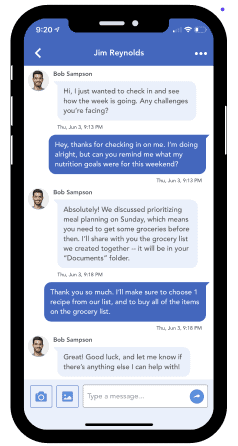 Other Healthie Features
Scheduling. Healthie offers scheduling tools for practitioners, allowing them to set availability by type and location, sync with personal and organizational calendars, and send automated reminders.
Billing/Payment/Insurance. Practitioners can process and track client payments, send invoices, and store credit cards on file. Healthie also allows users to create custom and subscription content for purchases online, and bill, process, and claim for insurance.
Cloud-based. Practitioners can make use of common templates, like ADIME & SOAP, or can create custom charting forms and care plans to share treatment recommendations, export charting notes to share with clients, and other resources that can be accessed across team members.
Telehealth/Webinars. Healthie allows for video consults and webinars on desktop, laptop, tablet, and mobile, as well as screen-sharing and note-taking capabilities.
Healthie Pricing
Healthie offers a number of pricing options depending upon features wanted, and meant to scale with the size of the practice, from just starting out, to white labeling and customizing for a larger business.
Starter: Free. Meant for those just starting out, limited to 10 clients.
Essentials: $45/month. Expanded clients and features.
Plus: $115/month. Unlimited clients, online programs, and group telehealth.
Group: $135/month. Adds group practice features.
Enterprise: White labeling. Pricing depends, allows the product to be customized to the business.
Healthie offers free trials for the Essentials, Plus, and Group plans.
Health Recommendations from Healthie
Health recommendations are not made directly from Healthie, but by those who utilize the platform. If, for example, DNA analysis were to be used to make recommendations for a client, it would be due to the practitioner inputting that information onto the platform.
Other health documents can be uploaded for use, but all recommendations based on any information in the system have to be compiled by the practitioner.
Review of Healthie Privacy & Data Security
Personal information is not sold to third parties, and all information and communications done within the platform's parameters are HIPAA compliant and within its standards and guidelines.
Healthie Reviews
Apple App – 4.6 of 5 stars. Few complaints about bugs and the wish for landscape mode in mobile.
Google Reviews – 3.1 of 5 stars. Some complaints over bugginess, lag, and goals features.
Getapp Review – 4.2 of 5 stars. Some complaints about poor customer service.
Alternatives to Healthie
As it is a CMS and not specifically designed to analyze and recommend based on a client's DNA or lab work, Healthie does not present recommendations for either. It allows for practitioners to input information to be used, but does not offer interpretation services.
This means that someone could take lab or DNA reports from a place like SelfDecode Pro, which also offers you a place to easily store and manage all of your clients' DNA and lab data in one place, and present and discuss report information with a client.
A CMS like Healthie is great for a number of reasons to make practitioners more efficient and effective, but if you want the additional benefits of DNA and lab analysis to expand and enrich a client's recommendations, SelfDecode can provide the following:
Personalized Health Recommendations. Practitioners can upload raw data files or order DNA tests from SelfDecode to receive personalized diet, lifestyle, and supplement recommendations for clients. SelfDecode uses cutting-edge AI and machine learning to analyze up to 83 million genetic variants to provide the most accurate genetic predisposition results and recommendations.
Automatic Results Reader. SelfDecode Pro also allows practitioners to easily upload lab results from an image or PDF file into a lab analyzer tool. You can view trends and compare past results directly from the client's profile. SelfDecode provides tailored suggestions on how to optimize over 1,000 lab markers, which can help practitioners choose the best treatment plan for clients.
Data-driven Health Regimen Builder. Practitioners can build custom health plans for clients by adding recommendations with a click of a button. For each health recommendation, SelfDecode provides detailed explanations of how it can help with the health issue based on DNA, lab, and environmental data.
Client Dashboard: SelfDecode Pro offers a platform for health practitioners to securely store and analyze their clients data, including DNA, labs, and lifestyle information. Easily share reports and assessments with clients, order tests, and create custom supplement formulas based on each client's health data.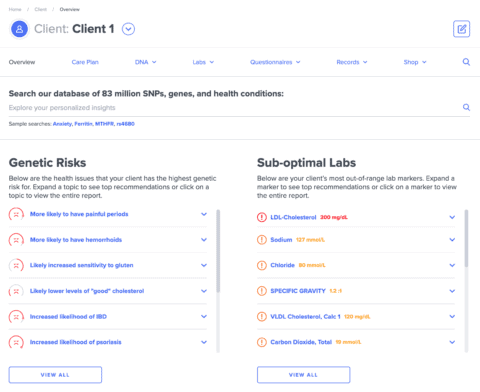 Summary
Healthie's features provide health professionals with a wide range of tools to manage their practice with scheduling, billing, and provide a central hub to store clients' data, communicate in various ways, and to utilize programs for things like nutrition, exercise, and weight loss. When it comes to health data interpretation, however, Healthie does not provide the necessary tools to help practitioners analyze complex health data.
If you want to offer the additional options of DNA and lab analysis with accompanying recommendations, and truly personalize client health, then one may want to include SelfDecode Pro. You can easily manage your clients and their health data, and receive personalized recommendations to help you provide an appropriate action plan more efficiently and effectively.
Book a free demo call today to see if SelfDecode Pro is the right fit for you and your practice.