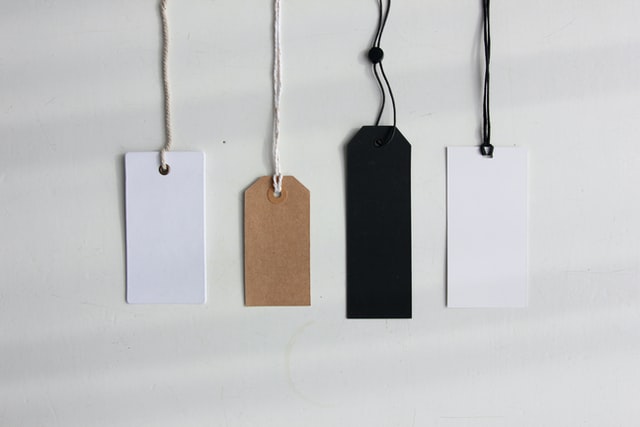 A DNA test can be an investment. Depending on which company you choose, it may cost you a good amount of money. Read on to find out how much is a DNA test, and what are your possibilities when it comes to learning more about your genetics.
What is a DNA test?
Before discussing how much is a DNA test, let's first review what it is and what it can offer you.
DNA tests will analyze your genes to look for changes or differences in your genetic code. From these variations, you can find out a lot about both your health and your ancestry.
One way that a DNA test can help you is by telling you more about your ethnicity and helping you find DNA relatives. Another more practical application of DNA testing is to give actionable insights that can help you improve your health based on your genes.
After you figure out what your expectations are when it comes to genetic testing, you can research to find out how much is a DNA test from specific companies that can address your needs.
How can you get a DNA test?
A few years back, it wasn't as easy to get your DNA tested. Now, you can easily buy genetic tests from websites such as Amazon or even at your local drugstore. Plus, many providers allow you to purchase directly and securely from their website.
If you're looking for DNA tests as a tool to diagnose an illness or condition, however, you'll probably need to go through your doctor. In some cases, these tests are even covered by insurance, so you won't have to worry much about the DNA test cost.
How much does a DNA test cost?
How much DNA testing costs is not a question that's easily answered. Prices can vary widely depending on what is its intended purpose. For example, if you want a diagnostic test for rare diseases, it can cost you thousands of dollars if not covered by insurance.
Direct-to-consumer tests for ancestry and wellness are usually more affordable, but prices can still vary depending on which test you choose – A SNP analysis is much more affordable than whole genome sequencing (WGS).
SNP chip tests are what most direct-to-consumer DNA testing companies offer you. This test looks only at variations in your DNA that have been researched and have a known effect on your body. By targeting these specific locations in your DNA, these companies can give you insights into which variants you possess in a cost-effective way.
How much is a DNA test from SelfDecode?
SelfDecode is a subscription-based DNA analysis service that gives personalized recommendations based on your genetic results.
A SelfDecode annual plan is priced at $97, billed once a year, and will give you access to the following features, among others:
DNA Wellness Reports
Prioritized and personalized diet, lifestyle, and supplement recommendations
Unlimited access to the personalized genetics blog
Access to Lab Test Analyzer so you can upload your lab results for a complete picture of your health
A SelfDecode DNA test kit costs $90 and can be added to your purchase when you sign up for a plan. You'll have full ownership of your DNA data and can download or delete it at any time. If you already have your raw DNA data, you can upload it at no additional cost to get access to your reports.
If you want unlimited access to all current and future DNA reports, you can sign up to be a lifetime member for a one-time fee of $297 ($387 with a DNA kit).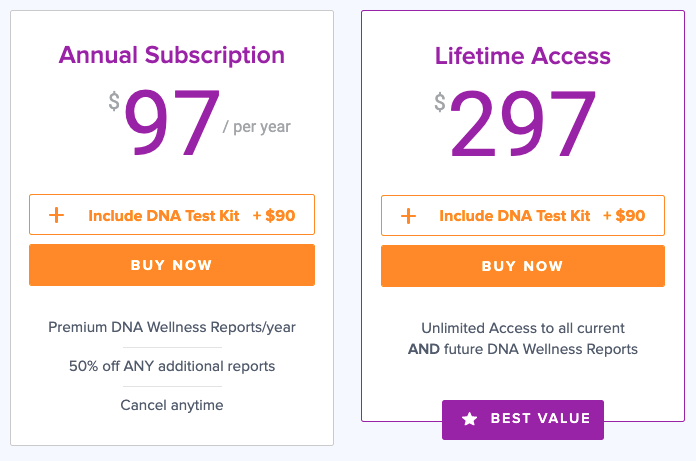 Now that you know how much is a DNA test from SelfDecode, you can check out our review here to learn more about the company.
How much is a DNA test from 23andMe?
23andMe offers you two options for a DNA test:
Ancestry + Traits: $99
Health + Ancestry: $199
For more information on your health and access to exclusive ancestry features, you can become a 23andMe member for $29/year, plus $179 for your DNA test. With a membership, you'll also have access to new reports they release.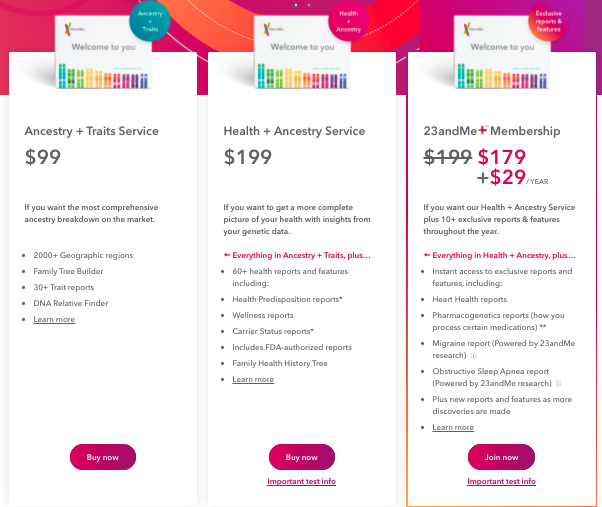 Despite offering some insights into your health, currently, 23andMe doesn't give you much guidance on how to counteract the negative effects of your genes. For more information on this company, read our comprehensive review here.
How much is a DNA test from AncestryDNA?
AncestryDNA offers the following for DNA tests:
AncestryDNA: $99
AncestryDNA Traits + Family Tree Bundle: $100
AncestryDNA Traits: $119
If you choose to get a DNA test from this company, you'll receive extensive information on your ancestry – they have a vast database of historical records and over 15 million DNA users for you to possibly match with.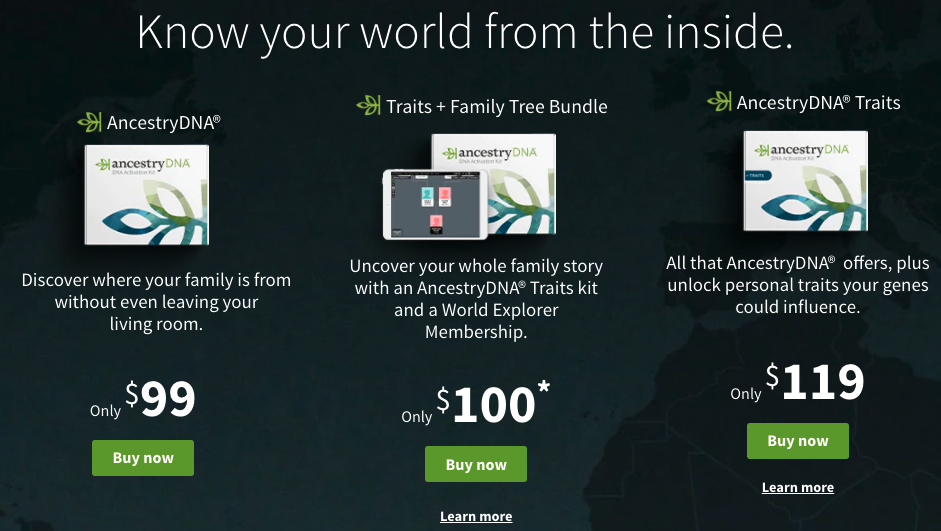 Unfortunately, in January 2021, Ancestry announced the discontinuation of AncestryHealth. So, if you're looking for insights into your overall well-being, you'll have to look elsewhere.
Check out our review here to learn more about the company.
Whole genome sequencing
While a SNP chip test will give you a look into parts of your DNA that are known to have an impact on your body, WGS offers you a complete picture of your genome.
This way, WGS can be used to identify both known and unknown variants. How useful that information is, however, is still debatable. Although it has come a long way already, the cost of WGS can be upwards of $1,000, which is on average 10 times more expensive than a SNP analysis.
Considering that most of our genes are still a mystery to scientists, you won't get much more than what's available with a SNP chip test.
Is whole genome sequencing worth it?
Not yet.
If you want to get your whole genome sequenced, you still have to pay a premium price for it. A standard SNP chip test can analyze up to a million SNPs generally. Plus, by employing a technique known as genetic imputation, you can infer more genetic variants than what's actually sequenced (like SelfDecode does), but for a fraction of the price.
Currently, only so many SNPs have been studied by scientists, so only a small portion of your WGS result will provide you with any meaningful information. As genetic research moves forward, WGS will inevitably become more useful, but at this time, you're getting very little for the considerable extra cost of WGS.
If you still want more information but don't want to pay thousands of dollars for WGS, SelfDecode uses AI and machine learning to accurately predict and analyze up to 35 million genetic variants to give you the most accurate results. The reports also come with personalized recommendations based on your DNA so you can learn how to counteract the negative effects of your genes.
Takeaway
The good news about taking a DNA test is that you'll only have to do it once, granted that you have access to your DNA data afterward. Before purchasing a DNA test, however, it might be prudent to research prices and compare what each company has to offer.
Figuring out how much a DNA test is also requires you to decide how much you're willing to pay. If you're willing to go all out and get your genome fully sequenced, it might cost you over $1,000.
For a SNP chip test that can give you actionable insights based on researched genes, it can be as little as $90. Additionally, if you choose a DNA company such as SelfDecode, you'll get an analysis of up to 35 million genetic variants for a fraction of the price of WGS.
Whether your focus is on ancestry or health, many companies out there may be able to help you achieve your goals. For personalized diet, lifestyle, and supplement recommendations that are backed by science, you should check out SelfDecode.
Related