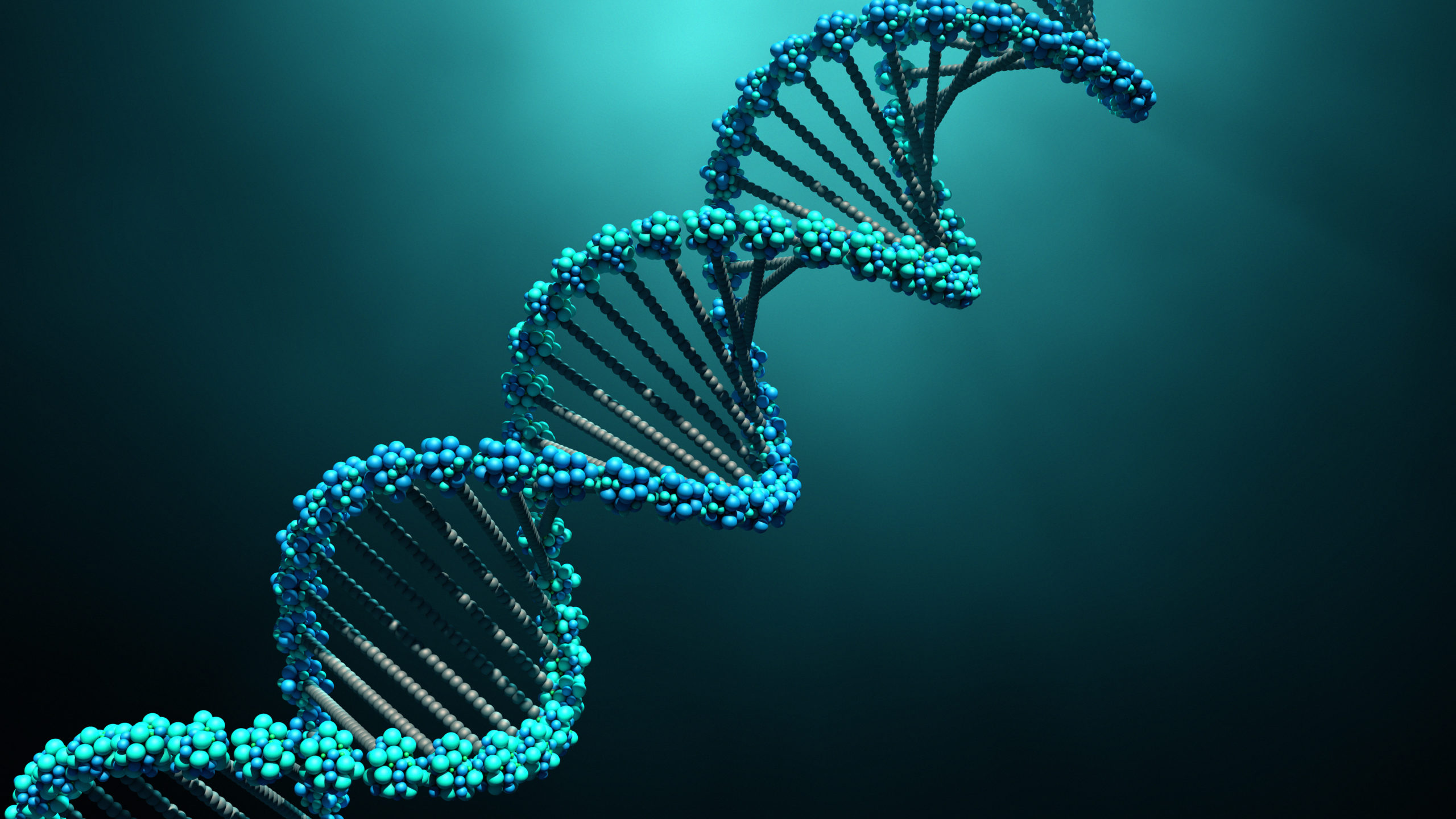 Overview
Products: An ancestry DNA test & reporting
Cost: $99-$119 for tests, $25-$50 for an optional subscription
Reports: ancestry and traits
Raw data access: yes
Privacy: transparency and ensuring consent from customers
Alternatives: SelfDecode, 23andMe, MyHeritage
Pros
Significant library of historical records.
A popular test so there are a lot of potential test-takers to be matched with.
Cons
Potentially inaccurate ethnic breakdown (according to customer reviews)
No health recommendations of any kind
No longer offers health reports
Expensive monthly subscription for access to records
About AncestryDNA
Ancestry.com was founded in the 1990s by John Sittner, Paul Brent Allen, and Dan Taggart. The company's original goal was to help people learn more about their family history and their ancestors.
Their initial product was an online library of records and educational materials about how to build your family tree. In 2002, they began offering DNA testing to help connect people with family members through their genes.
In 2020, leading investment firm Blackstone completed the acquisition of Ancestry for a total enterprise value of $4.7 billion.
Review of AncestryDNA Products & Features
From 2019 to 2020, AncestryDNA offered two tests: an ancestry DNA test and AncestryHealth, which included health information in addition to ancestry.
In January 2021, Ancestry announced the discontinuation of AncestryHealth. Customers who chose to purchase health reports with Ancestry can access their results through July 2021. After, only the ethnicity, DNA matches, and traits reports will be available.
The company offers you the option to add information about common genetic traits to your AncestryDNA test for a fee.
Ancestry also has a library of historical records that you can connect your data to piece together more information about your family members.
Review of AncestryDNA Reports
AncestryDNA ($99)
This is the company's main test and it provides you with a breakdown of your ethnicity. This breakdown can be quite thorough, down to the country and even regions within countries.
Some reviews online claim that the data in the ethnic breakdown seems inaccurate compared to other similar tests they have taken, so that is worth considering before choosing Ancestry's DNA test.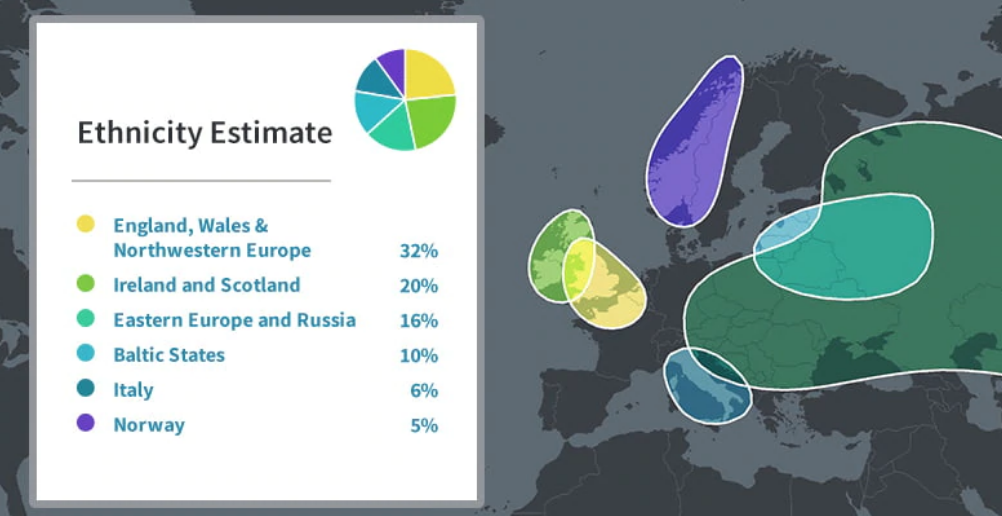 The results also provide you with a timeline that gives a history of what might have been happening with your ancestors in the past.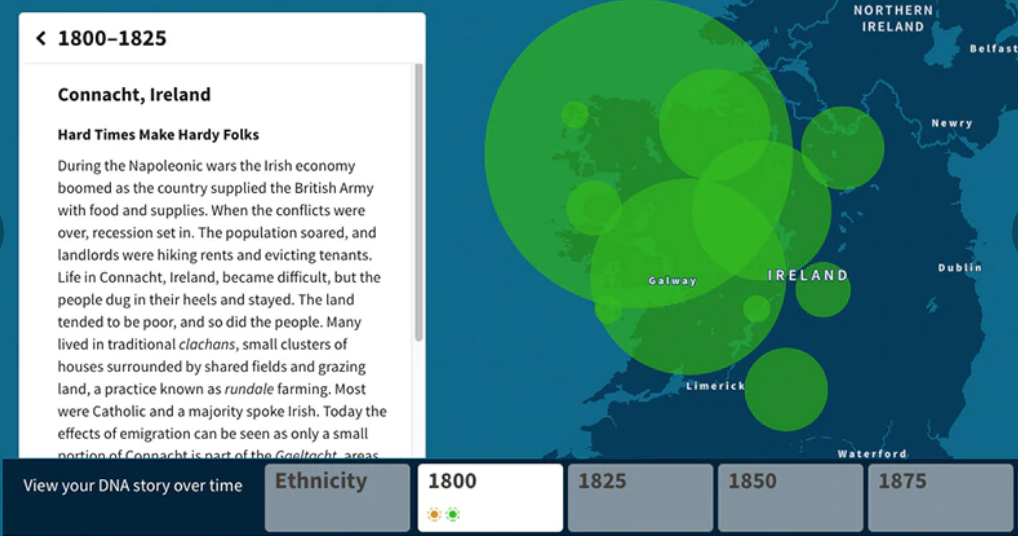 The AncestryDNA report also matches you with potential relatives based on your DNA (if you consent to it). They will tell you roughly how closely related you are to others who have taken the test (if applicable).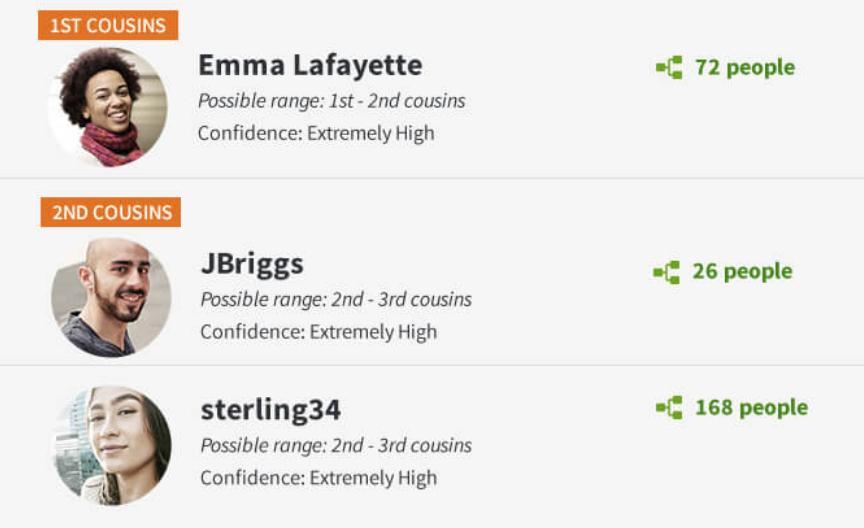 AncestryHealth (Discontinued)
AncestryHealth offers some health-related information in addition to the features included with the AncestryDNA test.
Each report focuses on a particular hereditary condition, not overall health and wellness. This report concerns the BRCA genes which can indicate a predisposition for certain cancers.
The report provides this information about your results and then explains the science behind the BRCA genes for the rest of the report. This result is the only personalized information in the report and no recommendations are made.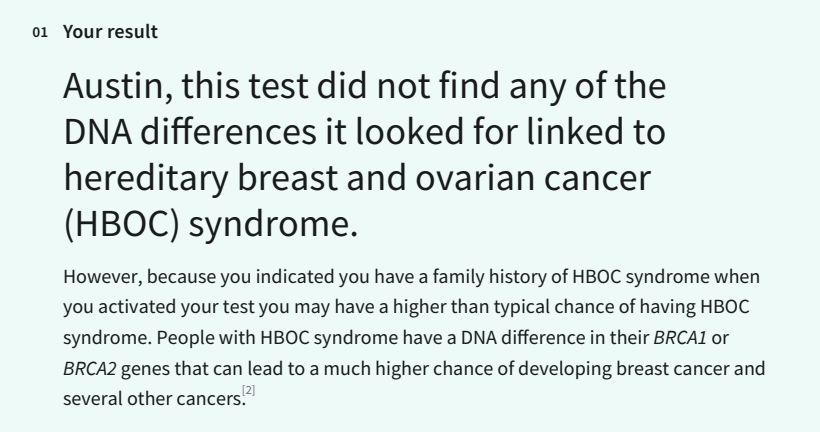 The AncestryHealth reports do not indicate which SNPs your test results are based on and they do not cite the scientific research that brought them to their conclusions.
Traits Add-on ($20)
You can pay an extra $20 to receive an analysis of common genetic traits in addition to the reports included with either test. The included traits are things like potential vitamin deficiencies, hair color, and sensitivity to sweetness.
Cost of AncestryDNA
AncestryDNA's original test that shows ethnicity and matches you with family members costs $99. The AncestryHealth test was priced at $149 before being discontinued. You can add common genetic traits for $20.
If you would like to subscribe to get access to their library of records, the cost ranges from $25 to $50 monthly. The cheapest plan includes only records from the U.S. and the more you pay, the more countries' records you gain access to.
Health Recommendations from AncestryDNA
None of Ancestry's DNA reports make health recommendations. The reports included with the AncestryHealth test tell you your genetic risk but do not provide suggestions about how to address it (besides talking to your doctor).
The AncestryHealth reports do not take a holistic approach and do not focus on aspects of general wellness, such as stress, sleep, or fitness. They provide data only about hereditary conditions, lactose intolerance, and vitamins.
Review of AncestryDNA Privacy & Data Security
Ancestry.com claims that they try to be as transparent as possible about the way they handle your data. They publish a report each year sharing the data requests they received from law enforcement and how many they complied with.
Your data is not stored alongside your personal information at the lab. They also state that you can request to have your data deleted at any time. They also add many privacy settings to ensure they have consent to share your data at every step.
One of AncestryDNA's main features is its ability to connect you to others that you are related to. You must opt in to this feature and you can decide how your information is displayed to your matches, so you can leave all of your personal information out of it if you prefer.
SelfDecode vs AncestryDNA
SelfDecode cannot replace AncestryDNA as they do not offer ancestry DNA reports or connections. However, you can use your DNA data from Ancestry to get all of the following features out of SelfDecode:
SelfDecode delivers natural supplement, diet, and lifestyle suggestions based on your genes that you can implement right away. AncestryDNA does not offer any health recommendations.
SelfDecode tells you why they make each recommendation so that you can understand the science behind the suggestion. AncestryDNA does not make any health recommendations.
SelfDecode prioritizes recommendations based on their analysis of all the relevant genes instead of one gene at a time (through reports). AncestryDNA does not make any health recommendations.
SelfDecode takes a holistic approach to give recommendations that are best for your genes AND the health topic. AncestryDNA does not make any health recommendations and does not focus on general wellness.
SelfDecode has the world's first and only personalized genetics blog that allows you to get new gene-based recommendations daily. AncestryDNA does not have a blog.
SelfDecode is the most comprehensive and looks at more genes & genetic variants (up to 83 million) to deliver the best analysis of genetic risks. AncestryDNA does not share information about the SNPs it tests for.
SelfDecode supports everything with peer-reviewed scientific studies in their research and checks for contradicting information. AncestryDNA does not cite the studies it bases its conclusions on.
SelfDecode never sells your data or gives it away. AncestryDNA makes the same claim but will share it with others with your consent.
Comparisons
| | | | | |
| --- | --- | --- | --- | --- |
| | SelfDecode | AncestryDNA | 23andMe | MyHeritage |
| Personalized & holistic health recommendations | Yes | No | No | No |
| Personalized blog posts | Yes | No | No | No |
| Products | DNA testing, wellness reports, research-based personalized blog posts, health recommendations | DNA testing, health and ancestry reporting | DNA testing, traits, wellness reports, more accurate ancestry | DNA testing, health and ancestry reporting |
| Raw data access | Yes | Yes | Yes | Yes |
| Cost (USD) | $97 – $389 | $99-$119 | $99 – $199 | $99-$250 |
AncestryDNA Reviews
Trustpilot – 3.5 of 5 stars
There are quite a few negative reviews for Ancestry. Some reviewers felt that the ancestry data they received was inaccurate compared to other services. Others had negative experiences with the functionality of the website or their customer support team.
Amazon – 4.6 of 5 stars
Reviews on Amazon are mixed. Some customers felt they got helpful information but others felt that the results were not accurate, especially if they had taken another test they could compare them to.
Read what people are saying about AncestryDNA on Reddit
Reddit users feel that AncestryDNA's user experience is lacking, encountering many errors on their website and finding it hard to access information. Users suggest using your data on multiple platforms to get the most comprehensive picture.
Alternatives to AncestryDNA
SelfDecode: The best health-focused DNA test that delivers personalized diet, lifestyle, and supplement recommendations.
AncestryDNA Review Summary
The only thing that sets AncestryDNA apart from other ancestry reporting services is its library of records that allows you to trace your family's history. Otherwise, claims about the accuracy of their ethnic breakdowns bring into question whether their test offers the most useful ancestry information.
When it comes to health reporting, the results from the AncestryHealth test were very simplistic. They provided information about genetic predispositions to certain hereditary conditions but stopped there. There were no health recommendations made and the scientific information their conclusions were based on was not shared with the user.
Since January 2021, you can no longer purchase a DNA health test through Ancestry, as they announced the discontinuation of AncestryHealth.
If you are interested in both health and ancestry reporting, you can get a far more in-depth and holistic analysis of your health with personalized recommendations through SelfDecode. SelfDecode tells you the science behind their conclusions and allows you to explore all of your data.
Although SelfDecode does not offer ancestry DNA reports, you can download your SelfDecode raw DNA file for free and upload it to another ancestry reporting service to learn more about your ethnic breakdown.
Related