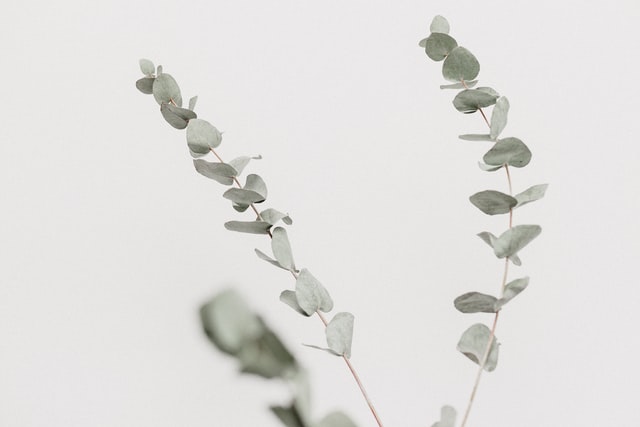 Overview
Products: Genetic Analysis
Cost: Free
Reports: Genetic Analysis Report for health
Raw data access: ichrogene does not offer DNA testing outside of South Korea and requires users to have access to their raw DNA data.
Privacy: ichrogene claims not to sell or give any of your information to third parties for any purpose.
Alternatives: SelfDecode – The best option for health-focused DNA analysis with personalized reports, symptom analysis, and health recommendations.
Pros
Free report – you only need to answer a short survey and upload your DNA file
The report is available within 30 minutes of uploading your file
New traits are added every week
Cons
No health recommendations are given
You must consult with a genetic counselor or health professional in order to make proper use of the information provided
Does not offer a DNA test in the U.S.
About ichrogene
ichrogene is a privately held company based in South Korea and was established in 2017. It was founded by its CEO, Youngah Shin.
Their service in the USA is called iSearchme and is operated by ichrogene USA. They use your raw DNA data from 23andMe, MyHeritage, AncestryDNA, FamilyTreeDNA, LivingDNA, or ichrogene (in Korea only) in order to generate your report.
The company received $944,000 in funding from venture capitalists including a startup accelerator, Naver, in 2020.
Review of ichrogene Products & Features
Signing up for the service is simple. Just register your information, upload your existing DNA file, and answer a few survey questions. This report takes less than 30 minutes to process after your file is uploaded.
ichrogene's results are accessed on their site with bookmarkable traits and filterable categories. Since November 2020, they have added 5 new traits to their result summary list.
According to the FAQ, the service has the ability to take data from multiple DNA services to generate the reports. ichrogene provides an analysis of your genetic predispositions based on current scientific research and publications, and your genetic raw data.
New scientific findings in the future may change some of the interpretations or results. These will be reflected in your results automatically. In addition to the existing 60 traits, new traits are added every week and the analysis is updated automatically.
ichrogene only offers DNA testing in South Korea.
Review of ichrogene Reports
Currently, there are 60 traits featured in the result summary section of your account. These traits include major categories such as:
Nutrition – which vitamin and minerals levels are expected
Skin – your response to tanning, your risk of acne, and how your skin ages
Obesity – your levels of expected body fat, visceral fat, and expected fat and carbohydrate consumption
Lifestyle Risk Factors – your tendencies towards high triglyceride, cholesterol, and blood sugar levels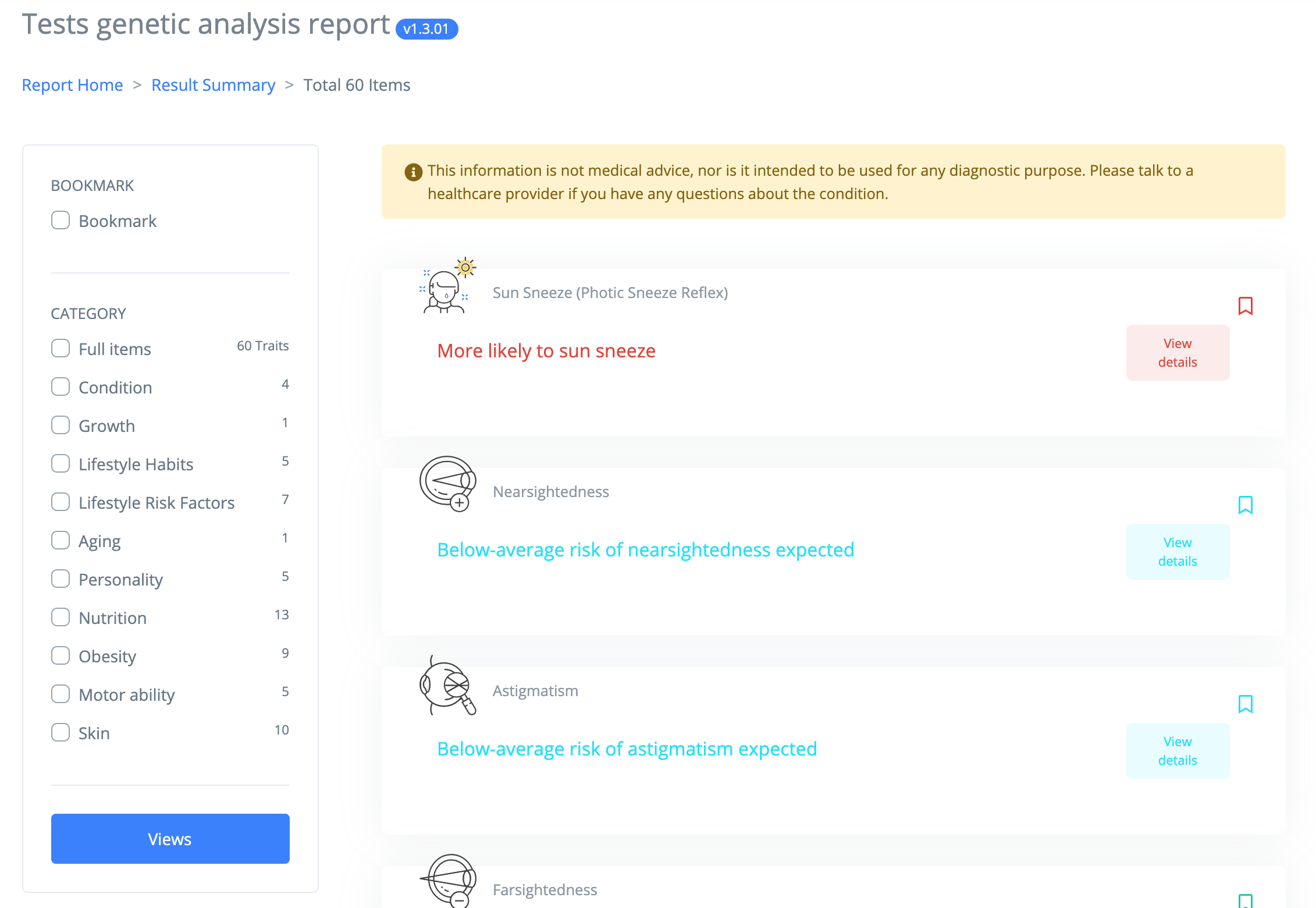 Result Summary main page
Each trait detail shows your level of risk, some details about the trait and factors that can affect it, the prevalence of your genotype, and scientific references at the bottom.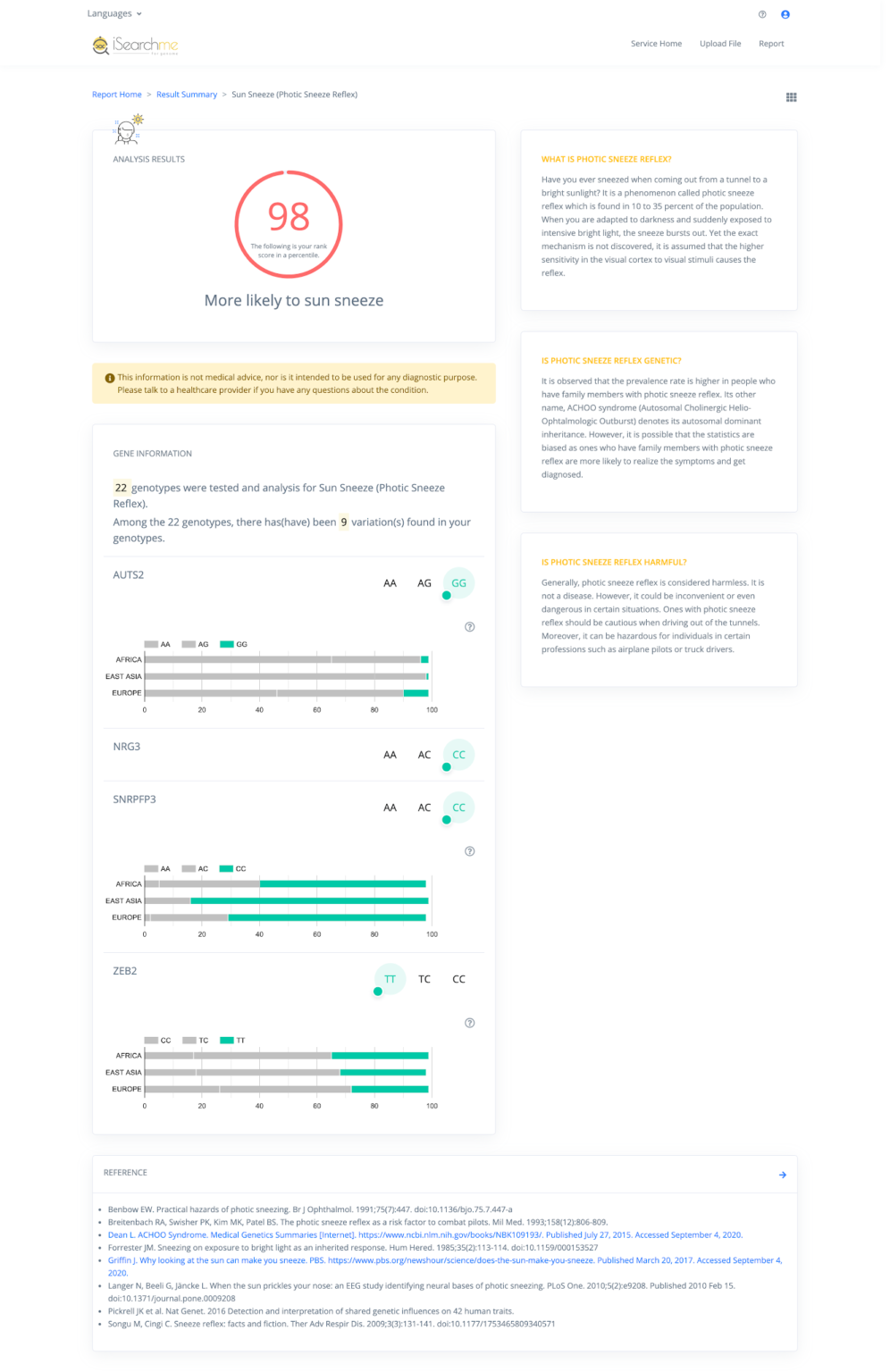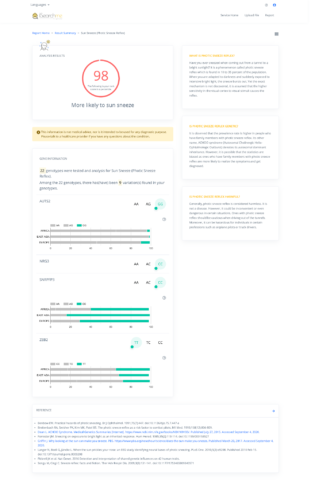 Trait detail for the photic sneeze reflex (sun sneeze)
Cost of ichrogene
The gene analysis performed by ichrogene is free. Your only cost involved is acquiring your DNA genome file from another DNA service.
Health Recommendations from ichrogene
ichrogene only describes your level of risk and genotype prevalence for a list of 60 traits and does not provide health recommendations. You will need to discuss your results with a genetic counselor or healthcare provider in order to make decisions to improve your health.
For health recommendations and a more comprehensive review of how your genes can impact your health, check out SelfDecode's wellness reports.
Review of ichrogene Privacy & Data Security
ichrogene claims that your information is not shared with anybody. They do ask you to fill out a survey relating to your health and lifestyle as they want to learn more about the genetic basis of different traits. This information is only used to tailor the service to the user.
SelfDecode vs ichrogene
SelfDecode delivers natural supplement, diet, and lifestyle suggestions based on your genes that you can implement right away. ichrogene does not make health suggestions based on their analysis.
SelfDecode tells you why they make each recommendation so that you can understand the science behind the suggestion. ichrogene does list references for their trait risks and genotype prevalence data, but offers no health recommendations.
SelfDecode prioritizes recommendations based on their analysis of all the relevant genes instead of one gene at a time (through reports). ichrogene displays general risks and genome information for each trait.
SelfDecode takes a holistic approach to give recommendations that are best for your genes AND the health topic. ichrogene gives you details about certain genetic traits, but offers no recommendations to improve your health.
SelfDecode is the most comprehensive and looks at more genes & SNPs (

over 700,000 SNPs

) to deliver the best analysis of genetic risks. ichrogene looks at genes that relate to the 60 traits they report on, but they do not offer DNA testing.
SelfDecode supports everything with peer-reviewed scientific studies in their research and checks for contradicting information. ichrogene displays scientific references in their trait reports.
SelfDecode never sells your data or gives it away. ichrogene claims not to sell or give any of your information to any third parties for any purposes.
Comparisons
| | | | | |
| --- | --- | --- | --- | --- |
| | SelfDecode | ichrogene | Gene Heritage | Genomelink |
| Personalized & holistic health recommendations | Yes | No | No | No |
| Number of genetic variants analyzed | Over 700,000 SNPs | Does not offer DNA testing outside South Korea | Unknown / Not Disclosed | Not Disclosed |
| Products | DNA testing, wellness reports, research-based personalized blog posts, health recommendations, patient and provider options | DNA analysis, traits report | DNA analysis, Individual, Parent-Child, and Grandchild trait reports | DNA upload, health and ancestry reports, traits |
| Raw data access | Yes | N/A | N/A | N/A |
| Cost (USD) | $97 – $389 | Free | $12 per family member | $0 – $14 per month |
ichrogene Reviews
There are no online reviews for this company, nor do they have a significant social media presence. One Reddit user posted a question here expressing doubt about the company since there were no reviews or other opinions to be found online.
Alternatives to ichrogene
SelfDecode: The best option for health-focused DNA analysis with personalized reports and recommendations to improve your quality of life.
ichrogene Review Summary
ichrogene is a simple service that will give you insights about the risk level of your traits and some information about the genes that influence them.
However, it will not tell you much else. While it is a free service, if you wish to receive any actionable recommendations about your lifestyle, diet, or overall health you would need to look elsewhere.
An alternative such as SelfDecode provides you with science-backed and comprehensive holistic health reports based on your DNA in addition to a personalized genetics blog to help you take control of your health.