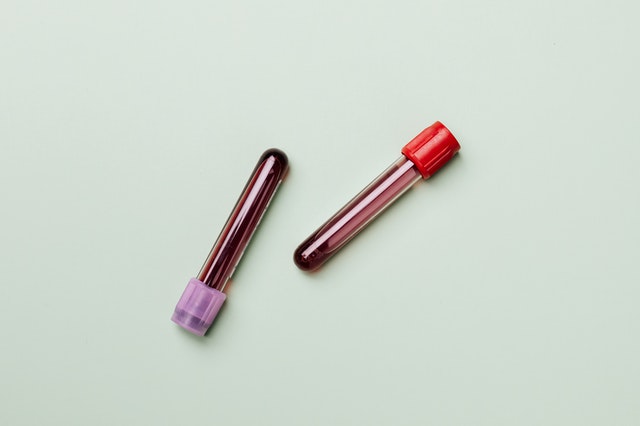 Overview
Products: Lab analysis software.
Cost: $15/month to $250 (one-time) for individuals; $45/month to $1,100/year for health professionals and practices.
Reports: Lab analysis reports.
Raw data access: HealthMatters does not offer any kind of health testing, only lab analysis.
Privacy: HealthMatters claims not to sell user data without permission but may share it with research partners.
Alternatives: SelfDecode Pro Connect analyzes up to 83 million genetic variants and over 1,000 lab markers and offers personalized diet, lifestyle, and supplement recommendations based on DNA and labs.
Pros
Offers services to individuals and professionals
Large database of biomarkers
Cons
Does not offer any kind of health testing
No DNA analysis
Lab results need to be added manually. The company offers an upload service for test results, but it costs $15 per test upload
Does not provide health recommendations based on the results
About HealthMatters
HealthMatters.io is a lab analysis software company that was founded in 2015 by Ben Dame, first providing services to individuals. In 2016, the company started offering their services to healthcare professionals and is now available worldwide.
They are based in San Francisco, California.
Review of HealthMatters Products & Features
HealthMatters offers a medical lab analysis software for both individuals and practitioners to track lab results. The platform offers insights into blood, stool, saliva, and urine medical results from different labs.
The company claims to analyze over 2,000 biomarkers but does not support DNA test data. Both individual users and professionals will need to manually enter their test results into the platform, or pay an additional fee of $15 for their upload service, in which a member of the HealthMatters team will upload the results to their account.
Health practitioners can upload unlimited test results and have unlimited clients. When it comes to professionals, HealthMatters offers solutions to the following business:
Health providers
Health clinics
Labs
Sports medicine
The company does not offer any kind of health testing and limits their services to lab analysis.
Review of HealthMatters Reports
HealthMatters reports are intuitive and easy to understand. The company offers three ways for you to visualize your results:
Graph View or Timeline View: Results are presented in graph form and are connected on a timeline. This allows you to identify trends and compare results.
Table View: Offer color-coding and other tools to facilitate analysis.
Test View: Provides information on a single test report.
A Graph View sample report can be seen below. It includes graphical representations of the results and allows you to track them over time. Under the "Your Results" section, the company displays some basic information about the marker analyzed and in what range your results fall.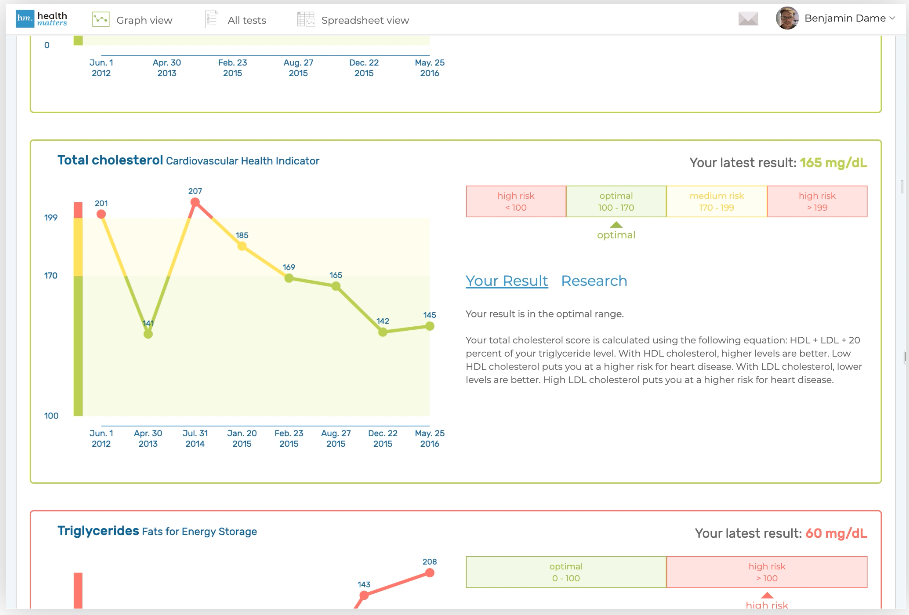 By switching from "Your Results" to the "Research" tab on the Graph View, users can read more about each marker. Keep in mind HealthMatters does not provide scientific references embedded throughout the reports, although they give you the option to expand by clicking on "Learn More". A sample cardiovascular health report can be seen below.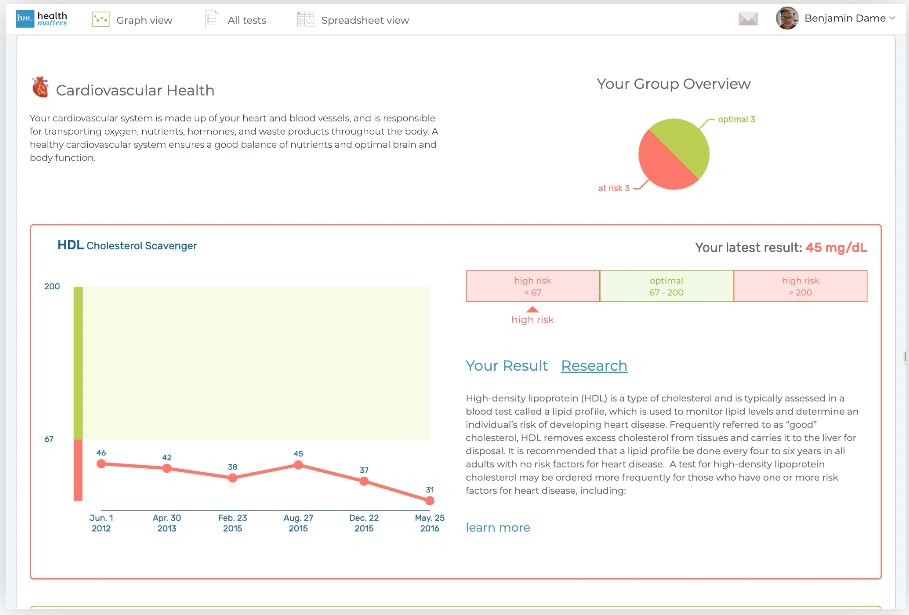 It's worth noting that the company does not provide health recommendations in these reports. They offer a way for health practitioners to provide feedback to their clients alongside their test data.
Professional users can give their clients access to a private dashboard where they can see their results and the health recommendations provided by the practitioner. You can also download the reports and share them by email.
Cost of HealthMatters
HealthMatters' prices vary depending on the plan. They are:
Individuals: $15/month, $79/year, or $250 (single payment)
Health professionals: $45/month
Health clinic: $300/month
Labs: $850 – $3,000/month
Sports medicine: $1,100/year
Health Recommendations from HealthMatters
HealthMatters does not claim to provide health recommendations based on lab results. It's merely a tool for users to keep track of their health and understand their test results. Health practitioner users can interpret the results and provide suggestions to their clients directly alongside their test data.
Review of HealthMatters Privacy & Data Security
HealthMatters may disclose blood test and self-reported information to third parties for the purpose of research or other applications, but claims that no identifying information is shared without users' prior knowledge and consent.
The company states that their research partners may include commercial and non-profit organizations that conduct or support medical research and/or the development of drugs and other health services. Keep in mind that the privacy policy was last updated in May 2018.
SelfDecode vs HealthMatters
SelfDecode delivers natural supplement, diet, and lifestyle suggestions based on your genes that you can implement right away. HealthMatters allows practitioners to add feedback and recommendations to their clients alongside the test data but does not offer advice based on test results.
SelfDecode tells you why they make each recommendation so that you can understand the science behind the suggestion. HealthMatters provides insights based on uploaded lab test results.
SelfDecode prioritizes recommendations based on their analysis of all the relevant genes instead of one gene at a time (through reports). HealthMatters claims to highlight results that are at risk.
SelfDecode takes a holistic approach to give recommendations that are best for your genes AND the health topic. HealthMatters analyzes lab markers individually.
SelfDecode has a team of over 60 highly skilled scientists, MDs, PhDs, NDs, and software engineers to make sure they deliver the most accurate and science-based health information. HealthMatters does not disclose any information about their team.
SelfDecode is the most comprehensive and looks at genes & gene variants (up to 83 million) and lab markers (over 1,000) to deliver the best analysis. HealthMatters has a sizeable database of 2,000 lab markers, but does not analyze DNA.
SelfDecode supports everything with peer-reviewed scientific studies in their research and checks for contradicting information. HealthMatters does not provide scientific references alongside the test results.
SelfDecode never sells your data or gives it away. HealthMatters claims to not sell user data without permission but may share it with research partners.
Comparisons
SelfDecode

HealthMatters
WellnessFX
InsideTracker

Personalized & holistic health recommendations

Yes
No
No

No

One-click regimen builder

Yes
No
No

No

Products

DNA testing, wellness reports, research-based health recommendations, lab test analyzer, professional plans
Lab test analysis
Lab test packages, practitioner consultations, informational blog posts

Blood and DNA testing, health and fitness reports

Raw data access

Yes
N/A
N/A

Yes, for $499

Cost (USD)
$97 – $396 for individuals;

Free for health professionals and practices to use under a patient referral program

$15/month – $250 (one-time) for individuals;

$45/month – $1,100/year for health professionals and practices

$78 – $925

$49 – $589
HealthMatters Reviews
Despite being in business since 2015, there are no HealthMatters reviews online. They are also not very active on social media or the news, with their last social post dating from August 2018.
Alternatives to HealthMatters
SelfDecode Labs analyzes labs and provides actionable interpretations of the results, including whether they fall under their optimal range. You'll receive personalized diet, lifestyle, and supplement recommendations based on the results that can be easily implemented into your health routine.
With SelfDecode Labs, you can easily upload lab tests with images and PDF files and have unlimited access to over 1,000 markers, with more being added – and you can always request new markers. Health practitioners get access to an easy client management system with unlimited user profiles.
When you sign up, you'll also receive full access to SelfDecode for a comprehensive analysis of DNA results. SelfDecode uses AI and machine learning to analyze up to 83 million genetic variants and provides personalized and prioritized health recommendations based on DNA.
With SelfDecode Pro Connect, health providers receive genetic and lab insights and tailored suggestions for each client, allowing them to create a custom health routine based on DNA and labs.
HealthMatters Review Summary
HealthMatters offers a way for both individuals and health professionals to analyze and keep track of lab results. They have a large database of lab markers, but bear in mind that you'll need to manually enter all your results into the platform or pay an extra fee per test to have it uploaded by a member of their team.
The company doesn't offer much in terms of personalized recommendations. Professional users can provide feedback to their clients regarding test results by manually adding their notes and suggestions.
HealthMatters also lacks in terms of DNA analysis. As of 2021, they do not offer genetic insights, which is at the core of precision health. For a comprehensive DNA and lab analysis, you should check out SelfDecode.
Are you a health practitioner? Book a free strategy call to learn how to get custom health reports based on your clients' DNA and labs!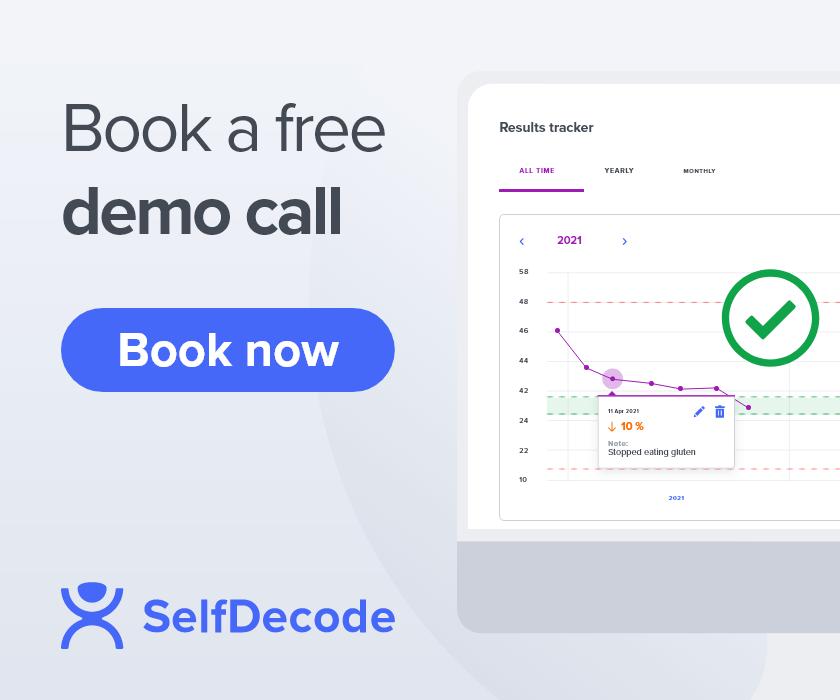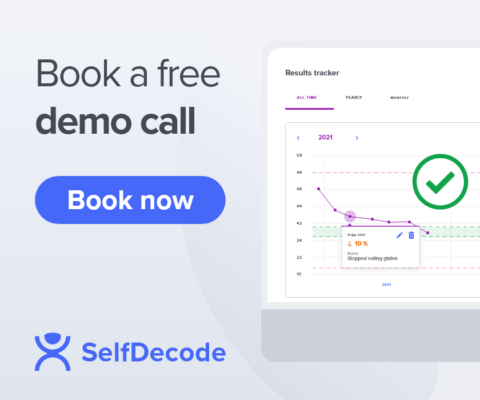 Related Articles