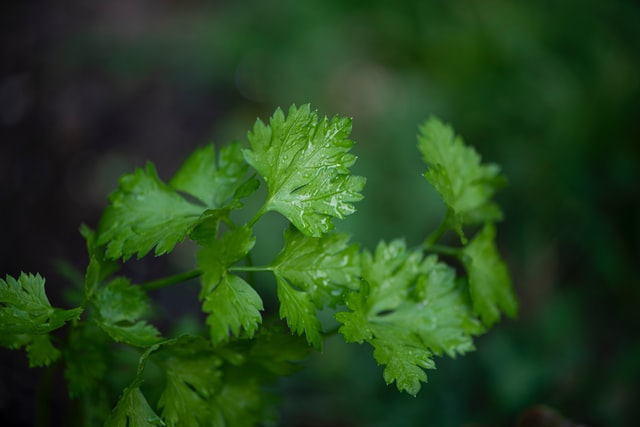 Overview
Products: Parsley Health offers doctor-led personalized and symptom focused holistic and traditional healthcare. They administer lab work, followed by nutrition and lifestyle recommendations. Common health tests such as bloodwork and allergy testing are offered for an additional cost.
Cost: $175 per month for the 12-month membership, or a one-time payment of $1,700 for the annual plan. Supplements are sold from $30-$130 each. Health testing costs are not included with a membership.
Reports: The service includes a personalized health plan administered by a doctor associated with the company.
Raw data access: Parsley does not offer genetic testing.
Privacy: The company claims they will not share, sell, or otherwise disclose personal data without customer consent.
Alternatives: SelfDecode – Personalized health recommendations based on your genes and labs.
Pros
One-on-one consultations with medical doctors and health coaches
Free trial period for new members
Combines holistic and traditional medicine
Cons
Extremely expensive—Parsley will cost $2,000 annually at a minimum
The cost of blood work, specialty tests, and supplements are not included in the membership price
No genetic testing included
About Parsley Health
Parsley Health was founded in 2016 by Robin Berzin, a medical doctor. Dr Berzin completed Medical School at Columbia University and trained in internal medicine in New York City, where the company was founded. The company seeks to integrate technology and wellness into primary care, with a focus on prevention of health issues rather than reacting to them.
In 2019, they have received $36 million in funding from a Series B round. The main physical clinic is in New York City, but Parsley Health also has a clinic in Los Angeles.
Review of Parsley Health Products & Features
Parsley Health main offering is the combination of functional, traditional, and personalized health to help address patients' health issues.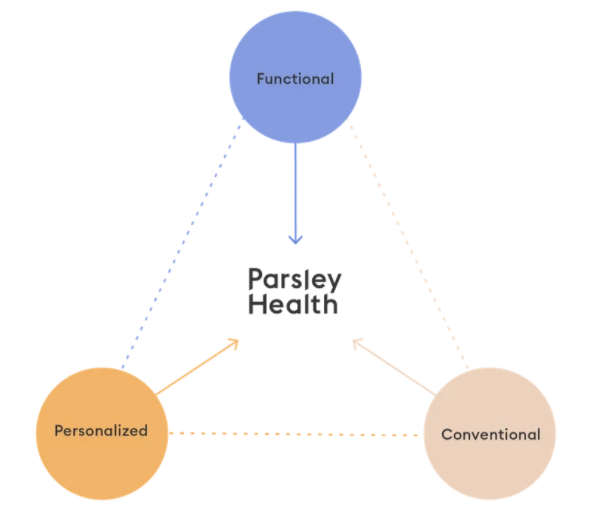 Functional Medicine
The company administers functional medicine practices by observing genetic and personal factors of each patient. After considering these factors, diet, lifestyle, and supplement options are recommended by doctors or health coaches. All supplements that are offered by Parsley are sold separately from the annual subscription, and can cost over $100 each, as seen below.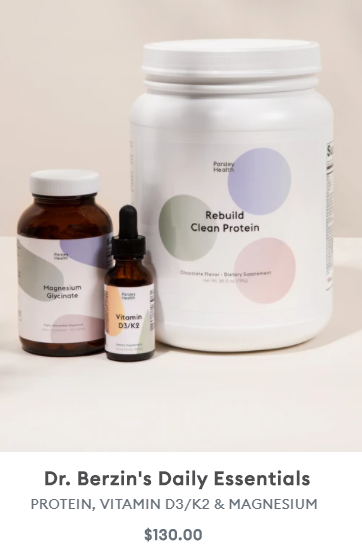 Conventional Medicine
Parsley Health doctors can help diagnose diseases and prescribe pharmaceuticals. However, the company does not recommend customers use the service as their primary care physician because of basic services they do not offer such as emergency care and vaccinations.
Personalized medicine
Clearly, Parsley seeks to be a personalized service, offering five meetings a year with medical doctors and health coaches. Surprisingly, the company does not include any specific information on DNA testing, genetic counseling or genetic variant analysis, which many would consider to be at the crux of personalized medicine.
How Parsley Medicine Works
First, Parsley Health will itemise the personal health information of each patient such as lifestyle, genetics, and health history to better understand their symptoms.
Each patient will be assigned a doctor and a health coach that they can consult with in-person or online 5 times a year each. To get a deeper insight into patients' health, doctors may order a series of health testing, but Parsley Health states that these recommendations are optional.
Included in the 12-month plan are:
5 doctor's visit
5 health coach visits
Online billing and scheduling
Access to advanced biomarker testing (cost of laboratory tests are not included)
Unlimited messaging with your care team through the patient portal
Access to prescription for medications and supplements
The cost of testing is not included in the $2,000+ membership price and all costs are the patient's responsability. What Parsley Health's doctors do is recommend a series of testing that may include blood work and/or specialty testing based on the patient's health goals.
Parsley Health only offers one membership option, a 12-month plan. By becoming a member, patients will have access to health testing such as:
Blood work: Includes nutrients, thyroid function, cardiovascular health, and others.
Specialty testing: Gut microbiome, food sensitivity, and others.
Unfortunately, Parsley Health does not offer genetic testing. If you want to understand the root cause of your issues, you should consider DNA testing, as genetics can greatly influence your predisposition to certain health conditions.
Cost of Parsley Health
Parsley Health offers a trial month for $25. After the trial has ended, it will cost $1,700 for an annual plan, billed as a one-time payment. If a user wishes to sign up for monthly payments, it will cost $175 per month for the 12-month membership. Supplements are also sold directly from the company, and they range from $30-$130.
The company offers a variety of medical tests, including allergies, advanced cardiometabolic health, cortisol, genetics, microbiome health and toxins. The prices of these tests are not listed, but are estimated at $100-$300 per test, and may be covered by insurance.
The cost for blood work, specialty testing, and supplements are not included in the membership price.
Health Recommendations from Parsley Health
Since Parsley Health involves a direct consultation with a doctor, health recommendations will be formally created for customers, or given through a live dialogue.
Personalized health recommendations are a key part of what the company offers. Once a patient has completed the appropriate tests and given information to their assigned doctor and health coach, they can start accomplishing health goals together.
Health recommendations are given regarding a wide variety of topics such as gastrointestinal issues, autoimmune, hormonal, thyroid disorders, and much more. Parsley Health claims it has supported all of the conditions and symptoms below: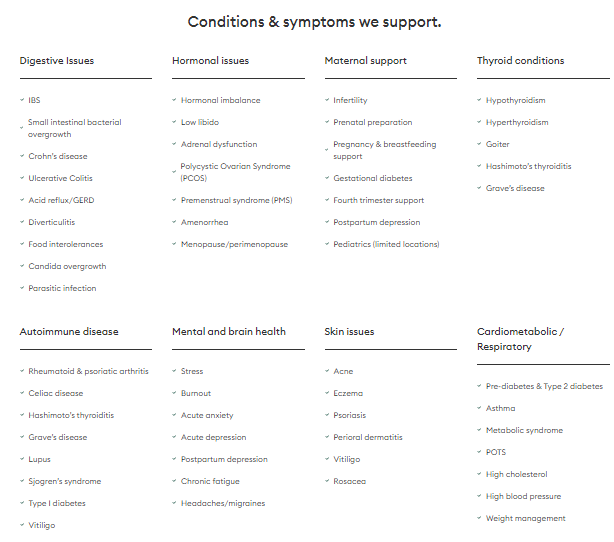 While this appears to be an extensive and well-rounded list, one could consider how much the service doesn't encompass, such as men's health and bone/joint health.
Keep in mind that any testing requested by a Parsley Health's doctor is completely optional and not included in the membership prices. Depending on the price, it might not become viable for patients to undergo all health tests recommended, which could influence the elaboration of the health plan.
Review of Parsley Health Privacy & Data Security
Parsley Health claims to not sell or distribute personal health information to any third party without the consent of the patient. Parsley can use health information to determine what supplements they may sell to patients, which are not covered in the annual fees.
SelfDecode vs Parsley Health
SelfDecode delivers natural supplement, diet, and lifestyle suggestions based on your genes that you can implement right away. Parsley delivers natural supplement, diet and lifestyle suggestions based on a wide range of tests, but charges hundreds of dollars for each test.
SelfDecode tells you why they make each recommendation so that you can understand the science behind the suggestion. Parsley Health makes recommendations based on the patient's health profile, as delivered by a doctor or health coach.
SelfDecode prioritizes recommendations based on their analysis of all the relevant genes instead of one gene at a time (through reports). Parsley does not specialize in genetic testing and does not prioritize recommendations based on specific genes.
SelfDecode takes a holistic approach to give recommendations that are best for your genes AND the health topic. Parsley takes a holistic approach to recommendations and the health topic.

SelfDecode has a team of over

60 highly skilled scientists, MDs, PhDs, NDs, and software engineers

to make sure they deliver the most accurate and science-based health information. Parsley Health has a team of clinicians and health coaches to provide health consultations.

SelfDecode is the most comprehensive and looks at more genes & SNPs (up to 83 million) and labs (over 1,000) to deliver the best risk analysis. Parsley Health does not claim to look at SNPs to deliver genetic risk profiles.
SelfDecode supports everything with peer-reviewed scientific studies in their research and checks for contradicting information. Parsley Health is a clinic founded by a medical doctor and employs other medical doctors and health coaches.
SelfDecode never sells your data or gives it away. Parsley Health claims not to sell or give away any data to any third parties.
Comparisons
SelfDecode

Parsley Health

Health Nucleus

Personalized & holistic health recommendations

Yes
Yes
Professional consultations available
Genes & genetic variants analyzed
Up to 83 million genetic variants and over 500 lab markers

Access to a variety of health tests (not included in the membership)

WGS

Products

Free DNA & lab analysis, DNA testing, wellness reports, research-based personalized health recommendations, lab test analyzer, patient and provider options

Medical testing, health coach and doctor consultations, health recommendations

Whole genome sequencing, full body MRI, a variety of other diagnostic tests

Raw data access

Yes

N/A

Unclear

Cost (USD)

Free DNA upload

$149 for DNA kit + health insights

$399 for DNA kit + premium insights

$1,700/year or $175/12 months without DNA testing

Testing and supplements not included, can cost over $100 each

$4,950 – $25,000+
Parsley Health Reviews
Reviews.io – 4.78 of 5 stars

68 verified users reviewed the products and services of Parsley. Most reviews talk about the supplements offered by the company.
Google Reviews of 55 Customers – 4.4 of 5 stars
Customers on Google Reviews are satisfied with their experience. Importantly, customers are reviewing their interaction with the physical clinic in New York City and their experience there.
Yelp Reviews of 61 Customers – 3.5 of 5 stars
Parsley Health reviews on Yelp are mixed. Negative reviews indicate that customers are spending up to $10,000 on Parsley products and services, without solving many of their health problems. Others are frustrated by the sales tactics of the business, and lack of attention and recognition of their problems.
Read what people are saying about the company on Twitter and Facebook
Alternatives to Parsley Health
SelfDecode: The best option for health-focused analysis with personalized reports and recommendations based on DNA and labs to understand the root of health issues. Users can upload their DNA for free to SelfDecode to receive health insights.
Parsley Health Review Summary
Parsley Health offers a comprehensive service to patients, but with a large price tag. Patients must be willing to pay nearly $2,000 annually at a minimum.
For this price, users should expect to receive comprehensive DNA testing, especially by a company that specializes in holistic care. Unfortunately, they miss the mark on pricing. Genetic counseling is not listed in the service suite that costs $175 per month. Also not included in the membership price are blood work, specialty testing, and supplements.
It's also worth noting that many customers claim to have spent thousands of dollars to be left in the same place as they started—with chronic health issues they still cannot resolve.
If you're interested in a gene-based approach to your health, SelfDecode is a better option. By using AI and machine learning, SelfDecode analyzes up to 83 million genetic variants, many of which are tightly linked to chronic health problems, and gives personalized recommendations aimed at improving your overall well-being, which you can consult at any time from the comfort of your home.
Best of all, individual consumers can upload their DNA and labs to SelfDecode for free to get started. For those who need a DNA test, SelfDecode offers a DNA kit + health insights bundle for $149.
For healthcare providers, SelfDecode offers professional plans to help improve patients' quality of life.
Related