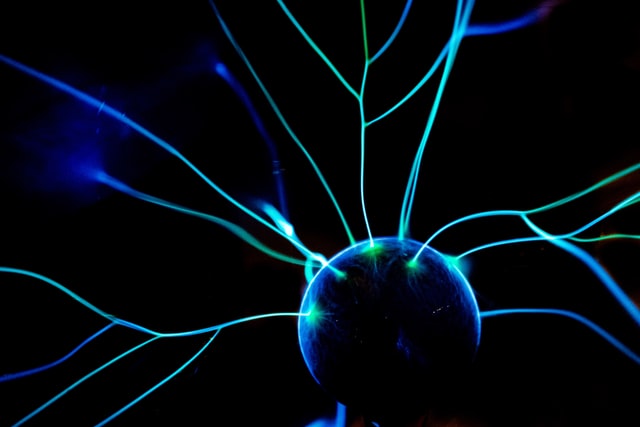 Overview
Services: Full body MRI, Biochemical screening, Biometric scanning, Genetic screening, Professional consultations.
Cost: $3495 per examination. Exams are not covered by insurance.
Reports: Reports that show raw data and give insights on the results of your examination.
Raw data access: Yes.
Privacy: Q Bio is HIPAA compliant and stores medical information on their secure online platform. They claim that customers will have "complete control" over how and what gets shared.
Alternatives: SelfDecode– For under $100, SelfDecode offers personalized health recommendations based on the analysis of up to 83 million genetic variants.
Pros
Comprehensive coverage including a wide range of data points
Non-invasive techniques
Lifetime access to all data
Cons
Very expensive service- one test is $3495
Only available in one location: Redwood City, California
No discounts for additional testing
Potential for very long waitlists and delays
About Q Bio
Headquartered in San Francisco, Q Bio was founded in 2015 by Jeffrey Kaditz, Dr. Michael Snyder, and Dr. Garry Choy. The company's mission is "To remove the barriers to ubiquitous, preventive medicine". They have received $40 million in funding from investors.
The company seeks to achieve their mission by offering non-invasive medical data collection while not sacrificing accessibility of data. They also seek to provide "intelligent tools" for clinicians and customers to understand current and future health risks. Finding early indicators of disease before symptoms arise is a top priority.
Review of Q Bio Services & Features
Q Bio offers many services in their $3450 annual membership and check-up, including a whole body MRI, genetic, blood, and urine analysis, and aggregation of other medical data. A 30-minute telemedicine review is also offered by the company with the annual membership.
All medical data is aggregated and organized on an online dashboard for customers and clinicians to view. The company claims that all the data in their virtual vault is secure and clients can selectively share their results with whomever they prefer.
The company only has one location in Redwood City, California. Members must go to the physical location to get their testing completed, and are recommended to book their check-up 2-3 months in advance.
Review of Q Bio Reports
Q Bio creates reports for their members, but samples are not readily available. Their website does present some images of what reports and telemedicine offered by the company would look like.
As seen in the image below, found on the company website, there is a wide range of data and visualizations found in the reports. Images of MRI scans of a variety of body tissues and systems can be seen, as well as a summary of biomarkers such as the circulatory and digestive summaries seen below.
This sample image also shows an overlay of a sample telemedicine consultation that is provided for 30 minutes in the $3450 annual membership.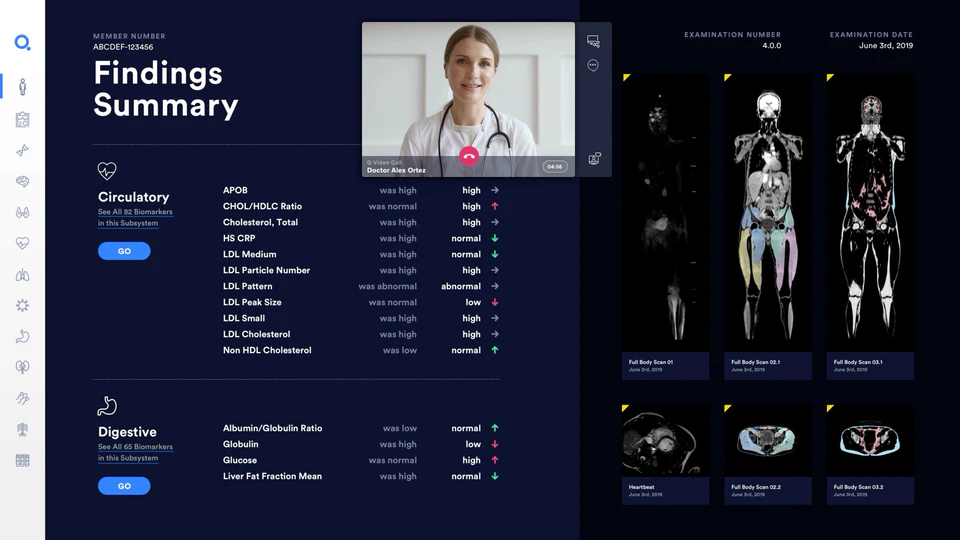 Cost of Q Bio
As a company that focuses on individualized health and disease prevention, the membership is costly at $3450 per year. As mentioned in the above section, the components of the check-up are extensive, but are not covered by insurance.
Q Bio does mention that there is an option for individuals to pay with their HSA or FSA accounts. That being said, there are other more affordable options available to find insights about health that are personalized, while still backed by science.
Health Recommendations from Q Bio
The company does not offer direct health recommendations in their reports, but does offer a 30-minute telemedicine consultation with a professional.
Review of Q Bio Privacy & Data Security
Q Bio makes many claims about their privacy and data security policies. They are HIPAA compliant, and anonymize all samples as they are sent to third party labs for analysis.
The company allows members to share or restrict their information with anyone. Q Bio claims that there will be no sharing of personal health information to any third party without the consent of members.
The company also mentions that they are operating under the Institutional Review Board (IRB) protocol, meaning that the company operates under stringent ethical and safety standards. They also mention that health data collected from customers using this ethical and privacy framework will be used for research purposes.
SelfDecode vs Q Bio
SelfDecode delivers natural supplement, diet, and lifestyle suggestions based on your genes that you can implement right away. Q Bio does not offer suggestions in their reports, but does offer a short consultation with a practitioner in the $3450 package.
SelfDecode tells you why they make each recommendation so that you can understand the science behind the suggestion. Q Bio offers a short consultation with a practitioner included in their membership.
SelfDecode prioritizes recommendations based on their analysis of all the relevant genes instead of one gene at a time (through reports). Q Bio does conduct genetic analysis, but does not prioritize recommendations.
SelfDecode takes a holistic approach to give recommendations that are best for your genes AND the health topic. Q Bio takes a preventative approach to health, looking for biomarkers and other indicators of health risk.
SelfDecode has a team of over 60 highly skilled scientists, MDs, PhDs, NDs, and software engineers to make sure they deliver the most accurate and science-based health information. Q Bio's team includes doctors who provide health consultations to patients.
SelfDecode is the most comprehensive and looks at more genes & SNPs (up to 83 million) to deliver the best analysis of genetic risks. Q Bio conducts a comprehensive analysis in their physical location, including genetic testing.
SelfDecode supports everything with peer-reviewed scientific studies in their research and checks for contradicting information. Q Bio follows scientific standards according to IRB protocols and offers consultations with healthcare professionals.
SelfDecode never sells your data or gives it away. Q Bio claims to never sell or give away data, unless it is for research purposes following IRB protocols.
Comparisons
SelfDecode

Q Bio
Human API

Health Nucleus

Personalized & holistic health recommendations

Yes

Professional Consultations Available
No

Professional Consultations Available

Genes & lab markers analyzed

Up to 83 million genetic variants and over 500 lab markers

Unclear

30,000 data sources

Does not offer health testing

WGS

Products

DNA testing, wellness reports, research-based personalized blog posts, health recommendations

Full body MRI, biochemical screening, biometric scanning, genetic screening, 30-minute professional consultation
Health data integration service

WGS, full body MRI, a variety of other health tests

Raw data access

Yes

Yes
N/A

Unclear

Cost (USD)
$97 – $389
$3450 per check-up
Not disclosed
$4,950 – $25,000+
Q Bio Reviews
Q Bio has no Trustpilot, Google, or Facebook reviews to date, but you can read what people are saying about the company on Twitter, or view their Facebook page.
Alternatives
SelfDecode: The best option for health-focused DNA analysis with personalized reports and recommendations to improve your quality of life. You also get access to LabTestAnalyzer with a subscription to SelfDecode and can upload labs to get insights on over 500 lab markers.
Q Bio Review Summary
Q Bio offers a wide range of services for individuals who are searching for a preventative approach to their health. The service involves a variety of biometric scanning, blood and genetic screening, and a full body MRI only available in one location.
The company charges a hefty $3450 for one check-up, which includes a single 30-minute consultation with a healthcare professional per year. They offer no multi-year savings and are not eligible for insurance coverage. Access to the data collected will be aggregated and presented in their member dashboard even if an individual stops testing with them.
For individuals interested in optimizing and learning more about their health and potential risks they could have, there are many less expensive science-based services available. Services such as SelfDecode and LabTestAnalyzer offer at-home DNA testing, and lab marker analysis respectively, all for under $100 annually. SelfDecode uses AI and machine learning to analyze up to 83 million genetic variants and provides personalized recommendations based on DNA and labs that you can easily access from anywhere.
Related Articles