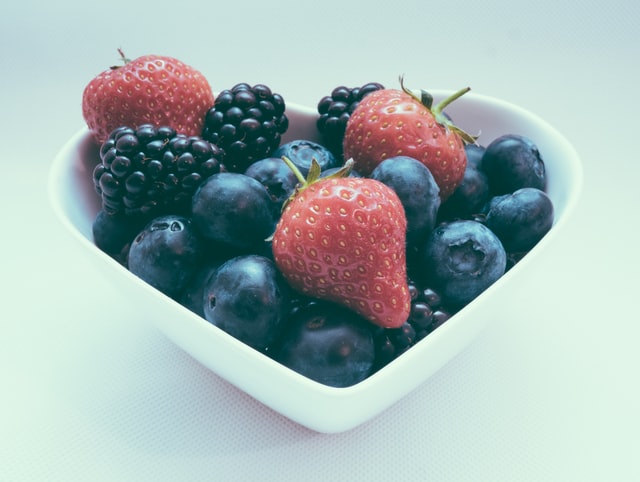 Overview
Products: DNA and blood tests, health and wellness reports.
Cost: DNA test prices vary from $33 to $225. The blood tests cost between $59 and $225.
Reports: Heart health, fitness, and nutrition DNA reports.
Raw data access: Yes, for a fee.
Privacy: Rightangled claims not to share personal information with third parties without user consent.
Alternatives: SelfDecode delivers personalized health recommendations based on DNA and lab tests.
Pros
The DNA reports are reviewed by a healthcare provider.
Users are given a consultation with a medical professional or a personal trainer.
The DNA tests are available worldwide.
Cons
Each test is sold separately.
Limited scope of health topics analyzed.
Only accepts raw DNA data from 23andMe.
Reports do not include scientific references.
About Rightangled
Rightangled is a DNA testing company founded in 2015 by current CEO Abdullah Sabyah, a member of the British Heart Foundation Alliance and the Clinical Pharmacogenomics Implementation Consortium in the US. They are based in London, England.
Their first DNA test was launched in 2017. They have partnered with private United Kingdom Accreditation Service (UKAS) accredited laboratories in Norwich and London, and their tests are available worldwide.
Review of Rightangled Products & Features
To get started with the DNA test, users need to collect a cheek-swab sample with their at-home testing kit. Customers are also required to answer a series of questions regarding their general health and fitness levels.
Rightangled offers DNA tests that cover a limited range of health topics:
Food and Diet: Includes vitamin requirements, lactose and alcohol intolerance, and others.
Heart DNA:

Analyzes genetic markers associated with cardiovascular risk factors and examines the body's response to heart medications.

Fitness DNA: Provides information certain nutrients and how the user responds to different types of exercises.
The Wellness Pro test combines the Heart and Fitness DNA tests and includes both medical and personal trainer reviews.
Rightangled includes a medical review and assessment by a practitioner with the Heart DNA test and a an assessment by a personal trainer with the Fitness report.
In addition to the DNA tests, the company offers several finger-prick blood tests. They cover thyroid health, hormones, vitamin levels, diabetes, and other health topics.
Recently, Rightangled released COVID-19 tests, but they are only available in the United Kingdom and the Channel Islands.
Review of Rightangled Reports
In this section, the Fitness DNA report will be reviewed. First, Righangled displays an overview of the results with the key recommendations presented in the report. Users can also review their answers to the health questionnaire.
As seen in the sample report below, the results are accompanied by graphic representations. The company uses a color-coded system to facilitate the understanding of the report.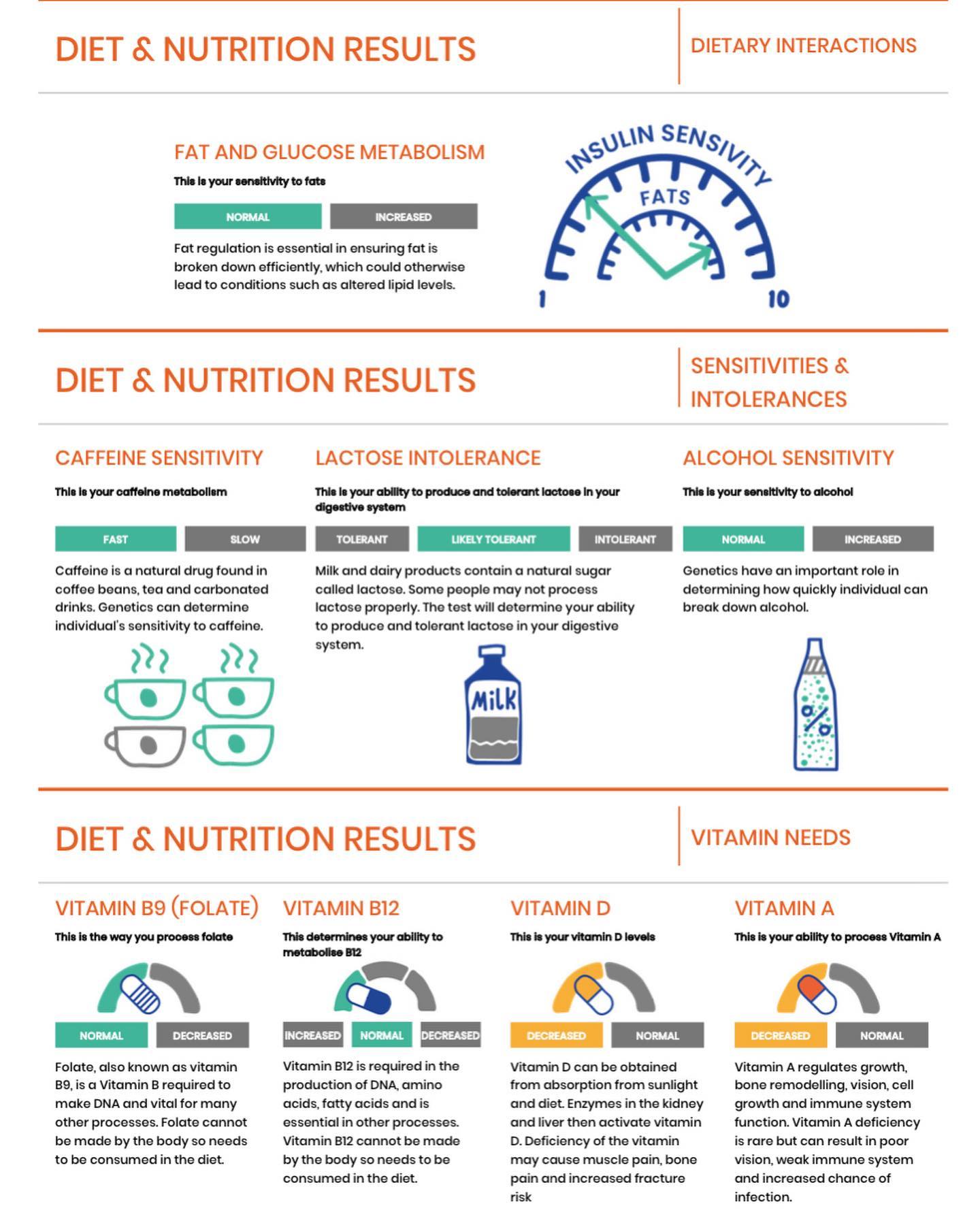 The report displays the user's results and offers a brief explanation of the traits analyzed. The Exercise and Fitness section of the report is shown below.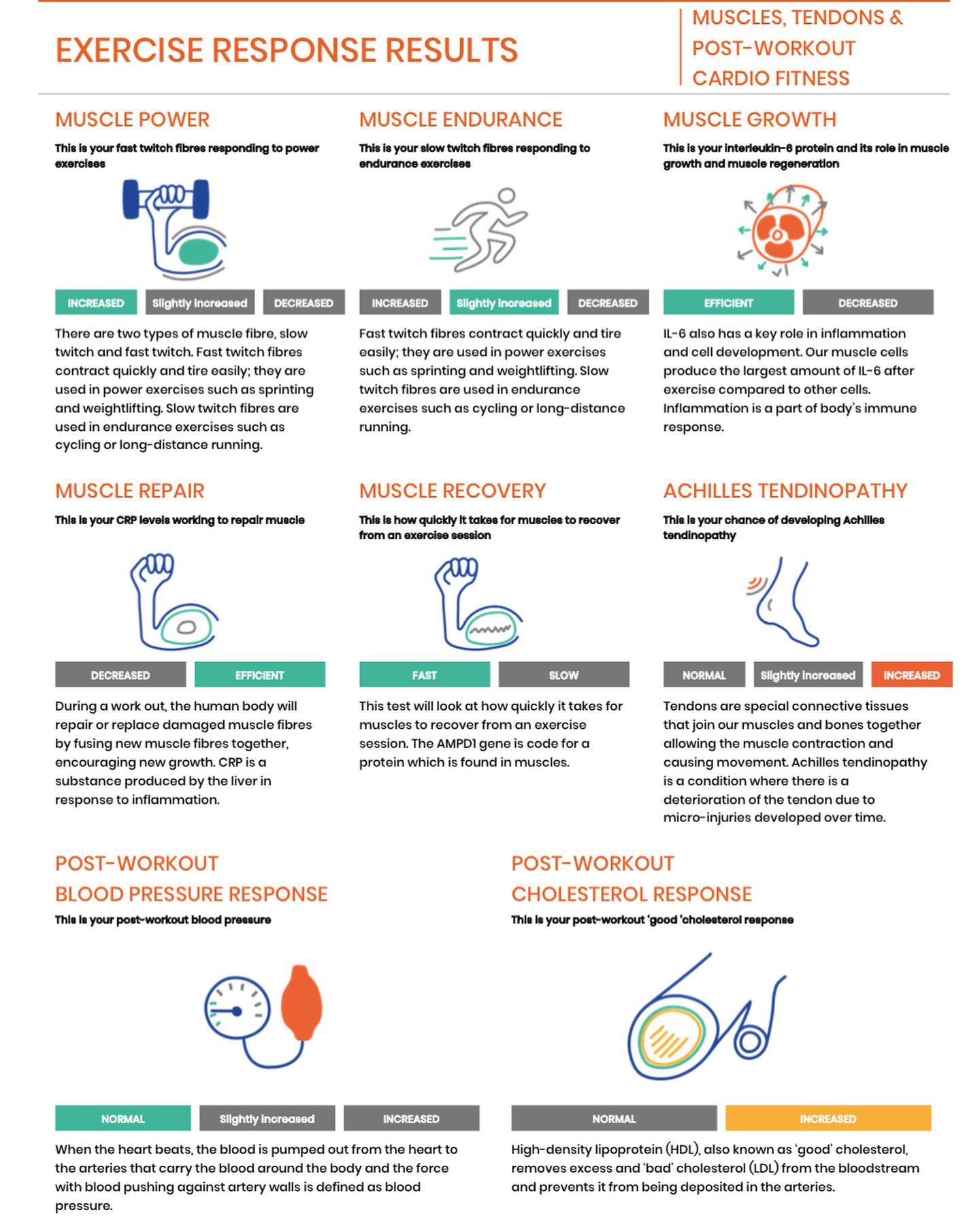 Rightangled includes an 8-week diet and exercise plan with the Fitness DNA report. The program does not give specific exercise suggestions. Instead, the company offers basic recommendations and a general outline of how the training schedule should be.
Cost of Rightangled
The Heart and Fitness DNA tests are on the market for $170 each. The Wellness Pro costs $225, and the Food and Diet test is priced at $105. Reports generated from raw genetic data upload cost $33.
Rightangled's blood tests cost from $59 to $225. The COVID-19 tests are priced at $159. The company states that users can ask for a copy of their data on payment of a fee that will not exceed $66.
Health Recommendations from Rightangled
Rightangled delivers health recommendations along their health reports. Additionally, the company offers users the opportunity to schedule a consultation with a healthcare professional to further discuss the results. However, the reports are not very comprehensive and only include a brief description of the trait or condition. The topics covered by the company are also very limited.
While they offer a diet and fitness plan along with the Fitness DNA test, the recommendations are general, and the program does not include specific exercise suggestions.
Review of Rightangled Privacy & Data Security
Rightangled claims not to share personal information with third parties without user consent. They may share data with other companies in their group, such as subsidiaries and holding companies, and with third parties who perform services on their behalf.
They employ reasonable physical, electronic, and managerial procedures to secure the data collected. The company states that after the data has been reviewed by the assigned specialist, it becomes non-identifiable.
Rightangled complies with the General Data Protection Regulation and maintains that the data is stored within the European Economic Area.
SelfDecode vs Rightangled
SelfDecode delivers natural supplements, diet, and lifestyle suggestions based on your genes that you can implement right away. Rightangled offers diet and fitness recommendations through a consultation.
SelfDecode tells you why they make each recommendation so that you can understand the science behind the suggestion. Rightangled includes a brief explanation of the results in the reports.
SelfDecode prioritizes recommendations based on their analysis of all the relevant genes instead of one gene at a time (through reports). Rightangled provides color-coded results to help users identify their priorities.
SelfDecode takes a holistic approach to give recommendations that are best for your genes AND the health topic. Rightangled analyzes several traits and conditions in each report.
SelfDecode has a team of over 60 highly skilled scientists, MDs, PhDs, NDs, and software engineers to make sure they deliver the most accurate and science-based health information. According to their website, Rightangled has 5 scientists and doctors on their team.
SelfDecode is the most comprehensive and looks at more genes & SNPs (up to 83 million) to deliver the best analysis of genetic risks. Rightangled does not specify the number of genes or SNPs analyzed.
SelfDecode supports everything with peer-reviewed scientific studies in their research and checks for contradicting information. Rightangled does not include scientific references in the reports.
SelfDecode never sells your data or gives it away. Rightangled claims not to share personal information with third parties without user consent.
Comparisons
| | | | | |
| --- | --- | --- | --- | --- |
| | SelfDecode | Rightangled | DNAFit | Xcode Life |
| Personalized & holistic health recommendations | Yes | No | Yes | Yes |
| Genes & genetic variants analyzed | Up to 83 million genetic variants | Not disclosed | 45 genetic variants | Not disclosed |
| Products | DNA testing, wellness reports, health recommendations, lab test analyzer, patient and provider options | DNA and blood tests, health and wellness reports | WES, nutrition and fitness reports | DNA analysis, health and wellness reports |
| Raw data access | Yes | Yes, for a fee | No | N/A |
| Cost (USD) | $97 – $389 | $33 – $225 | $49 – $629 | $10 – $99 |
Rightangled Reviews
Trustpilot – 6,468 Customer Average Rating of 3.6 of 5 stars
Some users complain about delayed results and say that customer service does not offer prompt responses. One user comments on how the dashboard is confusing, while another was not impressed by the DNA results they receive, which they said were "basic".
DNAWeekly – Editor Rating of 9 of 10
The reviewer appreciates that the DNA test kit comes in a simple and minimalistic package. They wish for more specific recommendations in the reports but claim that the company provides a good overall user experience.
Alternatives to Rightangled
SelfDecode: Offers personalized diet, lifestyle, and supplement recommendations based on DNA and labs through a wide variety of reports.
Rightangled Review Summary
Rightangled offers DNA tests that cover heart health and other wellness aspects. The follow-up consultation with a healthcare provider can help customers better understand their genetic results, but the reports are not very detailed. Each trait is explained in only a short paragraph, and no references are provided.
The company provides relevant information regarding heart health, fitness, and nutrition, but the topics covered in the reports are limited. If you want a more complete picture of your health, alternative like SelfDecode could be a better option.
SelfDecode uses AI and machine learning to analyze up to 83 million genetic variants to give personalized recommendations through detailed reports on over 28 health topics, including heart health, weight, and many others. Not only that, SelfDecode Labs examines more than 500 lab markers to give tailored insights on how to get your levels to their optimal range.
Related Articles