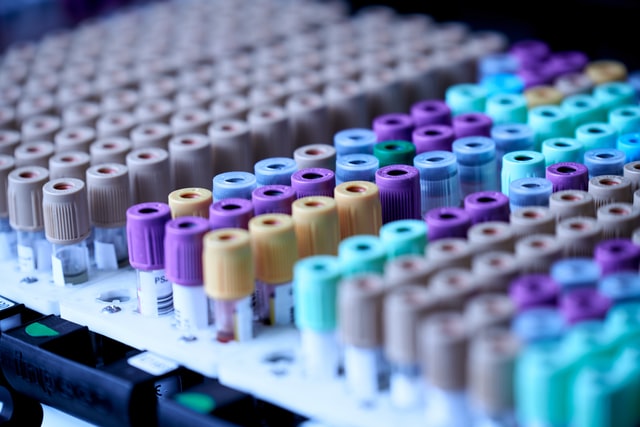 Overview
Products: A variety of health and wellness tests with the option of at-home or in-clinic sample collection.
Cost: Prices can vary from $47 to over $800 per test. The company also charges an additional fee for customers who wish to have their sample taken from a healthcare provider.
Reports: Health and wellness lab results with doctors' commentary.
Raw data access: The company does not offer DNA testing, so customers cannot gain access to their raw genetic data from a Medichecks' test.
Privacy: Medichecks claims not to sell or share personal information with third parties, but they may disclose it to Public Health England in some cases.
Alternatives: SelfDecode offers personalized diet, lifestyle, and supplement recommendations based on your DNA.
Pros
Offers a wide variety of health and wellness tests.
Customers can choose whether they want to have their sample collected at home or in a partner clinic.
Medichecks has a network of partner clinics and nurses in the United Kingdom to help customers with their blood collection if a test requires a venous blood sample.
Cons
Medichecks does not offer a DNA test.
Each test is sold separately, so it can become expensive to those who wish to analyze multiple aspects of their health.
No option to upload past test results to get recommendations.
Only available in the United Kingdom.
About Medichecks
Medichecks is a private blood testing company founded in 2002 by Helen Marsden, who previously worked in business development in the City of London. The company was the first direct-to-consumer blood testing service in the United Kingdom.
Medichecks aims to offer people an affordable and convenient way for them to have access to personal health insights. They have a network of fully accredited partner laboratories that are inspected by the United Kingdom Accreditation Service (UKAS).
Review of Medichecks Products & Features
Medichecks offers a wide range of laboratory tests directly to the consumer. These include tests for Women's and Men's Health, Thyroid, Sports Performance, Wellness, Conditions, and Coronavirus.
The company tests a few selected biomarkers to give customers insights on a particular health aspect. Some of these panels only analyze a single biomarker, while others can include over 50.
There are several ways customers can have their samples collected. Some tests can be performed at home by using a finger-prick collection kit. In this case, Medichecks sends an instructional email to the user, and a collection kit is sent to their house. The blood sample must be sent to the laboratory on the same day it is collected to avoid degradation.
A portion of the tests offered by the company requires a venous blood sample, which needs to be collected by a qualified healthcare professional. One option for a venous blood draw is to visit a Medichecks partner clinic.
Similarly to the finger-prick test, if a user has their sample collected in a partner clinic, they need to post it to Medichecks on the same day it is taken.
The company also has a network of nurses for customers who wish to have a venous blood collection at home. After the order is confirmed, the nurse service in the user's area will get in touch to arrange a suitable time and date for the appointment. The nurse will be responsible for posting the blood sample.
If the user knows a qualified professional, they can choose to make arrangements to have their blood sample taken without the need to purchase this service from Medichecks.
In any case, customers are encouraged to answer a few health and lifestyle questions on their My Medichecks portal to help the reviewing doctors provide more accurate recommendations.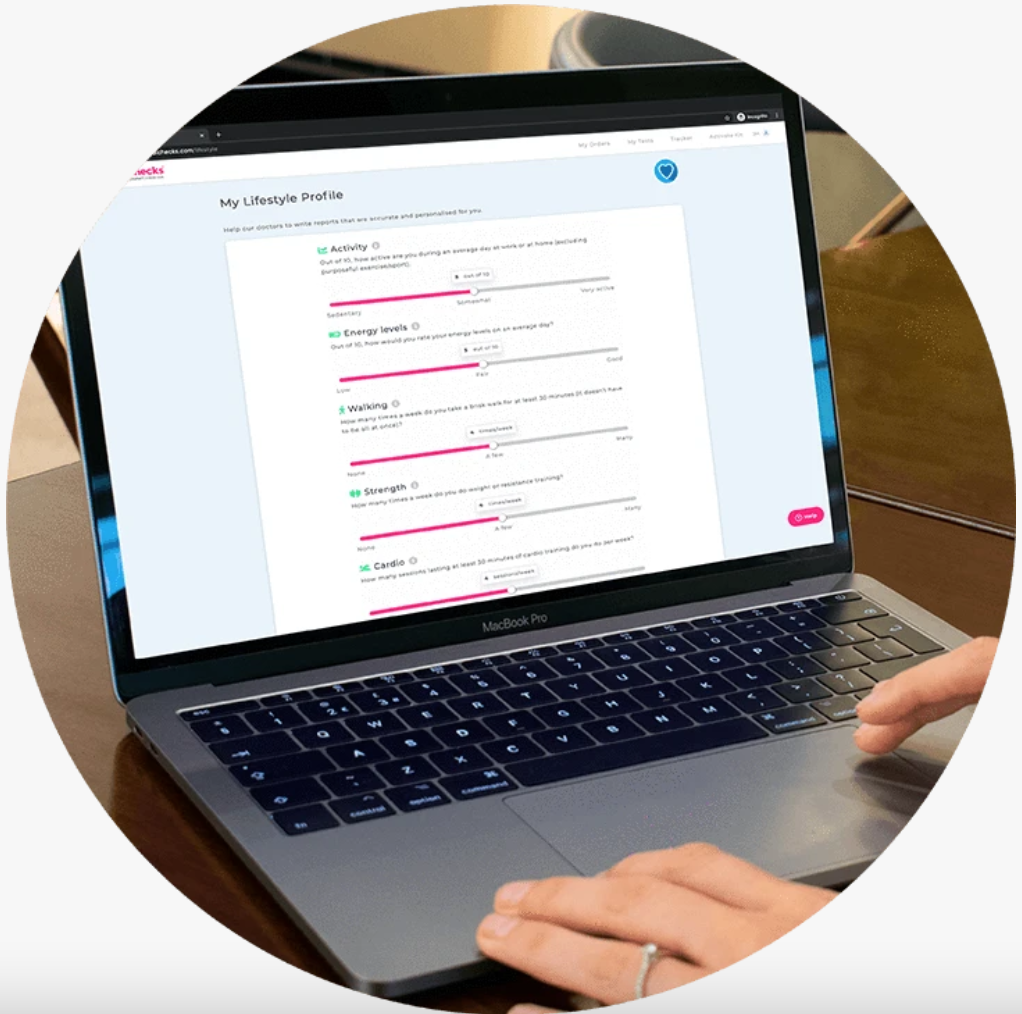 Review of Medichecks Reports
Medichecks states they email customers when their test results are ready to be viewed. Results are available on their secure online portal, and users can access them on their personal dashboard. The company also provides a downloadable PDF with the results, which users can print and share if they wish to.
After the sample is analyzed by the laboratory, a Medichecks doctor will verify the results and include explanations and recommendations to help customers better understand them. The company states that their physicians are qualified and have the knowledge and experience to interpret the wide variety of tests offered.
As can be seen from the screenshot below, Medichecks presents the results by biomarker. The report includes the date the test was performed and the value of each biomarker. The company also displays the results on a colored bar indicating if they are within the normal range, borderline, or outside the normal range.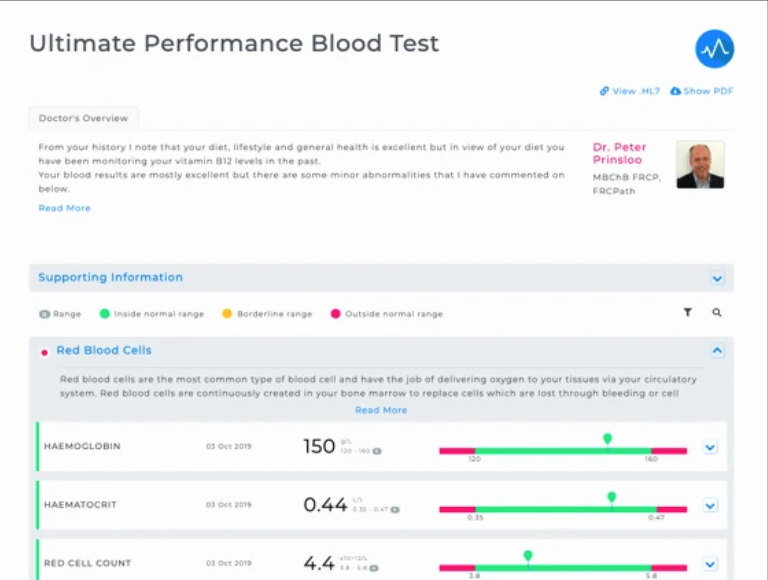 If customers wish to view additional information, they can click on the arrow next to each result. Here, Medichecks allows users to keep track of their past test results and provides a detailed description of each biomarker. A screenshot of the Results Tracker Graph can be seen below.

As stated before, users are encouraged to fill out a series of health questions on the My Medichecks portal to help doctors provide more accurate and relevant insights. Plus, customers can change their answers every time they take a new test to see if these changes are correlated with improved blood markers.
Cost of Medichecks
Medichecks' prices vary depending on which tests customers choose, and they can range from $47 to over $800 for a single test. Moreover, prices can change depending on which sample collection method is chosen (finger-prick, in-clinic, or nurse visit).
Since each test must be purchased separately, it can become expensive to analyze multiple aspects of one's health.
Health Recommendations from Medichecks
Medichecks provides explanations and recommendations on what customers should do to improve their health based on test results and a lifestyle questionnaire. Additionally, the company states their doctors will advise users of any results that may require further action.
Review of Medichecks Privacy & Data Security
Medichecks states they take privacy and customer confidentiality very seriously and do not sell or share personal information with third parties. They email a link to their privacy policy to users who register on their website or make purchases to facilitate access to this information.
The company only asks for personal data if required for specific purposes. For example, they may collect information from customers such as name, address, health data, medical history, test results, among others.
Information may be shared with Public Health England (PHE) or local health protection teams if test results detect a notifiable disease, including, measles, mumps, COVID-19, and others.
Medichecks will not transfer personal data to any country outside the European Union, except to those that have been deemed adequate under the General Data Protection Regulation.
SelfDecode vs Medichecks
SelfDecode delivers natural supplements, diet, and lifestyle suggestions based on your genes that you can implement right away. Medichecks offers health and wellness recommendations based on test results.
SelfDecode tells you why they make each recommendation so that you can understand the science behind the suggestion. Medichecks' doctors will add commentary to test results to help customers better understand them.
SelfDecode prioritizes recommendations based on their analysis of all the relevant genes instead of one gene at a time (through reports). Medichecks does not prioritize their recommendations.
SelfDecode takes a holistic approach to give recommendations that are best for your genes AND the health topic. Medichecks offers tests that target specific health aspects.
SelfDecode has the world's first and only personalized genetics blog that allows you to get new gene-based recommendations daily. Medichecks has a health blog, but it is not personalized.
SelfDecode is the most comprehensive and looks at more genes & SNPs (over 150,000) to deliver the best analysis of genetic risks. Medichecks does not offer DNA testing.
SelfDecode's LabTestAnalyzer gives insights into over 500 lab markers. While Medichecks' overall number of lab markers analyzed is significant, each test only looks into a few biomarkers, and they must be purchased separately.
SelfDecode supports everything with peer-reviewed scientific studies in their research and checks for contradicting information. Medichecks states the health recommendations included with the results are delivered by qualified physicians.
SelfDecode never sells your data or gives it away. Medichecks states they do not sell or share personal information with third parties, but they may disclose it to Public Health England in some cases.
Comparisons
| | | | | |
| --- | --- | --- | --- | --- |
| | SelfDecode | Medichecks | Thriva | InsideTracker |
| Personalized & holistic health recommendations | Yes | Yes, but not holistic | Yes | No |
| Personalized blog posts | Yes | No | Yes | No |
| Products | DNA testing, wellness reports, health recommendations, lab test analyzer | Health and wellness tests | At-home blood tests, health and wellness reports | Blood and DNA testing, health and fitness reports |
| Raw data access | Yes | N/A | N/A | Yes, for a fee |
| Cost (USD) | $97 – $389 | $47 – $800+ | $0 – $94+ | $49 – $589 |
Medichecks Reviews
100 customers rated the company an average of 2.8 of 5 stars on Trustpilot. One customer stated that they did not think that the doctor's comments were very helpful, while a few others complain that it took them a while to be able to schedule an appointment for a blood draw. Conversely, many users found the tests easy to perform, and they say that the results were easy to comprehend.
Medichecks received an average of 4.7 of 5 stars on Feefo, based on the opinion of 2,509 customers. The consensus is that the service is easy to use and it delivers fast results. One user appreciates that the company offers many options for customers who need to have a healthcare professional collect their sample.
Alternatives to Medichecks
SelfDecode: The best health-focused DNA analysis that offers detailed health recommendations through personalized reports and a genetics blog. Additionally, getting access to LabTestAnalyzer can offer insights based on over 500 lab markers.
Medichecks Review Summary
Medichecks presents a convenient way for people to keep track of their current health by offering a wide variety of lab tests. Customers have the option of collecting their blood samples from the comfort of their home, or by going to one of Medichecks' partner clinics.
The company uses two well-known private laboratories in the UK for sample analysis and their quality and management teams ensure that their policies and procedures conform to the highest standards.
One thing that can be seen as a limitation is that each test offered by the company covers one specific aspect of health. While it can be a good option for customers who have specific concerns, it can become expensive to those who wish to have a more complete picture of their overall well-being. For example, a vitamin blood test that analyzes 13 biomarkers can cost over $800 with Medichecks.
Lab tests are great to help you understand your current health status, but there are other ways to learn what you can do to live a healthier life. An alternative such as SelfDecode offers a DNA test that analyzes over 150,000 SNPs to deliver diet, lifestyle, and supplement recommendations aimed at improving overall well-being. Additionally, upload your lab test results to LabTestAnalyzer to get personalized insights on over 500 lab markers and how to optimize them, all for less than $100 annually.