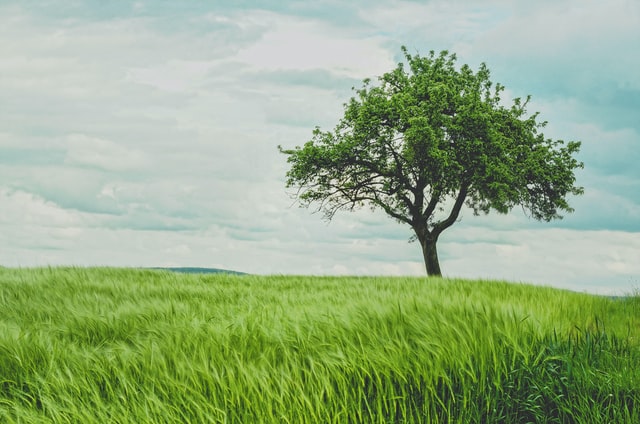 Overview
Products: Family tree builder, DNA testing for ancestry, historical records search engine.
Cost: The DNA test is priced at $89, and an annual subscription costs between $129 and $179.
Reports: Ancestry.
Raw data access: Yes.
Privacy: Findmypast claims to only share personal information if necessary to perform their services or to comply with the law.
Alternatives: SelfDecode offers personalized health recommendations based on DNA.
Pros
Findmypast offers a free trial for those who wish to try out their services.
The company allows users to upload preexisting raw DNA files.
In-depth British and Irish records.
Cons
Findmypast only offers DNA testing via another company, Living DNA.
Many customers complain that the app is glitchy.
About Findmypast
Findmypast started in 1965 with a group of professional genealogists in London, England, known as Title Research. As there was no online database of historical records in the 60s, their employees examined microfiche records, which are flat pieces of film containing microphotographs of newspapers or other documents.
In 2003, Title Research launched the first version of their website, 1837online, which was renamed Findmypast in November 2006. More recently in 2018, the company acquired visualization startup Twile and tree builder RootsFinder.
Findmypast joined forces with DNA testing company Living DNA.
Review of Findmypast Products & Features
Findmypast is a genealogy-focused website. The Family Tree Builder provides a way for people to explore their genealogy. As a starting point, one needs to input their personal information such as name and date of birth, and more relatives can be added as the user progresses on their familial research.
Customers can build multiple trees under the same account, and they can choose which format they want to view them (family group or traditional vertical tree, for example). The company allows users to upload preexisting family trees with a GEDCOM file, which is used for exchanging genealogical information between different genealogy software.
While Findmypast's database of historical records is not as extensive as other competitors, they claim to have billions of individual records.
Findmypast partnered with Living DNA to offer a DNA test to complement their traditional family history research methods. Living DNA's test results provide a great tool that can be used alongside Findmypast's vast collection of British and Irish records.
In addition to the DNA test performed by Living DNA, the company allows users to upload preexisting raw DNA files for free. They are currently compatible with Ancestry, 23andMe, MyHeritage, and Family Tree DNA.
The company offers two membership plans on the findmypast.com website, the Essential British & Irish or the Ultimate British & Irish plan. A comparative table is shown below.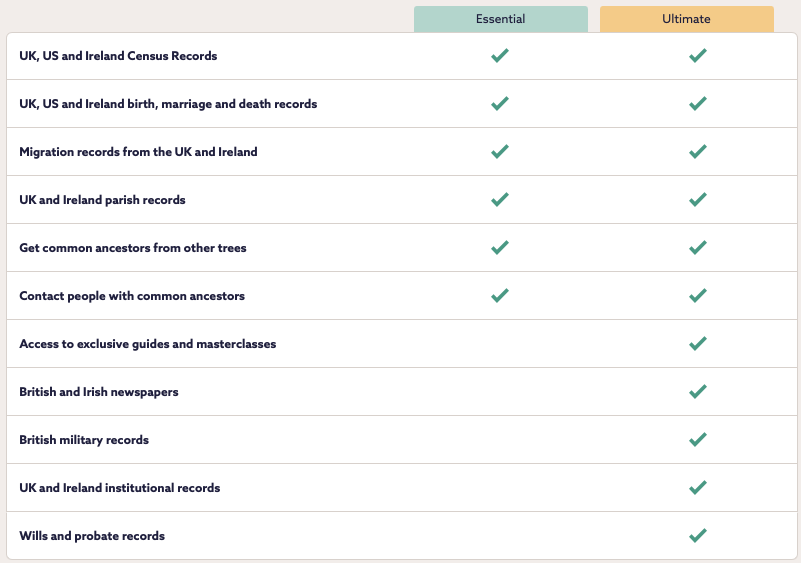 As another feature, Findmypast offers a mobile app available for iOS and Android where users can manage their family tree, find new historical documents, add photos, and more.
Review of Findmypast Reports
Findmypast has many features that can be used to explore one's family history. Users can take advantage of the billions of records stored in their database to research ancestors.
A screenshot of the family record search engine can be seen below. The company offers filter options and categories, shown on the left-hand side of the screenshot, to facilitate the search.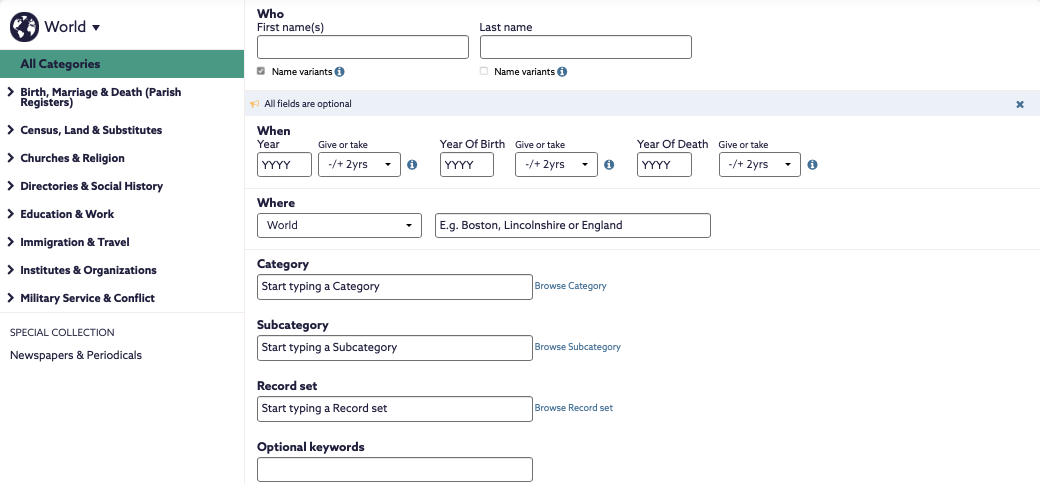 To build a family tree, users need to input their personal information such as name and date of birth. Findmypast searches for possible familial matches and gives hints to help customers find their ancestors. People can upload personal photographs and additional information to complement their ancestors' profiles.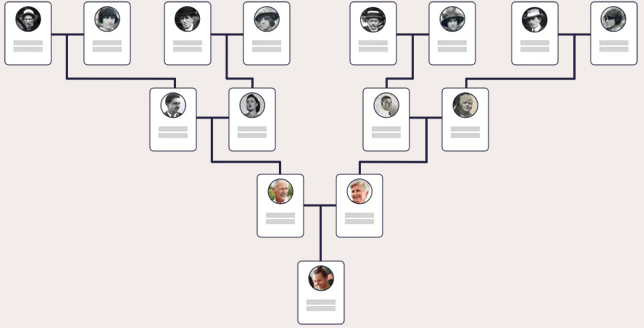 The company offers hints to the user indicating potential matches from their records. These are presented as small orange circles next to a person's name, as seen in the app screenshot below.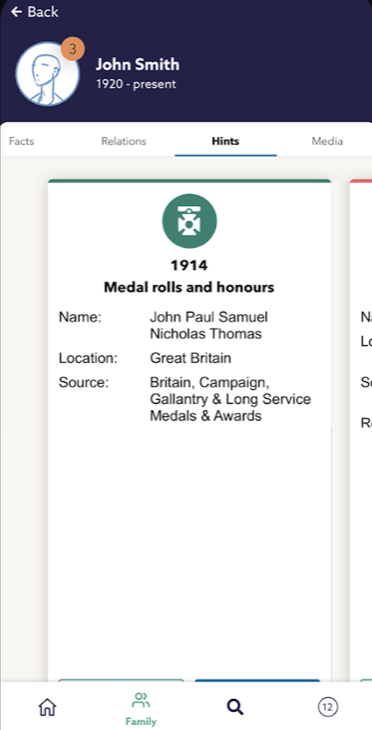 The DNA results from Living DNA are available in 6 to 8 weeks, and they are uploaded to the user's private online portal. The results deliver a breakdown across 150 global regions, including 21 in Britain and Ireland.
Findmypast's intuitive matching system can connect the user with living relatives and offers the opportunity to make contact if all parties choose to do so. The company explains that knowing their DNA origins can help users focus on specific regions when researching their family history.
Cost of Findmypast
Findmypast's DNA test offered through Living DNA is priced at $89. Subscriptions can be billed monthly or annually. The Essential British & Irish Membership costs $14.95 per month or $129 annually. The Ultimate British and Irish Membership costs $19.95 monthly or $179 yearly.
Users have the option to purchase credits, which can be used to view records. Access to a record can cost between 5 to 20 credits. Prices for the credits are shown below.
100 credits ($14.95)
300 credits ($37.95)
900 credits ($82.95)
Review of Findmypast Privacy & Data Security
Findmypast claims to be committed to protecting user personal information. They are registered with the Information Commissioner's Office in accordance with the Data Protection Act 2018.
The company states that they only share personal data with trusted third parties if necessary to perform their services. They keep data private, encrypted, and stored on secure servers.
As a part of the user experience, customers can choose to upload personal photographs to the Findmypast Photo Collection. The company collects additional information such as names, the time, and place where the photo was taken, and further contextual details.
Users should keep in mind that the photograph and all information provided are available to all registered members to view, download, and save.
Living DNA will analyze the DNA sample to derive genetic data and will store any remaining sample for 10 years unless the user chooses to close their account or specifically requests the destruction.
Genealogy vs Health
Findmypast does not provide a service centered around health and wellness. As a genealogy-focused company, they offer a valuable tool to those who wish to explore their family history.
Looking at the popularity of ancestry DNA testing companies, it is obvious that many find exploring their past entertaining. However, DNA analysis can also provide people with a wealth of information regarding their health. Other DNA testing services can offer actionable insight into how genetics can affect one's overall well-being, and they can be used as a complementary service to ancestry testing.
SelfDecode vs Findmypast
SelfDecode delivers

natural supplement, diet, and lifestyle suggestions

based on your genes that you can implement right away. Findmypast does not provide health recommendations.

SelfDecode tells you

why they make each recommendation

so that you can understand the science behind the suggestion. Findmypast offers hints to help users grow their family tree.

SelfDecode

prioritizes recommendations

based on their analysis of

all

the relevant genes instead of one gene at a time (through reports). Findmypast's users can review, accept, or reject hints provided by the company.

SelfDecode takes a

holistic approach

to give recommendations that are best for your genes AND

the

health topic. Findmypast is a genealogy-based service that helps people better understand their family history.

SelfDecode is the

most comprehensive

and looks at more genes & SNPs (over 150,000) to deliver the best analysis of genetic risks. Findmypast's DNA test maps the user's genetic profile across 150 global regions, including 21 in Britain and Ireland.

SelfDecode supports everything with

peer-reviewed scientific studies

in their research and checks for contradicting information. Findmypast's database boasts billions of historical records.

SelfDecode

never sells your data

or gives it away. Findmypast claims to only share personal data if it is necessary to provide their services.

SelfDecode has a team of 79 and 11 of those are

genomics scientists, bioinformatics scientists, and science writers

. Findmypast has a team of 133 and 0 scientists.
Comparisons
| | | | | |
| --- | --- | --- | --- | --- |
| | SelfDecode | Findmypast | Ancestry | MyHeritage |
| Offers health insights | Yes | No | No (discontinued in 2021) | Yes |
| Number of genetic variants analyzed | Over 700,000 SNPs | Unknown / Not Disclosed | Unknown / Not Disclosed | Unknown / Not Disclosed |
| Products | DNA testing, wellness reports, research-based personalized blog posts, health recommendations | DNA testing through Living DNA, family tree builder, historical records search engine | DNA testing, health and ancestry reporting | Ancestry tracing, DNA matching, genealogy database with family tree builder, and health reports |
| Raw data access | Yes | Yes | Yes | Yes |
| Cost (USD) | $97 – $389 | $89 for the DNA test and $14-$19/month for a subscription | $49 – $299+ | $59-$119 |
Findmypast Reviews
On Google Play, 167 customers rated the app an average of 2.8 of 5 stars. Many users say that the app crashes constantly and complain that it does not remember login details.
1,074 reviewers scored the company an average of 3.8 of 5 stars on Trustpilot.
Facebook users appreciate the vast database and that the company is constantly updating their records. One customer enjoys the tips, and they say that the results are presented in an easy-to-understand manner.
Alternatives to Findmypast
SelfDecode: The best health-focused DNA test that delivers personalized diet, lifestyle, and supplement recommendations aimed at optimizing health.
Findmypast Review Summary
Findmypast's many features can offer a wealth of information regarding one's ancestry roots. With billions of records stored on their database, they present a powerful asset to those who enjoy researching their family history.
While Findmypast provides ways for people to look into their past, they offer no information about what they can do to improve their future. If one wishes to receive actionable information on how genetics can affect health, they should look elsewhere.
Genetic testing can highlight what makes people unique. Other companies such as SelfDecode can provide a complimentary service to ancestry tests. SelfDecode analyzes over 700,000 SNPs to deliver personalized health recommendations through detailed reports to help people improve their overall well-being.
Related Articles