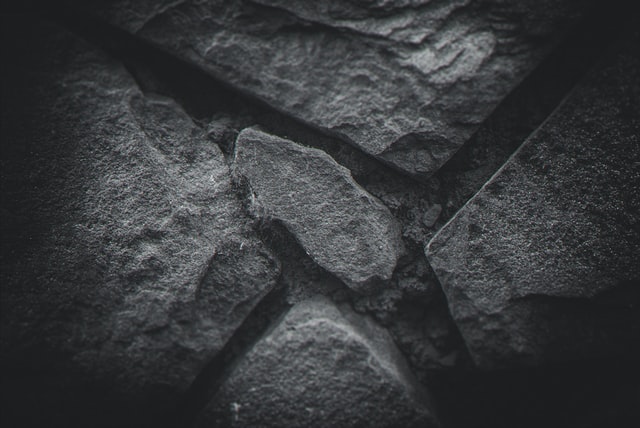 Overview
Products: StrateGene offers a Genetic Pathway Analysis product that includes a home testing kit, a core report that includes broad health recommendations, and access to raw genetic data. Wholesale testing access is available for healthcare professionals.
Cost: DNA Collection Kit, Core Report, and raw data access, along with informative resources are offered together for $295.
Reports: Reports are presented with biochemical pathways, genes, SNPs, and health recommendations.
Raw data access: StrateGene allows the user to browse and download their raw genetic data.
Privacy: StrateGene states that they do not sell any data to third parties.
Alternatives: SelfDecode – Offers personalized recommendations on DNA analysis based on peer-reviewed genetic research, including a symptoms analyzer and wellness reports.
Pros
Conducts pathway analysis
Offers DNA testing kits that ship in less than a week
Allows users to access their raw data easily, with no additional fees
Scientific references are provided to users in a full bibliography
Cons
Users cannot upload their own data files—they must use the StrateGene test
No precise nutrition recommendations are made to users
Does not offer less expensive alternatives to testing or reports; only the $295 package
Only analyzes 147 SNPs
About StrateGene
After founding the parent company Seeking Health in 2011, StrateGene was founded in 2015 by Dr. Ben Lynch in Washington State. Dr. Lynch founded Strategene to help people understand their DNA to improve their health outcomes.
Dr. Lynch was educated at Bastyr University and is a doctor of Naturopathic Medicine. His goals include preventing disease and promoting health of clients through education and preventing disease rather than treating it after it has manifested.
Review of StrateGene Products & Features
StrateGene offers a package of products called the Genetic Pathway Analysis. The product offering includes a DNA testing kit, a core report that includes health recommendations, access to raw genetic data, and additional resources created by Dr. Lynch.
They offer testing as part of their Genetic Pathway Analysis product. The testing can be administered as either a cheek swab or saliva test. Additionally, they claim that the test kit will be delivered for free to anywhere in the United States in less than a week.
Review of StrateGene Reports
The core report that is offered is focused on health recommendations that are aimed to reverse damage to the body caused by disease or altered gene expression. StrateGene has recently updated their reports in 2020, but has kept the same pathway based approach and research-based genetic variants. Some of the variants analyzed can be seen below.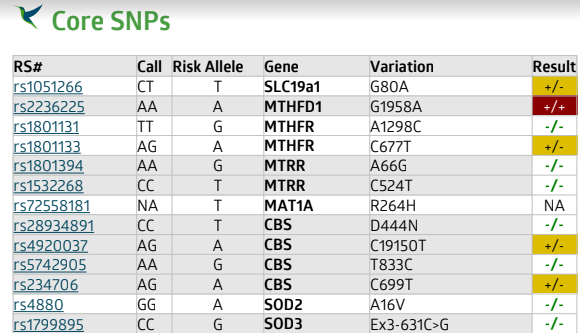 The genetic pathways are also included in both the new and old reports. A basic breakdown of the pathway and color coding of SNPs can be found below.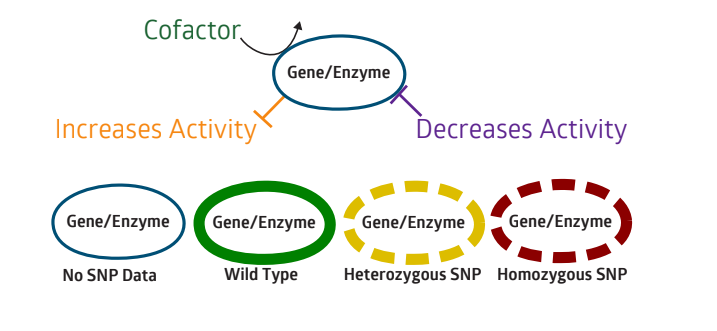 StrateGene reports appear to be very detailed and well organized. But they do not have specific recommendations, such as dosage for supplements. However, the reports include extremely complex pathways, such as the histamine pathway seen below, that could be overwhelming to many customers.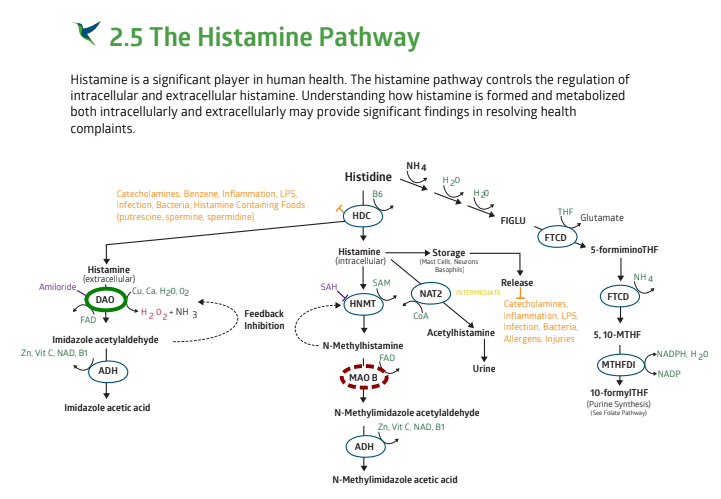 Lastly, the reports do not appear to include any embedded references linking to relevant scientific literature, so users cannot easily view the primary sources as they read.
Cost of StrateGene
StrateGene's Genetic Pathway Analysis package costs $295. Shipping is free to the United States. For practitioners interested in ordering wholesale testing products, there is a 15% discount offered in the first 30 days of using the service.
Health Recommendations from StrateGene
Health recommendations from StrateGene are provided, but lack precision of supplement and medication dosage. They claim that recommendations of this type are oversimplified. However, lifestyle, supplement, and diet advice are offered, but only broadly.
Review of StrateGene Privacy & Data Security
StrateGene promises not to sell or give away any personal health information gathered to administer their services. The information provided to them is encrypted to enhance security. The company does allow the user to volunteer their data for research purposes.
SelfDecode vs StrateGene
SelfDecode delivers natural supplement, diet, and lifestyle suggestions based on your genes that you can implement right away. StrateGene offers similar suggestions to SelfDecode, but covers less health topics.
SelfDecode tells you why they make each recommendation so that you can understand the science behind the suggestion. StrateGene provides detailed pathways and variant information in reports.
SelfDecode prioritizes recommendations based on their analysis of all the relevant genes instead of one gene at a time (through reports). StrateGene goes through each SNP individually when describing their function, risk allele and variation, with no specific regard for prioritization.
SelfDecode takes a holistic approach to give recommendations that are best for your genes AND the health topic. StrateGene also has a holistic focus.
SelfDecode has the world's first and only personalized genetics blog that allows you to get new gene-based recommendations daily. StrateGene does not have a dedicated personalized genetics blog, they only offer access to a Facebook group.
SelfDecode is the most comprehensive and looks at more genes & SNPs (over 83 million) to deliver the best analysis of genetic risks. StrateGene only looks at 147 SNPs in total.
SelfDecode supports everything with peer-reviewed scientific studies in their research and checks for contradicting information. StrateGene provides a full bibliography to back their claims and use for additional research.
SelfDecode never sells your data or gives it away. StrateGene claims they will not sell any customer's personal health information.
Comparisons
| | | | | |
| --- | --- | --- | --- | --- |
| | SelfDecode | StrateGene | Vitagene | Orig3n |
| Personalized & holistic health recommendations | Yes | Yes | No | No |
| One-click regimen builder | Yes | No | No | No |
| Products | DNA testing, wellness reports, research-based personalized blog posts, health recommendations | DNA testing, genetic reports, health recommendations, raw data access | Independent DNA health testing for diet, fitness, and other wellbeing topics; each test sold separately | DNA testing, traits, wellness reports, more accurate ancestry tracing |
| Raw data access | Yes | Yes | Yes | Yes |
| Cost (USD) | $97 – $389 | $295 | $49 – $249+ | $99-$499 |
StrateGene Reviews
Overall, reviews of the new StrateGene products are scarce.
DNAtestingchoice – 9 Customer Average Rating of 4.3 of 5 Stars
At DNAtestingchoice, customers are generally satisfied with the service. The most recent review is from 2017, and the products that StrateGene offers have changed significantly since this time.
The conversation on social media is mostly quiet, but positive.
Read what people are saying about StrateGene on Twitter
A recent Reddit thread discusses the 2020 product change from cheaper data analysis to their new Genetic Pathway Analysis product and better alternatives for customers are discussed.
Alternatives to StrateGene
SelfDecode: The best option for health-focused DNA analysis with personalized reports and recommendations to improve your quality of life.
StrateGene Review Summary
StrateGene provides customers with a user-friendly experience; testing kits are sent to customers to use at home, and reports are created in an accessible way. Unfortunately, to better understand their DNA and how it impacts their health, customers must pay $295 and cannot upload their own genetic information at a discount.
Better alternatives are available for people interested in improving their health by DNA analysis. SelfDecode delivers an evidence-based, personalized experience for people looking to improve their health with annual subscriptions below $100, and analyzes more genetic variants (over 83 million) in order to provide users with the most complete health picture possible.
Related