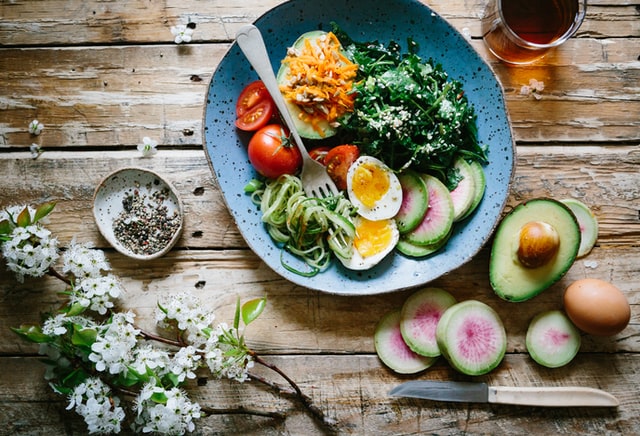 Overview
Products: Viome offers microbiome and genetic testing as part of their health optimization services. Their three products are the Precision Supplement service, Gut Intelligence service, and the Health Intelligence service.
Cost: The subscription can cost $60 – $199 per month. Standalone Viome testing costs can go from $149 to $249.
Raw data access: No raw data access is available. Customers of Viome must provide raw data in the form of blood and stool samples to the company.
Privacy: Personal health data can be used for research purposes, but not sold or given away to third parties. The personal information of customers will be removed from their health information.
Alternatives: SelfDecode provides personalized health recommendations supported by peer-reviewed genetic studies based on your DNA variants. SelfDecode promises to never sell or give away your data to any third parties.
Pros
Personalized health recommendations
Detailed and organized reports
Clean, clear, and easy to read diet and supplement advice
Cons
Stool and blood samples can be difficult and awkward to obtain
Can cost well over $2000 annually if one seeks all the products offered
Invasive and personal questionnaire required to use Gut and Health Intelligence services
Lack of scientific references in some areas of the report
About Viome
Viome was founded in October 2016, by Deepak Savadatti and Naveen Jain, two electrical engineering graduates and entrepreneurs. Their current headquarters is located in Washington State. It has received over $70 million in funding.
Viome's mission is to empower people with data and services to help them get what they need to be healthy, and ultimately, prevent and reverse chronic disease. The company uses artificial intelligence to refine and update their datasets, finding the best diet and nutrition supplements for each individual.
Review of Viome Products & Features
Viome measures both genetic and gut microbiome data using blood and stool samples provided by customers. Viome offers four main products—the Health Intelligence and Gut Intelligence services, and two options for a monthly Precision Supplement service.
The Gut Intelligence test asks users to collect a small piece of their stool and fill out a short questionnaire asking about sensitive topics such as medication and history of surgery. The information collected is needed to generate a report with nutrition and supplement recommendations.
The Health Intelligence test uses both the stool test mentioned above, and a finger prick blood test, along with the questionnaire. The test is more comprehensive than the Gut Intelligence test, analyzing gene expression and the gut microbiome. Viome boasts that these results and health recommendations will be more precise and insightful than the Gut Intelligence service.
Using the data that customers provide from either the Gut Intelligence results, Health Intelligence results, or both, the company offers their Precision Supplements service. The service uses the data and formulates and delivers personalized supplements to customers.
Review of Viome Reports
Gut Intelligence service
The Gut Intelligence test contains a detailed report of recommendations. Food, supplements, and serving size advice are included in the report. Superfoods are then listed. Viome defines superfoods as foods that provide the most benefit to the user's gut health and biodiversity. Samples of superfoods can be seen below.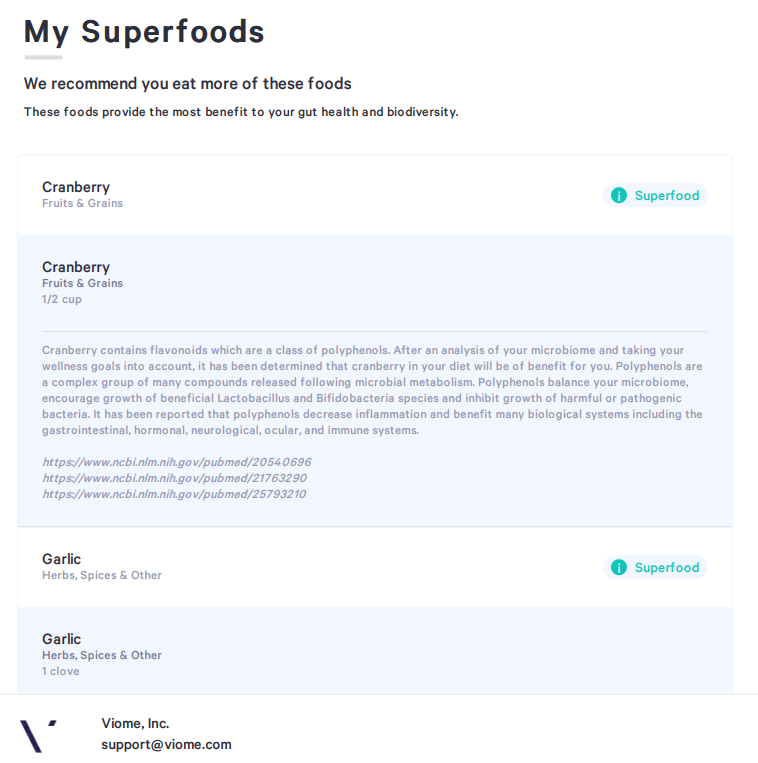 The reports also include foods to avoid, explained as foods that are unhealthy for the user's gut health and biodiversity. A sample of foods to avoid can be seen below. Notably, scientific references are absent from this portion of the report.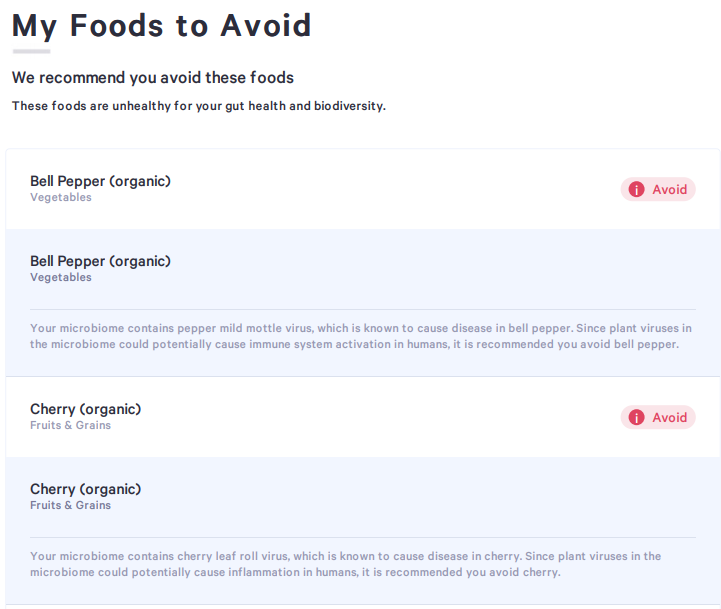 After suggesting foods to avoid, the report moves to food recommendations with specific portions, tagging specific foods as free to enjoy, minimize, or marked as a superfood. For example, the sample report below shows protein and fat recommendations.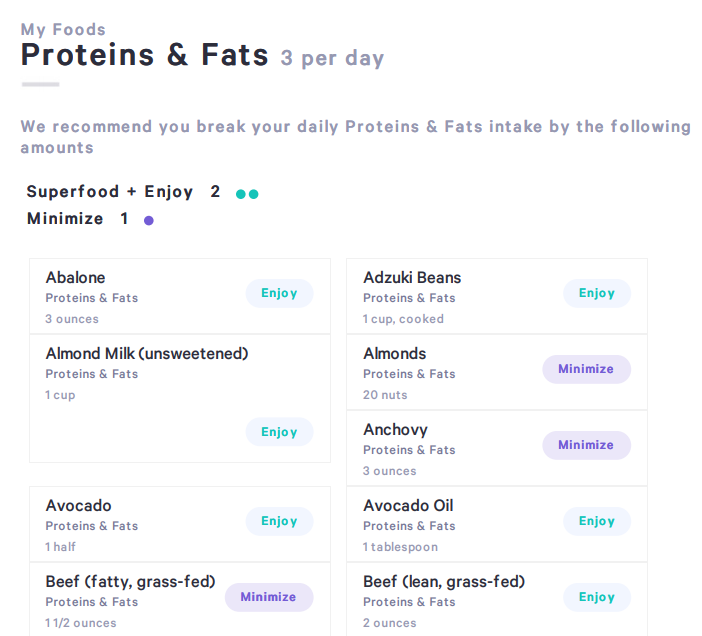 The report concludes with supplement advice. Specifically, Viome mentions ingredients found in supplements such as resveratrol, pepsin, amylase, protease, and other digestive enzymes.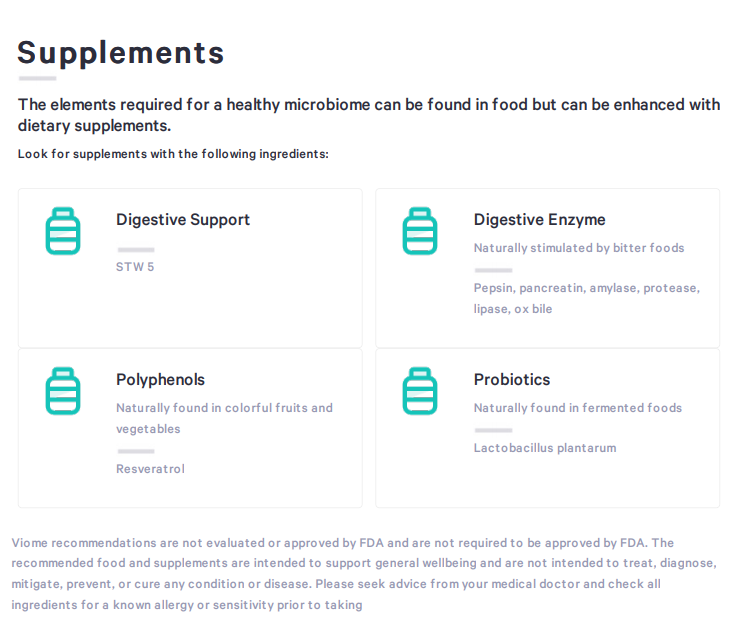 Health Intelligence service
The Health Intelligence service uses all of the Gut Intelligence technology and report details but includes a blood sample in addition to the stool sample. The blood sample allows for genetic testing to augment the gut microbiome information derived from the stool sample.
Using this additional information, this Viome test offers more insight to the user, but at a more expensive price. Health scores that measure mitochondrial and cellular health are the key offerings of the Health Intelligence service.
Viome gives customers scores based on their genetic data measurements, as seen below.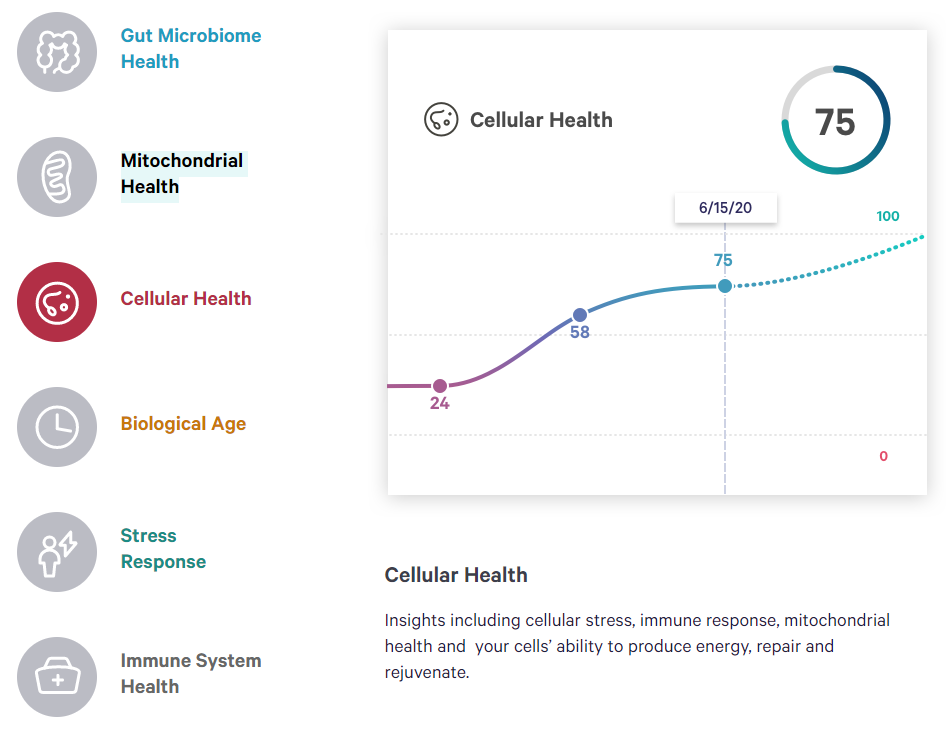 Interestingly, as seen in the biological age measurement below, this Viome test compares data from health patterns of other users on the service. It is important to consider how this score could be biased or unreliable because the group that the sample is being compared to may not be representative of a general population.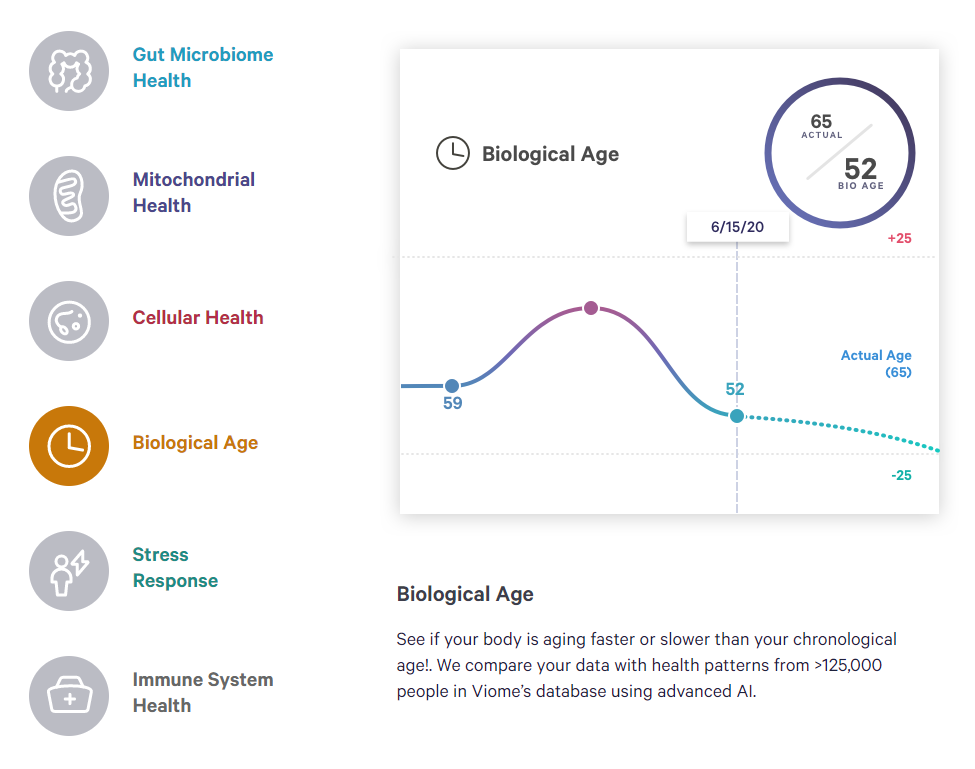 Precision Supplement Service
Viome offers two options for customers who wish to receive personalized supplements. The Precision Supplement Complete with Health Intelligence includes a Health Intelligence Test kit delivered every 6 months, and 30-day supplies of personalized supplements and probiotic + prebiotic formula delivered monthly.
The Precision Probiotics + Prebiotics with Gut Intelligence includes one microbiome test and a 30-day supply of the personalized probiotic + prebiotic formula, delivered monthly. Users also get discounts on additional Viome tests.
The company will also update ingredients based on the needs of the user, or if they get another Viome test.
Viome Mobile App
The Viome mobile app allows users to view all their recommendations in one place. That includes food and supplement advice, along with data such as mitochondrial health derived from the Health Intelligence service.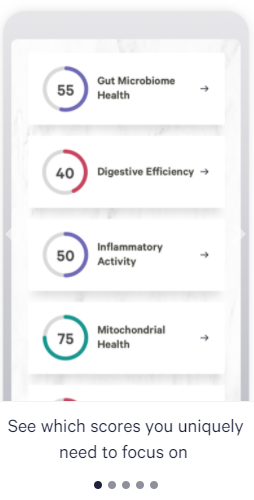 Cost of Viome
Viome is an expensive service. The cheapest option for customers is the Gut Intelligence service, costing $149 to access the least detailed reports offered by Viome. The Health Intelligence service costs $249 to get full access to Viome's product offering.
The Precision Supplement Complete with Health Intelligence service will cost $199 per month, or over $2000 per year. The least expensive Precision Probiotics + Prebiotics with Gut Intelligence still costs $60 per month, and only includes one Gut Intelligence test.
If a potential customer chooses to purchase the Precision Probiotics + Prebiotics program, small discounts are granted for the other services.
Health Recommendations from Viome
Food and supplement recommendations are made in both the Gut and Health Intelligence reports. Markedly, there are no lifestyle recommendations made except for very generic advice such as exercising 3-5 times per week.
Overall, the health and supplement advice contained in the reports is clear and informative. However, Viome is limited in the scope of topics covered by the reports. They only analyze fixed topics and only provide food and supplement recommendations in the form of a list regarding each health issue.
Review of Viome Privacy & Data Security
Viome collects a wide range of data from all of their customers, including sensitive personal information obtained from their mandatory questionnaire. Viome promises not to sell or give away any of the personal information, and claims to encrypt and anonymize all data stored.
The data collected will be used internally to improve the algorithms developed by Viome and to anonymously compare users. Encrypted data may also be used for research purposes by Viome with or without the consent of the customer.
SelfDecode vs Viome
SelfDecode delivers natural supplement, diet, and lifestyle suggestions based on your genes that you can implement right away. Viome also delivers supplement and diet suggestions, but few lifestyle changes.
SelfDecode tells you why they make each recommendation so that you can understand the science behind the suggestion. Scientific references are present in Viome reports, but are sparsely distributed.
SelfDecode prioritizes recommendations based on their analysis of all the relevant genes instead of one gene at a time (through reports). Recommendations are not prioritized by Viome; they follow a specific formula and do not deviate from it.
SelfDecode takes a holistic approach to give recommendations that are best for your genes AND the health topic. Viome tests take a holistic approach to their diet and supplement recommendations, but only offer generic lifestyle advice.
SelfDecode is the most comprehensive and looks at more genes & SNPs (up to 83 million) to deliver the best analysis of genetic risks. Viome does not conduct any specific genetic analysis unless customers purchase the Health Intelligence service.
SelfDecode supports everything with peer-reviewed scientific studies in their research and checks for contradicting information. Viome provides high quality peer-reviewed references, but only in some places, leaving much to be desired.
SelfDecode never sells your data or gives it away. Viome claims not to sell or give away any personal health information without consent.
Comparisons
SelfDecode

Viome

Orig3n

Dante Labs

Personalized & holistic health recommendations

Yes

Yes
No

No

Genes & gene variants analyzed

Up to 83 million genetic variants

Gut microbiome, gene expression analysis
20+ genes

WGS

Products

DNA testing, wellness reports, research-based personalized health recommendations, lab test analyzer

Gut intelligence report, health intelligence report, food and supplement recommendations, supplement offerings
DNA testing, traits, wellness reports, more accurate ancestry tracing
WGS, health and fitness reporting, genetic health risks
Raw data access

Yes

No
Yes

Yes

Cost (USD)

$97 – $387

$149 – $149 for tests

$60 – $199/month for subscriptions

$49 for a DNA test

$59+ per month for vitamins

$670
Viome Reviews
Viome reviews vary widely, some coming from profoundly disappointed customers, despite other shining reviews mentioning improved health and wellbeing.
Better Business Bureau- 12 Customer Average Rating of 1.8 of 5 stars, BBB rating of A+
The Better Business Bureau shows a wide discrepancy between the customer rating and the general rating provided by the BBB. Customers are generally very disappointed with Viome, citing inappropriate or inaccurate food and supplement recommendations, extremely long waits for results, and unpleasant customer service.
Amazon – 149 Customer Average Rating of Gut Intelligence Service- 3.9 of 5 stars
Customers on Amazon have given mostly positive reviews of the Viome gut test. Many positive reviews rave about how helpful the information is and the diet recommendations. Negative reviews highlight weak customer service, never receiving reports after testing, and displeasure with simplistic health recommendations.
Read what people are saying about Viome on Reddit
Reddit features new posts discussing Viome almost every week. It is a good place to view candid, unfiltered reviews of the service. Importantly, users are anonymous and not verified purchasers of the products.
Alternatives to Viome
SelfDecode: The best option for health-focused DNA and lab analysis with personalized reports and health recommendations.
Viome Review Summary
Viome offers a user-friendly, comprehensive service suite that offers specific health and supplement recommendations aimed at improving the overall health and quality of life of customers.
Unfortunately, the price is simply too much to justify its use for people who want insightful analysis on how their genes influence their quality of life.
As mentioned above, spending $2000 annually to access all of the services offered by Viome is exceptionally costly. People who are curious about how their DNA impacts their health, or trying to solve a specific health-related problem should not have to pay this much.
Alternatives such as SelfDecode, which provides DNA-based personalized diet, lifestyle, and supplement recommendations backed by peer-reviewed scientific research for less than $100 per year, are a far better option.
SelfDecode is the only direct-to-consumer DNA company that is using AI and machine learning to analyze up to 83 million genetic variants in total across all DNA reports. For comparison, most DNA companies analyze 5-10 of the most common genetic variants – SelfDecode analyzes over 1 million for most reports.
Along with your genetic data, SelfDecode provides you with personalized diet, supplement, and lifestyle recommendations tailored to you based on your DNA. While you may find generalized recommendations everywhere else, SelfDecode gives you back control of your health with insights made for you, and you only.
Related