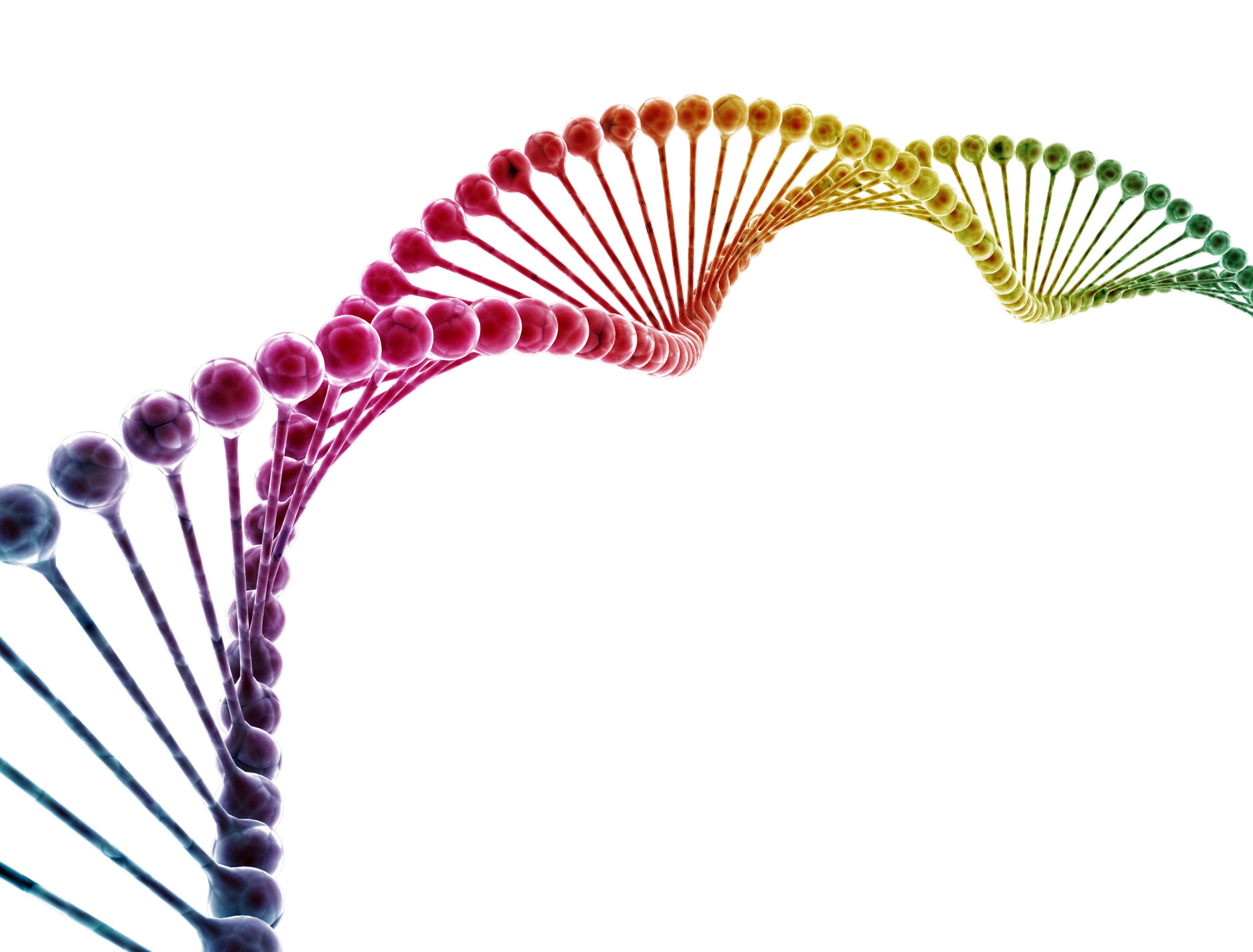 Overview
Products: traits and reports for an uploaded file
Cost: first 30 traits are free, $14 per month for new traits weekly, reports range from $24-$69
Reports: ancestry, personality, fitness, and nutrition
Alternatives: SelfDecode, 23andMe, Nebula Genomics
Pros
Free upload option and affordable paid subscription price
Consistently updated library of traits
Nicely designed website
Cons
Only supports DNA files from three services: AncestryDNA, 23andMe, or MyHeritage
Does not offer any DNA testing of their own
Limited selection of reports
No wellness reports included with a subscription
About Genomelink
Genomelink was founded in 2017 in Japan by Tomohiro Takano, Yuta Matsuda, and Kensuke Numakura. The start-up is supported by several investors including the Sony Innovation Fund. The company's goal is to provide interesting information about your genetic information in an easy-to-understand and accessible way.
Review of Genomelink Products & Features
Genomelink's main offering is information about various genetic traits based on the DNA file you upload from 23andMe, AncestryDNA, or MyHeritage. Their website tells you the extent to which your genes predispose you to each trait they report on.
Their traits are divided into five categories: nutrition, personality, intelligence, sports, and physical traits. Some examples of free traits include sensitivity to caffeine and nicotine, extraversion, BMI, and endurance.
There are only thirty traits included in the free file upload. If you pay $14 per month for the subscription, you will receive an email every week with new traits and have unlimited access to all 170+ traits.
Genomelink also offers reports that you can purchase for somewhere between $24-$69, depending on the report. These reports cover ancestry, personality traits, nutrition, fitness, and wellness.
Review of Genomelink Reports
Genomelink offers fifteen different reports that are available for purchase. They also provide snippets of information for each trait. Keep reading for an overview of what each report includes.
Traits
For each trait, there is a small amount of information provided about where you stand and how reliable the information for this trait is considered to be. This information can be interesting but lacks any actionable insight. It also does not include the SNPs the trait is based on.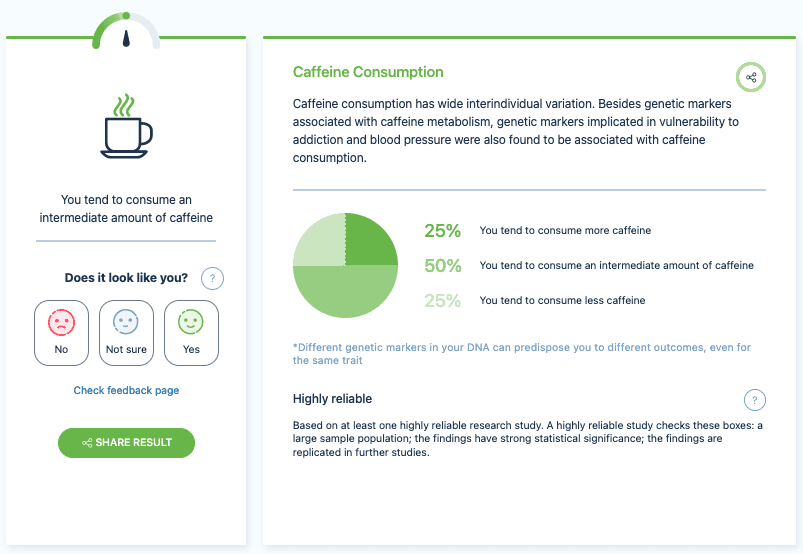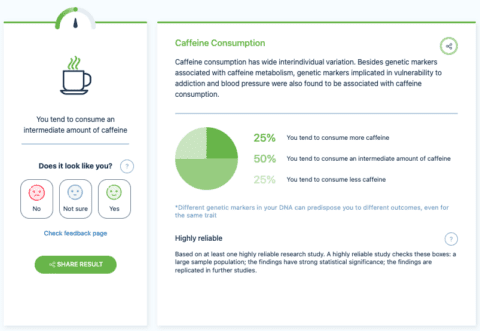 Ancestry Reports ($24 – $69)
Genomelink offers seven different ancestry reports:
Global Ancestry
European Breakdown
Indigenous American Report
Ancient Ancestry
Viking Index Report
Neanderthal/Denisovan Connection
Hunter vs Farmer
The Ancient Ancestry report provides information about your ancient ancestors based on your DNA, spread across seven groups: hunter-gatherer, farmer, Yamnaya, Native American, African, East Asian, and South Asian.
You can view a sample below.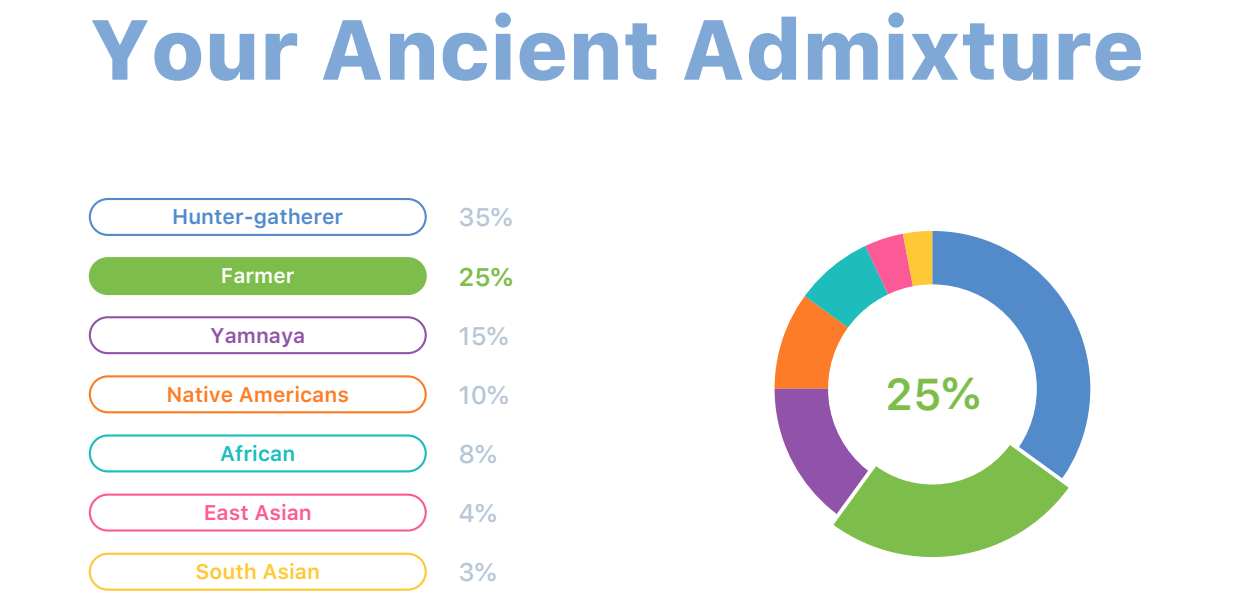 After showing you your ancestral breakdown, the report provides history for each group and a short description of what life was like for them, including cultural traditions and migratory patterns.
This report provides some interesting information about these groups and their history. However, all that is personalized in this report is the percentage breakdown of your ancestry. If that interests you, you will enjoy this report, but if you are only curious about the history of the various groups, you can find that included in the sample report for free.
This ancestry report is also very general in comparison to other popular services, such as AncestryDNA. It gives very little information about your individual ancestry besides the categories it describes, so this report is not much more than a novelty.
Personality ($19 – $29)
Genomelink offers two "fun" reports about your personality:
Personality Report
Political Report
The personality report provides an overview of how your genes predispose you to the big five personality traits: agreeableness, openness, conscientiousness, neuroticism, and extraversion.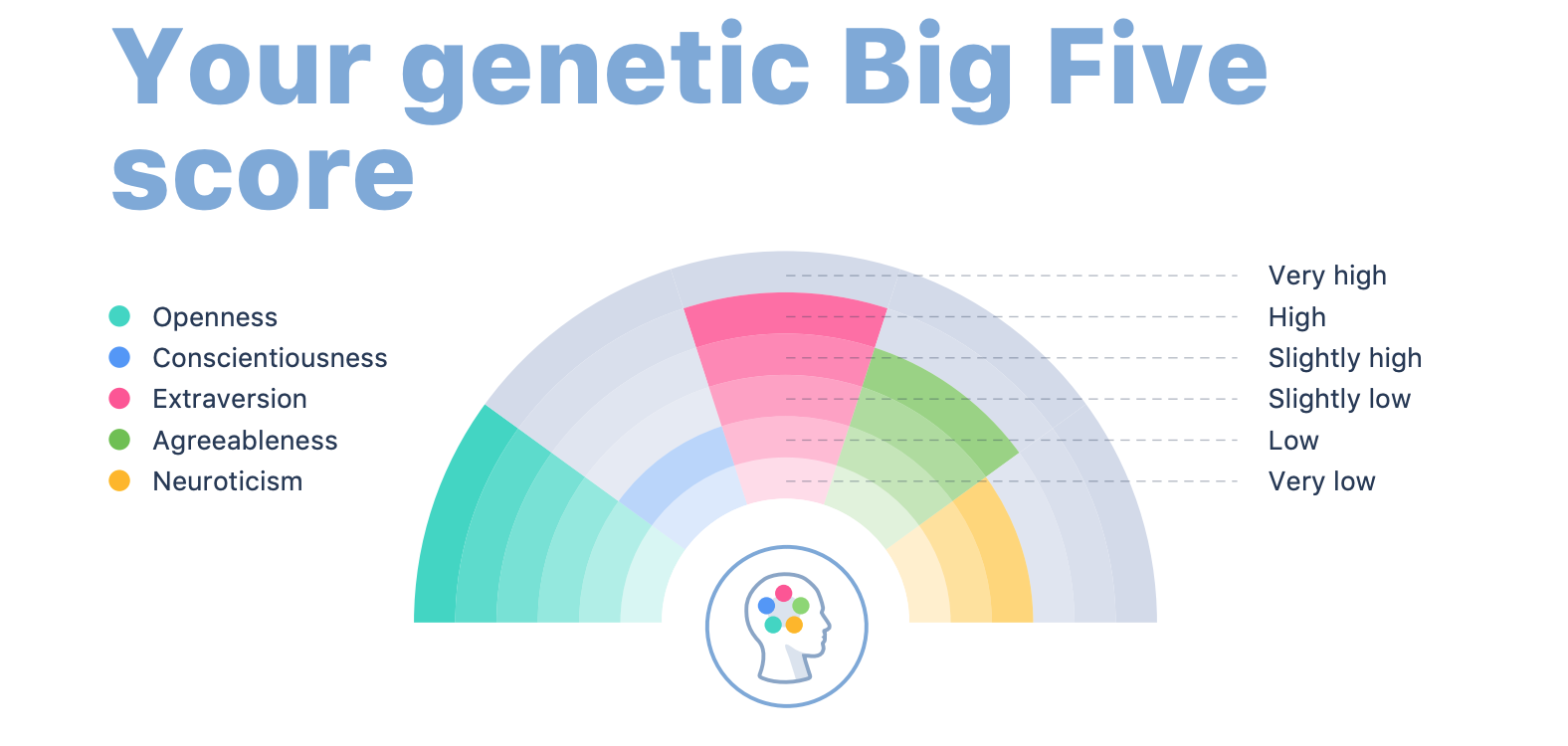 For each trait, the report tells you where you stand and which careers would be ideal for you based on the personality traits you are genetically predisposed to. It provides a brief explanation of why the suggested careers are well-suited to your score for each trait.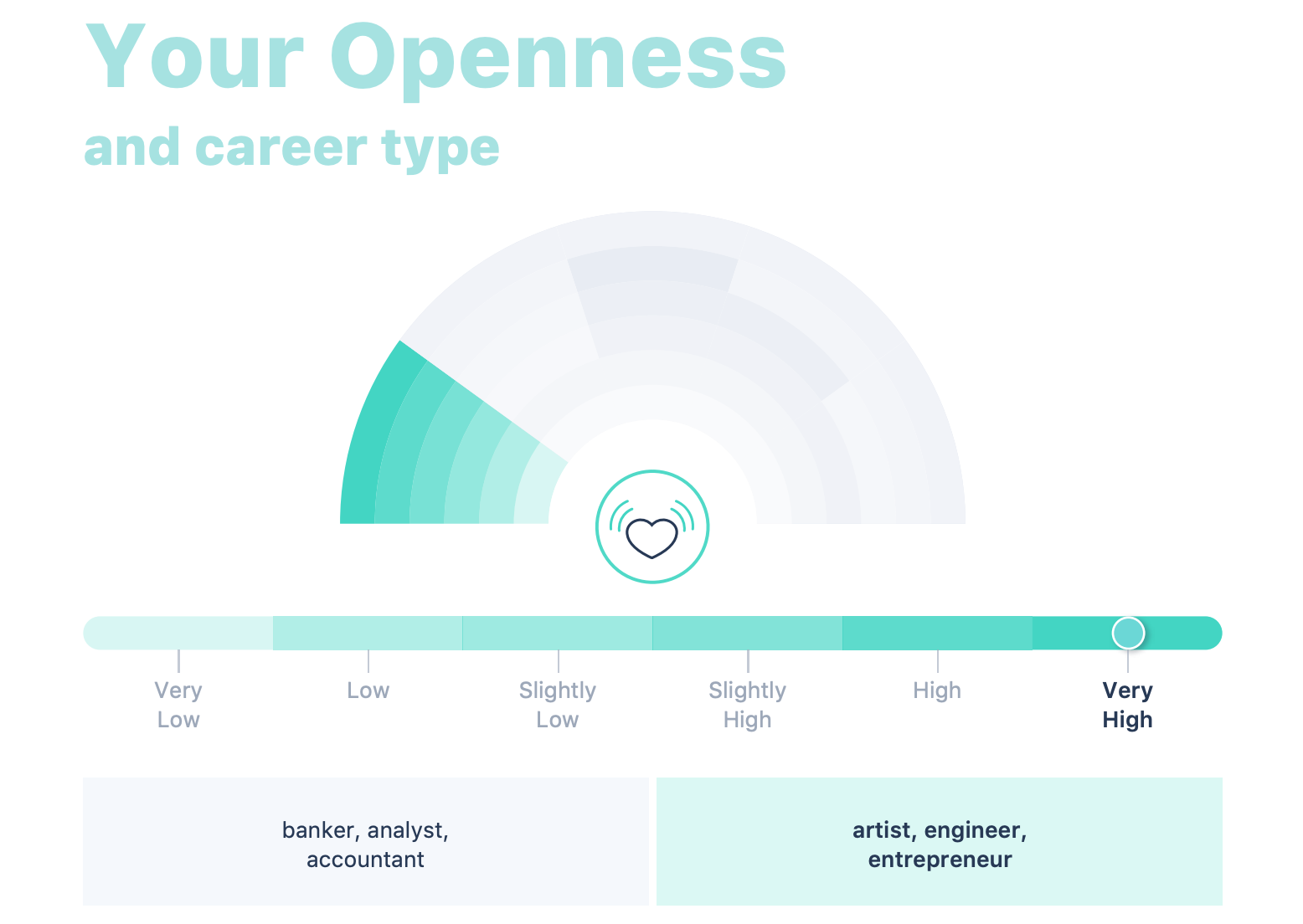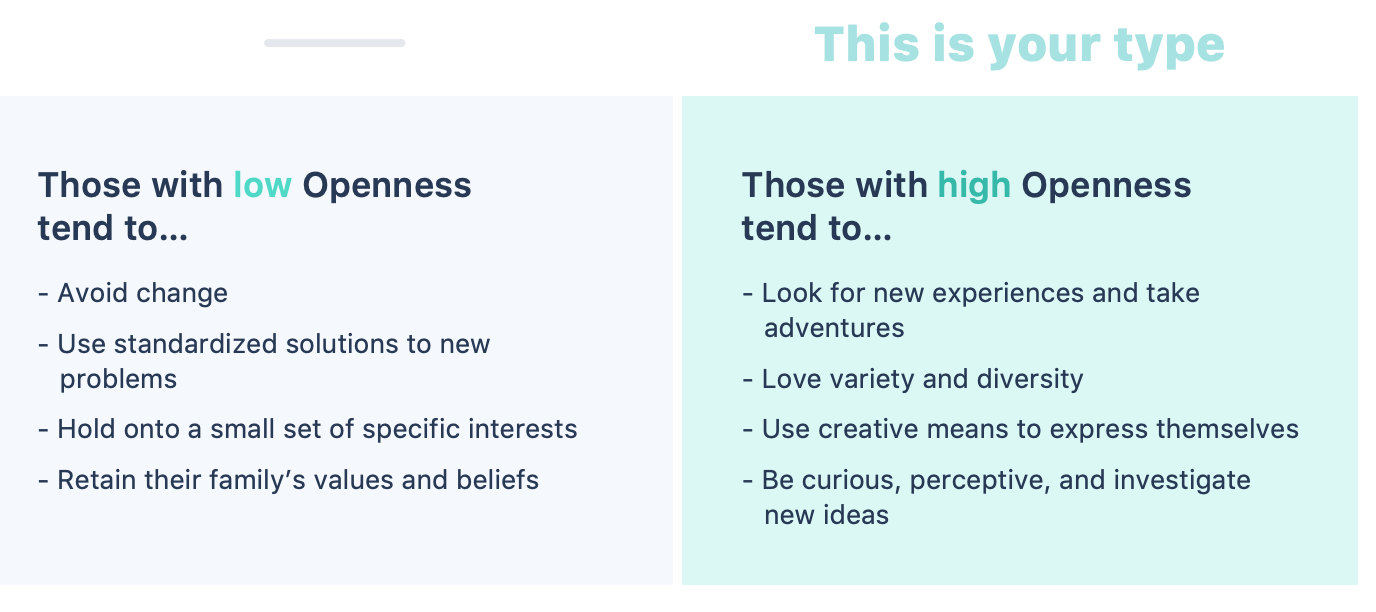 This report provides some interesting insight into how your genetic profile influences your personality.
However, these recommendations are based on generalizations about which careers suit which personality traits and it does not take into account how all five personality traits would work together. For this reason, it lacks any particularly personalized insight.
The report does not list which SNPs are associated with each trait, and it does not cite any research connecting the genes it analyzes to the big five traits.
Wellness Report ($24 – $39)
Genomelink offers six wellness reports for different topics:
Nutrition Advice
Fitness Advice
Organ Wellness
Joint/Blood Wellness
Mental Wellbeing Report
Skincare Advice
The nutrition report starts off with an overview of foods that are beneficial to you based on your DNA. Foods are recommended to you that contain nutrients you are more genetically predisposed to lack.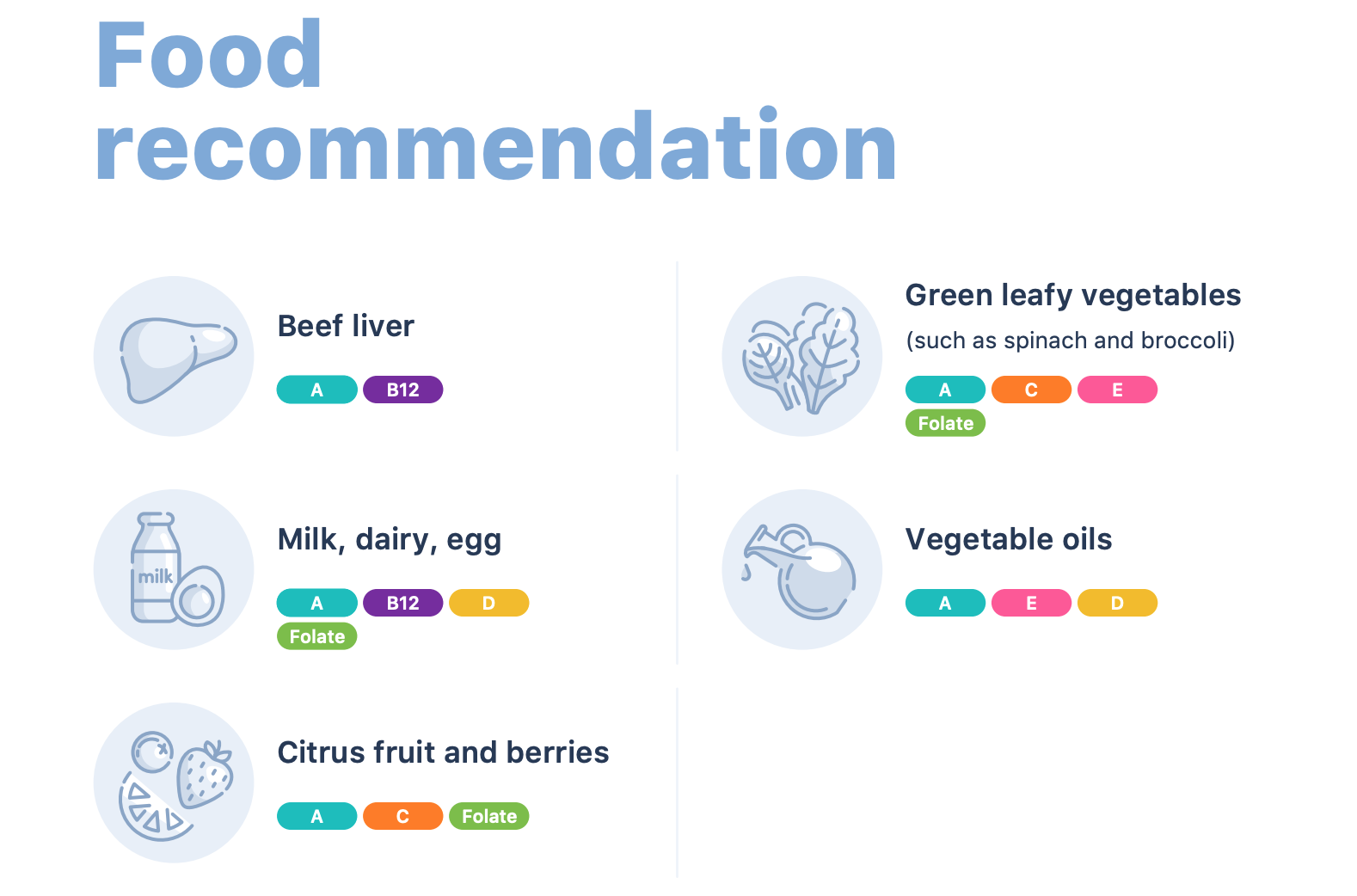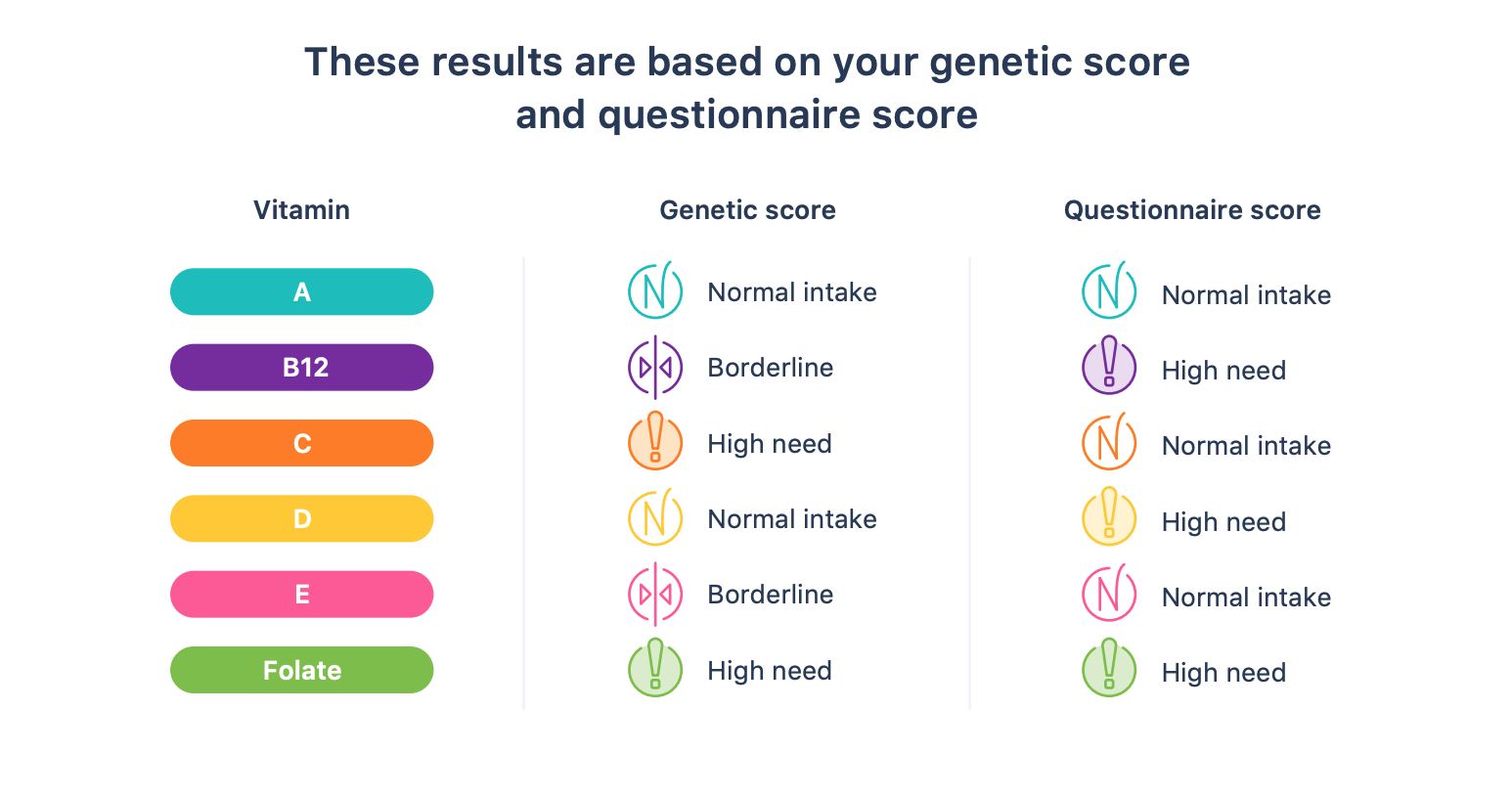 For each vitamin, the report provides personalized information including an overall need score and the SNPs you have that relate to this vitamin. These sections of the report can help you understand which nutrients you should focus on in your diet and which foods to get them from.

This report would benefit from a section where it highlights the most important foods to eat based on your DNA in order to make the information from this report easier to implement.
The Organ Wellness and Joint/Blood Wellness Reports from Genomelink are the result of a partnership between the company and SelfDecode. For these reports, Genomelink provides your genetic predisposition for certain health conditions and personalized diet, lifestyle, and supplement recommendations based on your DNA. They cover a variety of health topics such as blood sugar, mood, pain, heart health, and many others.
Below you can view a sample report.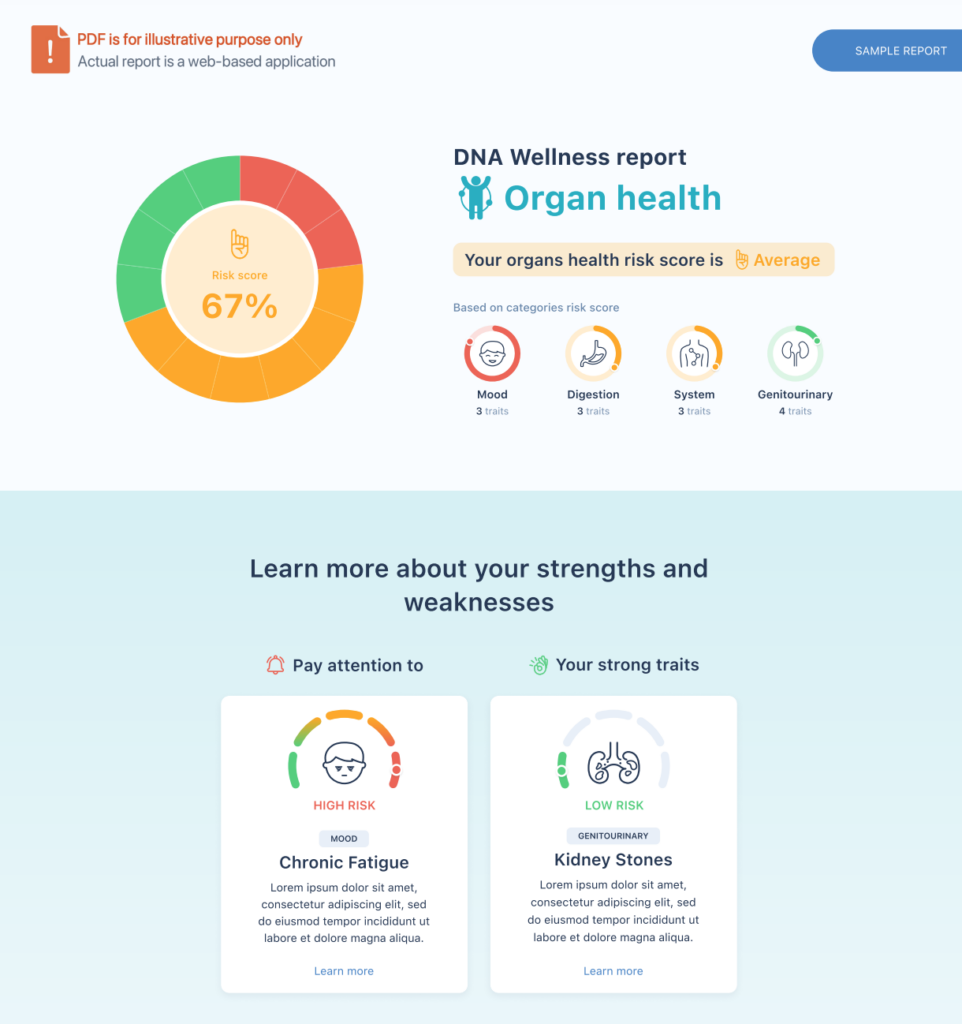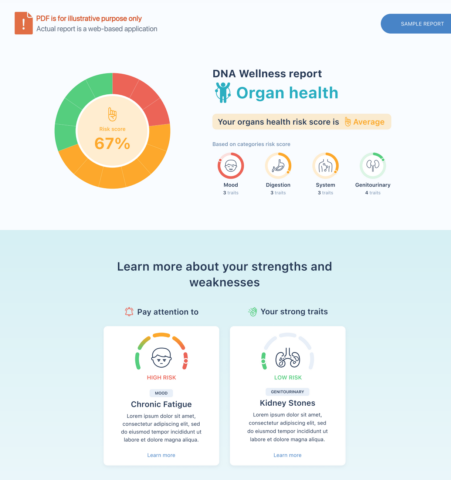 The Organ Wellness Report presents your overall organ health risk score and the categories analyzed in the report. Then, it shows which areas you should pay attention to, and which ones you have a lower risk.
If you want to learn more about each area, Genomelink offers more information. In this section of the report, you can see all conditions analyzed for each health topic and your specific risk score. The results are color-coded to help you understand them.
You can view this section of the report in the sample below.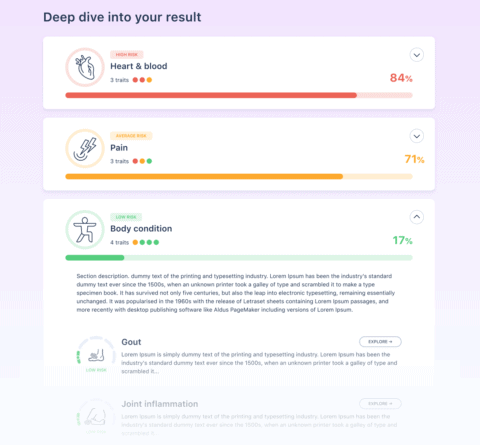 If you want to expand on each health condition, the report also provides more information. As can be seen in the sample report below, Genomelink shows your genetic risk for the condition and a genetic overview. All references are linked throughout the reports for those who want to further explore.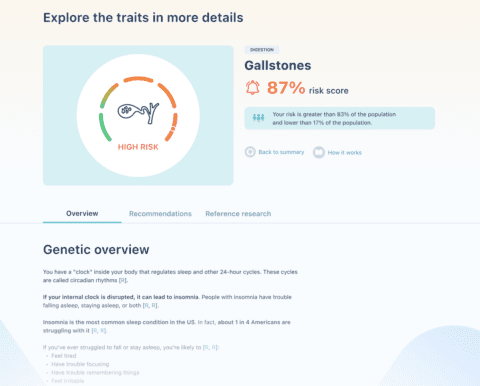 The report also has an entire section dedicated to providing personalized diet, lifestyle, and supplement recommendations to help you address your genetic predispositions. Each condition comes with a set of health suggestions that are given based on your DNA results. Similarly, links to all references are provided in the report.
As can be seen below, Genomelink displays an explanation of the recommendation and how it can help with the specific health condition.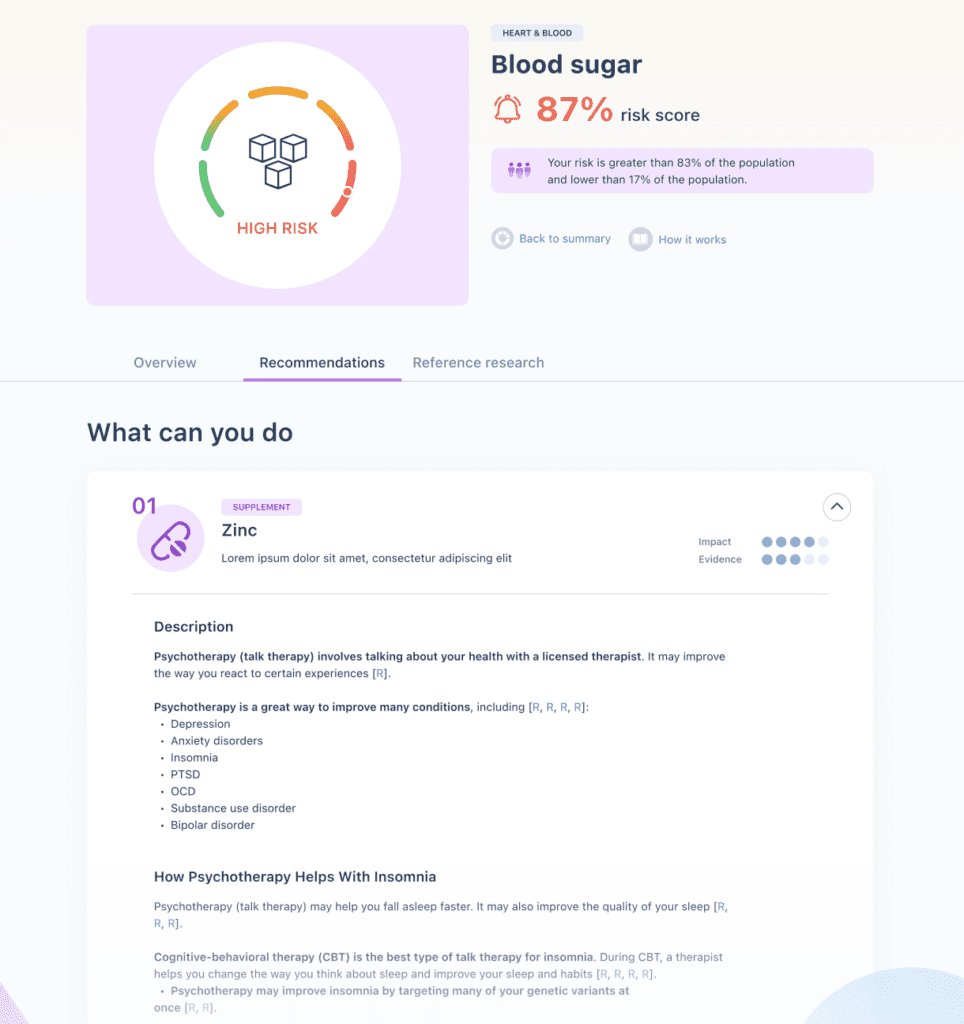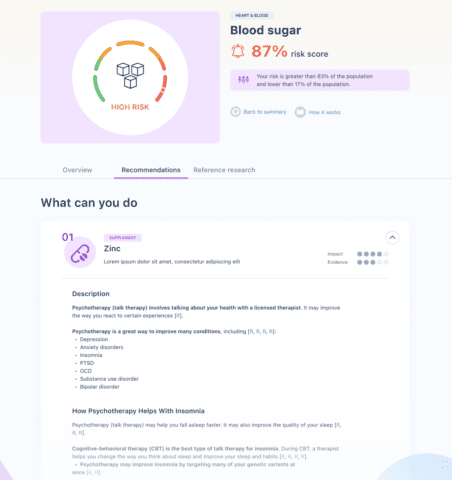 Cost of Genomelink
Genomelink is free to use if you are only interested in seeing information about the 30 free traits.
If you would like to access more than 30 traits (170+) and receive updates each week, you will need to subscribe for $14 per month to access these features. You can also pay $96 for an annual subscription.
The reports are always available for purchase at the same rate, regardless of whether you are subscribed or not. They range in price from $24 to $69. Reports are not included with a subscription. To pay for a monthly subscription and all of the reports, the cost can get up to nearly $300 annually.
Health Recommendations from Genomelink
Genomelink does not make any health recommendations based solely on your traits, so you will need to purchase reports to receive actionable recommendations. The Ancestry and Personality reports do not contain any recommendations because they do not address health.
The recommendations provided by the fitness and nutrition reports are more detailed and based on scientific research. These recommendations are actionable as well.
The fitness report goes into a little less detail, although the recommendations are still helpful. It will tell you which exercises are most beneficial and which will be easiest based on your DNA.
The nutrition report provides specific recommendations about what foods to eat depending on which vitamins and nutrients you are more likely to be deficient in.
Both reports would benefit from a section that prioritized the included recommendations, as is provided in the Organ Wellness and Joint/Blood Wellness reports. There are a lot of suggestions in the fitness and nutrition reports, and it can be difficult to decide where to start.
The Organ Wellness and Joint/Blood Wellness reports do provide a centralized list of diet, lifestyle, and supplement recommendations that are personalized and prioritized based on your DNA. These reports also cover a wider range of health topics, such as blood sugar, mood, pain, and many others.
Review of Genomelink Privacy & Data Security
Genomelink claims that their goal is to maintain complete transparency with their users when it comes to their data. They state that the user has complete control and ownership over their data. They also mention that they maintain HIPAA-level privacy standards.
They make it clear that you can delete your data at any time. They allow you to do this yourself through their website so you can do it whenever is convenient for you.
Genomelink also states that they will only give your data to other companies with your express consent in their privacy policy.
Partnerships
Genomelink has a partnership with Sano Genetics, which is a company that matches consumers' genetic data with research studies. Genomelink will pay you for your data if you consent to have it used by Sano Genetics.
Genomelink also has a partnership with LunaDNA. They say Genomelink users can opt into uploading their DNA to LunaDNA in order to advance medical research. Users can also receive compensation for sharing their data with LunaDNA.
Recently, Genomelink partnered with SelfDecode to leverage SelfDecode's infrastructure to provide two more wellness reports for organ wellness and joint/blood wellness. These reports cover topics such as blood sugar, mood, pain, and many others.
Comparisons
| | | | | |
| --- | --- | --- | --- | --- |
| | SelfDecode | 23andMe | AncestryDNA | Genomelink |
| Personalized & holistic health recommendations | Yes | No | No | Yes, for wellness reports |
| Number of genetic variants analyzed | 83 million | 600,000 | 730,525 | Unknown |
| Products | DNA testing, wellness reports, research-based health recommendations, traits, lab test analyzer | DNA testing, ancestry reports, traits | DNA testing, ancestry reports | Health + ancestry reports, traits |
| Raw data access | Yes | Yes | Yes | N/A |
| Cost (USD) | $97-$396 | $99-$199 | $99 | $0-$294 |
Genomelink Reviews
Trustpilot – 4 of 5 stars
Reviewers appear to enjoy the novelty factor of Genomelink, mentioning that they look forward to the new traits each week. One reviewer complains that they didn't receive "any useful information", while another one says Genomelink is "interesting, but vague".
Product Hunt – 3.8 of 5 stars
Genomelink only has a few reviews on Product Hunt but they are generally positive. Reviewers seem mainly concerned with what file types will work with Genomelink. One user wishes they had more information backed by scientific research.
Read what people are saying about Genomelink on Reddit
Reddit users say that they find a lot of traits to be inaccurate on Genomelink compared to information provided by 23andMe.
Alternatives to Genomelink
SelfDecode: The best option for health-focused DNA analysis with personalized reports and recommendations to improve your quality of life.
Genomelink Review Summary
Genomelink provides an additional way to use the DNA data you have attained from another service. Since they do not offer any testing of their own, their website cannot be the only tool you use to analyze your DNA.
Genomelink is a great option for anyone interested in one of their more unique report topics, such as ancient ancestry or the big five personality traits, because you can upload your file for free and purchase just the report you are interested in.
However, Genomelink fails to provide detailed information about the science behind some of the conclusions they reach. For their traits, ancestry, and personality reports, there is no information about the SNPs or studies that they use. The wellness reports do provide more information and recommendations based on DNA results.
Genomelink provides some useful health insights, but most are not prioritized and only cover a limited selection of topics. The Organ Wellness and Joint/Blood Wellness reports provide a list of prioritized recommendations and cover a wider variety of health topics.
Overall, Genomelink is a fun addition to your analysis of your DNA through another service. The website is well-designed and easy to use, and the information is presented in an accessible way. However, if you haven't had your DNA tested and are interested in learning more about how it impacts your health, a service like SelfDecode can be a good alternative.
SelfDecode offers a DNA test and analysis that look at up to 83 million genetic variants for health. Then, SelfDecode provides your genetic predisposition scores and personalized diet, lifestyle, and supplement recommendations to help you address your health predispositions. If you have a DNA file, you can also upload it to SelfDecode. With a subscription, you'll gain access to over 60 DNA wellness reports, traits, and a lab analyzer tool to help you keep track of your health.
Related