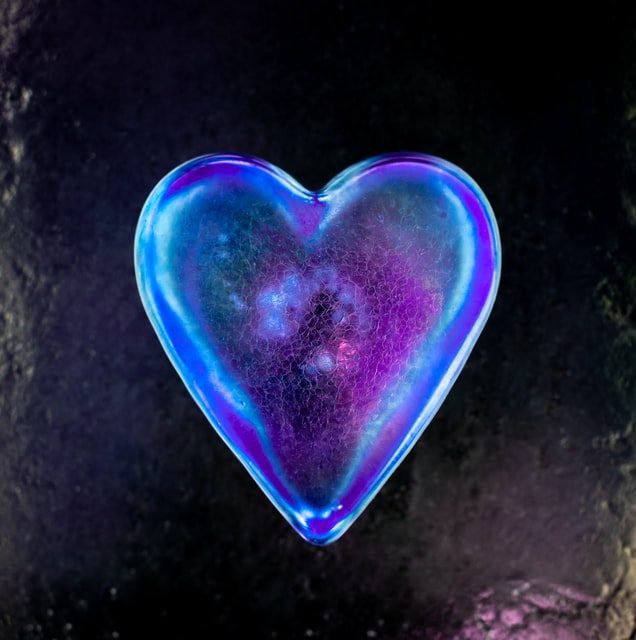 Overview
Products: WellnessFX offers lab diagnostic testing, analysis and professional consultations.
Cost: Lab test and consultation bundles range from $78-$925
Reports: Blood test reports consisting of data for 8 main topics: cardiovascular health, metabolic health, liver health, kidney health, electrolytes, blood health, vitamins and minerals, and fatty acids.
Raw genetic data access: N/A
Privacy: WellnessFX claims to take "reasonable steps" to ensure the safety of personal identifiable information. They state that they adhere to HIPAA compliance standards.
Alternatives: SelfDecode – For under $100, SelfDecode offers personalized health recommendations based on a through analysis of DNA and labs.
Pros
Access to a wide range of practitioners for consultations
Easy to understand visualizations and explanations for lab test data
Offers a mobile app so you can view your test results and analysis on the go.
Cons
Customers must visit a testing site in order to obtain data for the service, they do not supply testing kits.
Does not take into account other health data, such as genetic information.
Most comprehensive package only looks at ~50 lab markers
About WellnessFX
WellnessFX was founded in April 2010 by Brent Vaughn and Jim Kean, in San Francisco, California. Vaughn and Kean are focused on making healthcare data and information accessible to people on a regular basis. The company has received up to $15 million in funding, with their last funding round in 2011. The primary goal for the company as a whole is to empower individuals to understand and improve their health.
Review of WellnessFX Products & Features
WellnessFX offers 4 main packages for analyzing lab markers:
E-Checkup: the most basic package offered by the company. The e-checkup will test over 25 biomarkers, but is not very extensive.
Baseline: includes everything in the e-checkup, but with a more detailed look at topics such as vitamins and minerals, and inflammation.
Performance: includes everything in the baseline package, but adds hormonal measurements.
Premium: The most comprehensive package, will cover all topics offered by WellnessFX.
Additionally, the company offers 4 specialty packages, which focus on the specific topics of advanced thyroid, women's health, omegas, and advanced heart health.
Customers can add consultations with practitioners to any of the main packages to discuss their results and ask questions. The specialty packages currently do not offer a practitioner consultation bundle. Also keep in mind that the company only analyzes a few limited number of labs (~50 markers).
WellnessFX also has a free upload service that allows for data visualization for lab tests that a user has already completed.
Review of WellnessFX Reports
Reports are generated based on the lab tests that the customer has ordered within their package from WellnessFX. Customers will have to visit a physical lab location to administer their blood test. In addition, they can upload their results manually through the upload tool.
Each report breaks down main health topics, such as "cardiovascular health" and explains the topic in an accessible way. This is followed by a visualization of the results and how it fits within a risk profile based on scientific data.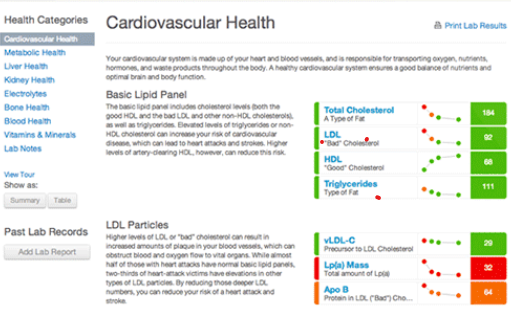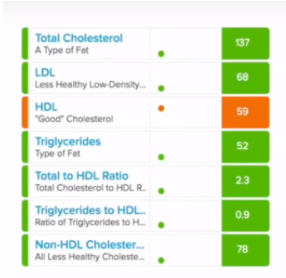 The reports are not extraordinarily detailed, but give the user a good snapshot of their test data and an easy way to understand their risk, or deficiencies. The report is concluded with lab and release notes citing desirable ranges of lab markers from whoever released the report.

Suggestions are given in the reports to improve results that are not normal or optimal. They are short and delivered in a list format. Unfortunately, no citations are present within this section of the report.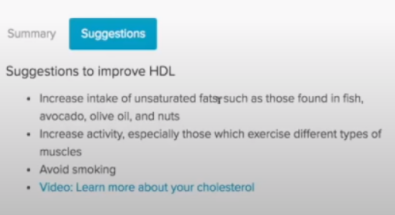 Cost of WellnessFX
The price range for WellnessFX services and packages vary widely. The packages are offered with and without consultations, as seen below.
Main Packages
E-checkup: $78, or $153 with a 20 minute nutritional consultation
Baseline: $198, or $273 with a 20 minute nutritional consultation
Performance: $497, or $689 with a 40 minute medical consultation
Premium: $925
Specialty Packages
Advanced Thyroid: $163
Women's Health: $384
Omegas: $99
Advanced Heart Health: $374
WellnessFx also offers a free health data tracker where users can upload their lab results.
Health Recommendations from WellnessFX
WellnessFX offers some actionable recommendations based on lab marker results. The recommendations encompass a wide range of topics including diet, lifestyle, and exercise to improve their health.
The suggestions are organized in point form, using simple language that users can understand easily. However, they are very simplistic and overall generic, not providing much detail on how they can help you optimize your health. Furthermore, the company does not include scientific references to support their suggestions.
Review of WellnessFX Privacy & Data Security
Since customers must upload personal health information and other personally identifying information, WellnessFX's privacy and data security policies should be understood before choosing to use the service.
According to their privacy policy, WellnessFX claims to take "reasonable steps" to protect personal information submitted to their platform. The company also claims that they adhere to HIPPA standards.
SelfDecode vs WellnessFX
SelfDecode delivers natural supplements, diet, and lifestyle suggestions based on your genes that you can implement right away. WellnessFX also delivers general recommendations based on their lab results, although they are not based on your genetic data.
SelfDecode tells you why they make each recommendation so that you can understand the science behind the suggestion. WellnessFX does not explain the science behind their recommendations.
SelfDecode prioritizes recommendations based on their analysis of all the relevant genes instead of one gene at a time (through reports). WellnessFX provides recommendations based on an analysis of a limited number of lab markers.
SelfDecode takes a holistic approach to give recommendations that are best for your genes AND the health topic. WellnessFX only analyzes lab test data.
SelfDecode is the most comprehensive and looks at more genes & genetic markers (up to 83 million) and labs (over 1,000 markers) to deliver the best risk analysis. WellnessFX does not offer DNA testing and only analyzes up to ~50 lab markers.
SelfDecode supports everything with peer-reviewed scientific studies in their research and checks for contradicting information. WellnessFX provides lab release notes, but does not provide scientific references within the reports.
SelfDecode never sells your data or gives it away. WellnessFX does not make any direct statements regarding selling data, but is HIPAA compliant.
Comparisons
| | | | | |
| --- | --- | --- | --- | --- |
| | SelfDecode | WellnessFX | Thriva | InsideTracker |
| Personalized & holistic health recommendations | Yes | No | No | No |
| One-click regimen builder | Yes | No | No | No |
| Products | DNA testing, wellness reports, research-based personalized health recommendations, lab test analysis, professional plans | Lab test packages, practitioner consultations, informational blog posts | At-home blood tests, health and wellness reports | Blood and DNA testing, health and fitness reports |
| Raw data access | Yes | N/A | N/A | Yes, for a fee |
| Cost (USD) | $97 – $396 | $78-$925 | $0- $94+ | $49-$589 |
WellnessFX Reviews
Topconsumerreviews.com – 3.5 of 5 stars
Topconsumerreviews.com gives the service an average rating, citing that the company does an excellent job of making intuitive visualizations of lab marker results. They mention that WelnessFX does fall short in terms of test offerings because they do not offer single tests, making it a less convenient option for many customers.
Consumersadvocate.org – 3.8 of 5 stars
Consumeradvocate.org rates the company favorably, with its most positive ratings being the services and user-friendliness of the service.
Read what people are saying about WellnessFX on Twitter
The discussion surrounding WellnessFX on twitter is fairly robust, and the WellnessFX official twitter account is actively posting new content.
Apple App Store- 23 ratings with an average rating of 2.8 of 5 stars
App users have given the WellnessFX app low ratings, explaining that the app is hard to use, crashes, or has other errors. Some users mention that the app works fine for them, but the majority do not.
Alternatives to WellnessFX
SelfDecode: The best option for health-focused DNA and lab analysis with personalized reports and recommendations to improve your quality of life. SelfDecode generates personalized Wellness Reports specific to your genes, backed by peer-reviewed scientific data.
WellnessFX Review Summary
WellnessFX offers a service that allows you to find out more about your lab test results, and speak about them with a professional if you choose. The reports are not very detailed, but they do offer brief suggestions regarding nutrition, lifestyle and exercise.
The service does not offer testing from home, and customers must go to an affiliated lab to get their blood drawn. WellnessFX claims that ordering using their bulk discount will help customers save money by getting advanced diagnostic tests cheaper.
Alternatives such as SelfDecode offer a DNA test that delivers diet, lifestyle, and supplement recommendations aimed at improving overall health. Additionally, uploading your lab test results to SelfDecode Labs (included in your membership) offers personalized insights on over 1,000 lab markers and how to optimize them, all for less than $100 annually.
Related Articles