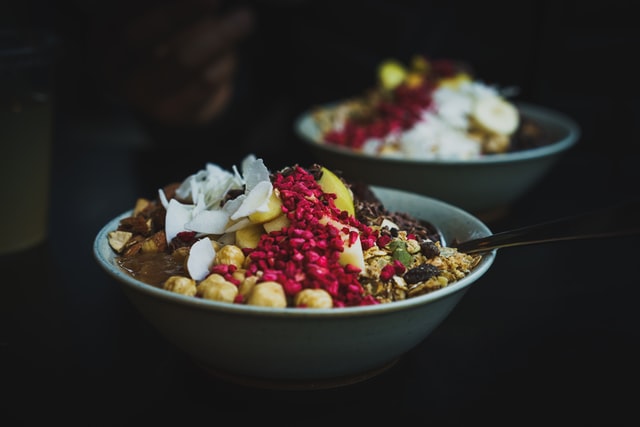 Overview
Products: health-focused tests and reports
Cost: $49-$259 per test
Reports: test results and brief analysis
Raw data access: no
Privacy: data always encrypted, stored with HIPAA-level privacy
Alternatives: SelfDecode, DiscountedLabs
Pros
Wide variety of tests available
Convenient
Quick turnaround time for results
Cons
Not clear about what research backs up their findings
Only one report per test
Expensive to get more than one test done
No option to upload your own results
Only available in the U.S.
About EverlyWell
EverlyWell was founded in 2015 by Julia Taylor Cheek. As of 2020, the company has raised $250M in funding. Cheek founded the company to make lab testing accessible to everyone at home.
EverlyWell was featured on ABC's Shark Tank and received a million-dollar investment from Lori Grenier.
Review of EverlyWell Products & Features
EverlyWell offers a wide variety of at-home lab tests to allow you to better understand your health. These tests include food sensitivity, predispositions for certain conditions, fertility testing, a COVID-19 test kit, and STD testing.
Each test includes a report on your results. Other than the results and a short analysis of them, there are no other reports available.
To get information from EverlyWell, you must take one of their tests. You cannot upload lab test results of your own.
Review of EverlyWell Reports
EveryWell's reports include your test results and recommendations based on them. Each report includes information about the markers tested and an explanation of what your results mean.
These are results from the food sensitivity test. The test highlights foods that you are potentially more reactive to based on your body's IgG immune response.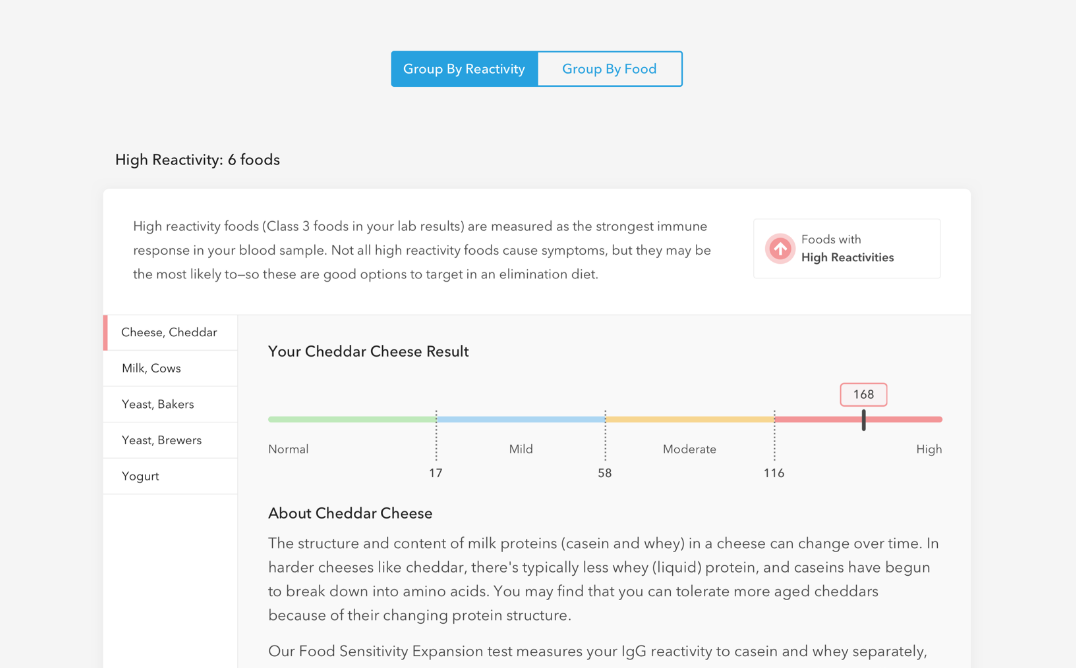 For tests with markers like hormones, the results display what a normal range would be and whether you fall within it, as can be seen below. You can expand the results to view more details about what each marker means.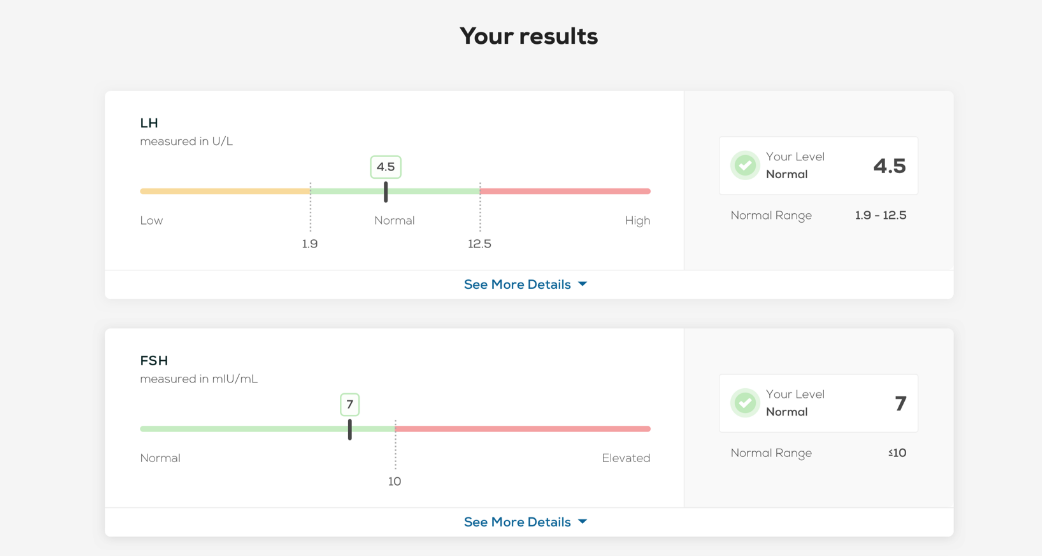 Just because you are in the normal range does not necessarily mean you are completely healthy. A service like LabTestAnalyzer will tell you whether you fall within the optimal range for a particular marker – this can help you figure out what changes you need to make to improve your health.
The report then includes some recommendations based on your results. These recommendations are relatively simple but actionable.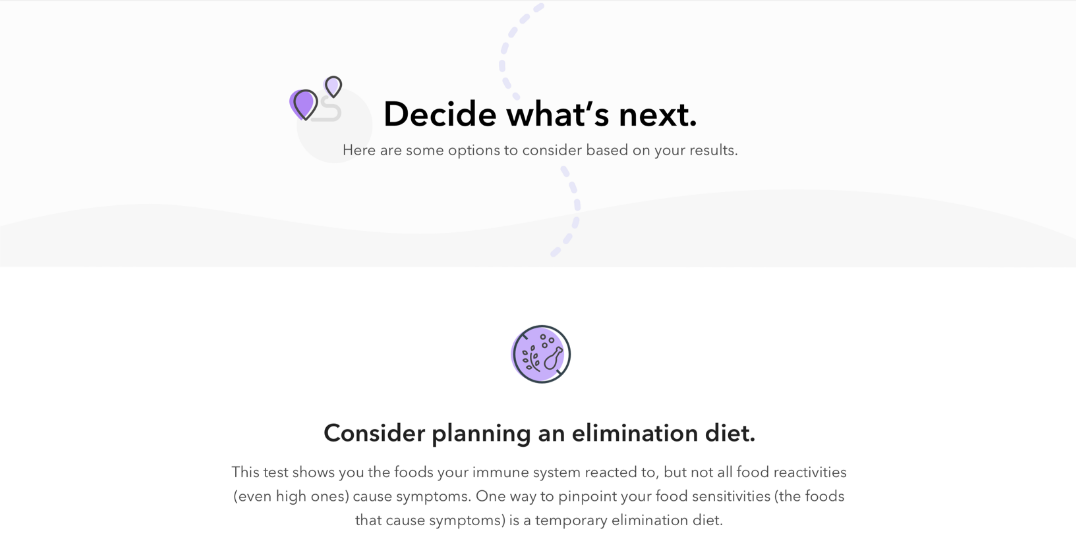 The issue with the highly popular food sensitivity test is that the only real health recommendation to be made to treat food sensitivities is the elimination diet. Many argue this is the only well-established approach to determining food sensitivities in the first place.
EverlyWell even indicates here in their recommendation of the elimination diet that their test only identifies some foods that your immune system responded to – this limits the test to foods you ate within a certain window of time before taking it.
If the elimination diet is the end result, it brings into question whether the $159 for their test is really worth spending, especially given its potential inaccuracies. Stat News claims that IgG tests have actually been established as inaccurate for assessing food sensitivities by several health organizations, although this is up for debate.
Cost of EverlyWell
The customer pays per test at EverlyWell. The cost of the test includes shipping, evaluation by a third-party physician, and a report of the results. The prices for each test vary but they are all between $49 and $259.
Some of their tests are covered by health insurance plans in the United States. The COVID-19 test can only be purchased if the individual is found eligible after answering a screening questionnaire.
Most of the other tests are not covered, making them potentially more expensive than a test from your healthcare provider.
Health Recommendations from EverlyWell
EverlyWell makes health recommendations based on your test results. This means that the recommendations are not holistic – they are based on results from a single test instead of your health as a whole.
These recommendations are no more nuanced than those you would receive from a healthcare provider. They do not take a functional medicine approach: they do not aim to address the root cause of the issue.
If these tests would be covered by your insurance with a healthcare provider, you are likely to get the same information for a lower cost by taking that route. EverlyWell's recommendations are not adding a new perspective, which is often the value of services like these outside of the healthcare system.
Review of EverlyWell Privacy & Data Security
EverlyWell claims that they never sell your data and use bank-grade encryption to keep it secure. They use 'ClearData', a third-party service, to store data as they claim they feel more confident outsourcing data storage to experts in the field.
EverlyWell allows its customers to volunteer their data to be used in research studies. If you opt-in to share your data for this purpose, it will be anonymized and aggregated.
You can also consent to have your data shared with enterprise partners, but EverlyWell does not elaborate on who these partners are on their website.
Comparisons
| | | | |
| --- | --- | --- | --- |
| | Lab Test Analyzer | EverlyWell | DiscountedLabs |
| At-home lab tests | Yes | Yes | No |
| Natural health recommendations based on markers | Yes | No | No |
| Products | Detailed analysis of lab reports, free analysis of genetic data included with SelfDecode | Variety of at-home lab tests and basic analysis | Discounted lab tests |
| Upload your own lab results | Yes | No | No |
| Cost (USD) | $97 – $387 | $49-$259 | $99 – $499 |
EverlyWell Reviews
Amazon.com – 3.5 of 5 stars
Amazon users note that EverlyWell's most popular food sensitivity test is not necessarily accurate – the IgG blood test is thought to often show what you have eaten a lot of before testing instead of what you are actually sensitive to.
See what people are saying about Everlywell on Reddit
Reddit users suggest the FODMAP or elimination diets to identify food sensitivities instead of lab tests like the one offered by EverlyWell.
Alternatives to EverlyWell
SelfDecode: Personalized and prioritized health recommendations based on your DNA.
LabTestAnalyzer: This service allows users to upload their own lab test results and receive a detailed analysis of each marker as well as health recommendations based on these results.
FITLabs: At-home tests for food sensitivities.
EverlyWell Review Summary
EverlyWell is a great option for anyone looking to do lab tests from home. They offer a convenient way to have these tests done without having to book a doctor's appointment or plan a trip to the lab.
However, if you are looking to expand upon your knowledge of your health beyond traditional medicine, EverlyWell does not offer much in that sense. Their recommendations are based only on single lab markers, so this makes it difficult to know how these recommendations relate to your overall health.
Many sources claim that EverlyWell's most popular product, their food sensitivity test, is not necessarily the best way to go about identifying issues in your diet either. An elimination diet will likely offer more accurate results.
Another great way to get more information on your health is through your DNA. Unfortunately, that is a service that EverlyWell does not offer. An alternative such as SelfDecode can give you personalized diet, lifestyle, and supplement recommendations on over 30 health topics based on your genes.
Plus, with SelfDecode you'll get access to LabTestAnalyzer, a tool that allows you to upload lab test results and receive an analysis of what your various markers mean and how to improve them, a more in-depth analysis than EverlyWell can offer. SelfDecode also offer lab tests you can take from the comfort of your home.