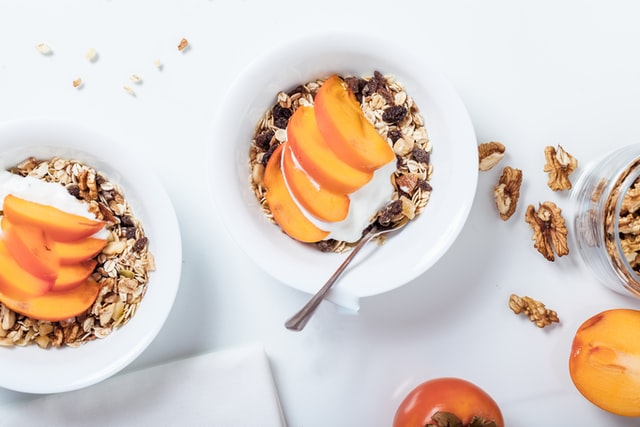 Overview
Products: Food sensitivity tests.
Cost: $190 to $365.
Reports: Food sensitivity reports.
Raw data access: Not applicable.
Privacy: FITLabs claims to only use collected information as described in their Privacy Policy.
Alternatives: SelfDecode is a health-focused DNA test that delivers personalized health recommendations based on your genes.
Pros
Users can order the tests without going through a medical professional.
The company offers a complimentary consultation with a wellness professional.
FITLabs includes a cookbook with one of their tests.
Cons
The company only covers food sensitivities.
They do not offer a saliva DNA test, and users must use a finger-prick blood test.
Limited health recommendations.
About FITLabs
FITLabs is a food sensitivity testing company based out of Toronto, Canada. Established in 2018, they are an exclusive provider of the ImuPro Food Sensitivity test in the country. ImuPro has been available in Germany since 2000 and now is present in over 40 countries.
ImuPro monitors their licensed partners regarding the quality of their services annually. They currently carry a valid Health Canada Device License. FITLabs claims ImuPro performs approximately 80,000 tests per year.
Review of FITLabs Products & Features
FITLabs offers a food sensitivity test that does not require authorization from a healthcare provider. The company also offers a practitioner option where medical professionals can order test kits for their patients.
Users are required to send in a blood sample from a finger-prick test. From the receipt of the sample, the report is delivered by email in 7 to 10 business days.
FITLabs analyzes blood samples to detect levels of IgG antibodies specific to certain food proteins. Elevated levels of this antibody can indicate a type III food allergy, also known as food sensitivity. The tests are performed by using the standard Enzyme-linked Immunosorbent Assay test method, or ELISA.
There are two options to choose from with this company. ImuPro Basic tests 90 food items including common types of meat, vegetables, fruits, cereals, dairy products, and chicken eggs. Below are all the food items analyzed by this test.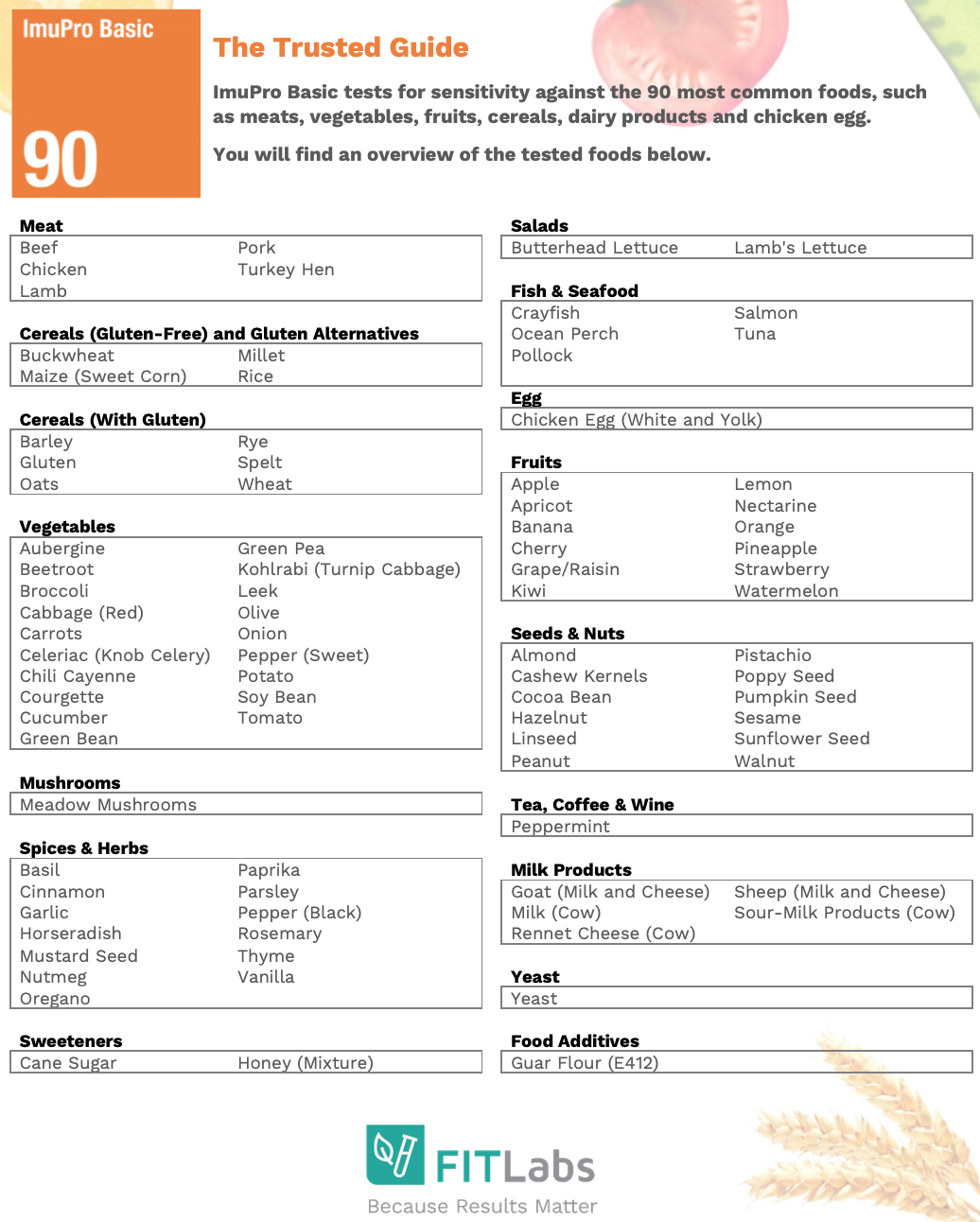 ImuPro Complete examines 270 foods and additives. It includes the items tested by ImuPro Basic, plus alternative and region-specific foods. The test also covers spices, teas, coffee, wine, thickening agents, and preservatives found in different foods.
Review of FITLabs Reports
FITLabs offers a report containing the food sensitivity results. The company presents the results by classifying the specific IgG antibodies as not elevated, elevated, or highly elevated, as seen below. They disclose that they do not test for IgE-related allergies.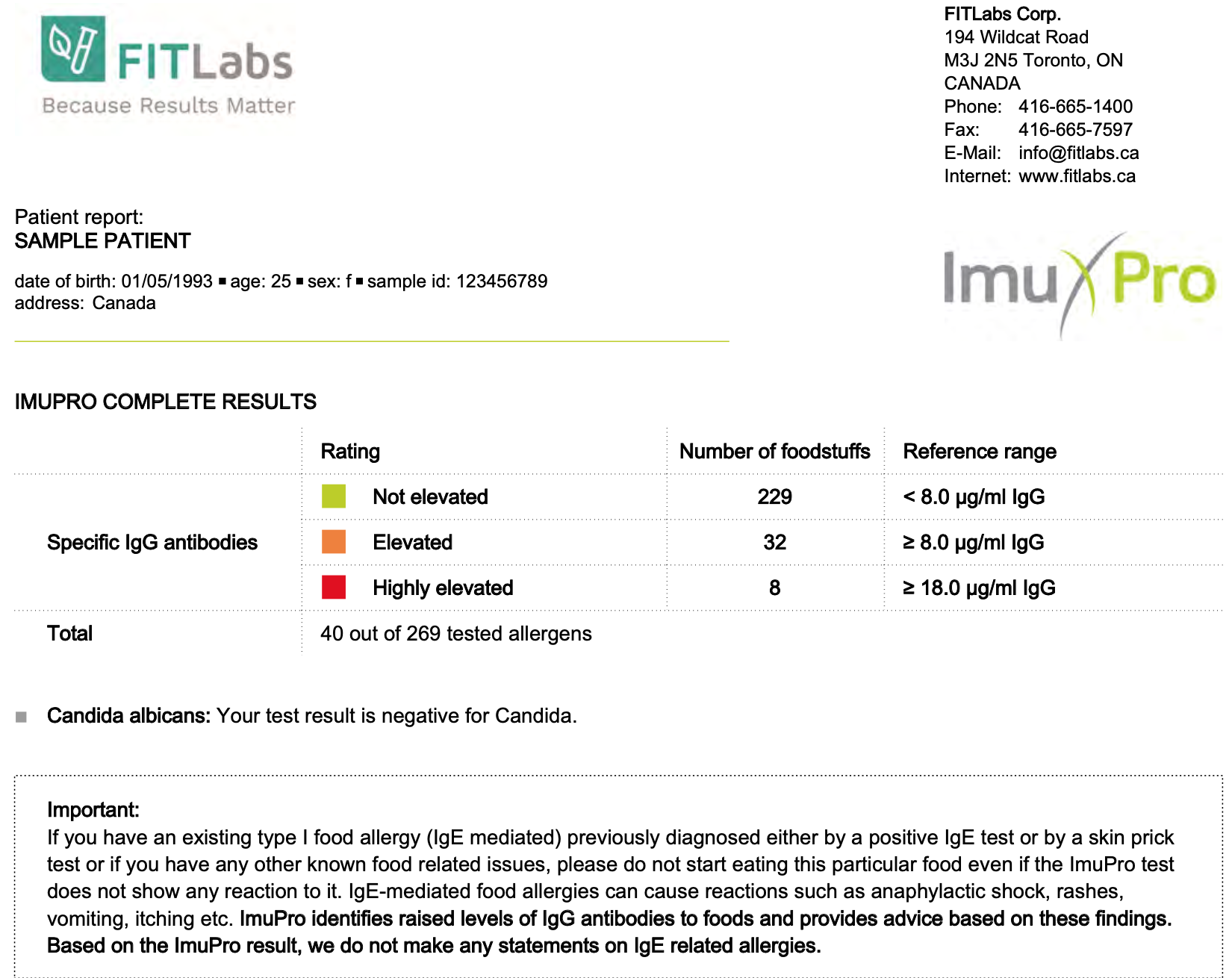 The report presents the food items divided by broader groups such as fruit, cereals, meats, and others. The specific results are shown in the sample report below.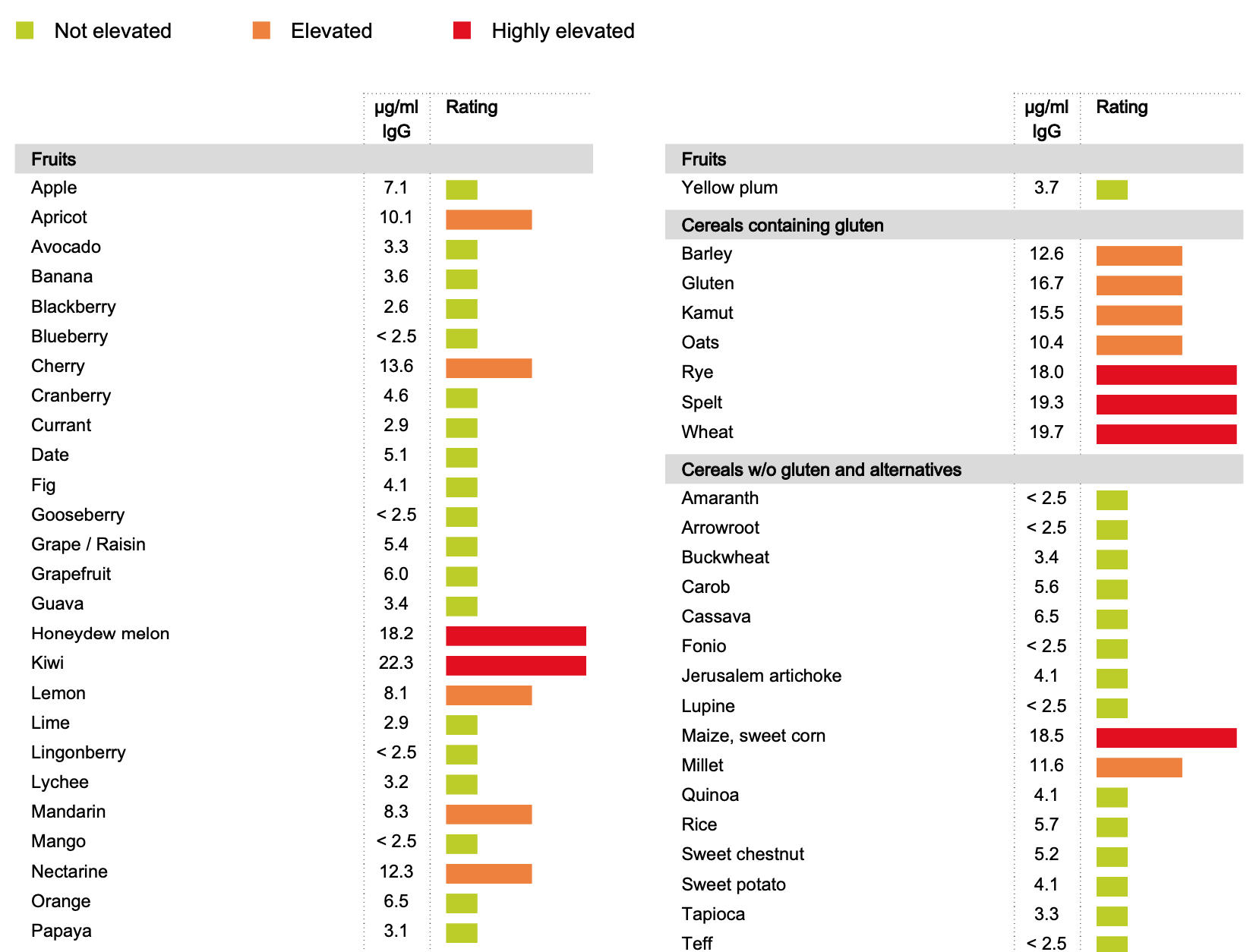 FITLabs includes the Individual Recipe Book along with the ImuPro Complete test. The company states it contains recipes curated to avoid the user's food sensitivities. They also take into account personal dietary preferences to provide recipe recommendations.
Also included with the results is the Personal Nutrition Guide, a brochure with some standard information about food allergies and the elimination diet, which is not personalized to each result.
The guide explains how each stage of the elimination diet works and how customers can use their results to address their food sensitivities.
The Elimination Phase requires users to restrict their diets to foods that didn't present elevated levels of IgG antibodies. The report displays the list of foods that are allowed during this period, as seen below.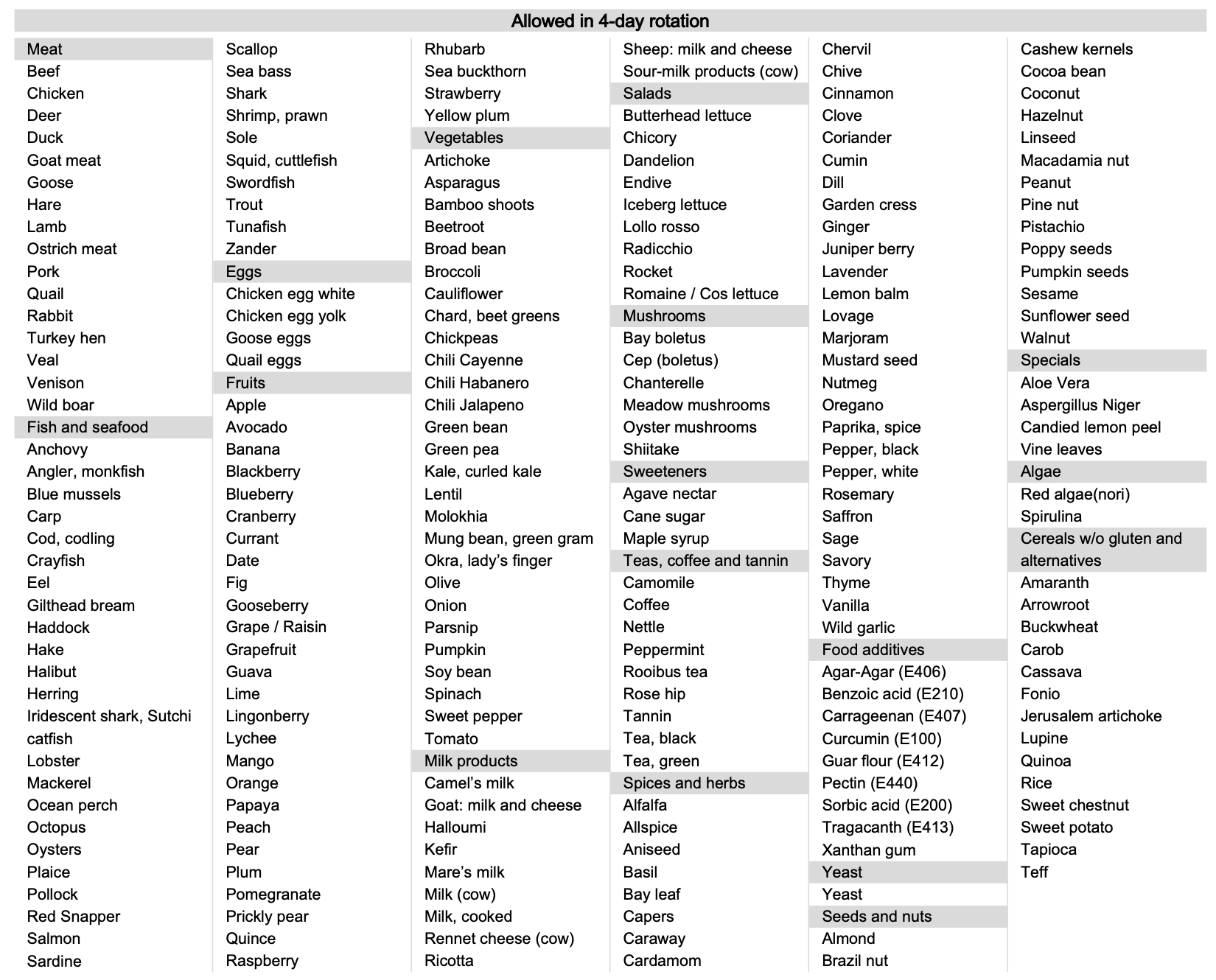 For the Provocation Phase, FITLabs suggests a gradual inclusion of the avoided foods, one by one, to help people identify their personal trigger foods.
The booklet also includes a Provocation Diary, which is presented in a table format where you can write down when each food was reintroduced and if it caused any symptoms.
During the Stabilization Phase, the trigger foods are avoided for a minimum of one year. After, they are reintroduced one by one to determine if the original inflammation returns.
Finally, the report includes a brief explanation about each possible trigger food, alternatives to these items, and FITlabs' advice on handling some of the allergens.
Cost of FITLabs
The ImuPro Basic test costs $190, while the ImuPro Complete is priced at $365. Healthcare providers are only charged for the test kits after the tests are completed for their patients.
Health Recommendations from FITLabs
FITLabs delivers diet recommendations based on food sensitivity test results. The company also includes a standard nutritional guide and offers a complimentary 30-minute consultation with a wellness specialist to discuss the results.
Users who acquire the most expensive test are given a cookbook that FITlabs claims accounts for their food sensitivities and personal diet preferences. Other than this limited scope, the company does not offer any other reports or recommendations.
Review of FITLabs Privacy & Data Security
FITLabs claims that they only use collected information for product inquiry purposes. They state that they do not collect personal data on children under 13 years of age. Users may request the deletion of their information from the database by contacting the company.
The Terms and Conditions are governed by the laws of the Province of Ontario. The company protects user data by using a firewall and secure servers.
SelfDecode vs FITLabs
SelfDecode delivers natural supplements, diet, and lifestyle suggestions based on your genes that you can implement right away. FITLabs only offers nutrition recommendations based on food sensitivities.
SelfDecode tells you why they make each recommendation so that you can understand the science behind the suggestion. FITLabs makes their recommendations based on food sensitivity test results.
SelfDecode prioritizes recommendations based on their analysis of all the relevant genes instead of one gene at a time (through reports). FITLabs highlights possible trigger foods to help users reduce their inflammation and discomfort.
SelfDecode takes a holistic approach to give recommendations that are best for your genes AND the health topic. FITLabs only tests for food sensitivities.
SelfDecode has a team of over 60 highly skilled scientists, MDs, PhDs, NDs, and software engineers to make sure they deliver the most accurate and science-based health information. FITLabs claims to offer consultations with wellness professionals to users.
SelfDecode is the most comprehensive and looks at more genes & SNPs (up 83 million) and lab markers (over 500) to deliver the best analysis of health risks. FITLabs analyzes your sensitivity to up to 270 food and non-food items.
SelfDecode supports everything with peer-reviewed scientific studies in their research and checks for contradicting information. FITLabs does not provide scientific references in the reports.
SelfDecode never sells your data or gives it away. FITLabs claims only to use collected data for product inquiry purposes.
Comparisons
| | | | | |
| --- | --- | --- | --- | --- |
| | SelfDecode | FITLabs | Test Your Intolerance | Check My Body Health |
| Personalized & holistic health recommendations | Yes | No | No | No |
| Genes & lab markers analyzed | Up to 83 million genetic variants and over 500 lab markers | Up to 270 food items | 7 genes and up to 800 food and non-food items | 970 food and non-food items |
| Products | DNA testing, wellness reports, health recommendations, patient and provider options, lab test analyzer | At-home finger-prick tests for food sensitivities | Allergy and intolerance tests, DNA wellness testing | Bioresonance testing, food sensitivities reports |
| Raw data access | Yes | N/A | No | No |
| Cost (USD) | $97 – $387 | $190 – $365 | $29 – $199 | $22 – $110 |
FITLabs Reviews
There are no online reviews for FITLabs. The company has an active Facebook profile, but it has yet to receive any reviews.
However, since ImuPro products are available in many countries, there are some scarce reviews of the test. Users from the HealingWell forum discuss how the ImuPro test has helped them, but comment on how it is expensive.
Alternatives to FITLabs
SelfDecode: A health-focused saliva DNA test that offers personalized diet, lifestyle, and supplement recommendations and gives access to a lab test analyzer.
FITLabs Review Summary
FITLabs claims to provide dietary recommendations based on a food sensitivity test. Their reports display the levels of IgG antibodies present in the blood to determine which foods you should avoid to improve your inflammation levels.
They use ELISA testing to determine if you show any reactions to a list of food items and provide a standard guide covering the steps you should follow to find your trigger foods with an elimination diet. The results also bring some information on how to reintroduce foods into your routine after you finish this process. Other than this limited scope, however, FITlabs does not offer any other health recommendations.
There are many ways to gauge health, and your DNA can play a big role in it, even when it comes to food sensitivities. If you're looking for truly personalized health insights based on what makes you unique, SelfDecode uses artificial intelligence and machine learning to analyze up to 83 million genetic variants to give you prioritized and personalized recommendations to help you improve your overall well-being. SelfDecode's reports include topics such as allergies, gut health, and over 28 others.
With SelfDecode, you will also gain access to SelfDecode Labs. Just upload your lab results or purchase lab tests from SelfDecode to get tailored insights on how to optimize over 500 lab markers.
Related Articles