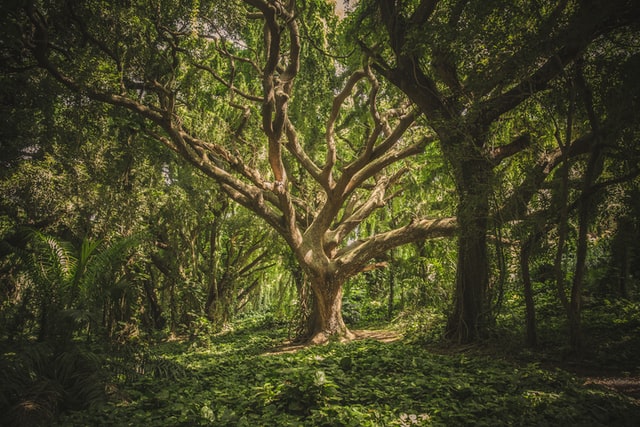 Overview
Products: Family tree builder, DNA analysis for genealogy.
Cost: Geni offers a free basic membership, but a paid subscription is priced at $119 per year.
Reports: Genealogy and family tree building.
Raw data access: No.
Privacy: Geni claims not to share DNA results and personal information with third parties without user consent.
Alternatives: SelfDecode delivers personalized health recommendations based on your DNA.
Pros
Geni offers a free membership in addition to a paid subscription.
Over 150 million profiles are connected in the World Family Tree.
Users can upload DNA information to find or confirm relationships on Geni.
Cons
The company only offers DNA testing through MyHeritage and Family Tree DNA.
If a user wishes to use a preexisting raw DNA file, they need to upload it to Family Tree DNA's website first and then transfer it to Geni.
As a genealogy-focused company, they do not offer health information based on DNA.
About Geni
Geni a collaborative genealogy platform founded in 2006 by David O. Sacks, Alan Braverman, and Amos Elliston. The company is based in Los Angeles, California. Geni was acquired by MyHeritage in 2012, but they state that they will remain an independent brand.
As stated on their website, they welcome both casual genealogists and experts who wish to find new relatives and discover more about their families. The company wants to help users create a single, comprehensive World Family Tree.
Review of Geni Products & Features
Geni is a genealogy platform for family tree building. The company is a part of the MyHeritage family since 2012. You can read a full MyHeritage review to learn more about the company.
To get started, users need to fill out their name, gender, and email address. After creating an account, they can complete their profile by adding personal information such as date of birth and immediate family, as seen from the screenshot below.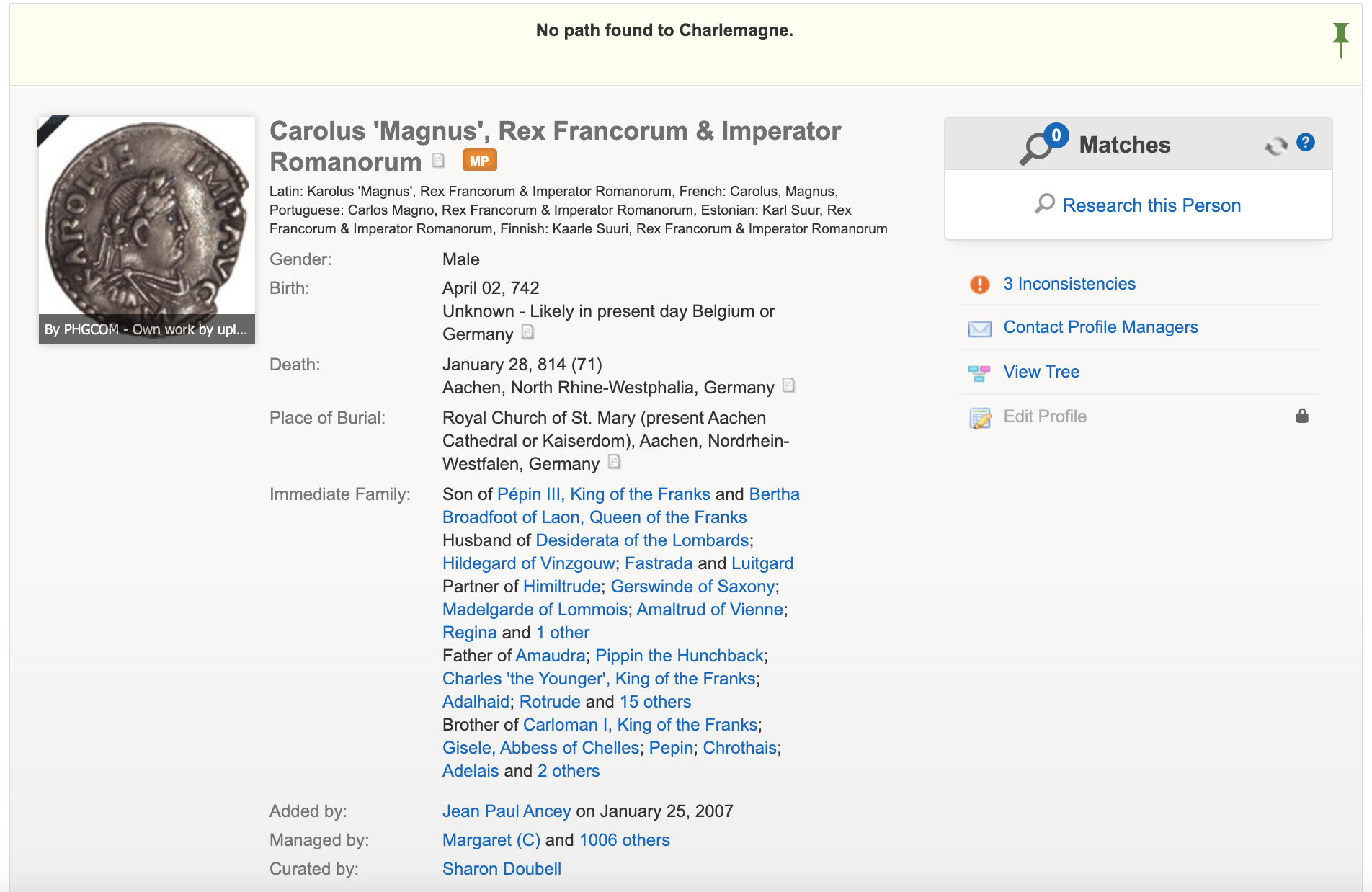 Example of a profile page
By visiting another profile page, one can also find out if they are related to that person. In the example shown above, it says that no relationship was found between the users.
From the profile page, one can also see information about each member, such as a brief biography, the number of blood relatives and ancestors they have, and more personal information, as seen below.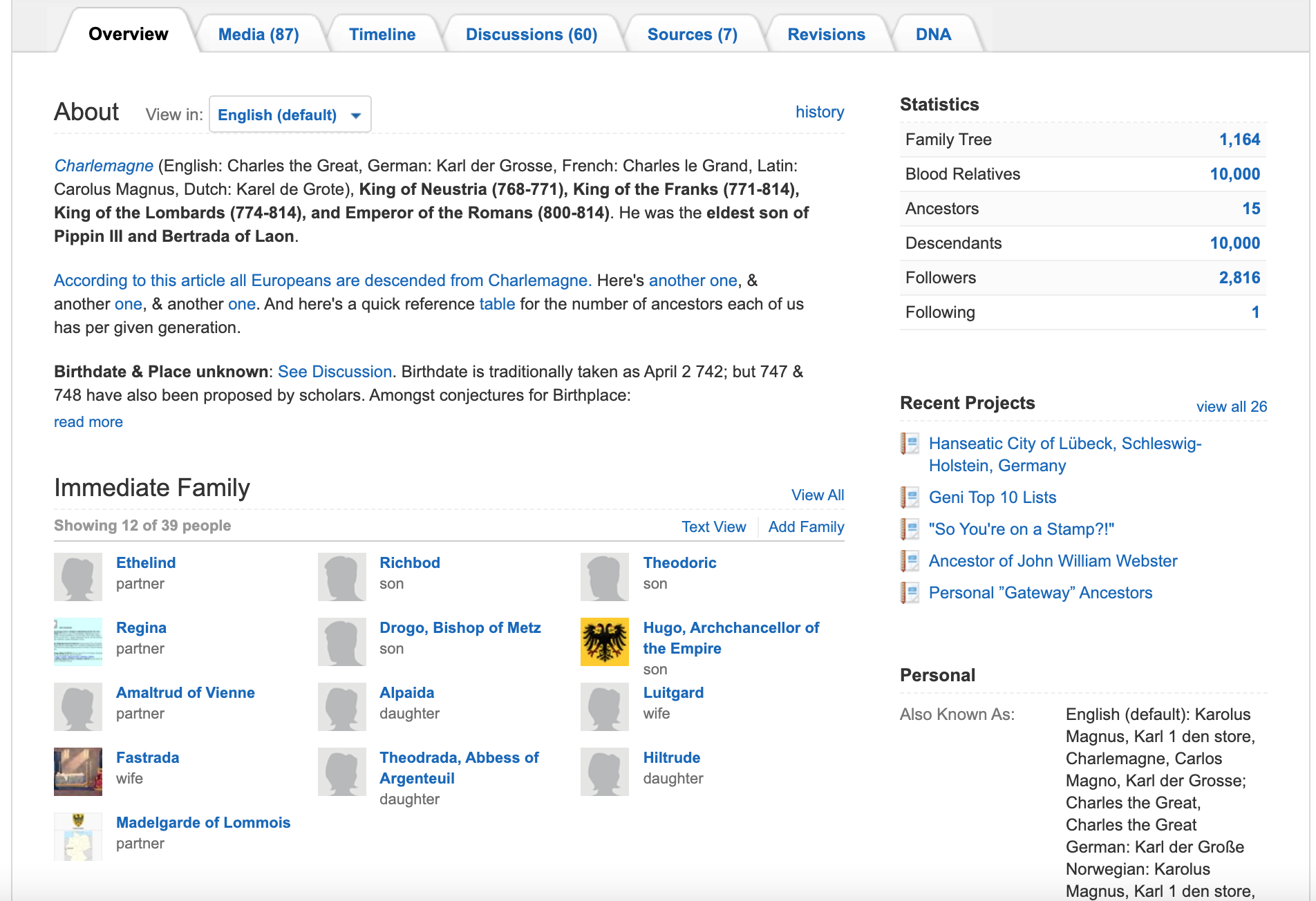 Example of a profile page
Users can add information about their immediate family and include their contact information, which Geni uses to automatically invite them to join the community. Since members can add people from outside the community to their tree, these profiles will remain unclaimed until the person joins the platform. The family tree can be graphically manipulated so users can easily manage their connections.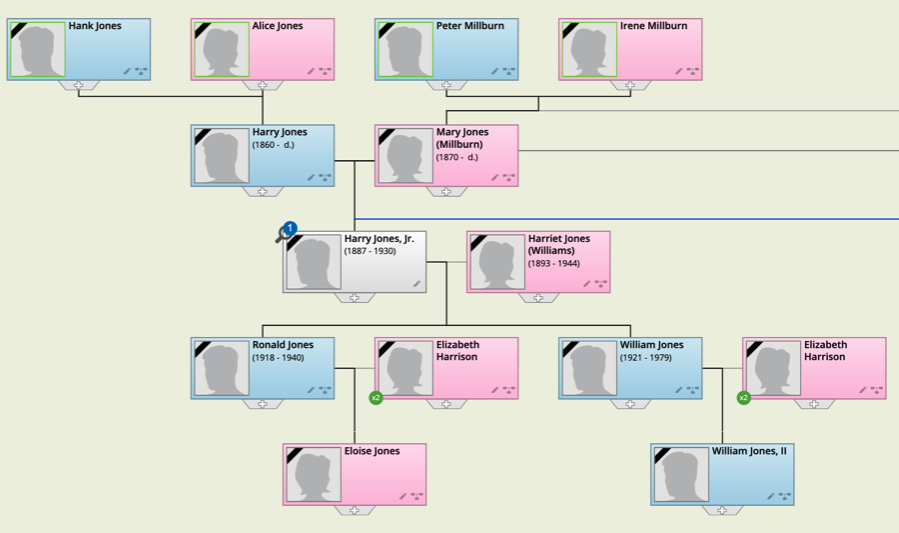 Geni Family Tree
Trees on Geni can have both public and private profiles. An explanation for what each type of profile encompasses can be seen in the screenshot below.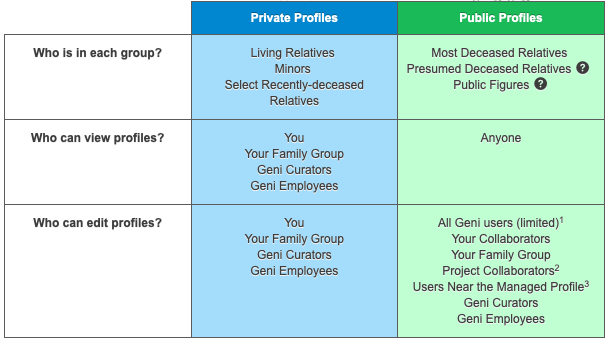 Private and Public Profiles
Since multiple profiles may be created for a given person, Geni designates one Master Profile for each individual, which is the most comprehensive and accurate available. Other profiles are secondary and must be eventually merged with the Master Profile.
The company states that most users start in a standalone tree. As a tree grows, it may intersect with data already on Geni provided by another user. In this case, the trees can be merged.
When a merge between overlapping branches occurs, it may be necessary for users to edit and resolve any remaining duplicated profiles. A red exclamation mark will appear next to any possible duplicate, as shown below.

Duplicate profiles in a tree
Geni states that eventually a user's tree will be combined with the World Family Tree. This happens when a profile from a standalone tree is merged with one in the World Tree.
The World Family Tree is a single, shared family tree that connects all users. Currently, it boasts over 150 million profiles connected and is constantly growing as new profiles are added to the platform.
The company has a team of volunteer experienced users designated Curators, who are granted special privileges to help maintain and improve the quality and accuracy of the World Family Tree.
Because they can have access to certain information not available to other members, Curators are required to sign a non-disclosure agreement with the company. For example, as one of their privileges, Curators can view and edit private profiles.
For users who wish to improve their Geni experience, the company allows them to use their DNA data to confirm existing relationships and discover new relatives.
As a drawback, they do not offer their own DNA testing. If one wishes to use this feature, they need to have their DNA tested with Family Tree DNA. After the results are available on the FTDNA website, they can be transferred to Geni. For more information about this company, you can read this FamilyTreeDNA review.
Although Geni sells MyHeritage DNA test kits on their website, members cannot use these results to get DNA matches. Geni displays MyHeritage's Record Matches and Smart Matches, but users need to have a MyHeritage subscription to fully view or confirm most of them.
DNA results are not displayed on the website. Geni only shows matches, haplogroups, and a non-specific description of conflicting data.
What Is Included In A Geni Subscription?
Geni offers two ways for users to access their platform: a free Basic account and a Pro subscription.
With the free Basic account, users can have access to the following features:
Add unlimited profiles
Merge duplicates
View enhanced relationship paths
Upload up to 1GB of photos, videos, and documents
Members can choose to upgrade to a Pro subscription at any time. In doing so, besides the features from the Basic account, they have:
Access to tree matches
Unlimited media upload
Enhanced search (over 100 million profiles to find possible relatives)
Premium support
A Geni Pro Badge
Priority GEDCOM support for exported files
Cost of Geni
In addition to the free account, Geni offers the Pro subscription for $119, billed annually. If users wish to have access to MyHeritage's database, they must pay for it separately. Moreover, since the company does not offer a DNA test, customers must seek Family Tree DNA if they wish to use this feature in their genealogy research.
Review of Geni Privacy & Data Security
Geni states they do not share personal information with third parties. Users control the search privacy of their profile and every unclaimed private profile they have added to Geni. If a profile is included in the company's public search results, it may also appear in search engine results such as Google.
To be more compatible with MyHeritage's privacy policy, living profiles that are not from members nor are Master Profiles will be made private and do not appear on search engine results.
Users retain all ownership rights of content they upload to Geni. However, if they invite another individual to share a family tree, they agree not to delete information from that shared family tree except to correct inaccurate or offensive information.
When the genetic data is transferred to Geni, it is kept private and cannot be viewed by anyone, including the user. Customers can remove DNA test results from Geni by visiting their profile.
Geni takes daily backups of their entire data set, and once a week it is sent to an off-site storage facility.
Genealogy vs Health
Geni caters to a niche market that is solely focused on genealogy. While the company does not offer a DNA test of their own, they do use genetics to improve user experience on the website and suggest possible relative matches, but that is all.
Ancestry may be of great interest to many individuals who wish to discover more about their past, but this can be perceived as a more recreational engagement if compared to other benefits knowing one's genetics can bring.
Other DNA services can offer more actionable insight regarding overall well-being, which can help people live healthier lives. While not disregarding the importance genealogy has for some, genetic health information may prove to be more beneficial to others.
Comparisons
| | | | | |
| --- | --- | --- | --- | --- |
| | SelfDecode | Geni | Ancestry | Findmypast |
| Offers health insights | Yes | No | No (discontinued in 2021) | No |
| Personalized blog posts | Yes | No | No | No |
| Products | DNA testing, wellness reports, health recommendations, lab test analyzer | DNA testing through MyHeritage and FTDNA, Family tree builder | DNA testing, health and ancestry reporting | DNA testing through Living DNA, family tree builder, historical records search engine |
| Raw data access | Yes | No | Yes | Yes |
| Cost (USD) | $97 – $389 | $0 – $119/year | $99 – $220 | $14 – $19/month + |
Geni Reviews
Online reviews for Geni are mostly negative. As a general criticism, users do not like that they do not have full control over a tree once it is shared.
Trustpilot – 8 Customer Average Rating of 2.2 of 5 stars
Customers say the free features on the website are very limited. They complain that the company asks for a Pro subscription if one wishes to do simple things, such as report a bug. One user advises people to take notice that they cannot delete their data completely once their tree is shared.
SiteJabber – 64 Customer Average Rating of 1.7 of 5 stars
Members complain that the website is full of inaccurate information and say there is no quality control of what is added to a tree. Some users share that once they deleted their account, their information was still available on the website. One individual does not like that Geni sells MyHeritage kits but does not accept their DNA results.
Alternatives to Geni
SelfDecode: The best health-focused DNA test that delivers personalized diet, lifestyle, and supplement recommendations through detailed reports and a genetics blog.
Geni Review Summary
Geni's mission to build a World Family Tree is one to take note of, and with over 150 million profiles, they are well on their way. Despite having a commendable goal, customers say that the company lacks in supervising all these profiles. As it is, many share that they have difficulties editing a tree or even deleting their information from the website – if a family tree is shared, users lose the right to delete it completely.
For $119 annually for a subscription, one should be aware of what they get. Geni is entirely focused on genealogy, which can be seen as not critical for one's well-being. For those who wish to gain more actionable information about their health through their genetics, other services such as SelfDecode delivers diet, lifestyle, and supplement recommendations on over 30 health topics, all for less than $100 per year.
Related Articles