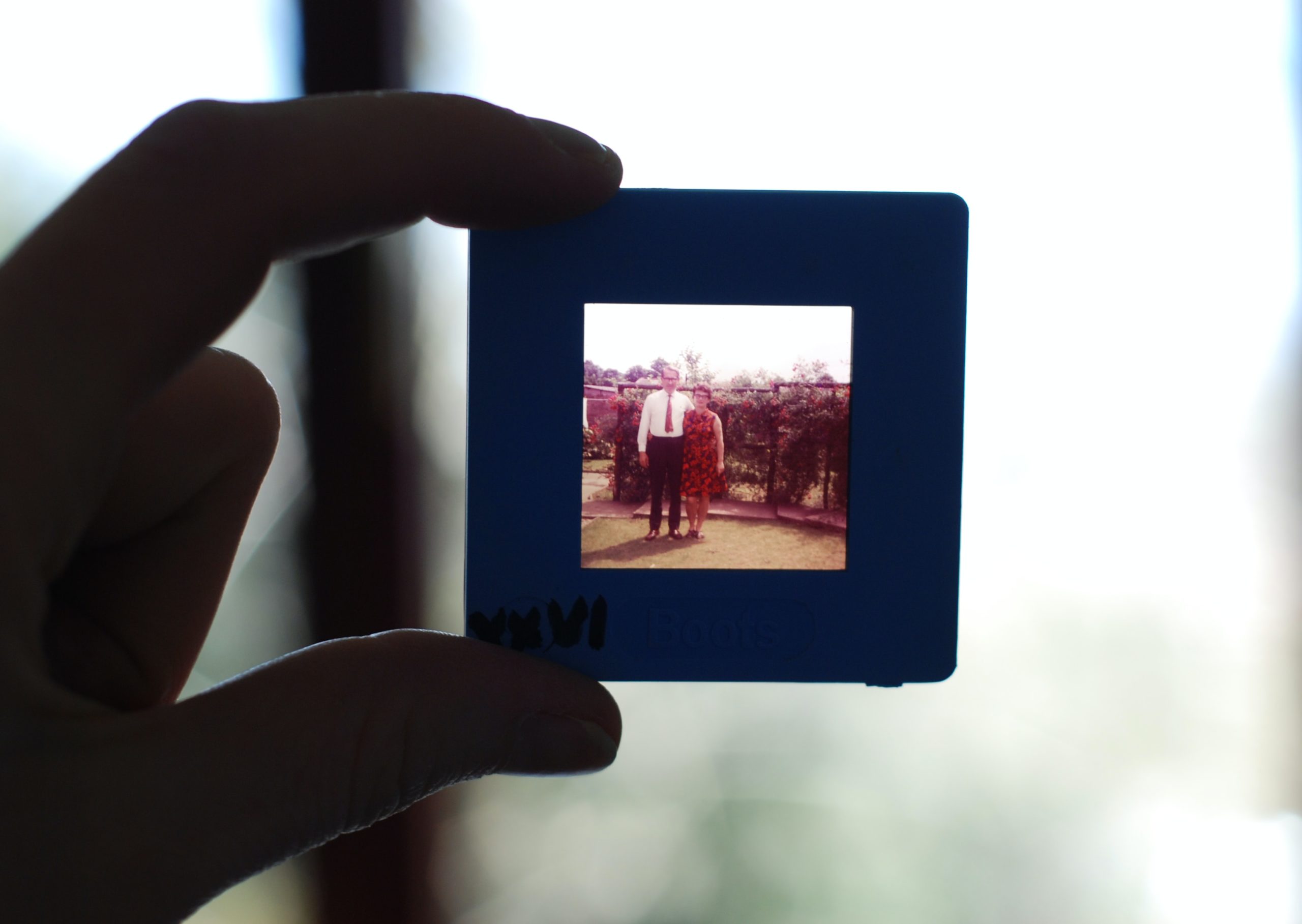 Overview
Products: FamilyTreeDNA provides three basic tests to determine ancestry, migration routes, and DNA matches with other consumers. They also offer one thorough combined health and ancestry report that delineates disease risk/predisposition, cancer predisposition, condition risk/predisposition, nutrition, and diet genomics, fitness genomics, pharmacogenomics, and ancestry.
Cost: The cost for FamilyTreeDNA's extensive health report is $899 and the basic test costs range from $79-$449. There is no subscription fee.
Reports: The basic tests are presented as online interactive maps with your ancestry, migration routes, and a list of profiles with matching DNA. The complex health report details your genetic variation, the results and interpretation, the prevalence, scientific references, and health recommendations.
Raw data access: You can download your raw data by accessing your account and viewing your Family Finder test. For other tests, you can only view your raw data online.
Privacy: FamilyTreeDNA does share consumer data with law enforcement and third parties, but claims to abide by GDPR, EU-US, and Swiss-US Privacy Shield Frameworks laws.
Alternatives: SelfDecode (detailed personalized health and genetics report and recommendations), 23andMe (wellness and genetic testing), AncestryDNA (ancestry and wellness testing).
Pros
FamilyTreeDNA offers three basic ancestry tests and an extensive health report.
Raw data files can be uploaded from 23andMe, Ancestry.com, and MyHeritage.
Users are given access to raw data and it can be downloaded for some tests.
Cons
The company has recently started sharing consumer data with third parties.
The cost for the health report is $899 USD and covers fewer SNPs than some other standard DNA test kits.
Many online reviews claim their DNA results are vague, inaccurate, and that their website is not user-friendly.
About FamilyTreeDNA
The President and CEO of FamilyTreeDNA (FTDNA) Bennett Greenspan has always had a love for genealogy. Following his successful entrepreneurship in 1997 with the website GoCollege.com, he founded FTDNA in 2000. FTDNA became the first DNA testing company to sell products directly to consumers.
Greenspan's mission was to provide a way for families to discover their ancestry and connect the missing puzzle pieces of their genealogical trees.
Review of FamilyTreeDNA Products & Features
FamilyTreeDNA offers four DNA testing options: Family Finder, Y-DNA, mtDNA, and Health Report.
The Family Finder test provides an interactive visual representation of one's ethnic percentage makeup on a map, tools that trace the migration of one's ancient ancestors, and tells you if you have ancient European civilization ancestry. In addition, it allows clients to view others with matching maternal or paternal DNA in the FTDNA database and which segments of your chromosomes you have in common.
The Y-DNA test is one that looks for specific markers on the Y-chromosome and consequently, can only be used for males. It helps investigate ancestry on the father's side, migration routes, and relatives. Mitochondrial DNA or mtDNA consists of genetic material that is passed down from a mother to a child. The mtDNA test helps determine ancestry of the maternal line, migration routes, and relatives.
FTDNA's most comprehensive test is the Tovana Health Report which uses whole exome sequencing to correlate genetic variations with certain health conditions. These include the risk of developing a disease related to organ systems, cancer predisposition, the risk of developing a disease based on family and medical history, the risk of developing a secondary condition, fitness, nutrition, diet, and possible medication responses. The health report includes the Family Finder test and a consultation with an independent health care provider.
Review of FamilyTreeDNA-Reports
The Family Finder test allows clients to use four different interactive tools: myOrigins, ancientOrigins, Family Matching, and Chromosome Browser. Each tool allows users to manipulate the representation of their test results in different ways.
The myOrigins map gives you a chart with your ethnic percentages and a visual representation of geographic locations associated with those ethnic backgrounds. Variation in the percentages is represented through more intensely colored areas on the map.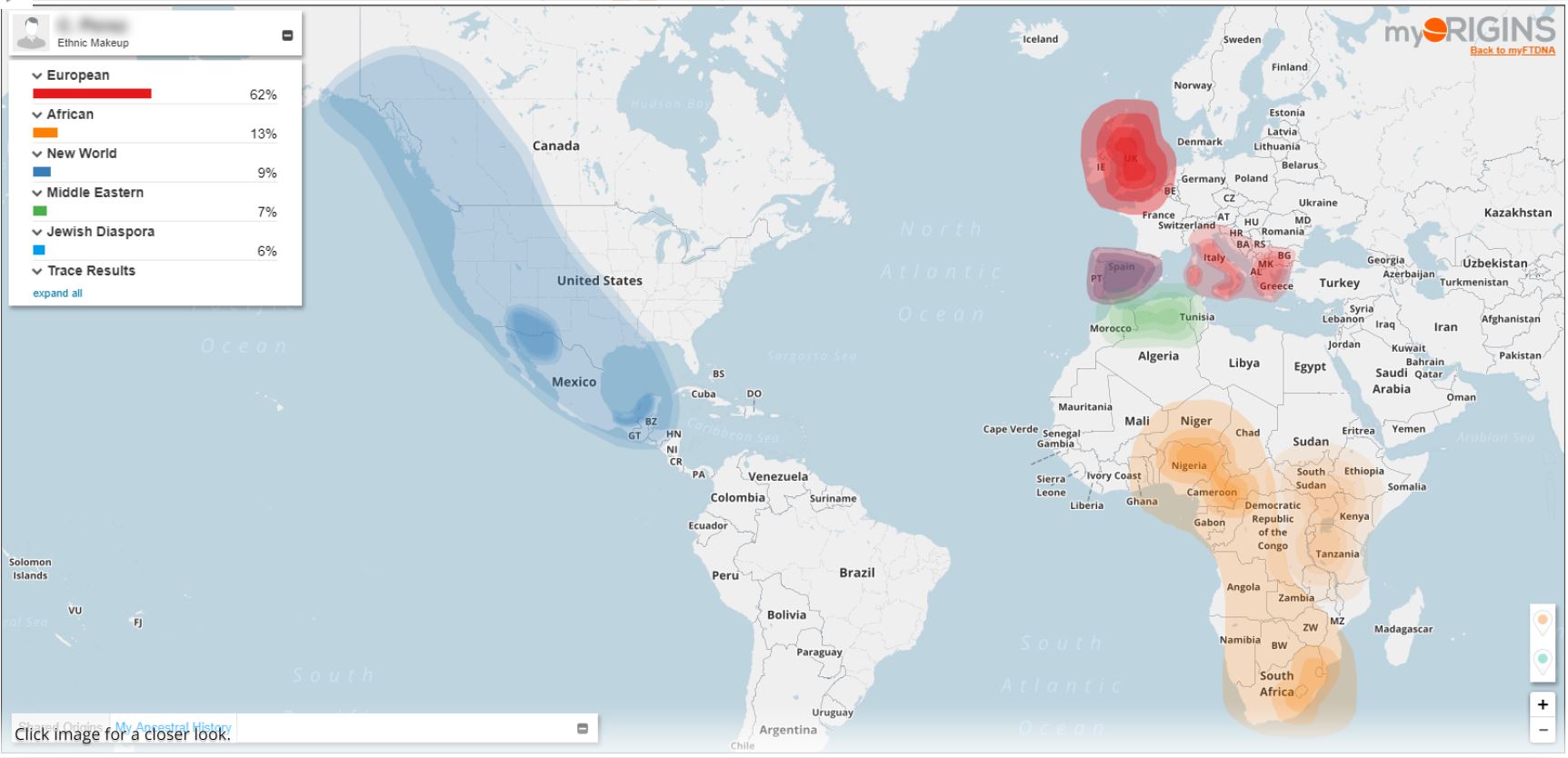 The ancientOrigins map shows the percentage of DNA inherited from each ancient European group. If you click further within the map, you can find information on each group and their migration routes as well as information on archeological dig sites.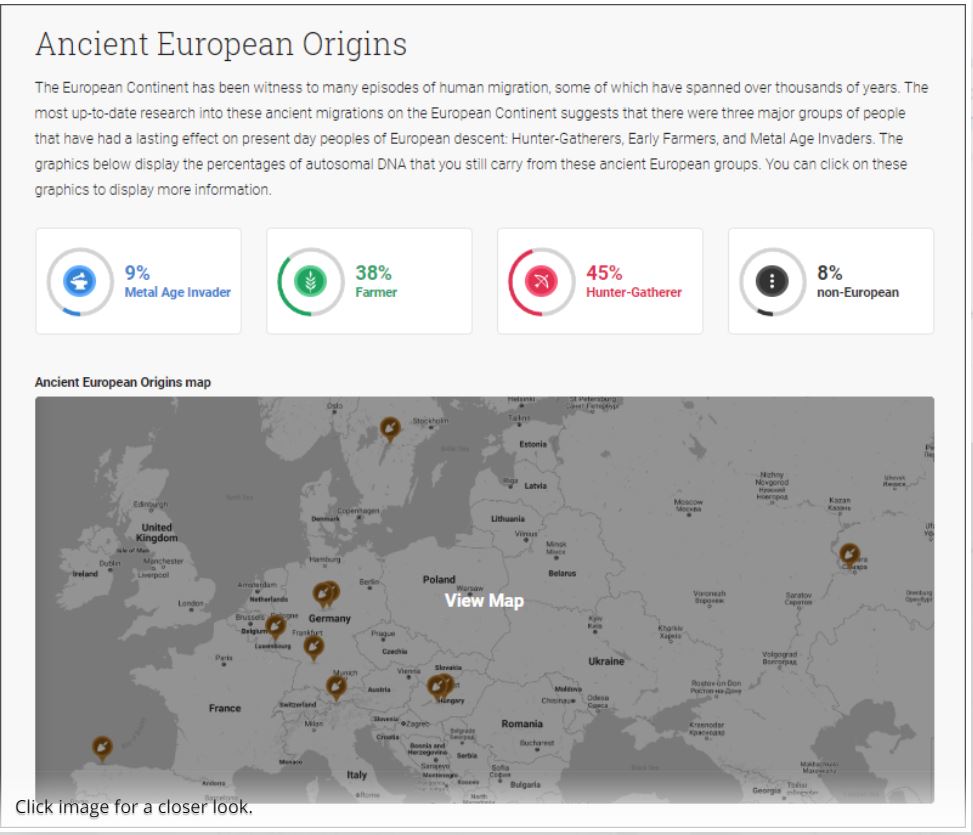 The Family Matching tool allows users to see who else in the FTDNA database shares a common ancestor from either the paternal or maternal line within the past five generations.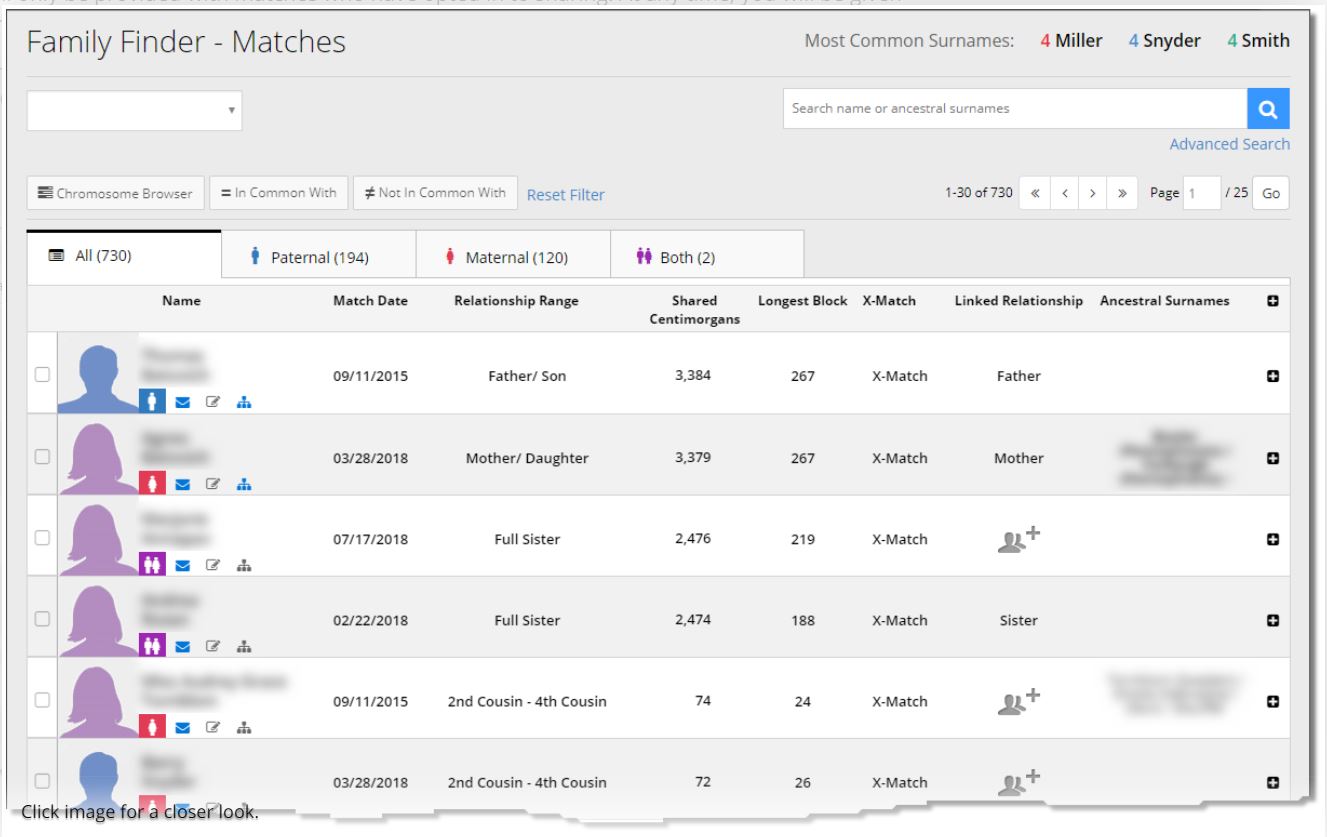 The Chromosome Browser tool displays DNA matches from the database that share common chromosome segments with the user. Users can select matches for comparisons, controlling the number of selections viewable in the finder.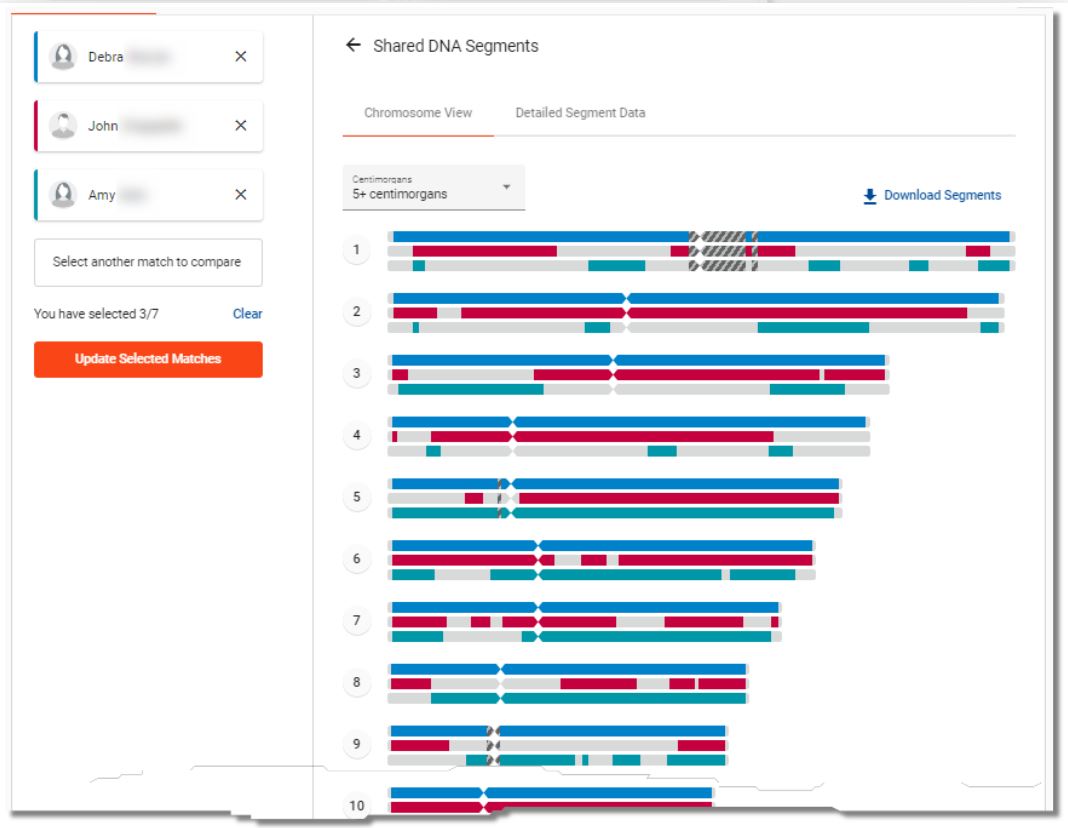 The Y-DNA and mtDNA tools are similar in that they give you a visual representation of ancestral migration routes. The geographic presentation of these routes is displayed on a map as shown below.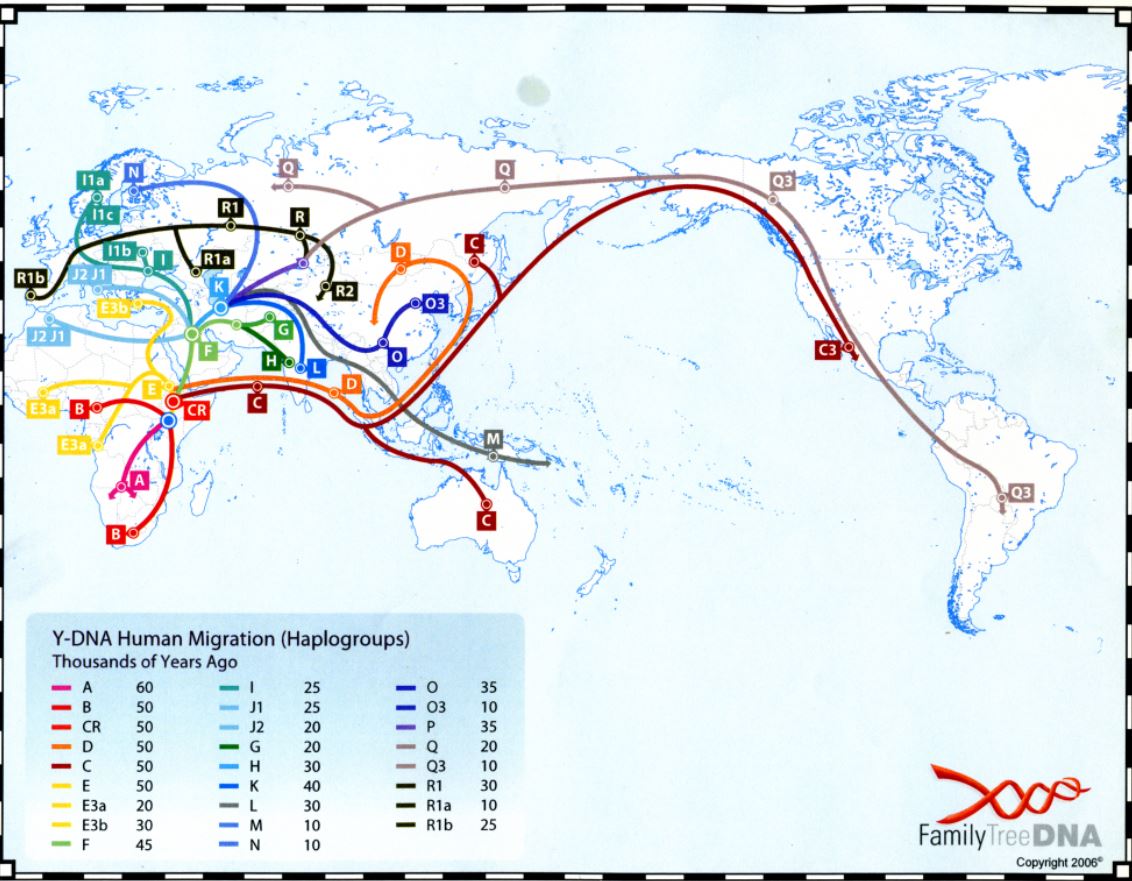 Matches for both your Y-DNA and mtDNA tests are listed from the database. As shown below, one's relevant distant ancestors, haplogroups, and terminal SNPs are displayed accordingly. The illustration of these results is fairly intuitive and easy for users to understand.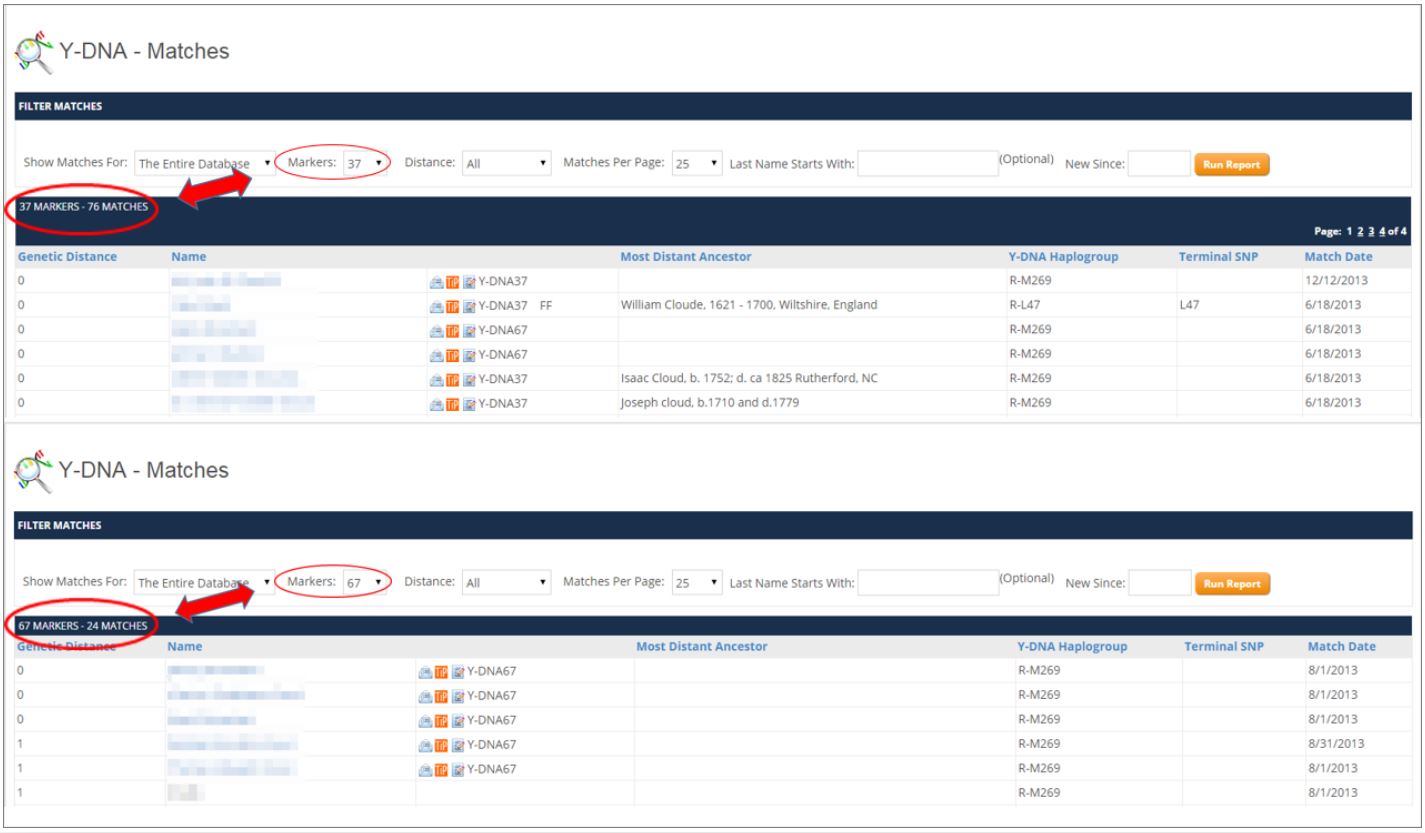 Cost of FamilyTreeDNA
The cost of FTDNA tests varies between the different types. The Family Finder test is $79. Depending on how many markers are examined on the Y-chromosome, the Y-DNA test cost ranges from $119-$449. The mtDNA full sequence test costs $159. The Tovana Health Report + Family Finder is $899.
If you have already submitted a DNA test with AncestryDNA, 23andMe, or MyHeritage, FTDNA allows you to transfer that data to their database. With your existing data, you can access the Family Matching tool and find others with common ancestry for free. If users desire full access to all the Family Finder tools, it costs $19.
The standard shipping cost for the first testing kit anywhere in the continental US and most international countries is $9.95. Each additional kit has a shipping and handling fee of $4.95. Expedited shipping is only offered to those in the United States and is $19.95 for the first kit, while any additional kits are $4.95 each. It is important to note that every additional kit after the first one is charged a shipping and handling fee of $4.95 for material and labor. This rule applies even if you are ordering multiple kits at once.
DNA can be used from a kit originally submitted to upgrade a test for an unknown fee.
Is FamilyTreeDNA's 'whole exome sequencing' worth it?
The Tovana Health Report is a personalized genome report using whole exome sequencing. Approximately 22,000 SNPs are tested. SNPs are locations within a gene where a single nucleotide has been substituted and may cause changes to your health.
Whole exome sequencing (WES) and whole genome sequencing (WGS) are DNA sequencing processes that use different techniques. In WGS, your entire genome is sequenced, that is the coding regions and non-coding regions for making proteins. WES focuses on sequencing your exomes or protein-coding regions only. Alternatively, there has been much scientific research on mutations occurring in non-coding regions of DNA and as a result, WES omits a crucial part of the genetic picture.
The format of each section of the report includes the results of the DNA analysis and identification of the gene variation or mutation, interpretation of the results and summary of disease or condition, data on prevalence of the condition, references from scientific articles found on PubMed and health recommendations.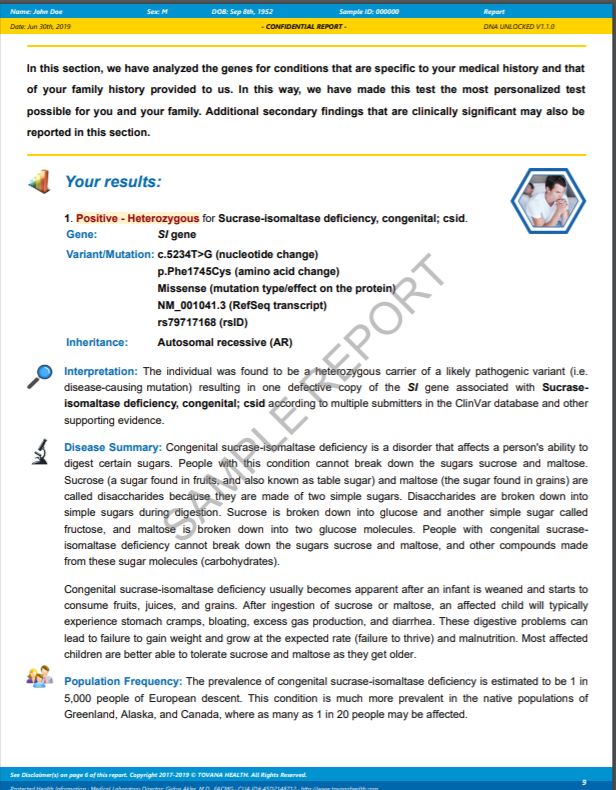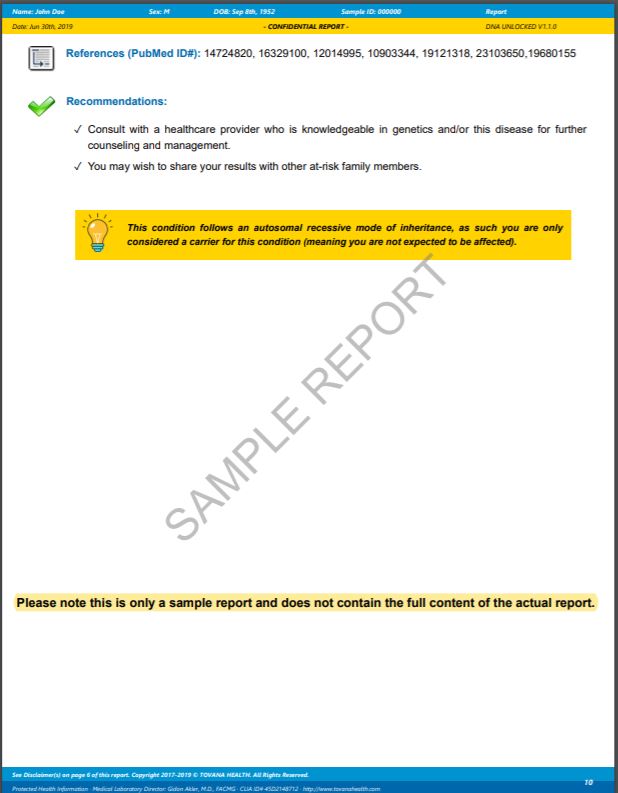 Health Recommendations from FamilyTreeDNA
Health recommendations from FTDNA are only available if you purchase the Tovana Health Report. The suggestions made are based on each gene variant and consist of diet, supplement, and exercise changes, as well as healthcare and diagnostic recommendations. They are easy to comprehend but some sections are more detailed than others.
FamilyTreeDNA Privacy & Security
FTDNA's privacy policy describes that they are in agreement with the GDPR, EU-US, and Swiss-US Privacy Shield Frameworks created by the US Department of Commerce.
They claim they do not share or transfer any information to third parties and customers can choose which information they disclose to the database. If requested by a customer, their genetic data can be destroyed, but not returned, to customers.
However, in December of 2018, FTDNA began working in conjunction with the FBI to help solve violent crimes. Law enforcement can upload forensic DNA into the FTDNA system and find matches, but they cannot browse or access genetic profiles. FTDNA has emphasized that they are not violating their privacy policy as the FBI has the same free access to their database as everyone else.
Partnerships
In January 2019, FTDNA partnered with forensic genealogy service Bode Technologies and shared access to their database.
SelfDecode Vs FTDNA
SelfDecode delivers natural supplement, diet, and lifestyle suggestions based on your genes that you can implement right away. FTDNA does not make any supplement, diet, and lifestyle suggestions based on your genes through their basic testing, but they offer health insights in their most complete testing option.
SelfDecode tells you why they make each recommendation so that you can understand the science behind the suggestion. FTDNA does explain each health recommendation with science in the health report.
SelfDecode prioritizes recommendations based on their analysis of all the relevant genes instead of one gene at a time (through reports). FTDNA health recommendations reports are organized by the results of each gene tested.
SelfDecode takes a holistic approach to give recommendations that are best for your genes AND the health topic. FTDNA does offer holistic advice for nutrition and diet but is limited when discussing disease risks, cancer predisposition, and organ system conditions.
SelfDecode has the world's first and only personalized genetics blog that allows you to get new gene-based recommendations daily. FTDNA offers plenty of online resources on genetic testing, ancestry, and customer stories, but they do not have a personalized health blog.
SelfDecode is the most comprehensive and looks at more genes & SNPs (up to 83 million) to deliver the best analysis of genetic risks. The health report from FTDNA looks at 22,000 genes and SNPs.
SelfDecode supports everything with peer-reviewed scientific studies in their research and checks for contradicting information. In each section of FTDNA's health report, PubMed scientific articles are referenced.
SelfDecode never sells your data or gives it away. FTDNA is sharing user data databases with law enforcement and a forensic genealogy service , but customers can choose to not disclose their information.
Comparisons
SelfDecode
FamilyTreeDNA
Nebula Genomics
23andMe

Personalized & holistic health recommendations

Yes
Yes
No

No

Personalized blog posts

Yes
No
No

No

Products

DNA testing, wellness reports, research-based personalized blog posts, health recommendations
WES health reporting, traits, DNA testing, ancestry and migration routes
WGS, health
reporting, traits, ancestry

DNA testing, traits, wellness reports, more accurate ancestry tracing

Raw data access

Yes
Yes
Yes

Yes

Cost (USD)

$97 – $297
$79 – $899
$0 (limited) – $700

$99 – $499
FamilyTreeDNA – Reviews
Trustpilot – 53 Customer Average Rating of 2 of 5 stars
The majority of reviews are negative as customers think the site is not user friendly. They mention that the tools to use in the database are difficult to use.
Better Business Bureau – 12 Customer Average Rating of 1.75 of 5 stars
Most of the ratings on the BBB are low because of complaints about poor customer service, poor response time, and delays.
Read what people are saying about FamilyTreeDNA on Twitter
The discussion on twitter involves changes in the company privacy policy and the access that law enforcement has to the FTDNA database.
Read what people are saying about FamilyTreeDNA on Reddit
Some users are discussing their unhappiness with the change in company privacy and fear of their information being shared with third parties.
What can I use instead of FTDNA?
SelfDecode – Offers individualized health recommendations and reports through DNA tests to improve overall well-being.
FamilyTreeDNA Review Summary
FTDNA offers three different types of basic testing to learn about your ancestry and connect you with others who share common relatives. Their comprehensive health report is detailed, informative, and personalized based on your genetics, with lifestyle recommendations that are supported by scientific articles.
That said, the enormous cost of their health report is a deterrent. WES is not necessarily more advantageous than standard DNA testing from other companies, as the number of SNPs they cover remains comparatively low. Another factor with consideration is how FTDNA shares consumer data. Will more third parties have access to the FTDNA database in the future? It seems possible.
There are certainly alternatives to FTDNA for which the level of detail included in tests is far higher, and the commitment to client privacy is more staunch. SelfDecode never sells your information to third party companies. SelfDecode uses AI and machine learning to accurately predict and analyze up to 83 million genetic variants, and users are provided with in-depth wellness reports, a personalized health blog, access to raw data, lifestyle recommendations, and subscriptions that give them unlimited access to new information.
Related Articles