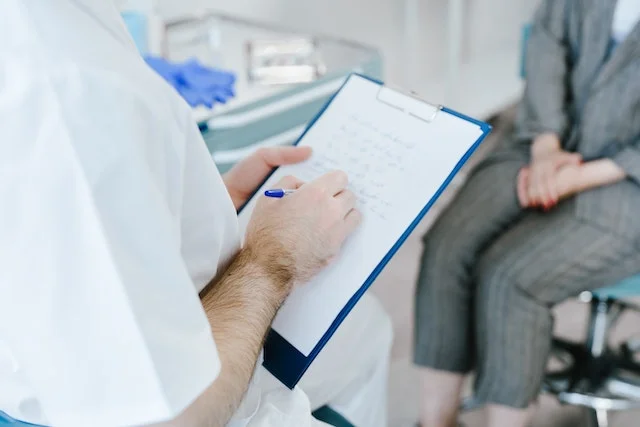 Overview
What is Halaxy: Client Management Software.
Features: Client management, assessments, telehealth, and others.
Cost: Basic features are available for free.
Privacy: Halaxy may use data for research purposes.
Alternatives: SelfDecode Pro Connect
What Is Halaxy?
Halaxy was founded in 2008 by Alison Hardacre and Lachlan Wheeler, who came from healthcare management and IT respectively, and provides client management tools and informatics. It went online in 2012 as Healthkit, but after raising $4M in 2016-17, revamped and rebranded the platform as Halaxy, meaning "health galaxy", in 2019.
Halaxy offers practitioners admistrative functions for client management and engagement. The core product is free, with additional costs based upon add-on services.
The company is based on Melbourne, Australia.
Review of Halaxy's Features
Halaxy is a client management software that offers features such as scheduling, client data storage, clinical notes, and others.
Intake Forms, Clinical Notes, Tools, Tests and Assessments. Galaxy has a library of premade intake and assessment tools, and practitioners can create their own templates in order to assess and then monitor a client's health and progress. Wearable devices can also be integrated into the assessment and monitoring system.
However, Halaxy does not offer any kind of testing services, nor do they analyze health data from clients.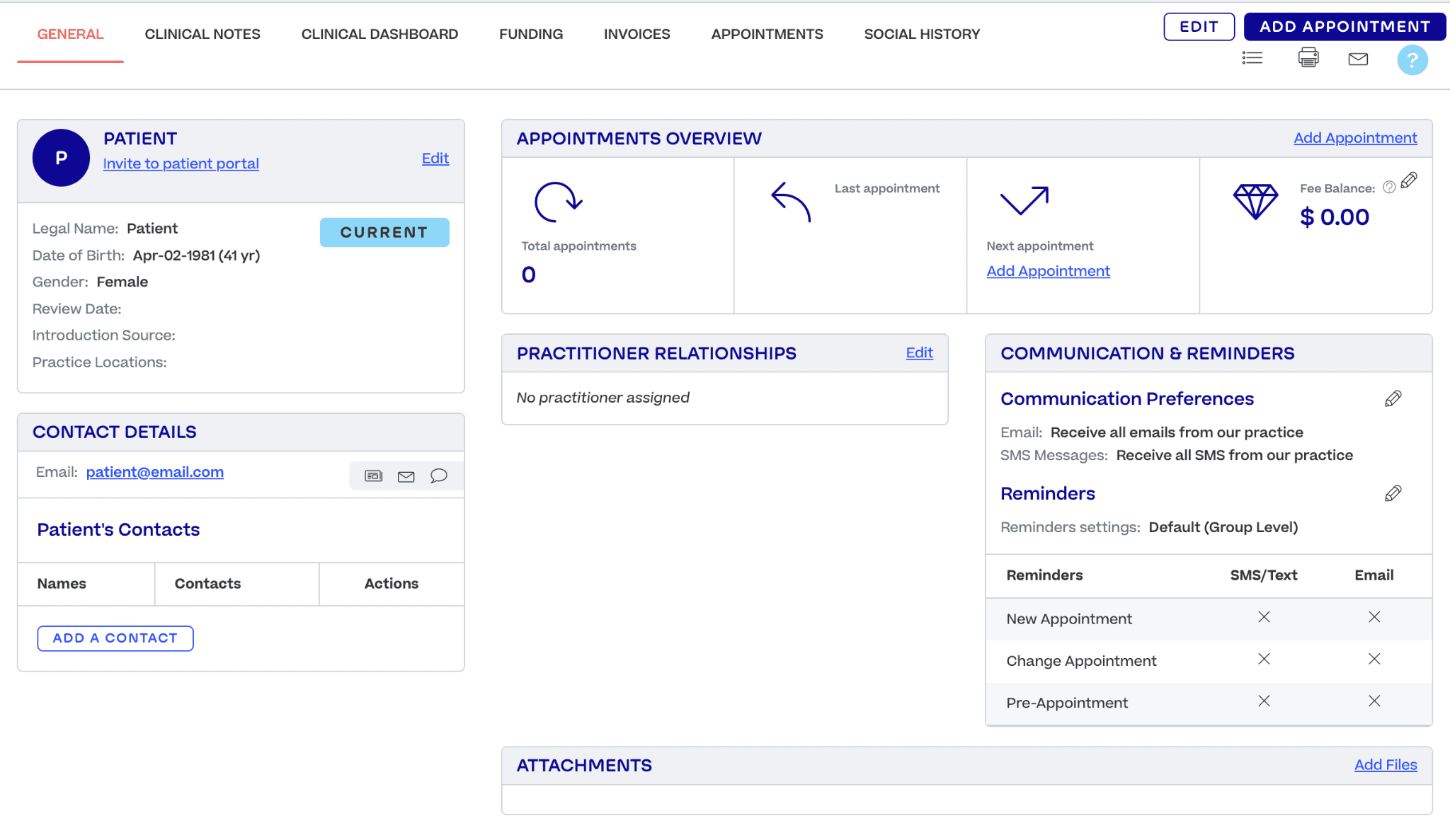 Calendar/Bookings/Reminders. Halaxy offers a calendar feature that helps practitioners manage client appointments.
Telehealth. Halaxy allows practitioners to book, invoice, and complete appointments online, utilizing 3rd party video conferencing software such as Zoom. Assessments and other clinical tools can be shared this way as well in order to contain client interactions completely online.
E-Fax Messages. Practitioners can use online faxing for referrals, clinical notes, and other documents. To access this feature, Halaxy charges an extra fee. An additional subscription fee allows for 1000 incoming and 150 outgoing fax messages.
Payment/Rebate Processing and Insurance Claiming. Payment processing can be done entirely online, with payment links included in emails.
Reports. Allows practitioners to track and manage elements of their practice, from finances to patients, appointments, referrals and communications.
Halaxy Pricing
The basics of all elements of the platform are free to use.
Add-on features include:
SMS reminders
Payment processing
Medicare rebate processing
Add-on features are paid for with Halaxy credits, which are $.22/credit, down to $.15/credit when purchased in bulk.
Review of Halaxy Privacy & Data Security
While client data is stored within Halaxy's system, there are interesting and potentially problematic concerns around how Halaxy wishes to use compiled client information. Halaxy makes use of research to generate broad-based health information, with the goal of providing insights from this data.
Clients who utilize Halaxy are consenting for their information to be used in this manner, and it is the responsibility of the practitioner to make sure the client is aware of this. This research data could potentially be used by future business partners and/or advertisers as well. One would presume this would be for targeted advertising within their site directed at patients, but it is not defined clearly. So, while they are not directly selling personal data, it is something to be aware of.
Health Recommendations from Halaxy
Making health recommendations is not directly a part of Halaxy, but purely the responsibility of practitioners who utilize the platform, based on whatever information they decide to input for a client. If, for example, DNA or lab work analysis were to be used to make recommendations for a client, it would be due to the practitioner inputting that information onto the platform. Health documents can be uploaded, but theinterpretation is entirely on the expertise of the practitioner.
Alternatives to Halaxy
Halaxy is primarily a CMS, and it is not specifically designed to analyze and make recommendations based on a client's health data. DNA and lab analysis is becoming a central element for newer, alternative forms of practice like those in functional medicine, but with Halaxy, the best option available would be for the practitioner to input DNA or lab reports, and make their own interpretations. Without specific knowledge, this becomes an ineffective and time-consuming approach.
An alternative to this would be to utilize reports from a source that does know how to interpret this information, like SelfDecode Pro Connect, which offers you a place to easily store and manage all of your clients' DNA and lab data in one place, and present and discuss report information with a client.
A CMS like Halaxy can help make practitioners more efficient and effective, but if you want the additional benefits of DNA and lab analysis to expand and enrich a client's recommendations, SelfDecode can provide the following:
Personalized Health Recommendations. Practitioners can upload raw DNA files or order DNA tests from SelfDecode to receive personalized diet, lifestyle, and supplement recommendations for their clients. SelfDecode uses cutting-edge AI and machine learning to analyze up to 83 million genetic variants to provide the most accurate genetic risk results and recommendations for your clients.
Automatic Results Reader. SelfDecode Pro also allows you to easily upload lab results from an image or PDF file, saving you time you can spend with your clients. You can view trends and compare past results directly from your client's profile. You'll also receive tailored suggestions on how to optimize over 1,000 lab markers, which can help you choose the best treatment plan for your client.
Data-driven Health Regimen Builder. Best of all, you can build custom health plans for each client by adding recommendations with a click of a button. For each health recommendation, SelfDecode provides detailed explanations of how it can help with the health issue based on DNA, lab, and environmental data. All you need to do is set the frequency and duration.
Client Dashboard: SelfDecode Pro offers a platform for health practitioners to securely store and analyze their clients data, including DNA, labs, and lifestyle information. Easily share reports and assessments with clients, order tests, and create custom supplement formulas based on each client's health data.
Summary
Halaxy's features provide practitioners with a range of tools to manage their practice from scheduling and billing, to providing a central hub to store clients' data and telehealth communications. However, they do not analyze a client's health data to provide health recommendations.
DNA and lab analysis is becoming a central element for newer forms of practice like those in functional medicine, and clients have come to expect a certain level of personalization. With Halaxy, this process of analyzing a client's health data can be time-consuming, as practitioners would need to do so manually.
They do collect data from clinical tools utilized for clients in order to provide research on health issues, which clients and practitioners are agreeing to when utilizing the product, as well as potential 3rd party health advertising.
If you want to offer the additional options of DNA and lab analysis with accompanying recommendations, and truly personalize client health, then one may want to include SelfDecode Pro Connect. You can easily manage your client's DNA and lab data, and receive personalized recommendations based upon relevant research to help you provide an appropriate action plan more efficiently and effectively.
Are you a health practitioner? Book a free strategy call today to see if SelfDecode Pro is the right fit for you and your practice.