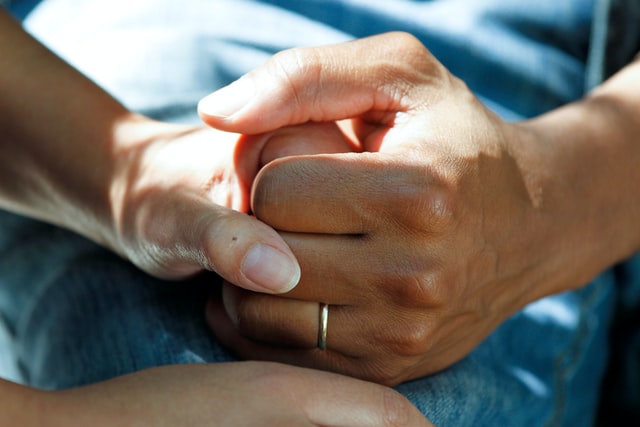 Overview
Products: DNA tests for health and wellness.
Cost: The company does not disclose prices on their website.
Reports: Health, wellness, and pharmacogenomics reports.
Raw data access: Unclear.
Privacy: Myogene claims not to share information with third parties.
Alternatives: SelfDecode is a health-focused DNA testing company that delivers personalized recommendations.
Pros
A variety of DNA health reports.
The company offers hereditary and breast cancer tests.
Cons
Some practices can be outdated, such as phone representatives for purchasing the products.
Customers need to directly contact the company or request a call-back to have access to pricing information.
No updates to the reports to include new information in the genetics field.
The patient needs their doctor to sign the requisition form for most tests offered by Myogenes.
About Myogenes
Myogenes is a genetic testing company in the United Kingdom. The company was founded in 2017 by current CEO Clare Brenner. They believe that genetic testing is the first step to creating personalized treatment plans for patients and aim to help make healthcare more effective.
The company claims to work with doctors, geneticists, and laboratories worldwide to distribute genetic tests. They have a consultative panel of over 20 licensed and qualified doctors.
Review of Myogenes Products & Features
Myogenes offers DNA tests for health and wellness. The reports include drug response, diet and fitness, and DNA tests for cancer.
To get started, users need to contact the company via email or phone. Myogenes requires customers to call or email to get access to pricing information. No test is available for direct purchase on the website.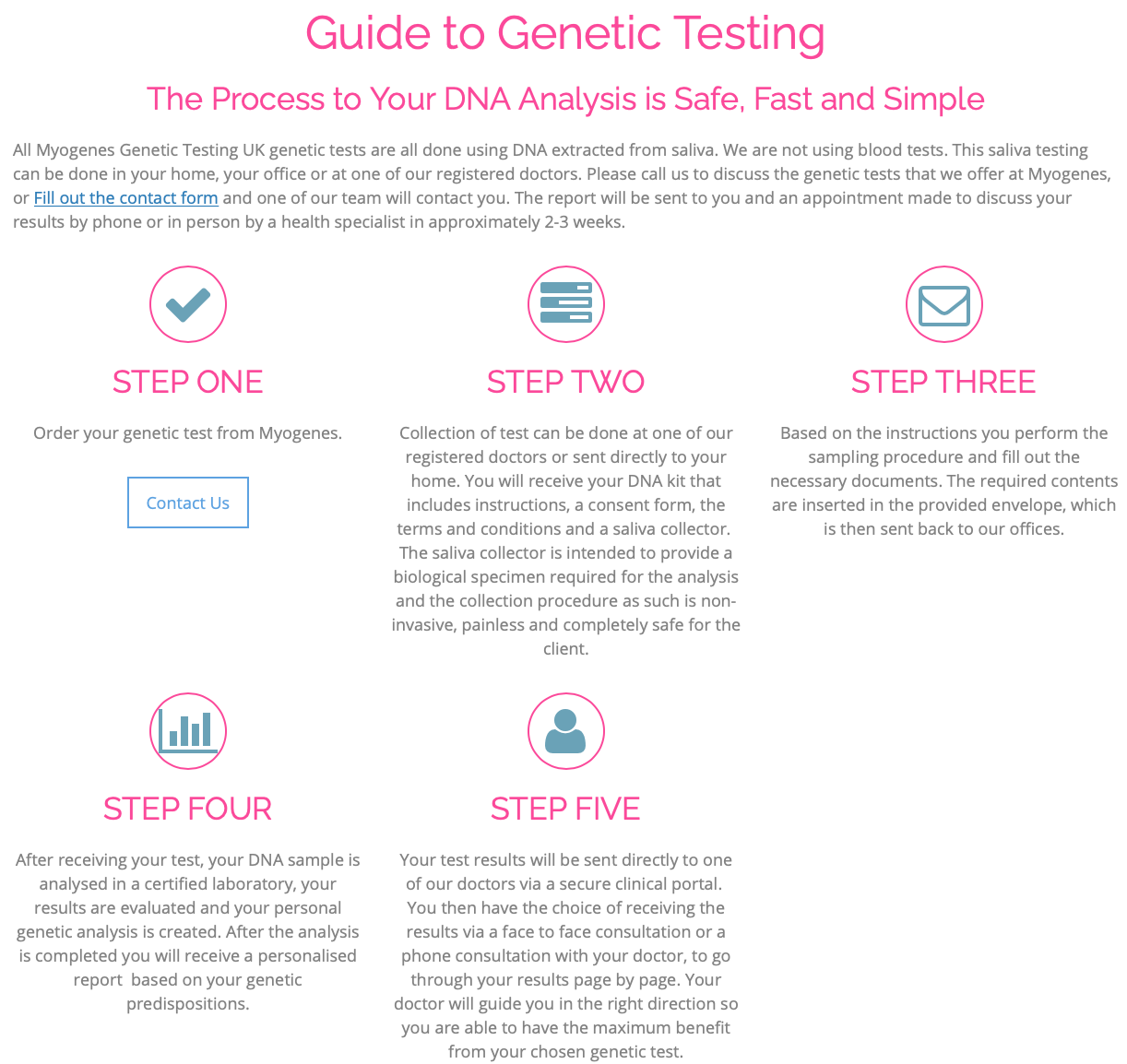 Myogenes' kits contain instructions on how to perform the test, a saliva collector, and a Customer Detail Form, which users need to fill out and send back with their DNA sample.
The Psychiatric Pharmacogenetics Test analyzes how one's genetic makeup affects their response to psychiatric treatments and medications. This test is provided by Genomind. The Pharmacogenetics Test studies how customers' genes influence how they respond to medications.
The Hereditary Cancer Test examines 98 genes linked to 25 hereditary cancers, including breast, ovarian, prostate, colon, and stomach. The Hereditary Breast Cancer & Ovarian Test analyzes the BRCA1 and BRCA2 genes and 13 other genes associated with this type of cancer.
The Health and Wellbeing Test is an at-home saliva test that covers diet, health, and fitness. Users can choose to add in a consultation with a Myogenes health specialist or nutritionist to discuss the results.
Review of Myogenes Reports
Myogenes' reports are presented as a comprehensive PDF document. There are no sample reports provided by the company.
The Pharmacogenetics Test test report includes information on commercial medications related to cardiology, oncology, immunology, and more. Myogenes claims the reports present clinically relevant information that is easy to understand.
The report covers the effectiveness of the medication for each patient, the ideal dosage, and possible side effects. The results are ready in 2 to 3 weeks.
The Psychiatric Pharmacogenetics Test test aims to help clinicians with finding the best treatment for patients with mental health or psychiatric disorders. The report includes an analysis of medications related to depression, anxiety, autism, and other conditions.
The Health and Wellbeing Test presents the results in a detailed guidebook that includes 8 chapters, each one about a different health topic. The chapters include metabolism, nutrient needs, fitness, and more.
Myogenes states that the report offers information about macronutrient and micronutrient needs, and response to basic macronutrients such as carbohydrates and fats. Additionally, it covers predisposition to nutrient deficiencies, cholesterol, and obesity.
Each condition or trait is presented individually. On the website, the company mentions providing "dietary guidelines and lifestyle guidance" by establishing a list of foods to match individual needs.
The DNA tests for cancer detect the presence or absence of mutations associated with an increased risk of cancer.
Cost of Myogenes
Myogenes does not disclose test prices on their website. Users are required to contact them via email or phone for more information.
Health Recommendations from Myogenes
Myogenes claims to offer health recommendations in their reports. The Health and Wellbeing Test report, for example, claims to establish dietary guidelines and lifestyle guidance in the form of a list of foods users can choose from based on their results.
The pharmacogenomics tests provide information on possible medication side effects and give dosage instructions. They also cover the effectiveness of the medication for each patient.
Review of Myogenes Privacy & Data Security
Myogenes complies with United Kingdom's laws and the EU General Data Protection Regulation. The company claims not to share, sell, or disclose personal information to third parties.
Users can review or update their personally identifiable information by contacting the company. The request must be made via email, and the company will inform the user of any applicable fees.
The company states they store personal information for three months, or for as long it is necessary to provide the services or comply with the law. The saliva samples and results are processed outside the UK.
SelfDecode vs Myogenes
SelfDecode delivers natural supplements, diet, and lifestyle suggestions based on your genes that you can implement right away. Myogenes offers health and medication insights.
SelfDecode tells you why they make each recommendation so that you can understand the science behind the suggestion. Myogenes explains how the genes that are analyzed impact overall health.
SelfDecode prioritizes recommendations based on their analysis of all the relevant genes instead of one gene at a time (through reports). It is unclear how Myogenes presents their reports.
SelfDecode takes a holistic approach to give recommendations that are best for your genes AND the health topic. Myogenes offers a consultation with a health specialist to discuss the results for an extra cost.
SelfDecode has a team of over 60 highly skilled scientists, MDs, PhDs, NDs, and software engineers to make sure they deliver the most accurate and science-based health information. Myogenes has a consultative panel of over 20 medical doctors.
SelfDecode is the most comprehensive and looks at more genes & SNPs. SelfDecode uses AI and machine learning to analyze up to 83 million genetic variants to deliver the best analysis of genetic risks. Myogenes analyzes 98 and 13 genes in their Hereditary Cancer Test and Hereditary Breast & Ovarian Cancer Test, respectively, but it is unclear how many genes are studied in other reports.
SelfDecode supports everything with peer-reviewed scientific studies in their research and checks for contradicting information. Myogenes claims to provide scientific references with the reports.
SelfDecode never sells your data or gives it away. Myogenes claims not to share personal information with third parties.
Comparisons
| | | | | |
| --- | --- | --- | --- | --- |
| | SelfDecode | Myogenes | Admera Health | Genomind |
| Personalized & holistic health recommendations | Yes | No | No | No |
| Genes & genetic variants analyzed | Up to 83 million genetic variants | Up to 98 genes | 60+ genes | Up to 35 genes |
| Products | DNA testing, wellness reports, health recommendations, patient and provider options | DNA testing, health, wellness, and drug response reports | DNA testing, cardiovascular, oncology, and pharmacogenomic testing | DNA testing, psychotropic and mental health reports |
| Raw data access | Yes | Unclear | No | No |
| Cost (USD) | $97 – $387 | Not Specified | Not Specified | Depends on insurance coverage |
Myogenes Reviews
One Facebook user recommends the company. They say the advice they received was personalized to their genetic profile and not one-size-fits-all recommendations. The review is dated from 2017.
Myogenes has announced they would be donating 10% from the sales of Hereditary or Breast Cancer Tests to the Pink Ribbon Foundation in support of Breast Cancer Awareness month of October 2020.
A member of their expert panel published a product overview on their personal blog. They explain how the Health and Wellness Test (previously known as NutriFit) works and what the reports contain.
Alternatives to Myogenes
SelfDecode: Get personalized health recommendations based on your DNA and labs through detailed reports.
Myogenes Review Summary
Myogenes is a genetic testing company based in the UK that offers pharmacogenomics, health, and wellness reports. The health tests include pharmacogenomics and hereditary cancer tests, while the wellness reports cover diet and fitness.
In addition to the reports, the company offers the option for customers to purchase a consultation with a health specialist to go over the results. They do not disclose prices for their tests on the website and users need to contact the company directly to find out this information, which can be frustrating for those who wish to take control of their health. The company does not include updates to the reports.
SelfDecode offers a direct-to-consumer DNA test and reports on over 20 health topics. By using AI and machine learning to accurately predict and analyze up to 83 million genetic variants, SelfDecode delivers personalized recommendations to help improve overall health and well-being.
Related