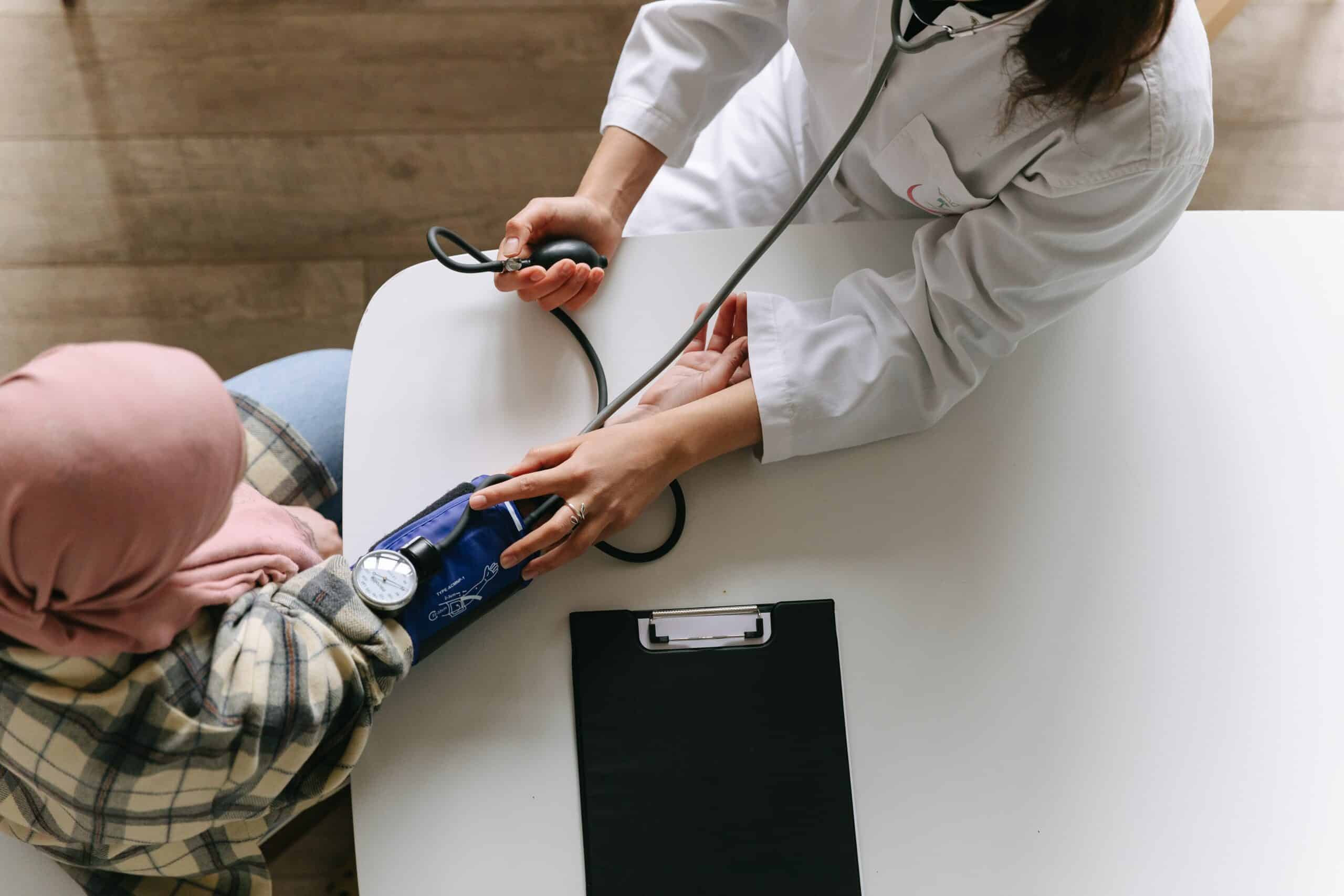 A health risk assessment (HRA), sometimes referred to as a health risk appraisal, is something many of us have seen before, and likely completed as part of workplace human resource requirements. They are used to determine workplace health and safety, establish baseline needs for wellness programs, and by insurance companies too. All of this is outside the realm of where you might first guess to find something related to health, which is in healthcare.
Historically, the HRA has been a tool more utilized by work and insurance than by practitioners. Some of this is due to financial reasons. Assessing and mitigating risks can save money, which is always an incentive.
In healthcare, assessments can delve into more personal information, and the relationship with a physician is more personal than in the workplace. Comfort and trust become more of an issue, so asking sensitive questions right from the start, particularly in areas like lifestyle choices, can become problematic if the physician isn't trained to handle such information. Thus, HRAs have lagged behind the workplace within the healthcare industry.
Clearly, it's an issue that should and is being addressed. The digital era has changed how assessments can be handled. Answering questions online in the comfort of one's home is far different than sitting in a doctor's office with a packet of papers on a clipboard. For health coaches, when the entirety of the interactions with a client can be online, this is a boon and also a necessity, because the assessment process is vital for effective and efficient coaching.
If you are a health coach who hasn't utilized HRAs, it's important that you learn how and why. There are good reasons to utilize them over direct discussions with a client, and they are not a tool you need to devise from scratch.
What Is A Health Risk Assessment?
The health risk assessment or HRA, is exactly what it sounds like, an assessment of a person's health risks. The how and why of that process can vary greatly depending upon the need, including some of the following:
Nutrition
Fitness
Stress
Sleep
Mental health
Blood pressure
Cholesterol
In the broader workplace and insurance markets, they are used to not only understand the health issues of their market, but to foster engagement in better health practices in order to cut costs.
For the health coach, the purpose is more altruistic. The client is investing their time and money in better health, whether for a specific issue or more generally. Motives aside though, that does not change what they do. When it becomes a 1-to-1 relationship though, as in the case of a doctor or coach, the health assessment becomes part of a direct relationship, which can be both a benefit and impediment.
What Does A Health Risk Assessment Do?
Only 1 in 5 people get an annual physical from their primary care provider, which can be considered a form of assessment. It collects valuable information like blood pressure, weight, perhaps cholesterol and vitamin deficiencies if blood work is done. The physician is checking to see if there are symptoms of a health problem.
While certainly useful, it is also limiting. Medicine is evolving, incorporating broader, alternative practice philosophies like those found in naturopathic and functional medicine. They try to take in the broader context of the person's life, not so much to be more personal, but because the human body is a complex system that involves genetics, environment, and lifestyle which are constantly interacting and impacting health in a multitude of ways.
While health risk assessments can narrowly focus on condition-specific health issues, if the intent is a general intake of information, then they need to actually take in the whole context of a person's life. This personalizes the process more and gives the practitioner/coach a much broader base of information from which to work with. The assessment needs to allow the coach to actually get to know the client beyond a cluster of symptoms. Well-being is a process and not an event.
In general, though, the health risk assessment should accomplish the following:
Give a snapshot of the client's current health and lifestyle
Provide a base indicator for potential actionable interventions/services
Aid in preventing future health issues
Help generate better immediate health outcomes
Help establish a basis for ongoing health/wellness strategy
For the client, it is important that an assessment not only provides the sense that they are providing information relevant to their needs, but that the coach is actually interested in the broader context of their life, and that this information actually matters to the process. This is the first step toward engagement. If the assessment has done nothing to inspire the client to want to work on the process of optimizing their health, then it has failed to some extent.
How can an assessment inspire engagement? Are there effective health risk assessment tools out there?
What Is In An Effective Health Risk Assessment?
An effective HRA will begin by laying a meaningful groundwork for the questions asked. It will, at a minimum, do the following:
Remind the client that the health assessment provides meaningful information about their health and that it is critical that the information is accurate and complete.
Tells the client that the information will help to identify potential health concerns, and the information will be used to create an actionable plan to address them.
It lets the client know who will see the information.
More specifically, questions should be plain enough to be understood by anyone with 5th-grade reading ability, so that any client would know how to answer the questions. They should also be clearly defined about what they are addressing. That is, why is the question being asked in the first place? It is not always intuitively obvious, and sometimes that knowledge can help foster interest in the health issue.
A health risk assessment not only gives information to the coach, but it can also be informative in and of itself to the client. It can foster self-awareness about issues they may not have been thinking about. Lifestyle factors that generate stress are a good example of this. The HRA can function as an educational tool and intervention on its own, as self-awareness can lead to intrinsic motivation.
For example, a question may be, "How many hours of sleep do you typically get each day?" By itself, a client may answer this with what they think is true and move on, but if the question is inclusive of contextual information like, "People who sleep less than X hours per day are Y% more likely to complain about focus issues at work." Any sort of relevant research related to the question could work in instances like this.
It is important that a client be able to attach relevance and understand the questions they answer. This does not mean however that every question asked must have information presented with it. Still, for those with specific health-related issues attached, that kind of information can be beneficial to both the client and coach.
Not all questions need specific answers. Open-ended questions can be useful for allowing clients to express their own concerns and priorities, which can go a long way to fostering engagement in the process.
Because these types of health risk assessment forms are often the initial contact point between a client and coach, there are questions that might be too sensitive to ask. Still, general information, such as the stress induced by domestic violence, might be used to foster awareness and allow the client to bring up such information during the coaching process.
Health Risk Assessment Tools
Health risk assessment questionnaires are only part of a larger assessment process, but it is also important that the client understand how these questions tie into the larger health risk analysis. Tools such as SelfDecode bring together risk assessment, genetic predispositions, and lab reports to help formulate a basis for more thorough health and lifestyle recommendations.
SelfDecode Pro offers done-for-you health assessments, which health practitioners can easily share with their clients. Practitioners can also create their own health questionnaires for each of their needs.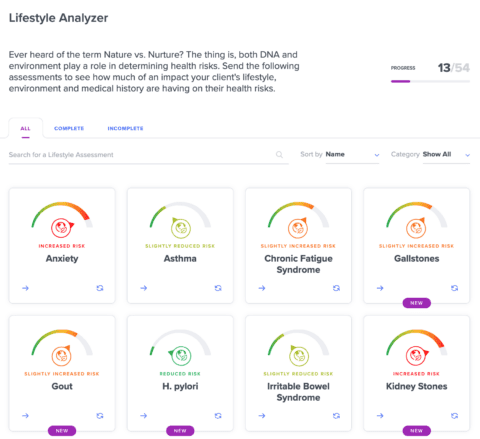 With SelfDecode Pro, practitioners have access to comprehensive genetic reports and lab analysis and can easily create custom health protocols for each client by using the gene-based recommendations provided by SelfDecode.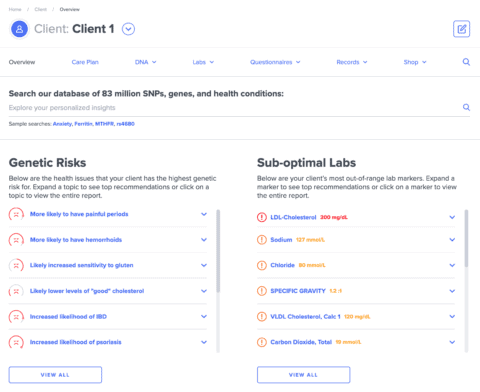 The extensive suite of products offered by SelfDecode allows health practitioners to decrease the amount of time spent in creating health questionnaires for clients and researching the best interventions for each client.
As with any assessments, however, a coach should feel free to augment and amend as they see fit for the client.
Final Thoughts
Assessments are the frontline to effective and efficient coaching. The more information a coach has before they have that initial first coaching session with a client, the more prepared they can be to set the stage for not only building a trusting relationship, but to help them and the client create an intervention plan that is going to be the most optimal path toward maximized health.
The right software can help practitioners decrease the time they spend on manual tasks and allows them to focus on the client. Book a demo call today to discover how SelfDecode Pro can help health practitioners save time and grow their practice.