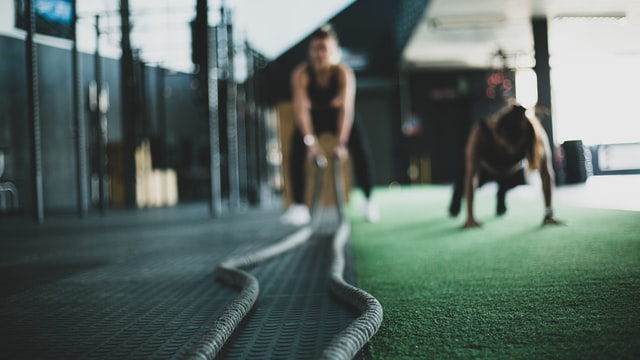 Overview
Products: DNA and epigenetic tests, diet, health, and fitness reports.
Cost: DNA testing starts at $84, epigenetic testing costs $280.
Reports: Diet, fitness, and health reports.
Raw data access: No.
Privacy: Muhdo claims not to release identifiable personal information to third parties.
Alternatives: SelfDecode offers personalized diet, lifestyle, and supplement recommendations based on genes and labs.
Pros
Muhdo offers personalized fitness plans and meal guides.
They offer DNA and epigenetic tests, which help track the current health state.
The app is user-friendly.
Cons
The reports do not offer much information about serious genetic conditions.
Users cannot upload preexisting genetic files.
Only analyzes 1,000 SNPs.
About Muhdo
Muhdo was established in 2016 by CFO Richard Layton, nutrigenomics director James Brown, and CEO Nathan Berkley. Located in the United Kingdom, the company offers DNA and epigenetic tests to help their customers live a healthier life.
Their team consists of geneticists, sports scientists, nutritionists, and physiologists. Their ISO accredited partner laboratory claims to be a global leader in the bioanalytical testing market.
The company boasts the support of many elite athletes of all ages, including Scotland's Strongest Man Tom Stoltman and Helen Glover, a two-time Olympic gold medal winner.
Review of Muhdo Products & Features
Muhdo offers a DNA test and an epigenetic test, which analyzes external DNA modifications that affect how the cells interpret the genes.
The company emphasizes that they support their statements with peer-reviewed scientific studies. Insights are delivered by their director of nutrigenomics, a nutrition consultant, and a qualified strength and conditioning coach.
Users can switch between four health goals as their health objectives change, including health and wellness, weight loss, fitness and endurance, and muscle building. The company offers DNA reports with personalized recommendations, meal guides, and fitness plans on their app.
The DNA Health uses a chip to analyze 1,000 SNPs related to fitness, nutrition, and lifestyle. Results are ready in 3 to 4 weeks, and they are divided into five categories:
Health: Offers information about genetic risks to obesity, type-2 diabetes, infection, caffeine sensitivity, and bone mineral density.
Diet: Suggests optimal macronutrient and micronutrient intake based on DNA.
Vitamins: Explains if the user presents genetic predispositions to deficiencies, and which supplements they should consider.
Physical: Examines performance, strength, and potential injury risks.
Supplement: Highlights how the body responds to certain supplements such as BCAAs.
Muhdo offers a more basic option with the DNA Lite, which includes health, diet, physical, and supplement reports, DNA action plan, and a meal guide. Users can upgrade to DNA Health at any time.
The DNA Transform service allows for deeper insights into genetics and helps users track how their lifestyle affects their health. In addition to the DNA reports, users also get access to other health reports, including biological age and inflammation scores.
Muhdo offers a subscription program that includes additional epigenetic tests throughout the year to deliver more up-to-date recommendations.
However, the reports are still based on the analysis of a limited number of SNPs. For comparison, SelfDecode uses AI and machine learning to analyze up to 83 million genetic variants and deliver personalized and prioritized diet, lifestyle, and supplement recommendations based on DNA and labs.
Muhdo also provides the On-Call Doctor service, which is a monthly subscription that offers consultations with general practitioners via text message, phone call, or video call.
Review of Muhdo Reports
Muhdo presents the reports on their app, available for iOS and Android. The app is user-friendly and presents the information clearly, as seen below. Users can easily switch between health goals, and the reports will change depending on the goal.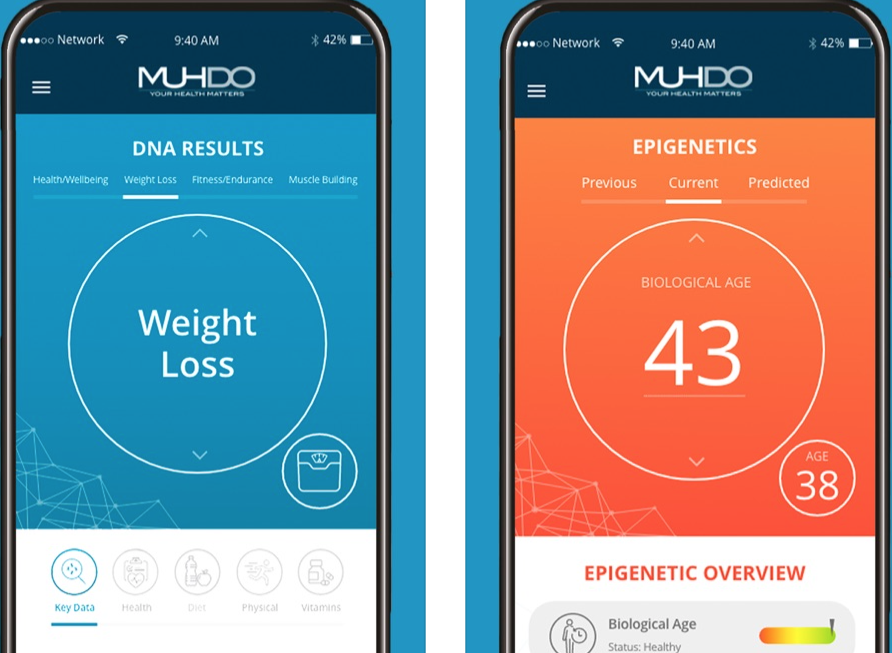 The reports expand on each of the conditions or traits analyzed to offer general information about them. They also present personalized recommendations based on genetic results. The insights are explained and the reports provide scientific references.
The Health Insights section of the app delivers information on many health conditions based on genetic results, including heart health, injury risk, and immunity.
Muhdo epigenetic test allows users to find out their biological age and understand how healthy their eyes and hearing are. Additionally, the reports present information on how the memory compares to the chronological age and displays an inflammation score, which can help users control their inflammation levels.
The app also offers DNA Action Plans for health, diet, fitness, and vitamins. They use genetic results and self-reported information to build a personalized plan that helps users mitigate any health risks they may have.
Muhdo provides a personalized meal guide. Each meal includes the ingredients list, directions on how to prepare it, and the macronutrient breakdown. However, some customers point out that these meals are complicated and require ingredients you might not easily find at your disposal.
The My Training section of the app offers fitness plans tailored to each genetic profile. It includes a full workout plan, warm-up and cool-down exercises, and injury prevention exercises.
The workout plan offers programs that include specific exercises, frequency, and intensity. Muhdo also provides video instructions to help their customers maintain the correct exercise form, as seen below.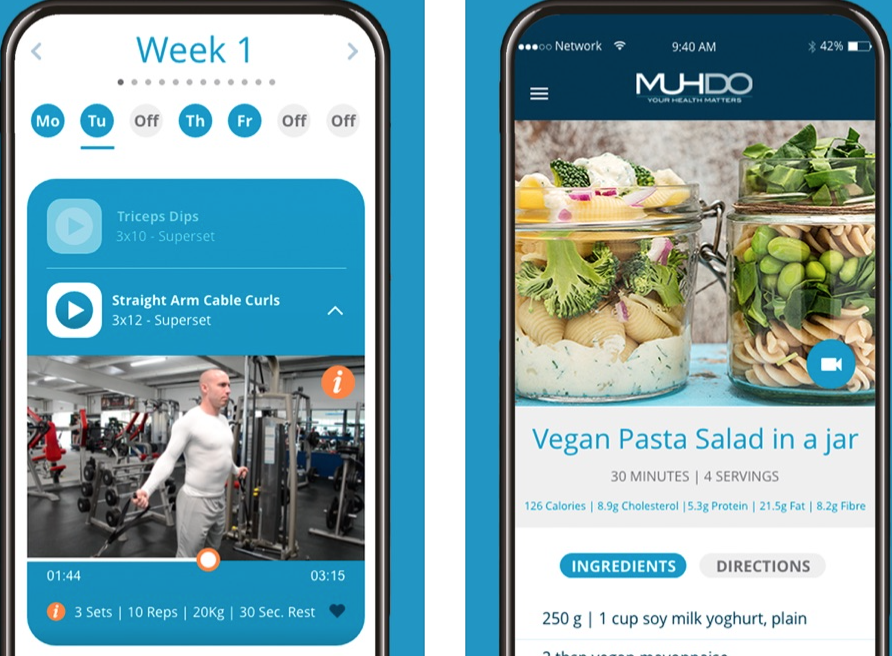 As pointed out above, the reports are based on an analysis of only 1,000 SNPs. This means you might not receive the full picture of your health, as there are millions of genetic variants that can influence the health topics covered by these reports.
Cost of Muhdo
Muhdo DNA Lite and DNA Health cost $84 and $160, respectively. The DNA Transform is priced at $280 and includes a DNA profile.
The On-Call Doctor service costs $26 a month.
Health Recommendations from Muhdo
Muhdo delivers fitness and nutrition recommendations to help their customers achieve their health and fitness goals. Their DNA-based suggestions are superficial, but they offer some supplementary resources such as informative training videos and a meal plan with a variety of recipes.
The reports analyze only a limited number of SNPs, and the health topics covered are not the most extensive, covering mostly diet and fitness. The company offers information on a few health conditions, but they do not provide insights into more serious genetic conditions.
Review of Muhdo Privacy & Data Security
Muhdo claims not to disclose identifiable personal information to any third party. They comply with the General Data Protection Regulation and state they ensure that the personal data collected and processed is kept accurate and up to date.
The company employs a Data Protection Officer who is responsible for overseeing the implementation of their Privacy Policy and other data protection policies and legislations.
Users have the right to be informed of what personal information the company holds on them and how it is used.
SelfDecode vs Muhdo
SelfDecode delivers natural supplements, diet, and lifestyle suggestions based on your genes that you can implement right away. Muhdo offers nutrition and fitness recommendations.
SelfDecode tells you why they make each recommendation so that you can understand the science behind the suggestion. Muhdo explains their recommendations, but does not include scientific studies to back all of their suggestions.
SelfDecode prioritizes recommendations based on their analysis of all the relevant genes instead of one gene at a time (through reports). Muhdo does not prioritize their recommendations.
SelfDecode takes a holistic approach to give recommendations that are best for your genes AND the health topic. Muhdo focuses on nutrition and fitness to make their suggestions.
SelfDecode is the most comprehensive and looks at more genes & SNPs (up to 83 million) to deliver the best analysis of genetic risks. Muhdo provides recommendations based on the analysis of a limited number of 1,000 SNPs.
SelfDecode supports everything with peer-reviewed scientific studies in their research and checks for contradicting information. Muhdo shares some scientific references in the reports.
SelfDecode never sells your data or gives it away. Muhdo claims not to share identifiable personal information with third parties.
Comparisons
| | | | | |
| --- | --- | --- | --- | --- |
| | SelfDecode | Muhdo | Vitagene | Orig3n |
| Personalized & holistic health recommendations | Yes | Yes | No | Yes |
| Gene & gene variants analyzed | Up to 83 million genetic variants | 1,000 SNPs | Genes related to vitamin supplements | 20+ genes |
| Products | DNA testing, wellness reports, health recommendations, lab test analyzer | DNA and epigenetic tests, health, nutrition, and fitness reports | Personalized supplements, diet, exercise, skin, and ancestry reports | DNA tests, traits, health, and fitness recommendations, vitamin delivery service |
| Raw data access | Yes | No | Yes | No |
| Cost (USD) | $97 – $387 | $84 – $280 | $29 – $269+ | $29 – 149+ |
Muhdo Reviews
DNAWeekly – Editor's Rating of 8 of 10
The editor says the reports are very detailed, but they are unsure if Muhdo is the best option for DNA-based fitness and nutrition insights. They state that other companies offer more affordable options.
DNAtestingchoice – Editor Rating of 4.5 of 5 and 209 Customer Average Rating of 4.3 of 5
Users mostly had a positive experience with the app, but a few reviewers complain of long processing times for the tests.
Trustpilot – 287 Customer Average Rating of 4.5 of 5 stars
Customers share that their fitness levels have improved while following recommendations from Muhdo. One reviewer complains that the meals suggested in the reports are overly complicated and the exercise plan is not user friendly.
Alternatives to Muhdo
SelfDecode: Get personalized health recommendations based on DNA and labs through detailed reports.
Muhdo Review Summary
Muhdo provides diet and fitness recommendations through their mobile app. They offer a brief explanations of their suggestions and provide scientific references in some of the reports. The app delivers personalized fitness plans and meal guides to help customers live healthier lives, although some customers complain that they are not user-friendly.
The company focuses on improving their customers' fitness levels by analyzing 1,000 genetic markers. As it is, Muhdo could be leaving out thousands or even millions of genetic variants that can affect your overall health. Additionally, the reports only cover a limited scope of health topics. For a more holistic approach, you might need to look elsewhere.
An alternative such as SelfDecode uses AI and machine learning to analyze up to 83 million genetic variants from a typical DNA file. Then, SelfDecode delivers personalized and prioritized diet, lifestyle, and supplement recommendations through detailed, science-backed reports for less than $100 per year. Additionally, Lab Test Analyzer examines over 500 lab markers to provide insights on how to achieve optimal levels for a complete picture of your health.
Related