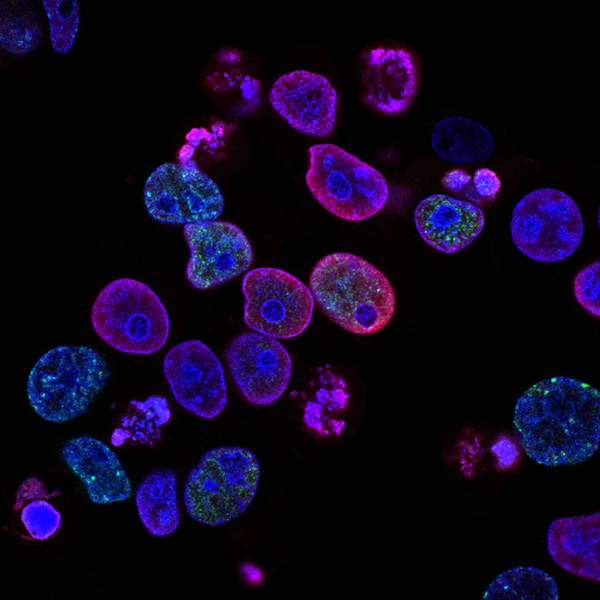 Overview
Products: whole genome sequencing, reporting updated weekly
Cost: $299 for 30x whole genome sequencing, $999 for 100x whole genome sequencing, $10+/month subscription fee for reporting, return shipping fee outside of the United States
Reports: research-centered genetic information, ancestry
Raw data access: yes
Privacy: blockchain technology, DNA stored anonymously, regular auditing of labs
Alternatives: SelfDecode – get personalized health recommendations based on an analysis of up to 83 million genetic variants
Pros
Whole genome sequencing for a somewhat accessible price
Well-cited research included in reporting that is updated regularly
Emphasis on privacy
Cons
No personalized health recommendations
Difficult to understand reporting
High testing cost for WGS that is not usually necessary
International customers required to pay return shipping
Long turnaround times for testing
About Nebula Genomics
Nebula Genomics was founded in 2016 in California by Professor George Church and Harvard students Kamal Obbad and Dennis Grishin.
Professor Church is an experienced researcher in genomics. Currently, co-founders Kamal Obbad and Dennis Grishin are graduate students in medical school at Stanford and Harvard, respectively.
Nebula Genomics raised 4.3M in funding in October 2018 from ten venture capital firms. Their initial goal was to offer whole genome sequencing at a much lower price point than was standard at the time.
Review of Nebula Genomics Products & Features
Nebula's primary offering is its whole genome sequencing which analyzes all potential variations in an individual's DNA. Users have three options of DNA testing to choose from:
Basic (0.4x WGS)
Deep (30x WGS)
Ultra Deep (100x WGS)
They also offer a subscription to Nebula Explore, their research library, which compares your DNA to scientific research and supplies risk scores for certain conditions or symptoms.
Nebula Genomics users also get access to "Deep Genetic Ancestry". In collaboration with FamilyTreeDNA, they will look at your Y chromosome (for males) and mitochondrial DNA to provide a more complete analysis of your ancestry.
Review of Nebula Genomics Reports
Nebula Genomics organizes their reporting by research study. Each report consists of information about genes that are linked to certain characteristics or conditions based on the findings of a particular study.
Their reports are updated weekly with new research. As long as you pay for their monthly subscription, you can log in every week to view what new studies have been added.
For example, here is a report detailing a recent study (Orthofer, 2020) that examined five genetic variants associated with thinness.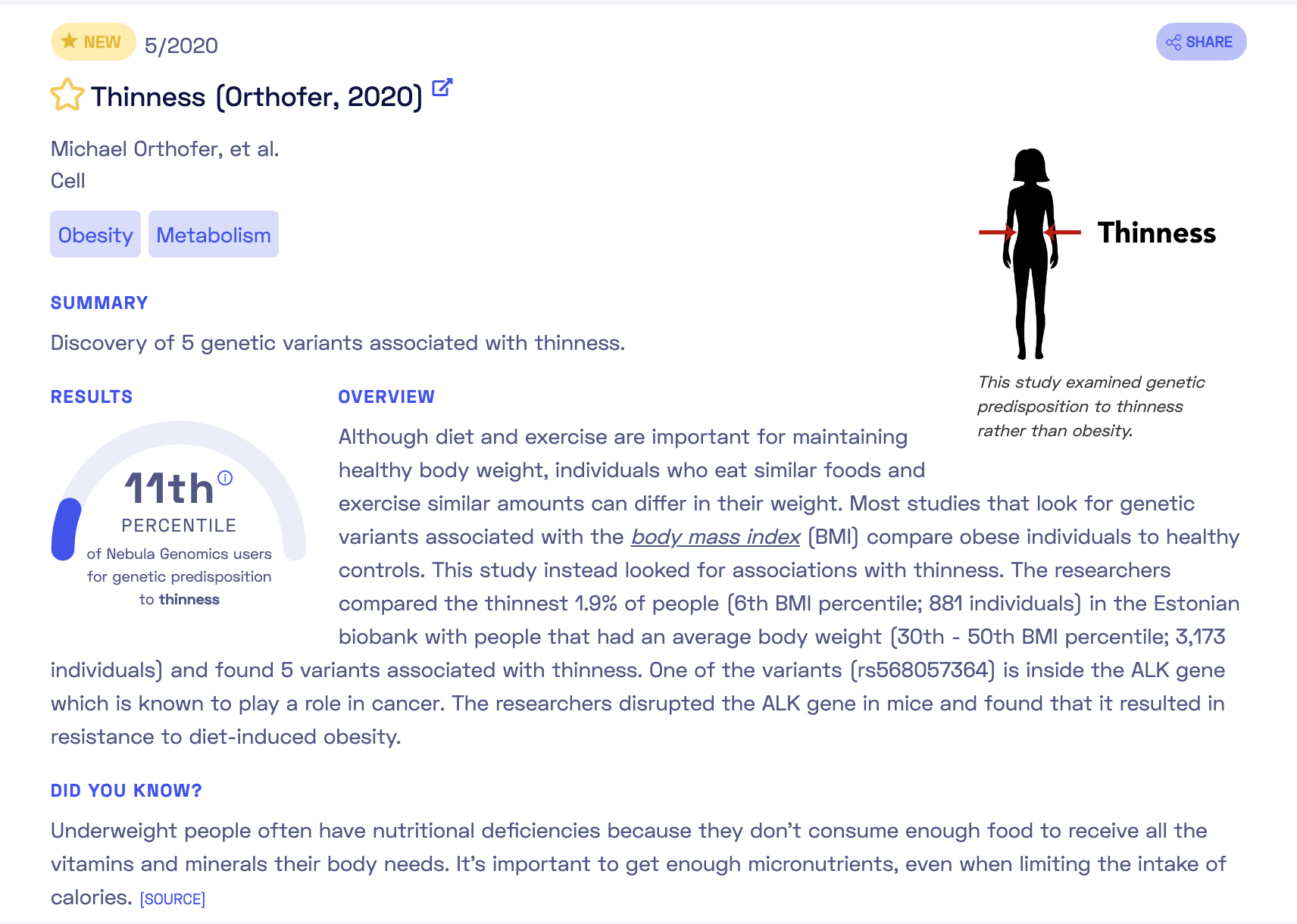 In each report, they include an overview of the study and a fun fact. In this example, they explain that the researchers found that certain genetic variants predispose thinness. They also tell us that underweight individuals often lack nutrients.
Included below is the chart that is at the end of every report. It tells the user the allele associated with the characteristic in question for each SNP, the odds ratio, the frequency of this allele, its statistical significance, and their own genotype and its accuracy (if available).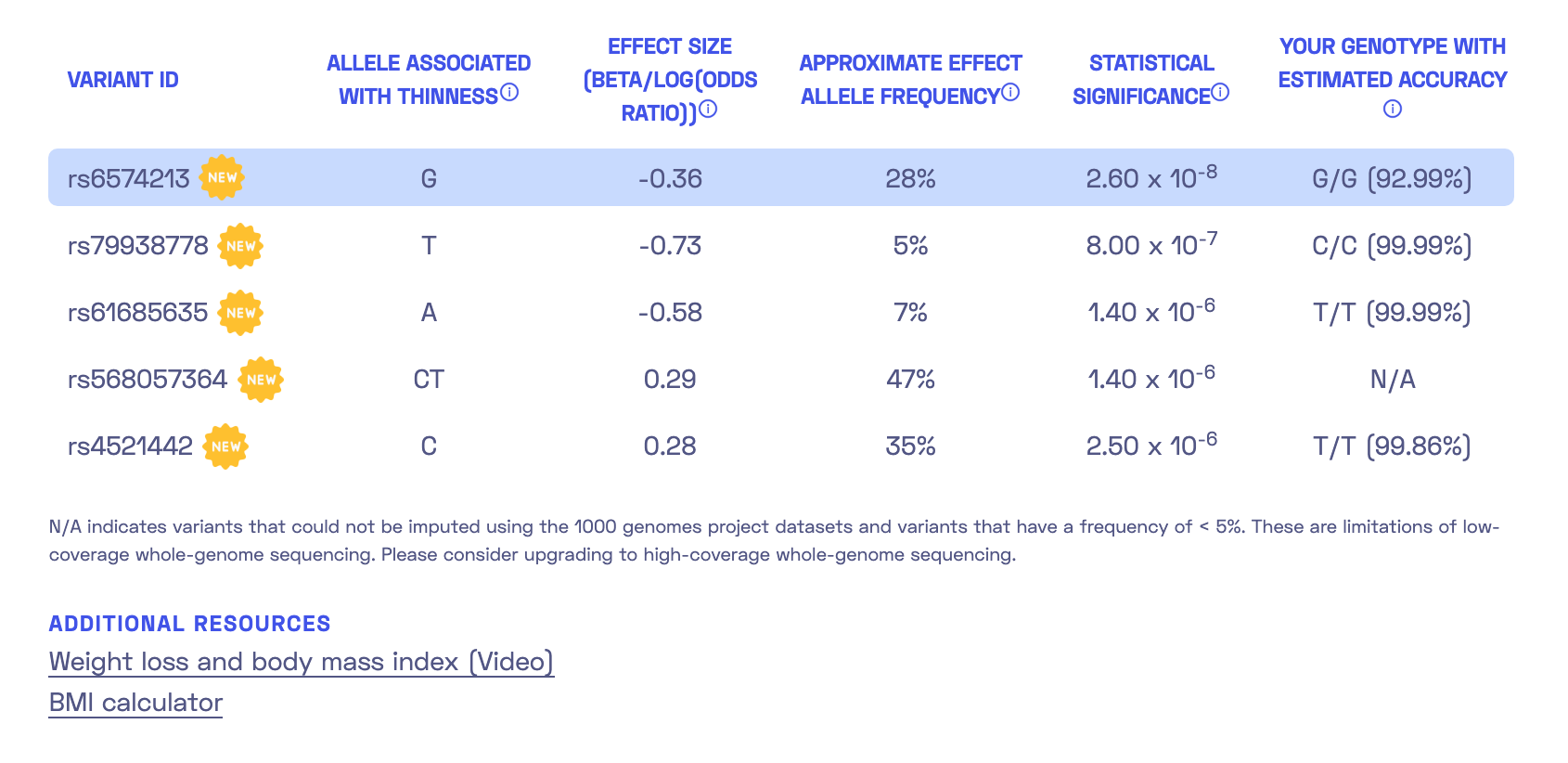 This chart can be difficult to understand for the average user who has little to no knowledge about how genetics work. It is not easy to determine what the values in the chart mean. The polygenic risk score at the beginning of the report (the percentile value) tells you where you stand in relation to other users but not what that means for your health. More work could be done to make these results easier to interpret.
They provide additional resources at the bottom of each report that contain basic information about the topic being discussed.
Nebula Genomics also provides mini "reports" on a variety of common and well-established genetic traits, such as whether you are likely to snack between meals.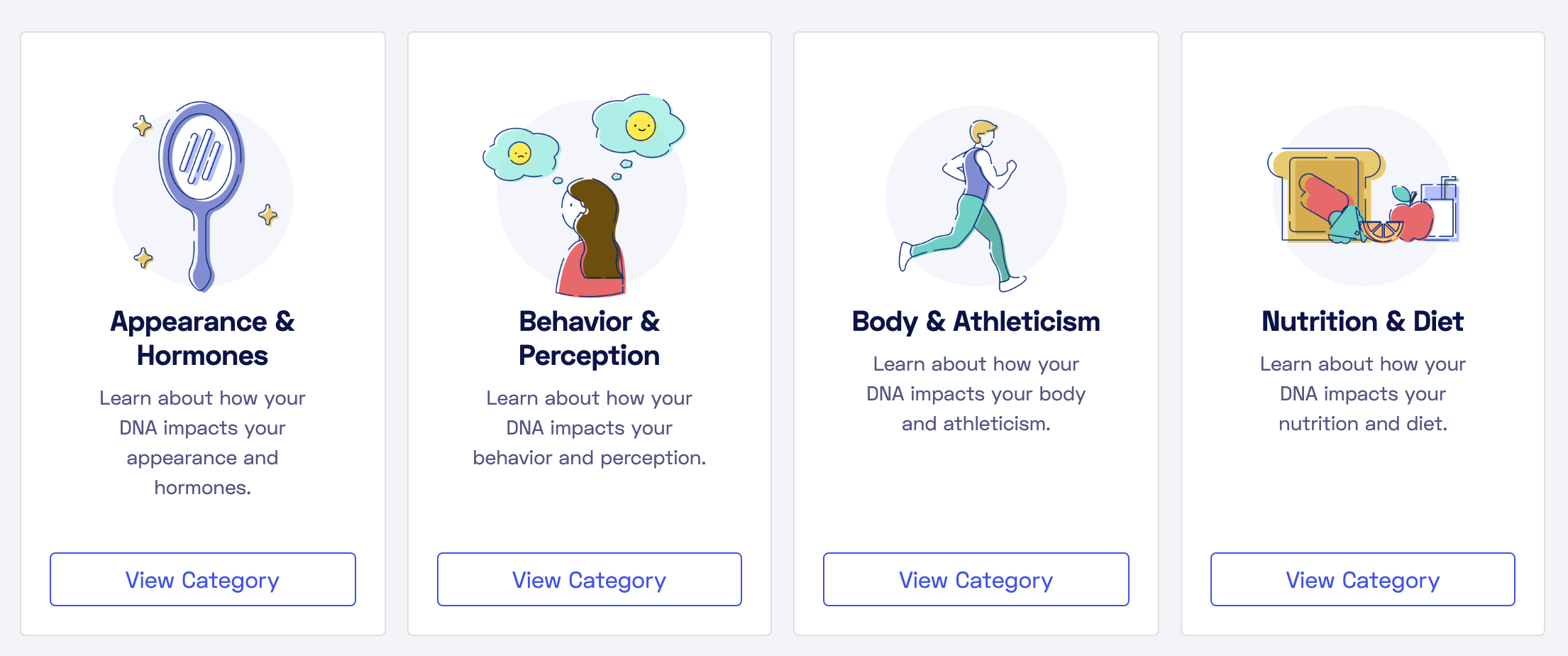 They look at four categories of traits: appearance & hormones, behavior & perception, body & athleticism, and nutrition & diet.
For example, this mini "report" tells the user about their nicotine response: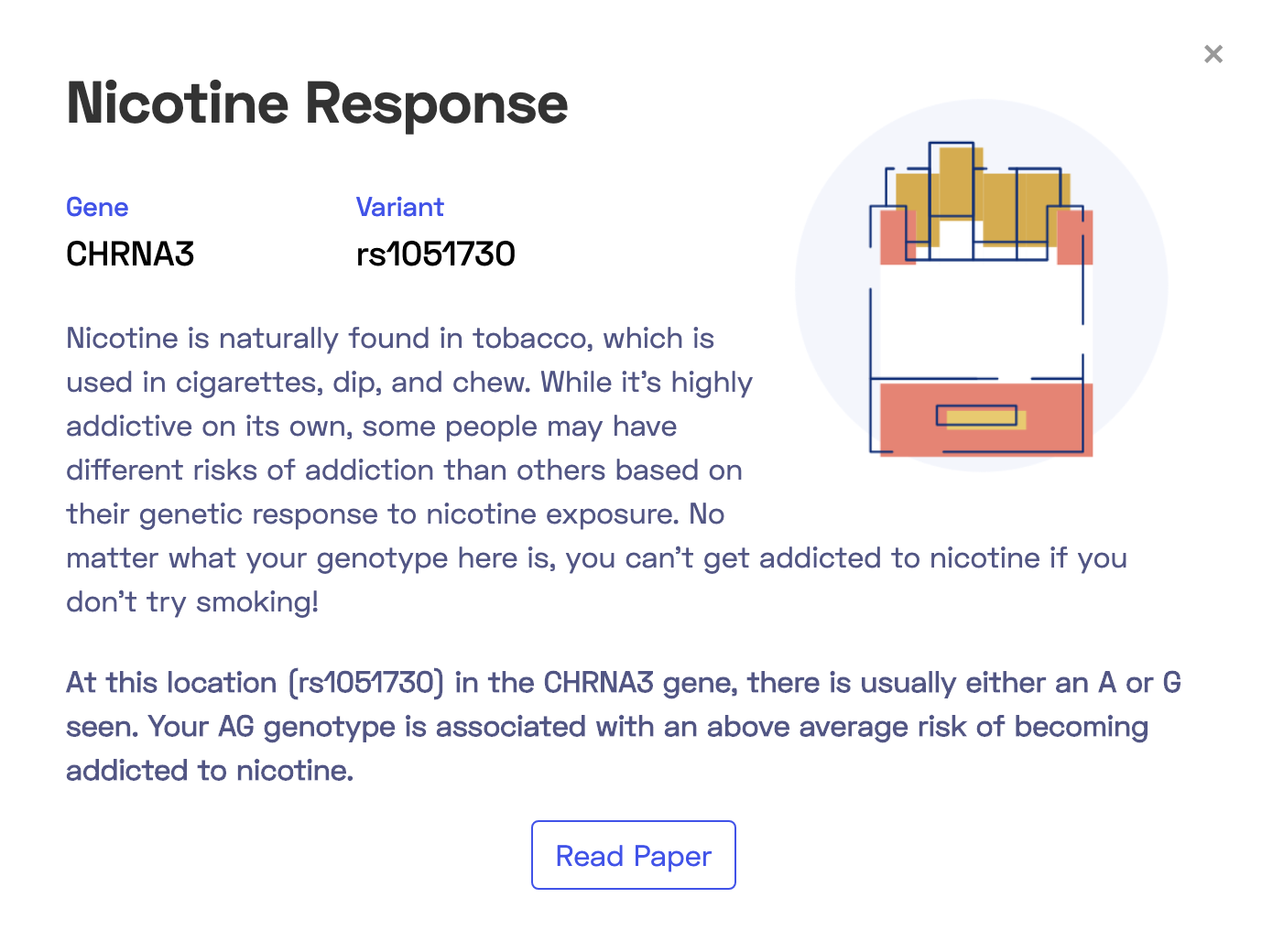 They provide the associated gene, the relevant SNP, a short summary, and a link to the research paper used.
These traits are fun to look through but there is no guidance about what to do with these conclusions and most of them have little impact on daily life.
Because each report is based on a single study, the number of genetic variants analyzed per report can be limited. In the example above, the Nebula Genomics "Thinness" report analyzed 5 variants associated with thinness. For comparison, the SelfDecode Weight Wellness Report looks at over 455,000 genetic variants related to weight and gives personalized recommendations based on DNA.
Cost of Nebula Genomics
The cost for the initial 30x whole genome sequencing needed to properly access Nebula's research library is $299 plus shipping. The 100x WGS costs $999, while the more affordable 0.4 WGS is $99.
It is important to note that if you live outside of the United States, they will not provide you with prepaid shipping materials and you will have to cover the return shipping costs for your kit to Hong Kong.
They have a 14-day free trial for their reporting service. After 14 days, you will need to pay a subscription fee of $10 – $20 per month to access any reports. Nebula also offers a lifetime access plan starting at $150 – $200.
You can always download your DNA file for free if you have paid for the whole genome sequencing. You can also upload a DNA file for free from another service to Nebula to receive a limited version of what you would get out of their whole genome sequencing option.
Is Whole Genome Sequencing Worth It?
Not yet.
Whole genome sequencing is more expensive than SNP chip kits that you would get from 23andme and SelfDecode, which test up to a million SNPs generally. Plus, with a process known as imputation, you can infer the variations of many more SNPs than is sequenced.
For example, SelfDecode uses AI and machine learning to accurately predict and analyze up to 83 million genetic variants from a typical DNA file. Each report from SelfDecode looks at an average of 1 million genetic variants, which is thousands more than what Nebula analyzes in their individual reports.
Whole genome sequencing analysis is not really being done in a significant way by any company as of 2021, so you wouldn't be getting significant benefits from it. The SNP kits provide quite a lot of information for only $99.
In addition, current whole genome kits don't actually test all variants, as a result of the way they are sequenced. For example, certain variants related to Huntington's Disease wouldn't be picked up on a regular 30X Whole Genome Sequencing. What this means is that you may want to sequence your whole genome again in the future (for 'longer reads').
Health Recommendations from Nebula Genomics
Nebula Genomics has a significant library of scientific research to compare its customers' genetic data to. This allows the customer to see how their genes connect to a wide variety of conditions and symptoms based on well-sourced and curated research.
However, Nebula Genomics really falls short when it comes to interpreting this data for the user. If you are unfamiliar with genomics, it is difficult to reach conclusions about how the information they give you about your genes will impact your daily life.
Their reports tell you where you stand when it comes to particular research findings on genetics but then stop there. However, they do not tell you how to become healthier based on the information.
This is a missed opportunity to empower the user to improve upon their quality of life using information about their personal genetic risk to make lifestyle recommendations. Our lifestyle and environment play a very important role in how our genes impact our lives and Nebula fails to address this for their users in a meaningful way.
Nebula's service is great for comparing your own genes directly to scientific studies, but there is a noticeable lack of information that has practical implications for the average person.
Review of Nebula Genomics Privacy & Data Security
Nebula Genomics places significant emphasis on data privacy and security, stating that they provide 'Privacy First Genomics'. They store your data using blockchain technology, which is the same technology that facilitates the use of cryptocurrency. They say that this makes you far less vulnerable in the event of a security breach.
The company advertises that they offer anonymous genetic sequencing. They will allow you to pay using cryptocurrency, use a VPN, and ship to a separate pick-up location to maintain complete anonymity.
Nebula Genomics also share their entire library of genetic data with researchers in order to further the science of genomics. The data is all shared anonymously and only with your explicit permission.
The company sends users' cheek-swab samples to a BGI laboratory in Hong Kong, China.
Partnerships
Nebula Genomics has gone down a similar path as 23andMe has and has partnered up with the pharmaceutical giant Merck in order to sell their consumer's data and monetize it.
This link between pharma companies and genomics companies isn't without controversy. Data sharing transparency has been a big conversation topic in the field, with big names in politics including Senator Chuck Schumer raising a red flag about data sharing practices.
SelfDecode vs Nebula Genomics
SelfDecode delivers natural supplement, diet and lifestyle suggestions based on your genes that you can implement right away. Nebula does not make any lifestyle, diet, or supplement recommendations.
SelfDecode tells you why they make each recommendation so that you can understand the science behind the suggestion. Nebula does a great job of sharing the science behind their reporting, but they do not make any tailored recommendations.
SelfDecode prioritizes recommendations based on their analysis of all the relevant genes instead of one gene at a time (through reports). Nebula focuses on one study at a time and allows you to sort studies by your polygenic risk score but make no recommendations.
SelfDecode takes a holistic approach to give recommendations that are best for your genes AND the health topic. Nebula focuses solely on the gene and your risk as compared to other users. They provide some basic information on the associated health topic.

SelfDecode has a team of over

60 highly skilled scientists, MDs, PhDs, NDs, and software engineers

to make sure they deliver the most accurate and science-based health information. Nebula Genomics was founded by George Church, a professor at Harvard and MIT.

SelfDecode is the most comprehensive and looks at more genes & gene variants (up to 83 million) to deliver the best analysis of genetic risks. Nebula provides whole genome sequencing, but it is expensive.
SelfDecode supports everything with peer-reviewed scientific studies in their research and checks for contradicting information. Nebula also does a great job of using accurate scientific research and cites it properly.
SelfDecode never sells your data or gives it away. Nebula makes the same promise unless they receive your explicit permission for research purposes.
Comparisons
| | | | | |
| --- | --- | --- | --- | --- |
| | SelfDecode | Nebula Genomics | 23andMe | Dante Labs |
| Personalized & holistic health recommendations | Yes | No | No | No |
| Genes & genetic variants analyzed | Up to 83 million genetic variants | WGS | ~600,000 SNPs | WGS |
| Products | DNA testing, wellness reports, research-based health recommendations, patient and provider options, lab test analyzer | WGS, health reporting, traits, ancestry | DNA testing, traits, wellness reports, more accurate ancestry | WGS, health and fitness reporting, genetic health risk |
| Raw data access | Yes | Yes | Yes | Yes |
| Cost (USD) | $97 – $396 | $0 (limited) – $999+ | $99 – $499 | $670 |
Nebula Genomics Reviews
Trustpilot – 261 Customer Average Rating of 4.2 of 5 stars
Reviewers on Trustpilot are generally positive about Nebula Genomics but there are two common complaints: a longer than advertised turnaround time for test results and reporting that can be difficult to gain useful insights from.
Product Hunt – 3.7 of 5 stars
The reviews on Product Hunt are similar to those from Trustpilot. Some customers appreciate the detailed research that Nebula Genomics lays out for its users, but others find it hard to apply to everyday life.
Read what people are saying about Nebula Genomics on Twitter
The Nebula Genomics hashtag on Twitter is a great place to find out more information about the history of the company and find some articles written about it.
Read what people are saying about Nebula Genomics on Reddit
One Reddit user raises a concern about having their DNA sample analyzed in a laboratory based in Hong Kong, information that is not clearly stated on Nebula's website.
Alternatives to Nebula Genomics
SelfDecode: The best option for health-focused DNA analysis with personalized reports and recommendations to improve your quality of life.
Nebula Genomics Review Summary
Nebula Genomics is a great option for anyone who is committed to whole genome sequencing and is looking for genetic information linked to specific research studies. It is not ideal for a customer looking for easy-to-understand information about their genetic risk and personalized lifestyle, diet, or supplement recommendations.
If you are interested in commonly analyzed genetic traits, Nebula Genomics has a simple interface for this purpose. However, the price point of whole genome sequencing is an unnecessary cost to learn about these standard traits. Any standard genotyping test can provide this information, and with a process known as imputation, you can infer the variations of many more variations than is sequenced by a SNP chip test.
For a more holistic approach to your health, SelfDecode could be a good alternative to Nebula Genomics. By using AI and machine learning, SelfDecode analyzes up to 83 million genetic variants that they know are connected to reliable research in genomics and health sciences. Plus, SelfDecode will provide you with personalized and prioritized recommendations based on your DNA to help you optimize your health.
If you want to invest in the potential future benefits of whole genome sequencing, Nebula Genomics can be a good option. However, it's still debatable how useful this information is currently. If you would like to improve upon your health and quality of life by analyzing your DNA, you will likely get more out of a service like SelfDecode that aims to help you meet those goals.
Related