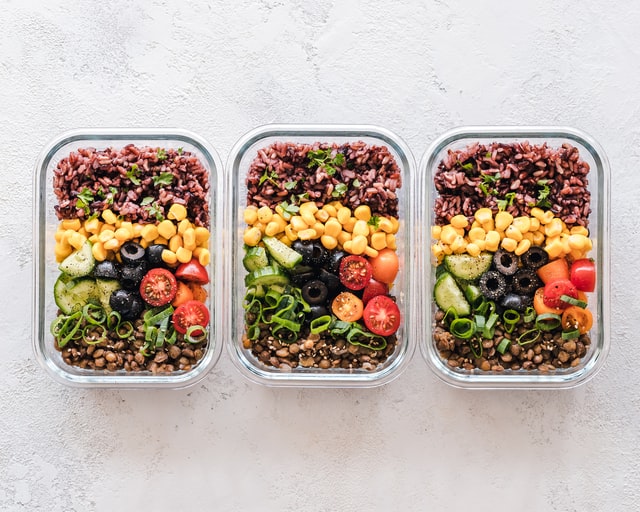 Overview
Products: GenoVive Weight Management DNA Test, meal delivery
Cost: GenoVive does not list prices on their website. According to third-party websites, prices vary from $149 for the DNA analysis to $450 a month for the meals
Reports: GenoVive Nutrition and Fitness Genetic Profile Report
Raw data access: No
Privacy: GenoVive claims not to sell or give any of your information to third parties for any purposes.
Alternatives: SelfDecode – The best option for health-focused DNA analysis with personalized reports, symptom analysis, and health recommendations.
Pros
Claims to offer meal and exercise plan based on your DNA results.
Cons
GenoVive offers its services exclusively through health care professionals such as dietitians and physicians.
Limited scope of health reports.
Delivered meals are not customizable.
Only analyzes 24 genetic markers.
About GenoVive
GenoVive was founded in 2008 as a division of Genvis Bio Group, LLC, based in New Orleans, LA. CEO Victor Castellon is also the founder of Bovigen, a company that aimed to make improvements in the beef industry's practices surrounding breeding.
GenoVive's geneticists and food scientists have developed customized, all-natural meal and exercise programs, featuring ideal combinations of macronutrients based on individual DNA.
Review of GenoVive Products & Features
GenoVive offers a DNA test to provide help you better understand your nutritional needs. They claim to deliver meals based on genetic results, which include six days of meals each week.
After your DNA analysis is completed, you will receive a report that contains your meal program and exercise plan. Once your shipments start, you will receive six meal kits each week. These meal kits include breakfast, lunch, dinner, and other products. The company claims that your analysis will also determine the number of calories you eat per day.
GenoVive's GenoFlex app allows customization and tracking of nutrition and exercise programs. The GenoFlex app will also integrate with popular devices such as Fitbit and the Aria scale.
A workout routine from GenoVive will include a 12-week long program broken out into three phases of four weeks each.
The three phases are start-up, intermediate, and advanced. Start-up has you work out for three to four days per week. The intermediate phase can have you working out four to five days per week, and advanced includes five to six days per week.
Review of GenoVive Reports
Section One: Overview
The first section of the report gives specific results for each of the 24 genetic markers tested.
Section One also gives a general overview of how genes make individuals unique in terms of nutritional and fitness needs, as well as how they can affect behavioral traits related to health and wellness. This explanation covers the vocabulary used in the rest of the report and points to resources for those who want a deeper understanding of the science behind the GenoVive program.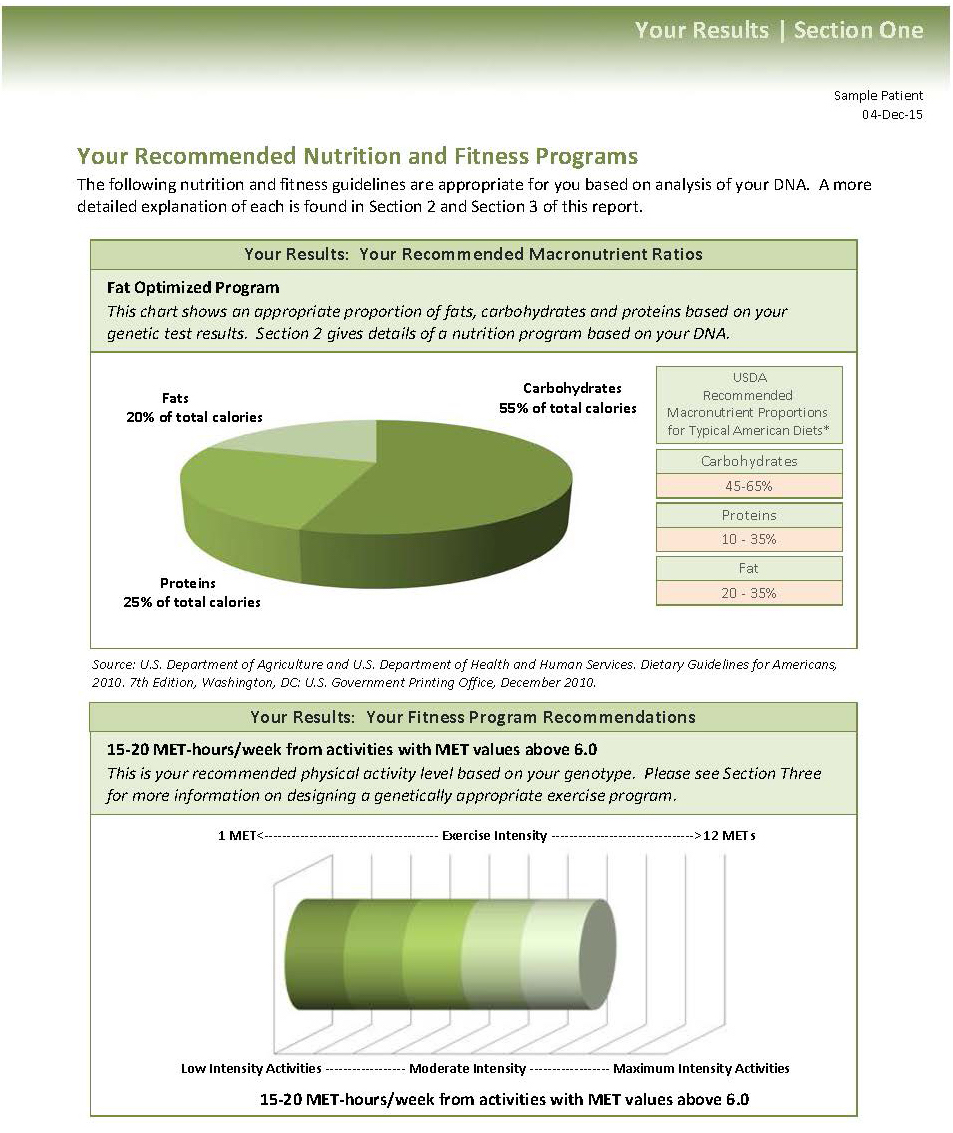 Section Two: Nutrition
Section Two explains in greater detail what the genetic test results reveal about nutritional needs. It offers specific caloric and serving units to target five different activity levels. This allows you to adjust your nutritional intake based on changing levels of physical activity.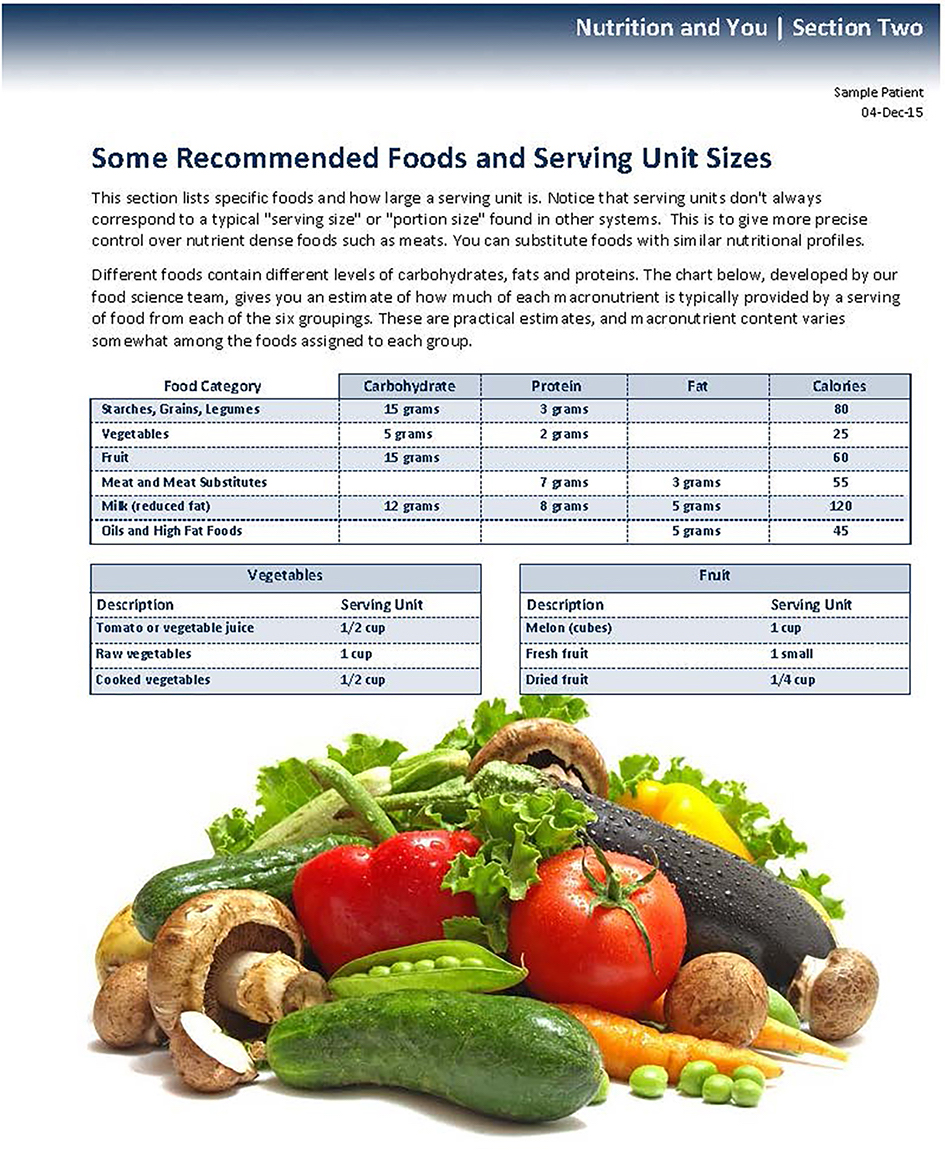 Section Three: Fitness Related Results
Section Three explains what the test results suggest about the need for intensity and duration of weekly exercise.
This section also examines what the genetic results suggest about which exercises and sports the individual may be best suited, but GenoVive only analyzes a few SNPs to generate the report.
Section Three concludes with a discussion about what the test reveals about the best methods of resistance training for the individual.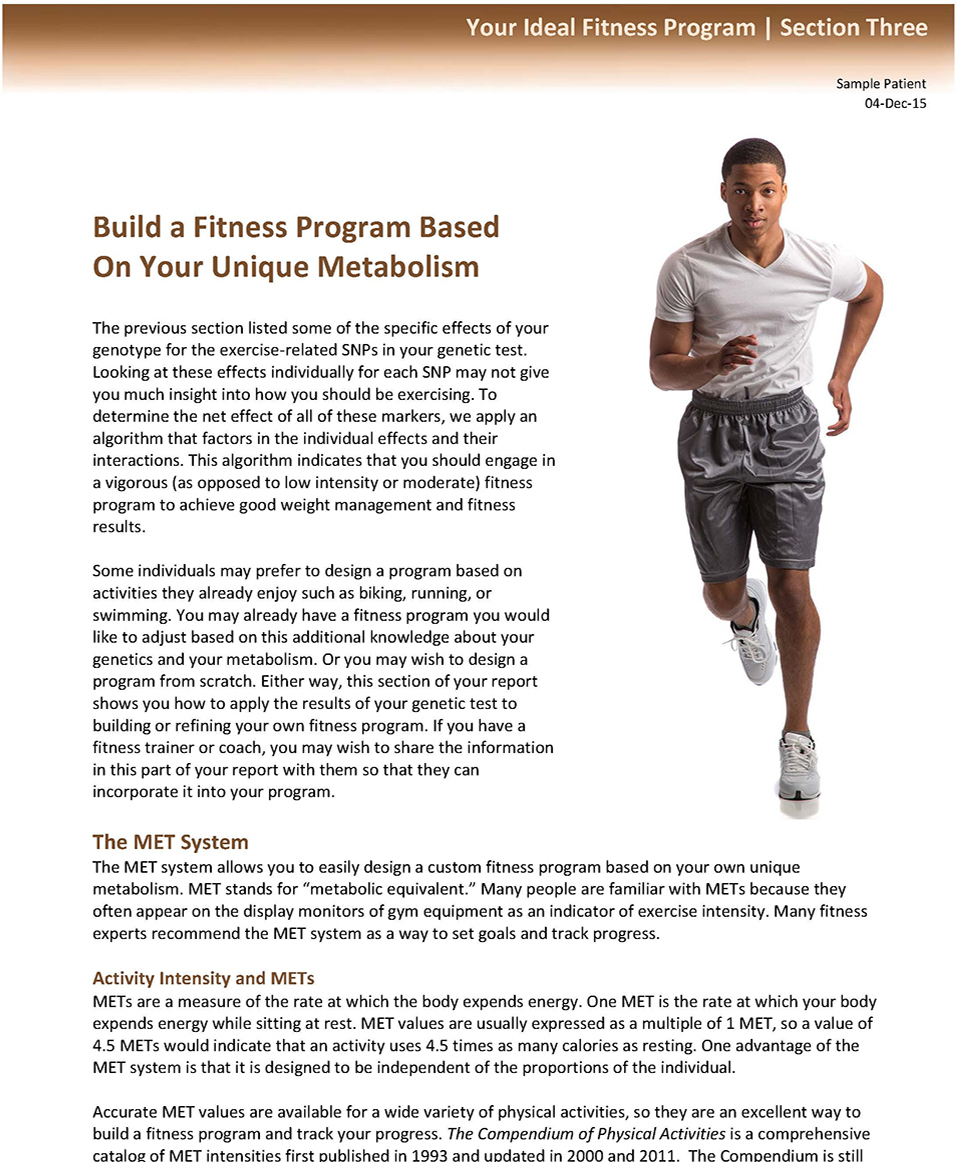 Section Four: Genetics and Behavior
Section Four discusses how genes and mood influence behavior and food choices. Similar to the previous sections, the report only analyzes a limited number of genetic variants.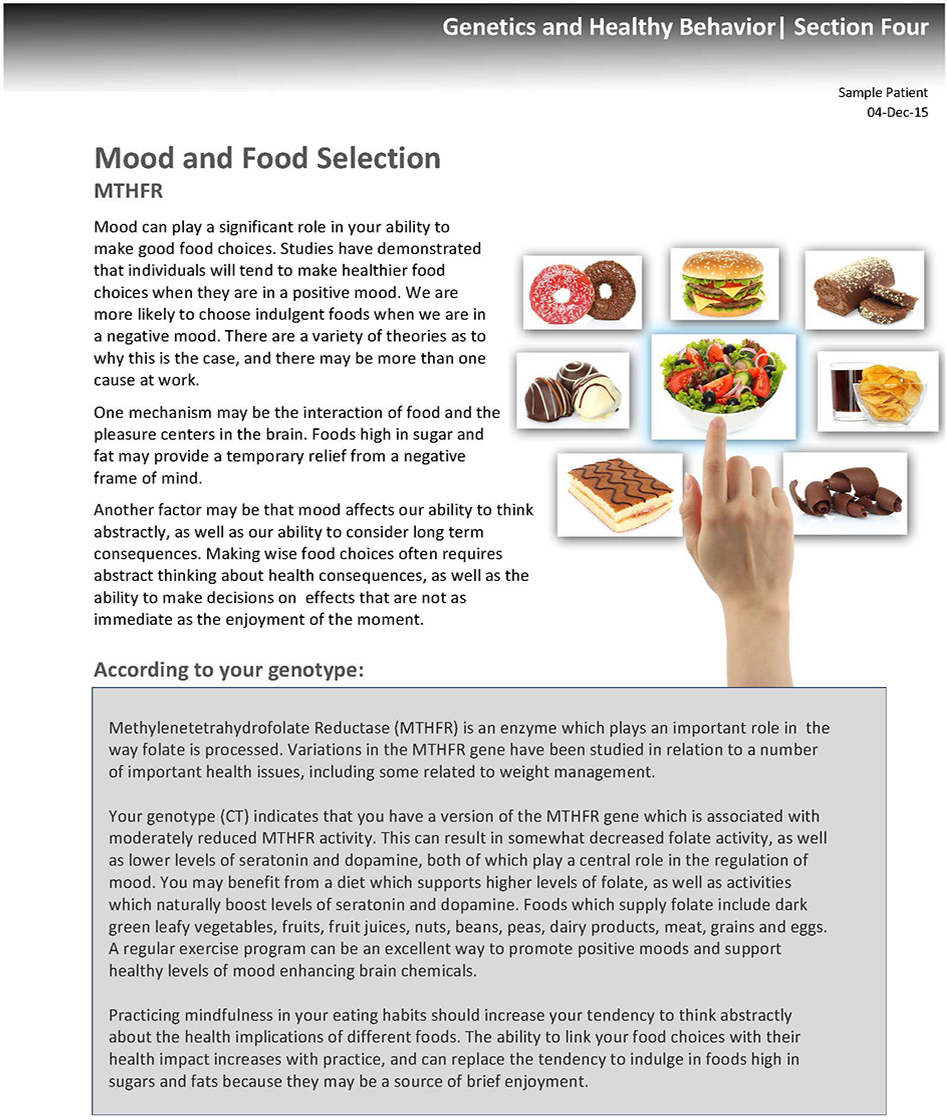 Cost of GenoVive
Because each healthcare provider is able to offer the GenoVive DNA test on their own, there is no set cost for the test. Prices start at $149 for the test, and the meal plans can range from $399 to $549 per month. GenoVive does not include pricing information on their site, so these figures have been gathered from third-party websites.
Health Recommendations from GenoVive
Exercise suggestions are provided for participants on the GenoVive website.
Those who choose to follow the Meal Plan given to them are sent a weekly shipment of 6 packaged meals, one for each day, for a total of 24 per month. They are each designed to meet the requirement of the recommended daily calorie intake: 1300, 1600, or 1900 calories.
Users can also check their Weight Management Genetic Profile Report to see the percentage of macronutrients needed daily, as well as the recommended exercise intensity. However, GenoVive only looks at a few SNPs to generate the results, so the results may not be the most accurate. Plus, the recommendations provided in the reports are very general and not detailed.
Review of GenoVive Privacy & Data Security
The company claims that the results of a customer's analysis will never be shared with a third party without consent. Your sample will either be destroyed according to HIPAA guidelines, or GenoVive will keep your sample stored and secure so that it can be reanalyzed. The latter is in case new products become available which need to examine SNPs that are not currently being used.
SelfDecode vs GenoVive
SelfDecode delivers natural supplement, diet, and lifestyle suggestions based on your genes that you can implement right away. GenoVive provides the guidelines that your healthcare provider or dietician can follow regarding weight management.
SelfDecode tells you why they make each recommendation so that you can understand the science behind the suggestion. GenoVive lists the sources used to make their recommendations at the end of the report.
SelfDecode prioritizes recommendations based on their analysis of all the relevant genes instead of one gene at a time (through reports). GenoVive focuses on certain genes involved with diet and exercise.
SelfDecode takes a holistic approach to give recommendations that are best for your genes AND the health topic. GenoVive does list recommended diets and exercise but relies on health practitioners or physicians to make their own interpretations for their patients.
SelfDecode has the world's first and only personalized genetics blog that allows you to get new gene-based recommendations daily. GenoVive does not offer a personalized blog at this time.
SelfDecode is the most comprehensive and looks at more genes & gene variants (up to 83 million) to deliver the best analysis of genetic risks. GenoVive only looks at 24 SNPs involved with how your body responds to diet and exercise.
SelfDecode supports everything with peer-reviewed scientific studies in their research and checks for contradicting information. GenoVive includes a list at the bottom of their report of the scientific studies done on the SNPs that they target for testing.
SelfDecode never sells your data or gives it away. GenoVive claims not to sell or give any of your information to any third parties for any purposes.
Comparisons
| | | | | |
| --- | --- | --- | --- | --- |
| | SelfDecode | GenoVive | Orig3n | Dante Labs |
| Personalized & holistic health recommendations | Yes | No | Yes | No |
| Personalized blog posts | Yes | No | No | No |
| Products | DNA testing, wellness reports, research-based personalized blog posts, health recommendations | DNA testing, diet & exercise report, meal delivery | DNA testing, traits, health and fitness recommendations, personalized vitamin delivery service | WGS/WES, health and fitness reporting, genetic health risks |
| Raw data access | Yes | No | Yes | Yes |
| Cost (USD) | $97 – $389 | $149 – $590 | $29-$149 for each report, $601 for annual vitamin delivery service | $700-$1,000+ |
GenoVive Reviews
Because GenoVive operates exclusively through practitioners, they have not been reviewed extensively online. Their Facebook profile is not a business page, and their Twitter profile has been inactive since 2017.
The Canyon Ranch chose the GenoVive service as part of their guest offerings. Canyon Ranch is a luxury wellness lifestyle brand that operates two destination health spa resorts and one retreat property in the United States.
The Men's Journal included GenoVive on their list of nutritional meal delivery services for 'guys on the go'.
Alternatives to GenoVive
SelfDecode: The best option for health-focused DNA analysis with personalized reports and recommendations to improve your quality of life.
GenoVive Review Summary
GenoVive is a meal delivery and exercise program that delivers weekly meals and an exercise plan.
The GenoVive diet program may provide you with all the foods you need during the program, but it is also a costly one. At nearly $600 to start and then $450 each month thereafter, it may be too expensive for many. Not to mention, there is an additional cost for the free day of the week where food and drinks are not supplied.
It is still possible to find other diet and nutrition programs that offer great guidance in a healthy lifestyle, and allow you to achieve your weight loss goals at a much more affordable rate.
GenoVive only looks at 24 genetic markers to make their recommendations, which is a fraction of what other companies such as SelfDecode analyzes. SelfDecode is the only direct to consumer company that uses AI in genomics to give genetic risk scores and truly personalized recommendations based on all relevant markers. The SelfDecode Weight DNA Wellness Report alone looks at up to over 455,000 genetic variants to give you the most accurate and science-based reports.
Related Articles