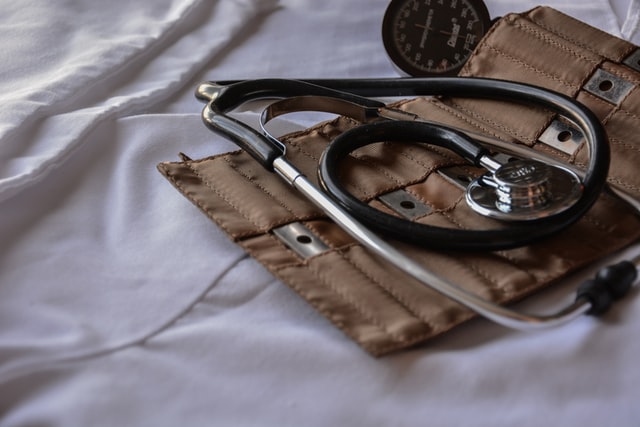 Overview
Products: Clinical genetic testing.
Cost: The company does not offer pricing information for most tests.
Reports: Reproductive, post-natal, and hereditary cancer reports.
Raw data access: The company does not make any claim about raw data downloading.
Privacy: Sema4 claims not to sell, trade, or share personal information with third parties but may share personal health information for treatment, payment, or healthcare operations.
Alternatives: SelfDecode delivers personalized health recommendations based on an analysis of up to 83 million genetic variants.
Pros
Patients have access to a genetic counselor.
The company tests for a wide variety of genetic conditions.
Offers noninvasive prenatal genetic testing.
Cons
Not all tests are available directly to the consumer.
No option for raw data uploading.
Users need to contact the company directly to receive more information about tests.
About Sema4
Sema4 is a genomics company founded in 2017 by CEO Eric Schadt, who serves as Dean for Precision Medicine at the Icahn School of Medicine at Mount Sinai. Headquartered in Connecticut, USA, Sema4 became a public company trading on Nasdaq in July 2021.
The company has a team of scientists, data engineers, and clinicians, and they claim that their research team published over 1,000 peer-reviewed papers in the past five years.
Sema4 states that their research program is internationally recognized, and they have a few active collaborations within the pharmaceutical industry.
Review of Sema4 Products & Features
Sema4 offers diagnostic genetic tests through healthcare providers. To get started, patients need to request a test through their physician, who collects a DNA sample and sends it to Sema4's laboratory for analysis.
Once the test is completed, the company states that the healthcare provider or a genetic counselor from Sema4 may contact the patient to explain the results and answer questions.
The Expanded Carrier Screen tests for more than 280 inherited diseases, including cystic fibrosis, fragile X syndrome, and spinal muscular atrophy. It provides information about the risk of parents passing a genetic condition to the child.
The Noninvasive Prenatal Select can detect chromosomal abnormalities such as Down Syndrome as early as 9 weeks of pregnancy. It requires a blood sample from the mother.
The Hereditary Cancer test offers seventeen testing panels to help providers understand their patient's risk of developing certain types of cancer.
In addition to these tests, Sema 4 offers several other genetic screening tests that include molecular, cytogenetic, and biochemical analyses.
The company includes genetic counseling sessions with their DNA tests. They state that their counselors are certified by the American Board of Genetic Counseling.
The consultation is done by phone and includes a discussion of the results, implications for the patient and family, and recommendations for specialist referrals if needed. Patients receive a written document with the topics discussed during the consult.
Although most DNA tests are only available through a medical professional, the company offers one direct-to-consumer product, Natalis Newborn Screen.
Natalis Newborn Screen gives insights into the baby's health. It tests for more than 190 conditions that can affect children before the age of 10. The company states they only screen for conditions that can be treated.
Natalis also includes an analysis of the child's response to over 40 medications commonly prescribed during childhood. No health recommedations are includes with the reports, but the company claims that counselors are available to provide support about the results.
Review of Sema4 Reports
Patients can access their reports on their Sema4 account. They can view, download, and print their results if they wish to do so.
The company states that the results are available on the patient's account five minutes before their scheduled genetic counseling appointment time. They recommend that users do not view their results ahead of the consultation.
Sema4's results are explained in a patient-friendly manner. An example of the Hereditary Cancer report can be seen below.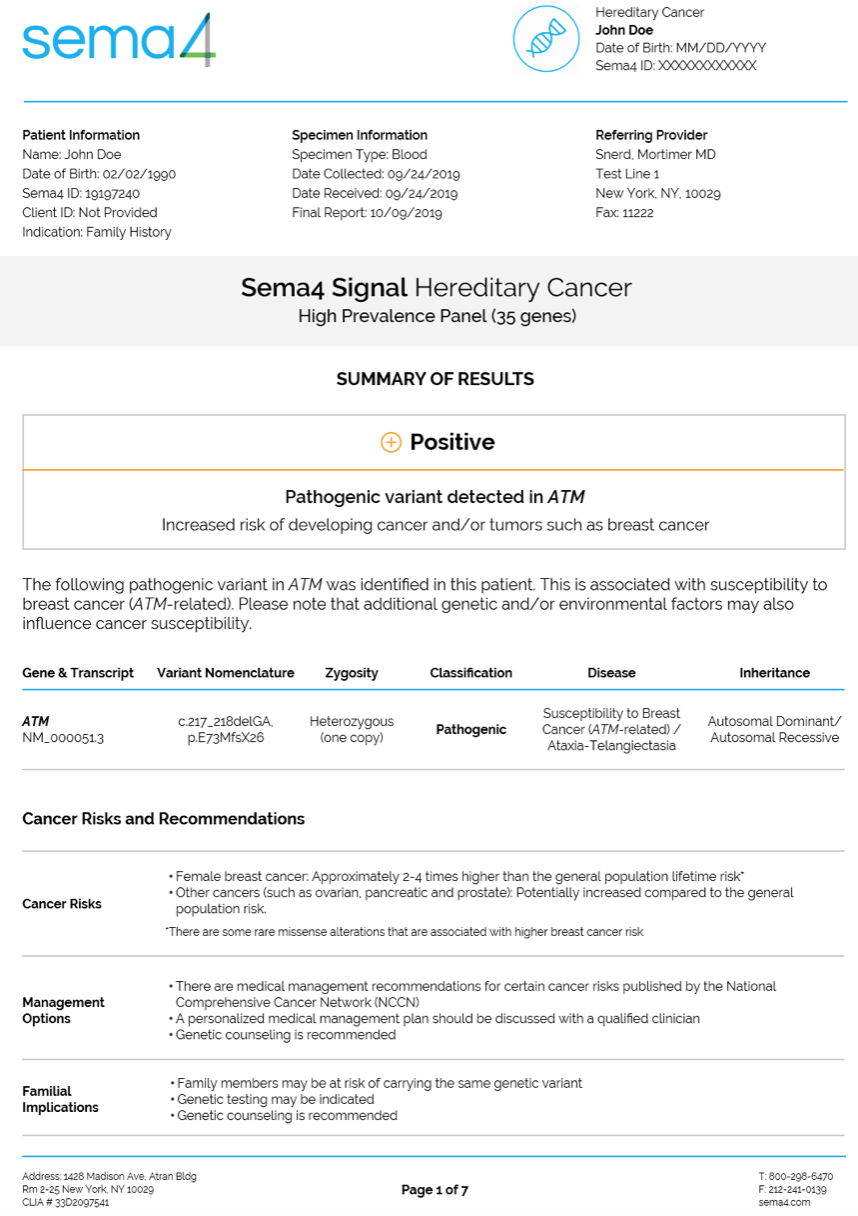 For this test, the company states that the results can be presented as follows:
Positive: A genetic change or mutation associated with an increased risk of cancer was identified.
Negative: No mutations were identified.
Inconclusive: A genetic change was identified but there is not enough information to determine if it presents an increased risk of cancer.
Sema4 offers medical management recommendations where appropriate. For example, in the sample report above, the company explains where patients can find additional resources and if genetic counseling is suggested.
Additionally, the report discusses the familial implications of the results. It explains if family members may be at risk of carrying the genetic variant and if testing is recommended for them. However, the reports do not include health recommendations you can implement to help you address your genetic predispositions.
Cost of Sema4
Sema4 only provides the price for the Natalis Newborn Screen, which costs $379.
Most of their tests are covered by the majority of insurance plans. Copays, co-insurance, and deductibles may vary according to each health plan.
To determine out-of-pocket expenses, users need to contact the company or their provider. The company states that if the cost is greater than $99, a billing specialist will contact the customer to discuss options.
Sema4 offers financial assistance options and payment plans.
Health Recommendations from Sema4
Sema4 offers resources to help patients manage their medical conditions. As shown earlier, the company tells patients where they can find recommendations for certain cancer risks. The report also informs users if genetic counseling is recommended.
Additionally, the company provides genetic counseling sessions to help patients understand their results. They recommend that people first view their reports during the consultation. Unfortunately, the reports do not include lifestyle changes you can make to target your genetic predispositions. So, if you're looking for insights into how to optimize your overall health, you might need to look elsewhere.
Review of Sema4 Privacy & Data Security
Sema4 claims not to sell, trade, or share personal information with third parties. They may share data with companies who perform services on their behalf. They apply physical, technical, and administrative safeguards to secure personal information from unauthorized access, disclosure, alteration, or destruction.
Protected Health Information (PHI) is subjected to HIPAA laws. Sema4 may disclose PHI for purposes of treatment, payment, and healthcare operations.
Users can request to correct, delete, or block their personal information from further use, as permitted by law. The company states they retain data for as long as necessary to accomplish the purposes it was collected for.
SelfDecode vs Sema4
SelfDecode delivers natural supplements, diet, and lifestyle suggestions based on your genes that you can implement right away. Sema4 offers a few clinical insights on how to manage the patient's health conditions
SelfDecode tells you why they make each recommendation so that you can understand the science behind the suggestion. Sema4's suggestions are aimed at treating certain genetic conditions.
SelfDecode prioritizes recommendations based on their analysis of all the relevant genes instead of one gene at a time (through reports). Sema4 does not prioritize their recommendations.
SelfDecode takes a holistic approach to give recommendations that are best for your genes AND the health topic. Sema4 gives information on specific genetic conditions in each report.
SelfDecode has a team of over 60 highly skilled scientists, MDs, PhDs, NDs, and software engineers to make sure they deliver the most accurate and science-based health information. Sema4 claims to have a team of scientists, data engineers, and clinicians.
SelfDecode is the most comprehensive and looks at more genes & SNPs (up to 83 million) to deliver the best analysis of genetic risks. Sema4 analyzes genes related to each health condition.
SelfDecode supports everything with peer-reviewed scientific studies in their research and checks for contradicting information. Sema4 claims their research team has published over 1,000 peer-reviewed publications.
SelfDecode never sells your data or gives it away. Sema4 claims not to share personal information with third parties but may disclose personal health information for purposes of treatment, payment, and healthcare operations.
Comparisons
| | | | | |
| --- | --- | --- | --- | --- |
| | SelfDecode | Sema4 | GeneDx | Integrated Genetics |
| Personalized & holistic health recommendations | Yes | No | No | No |
| Genes & gene variants analyzed | Up to 83 million genetic variants | Depends on the test | Depends on the test | Depends on the test |
| Products | DNA testing, wellness reports, health recommendations, patient and provider options | DNA testing, clinical genetic reports | WGS, WES, rare disease reports | Clinical genetic testing, disease reports, genetic counseling |
| Raw data access | Yes | Unclear | No | Yes |
| Cost (USD) | $97 – $389 | Not disclosed for all tests | Depends on insurance coverage | Not disclosed |
Sema4 Reviews
The company has a strong social media presence, with over 25,000 followers on their Facebook page. However, there are not many Sema4 reviews online. So far, only 2 users rated them 5 of 5 stars. One customer complains about the customer support.
In December 2020, Sema4 opened a new facility in Connecticut to increase their capacity to process genomic tests.
The New England Venture Capital Association announced Sema4 to be the winner of the 2020 NEVY Powerhouse MedTech Company award.
Alternatives to Sema4
SelfDecode: Get personalized diet, lifestyle, and supplement recommendations through detailed reports aimed at optimizing overall health.
Sema4 Review Summary
Sema4's variety of women's health and oncology tests can help healthcare professionals better diagnose their patients and offer a more precise treatment plan. They also offer several other diagnostic tests that are available through a medical provider.
A precise diagnosis is imperative for accurate treatment. Since these tests are aimed at helping healthcare providers treat patients, most aren't available directly to the consumer. The reports do not give much advice on how people can change their lifestyle to manage their health conditions, and you'll need to consult with a practitioner to get a better understanding of your results.
If you're interested in taking control of your health, an alternative like SelfDecode could be a better option. SelfDecode uses AI and machine learning to analyze up to 83 million genetic variants and deliver personalized health recommendations that are easily implemented without the need to contact a doctor.
For healthcare providers, SelfDecode offers professional plans to help them optimize their patients' health with a personalized approach.
Related Articles