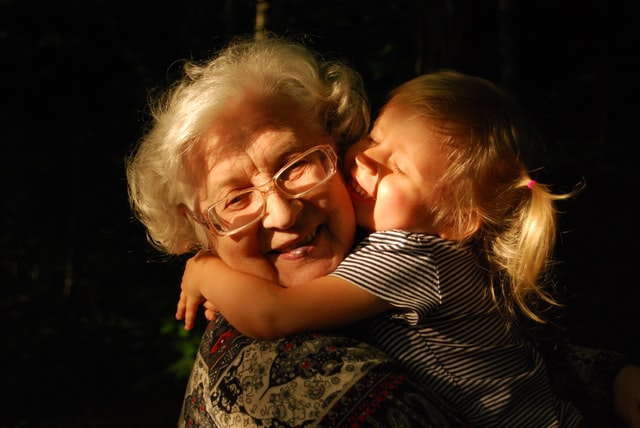 Overview
Products: Cellular and Brain Health Supplements, At-home Biological Age Testing.
Cost: Brain and cellular supplements: $60/bottle, $40/bottle for an annual subscription. Biological aging test: $499.
Reports: The biological aging test includes a report.
Raw data access: No.
Privacy: Elysium claims that no personal information stored by them will be shared with third parties.
Alternatives: SelfDecode: A yearly subscription for less than $100 gets you access to wellness reports, personalized blog posts, and symptoms analysis. A subscription with SelfDecode also grants access to LabTestAnalyzer, a specialized lab marker analysis tool.
Pros
The cellular health supplement is backed by a clinical trial with human participants
Partnership with the University of Oxford for their brain health supplement
Cons
High prices for supplements and testing, could cost over $800 per year
No statements made by Elysium are evaluated by the FDA
No genetic variant or blood biomarker analysis included with the $499 test
About Elysium Health
Elysium Health was founded in 2014 by Dan Alminana (COO), Eric Marcotulli (CEO), and Leonard Guarente (Chief Scientist). The company's headquarters is located in New York City.
The company strives to solve aging challenges by offering biological aging tests and supplements that improve longevity. Elysium works with scientists, bioinformaticians, and other healthcare professionals to achieve their mission.
Elysium Health has secured $71.2 million in funding, with their most recent funding round raised in December 2019. The company has also been involved in multiple legal battles with ChromaDex, a supplier of key ingredients and former partner for Elysium's cellular health supplement.
Review of Elysium Health Products & Features
Elysium Health offers two supplements focused on longevity and healthy aging: Basis for cellular health and optimization, and Matter for long-term brain health. They also offer a biological age test, called Index.
Basis focuses on cellular health and the chemical NAD+. NAD+ is a chemical that is essential for metabolism and cellular processes. The Basis supplement is designed to sustain and increase NAD+ levels.
The supplement is advertised to promote healthy aging, improve cellular health, and maintain DNA and integral cellular processes. Elysium supports these claims with data from a human clinical trial.
The Matter supplement is focused more on long-term brain health. This product was developed in conjunction with Oxford University. The formula's main ingredients include a B-vitamin complex, omega-3 fatty acids, and antioxidants.
Elysium also offers a biological age test, called Index. The company claims that they track the aging using epigenetic testing. Epigenetic changes are changes to how genes work based off of a person's behavior, or environmental factors. For example, a person could have different, more negative epigenetic changes if they are a heavy cigarette smoker.
The Index epigenetic test tracks the cumulative rate of aging, which is the pace of aging for each year that the customer has been alive.
With Index, users will receive science-backed recommendations to improve their aging outcomes. The test is administered at-home using a saliva sample testing kit. The test is not FDA approved.
Review of Elysium Health Reports
Elysium only offers reports with their Index biological age testing service. The reports will show the user's biological age in comparison to their chronological age.
The reports will also show the user's cumulative rate of aging, which is the rate of aging for each year they have been alive. The cumulative rate of aging for each customer will also be compared to others and shown in a visualization, as seen below.

This blog about aging shows how Elysium compares biological age to chronological age, seen in this image below.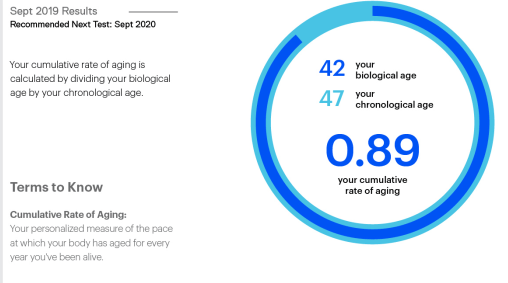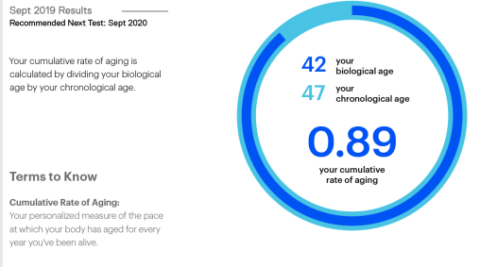 Each section is precluded with information about the topic being discussed, such as biological aging, seen in the image below.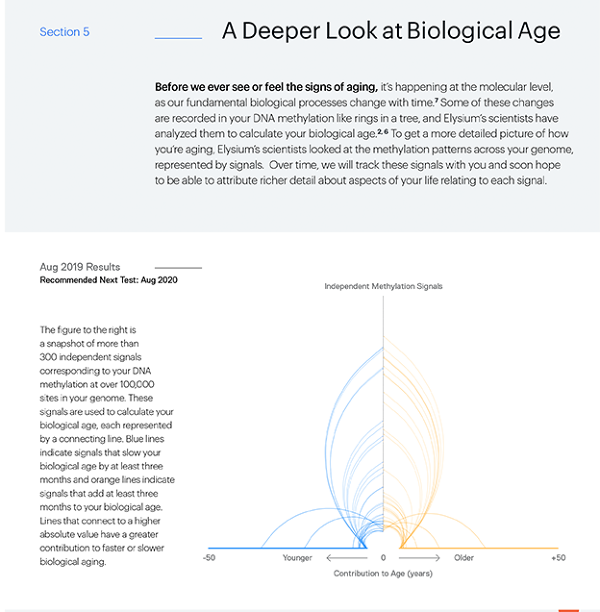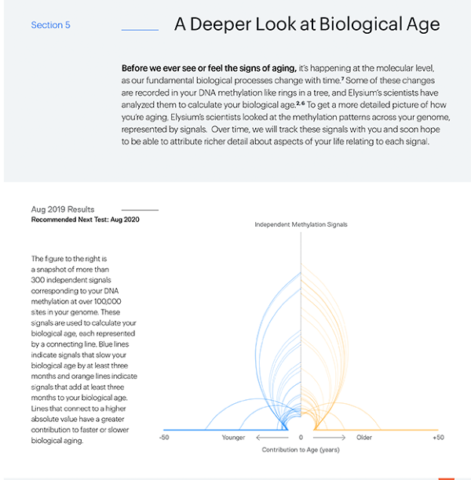 The wording is simple and mostly free of jargon. Users should be able to understand what they are reading easily and without having to use additional resources.
There are no publicly available sample reports that display health recommendations, but Elysium claims that science-backed recommendations are included with a purchase of the Index test.
Cost of Elysium Health
Elysium Health's testing and supplement prices are much higher than competitors in the market.
Each bottle of Basis and Matter are $50 each if they are purchased as a yearly plan. Ordering more than one bottle per month will cost $60 each.
Prepayment options can offer some discounts to customers. An annual plan with a prepayment for the entire year will cost $480, or a 6-month prepayment of $270.
Index, the biological aging test, will cost $500 for one test. Annual subscribers to the Basis supplement service can claim a $200 discount for their Index test, or 6-month subscribers can save $150 off the test.
Elysium's products and services are not covered by insurance.
Health Recommendations from Elysium Health
Elysium Health claims that there are specific, science-backed recommendations offered with their Index testing kits. They do not provide any examples on their website or offer any additional information about them.
Review of Elysium Health Privacy & Data Security
Elysium states that personal information that is sent to them is protected with industry-standard encryption. Personal information and personal test result data will also be de-identified and kept separately from each other.
They also include that any personal information will not be sold to third parties. Without the express consent of customers, any test/genetic information will not be shared with anyone. If users do choose to share their genetic information for research purposes, it will be used in de-identified and aggregate research purposes.
Partnerships
As mentioned earlier in this article, Elysium was previously partnered with ChromaDex, a supplier for the ingredients in the Basis supplements, before their legal fallout.
SelfDecode vs Elysium Health
SelfDecode delivers natural supplement, diet, and lifestyle suggestions based on your genes that you can implement right away. Elysium claims to make personalized recommendations based on their epigenetic testing.
SelfDecode tells you why they make each recommendation so that you can understand the science behind the suggestion. Elysium states that their services are based on science, but there are no available sample reports.
SelfDecode prioritizes recommendations based on their analysis of all the relevant genes instead of one gene at a time (through reports). Elysium claims to make personalized recommendations based on their epigenetic testing.
SelfDecode takes a holistic approach to give recommendations that are best for your genes AND the health topic. Elysium focuses solely on aging and longevity with their supplements and epigenetic testing kits.
SelfDecode is the most comprehensive and looks at more genes & SNPs (up to 83 million) to deliver the best analysis of genetic risks. Elysium Health only offers epigenetic testing.
SelfDecode supports everything with peer-reviewed scientific studies in their research and checks for contradicting information. Elysium uses scientific data and clinical studies to back their supplements and epigenetic testing.
SelfDecode never sells your data or gives it away. Elysium makes the same claim.
Comparisons
SelfDecode
Elysium Health
Rootine
Vitl
Personalized & holistic health recommendations
Yes
Recommendations based on epigenetic data
Yes
Yes
Cost (USD)
$97 – $387
$40-$60 per bottle, $499 per biological age test
70$ a month for micronutrients

DNA and blood testing from $89-$199

$10 – $142
Products
DNA testing, wellness reports, research-based personalized blog posts, health recommendations
Cellular health and long-term brain health supplements, biological age testing
DNA testing, blood testing, data uploading service, personalized vitamins service
DNA and blood testing, personalized vitamins
Raw data access
Yes
No
Yes
Yes, upon request
Elysium Health Reviews
There are many customer reviews for Elysium Health's supplements and biological aging testing that can be found online, mostly with mixed reviews.
Better Business Bureau- 3.4 of 5 stars based on 5 customer reviews, A+ rating from the BBB.
The customer rating from the BBB indicates that there is some dissatisfaction from customers, with most complaints being frustrations stemming from the lack of return policy and inability to unsubscribe easily.
Elysium Health Review Section- 116 customers rated the Basis supplement an average of 4.45 stars of 5.
Elysium Health has a review section on their own website where real Elysium customers can submit reviews. Elysium Health states that they never change the reviews or incentivize reviewers to influence their rating. Interestingly, Elysium offers no ratings page for the Matter supplement, or Index testing.
Social media can also offer some informal information and opinions about Elysium Health. For instance, one can read what people are saying about Elysium Health on Twitter, or read anonymous opinions on Reddit about the Index testing kit.
Alternatives to Elysium Health
SelfDecode: The best option for health-focused DNA analysis with personalized reports and recommendations to improve your quality of life for as little as $97 annually. SelfDecode members can also access and download their raw genetic data without any extra fees.
Elysium Health Review Summary
Elysium Health offers longevity supplements and an at-home testing kit focused on biological aging. The company is focused on healthy aging and improving health outcomes associated with the aging process.
For individuals interested in understanding more about their health in a broader context, Elysium's narrow offering of supplements and single at-home test that does not focus on genetic variants or blood biomarkers can be viewed as a potential weakness.
Another key drawback of the service is the price. Even without re-testing during the year (which is recommended), purchasing the Index test, the Basis and Matter supplements will cost over $800 per year. There are many at-home testing services and personalized supplement companies that offer more competitive pricing.
While Elysium Health offers supplements backed by clinical trials and new research, they do not test for many other indicators of health, other than their epigenetic test that does not test for genetic variants. Potential customers should understand exactly what they are getting with Elysium Health, and understand the alternatives available to them.
Related Articles