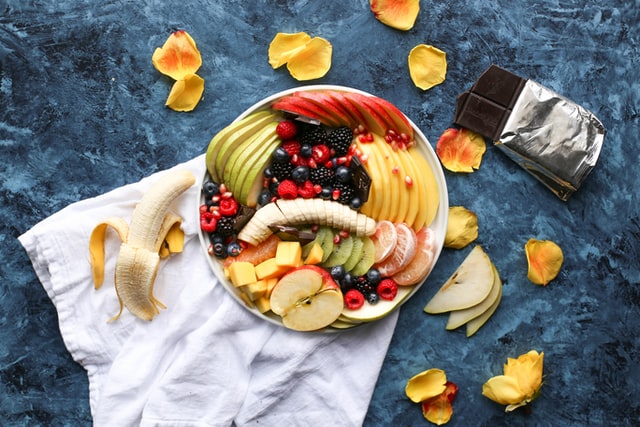 Overview
Products: Genomic Wellness Plus Test, smartGUT Microbiome Test, IBS GUT Detector Test, GUT Spectrum Test, PULS Cardiac Test
Cost: $127 – $678
Reports: Genomic Wellness Report
Raw data access: No
Privacy: Personal health data is sent to practitioners and falls under their privacy policies and protocols.
Alternatives: SelfDecode – The best option for health-focused DNA analysis with personalized reports, symptom analysis, and health recommendations.
Pros
In-depth analysis of your microbiome
Tools to analyze the diversity and abundance of your microbiome
Tests specific to Autism and Irritable Bowel Syndrome
Dietary advice based on present and absent bacteria
Cons
You must take the test through a registered practitioner (your doctor may qualify)
More expensive than most microbiome tests
No customer user interface (only your practitioner gets results)
About SmartDNA
SmartDNA was established in 2009 by Dr. Margie Smith and Simone Walsh. The company operates out of Australia and offers its tests anywhere a practitioner has been certified. Dr. Smith has been involved in the DNA testing realm for decades, and Simone Walsh is the acting Director.
SmartDNA offers both DNA testing and microbiome testing. However, unlike most companies, SmartDNA requires that a certified practitioner receive and interpret your results for you. The company can certify your physician online, if they are willing. Otherwise, you can search for a certified practitioner in your area.
Review of SmartDNA Products & Features
SmartDNA does not offer a customer-facing portal. Only a certified practitioner may access the results of your test(s). SmartDNA also offers several allergy and histamine intolerance tests, but those will not be covered in this review.
The tests offered by SmartDNA are the following:
Genomic Wellness Plus Test: Covers up to 160 DNA changes
smartGUT Microbiome Test: Practitioners are able to use this information to understand how your diet and environment could be affecting your bowel flora and health in general
IBS GUT Detector Test: Determines whether you have Irritable Bowel Syndrome
GUT Spectrum Test: Determines whether you have bacteria associated with Autism
PULS Cardiac Test: A blood test for the leading cause of heart attacks, Unstable Cardiac Lesion Rupture
Review of SmartDNA Reports
We will look at snippets from the Genomic Wellness Plus Test report below. This report is designed for your practitioner to guide you during a consultation for the following:
Design a specific nutritional program
Better weight management
Assessment of genes involved in anti-oxidative defense
Evaluation of your inflammatory response
Reduce your environmental toxic burden
Learn to manage mental and environmental stress
The report begins with a summary of the DNA test results and gene summary for specific conditions and topics. This section also contains a quick summary of recommended action steps. Some examples follow: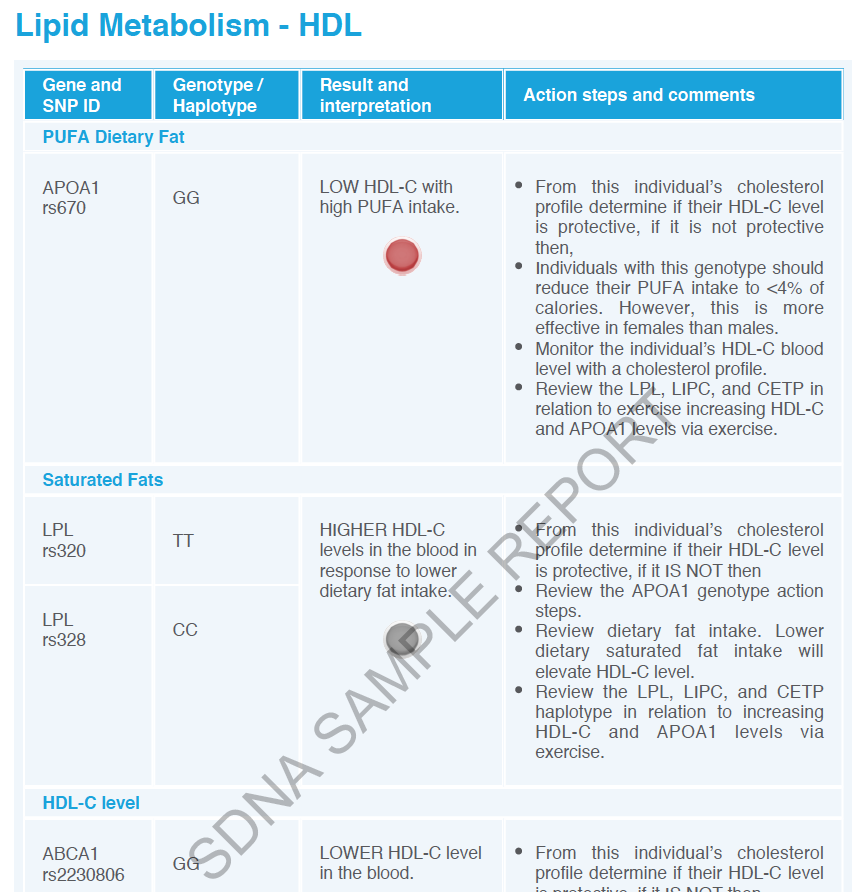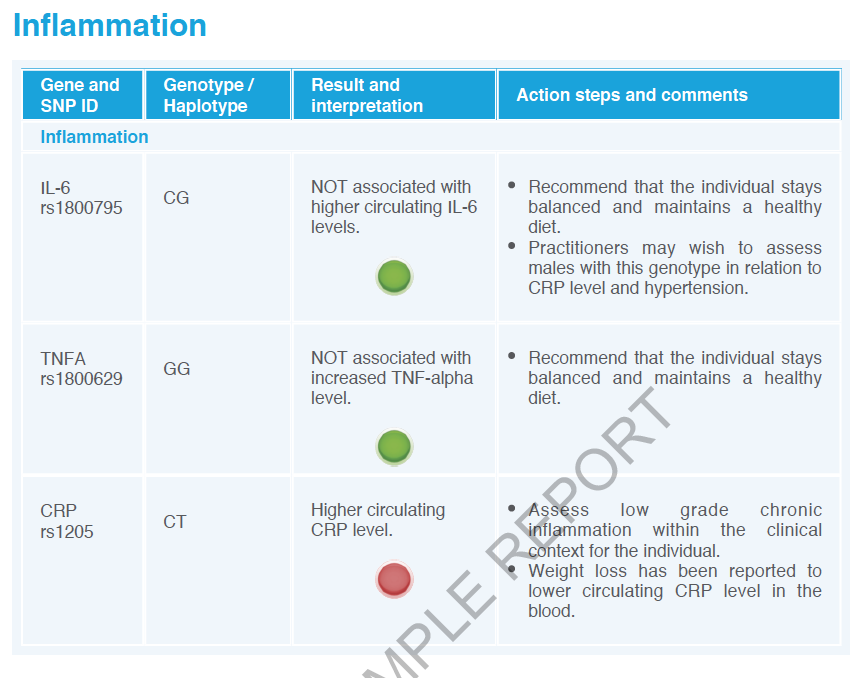 Following these summaries are sections for each condition or topic that go into greater detail. They explain the gene, substance, or condition covered, along with what your results mean, as well as action steps and comments. Here is an example of the Co-enzyme Q10 result: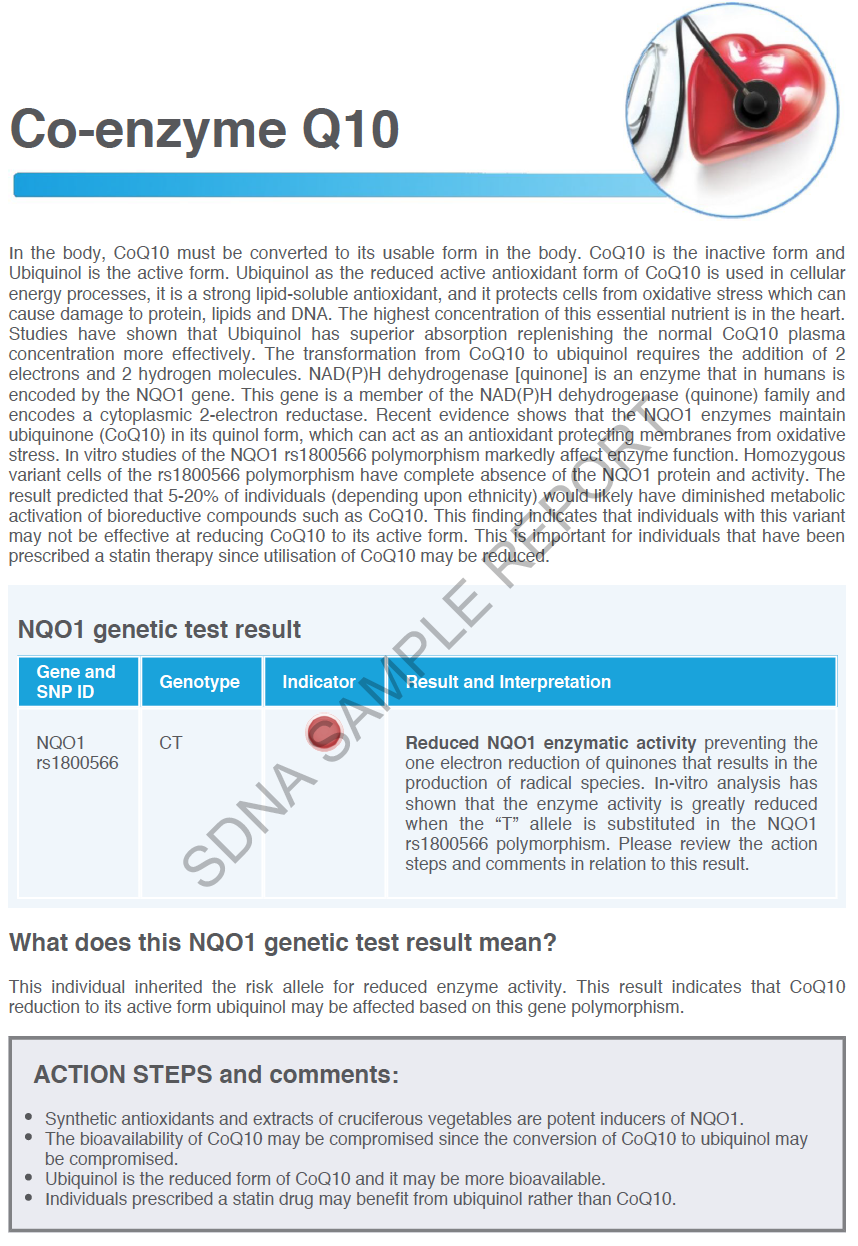 Unfortunately, as a customer, you will not have access to these reports. The reports are not very well laid out and the language used is not user-friendly. Because these reports are meant to be interpreted by your health practitioner, they do not include very in-depth recommendations
Cost of SmartDNA
The cost of the DNA and microbiome tests may differ depending on the provider and your insurance coverage. The following are the costs published on SmartDNA's site, and do not include shipping charges of $30 to the US (flat rate shipping). Shipping is free if you enter a barcode for an existing kit upon checkout.
Single test costs:
Genomic Wellness Plus Test – $127
SmartGUT Microbiome Test – $254
IBS GUT Detector Test – $254
GUT Spectrum Test – $254
PULS Cardiac Test – $270
Genomic Wellness Test Upgrade – $127
Packages are also offered at these prices:
Smart Wellness Test Package (1 saliva Kit & 1 Fecal Kit) – $508
Smart Ultimate Wellness Package (1 Saliva Kit & 2 Fecal Kits) – $678
Gut Spectrum Detector Test Package (2 x Fecal Kit) OMNIGUT – $424
IBS GUT Detector Test Package (2 x Fecal Kit) OMNIGUT – $424
Health Recommendations from SmartDNA
SmartDNA's reports are meant to be used by your practitioner to give you action steps to improve your health. Precise information with some scientific references is included, but you will not find extensive health recommendations directly in the reports. For more details, you will need to consult with your health provider.
Review of SmartDNA Privacy & Data Security
SmartDNA operates under slightly different conditions than most direct-to-consumer DNA testing companies, because they require the use of a registered practitioner. This means that in most countries your data is considered part of your medical record and is protected by various laws for privacy. The company does not share raw genetic data with customers.
SelfDecode vs SmartDNA
SelfDecode delivers natural supplement, diet, and lifestyle suggestions based on your genes that you can implement right away. SmartDNA gives your practitioner recommendations and the analyses they need to consult with you to improve your health.
SelfDecode tells you why they make each recommendation so that you can understand the science behind the suggestion. SmartDNA does go into detail about each condition or topic and offers practitioners action steps.
SelfDecode prioritizes recommendations based on their analysis of all the relevant genes instead of one gene at a time (through reports). SmartDNA looks at a few genes per condition or topic, but there may be others that are relevant which are not included.
SelfDecode takes a holistic approach to give recommendations that are best for your genes AND the health topic. SmartDNA does base its recommendations on both DNA and microbiome testing.
SelfDecode has the world's first and only personalized genetics blog that allows you to get new gene-based recommendations daily. SmartDNA does not offer a personalized blog at this time.
SelfDecode is the most comprehensive and looks at more genes & SNPs (up to 83 million) to deliver the best analysis of genetic risks. SmartDNA does offer both DNA and microbiome tests, however, the DNA analysis is not as comprehensive.
SelfDecode supports everything with peer-reviewed scientific studies in their research and checks for contradicting information. SmartDNA lists scientific studies along with their reports.
SelfDecode never sells your data or gives it away. SmartDNA does share your health data with practitioners, and it is the responsibility of the practitioner to maintain the privacy of your data.
Comparisons
| | | | | |
| --- | --- | --- | --- | --- |
| | SelfDecode | SmartDNA | Viome | Psomagen |
| Personalized & holistic health recommendations | Yes | No | Yes | No |
| Personalized blog posts | Yes | No | No | No |
| Products | DNA testing, wellness reports, research-based personalized blog posts, health recommendations, patient and provider options | DNA analysis and a microbiome test | Gut and health intelligence reports, nutrition and supplement recommendations | Gut biome test and a saliva DNA test |
| Raw data access | Yes | No | Yes | Yes |
| Cost (USD) | $97 – $389 | $127 – $678 | $0 (limited) – $700 | $129 – $149 |
SmartDNA Reviews
Because SmartDNA operates primarily through practitioners, they have not been reviewed extensively online.
People on Facebook have a generally positive opinion about the company, rating it an average of 4.4 out of 5 stars. Customers say that the reports are very detailed and helpful. One reviewer complained that they were not given the option to access their raw data as per company policy.
Alternatives to SmartDNA
SelfDecode: The best option for health-focused DNA analysis with personalized reports and recommendations to improve your quality of life.
SmartDNA Review Summary
SmartDNA offers DNA testing and requires you to work with a certified practitioner to go over your results. For the average person, the tests are very expensive. There are many companies that will provide nutritional advice based on your microbiome profile, and many of them are cheaper.
Plus, the reports only analyze a few limited number of genes in addition to the microbiome results, and it does not offer health recommendations directly to the customer. Instead, you'll need to consult with your practitioner to understand what is your action plan.
An alternative such as SelfDecode provides you a more comprehensive option by analyzing all relevant genetic variants to generate science-backed and holistic health reports without having to contact a doctor. SelfDecode's Irritable Bowel DNA Wellness Report alone analyzes over 390,000 genetic variants to give you the full picture.
All of these genes can potentially impact your gut in a negative way, depending on the genetic variants that you carry. Fortunately, you can change the way your genes function by implementing the specific dietary, supplement, and lifestyle changes recommended by SelfDecode.
Related