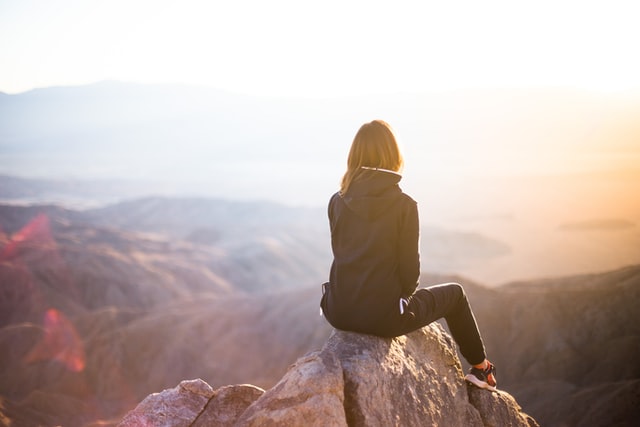 Overview
Products: dietPower, fitPower, healthPower, brainPower, SkinDNA
Cost: SkinDNA – $157, dnaPower tests and totalPower Connect – $236 each, totalPower – $394, vitaminLab – $48/mo
Reports: Health and wellness reports
Raw data access: Yes
Privacy: dnaPower claims not to sell or give any of your information to third parties for any purposes.
Alternatives: SelfDecode – The best option for health-focused DNA analysis with personalized reports, symptom analysis, and health recommendations.
Pros
The reports are user-friendly and easy to understand
Worldwide delivery is available
Cons
The dnaPower reports are quite expensive individually.
The health recommendations are not holistic.
Their most complete report only looks at 250 genetic variants.
Only accepts raw DNA files from 23andMe and Ancestry.
About dnaPower
dnaPower has been providing DNA testing for health, diet and fitness since 2008, and is based in Vancouver, BC, Canada. The President and CEO, Dr. Lois Nahirney, has a doctorate and a master in business and has held a number of international senior executive roles.
The Chief Scientist, Dr. Hashim Khan, has a Masters in Medical Sciences and Genetics, an MBA, and an MD in Alternative Medicine. Hashim has over 15 years of experience in advanced genomic designs and development on various gene-sequencing platforms.
Review of dnaPower Products & Features
There are 5 DNA test products offered on the website:
dietPower
fitPower
healthPower
brainPower
SkinDNA
Each is a downloadable PDF report that contains a summary, an action plan, and details about the areas tested. The totalPower product combines all of the reports except SkinDNA.
totalPower Connect is dnaPower's file upload service where you can use an existing DNA file to generate the totalPower report. However, you can only upload your genetic file from 23andMe or Ancestry.
dnaPower also offers a 45-minute private customized consultation with one of their authorized DNA-trained nutritionists using an action plan based on your DNA results. This consultation is included with totalPower, or available to purchase separately with the other tests.
dnaPower teamed up with the company vitaminLab to offer personalized supplements based on your DNA results. You just enter your barcode from your DNA test and pay a monthly fee for this service.
Review of dnaPower Reports
The totalPower Report contains all 4 of the Power reports (dietPower, fitPower, healthPower, and brainPower) plus a health consultation, and each report is available to purchase separately as well. Each report contains a summary, action plans, and a detailed explanation section for each area tested.
It's worth noting that for each report, dnaPower only looks at a limited number of genetic variants related to the health issue. Their most comprehensive test only analyzes around 250 markers to give their recommendations. For comparison, a service such as SelfDecode looks at an average of 1 million variants per report.
dietPower
dietPower looks at 100 genetic variants related to diet. You'll receive information regarding the following topics:
Diet Management – How your body burns fat, your sensitivity to carbohydrates, your cholesterol and blood sugar regulation, and your protein requirements.
Weight Response – Your body's ability to control body mass index (BMI).
Food Tolerances – Your tolerance to alcohol, caffeine, salt, lactose, gluten and sugar cravings.
Food Taste and Preferences – Your preference for caffeine, carbohydrates, fats and protein, and other preferences.
Vitamins and Supplements – Your need for vitamins, minerals, and supplements.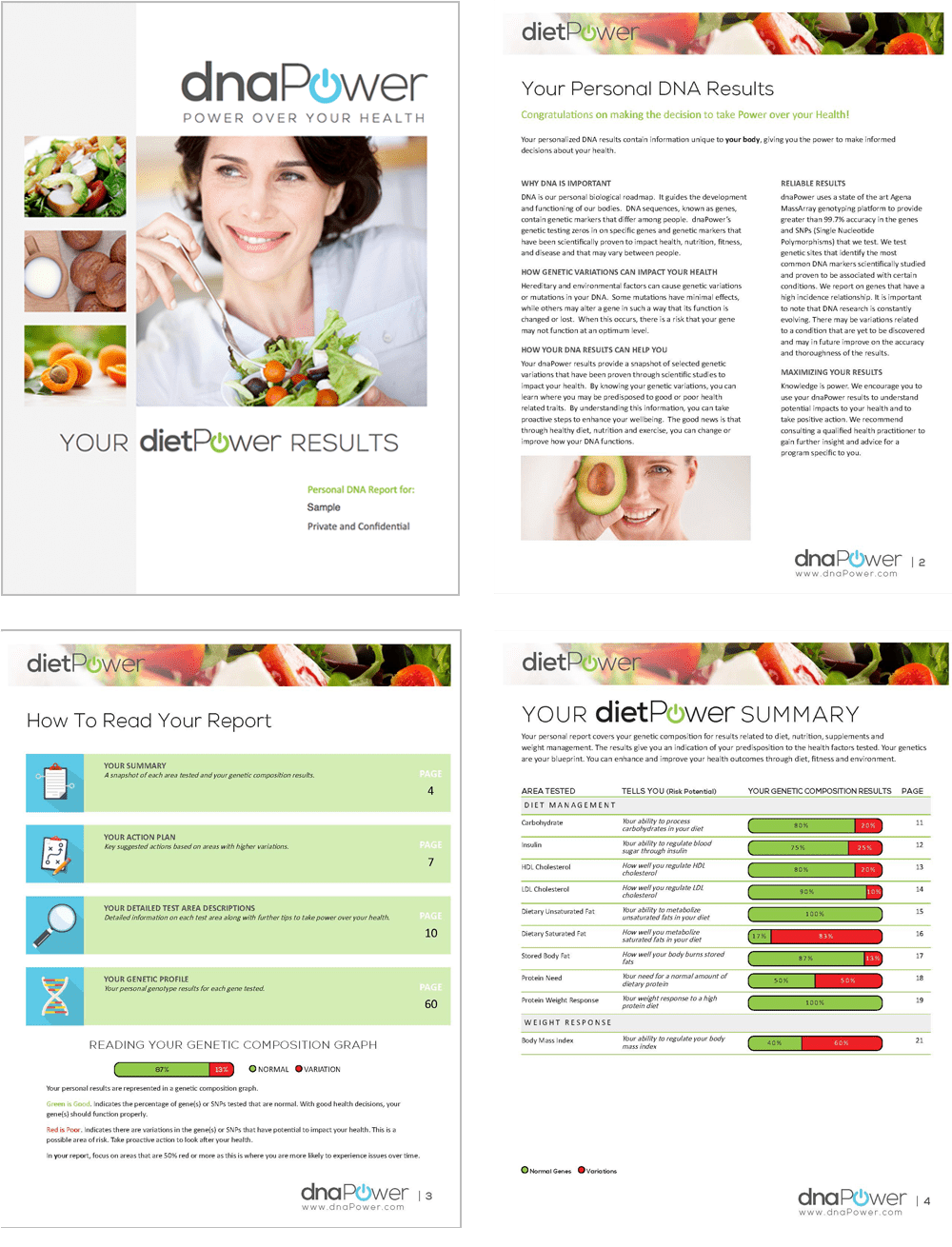 dietPower sample report snapshot
fitPower
fitPower analyzes 50 genetic variants related to your fitness levels. The report provides you with your personal DNA results related to:
Power and Endurance – Your genetic ability for high-intensity aerobic and longer endurance activities.
Injury and Recovery – Your susceptibility to joint, ligament or tendon injuries.
Exercise Performance – How well your body regulates blood pressure and utilizes energy, breaks down nutrients for energy, manages oxygen during exercise.
Exercise Response – Your body's ability to regulate blood sugar due to exercise and your cardiovascular health.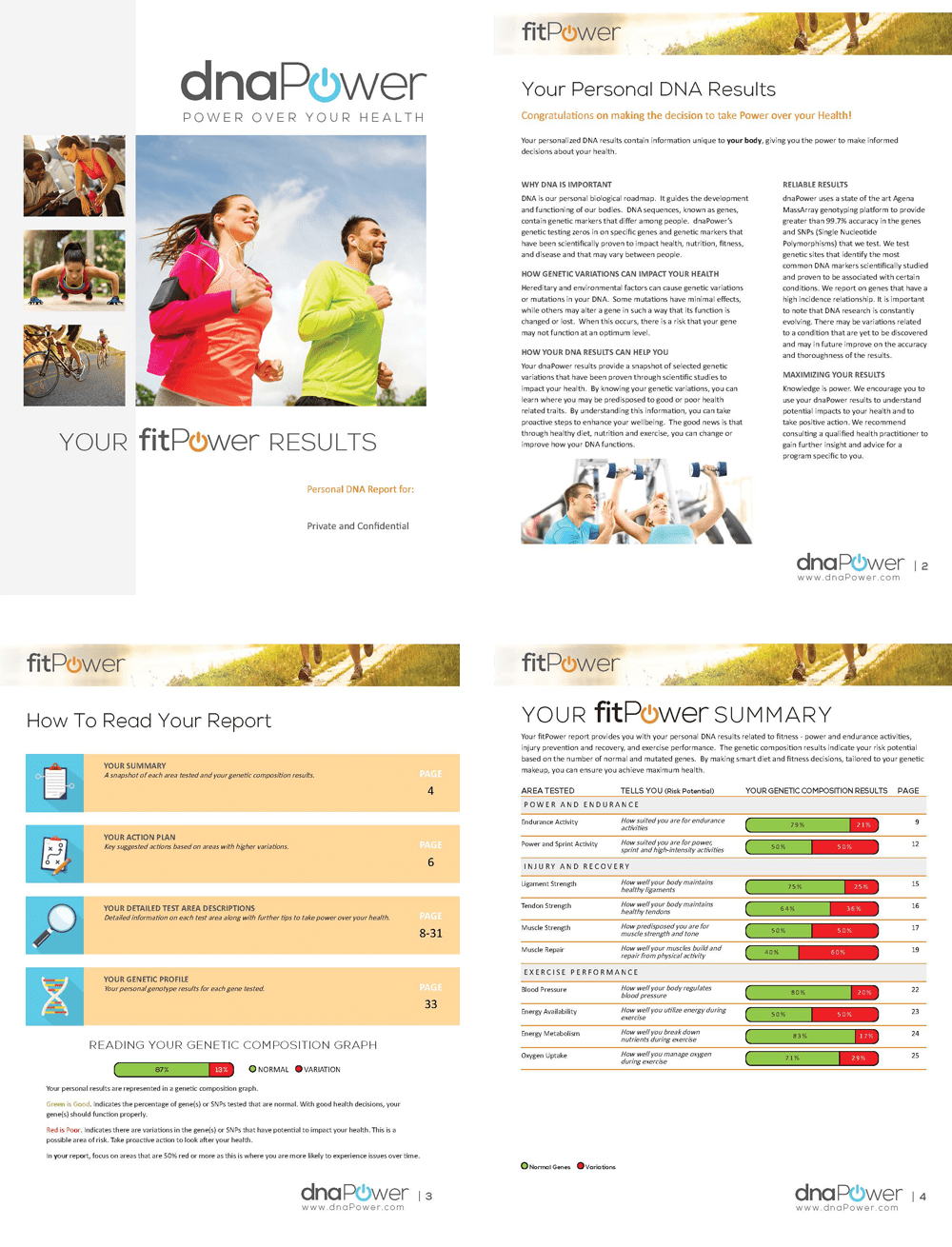 fitPower sample report snapshot
healthPower
The report covers 4 topics which can be greatly affected by diet and lifestyle choices:
Detoxification – Talks about about your body's ability to rid of environmental toxins and free radicals.
Hormones – Covers how your body biosynthesizes, metabolizes and eliminates estrogens.
Inflammation – Explains how your immune system fights inflammation, infection, and tumors.
Methylation – Explains if you have genetic variations which can impact the methylation cycle for healthy cells, mood, toxins and infection.
healthPower analyzes 50 genetic variants related to your overall health to generate the reports.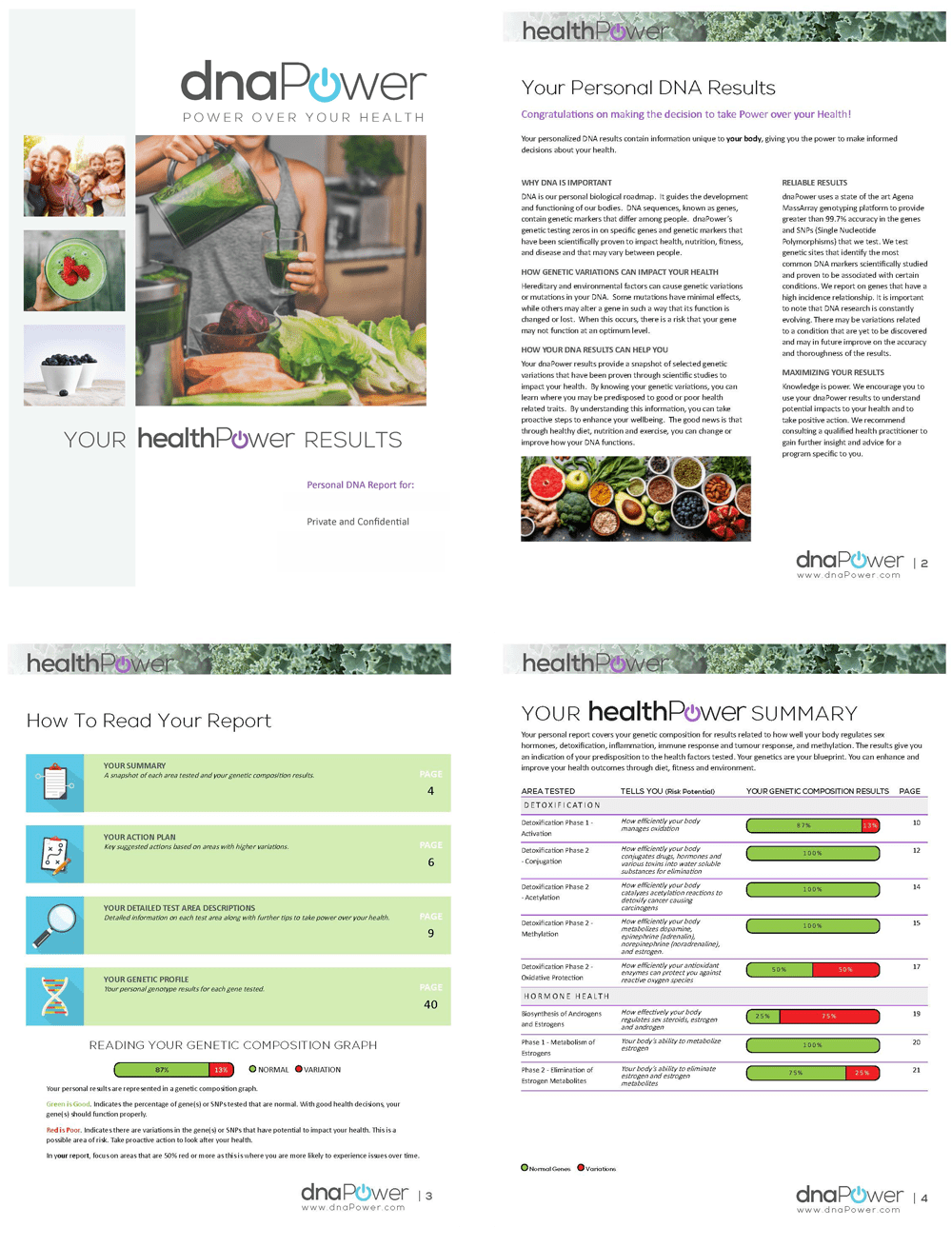 healthPower sample report snapshot
brainPower
brainPower looks at 15 genetic variants provide you with reports related to:
Alzheimer's disease – Your genetic risk for developing Alzheimer's disease.
Concussion – Your ability to recover normally after a concussion.
Cortisol – Your ability to regulate cortisol levels.
Depression – Your normal risk of experiencing depression.
Emotional Eating – Your ability to eat normally during stressful or emotional situations.
Parkinson's disease – Your normal genetic risk of developing Parkinson's disease.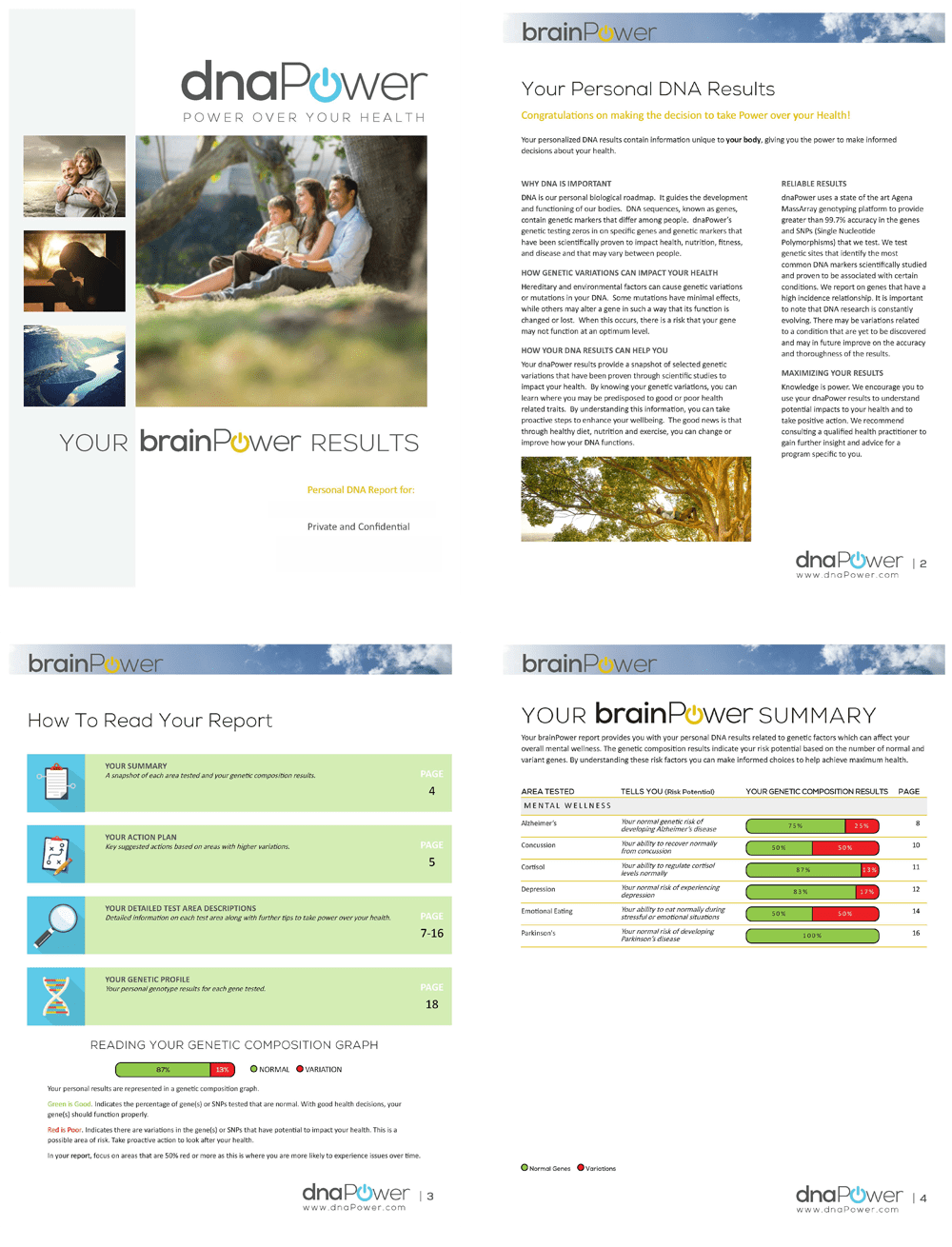 brainPower sample report snapshot
SkinDNA
The SkinDNA test looks at 16 genetic markers related to:
Firmness & Elasticity – Your genetic predisposition to premature wrinkling
Wrinkling (A.G.E.) – Information on skin damage.
Sun Damage & Pigmentation – How well you are intrinsically protected from the sun.
Free Radical Damage – If you are genetically protected against free radical vulnerability.
Sensitivity & Inflammation – How well your genes are protecting you against irritation.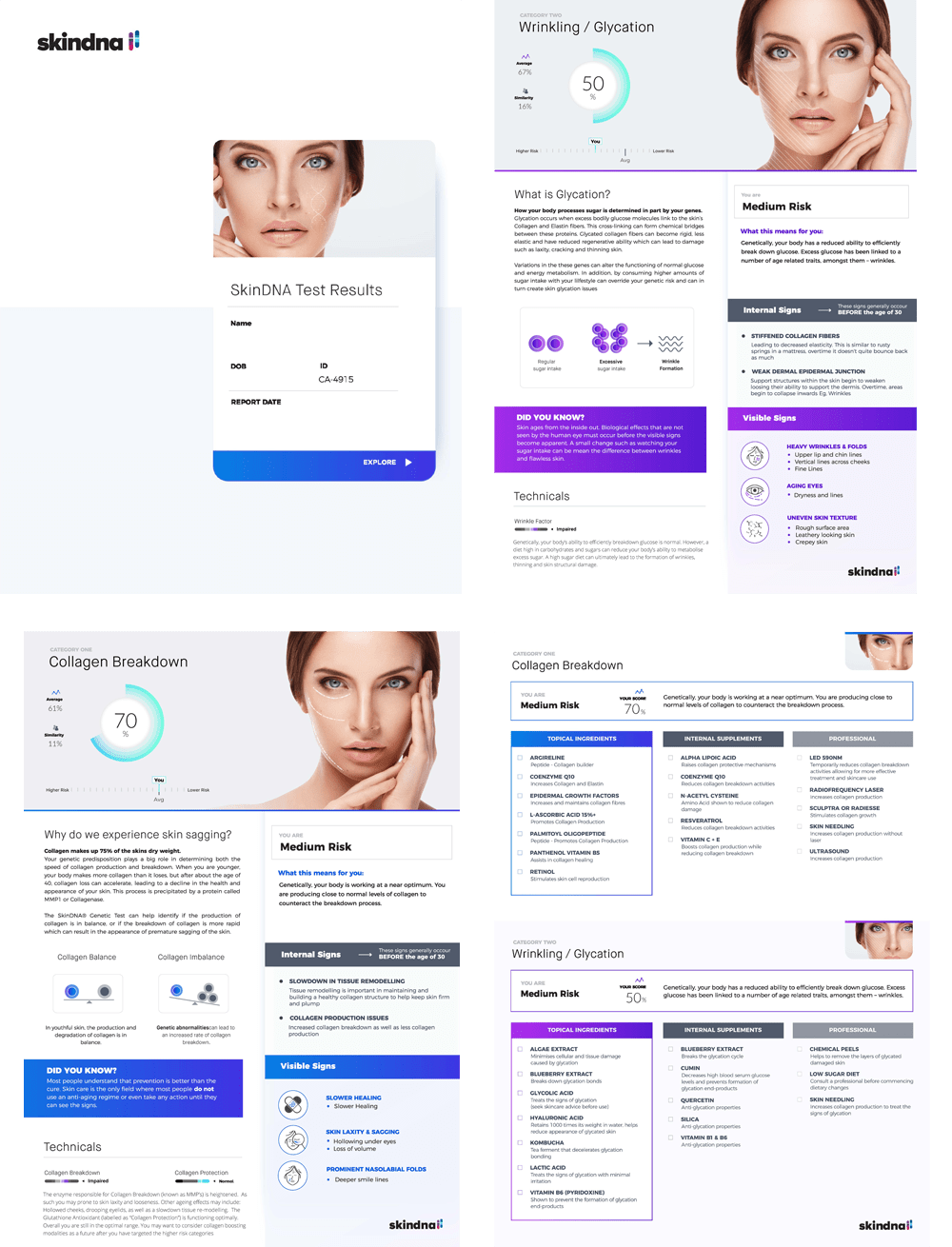 SkinPower sample report snapshot
Cost of dnaPower
Each of the 4 main dnaPower reports costs $236 and the SkinDNA report is $157. The totalPower report, which combines the dnaPower reports and includes a health consultation, costs $394.
The health consultation costs $78 separately. Finally, the vitaminLab customized supplement program costs $48/month, but you still need to purchase a DNA test from dnaPower to get your custom vitamins.
Health Recommendations from dnaPower
Each report contains action tips for each area tested per report. However, no scientific article references are shown in the sample reports. The private health consultation included with the totalPower product should allow you to make more use of the information provided in the reports.
Keep in mind that dnaPower does not use AI and machine learning to analyze all relevant data points to make their recommendations, which means you might not receive the full picture of your health.
Review of dnaPower Privacy & Data Security
The company claims that all of the personal information you choose to share with them is kept strictly confidential. The exception is if you have ordered your test through a health practitioner and they are receiving your results on your behalf or if you choose to share it with them.
dnaPower claims that your sample is managed and stored by barcode to preserve your privacy. They retain your DNA in the lab for several months in case you wish to order an additional test. All DNA is then disposed of following Canadian regulatory standards.
SelfDecode vs dnaPower
SelfDecode delivers natural supplement, diet, and lifestyle suggestions based on your genes that you can implement right away. dnaPower gives you an action plan for each area tested in their reports.
SelfDecode tells you why they make each recommendation so that you can understand the science behind the suggestion. dnaPower utilizes the expertise of their in-house science team to formulate the action plans.
SelfDecode prioritizes recommendations based on their analysis of all the relevant genes instead of one gene at a time (through reports). dnaPower's action plans are given individually per area tested in the reports.
SelfDecode takes a holistic approach to give recommendations that are best for your genes AND the health topic. dnaPower does offer an action plan per area tested, but they do not appear to take a holistic approach.
SelfDecode has the world's first and only personalized genetics blog that allows you to get new gene-based recommendations daily. dnaPower does not offer a personalized blog at this time.
SelfDecode is the most comprehensive and looks at more genes & SNPs (up to 83 million) to deliver the best analysis of genetic risks. dnaPower only looks at 250 SNPs in their most complete report.
SelfDecode supports everything with peer-reviewed scientific studies in their research and checks for contradicting information. The science team at dnaPower is responsible for the content of their report, no other references are shown.
SelfDecode never sells your data or gives it away. dnaPower claims not to sell or give any of your information to any third parties for any purposes.
Comparisons
| | | | | |
| --- | --- | --- | --- | --- |
| | SelfDecode | dnaPower | Orig3n | Dante Labs |
| Personalized & holistic health recommendations | Yes | Yes, but not holistic | No | No |
| Personalized blog posts | Yes | No | No | No |
| Products | DNA testing, wellness reports, research-based personalized blog posts, health recommendations | DNA testing reports, health consultations, customized supplements | DNA testing, traits, health and fitness recommendations, personalized vitamin delivery service | WGS/WES, health and fitness reporting, genetic health risks |
| Raw data access | Yes | Yes | Yes | Yes |
| Cost (USD) | $97 – $387 | $157 – $390 | $29-$149 for each report, $601 for annual vitamin delivery service | $700-$1,000+ |
dnaPower Reviews
dnaPower does not have any detailed reviews online, and they are only briefly mentioned on a handful of small blog sites. They remain unrated on dnatestingchoice.com and have no Trustpilot profile.
Their Facebook reviews page does show a few dated reviews, with most of them being a few years old.
Alternatives to dnaPower
SelfDecode: The best option for health-focused DNA analysis with personalized reports and recommendations to improve your quality of life. Unlike dnaPower, SelfDecode gives subscribers a variety of reports for one price, under $100 per year.
dnaPower Review Summary
dnaPower's offers a variety of DNA reports related to overall health. If one opts for the combined reports product (totalPower), you will receive a report with 170 pages of information about a range of health topics, along with a 45 minute health consultation. Because each product is quite expensive individually, the totalPower product is understandably their bestseller.
Still, dnaPower's most comprehensive product costs almost $400, and it only gives you information on four major areas of your health based on only 250 SNPs.
An alternative such as SelfDecode provides you an option with science-backed and comprehensive holistic health reports to help you take control of your health. SelfDecode is the only company that uses AI in genomics to analyze up to 83 million genetic variants and give genetic risk scores and personalized recommendations based on your DNA.
Related Articles