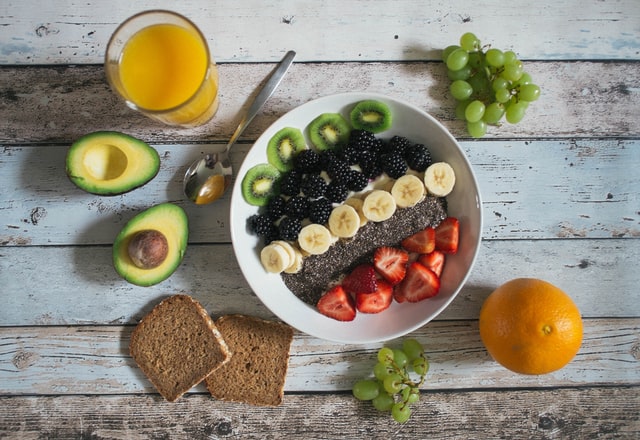 Overview
Products: BIOHM Gut Test, gut health reports, and supplements.
Cost: The Gut Test with a counseling session costs $219, while supplements start at $5.
Reports: Gut health reports.
Raw data access: No.
Privacy: BIOHM claims not to share genetic information with third parties.
Alternatives: SelfDecode offers personalized health recommendations based on DNA and labs.
Pros
Offers easy-to-follow diet, lifestyle, and supplement recommendations.
The company grants access to a team of registered nutritionists.
They take into consideration test results and information provided by the user to make recommendations.
Cons
Only analyzes DNA from microorganisms present in the gut.
The sample collection may not be as comfortable as other DNA testing companies.
Despite offering a science-based report, they do not list any scientific references.
The report has a few typing and grammatical errors.
About BIOHM
BIOHM Health was founded in 2017 by Dr. Mahmoud Ghannoum, a scientist with over 40 years of experience in the field of gut health and author of more than 400 peer-reviewed papers.
They claim to be one of the leading microbiome companies in the world and aim to help people live better lives by improving their gut health. They started by launching BIOHM Probiotics, which was soon followed by a Gut Test Kit and other supplements.
Review of BIOHM Products & Features
BIOHM Health analyzes DNA extracted from microorganisms present in the gut, which form the human microbiome, including fungi and bacteria.
As their first product, BIOHM Probiotic combines good bacteria and fungi with an enzyme to break down a biofilm formed by harmful microorganisms in the gut.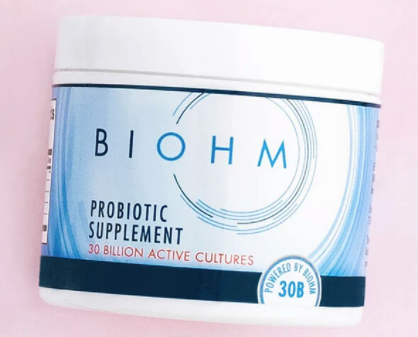 The company offers many other supplements, including BIOHM Prebiotic, Colon Cleanser, Immunity Probiotic Supplement, Organic Super Greens, Nourish Regimen, Reset Regimen, Gut Buster Berry, Clean Energy Greens, and Super Reds.
In addition to the supplement line, the company offers a DNA kit to test the microbiome in the gut. The BIOHM Gut Test analyzes 5 strains of bacteria and 4 strains of fungi to generate a personalized report with diet, supplement, and lifestyle recommendations.
Bacterial and fungal DNA is extracted from the fecal sample provided and are identified through the sequencing process. The microbiome profile is analyzed and compared to the normal levels found in the population to generate the report.
The company also offers the BIOHM Wellness Consultation, a 30-minute phone consultation with a registered nutritionist from their team to answer questions about the report and recommendations.
Review of BIOHM Reports
The reports are divided into four sections: Overall Gut Score, Comparison, Strain-Level Analysis, and Actionable Recommendations.
Overall Gut Score grades microbiome diversity from 1 to 10. As seen below, this section of the report also compares old results users may have.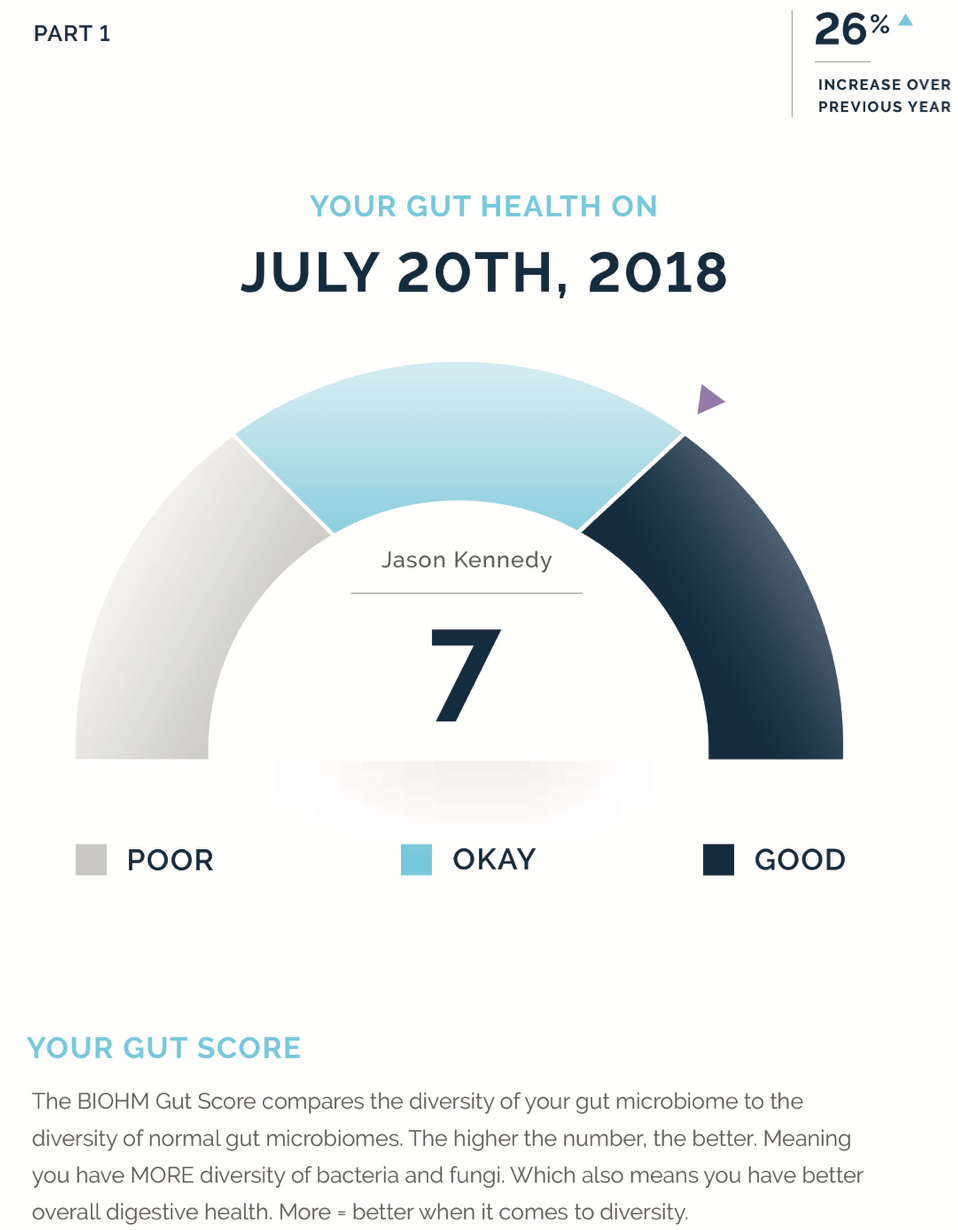 In the Comparison section, BIOHM compares levels of the bacterial and fungal communities to the normal levels found in the population and presents the information in pie charts, shown below.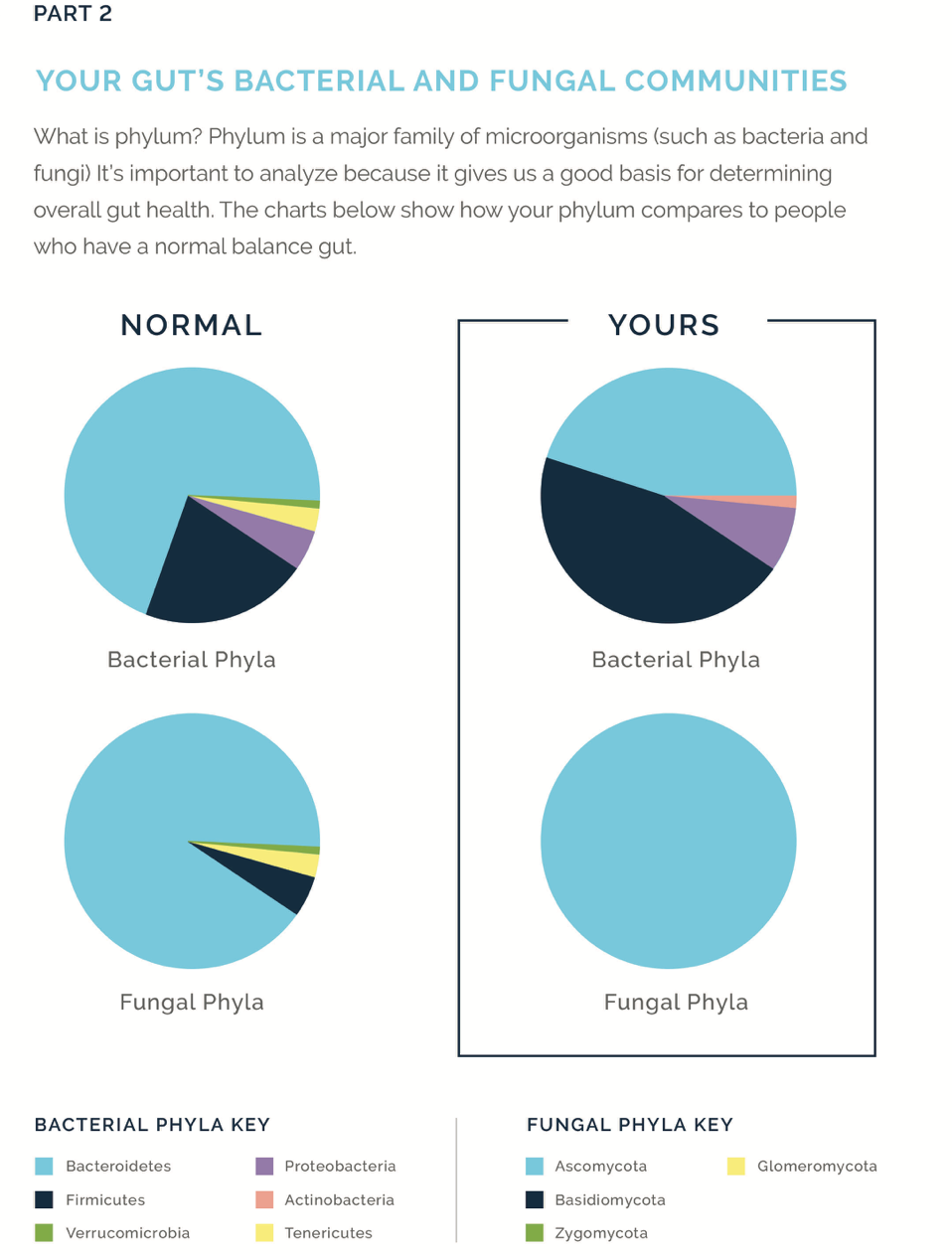 The Strain-Level Analysis section of the report provides a strain-by-strain analysis of the bacteria and fungi, seen below. The '+' indicates a beneficial strain, while the 'x' indicates a pathogenic strain. The '-' symbolizes a neutral strain.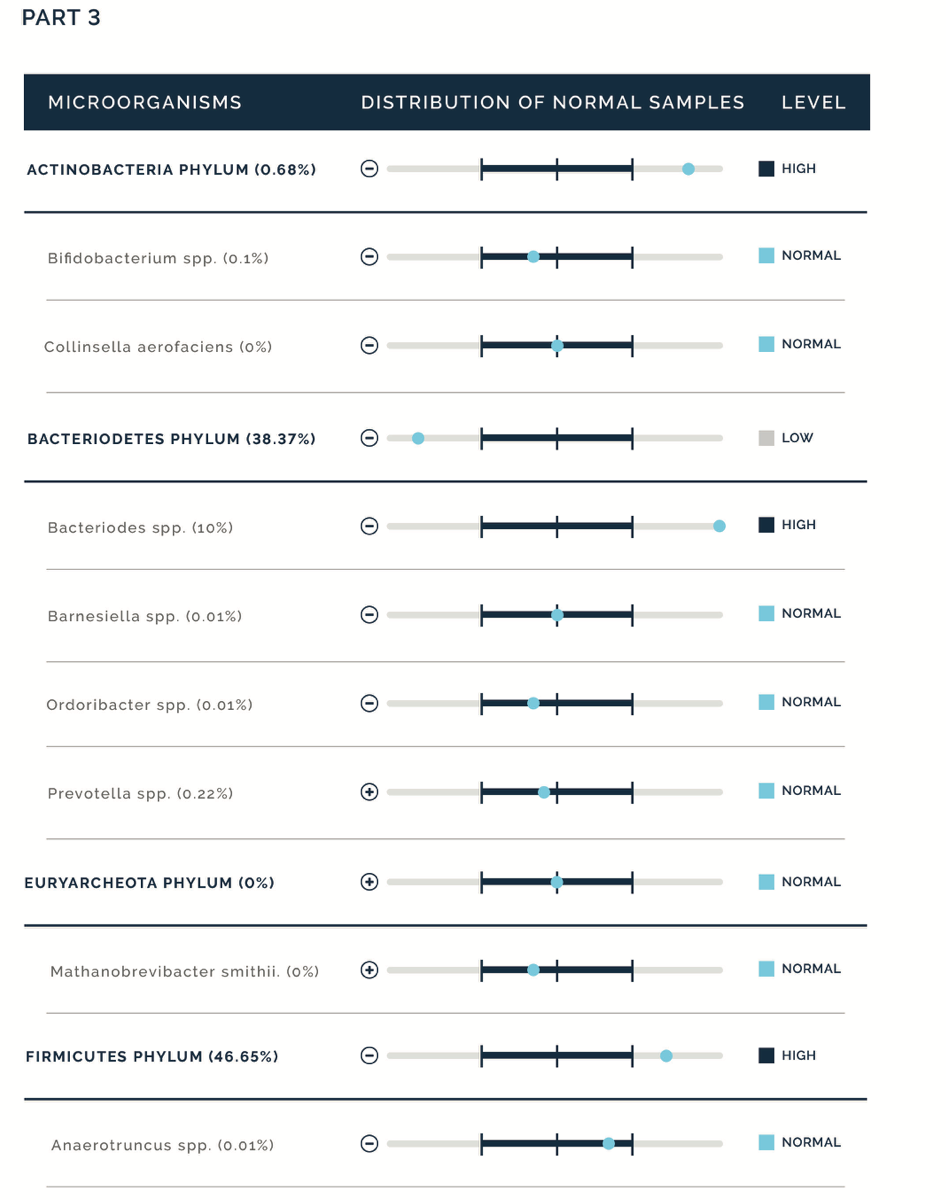 The Actionable Recommendations section informs if the microbiome is balanced and offers personalized diet, lifestyle, and supplemental recommendations. As shown below, BIOHM presents an overview containing the gut score and a list of which factors may affect it.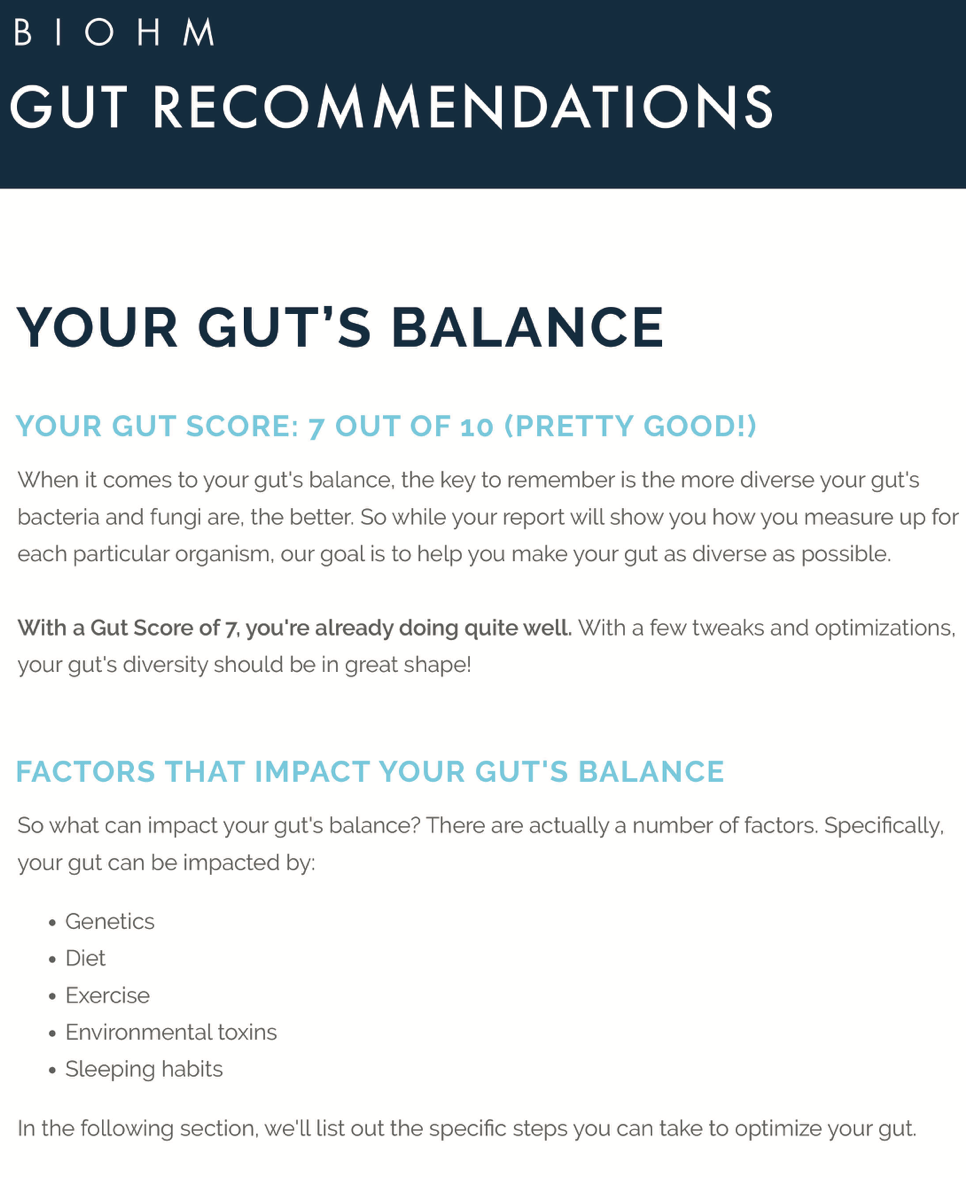 Expanding from the information above, BIOHM offers dietary and lifestyle recommendations to help balance the gut microbiome. They take into consideration both the test results and information provided by the user to formulate their suggestions.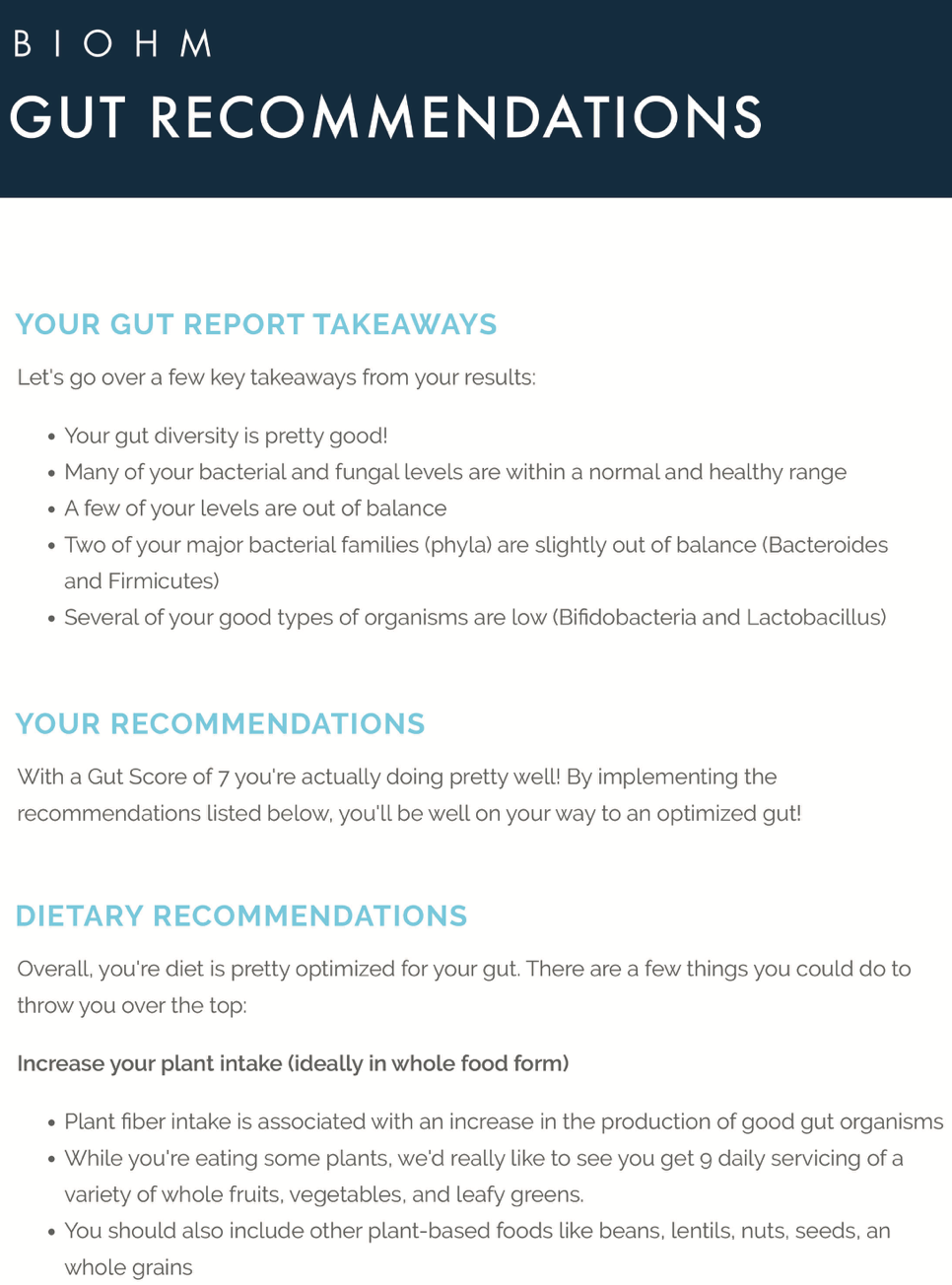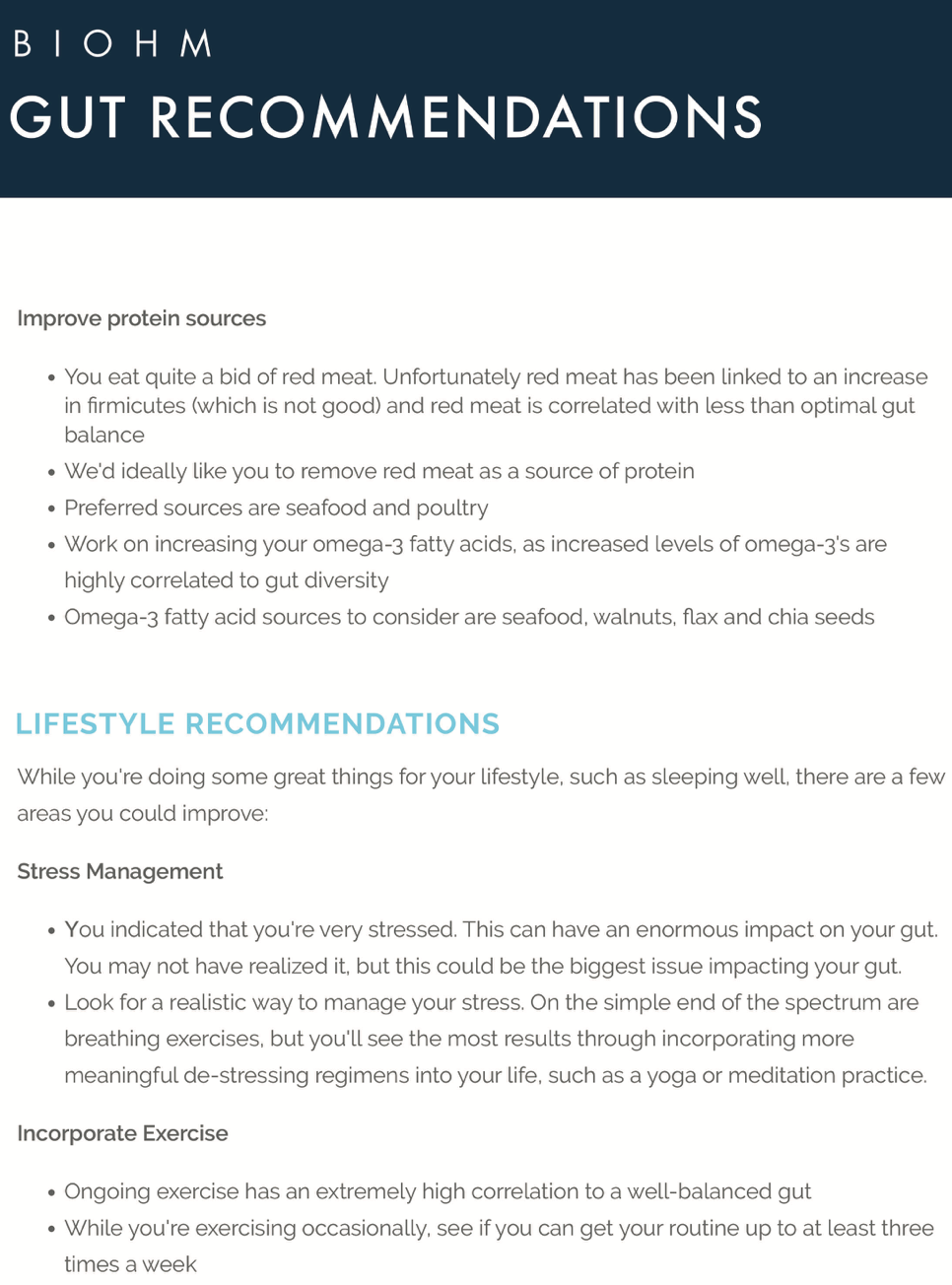 The recommendations are easy to follow and can be implemented immediately, but they can be generic and superficial, and the report does not provide any additional information.
The company also offers supplement recommendations from their line, as well as other supplements. In the sample report below, the BIOHM Probiotic is recommended to the user.
It is worth noting that the sample report has a few typing and grammatical errors, but it is unclear if this is true for all the reports.
Cost of BIOHM
For a BIOHM Gut Test with written recommendations, the company charges $179. A BIOHM Wellness Consultation costs $59, but if customers choose to purchase a Gut Test with a consultation, the total price is $219.
BIOHM Probiotics is priced at $59 for a 30-day supply, but other supplements can cost as little as $5. The company also offers discount packages for those who choose to purchase more than one supplement and a monthly subscription program with a 20% discount.
Health Recommendations from BIOHM
BIOHM offers dietary, lifestyle, and supplement recommendations based on test results and information provided by the user. They present easy to follow suggestions for diet and lifestyle changes, although they are superficial and the report does not offer any additional information.
The supplement recommendations section offers more information, and they explain how their supplements can help improve gut health. They also give suggestions on how users can upgrade their current supplement regimen.
BIOHM only analyzes the DNA from microorganisms in the gut and provides no other information.
Review of BIOHM Privacy & Data Security
BIOHM does not have a Privacy Policy available on their website, but the FAQ explains that they do not share any identifiable genetic information or survey responses with third parties.
Additionally, the company explains that they take reasonable physical, technical, and administrative measures to ensure the safety of personal information, and all connections from their website are encrypted using Secure Socket Layer technology.
SelfDecode vs BIOHM
SelfDecode delivers natural supplements, diet, and lifestyle suggestions based on your genes that you can implement right away. BIOHM also offers diet, lifestyle, and supplement recommendations, but they can be superficial.
SelfDecode tells you why they make each recommendation so that you can understand the science behind the suggestion. BIOHM makes recommendations to help users improve their gut health.
SelfDecode prioritizes recommendations based on their analysis of all the relevant genes instead of one gene at a time (through reports). BIOHM does not prioritize their recommendations.
SelfDecode takes a holistic approach to give recommendations that are best for your genes AND the health topic. BIOHM only analyzes gut health.
SelfDecode is the most comprehensive and looks at more genes & SNPs (up to 83 million) to deliver the best analysis of genetic risks. BIOHM only analyzes DNA from microorganisms in the gut.
SelfDecode supports everything with peer-reviewed scientific studies in their research and checks for contradicting information. BIOHM does not provide scientific references in their reports.
SelfDecode never sells your data or gives it away. BIOHM claims to not share personal information with third parties.
Comparisons
| | | | | |
| --- | --- | --- | --- | --- |
| | SelfDecode | BIOHM | Viome | SmartDNA |
| Personalized & holistic health recommendations | Yes | No | Yes | No |
| Personalized blog posts | Yes | No | No | No |
| Products | DNA testing, wellness reports, health recommendations, patient and provider options | DNA testing for gut health, gut health report, supplements | Gut and health intelligence reports, nutrition and supplement recommendations | DNA analysis and a microbiome test |
| Raw data access | Yes | No | No | No |
| Cost (USD) | $97 – $389 | $5 – $219 | $0 (limited) – $700 | $127 – $678 |
BIOHM Reviews
There are many online BIOHM reviews, but they focus mostly on supplements. Most users have adapted well to the supplements, and they say it has helped them improve their gut health.
Amazon – 497 Customer Average Rating of 4.6 of 5
Most people who left BIOHM Probiotics reviews say they have helped improve their gut health.
Trustpilot – 371 Customer Average Rating of 4.5 of 5
Reviewers were not satisfied with the time it takes to get the test results back, but most had a good experience with the nutritionist consultation.
See what people are talking about BIOHM on Reddit
Reddit users question what makes this product unique and discuss the science behind it with inputs from the founder himself.
Alternatives to BIOHM
SelfDecode: The best health-focused DNA test that delivers recommendations based on your genes through personalized reports and health blog.
BIOHM Review Summary
BIOHM Health is a DNA testing company that focuses on gut health. By analyzing several bacteria and fungi strains, they claim to help their customers improve their microbiome balance.
The company offers personalized diet and lifestyle recommendations that are easy to follow, but they only provide minimal information. For the supplement suggestions, they offer a more complete explanation of their products.
Regardless, overall wellbeing requires more than just improving your gut health. BIOHM provides unique information to help improve quality of life, but a service like SelfDecode can deliver a more holistic approach to health through over 30 wellness reports, including gut health.
SelfDecode offers a DNA analysis that looks at up to 83 million genetic variants to give genetic risk scores and personalized recommendations based on DNA. Not only that, SelfDecode also analyzes lab results to help you achieve optimal health.
Related