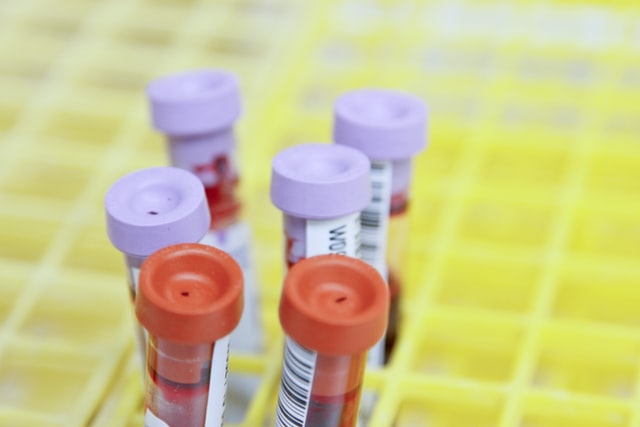 Overview
Products: At-home health tests.
Cost: Prices vary from $49 to $349.
Reports: Health and wellness reports.
Raw data access: No.
Privacy: LetsGetChecked may share personal information with third parties.
Alternatives: SelfDecode delivers personalized health recommendations based on your DNA.
Pros
LetsGetChecked offers a wide variety of at-home tests.
Results are ready in 2 to 5 days.
They offer free consultations with healthcare professionals.
Cons
LetsGetChecked does not offer health recommendations in their reports.
The tests are very specific, and if customers wish to expand on their health testing they have to purchase different testing kits.
Reports do not indicate whether a marker is in its optimal range.
About LetsGetChecked
LetsGetChecked is a health testing company founded in 2014 by current CEO Peter Foley in Dublin, Ireland. They launched in the United States in 2017 and have offices in New York and Dublin. The company offers a wide variety of direct-to-consumer health tests.
With over 350 employees across the US and Ireland, they claim to have performed over 800,000 tests. Recently, LetsGetChecked declared to have secured $71 million in Series C funding. In addition to shipping their testing kits to Canada, Ireland, the United States, and the United Kingdom, they have also partnered with CVS and Walmart pharmacies.
Review of LetsGetChecked Products & Features
LetsGetChecked offers over 30 health tests, including at-home STD tests, vitamin and minerals tests, an at-home testosterone test, and a Coronavirus test kit. To analyze health conditions, the company tests specific biomarkers, which are indicators that can be measured accurately for medical applications.
The test order and results are reviewed by a team of physicians, and if the results come back altered, users receive a call from one of their healthcare professionals to provide explanations and additional support. The company also offers a downloadable PDF file with the results.
The majority of the tests require a blood sample from a finger prick test, but LetsGetChecked may also ask for other types of samples. The results are delivered online in 2 to 5 days on their platform or app.
Men's, Women's, and Sexual Health
LetsGetChecked offers a variety of sexual health and hormonal tests, including at-home STD, testosterone, and women's fertility tests. The company also helps identify cervical and prostate cancers.
Wellness Tests
The company tests organ health, including liver and kidney function. They also measure vitamin and mineral levels, and they have tests that help with diabetes management and cardiovascular health.
The Lyme Disease Test identifies specific antibodies that can indicate the presence of Lyme disease, and the Colon Cancer Screening Test detects blood in the stool that may indicate cancerous or precancerous growths in the bowel. The CRP Test analyzes the C-reactive protein in the blood that can be used to identify inflammation in the body.
LetsGetChecked also offers thyroid tests, cholesterol and cortisol tests, and measures omega-3 and omega-6 ratio. Additionally, they have a test that identifies celiac disease antibodies.
Coronavirus Test
The company offers an FDA-approved at-home test for COVID-19. Results are ready in 24 to 72 hours, and they provide an official lab report.
Review of LetsGetChecked Reports
LetsGetChecked presents their results on their online platform and app. They inform on the specific biomarker results and if they are within normal limits, seen below. The company does not provide any health recommendations in their reports, nor do they indicate if the markers are in their optimal range. If the results are out-of-range, a member of their team contacts the user to deliver and discuss the results.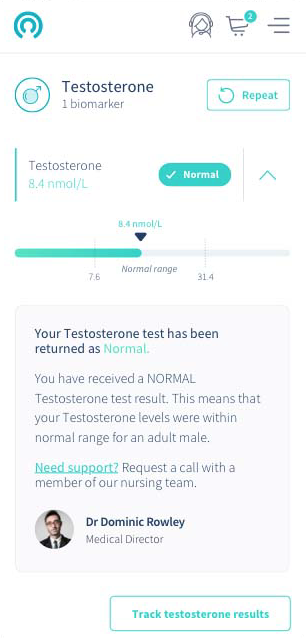 For the at-home STD tests, the company presents information about if the user has tested positive for a particular health condition, as shown in the report below. If the test detects any conditions, a nurse from the LetsGetChecked team contacts them. Otherwise, the company offers no additional information.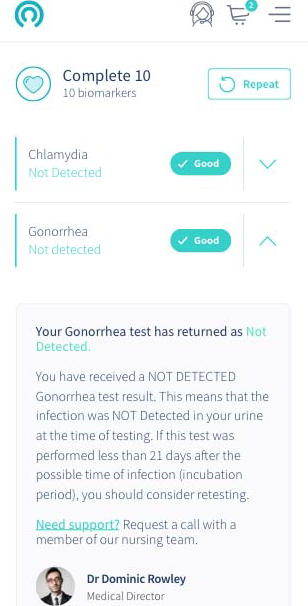 If users have taken multiple tests, LetsGetChecked allows them to compare the results of each test. The company also offers additional support from a member of their nursing team if users need more assistance.

The at-home COVID-19 test analyzes a sample collected via nasal swab. The test detects the presence of the virus, but the company does not test for immunity or detect antibodies. A sample report is shown below.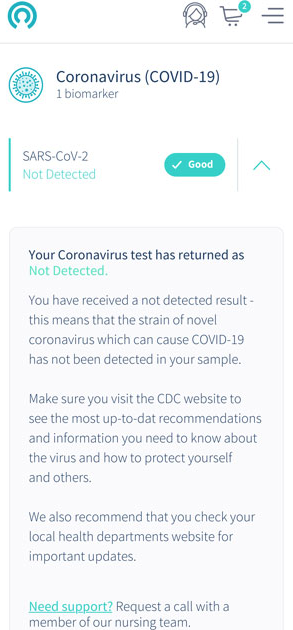 The results are ready in 24 to 72 hours and the company provides an official lab report with the name of the disease tested, the testing date, a results summary, and the test provider. If users need additional assistance, they can contact a member of their medical team.
Cost of LetsGetChecked
LetsGetChecked's prices vary from $49 to $349. The tests are not covered by insurance, but they accept FSA and HSA cards. They have a subscription program for delivery every three months, offering a 30% discount.
Health Recommendations from LetsGetChecked
Despite providing information about serious conditions, LetsGetChecked does not offer health recommendations in their reports. The reports provided by the company do not inform whether a biomarker is in its optimal range or what users can do to improve it.
If a user has a positive or out-of-range result, they are contacted by a member of their nursing team to discuss the results and next steps. They can also contact LetsGetChecked's healthcare professionals at any time for more information.
Review of LetsGetChecked Privacy & Data Security
LetsGetChecked claims that all samples are disposed of after analysis. They only share personal information with service providers, affiliates, partners, and third parties when necessary to provide products and services.
The company may retain, preserve, or disclose personal information if they believe it is necessary according to their Privacy Policy. They may share health-related data with third parties, including public health agencies, labs, and vendors.
SelfDecode vs LetsGetChecked
SelfDecode delivers natural supplements, diet, and lifestyle suggestions based on your genes that you can implement right away. LetsGetChecked offers free consultations with healthcare professionals to discuss test results, but no specific health recommendations in their reports.
SelfDecode tells you why they make each recommendation so that you can understand the science behind the suggestion. LetsGetChecked does not offer recommendations in their reports.
SelfDecode prioritizes recommendations based on their analysis of all the relevant genes instead of one gene at a time (through reports). LetsGetChecked analyzes specific biomarkers to detect health conditions, and users are contacted by a nurse if they test positive for a condition or if their results are outside the normal range.
SelfDecode takes a holistic approach to give recommendations that are best for your genes AND the health topic. LetsGetChecked only offers information about the specific biomarker tested in each report.
SelfDecode has a team of over 60 highly skilled scientists, MDs, PhDs, NDs, and software engineers to make sure they deliver the most accurate and science-based health information. LetsGetChecked claims the results are reviewed by a team physicians.
SelfDecode is the most comprehensive and looks at more genes & SNPs (up to 83 million) and lab markers (over 500 lab markers) to deliver the best analysis. LetsGetChecked does not offer DNA tests specifically for SNP analysis, and only looks at a few lab markers per test.
SelfDecode supports everything with peer-reviewed scientific studies in their research and checks for contradicting information. LetsGetChecked does not provide scientific references in the reports.
SelfDecode never sells your data or gives it away. LetsGetChecked may share personal and health-related data with third parties including labs, vendors, and public health agencies.
Comparisons
| | | | | |
| --- | --- | --- | --- | --- |
| | SelfDecode | LetGetChecked | Thriva | InsideTracker |
| Personalized & holistic health recommendations | Yes | No | No | No |
| Products | DNA testing, wellness reports, health recommendations, patient and provider options, lab test analyzer | At-home testing for health and wellness | At-home health testing and reports. | Blood and DNA testing, health and fitness reports |
| Genes & lab markers analyzed | Up to 83 million genetic variants and over 500 lab markers | A few per test | 35 lab markers | 261 genetic markers and 43 lab markers |
| Raw data access | Yes | No | No | Yes, for a fee |
| Cost | $97 – $387 | $49 – $349 | $6 – $50 | $49 – $589 |
LetsGetChecked Reviews
LetsGetChecked reviews are mostly positive. Most users are satisfied with the test processing time, but some expressed difficulties with the blood sample collection.
Trustpilot – 5,391 Customer Average Rating of 4.3 of 5
Customers complain that test results were sent without any explanation, with one person saying they didn't receive any report at all, "just a blank page". One reviewer shares their experience explaining that they missed the nurse call from LetsGetChecked and had problems getting in contact with them again.
DNAWeekly – Editor rating of 7 of 10
The editor comments on how LetsGetChecked tests are more expensive than other competitors but compliment them on their efficient customer service.
Amazon – 76 Customer Average Rating of 4.2 of 5
Customers are impressed with the quick processing time for the At-Home STD test and its convenience. One customer was frustrated that they received an expired testing kit.
Alternatives to LetsGetChecked
SelfDecode: Receive personalized health recommendations based on DNA and get access to Lab Test Analyzer, a service that examines over 500 lab markers and delivers tailored suggestions focused on improving overall health.
LetsGetChecked Review Summary
LetsGetChecked offers a wide variety of convenient at-home health tests. The company provides direct access to a healthcare professional to discuss results, but they do not offer any health recommendations on their reports. The majority of LetsGetChecked reviews are positive, meaning customers are mostly satisfied with the service.
However, the tests only analyze specific conditions. If users wish to expand on their health testing, it can quickly become very expensive. Additionally, it can also take much more time for the results to be available since each test requires a separate sample collection.
LetsGetChecked is a good option to help determine one's current health. However, overall health includes more than just a few biomarkers. For a more holistic approach, a service like SelfDecode analyzes up to 83 million genetic variants with just one DNA test. SelfDecode provides detailed reports and health recommendations based on your genes, all supported by scientific research.
For insights into your current health state, SelfDecode Lab Test Analyzer helps you understand your lab results and provides tailored recommendations to help you your levels to their optimal range.
Related