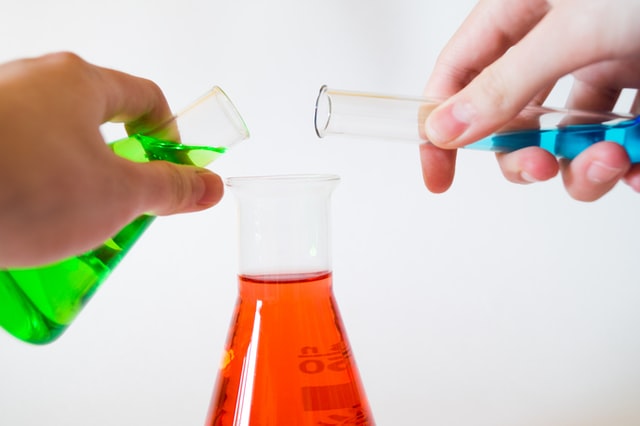 Overview
Products: Blood tests and DNA analysis.
Cost: Prices range from $29 to $589+.
Reports: Health, wellness, and nutrition reports.
Raw data access: Yes, but their partner Helix charges $499 for access to raw DNA data.
Privacy: InsideTracker claims not to share information with third parties without consent.
Alternatives: SelfDecode – get personalized health recommendations based on up to 83 million genetic variants and over 1,000 lab markers.
Pros
Recommendations to help users improve their health based on lab results.
Offers DNA and blood tests.
Some tests are available internationally.
Cons
Plans can be expensive and have multiple paid add-on options.
Users need to pay an additional fee of $499 to get access to their raw DNA data from Helix.
InsideTracker does not focus on DNA-based health recommendations.
Only up to 261 genetic markers and 43 lab markers are analyzed to generate health reports.
Most tests are only available in the US and Canada.
About InsideTracker
InsideTracker was founded in 2009 by experts in aging, genetics, and biometric data from Harvard, MIT, and Tufts. Located in Massachusetts, their mission is to offer solutions to help people live, look, age, and perform better. In 2017, the company added DNA testing to their list of products.
Review of InsideTracker Products & Features
InsideTracker performs analysis using blood, DNA, and self-reported habits to create a goal-oriented action plan that includes nutrition, fitness, and lifestyle recommendations. Recommendations are mostly based on blood test results.
InsideTracker examines biomarkers such as glucose and cholesterol and helps you monitor how they change overtime. Users can have their blood drawn by InsideTracker's partner laboratory, or by using the Mobile Blood Draw service, where they can choose a time and location to meet with a professional.
In addition, InsideTracker tells your optimal zones for biomarkers based on age, gender, ethnicity, activity level, and personal goals, as well as recommendations to optimize out-of-range biomarkers. However, their most complete plan only analyzes 43 biomarkers.
InsideTracker has different plans users can choose from, as explained below.
Ultimate
This plan offers the most comprehensive blood analysis from InsideTracker and examines 43 biomarkers related to athletic performance, longevity, and overall well being.
Inner Age 2.0
InnerAge 2.0 focuses on longevity to give information of your biological age. This test analyzes 14 biomarkers for males and 18 for females.
Essentials
This plan examines 12 biomarkers for overall wellness, metabolism, sleep, and energy.
Home Kit
Includes a home blood drop collection kit and analyzes 7 wellness biomarkers. It is available for shipping worldwide.
DNA Kit
At-home DNA test kit that analyzes up to 261 genetic markers. You can also upload genetic data files from 23andMe or Ancestry.com. InsideTracker offers DNA reports that cover topics such as weight, healthy aging, performance, food sensitivities, and sleep. As an optional add-on, it is possible to add blood test results for additional insights and recommendations.
GoalGetter
GoalGetter is a partnership between InsideTracker and Helix and analyzes your genetic profile and personal habits to give insights on weight, sleep, performance, healthy aging, and food sensitivities.
This test is only available to purchase on the Helix website. Read this full Helix DNA review to learn more about the company.
Review of InsideTracker Reports
InsideTracker's users have access to their online platform. Bloodwork results vary depending on the plan since each one analyzes a different number of biomarkers.
InsideTracker classifies the biomarker results in three categories: At Risk, Needs Improvement, and Optimized. First, you will receive information on the overall health, blood tests, biomarkers overview, and daily actions you can implement to improve your health.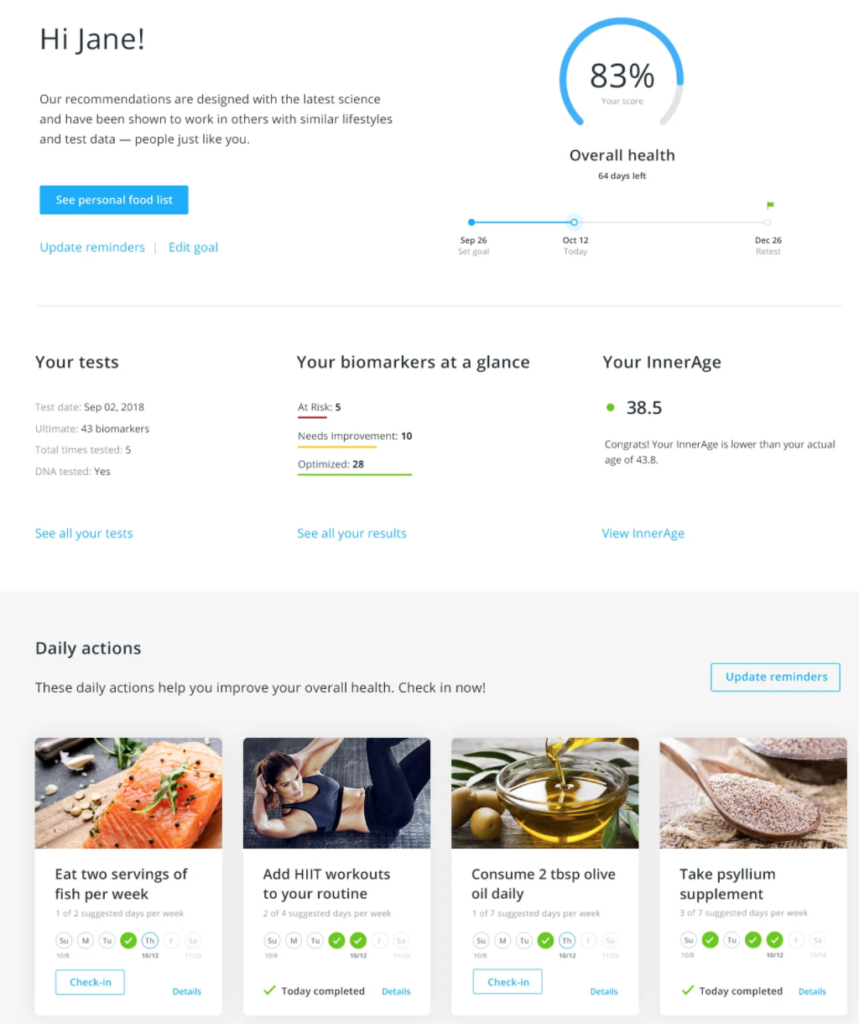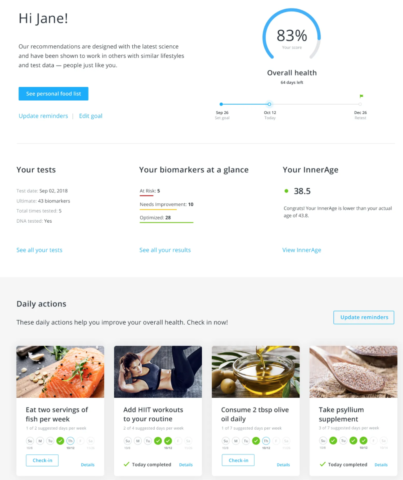 The company provides the most recent results for the biomarker analyzed and shows a graph dividing the data points into six categories: high, borderline high, normal zone, optimized zone, borderline low, and low. You can track your past results to see if your levels are improving.
You can view a sample glucose test result below.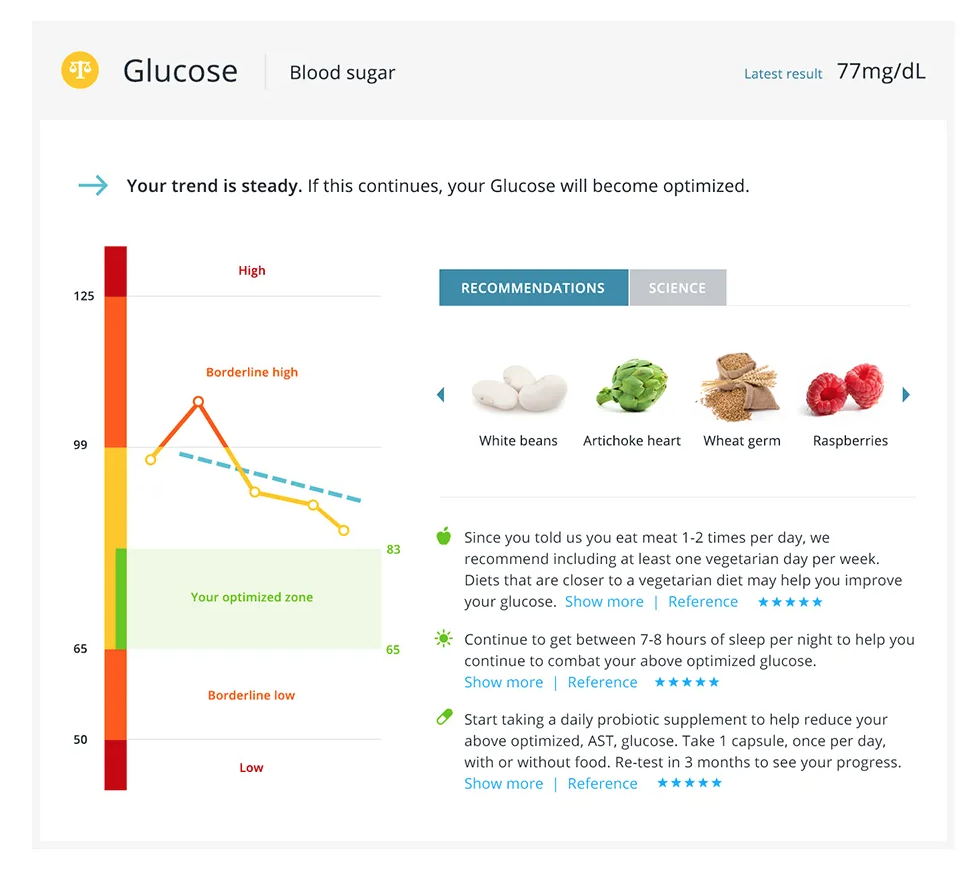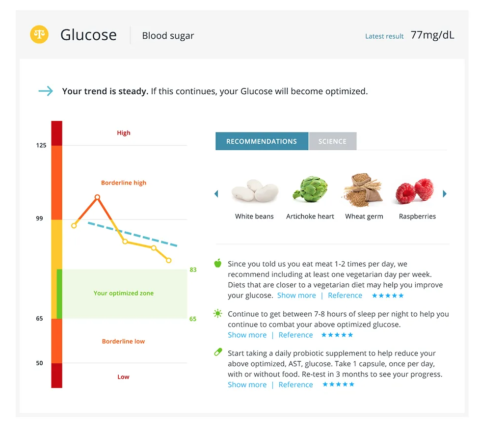 InsideTracker also includes recommendations based on blood test results, but they only analyze up to 43 blood markers to make their recommendations.
DNA Report
Unlike your blood test results, the DNA insights are available in PDF format only.
The DNA report covers the genetic potential for 29 wellness and performance traits. Users are provided with their genetic risk for certain traits, but they are not offered any recommendations based on DNA.
For more insights, InsideTracker requires that users have a blood test add-on. Below it is possible to see a DNA + Blood sample report.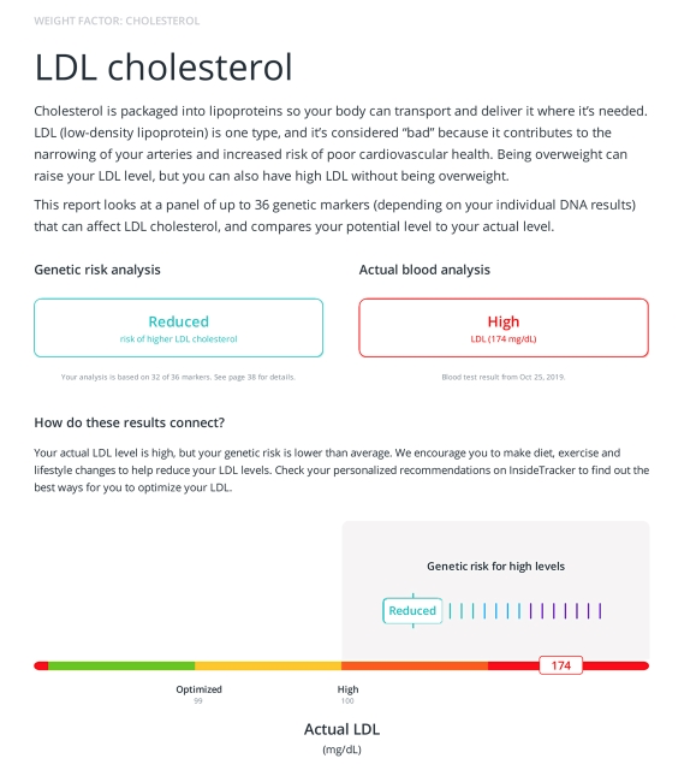 The reports are based on a limited number of 261 genetic markers, which is only a small fraction of your DNA that can affect your health. As shown above, InsideTracker analyzes 36 genetic markers related to cholesterol. This means you might not receive the most complete results. For comparison, the SelfDecode Cholesterol DNA Wellness Report looks at over 1 million genetic variants to give personalized recommendations.
Unfortunately, InsideTracker also does not provide recommendations based on DNA and limits their insights to blood test results.
Cost of InsideTracker
InsideTracker offers several plans users can choose from. They are:
Ultimate ($589)
DNA Kit ($249)
InnerAge 2.0 ($179)
Essentials ($189)
Home Kit ($299)
GoalGetter ($190 with a DNA kit, or $110 for returning Helix customers)
Inner Age 2.0 can be added to any existing plan for $99. If you have genetic data from 23andMe or Ancestry.com, you can acquire a DNA report for $29. InsideTracker's partner Helix charges $499 for access to raw DNA data.
Users may be eligible for coverage under some insurance plans.
Health Recommendations from InsideTracker
InsideTracker gives insights into your blood test results and offers health recommendation based on a limited number of lab markers. Their most complete package includes an analysis of only 43 total biomarkers, which may seem limited compared to other alternatives.
The DNA analysis does not offer recommendations based on genetic results and only analyzes up to 261 genetic markers. Unfortunately, InsideTracker will not give you information on how you can address your genetic predispositions. If you're looking for a more complete picture of your health, you might need to look elsewhere.
Review of InsideTracker Privacy & Data Security
InsideTracker's website is HIPAA compliant, and they claim information is not shared without consent. They may disclose personal information as described in their Privacy Policy to the third parties specified, such as affiliates and service providers.
InsideTracker may use anonymous genetic data for research and development purposes to improve future products. For any research they expect to publish, they claim that users are asked to voluntarily sign a separate permission document.
The company also warns that it is possible that research data or results could expose identifiable information. Research partners may include commercial or non-profit organizations.
For GoalGetter, Helix stores your genetic information and shares the relevant DNA data with InsideTracker to generate the results.
SelfDecode vs InsideTracker
SelfDecode delivers natural supplement, diet and lifestyle suggestions based on your genes that you can implement right away. InsideTracker offers recommendations based mostly on blood analysis.
SelfDecode tells you why they make each recommendation so that you can understand the science behind the suggestion. InsideTracker explains which health issue each recommendation may help.
SelfDecode prioritizes recommendations based on their analysis of all the relevant genes instead of one gene at a time (through reports). InsideTracker offers DNA analysis but no health recommendations based on DNA.
SelfDecode takes a holistic approach to give recommendations that are best for your genes AND the health topic. InsideTracker provides goal-focused recommendations.
SelfDecode has a team of over 60 highly skilled scientists, MDs, PhDs, NDs, and software engineers to make sure they deliver the most accurate and science-based health information. InsideTracker's advisory board is composed of 9 PhDs and MDs.
SelfDecode is the most comprehensive and looks at more genes & gene variants (up to 83 million) and lab markers (over 1,000) to deliver the best analysis of health risks. InsideTracker's DNA test only analyzes up to 261 genetic markers and 43 lab markers.
SelfDecode supports everything with peer-reviewed scientific studies in their research and checks for contradicting information. InsideTracker also provides scientific references in the reports.
SelfDecode never sells your data or gives it away. InsideTracker claims not to share users' data, but they may use it for research purposes.
Comparisons
| | | | | |
| --- | --- | --- | --- | --- |
| | SelfDecode | InsideTracker | WellnessFX | DNAFit |
| Personalized & holistic health recommendations | Yes | No | Yes | No |
| Genes & lab markers analyzed | Up to 83 million genetic variants and over 1,000 lab markers | 261 genetic markers and 43 lab markers | 50+ lab markers | Limited number of genes per report |
| Products | DNA testing, wellness reports, research-based health recommendations, lab test analyzer | Blood and DNA testing, health and fitness reporting | Lab test packages, practitioner consultations, informational blog posts | WES, nutrition and fitness reports |
| Raw data access | Yes | Yes, for $499 | N/A | No |
| Cost (USD) | $97 – $396 | $49 – $589 | $78 – $925 | $49 – $629 |
InsideTracker Reviews
PCMag – 3.5 of 4
PCMag likes that InsideTracker results are processed in a timely manner, but they comment on how few lifestyle recommendations are given other than dietary.
Check out Inner Body's InsideTracker review
Inner Body's reviewer compliments InsideTracker for their science-based reporting, although they disapprove of the prices. They also point out that if you're interested in DNA, other kits on the market are more comprehensive.
Trustpilot – 16 Customer Average Rating of 3.8 of 5
There are not many InsideTracker reviews from customers, with most being from October 2020. One reviewer complains the new app makes the health information seem "disjointed, incomplete, and incoherent".
Alternatives to InsideTracker
SelfDecode: Get personalized diet, lifestyle, and supplement recommendations based on your DNA and labs.
InsideTracker Review Summary
InsideTracker offers an analysis based on blood and DNA tests, while also taking into consideration self-reported personal habits. The blood test results are the main focus for their recommendations, which include mostly dietary and supplement advice. The company only analyzes 43 markers to make their recommendations, which can seem limited compared to what other companies have to offer.
InsideTracker offers DNA testing and reports based on up 261 genetic markers. For access to raw DNA data, however, Helix requires you to pay an extra $499. The DNA reports will not provide you with personalized recommendations based on your results, and because of the limited number of SNPs analyzed, you might not receive insights into genetic markers that can impact your health.
For a more complete picture of your health, SelfDecode analyzes up to 83 million genetic variants to give personalized diet, lifestyle, and supplement recommendations based on your DNA. By signing up to SelfDecode, you'll also get access to SelfDecode Labs, which gives you insights into over 1,000 markers and tailored suggestions on how to optimize your levels.
Related