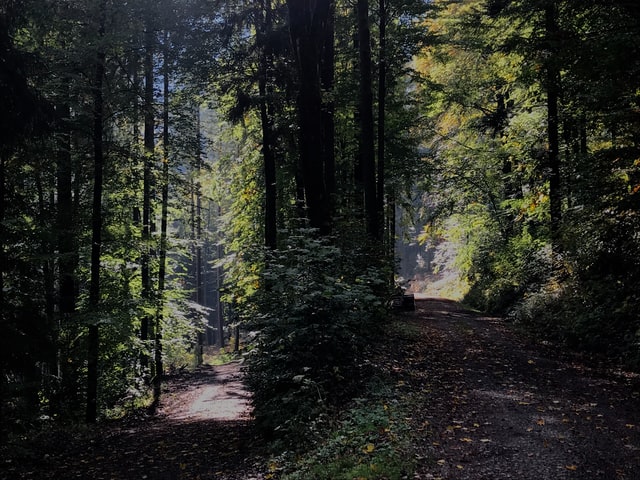 23andMe and Family Tree DNA are both popular companies that offer at-home DNA testing kits, along with ancestry and health reporting. Which one is superior? This article will compare the two services, and whether other alternatives are worth looking into.
23andMe vs Family Tree DNA Overview
23andMe
Headquartered in San Francisco, 23andMe has been operating since 2006. The company was founded by Anne Wojcicki, Linda Avey, and Paul Cusenza. 23andMe has secured over $850 million in funding since its inception.
Family Tree DNA
Founded in 2000, Family Tree DNA became the first company to sell DNA testing products directly to customers. The company was founded by Bennett Greenspan, an American entrepreneur, and is headquartered in Houston, Texas.
Review of Products and Features
23andMe offers a variety of services, including ancestry, health, and trait analysis based on samples provided by customers using their at-home DNA testing kits.
They offer three main packages, all with DNA testing kits provided:
The Ancestry + Traits Service is the most basic, giving the user the ability to explore their ancestry, build family trees, and find relatives, along with a few other features.
The Health + Ancestry Service is double the price, but includes health reports that cover topics such as disease carrier status reports and more.
The 23andMe+ Membership is the most expensive service, but offers the most advanced features and health reports, including a heart health report.
See the screenshot below for more information about the different packages that 23andMe offers.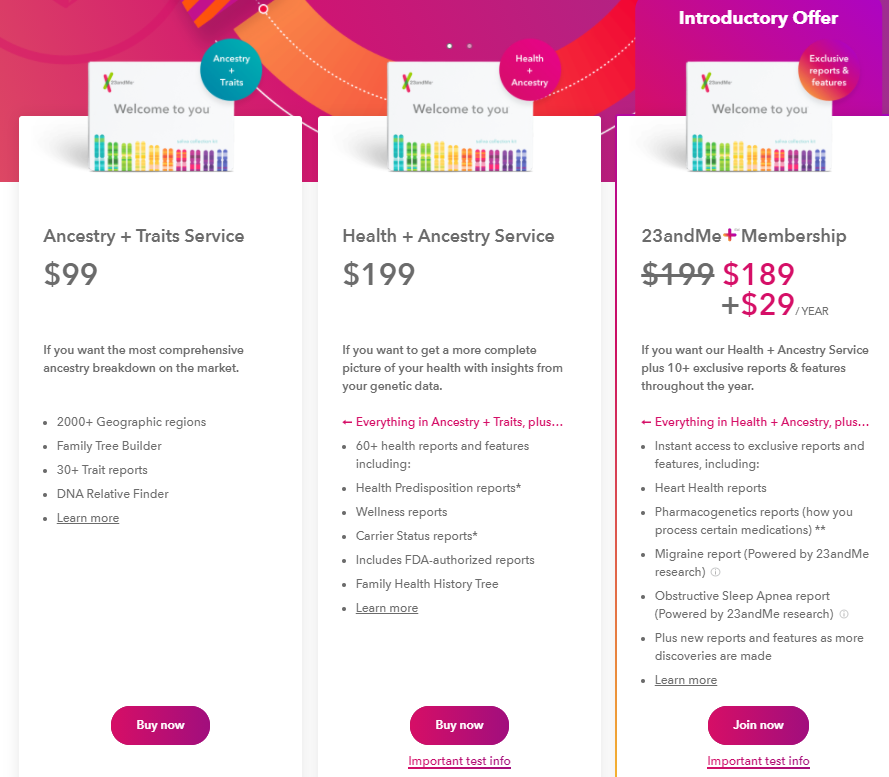 Family Tree DNA offers four DNA testing options: Family Finder, Y-DNA, mtDNA, and a Health Report.
The Family Finder test gives users access to insights about their lineage, and geographic origins. The test provides information about where their ancestors migrated from, and whether they could be linked to ancient archeological sites in Europe.
The Family Finder test also offers a family matching tool for confirmed matches into maternal and paternal ancestry. Included in the test is a chromosome browsing component for users to compare their chromosomes to their genetic matches.
The Y-DNA test focuses on paternal DNA, which is the DNA from male ancestors based on the DNA specimen collected by the user. The Y-DNA test focuses on the Y-chromosome, exclusive to male ancestors. Therefore, paternal lineage can be understood by using the tools offered with the Y-DNA test from Family Tree DNA.
The test also includes features for migration tracking. Family Tree DNA claims that they can trace customers' ancient ancestral migration paths from Africa.
Conversely, the mtDNA test tracks maternal DNA. This is the DNA from mitochondrial DNA (mtDNA) that is passed nearly unchanged from the mother to their offspring. The test offers very similar features to the Y-DNA test. A maternal lineage video, named the "mtFull Sequence Video" is included with this package to better understand and visualize the maternal ancestral links in an entertaining way.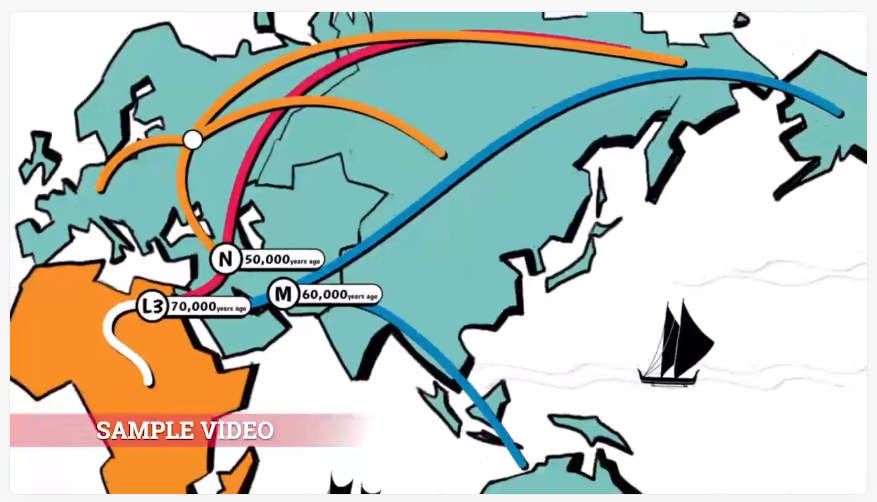 Lastly, Family Tree DNA offers the Tovana Health Report ($899). To prepare this report, AncestryDNA works with Tovana Health, a bioinformatics company. Included in the $899 health report is a 30-minute consultation with a physician to discuss the results.
The report features insights on cancer disposition, carrier screening, and other disease screening along with some genetic variant analysis for specific health conditions. They also include some limited information about exercise and nutrition based on genes.
While the reports include a lot of information about the health topic and genes analyzed, many users could get bogged down in all the information. Another drawback is that there are no scientific studies embedded in the reports, just a description of studies or reference numbers to relevant articles.
Below is a sample Vitamin B2 report offered by Family Tree DNA.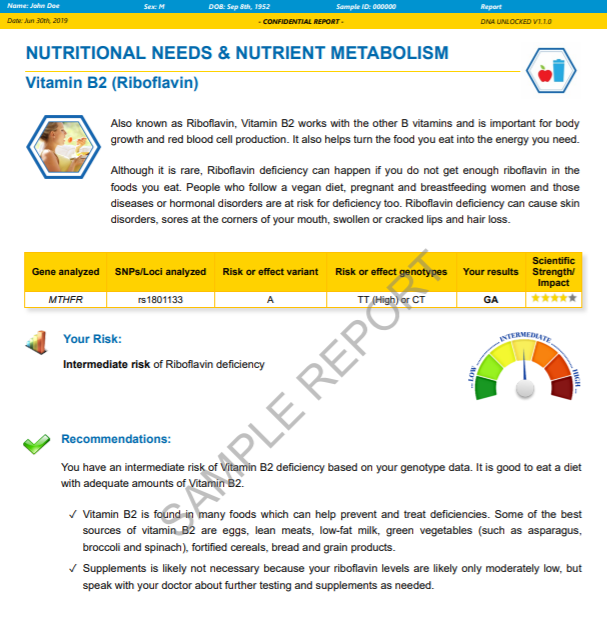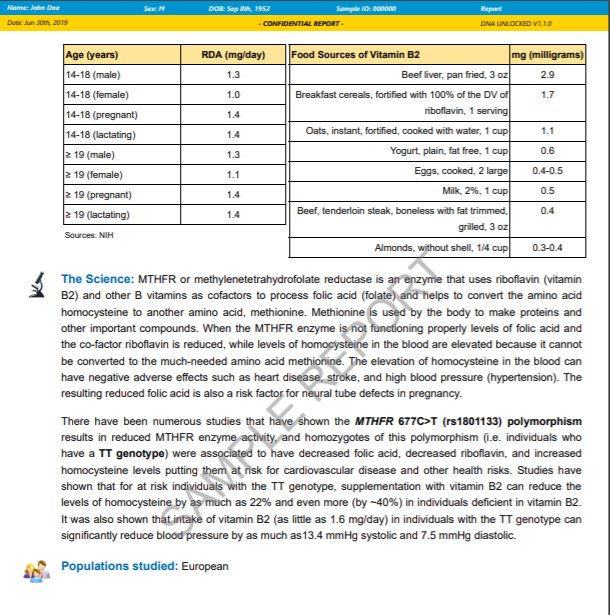 Review of 23andMe vs Family Tree DNA Reports
There are some similarities between the 23andMe and Family Tree DNA reports for ancestry and health. Family Tree DNA's ancestry reports include many images and visualizations to show the ancestral origins and ethnicity of the user, as seen below.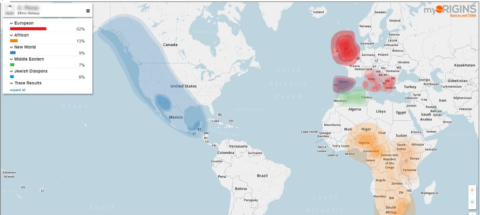 23andMe's ancestry visualizations are also intuitive, but are somewhat less detailed than Family Tree DNA's. Instead of presenting the percentage of ancestry from a region in bars like Family Tree DNA, 23andMe shows the breakdown of ancestry in a circle around the user's initials, as seen below.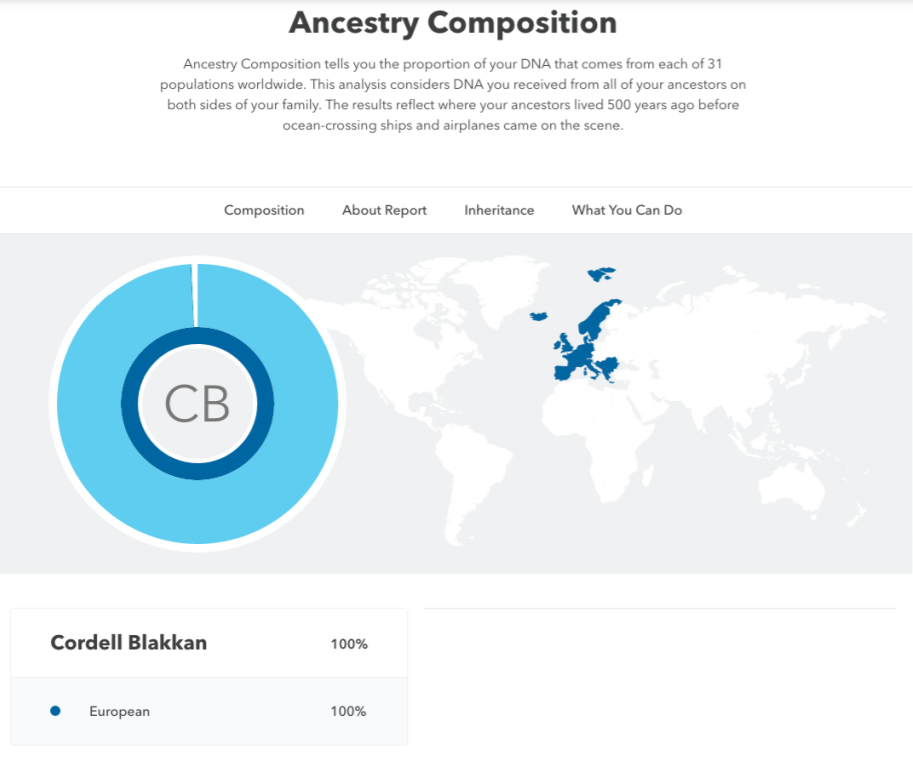 For the health reports, Family Tree DNA has much more information packed into each page, but it loses some readability (seen in the earlier section). 23andMe offers an informative account of the health topic and genes analyzed, but with a more user friendly interface. Below is a sample wellness report from 23andMe for muscle composition.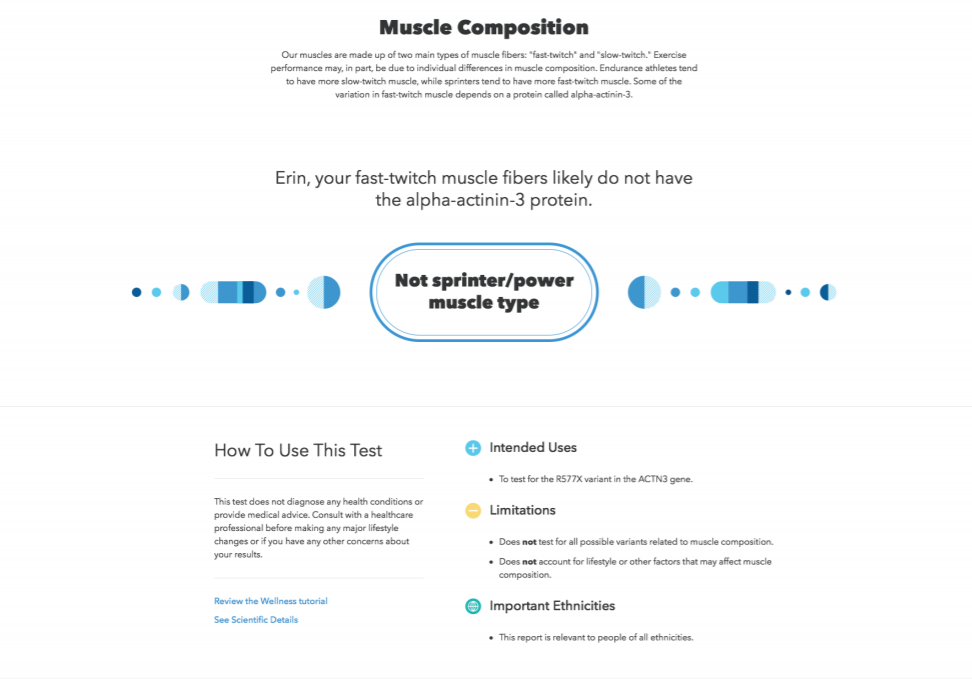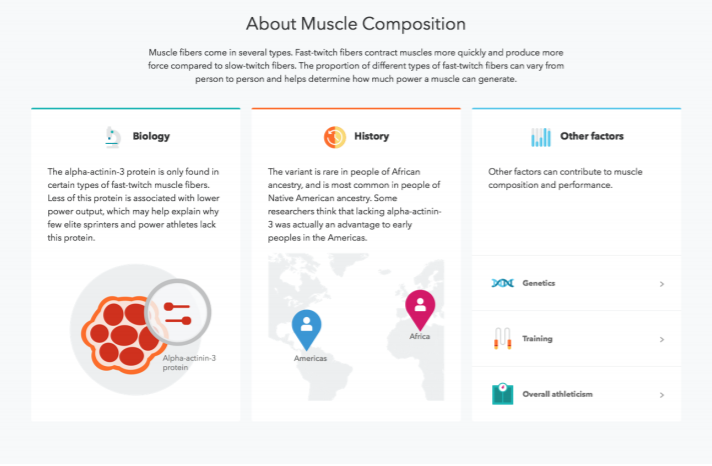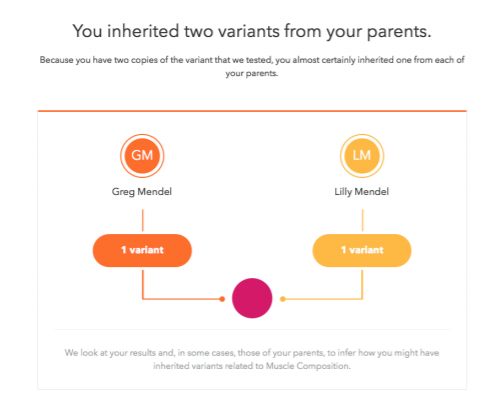 Clearly, the 23andMe health reports are organized in a more digestible fashion. Unfortunately, both health reports do not embed references within the reports, making it difficult for some users to find the primary sources of material that the report is based upon.
Another thing lacking from reports from 23andMe and Family Tree DNA are personalized recommendations based on genetics. While understanding your risks is a good way to start, you might be left with little to no guidance from these DNA reports.
Other companies that offer wellness reports, such as SelfDecode, provide references within the body of their reports so users can easily view the science backing the reports.
Cost of 23andMe vs Family Tree DNA
When it comes to pricing, 23andMe and Family Tree DNA differ in the amount of options available to the user.
Family Tree DNA has different pricing options depending on the test.
Family Finder $79 ($59 on sale): Includes ethnic mapping, migration route information, maternal and paternal sorting, chromosome browsing.
Y-DNA Testing $119, $249 ,$449: As the price increases, the reports will feature deeper analysis of the Y-chromosome DNA, but all packages will include migration pattern data from Africa.
mt-DNA Testing $159: Just like the Y-DNA testing, one can trace their ancestral lineage from Africa, and get access to a personalized "mfull sequence video" showing the migration patterns.
Tovana Health Report and Family Finder ($899): All features of family finder included, along with the Tovana health report and a 30-minute physician consultation.
All of the above prices include the cost of a DNA kit, but Family Tree DNA does offer an uploading service for existing raw genetic data. They currently accept files from 23andMe, Ancestry, and MyHeritage.
A raw genetic data upload from any of the above companies will allow users to purchase all of the family finder services for $19.
23andMe's pricing is as follows:
Ancestry + Traits: $99
Health + Ancestry Service: $199
23andMe+ Membership (includes everything above, plus additional reports) $189 with additional $29 per year.
All 23andMe prices include the at-home DNA testing kit, since they do not allow a raw genetic data upload on their website.
Health Recommendations for 23andMe vs Family Tree DNA
As mentioned earlier in this review, Family Tree DNA does not offer any health recommendations unless customers order the Tovana Health Report for $899.
The suggestions are made based upon genetic analysis, and feature diet, exercise, and supplement recommendations, and some guidance from a physician with the short consultation included in the package. The recommendations are written in plain language, but can be quite extensive and data-heavy.
23andMe gives health recommendations in some of their reports, but they are generic, such as "maintain a healthy weight". Their reports appear to be more geared towards presenting information and showing genetic risk than providing solutions.
Both 23andMe and Family Tree DNA are limited in the amount of guidance provided to the user.
Review of Privacy & Data Security
23andMe makes money by sharing customer data with research organizations and other third parties for financial incentives and scientific insights.
For users who consent to share their DNA, genetic data and survey responses may be published in peer-reviewed journals. The data is aggregated and disassociated with the user's name and contact information before research use.
Unfortunately, 23andme also shares their entire user DNA database with third-party research partners regardless of consent status. Some of the partners that are given access to this data are prominent pharmaceutical and biotechnology companies.
Unlike 23andMe, Family Tree DNA states in their privacy statement that they will not share any personal information or health data to third parties, including pharmaceutical companies or insurance companies. They also mention that users must give consent to be used in research projects.
In 2018, Family Tree DNA shared their database with the FBI, and received significant criticism from customers and other critics for lack of transparency with their users.
If privacy is your priority, you may want to look for other companies other than 23andMe and Family Tree DNA. For example, SelfDecode will not share or sell personal health information with any third parties and have no partnerships with pharmaceutical or biotechnology companies.
Comparison Chart
| | | | |
| --- | --- | --- | --- |
| | SelfDecode | Family Tree DNA | 23andMe |
| Personalized & holistic health recommendations | Yes | Yes | No |
| Products | DNA testing, wellness reports, research-based personalized blog posts, health recommendations | WES health reporting, traits, DNA testing, ancestry and migration routes | DNA testing, traits, wellness reports, more accurate ancestry |
| Raw data upload | Yes | Yes | No |
| Raw data access | Yes | Yes | Yes |
| Cost (USD) | $97 – $387 | $79-$899 | $99-$199+ |
Reviews of 23andMe vs Family Tree DNA
Family Tree DNA Reviews:
Trustpilot- 2.1 stars out of 5 with 55 customer reviews
Family Tree DNA's rating on TrustPilot is not good; most customers are not satisfied with the accuracy of their reports, or they have issues with customer service and not getting their results in a timely manner.
Better Business Bureau- 2 out 5 stars with 9 customer reviews
Customers who rated the company on the Better Business Bureau were generally unhappy with their experience. Most negative reviews center around poor experiences with customer service, or issues with their reports.
23andMe
Trustpilot – 1.9 out of 5 stars average rating from 148 customer reviews
Reviewers on TrustPilot are overwhelmingly unsatisfied with 23andMe, with 67% of all ratings being 1 star of 5. Most recent complaints include poor customer service and frustration with results that seem inconsistent or incorrect.
Better Business Bureau – 1.37 out of 5 stars on the Better Business Bureau from 28 customer reviews
The Better Business Bureau features another poor rating for 23andMe, with most customers giving the company a rating of 1 star out of 5.
With both companies receiving mostly poor reviews, one could consider other alternatives before choosing between the two.
Alternatives
SelfDecode: The best option for health-focused DNA analysis with personalized reports and recommendations to improve your quality of life. SelfDecode analyzes up to 83 million genetic variants to give you the most accurate results.
23andMe vs Family Tree DNA Summary
Overall, 23andMe and Family Tree DNA can give users many detailed insights about their ethnicity, and ancestry. Both companies offer compelling reports, including maps and visualizations of the heritage of the user.
The companies fall short in terms of health recommendations, though. Both companies offer pricey health reports, but they do not include personalized recommendations or embedded scientific references.
If you are interested in getting personalized health recommendations based on your genes, there are many better options available. Alternatives such as SelfDecode offer science-backed wellness reports based on an analysis of up to 83 million genetic variants. What's more, a subscription to SelfDecode grants you access to SelfDecode Labs, a specialized lab marker analysis tool.
Related