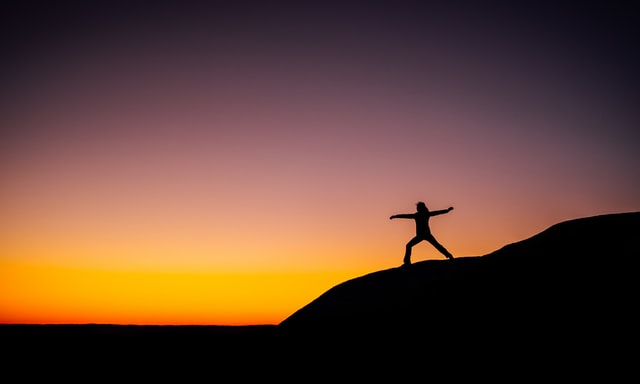 Overview
Products: DNA testing, Whole Genome Sequencing (WGS), Whole Exome Sequencing (WES), health and ancestry reports.
Cost: 24Genetics's DNA tests vary from €149 ($179) to €1,999 ($2,400), but the company offers reports starting at €49 ($59) if the user already has a raw genetic data file.
Reports: Health, wellness, and ancestry reports.
Raw data access: Yes.
Privacy: 24Genetics claims that they do not sell genetic data.
Alternatives: SelfDecode delivers personalized health reports and recommendations based on DNA.
Pros
24Genetics offers their services and products worldwide.
Users can upload preexisting genetic files.
The company has a wide variety of DNA reports.
Cons
24Genetics provides minimal or no health recommendations in their reports.
If the user chooses to purchase multiple tests and reports, it can become expensive.
WGS and WES are very costly.
If you have a raw DNA file from a company other than 23andMe and Ancestry, you can only purchase ancestry reports.
About 24Genetics
24Genetics is a DNA health testing company headquartered in Madrid, Spain. It was founded in 2016 and operates in more than 90 countries. They claim to be the biggest European company that offers direct-to-consumer wellness and ancestry tests.
Their DNA tests are recognized by the National Center for Biotechnology (NCBI). 24Genetics was the first European company to offer health and ancestry tests.
Review of 24Genetics Products & Features
24Genetics offers WGS, WES, and DNA tests, and health, wellness, and ancestry reports. The WGS covers 100% of the genome or 3 billion markers and includes two 15-minute genetic counseling consultations.
The WES analyzes 85% of the useful genome or 40 million markers. In both cases, the company includes all reports available and a personal genetic report on the area indicated by the user (gene or disease).
The DNA test analyzes 700,000 genetic markers that include the most important findings from the scientific community. It also examines SNPs that are still undergoing research, so the results can be updated after a report is purchased. The reports are listed below.
Health
Pharmacogenomics Plus
Nutrigenetics
DNA Sports
DNA Skin Care
Ancestry
Talent and Personality shows how genetics can influence personality.
The results are ready in 3 to 8 weeks, and the reports are sent by email.
Review of 24Genetics Reports
24Genetics' Ancestry report presents maternal and paternal ancestry information, and the DNA results can be used with GEDmatch, a free online tool to find relatives. The report offers a global perspective that shows ancestry per continent, and a more detailed breakdown of percentages per country, as seen below.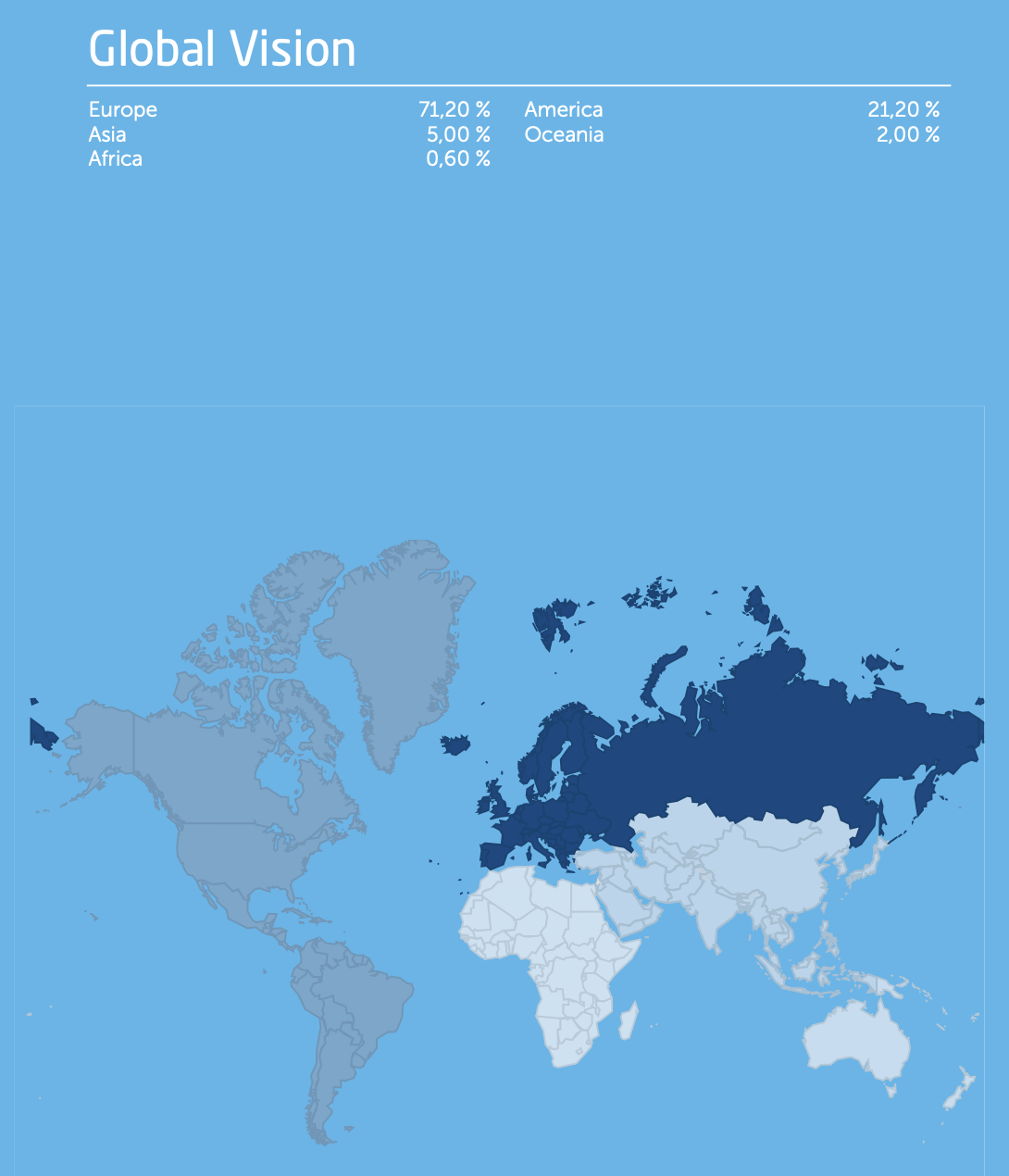 The Health report is divided into 5 sections:
Genetic Health Risk – Genome-Wide Association Study (GWAS): Presents information about risk levels to common conditions.
Genetic Health Risk – Mutations: Analyzes mutations from an oncological point of view.
Carrier Status: Looks for mutations in the genes involved in certain health conditions.
Biomarkers, Biometrics, Traits: Examines genetic predispositions to certain diseases.
Pharmacogenomics: Analyzes mutations that may influence how the body metabolizes certain medications.
The sample report shown below presents an overview of the results for the trait or condition analyzed.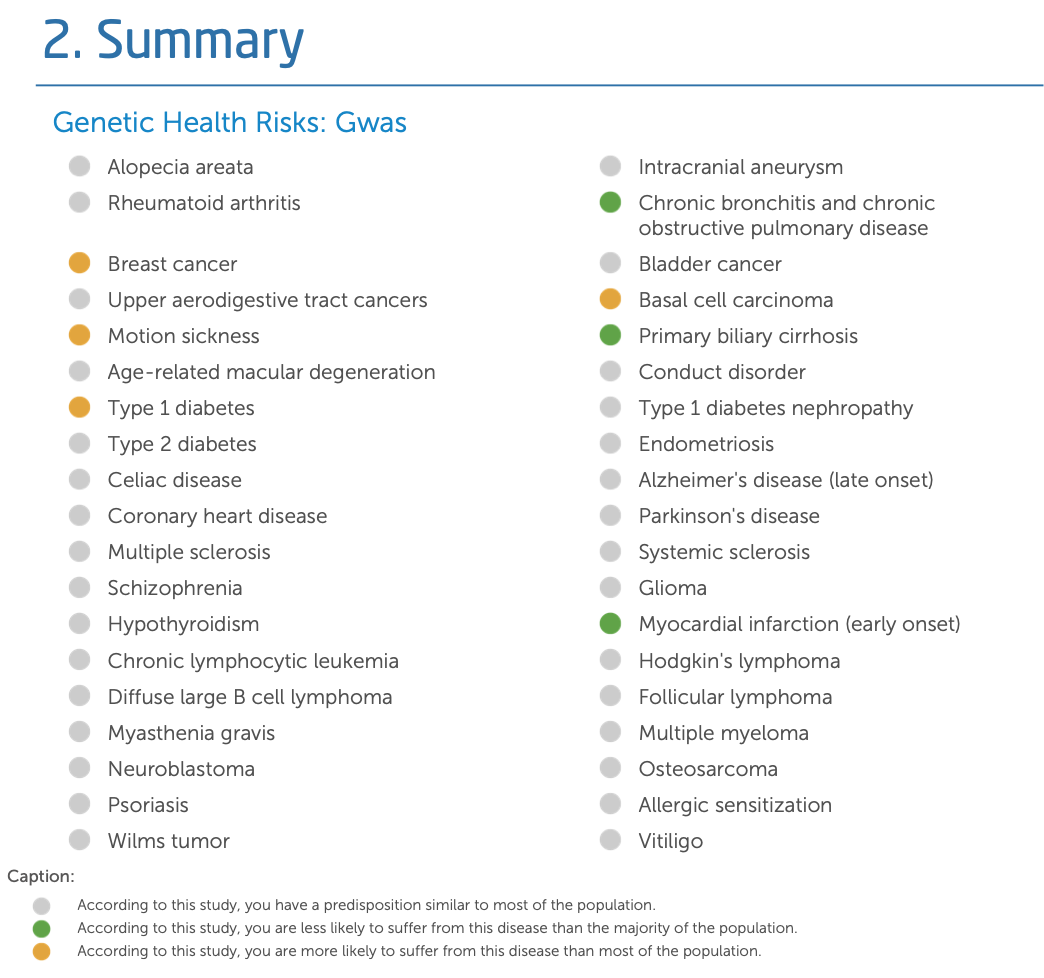 24Genetics gives a brief explanation of the condition, the genes analyzed, and the genetic results, seen below. The company does not provide any health recommendations.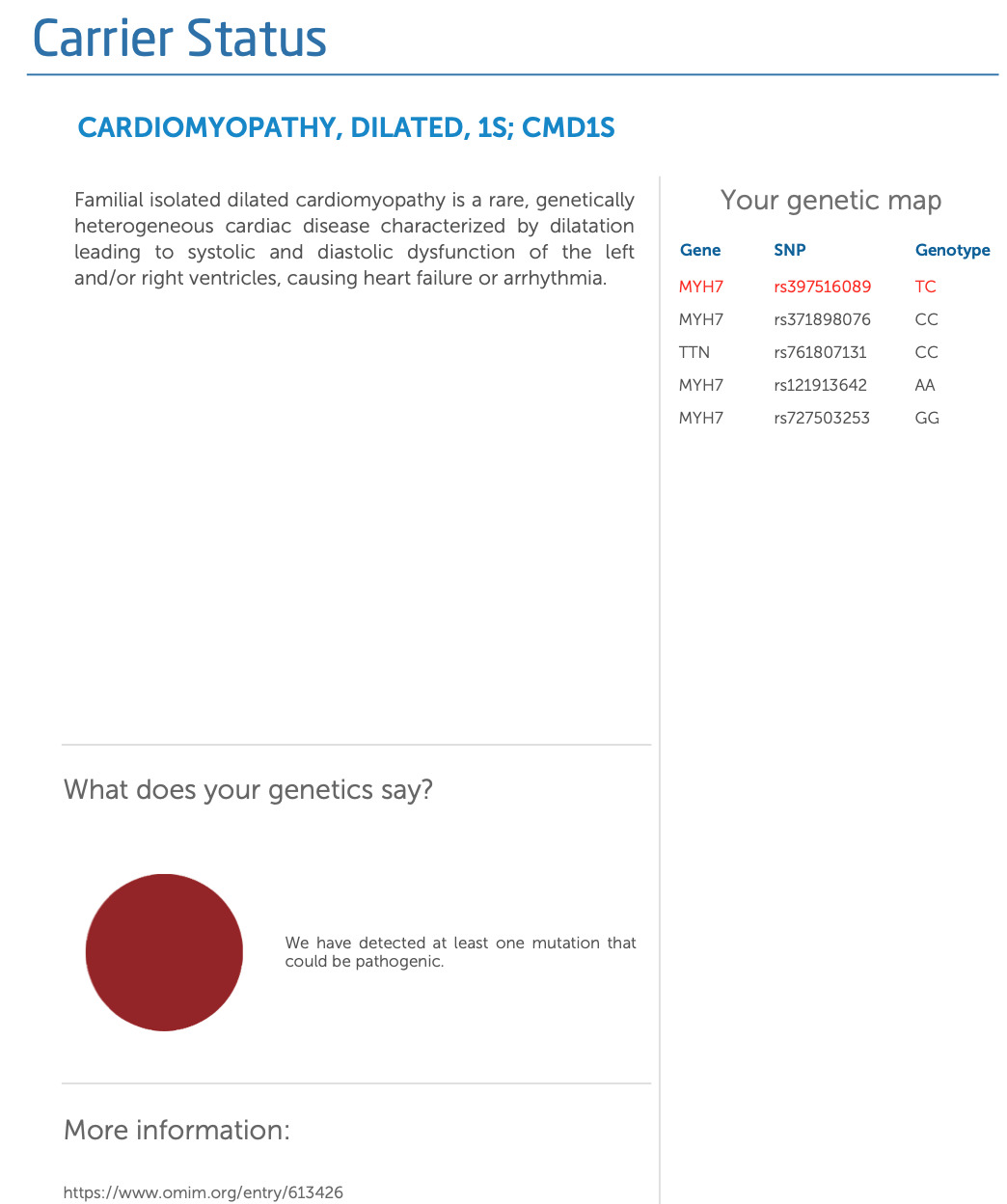 The Nutrigenetics report shows how genes may affect how the body reacts to certain nutrients. It is divided into 5 sections:
Healthier Diet: Presents genetic predispositions to certain foods and shows what type of diet is best for each user's genetic profile.
Vitamins and Minerals: Analyzes genetic markers that affect vitamin and mineral metabolism.
Metabolic: Shows genetic predisposition to certain biomarker levels, including cholesterol.
Your Senses: Examines genes that can affect caffeine metabolism and more.
Your Weight and You: Explains how genes can influence weight loss and diet.
24Genetics presents a summary page with information about nutrient needs, seen below. The report also offers a brief explanation of each nutrient, the genes analyzed, and the genetic results.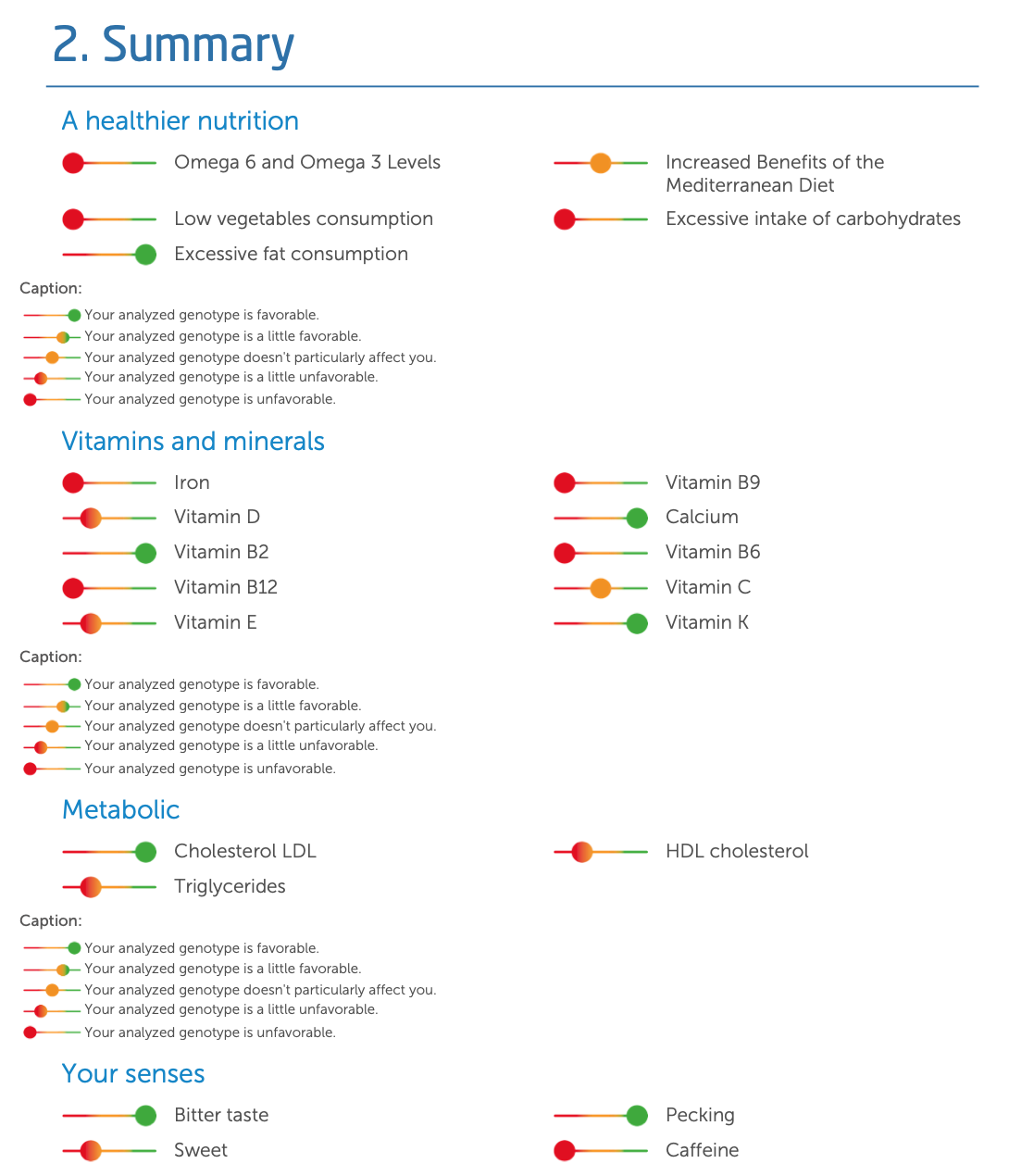 24Genetics offers minimal or no health recommendations in this report.
The other reports that 24Genetics offers are presented similarly to the Health and Nutrigenetics reports.
Cost of 24Genetics
24Genetics's Health, Pharmacogenomics Plus, Nutrigenetics, DNA Sports Test, DNA Skin Care Test, and Talent and Personality Test cost €199 ($240) each.
The Ancestry DNA Test is priced at €149 ($180). The WES and WGS cost €999 ($1,200) and €1,999 ($2,400), respectively.
Reports generated based on preexisting genetic files start at €49 ($59).
Is Whole Genome Sequencing Worth It?
Not yet.
Whole genome sequencing is far more expensive than other popular DNA test kits on the market that test up to a million SNPs. A test from SelfDecode, for example, will cost you $90 – this is far more affordable than the $2,400 cost of WGS with 24Genetics.
Currently, only so many SNPs have been studied by scientists, so only a small portion of the results from a whole genome sequencing test can provide you with any meaningful information.
At this time, you are getting very little for the significant extra cost required to have whole genome sequencing done with 24Genetics.
Other DNA tests on the market are more focused on the SNPs that have actionable insights attached to them, so they provide essentially the same result when it comes to health information.
Health Recommendations from 24Genetics
Although they have a wide variety of health and wellness reports and offer WGS, 24Genetics provides minimal or no health recommendations. The reports offer a brief explanation of the trait or condition analyzed, but they do not give insights into how to combat suboptimal genes.
Review of 24Genetics Privacy & Data Security
24Genetics is compliant with the European Data Protection Regulation, and they do not sell genetic data. They employ a Data Protection Delegate (DPD) to help with data protection regulation compliance. The DPD is also available to answer any questions related to personal data through letters or email.
24Genetics states that the Spanish Data Protection Agency will be contacted in the case of a security breach, but the company claims not to store genetic information online. They maintain that they only share minimal information required to provide services with trusted third parties.
SelfDecode vs 24Genetics
SelfDecode delivers natural supplements, diet, and lifestyle suggestions based on your genes that you can implement right away. 24Genetics only offers a few health recommendations in some of their reports.
SelfDecode tells you why they make each recommendation so that you can understand the science behind the suggestion. 24Genetics gives a brief explanation of the trait or condition analyzed but does not provide health recommendations.
SelfDecode prioritizes recommendations based on their analysis of all the relevant genes instead of one gene at a time (through reports). 24Genetics does not prioritize their recommendations.
SelfDecode takes a holistic approach to give recommendations that are best for your genes AND the health topic. 24Genetics offers separate reports that analyze specific genes.
SelfDecode is the most comprehensive and looks at more genes & SNPs (over 700,000 SNPs) to deliver the best analysis of genetic risks. 24Genetics offers WES and WGS, but it is expensive.
SelfDecode supports everything with peer-reviewed scientific studies in their research and checks for contradicting information. 24Genetics only offers one external reference for each condition or trait analyzed.
SelfDecode never sells your data or gives it away. 24Genetics also claims not to sell genetic data.
Comparisons
SelfDecode

24Genetics
LifeDNA

Helix

Personalized & holistic health recommendations

Yes
No
No

No

Number of genetic variants analyzed

Over 700,000 SNPs

WGS = 100%
WES = 85%
DNA = 700,000 SNPs

Unknown / Not disclosed

Unknown / Not disclosed

Products

DNA testing, wellness reports, health recommendations, patient and provider options
DNA testing, WGS, WES, health, wellness, and ancestry reports
DNA testing, health and wellness reports

DNA sequencing, health, wellness, and ancestry reports

Raw data access

Yes
Yes
Yes

Yes, for $499

Cost (USD)

$97 – $389
$59 – $2,400
$199 – $399

$145 – $245
24Genetics Reviews
Most 24Genetics reviews are happy with the amount of information provided in the reports, but experts say their products are more expensive than other competitors.
DNAWeekly – Editor's Rating of 8 of 10
The reviewer says 24Genetics stands out for their WGS and wide variety of reports, but they are not impressed with their website and say they are more expensive than other DNA testing companies.
Likewise, the reviewer says that the website is dysfunctional, and comments on how some genetic analyses are based on loose correlations found in small studies.
DNAtestingchoice – 11 Customer Average Rating of 4.6 of 5
Customers are impressed with the number of conditions analyzed in the Health report and comment on how the Pharmacogenomics section of the report is very useful.
Amazon – 6 Customer Average Rating of 3.9 of 5
Reviewers say the results are comprehensive and informative, and they are satisfied with the processing time. One customer comments on how they received an email from the company addressing them by a different name, which made them concerned about the accuracy of the results.
Alternatives to 24Genetics
SelfDecode: A health-focused DNA analysis that offers personalized health recommendations supported by science to help improve the quality of life. SelfDecode offers a subscription for less than $100 annually, rather than making the customer pay for each report individually.
24Genetics Review Summary
24Genetics offers a variety of DNA health tests and reports, WES, and WGS, and an ancestry report that covers over 1,000 locations worldwide. The company ships their testing kits around the world in addition to offering discounted reports for users who choose to upload their preexisting raw genetic files. However, unless users choose to purchase a promotional pack with multiple reports, the prices are much more expensive than competitors.
The website does not offer a good browsing experience and only offers prices in Euros. Furthermore, some sections on the website mix English and Spanish, which can cause confusion.
While 24Genetics offers DNA analyses, their reports do not present much additional information. For a more affordable option without sacrificing quality, SelfDecode offers detailed health reports and personalized recommendations all supported by scientific evidence.
Related